Stomach sleepers may be harder to find than one might think. In fact, only about 7% of the adult population sleep on their stomachs, according to the National Sleep Foundation.
The rough news is that health professionals do not recommend stomach sleeping because it makes it difficult for the back to find a neutral spinal alignment and it's rough on the neck as well. However, there is one positive: it helps with snoring!
We've put together our four best pillows for stomach sleepers and dedicate it to those who are committed to sleeping on their stomachs. Keep scrolling and find more information on what exactly stomach sleepers should be looking for in their next pillow; plus we address some commonly asked questions.
Easily Adjustable

Sleepgram

Sleepgram's "pillows-in-a-pillow" design means stomach sleepers can use any combination of the three polyester filled pillows. For the best prices on this comfortable pillow, click the CHECK PRICE button!

Shredded Foam

Snuggle-Pedic

The heart of this shredded foam pillow is a core filled with small chunks of diverse proprietary memory foam. The best prices can be found with just the click of a button (to the right!).

Solid Cooling Foam

ISO-COOL Traditional

The ISO-COOL Traditional-shaped bed pillow features a plush and flat solid foam core - it's truly perfect for those who love that contouring feel of foam. Check out the best deals with a click of the CHECK PRICE button!

Hypoallergenic

Five Star Down Alternative

Five Star Down Alternative

Five Star Down Alternative offers a simple polyester microfiber fill and a soft cotton cover with a satin design. Check out the best prices on this pillow by clicking the CHECK PRICE button!
Best Stomach Sleeper Pillows: Video Overview
The 4 Best Pillows for Stomach Sleepers
Here's a breakdown of each pillow on our list with even more details and information.
Easily Adjustable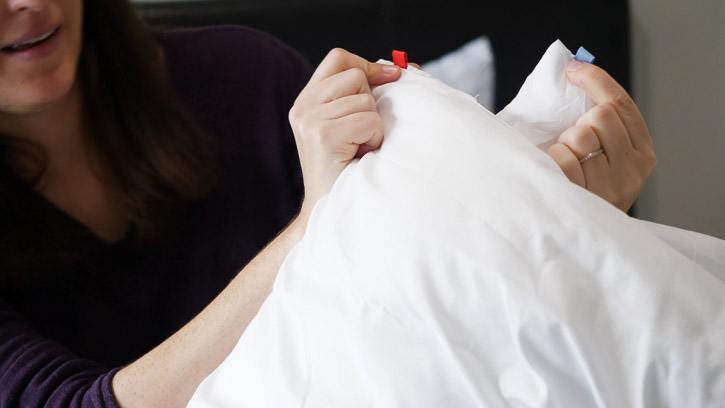 Sleepgram
Sleepgram's innovative design can make it a great fit for stomach sleepers who prefer the feel of a down or down alternative pillow. The pillow features a 100% cotton outer cover and two inserts, each of which is filled with levels of polyester microfibers in a range of firmnesses. Stomach sleepers can remove or combine inserts and the outer cover to find the right firmness and loft combinations.
While sleepers are not able to access the actual filling, that means there's no mess to deal with and the whole pillow can be easily machine washable and dryer friendly. Based on my experience, stomach sleepers will want to take at least one or two inserts out.
Expect to find the pillow at a variety of retailers and pay around $50-$55 for Standard/Queen, $65-$70 for King; it should come with a 100-night trial depending on where it is purchased.
Pillow Details:
Three-in-one pillow design: outer pillow unzips and two additional pillows with different levels of filling are inside for a total of three individual pillows
Two sizes available: Standard/Queen and King (Both have a 2" gusset)
100% cotton cover percale weave
Polyester microfiber fill (mimics down)
Allergen-resistant
Machine washable and dryer friendly
Adjustable
Comes with a 100-night trial
Price: $50 for Standard/Queen, $65 for King
Check out our full review of the Sleepgram pillow.
Best Deals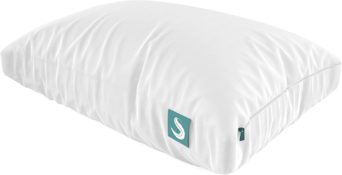 Sleepgram combines three pillows into one design, making it great for combination sleepers! Click the CHECK PRICE button for the best deals on this pillow!
Shredded Foam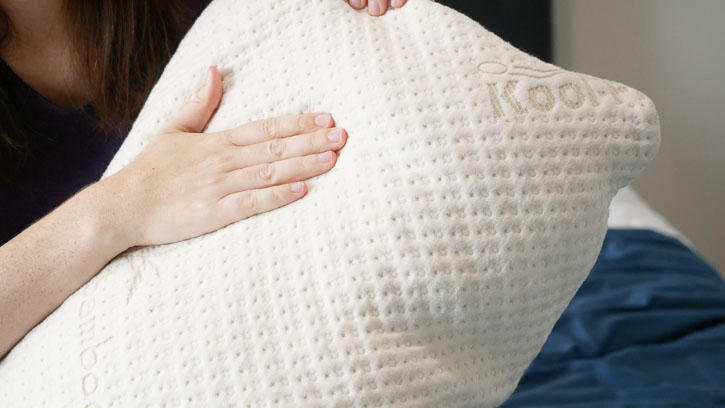 Snuggle-Pedic
The full official name of this pillow on the brand's website is the "Snuggle-Pedic Ultra Luxury Adjustable Shredded Memory Foam Bamboo Pillow" and since that's a mouthful, we're going to keep calling this pillow the Snuggle-Pedic!
The Snuggle-Pedic is filled with a proprietary shredded memory foam mix. It is also an adjustable pillow, which means sleepers can take out as many handfuls of the foam pieces as needed.
The nice thing about the Snuggle-Pedic – and why I would suggest it for stomach sleepers- is because the pieces of shredded foam tend to be smaller in size. Sleepers can truly remove enough of the foam to still have support but won't experience large chunks of foam pressing unevenly against the sides of their faces.
The pillow also has a really nice soft breathable cover that has Kool-Flow micro-ventilation to enhance breathability – it's also hypoallergenic and dust mite resistant.
The price varies by retailer but customers can expect to pay around $50 for a Standard, $60 for a Queen and $80 for King. Please note at full price, they're over $100 (but often on sale). 
Pillow Details:
Filling: Proprietary shredded memory foam mix
Cover: 43% Viscose from Bamboo, 56.4% Polyester and 0.6% Lycra
The cover also made with a Kool-Flow® breathable micro-vented material
Manufactured with Biogreen® and Certipur-US certified foam
Zippered removable outer cover to allow for adjustment of thickness and comfort
Conforming shape orthopedically supports the neck for side, stomach, and back sleepers
Hypoallergenic and dust mite resistant
Sizes: Standard, King, and Queen (customizations accepted)
Fully machine washable
Made in the USA
90-day sleep trial and a 20-year warranty
Read the complete Snuggle-Pedic Adjustable Shredded Memory Foam pillow review.
Shredded Foam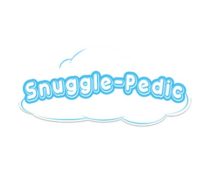 Snuggle-Pedic's adjustable shredded foam pillow has a soft knit cover that has a bamboo textile blend. The whole pillow is machine washable and dryer friendly and the small pieces inside mean no lumps or bumps on the side of your face while you sleep!
Solid Cooling Foam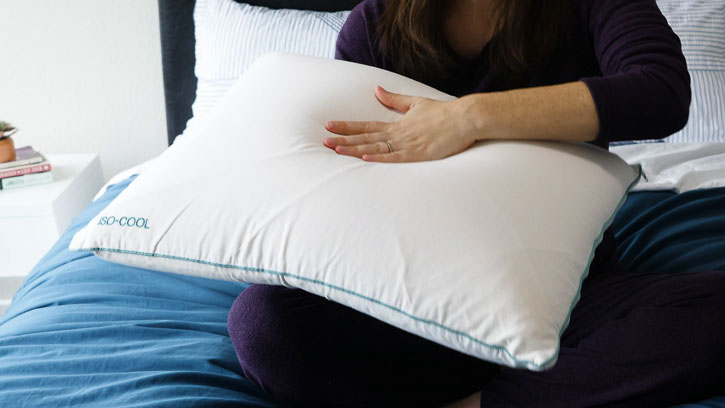 ISO-COOL Traditional
This thinner, softer memory foam pillow is my go-to pick when it comes to suggesting a solid foam pillow for stomach sleepers. The Iso-Cool Traditional pillow is designed with coolness and gentle support in mind and could be a good fit for stomach sleepers who are looking to change it up from a down or down alternative pillow.
It's a fairly straightforward pillow – it's thin, has a solid core of plush memory foam and a thin cover that's 100% cotton with a layer of Phase Change Material inside to help regulate body temperature.
Sleepers can locate it at a variety of retailers and can expect to pay around $40-50 for a Standard size. There's no clear answer on the trial period offerings, so make sure to check out those return policies.
Pillow Details:
100% machine washable cotton cover
300-thread count, 100% cotton cover with Outlast Adaptive Comfort material has microscopic phase change material (PCM) beads that absorb heat and feel cool or release heat and feel warm
Visco-elastic memory foam filling in a plush design
Traditional shape measures 18″ x 24″
Hypoallergenic
5-year limited warranty
Endorsed by American Sleep Association (ASA)
Check out our complete Iso-Cool review. 
Stomach Sleepers
ISO-COOL Traditional Pillow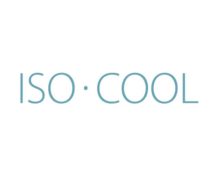 ISO-COOL Traditional Pillow
The ISO-COOL Traditional pillow (made by Carpenter) is a plush piece of solid memory foam. The filling is on the flatter side and with its soft nature, it is a good fit for stomach sleepers who want a foam option.
Hypoallergenic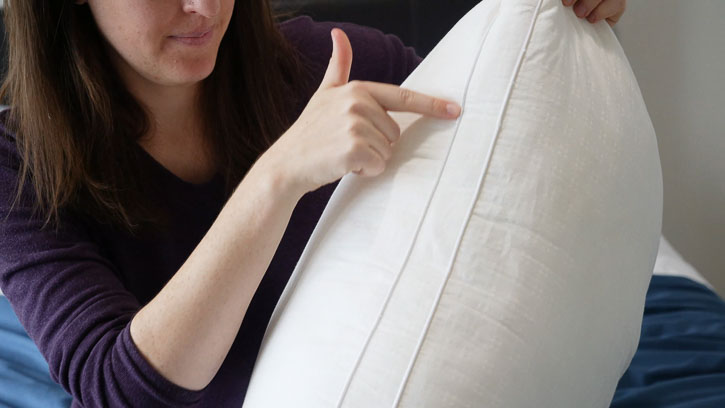 Five Star Down Alternative
The Five Star Down Alternative Pillow has a crisp cotton outer cover and is filled with soft polyester filling. It falls lower on the firmness and support scale, which is why it's a great option for stomach sleepers over other sleep positions.
The outside is a lovely 100% cotton damask fabric cover with satin piping to give it a pleasant overall look. Inside the pillow are polyester fibers that are designed to elicit the feel of soft down, but it won't separate and can't be bunched together in the way that a down pillow could.
Besides being incredibly comfortable, it's super affordable at $30, plus it's easy to find online and it's hypoallergenic for all the sensitive folks out there.
Pillow Details:
Sizes: Standard, Queen, King, and Euro Size
Cover: 100% cotton – called Damask fabric with satin piping
Fill: 100% polyester fibers (down-like filling)
300 thread count
2.9 lbs (Standard size)
1.5″ gusset for maximum loft
Hypoallergenic
Machine Wash on a cool setting
Made by Mastertex
Read my in-depth review of the Five Star Down Alternative pillow.
Hypoallergenic
Five Star Down Alternative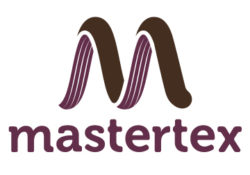 Five Star Down Alternative
Five Star Down Alternative offers a simple polyester microfiber fill and a soft cotton cover with a satin design. Check out the best prices on this pillow by clicking the CHECK PRICE button!
Marten's Take
At Mattress Clarity we're not a big fan of saying that there is only one pillow or one mattress that will work for everyone – it's just not possible! One of the best ways to figure out what is going to be a good fit personally is to take body type and shape into consideration. I am 5'7" and about a medium-weight and, in an effort to help as many people as possible; I asked Marten, who is 6'7" and weighs 250 lbs, to offer his opinion and share his personal experience with these specific pillows and help determine which would be best for heavier sleepers.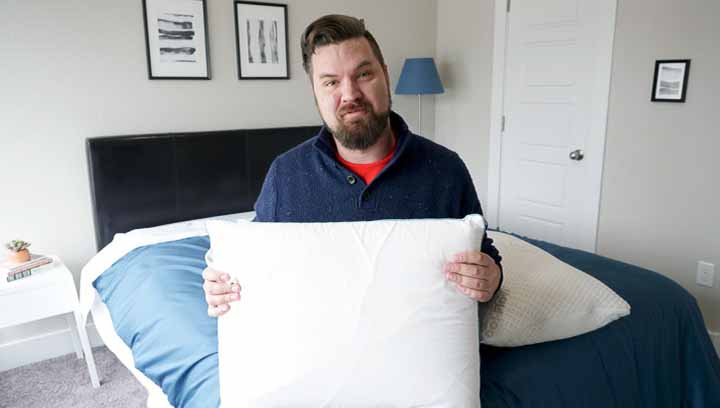 Out of the four Katie picked, two really stood out to me. Here are my favorites:
ISO-COOL Traditional Pillow: This pillow is a great match for me because, although it's solid foam, it's flat enough that it feels comfortable when I'm on my stomach but still supportive enough so my head doesn't fall all the way through the pillow. I also like how cool it feels against the side of my face.
Snuggle-Pedic: I'm a big fan of this pillow because I like that the foam pieces give a little bit of a fluffier feel to the pillow. When I'm on my stomach the chunks compress enough so I'm not feeling my head being pushed off the mattress in an uncomfortable manner.
How to Find the Best Pillow for Stomach Sleepers
Loft
When it comes to picking a pillow that aids in stomach sleeping, the key is to avoid anything too thick that will add stress to the neck, experts say.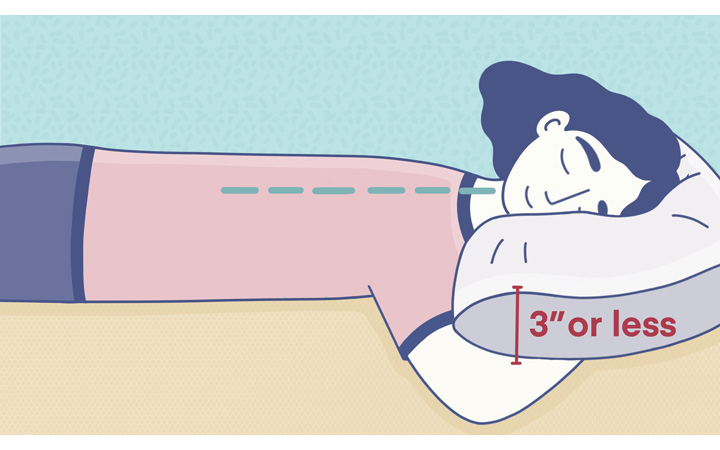 "Any pillow with high loft is going to push your neck back a little bit and give you neck pain or cause some discomfort in the lower back," says Rocco Monto, MD, an orthopedic surgeon in Nantucket, Mass to Health.com.
Monto recommends choosing a pillow that's about three inches thick; this ensures the spine stays aligned while snoozing.
Best Pillow Types and Materials for Stomach Sleepers
There are many different types of pillows that you can choose from, but certain types of pillows are better for stomach sleepers than others. We'll go over the main types of pillows available and let you know how they work for people who sleep on their stomach.
Memory foam – Memory foam pillows are more firm, dense, and generally thicker. Stomach sleepers should look for a shredded memory foam pillow or an adjustable foam pillow so they can adjust the loft to a more comfortable position. These pillows can offer great contouring and pressure relief.
Latex – Latex pillows are similar to memory foam pillows, but with a more bouncy feel and more resilience. Latex pillows aren't the best for stomach sleepers.
Feather – Feather pillows are soft, lightweight, and usually have a lower loft. These pillows can make a great fit for stomach sleepers, though if you have allergies you may be affected by feather pillows.
Down – Down pillows have a classic feel. Down pillows are a great fit for stomach sleepers since they are less dense than a memory foam or latex pillow.
Down alternative – Down alternative pillows are a cheaper alternative to down pillows. They use synthetic materials and are naturally hypoallergenic. Down alternative pillows are also a good choice for people who sleep on their stomach.
Buckwheat – Buckwheat pillows may be too firm for stomach sleepers, though some may enjoy the way these pillows conform to the shape of your head.
Kapok – Kapok pillows feel similar to down and down alternative pillows, so they are also a good choice for stomach sleepers.
Pillow Cover
Keep in mind that when stomach sleeping, one's face will be turned to the side and pressed against the pillow. Stomach sleepers, in particular, will want to think carefully about not only the filling and firmness of their pillows but the type of pillow cover as well. Here are some suggestions:
If choosing a foam-based pillow, look for ventilated holes in the filling and a breathable outer cover. Many come made with phase change materials that will help draw heat away from the body while sleeping at night.
If an individual's face is sensitive, look for a pillow that is hypoallergenic. Some pillow covers are also blended with bamboo (like the Snuggle-Pedic) or copper (like the Layla pillow) that have antibacterial and antimicrobial properties.
For those who are not big on texture, keep in mind that some pillows may have covers designed with a textured fabric that can be felt underneath a traditional pillow cover. Some also have cooling properties that make them feel cool to the touch. These can sometimes come through pillow covers as well, too.
Tips for Stomach Sleepers
Although stomach sleeping is the least common position, and the least recommended sleeping position, there are still many people who choose to sleep on their stomachs. On top of finding the right pillow, there are a few more things you can do to improve your alignment when you sleep on your stomach.
We'll share a few tips for stomach sleepers that make the position a little more comfortable.
Use More Pillows
In addition to choosing a flatter pillow, sleep professionals also recommend adding a second pillow to the mix – but leaving it under the stomach or pelvis.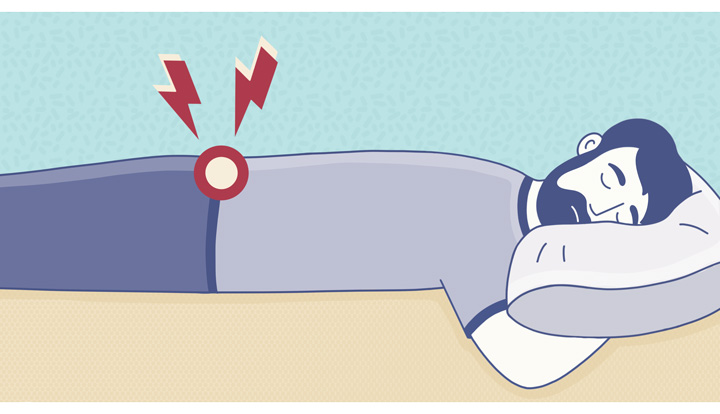 "Sleeping on your stomach can create stress on the back because the spine can be put out of position," say experts from the University of Rochester Medical Center in Rochester, New York. They suggest that placing a flat pillow under the stomach and pelvis area can help to keep the spine in better alignment.
Sleep on a Supportive Mattress
If you sleep on your stomach, it's important that your mattress offers great support to help you maintain neutral alignment while you sleep. The best mattresses for stomach sleepers are firmer and more supportive. Hybrid mattresses with a solid support core and a soft top layer typically make a good fit for stomach sleepers.
Summary
In general, sleep professionals don't recommend stomach sleeping because of the strain it can put on the back and the neck. That being said, if it's what feels right, it's worth picking a pillow that creates the most even spinal alignment possible.
Sleepers can do this by looking for a thinner or flatter pillow – preferably one with a profile no higher than three inches (this guideline may vary on personal preference). Adjustable pillows might be the best bet since sleepers can customize it to whatever feels good for them.
FAQs
What type of pillow is best for stomach sleepers?
I'll say it over and over again - the flatter and the softer the pillow, the better it will be for stomach sleepers. This pillow needs to support the head while providing the least amount of added strain to the neck.
Are down pillows good for stomach sleepers?
A soft and fluffy down pillow could be a good option for stomach sleepers who don't have allergies and love that luxurious feel that down provides. Keep in mind that other pillow fillings will work as well - the main factor to consider is how much filling is inside the pillow and how much support it provides - the softer and the flatter, the easier it will be on a stomach sleeper's neck.
Where do you put a pillow when sleeping on your stomach?
Experts believe that stomach sleepers should place a flat pillow under the head for support - and then in order to help alleviate strain on the lower back - the sleeper can place another flat pillow under the pelvis to give it a more neutral position.
Katie Golde
Katie manages the day to day operations of the Mattress Clarity news site and reviews sleep products in addition to writing and editing sleep news. She hails from Austin, where she lives with her growing family. She is a Certified Sleep Science Coach and has a master's degree in Journalism from Northwestern University and has a background in health and science content. Her work can be found in print and online publications like Discover Magazine, USA Today and The Huffington Post.