If you're a sustainable shopper or just want the comfort of knowing you're buying a product free of harmful or toxic chemicals, then you're probably intrigued by the idea of buying an organic mattress.
Eco-conscious shoppers have a large selection to choose from now when buying a mattress, but with all these options you have to wonder which beds actually live up to their promises of being made with naturally-sourced materials.
To make it simple for you and help you rest assured in your purchase, we've rounded up the best organic mattresses we've tested out that are truly organic mattresses. Read on to learn more about each of our top picks!
The Best Organic And Non-Toxic Mattresses
The best organic mattresses we've personally tested are:
Not all organic mattresses are created equal; they contain different materials and feature different firmnesses and extra features. Be sure to pay attention to the superlatives we've assigned to each mattress to find the best one for you. If you're still looking for more personalized recommendations, try taking our mattress quiz.
Best Organic Mattress For Back Sleepers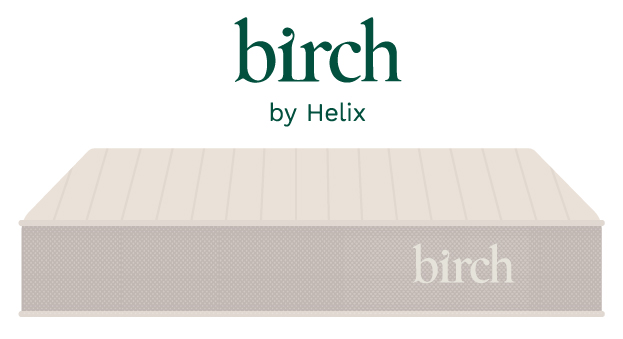 Birch By Helix
The Birch mattress comes from Helix, a company known for its flexibility and mattress customization. Now, they are in the latex game with the Birch, a latex hybrid mattress that features some very high-end components – it contains Talalay latex, organic cotton, and individually-wrapped coils.
We found the Birch by Helix to be an excellent mattress for back sleeping. Our hips sink into the tufted organic cotton and Talalay latex, but the mattress supports us overall. It boasts the balance of comfort and support that back sleepers should be looking for. Now, if people want more comfort, they can also opt to add a pillow top to the top of their Birch by Helix mattress. This will add some more plushness to the top of the mattress, making the Birch a possible option for side sleepers as well.
The Birch is also sold for surprisingly low price, around $1500 for a Queen-size – this is a fantastic deal for such a high-end latex mattress.
What Makes The Birch By Helix Stand Out?
The Birch by Helix is a high-quality latex hybrid mattress that is sold for a value price.
The Birch features a balance of comfort and support which should be enticing to back sleepers. 
The Birch is one of our top picks for the best mattress for lower back pain and sciatica.
The mattress contains extremely durable materials, so the Birch by Helix should be a good long-term investment.
The optional pillow top gives mattress customers firmness options with the Birch. It also makes it one of the best pillow top mattresses out there. 
Read the full Birch by Helix mattress review
$200 Off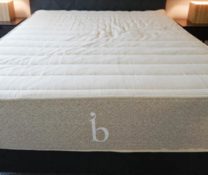 The Birch is a comfortable and supportive latex mattress. Save $200 on the Birch and get 2 free pillows by clicking the button below. 
Best Organic Mattress For Stomach Sleepers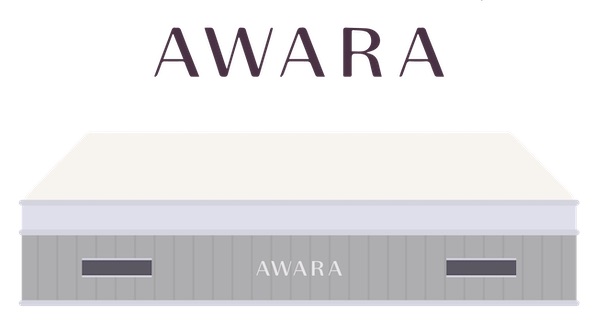 Awara
The Awara is another latex hybrid mattress that contains some very durable, high-quality materials. It boasts 4″ of Dunlop latex over 9″ of pocketed coils – just looking at these numbers, it is a very substantial mattress!
Being such a tall, durable mattress, the Awara should be a good fit for larger sleepers and those who need more support. The coils and dense Dunlop latex should be able to support the heavier weight. Heavier sleepers who are in the market for an eco-friendly, organic mattress should set their sights on the Awara.
It is also one of the firmer mattresses on this list, about an 8/10 on our scale. Because of this, it is our favorite option for stomach sleepers – lying on the Awara, we do not feel our hips bowing in whatsoever. Stomach sleepers require more overall support and, even if they are larger, they should get it on the Awara.
What Makes The Awara Stand Out?
The Awara is a tall, supportive latex hybrid mattress that should be a good fit for larger sleepers.
The Awara is a particularly firm mattress and should offer stomach sleepers all the support they need.
The mattress contains durable materials, so it should last for a number of years without sagging.
The Awara is a breathable mattress that should keep sleepers from overheating during the night.
Read the full Awara mattress review 
$300 Off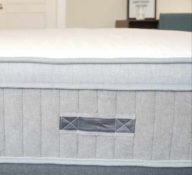 The Awara is a firmer latex hybrid mattress that could be a good pick for back and stomach sleepers. Click to save $300 on your purchase.
Best Flippable Mattress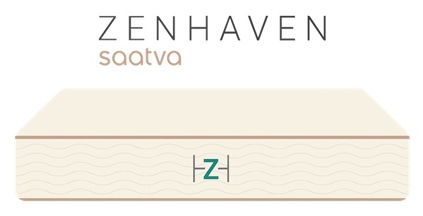 Zenhaven
No matter what type of mattress someone is looking for, firmness is always a major consideration. Finding a mattress with the right firmness can ensure one gets the proper amount of comfort and support throughout the night. Those who are looking for a latex mattress with firmness options should definitely consider the Zenhaven mattress.
The Zenhaven is an all-latex mattress that features multiple layers of Talalay latex. The Zenhaven is unique on this list in that it is a flippable mattress – it features both a Luxury Firm and Gentle Plush side. This offers sleepers two firmnesses in one single mattress, so stomach sleepers, back sleepers, and some side sleepers should get what they are looking for.
As we mentioned, it is an all-latex mattress, so it is closer to a 100% organic mattress. Those who want the bouncy comfort and support of latex without coils will love the Zenhaven.
What Makes The Zenhaven Stand Out?
The Zenhaven is a flippable mattress that features two firmnesses in one.
The mattress should be a good option for stomach sleepers, back sleepers, and a few side sleepers.
The Zenhaven is one of the best latex mattresses currently on the market. 
The Zenhaven is moderately priced at under $2000 for a Queen-size, all-latex mattress.
The Zenhaven contains durable, Talalay latex in all its layers.
Read the full Zenhaven mattress review 
$200 Off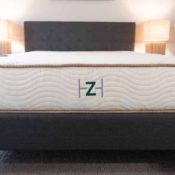 Zenhaven is an all-natural latex mattress that is innovative and has an excellent match of comfort and support.  Save $200 on Zenhaven by clicking the button below.
Best Organic Latex Mattress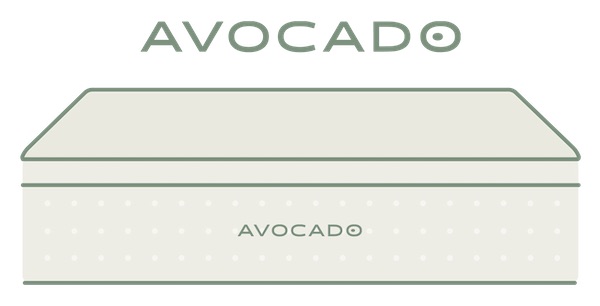 Avocado
The Avocado is another latex hybrid mattress that features nice components such as Dunlop latex and pocketed coils. Just looking at the mattress, it has a luxury look similar to what one would find in a luxury hotel. In our experience, it is simply one of the best latex hybrids on the market.
Like the Birch, the Avocado also comes with an optional pillow top – this gives shoppers a few firmness options with the Avocado mattress. We reviewed the Avocado mattress with the pillow top and found it to be a good option for both back sleepers and side sleepers. The pillow top adds some real plushness to the top of the mattress and should provide nice pressure relief. Without the pillow top, the Avocado should be a firmer option for stomach sleepers.
Given that the Avocado is a high-quality latex hybrid, it should be a good fit for hot sleepers as well. The Dunlop latex is quite breathable, and the pocketed coils allow a great deal of room for airflow.
What Makes The Avocado Mattress Stand Out?
The Avocado is a high-quality latex hybrid mattress that should offer a luxury hotel look and feel.
The optional pillow top gives shoppers firmness options, so back sleepers, side sleepers, and stomach sleepers should get what they need.
The Avocado is reasonably priced at under $1400 for a Queen-size.
Read the full Avocado mattress review 
$200 Off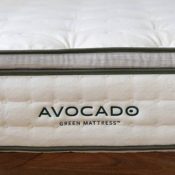 Avocado is an innovative, all-natural mattress that a lot of people are going to like.  Right now, you can get $200 off the Avocado latex mattress by using code LATEX200.
Best Organic Mattress For Side Sleepers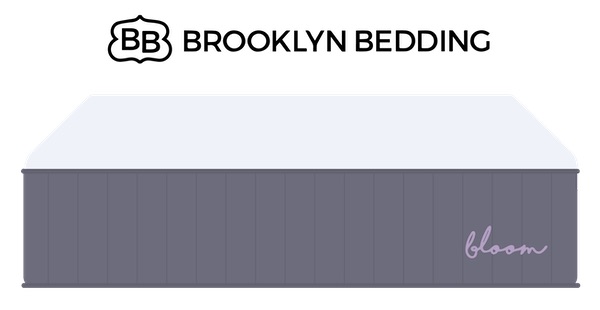 Brooklyn Bedding Bloom Hybrid
Organic mattresses, especially those that feature some sort of latex are known for being firmer and more supportive. That being said, some latex mattresses are still are great match for side sleepers, namely the Bloom Hybrid from Brooklyn Bedding, hence it being awarded the best mattress for side sleepers on this list.
The Bloom Hybrid is a latex hybrid mattress that contains Talalay latex, individually-wrapped coils, and tufted Joma Wool. It is this wool that provides the mattress with soft comfort. Shoppers also have the option of Soft, Medium, and Firm models – we reviewed the Medium and felt great pressure relief on our shoulders and hips – those who want even more softness can opt for the Soft model!
The Bloom Hybrid is also a fantastic deal because it comes from Brooklyn Bedding. The company owns their own factory, so they are able to cut out the middleman and pass the savings on to their customers. So, side sleepers who want an organic mattress that is also a great value should consider the Bloom Hybrid.
What Makes The Bloom Hybrid Stand Out?
The mattress is available in three firmnesses, making it a good fit for many types of sleepers.
The Medium and Soft models should offer nice pressure relief for side sleeping.
The Bloom Hybrid is made by Brooklyn Bedding, so it is a high-quality mattress sold for a value price.
Read the full Bloom Hybrid mattress review 
Get 20% Off
Brooklyn Bedding Bloom Hybrid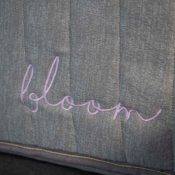 Brooklyn Bedding Bloom Hybrid
The Brooklyn Bedding Bloom Hybrid is an eco-friendly hybrid mattress. Click the button and use code WINTER20 to save 20% on your purchase.
What Is An Organic Mattress?
So, what exactly are we talking about when we say "organic mattress"? Simply put, we are talking about a mattress that does not contain harmful chemicals and is made of all-natural materials. Few mattresses are 100% all-natural, but many are made of naturally, sustainably-sourced materials such as latex, cotton, and wool.
However, with organic mattresses, it isn't so much about what is in them but rather what isn't. Many standard, non-organic mattresses often contain polyurethane foams, vinyl, and other synthetic materials. These, in turn, are often treated with adhesives, dyes, and other harmful chemicals.

This is why, when someone unboxes a standard memory foam mattress, they may complain of "off-gassing." When we unwrap a bed in a box mattress, VOCs (volatile organic compounds) are let loose into the air. These can smell quite terrible and can cause nausea and headaches. Non-organic foam mattresses can also contain a slew of other chemicals such as flame retardants that might have other adverse health effects.
We won't get into the specific chemicals found in non-organic mattresses because, frankly, we're here to talk about organic mattresses! Keep reading to find out what types of materials are in organic mattresses, their benefits, and how to choose the best organic mattress.
What Materials Are Found In Organic Mattresses?

The major materials you will find in an organic mattress are natural latex, cotton, and wool. We will note that these can be accompanied by coils in the mattress support layer – this applies when we are talking about latex hybrids. Of course, a latex hybrid will not be 100% organic, but the top layers and those that are closest to our sleeping bodies are.
Let's discuss the major organic mattress materials and what to consider when shopping.
Latex
First off, we have natural latex foam. When searching online for latex mattresses, you will come across two major types, Dunlop and Talalay. This refers to the process used to create the latex foam. Here's the difference between Dunlop vs. Talalay latex:
Dunlop – With Dunlop latex, the process is simple and straightforward. The liquid rubber is poured into a mold and fills it completely. It is then placed in a vulcanization oven and, after that, it is washed and dried.
Talalay – The liquid rubber is poured into a mold, but it does not fill it completely. The mold is then covered and vacuum pressure is applied until the liquid rubber fills the space completely. The mold is then frozen and CO2 is pushed into the latex and then the rest of the treatment is the same.
It is honestly difficult to tell the difference between Dunlop and Talalay latex, but Dunlop is, in general, denser than Talalay Latex. This means a mattress made with Dunlop latex may feel more firm than a mattress made with Talalay latex.
Organic Cotton
Besides natural, organic cotton is a major material found in organic mattresses – usually, it is in the cover.
Organic cotton differs from "regular" cotton in that it does not come from genetically-modified seeds and when it is growing, it is not sprayed with chemical pesticides. When it is finally treated and processed, organic cotton manufacturers do not use harmful chemicals and dyes.
Wool
Finally, you will often find wool in organic mattresses. Wool is a natural material that is often found in the top layers of an organic mattress to add some plushness.
Wool also acts as a natural fire retardant. This is important, given that organic mattresses do not contain synthetic fire retardants we see in non-organic mattresses. Wool can ensure that organic mattresses adhere to mattress flammability guidelines.
Mattress Certifications To Look Out For

Some companies use the words "organic" and "natural" to describe their mattresses when they are really anything but. To find out how organic a mattress is and if it is truly free of harmful chemicals, make sure that it has been certified by these third-party organizations:
CertiPUR-US – This is not an organic certification, but they do measure what chemicals are in a mattress. A mattress that is CertiPur-US certified does not contain chemicals such as formaldehyde, heavy metals, PBDEs, and ozone depleters. In addition, they measure off-gassing to ensure that emissions are less than 0.5 parts per million.
OEKO-TEX Standard 100 – During this testing, they measure textiles for nickel, formaldehyde, and harmful dyes. There are four different classes of certifications depending on who they are fit for and how close the textiles are to the sleeper's skin. With Class I certification, the textiles are fit for babies and infants younger than 36 months ad, with Class II, they are fit for children and adults over 36 months. Class III means it is approved as pillow fill, Class IV means the textile is approved but will not make contact with the sleeper's skin.
GOTS and GOLS – These stand for Global Organic Textile Standard and Global Organic Latex Standard respectively. GOTS certifies that material is at least 70% organic – this usually applies to cotton and wool. GOLS certifies mattresses as "organic" if the latex in a mattress is at least 95% organic.
Eco-Insitut – This german company tests mattress emissions to ensure they are safe for the environment and shoppers as well. They test for strong odors, heavy metals, and whether it is a flame retardant mattress or not.
USDA Organic – The good old USDA also gets involved with testing materials found in mattresses – this includes, cotton, wool, and latex. If the material is certified "100% Organic", then it is, well, 100% organic. If it is certified "Organic," it is 95% organic and if it is "Made with Organic…" that means it is at least 70% organic.
GREENGUARD Gold – This is a very difficult certification to obtain. Their testing is much more exacting and ensures that a product is safe for at-risk individuals such as the elderly or infants.
Cradle To Cradle – This certification means that a mattress is good for the environment in a number of ways. They test products based on material health, material reuse, renewable and carbon management, water stewardship, and social fairness. They will then award four different achievement levels – Basic, Bronze, Silver, Gold, and Platinum.
The Benefits Of An Organic Mattress
So, why should you consider buying an organic mattress? Organic and non-toxic mattresses usually come with a higher price point, but they are also usually a wise investment for several reasons.
Organic Mattresses Are Durable And Long-Lasting
First off, organic mattresses are known for being quite durable. Memory foam and polyfoam mattresses are known to sag after a short amount of time. Most organic mattresses contain latex, a very durable material that will not sag quickly at all.
While an organic latex mattress might cost more upfront, it should be a better long-term investment. See our post on the best mattresses that won't sag for more durable options.
Natural Materials Come With Natural Benefits
Second, organic and non-toxic mattresses usually sleep cooler than other types of mattresses. Memory foam mattresses, for instance, contain chemicals that trap heat and cause sleepers to overheat during the night. Latex is free of these chemicals and is generally a more breathable material.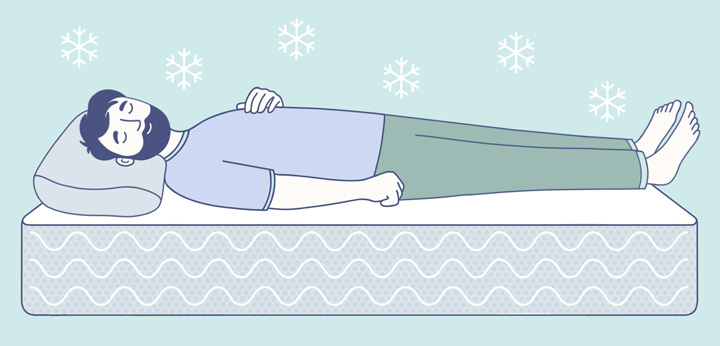 In addition, latex and other organic materials are antimicrobial and hypoallergenic, making them a good option for allergy sufferers.
Organic Mattresses Are More Sustainable
Finally, organic mattresses are better for the environment. Their materials and their production have less of a negative impact on the environment than standard non-organic mattresses.
How To Choose An Organic Mattress
So, let's say you have decided that an organic mattress is right for you – how can you make sure you are finding the perfect mattress for your specific situation? We'll go over all the factors you should keep in mind.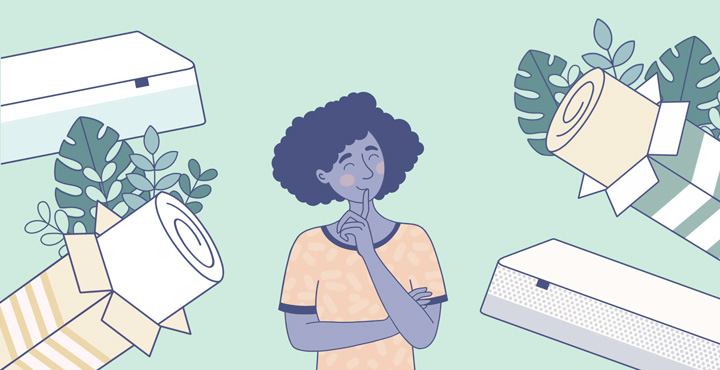 Size – This is something to consider when buying any type of mattress – we want to make sure our bed is big enough! At the same time, we don't want something so big that we're spending money on space we don't need. Shoppers who are trying to find the right size mattress for them should read our in-depth mattress size guide.
Firmness And Sleeping Position – Firmness is one of the main things to keep in mind when buying any mattress. People have different firmness preferences, but it also comes into play when we think about sleeping positions. Basically, if someone is a back sleeper, they are going to want to find a medium-firm mattress. If they are a side sleeper, they should find something softer that offers better pressure relief. If they are a stomach sleeper, they are going to need a firm mattress.
Mattress Construction And Materials – We discussed above that the major materials found in organic mattresses are cotton, wool, and latex. However, there are numerous types of producers of these materials, so do the research to see how they are made and how they will affect the overall performance of the mattress. In addition, some organic mattresses contain coils – these can add more support and breathability, so larger people and hot sleepers might want to keep them in mind.
Certifications – Some companies will claim their mattress is "organic" when it might be quite the opposite. Third-party certifications can help shoppers discover just how organic a mattress really is.
Durability And Budget – Organic mattresses can be an investment and, thankfully, organic materials are usually made to last. That being said, shoppers should do their research to see exactly how durable their future mattress is. They should think about the price and budget and, if the mattress costs more, that they are getting something that will last a long time.
Organic Bedding And Pillows – When it comes to organic products for the bedroom, it doesn't end with mattresses! Organic cotton sheets and an organic latex pillow can be a great addition to any eco-friendly sleeping space.
FAQs
Now, we would like to answer some of the most frequently asked questions regarding organic mattresses.
What is the best organic mattress?
We chose these six as our favorite organic mattresses. However, the Birch by Helix and Avocado would have to be the best overall as they are luxury latex hybrids with the option of a pillow top.
Are organic mattresses worth it?
While organic mattresses usually cost more than non-organic mattresses, they really are worth it. Their durability makes them a good long-term investment and their cooling and support are hard to match.
Why should I buy an organic mattress?
People should buy an organic mattress if they want something that is better for the environment, and they want to sleep on something that is free of harmful chemicals. Also, they should buy an organic mattress if they are a hot sleeper or want something that is going to last for a good amount of time.
How do I choose an organic mattress?
Shoppers should think about size, firmness, and durability when they are picking an organic mattress. They should also look at the materials and read up on the certifications to make sure it is truly organic and eco-friendly.
The following two tabs change content below.
Marten Carlson
Marten is Senior Editor at Mattress Clarity. He covers the mattress industry as well as sleep science news. He is specifically interested in the connection between sleep and overall health.Marten has written for media publications like Consequence of Sound and received a master's degree in Film Studies from Emory University.He comes from Franklin, Indiana, and spends all the time he can writing, directing, and acting in films. He has directed genre short films and features. His newest film, Starlets, recently premiered at the River Town Film Festival in Clinton, NJ. He also stars in the upcoming thriller, Sour Bear. His next film, At The Hop, is a hot rod actioner with a horror twist.
Latest posts by Marten Carlson (see all)