Earplugs are important sleep accessories that often fly under the radar. They come in all shapes and sizes and block noise at different ranges. To some, they're the only way to get a solid night's sleep. For others, they're handy to have around when the neighbors get noisy or on a red-eye flight.
No matter the reason, having the right pair of earplugs can make a huge difference in a person's sleep quality.
With more than 10 years of earplug wearing under my belt (I can't sleep without them), I put together a list of the best earplugs for sleeping. Check them out below and find the best pair for bed, tonight.
Oh, and don't forget to scroll all the way down and check out our list of things to consider before purchasing a new pair of earplugs!
Below is a description and list of the key features of each of the best earplugs for sleeping on our list. Our guide to all the things worth considering before buying the next pair of earplugs is here as well. Check it all out below!
What to Consider Before Buying a New Pair of Earplugs
Noise Reduction Rating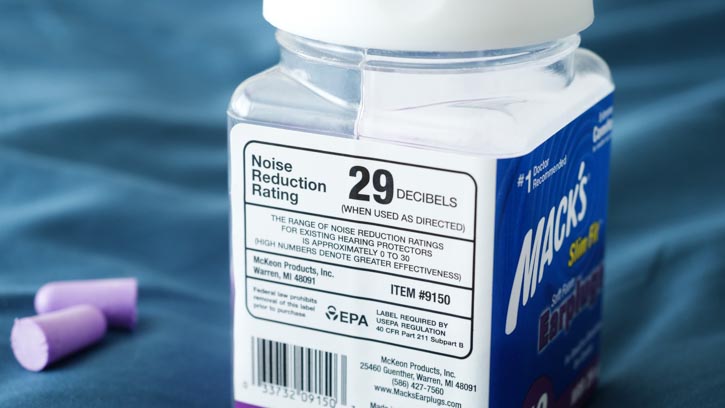 The NRR label stands for Noise Reduction Rating; it's a unit of measurement used to determine the effectiveness of hearing protection devices. As a general guideline for a range of sound, an alarm clock is around 80 decibels (db) and a quiet room is around 40 db.
The earplugs in this list all block or mask some amount of noise, but won't completely cancel out all noise. This way, people still have the ability to hear important or serious pieces of information — such as an alarm clock or a fire alarm — but still have typical sounds eliminated so individuals can sleep more peacefully.
Primary Use
Some people utilize earplugs only occasionally; maybe they're staying in a new place with unpredictable sounds or their sleeping partner is suffering from a cold and is snoring for a few nights. Others need earplugs to sleep every single night and can't go to sleep without utter silence.
My gentle advice for the occasional earplug user is to go with a more affordable and less durable option – something like foam or wax that only needs to be part of the picture every so often. This way no one is bankrupting themselves on a piece of technology that only gets used when the neighbors throw a party.
However, those like me who are highly dependent on earplugs to sleep every night, it's worth finding a high-quality, reusable pair that masks disruptive noise, feel essentially invisible and can hang on the bedside for when it's time for sleep.
Material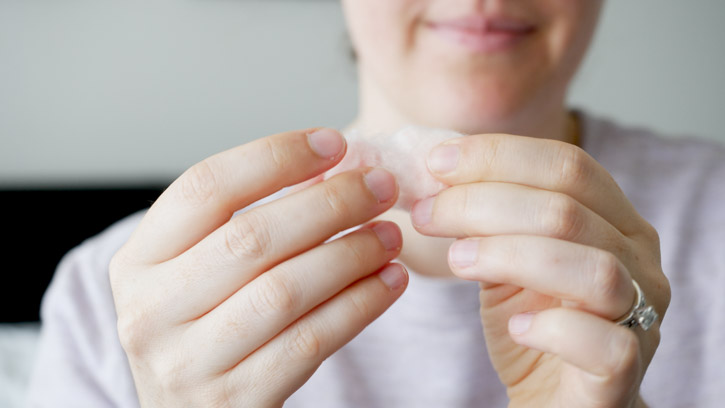 If it's not crystal clear already (pun, intended), earplugs come in a plethora of materials; the most common ones are typically foam and wax as disposable options, and silicone or molded plastic as reusable and more eco-friendly options.
I highly recommend purchasing small packs of a few different varieties and deciding which fits best – both in terms of size and functionality. For some, the foam will do the trick, while others swear only by wax earplugs. Instead of discarding the undesired earplugs, keep them clean and ready for guests or share them with family and friends.
Price
Earplugs come in a surprisingly wide range of prices; that's great news because it means there is a set of earplugs for everyone. While the more affordable earplugs are more likely to be disposable, they will often come in packs with many pairs, which shortens the number of shopping trips to replace them.
Reusable options or options with lots of customizable functions will be more expensive but tend to last longer. They also cut down on waste, which is a boon for the environment.
Katie Golde
Katie previously managed the day to day operations of the Mattress Clarity news site and reviews sleep products in addition to writing and editing sleep news. She hails from Austin, where she lives with her growing family. She is a Certified Sleep Science Coach and has a master's degree in Journalism from Northwestern University and has a background in health and science content. Her work can be found in print and online publications like Discover Magazine, USA Today and The Huffington Post.