Down comforters are fantastic, but they do have their drawbacks – namely, they cost more and can exacerbate allergies. In addition, some people find down to be unethical. Whatever someone's reasons are for avoiding down, a down alternative comforter can be a great, well, alternative!
Down alternative comforters are hypoallergenic, contain polyester or some other synthetic alternative to down and, generally, cost less than down! However, deciding to go with a down alternative is just the beginning – customers then need to sift through the thousands of comforter options out there.
To make everyone's buying process much easier, we put together our list of the five best down alternative comforters. There's something here for everyone, so read on to find the best down alternative comforter!
Best Down Alternative Comforter
Best Down Alternative Comforters 2022: Our Video Roundup
Best Overall – Superior
Who's it for?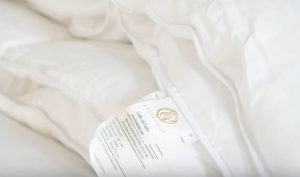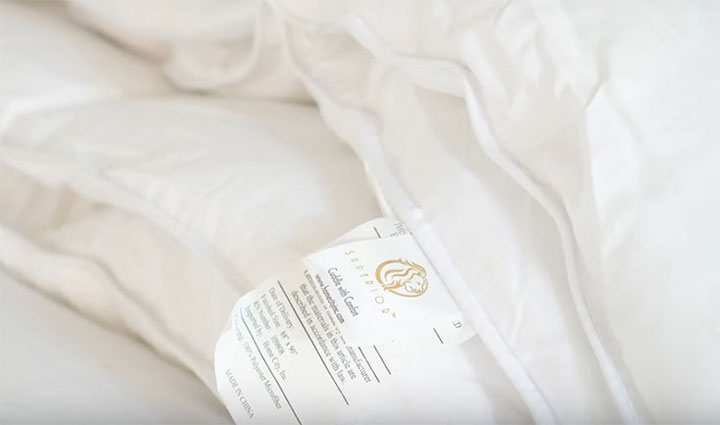 When people are shopping for a comforter, many of them have an idea of what a comforter is supposed to look and feel like; specifically, they think comforters should be fluffy and warm. The issue with many down alternative comforters is that they don't really promise the same insulating, cloud-like experience that one finds with down.
However, those who want the down experience without its drawbacks should take a look at the Superior Down Alternative Comforter. The Superior contains 77 ounces of polyester, down alternative fill with an exceptional amount of loft; looking at the comforter from the side, it really rises off the mattress in a nice way.
It also offers the warmth that one finds with many down comforters; lying underneath the Superior, most sleepers should feel insulated. At the same time, the comforter is quite breathable for a down alternative comforter, and it shouldn't make sleepers too hot on those warmer nights.
The Superior offers the benefits of a down comforter without the drawbacks – what's not to love?
What Makes the Superior Stand Out?
The comforter features a surprising amount of loft and fluff for a down alternative comforter.
The Superior is versatile and should be a good fit for both warmer and colder nights.
The comforter is sold for around $45 for a Full/Queen size, making it a very good value.
Read the full Superior comforter review.
Most Affordable – Utopia
Who's it For?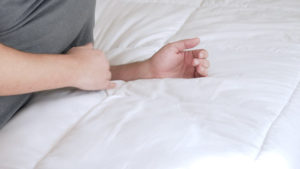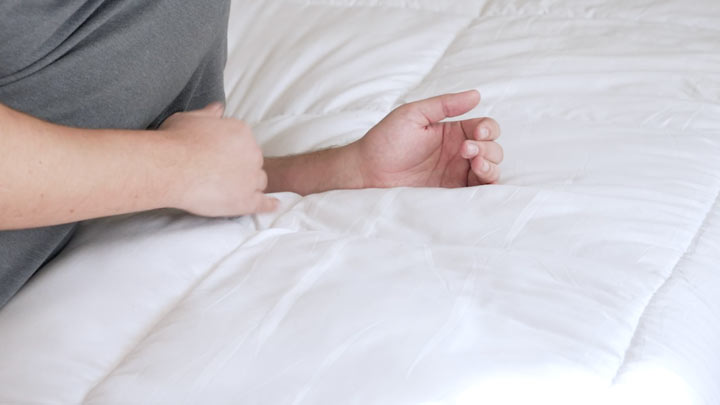 One of the main reasons customers might be considering a down alternative comforter is their lower price; as I mentioned above, down alternative comforters are usually priced much lower than their down counterparts. Looking on Amazon, there are many cheap comforters, but their quality is sometimes questionable.
That is not the case with the Utopia Down Alternative Comforter, a great value pick that doesn't skimp on quality. First off, in terms of price, the Utopia is currently sold for under $30 for a Queen size comforter – compare that with some of the $800 down comforters out there! Second, the Utopia offers some nice fluff and warmth, especially for a comforter of its price.
While the microfiber outer shell isn't the softest, the Utopia works fantastically as a duvet insert; it even features duvet tabs at its corners. This allows us to tie the Utopia into a duvet cover, giving the outside of the comforter a much different feel.
Those who are working with an extremely tight budget and want a value, warm and fluffy comforter or duvet insert should take a look at the Utopia.
What Makes the Utopia Stand Out?
The Utopia is sold for an extremely low price.
With its duvet tabs, the Utopia will work well as a fluffy duvet insert.
The comforter features good warmth and fluff for a down alternative comforter.
Best Cooling Comforter – ClimaBalance
Who's it For?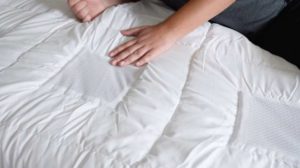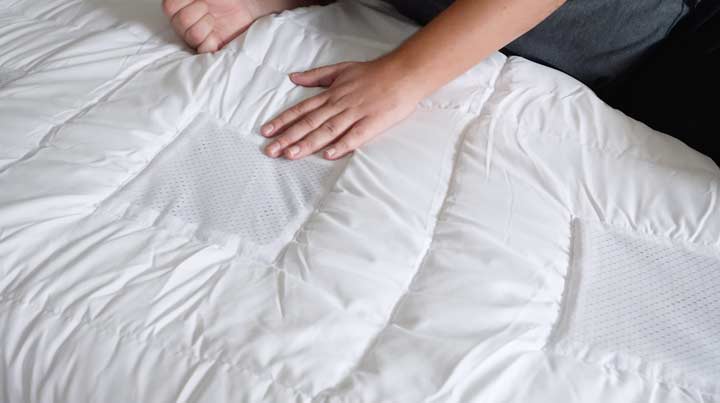 Big fluffy comforters can be a great match on those colder nights, but what about on those hotter nights? Well, that's what the ClimaBalance Down Alternative Comforter is all about; it boasts some very interesting features that should be a big help on those balmier evenings.
The most noticeable feature on the ClimaBalance is the Climate Zone technology; a number of mesh squares are placed across the surface area of the comforter. These allow hot air to escape on warmer nights, allowing the body to cool, and they even work to warm the body on those warmer nights – it's pretty amazing!
In addition, the ClimaBalance is simply a thinner down alternative comforter and is quite breathable overall; even in those areas that do not feature the mesh squares, there should still be a good amount of airflow. The company performed studies and found that users fell asleep more quickly and spent more time in REM sleep when using the ClimaBalance.
What Makes the Climabalance Stand Out?
It features proprietary Climate Zones, mesh squares that promote airflow and help with cooling.
The ClimaBalance is a thinner, lighter down alternative comforter that should be a good match for hot sleepers.
Read the full ClimaBalance review
Most Warm and Insulating – Chezmoi Micromink Sherpa
Who's it For?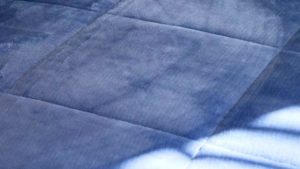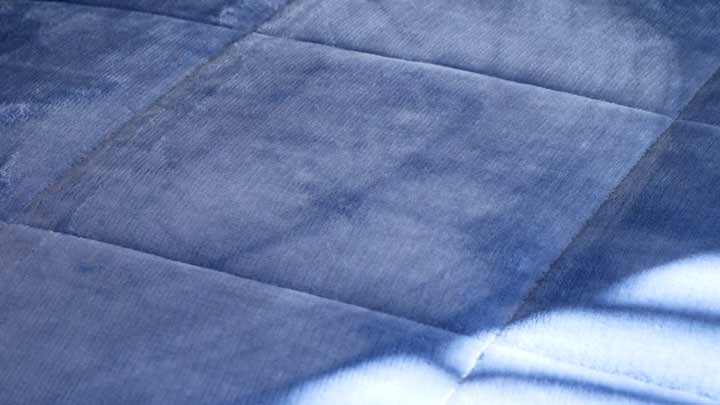 There are hot sleepers, and then there are people who are basically walking ice cubes; they can never seem to get warm. Well, for that latter group, we've got the Chezmoi Micromink Sherpa Down Alternative Comforter – that's a mouthful! This is one of the warmest comforters we've come across and should keep even the coldest sleepers warm on those chilly evenings.
The Chezmoi is a flippable down alternative comforter. On one side, it features soft micromink which is smooth and velvety; the other side is covered in a faux sherpa fleece that has the feeling of wool lining. Both sides have a soft comfortable feel, but sleepers can really decide which works best for them.
Whichever side they choose, people should be sleeping niece and warm under the Chezmoi – it also features a good amount of down alternative fill that, together with the micromink and sherpa fleece, makes it very insulating.|
What Makes the Chezmoi Stand Out?
The Chezomi features two sides; on one side, it is soft micromink and, on the other, there is fluffy faux wool.
The comforter is warm and has a quilt-like look and feel.
The Chezmoi is very affordable and costs less than $50 for a Queen size comforter.
Most Eco-Friendly – Buffy Cloud
Who's it For?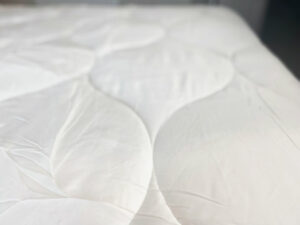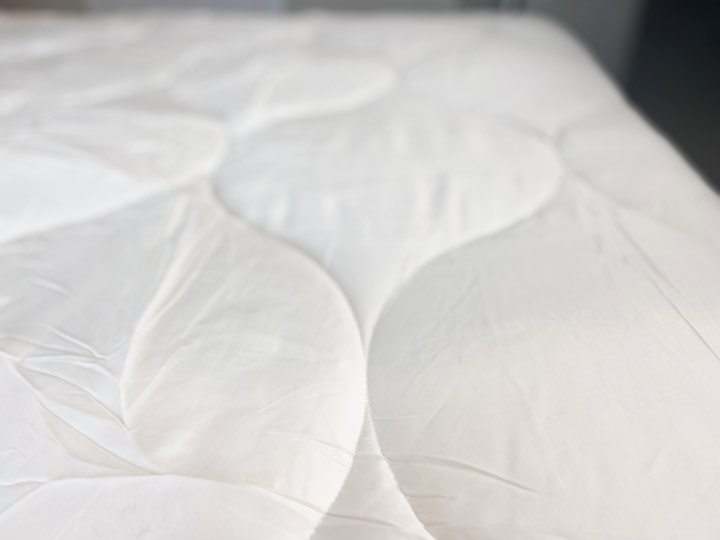 One of the main reasons that people consider down alternative comforters is because they are free of down; as I mentioned above, some shoppers find down to be unethical. Those people who are wanting the best comforter that is extra eco-friendly will want to hear about the Buffy comforter.
Like the other comforters on this list, the Buffy is free of down. However, what sets the Buffy apart is what type of down alternative fill that it features; instead of polyester, the Buffy contains fill made from recycled plastic. Shoppers who are more environmentally conscious should be impressed by this feature. The Buffy also contains eucalyptus fiber in its outer shell which has anti-inflammatory properties.
The Buffy also boasts decent loft for a down alternative comforter. Also, it is not the most breathable comforter, but should be a good match for those colder nights.
What Makes the Buffy Stand Out?
The Buffy features recycled materials, making it a solid eco-friendly pick.
The comforter's eucalyptus fiber shell can be good for the skin.
The Buffy is warm and insulating and should work for the fall and winter.
Read the full Buffy Cloud comforter review.
Who Should Choose a Down Alternative Comforter?
There are a number of different types of sleepers who should consider a down alternative comforter – keep reading to see who a down alternative comforter is the best fit for.
People with allergies. Down is a material that can trap allergens such as dust mites and pollen. Because of this, many allergy sufferers complain that down comforters make them wake up with a stuffy nose and red eyes. While some down comforter producers claim their product is hypoallergenic, it is much safer to go with a down alternative. Down alternative comforters can be truly hypoallergenic and won't exacerbate allergies.
Those who want to avoid down. Some down comforter makers try their best to source down as ethically as possible, many people find down to be downright unethical. Down alternative comforters only contain synthetic fill, so vegans and those who don't want to use animal products can rest easy.
Shoppers who are on a budget. In general, down alternative comforters are more affordable than down comforters, so people who are on a tight budget are going to be better off with a down alternative comforter.
People who want something easy to clean. The majority of down comforters need to be taken to the dry cleaners to properly cleaned, but this is not the case with down alternative comforters. Most down alternative comforters can be washed and dried at home, making it much easier to keep them clean.
Final Thoughts
Anyone who thinks a down alternative comforter is a good choice should definitely consider one of these five options. They are all affordable, hypoallergenic, and much easier to maintain than a down comforter!
FAQs
What is a down alternative comforter?
Simply put, a down alternative comforter is a comforter that does not contain natural down fill - instead, down alternative comforters contain some kind of synthetic fill such as polyester.
What is the best down alternative comforter?
Out of the five down alternative comforters we have chosen, the Superior Down Alternative Comforter is our favorite - it offers many of the benefits of a down comforter but without the drawbacks. It is fluffy, and warm like many down comforters, but it is also hypoallergenic and more affordable.
Do down alternative comforters sleep hot?
It depends on the comforter, but some down alternative comforters can sleep hot. In general, down alternative fills are less breathable than down and, if the comforter has a heavy amount of fill and features a shell that is not breathable, it can make for a hot night of sleep.
Is down alternative better than down?
This really depends on what customers are looking for. For instance, if someone wants a hypoallergenic option that costs less and is easier to clean, a down alternative comforter will be better for them. On the other hand, if they want something very fluffy, warm, and breathable, down might be the better way to go.
Marten Carlson
Marten is the Lead Reviewer at Mattress Clarity. He is a Certified Sleep Science Coach and covers the mattress industry as well as sleep science news. He is specifically interested in the connection between sleep and overall health. Marten has written for media publications like Consequence of Sound and received a master's degree in Film Studies from Emory University. He comes from Franklin, Indiana, and spends all the time he can writing, directing, and acting in films.