Down comforters are fantastic, but they do have their drawbacks – namely, they cost more and can exacerbate allergies. In addition, some people find down to be unethical. Whatever someone's reasons are for avoiding down, a down alternative comforter can be a great, well, alternative!
Down alternative comforters are hypoallergenic, contain polyester or some other synthetic alternative to down, and generally, cost less than down. However, deciding to go with a down alternative is just the beginning – customers then need to sift through the thousands of comforter options out there.
To make everyone's buying process much easier, we put together our list of the six best down alternative comforters. There's something here for everyone, so read on to find the best down alternative comforter!
Our Top Picks for the Best Down Alternative Comforters
How We Choose Our Products
Our team of Certified Sleep Science Coaches have reviewed over 100 sleep accessories, using proprietary analysis and hands-on testing, which includes taking the products home to sleep with them. We also analyzed these comforters on their ability to be temperature regulating, care instructions and materials.
In individual reviews, we assessed each comforter by their temperature regulation, warmth, fill density (how much fill there is and if it stays evenly distributed), durability, and how soft and fluffy they can stay. Each comforter achieved a 4.5/5.0 when these subscores were averaged.
Best Down Alternative Comforters 2023: Our Video Roundup
Best Overall – Saatva
Our Expert's Take
The Saatva comforter is soft, fluffy, and keeps you feeling cozy all night. The outer shell is made with 100% cotton that has been woven with a percale weave. This gives it a slight crisp feeling, but it's very breathable.
Saatva uses a baffle box design, meaning the cover is sewn through into a square design. This helps keep the down alternative fill evenly distributed. Saatva uses something called 3D down alternative, which keeps the fill nice and fluffy, and helps create that cozy effect while you sleep with it.
Pros of the Saatva comforter
Hypoallergenic
Very soft and fluffy
Made with ethically sourced materials
Cons of the Saatva comforter
Read our full Saatva comforter review.
Best Fluffy – Brooklinen
Our Expert's Take
Comforters these days come in many different models with varying amounts of fluff on the inside. If you're looking for the fluffiest of the fluffy, the Brooklinen Down Alternative comforter is for you. It comes in three warmth options, but for the fluffy lovers out there, look at the ultra-warm model.
Brooklinen uses a baffle box construction for this comforter. This means that the outer cotton cover is sewn through in a box pattern, and this keeps the fill evenly distributed throughout the comforter. With the ultra-warm model, you are going to be quite warm, but the good news is that if you prefer something a bit thinner, that won't provide too much extra heat, you can opt for all-season or lightweight models.
Pros of the Brooklinen comforter
Made with an eco-friendly fill
Has a year-long trial period
Comes in three warmth options
Cons of the Brooklinen comforter
Full review coming soon.
Best All-Season – Layla
Our Expert's Take
Some people love using a comforter 365 days out of the year. If this sounds like you, then the Layla comforter is a perfect all-season comforter. It's not too thin, but not too thick, and with an outer cover made with cotton, it should be very breathable. This means it can keep you cozy in the cold months, but won't overheat you in the warmer months.
This only comes in white or gray color options, but Layla designed this comforter to act on its own. However, if you do want to change the color, there are corner loops to attach a duvet cover. This can also help keep the inner comforter cleaner for much longer.
Pros of the Layla comforter
Hypoallergenic
Doesn't need a duvet cover
Machine-washable
Cons of the Layla comforter
Only white and gray color options
Read our full Layla Down Alternative comforter review.
Best Lightweight – Cozy Earth
Our Expert's Take
Some comforters are huge and very fluffy. If you tend to sleep hot and want something more lightweight, the Cozy Earth Bamboo comforter is a solid option. Cozy Earth uses something a little different than the standard down alternative here. You have the option between a silk fiber or bamboo fiber fill. And though you can get this in standard or extra-warm fill options, the standard is ideal for people who want a lightweight comforter.
Keep in mind that this is a thinner comforter, but both options do still provide ample amounts of comfort. The bamboo fill will make this comforter 100% bamboo, which is a good choice for hot sleepers. But the silk fill is temperature regulating, which means it'll be cozy and warm when you need it to be, but shouldn't overheat.
Pros of the Cozy Earth comforter
Has silk or bamboo fiber fill options
Won't overheat
Feels very soft and luxurious
Cons of the Cozy Earth comforter
It has a luxury price tag
Read our full Cozy Earth bamboo comforter review.
Best for Hot Sleepers – Buffy
Our Expert's Take
Hot sleepers usually tend to stray from comforters, but in those cold months, having an extra layer of warmth is key. The Buffy Cloud comforter is great for hot sleepers because it will provide some extra warmth, but you won't overheat underneath it.
Buffy uses a lot of cooling materials in its comforter. The outer shell is made out of 100% Tencel lyocell. This is a material that's great for hot sleepers because it's breathable and moisture-wicking. This means it won't trap heat and will prevent you from feeling hot and sweaty. Tencel is also naturally cool to the touch as well.
Pros of the Buffy Cloud comforter
Won't trap heat
Made with eco-friendly materials
Machine-washable
Cons of the Buffy Cloud comforter
Might need frequent fluffing
Read our full Buffy Cloud comforter review.
Best on Amazon – Utopia
Our Expert's Take
Down alternative comforters are good for budget-minded shoppers, and typically, people flock to Amazon for amazing deals and lightning fast deliveries. The Utopia comforter is one of our favorites that can be found on Amazon. A queen size comforter is less than $50.
The Utopia comforter is great for those looking to stay warm while they sleep. And while it comes in a variety of color options, it also acts as a duvet insert for even more options. Duvet covers also help with comforter durability as it helps it stay cleaner for longer.
Pros of the Utopia comforter
Very affordable
Comes in color variety
Machine-washable
Cons of the Utopia comforter
What is a Down Alternative Comforter?
Down alternative, as the name suggests, is a material that is often synthetic and a replacement for actual down. It's a popular and accessible material that you see in comforters and pillows. Many companies these days make efforts to ethically source down feathers, but for those who would rather not use animal products in their bedding, down alternative is a good choice.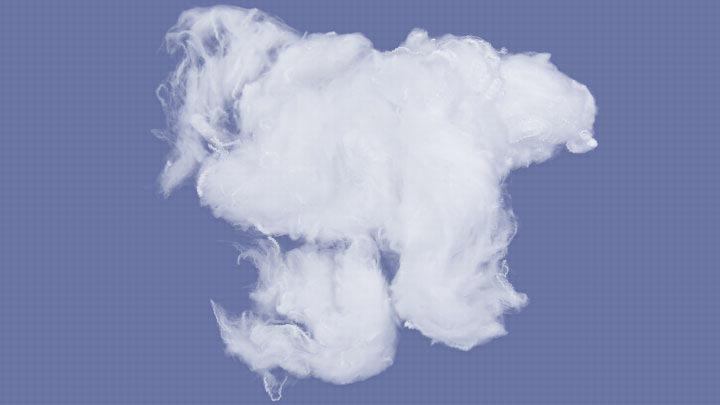 The most common characteristic of down alternative is that it feels soft, plush and fluffy. Think about unraveled cotton balls, but in large quantities, and wrapped up in a fabric shell. Chances are, we've all used a down alternative product to sleep with or on at least once before.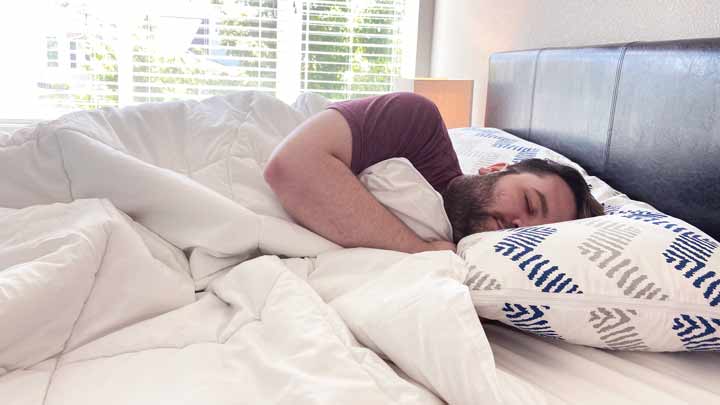 For a more detailed breakdown, be sure to check out our down vs down alternative comforters article.
How to Choose the Best Down Alternative Comforter
Down alternative comforters are the most accessible comforters these days. With so many options, there are a few things you should consider:
Materials: Down alternative is the main material here, but the outer shell can be anything from polyester, cotton, bamboo or Tencel. Polyester might help keep the cost low, but keep in mind that it might not be as breathable or as temperature regulating as cotton, bamboo or Tencel.
Price: The comforters on this list are some of the best comforters out there, but I do recognize that not all of them are budget friendly. Keep in mind that the materials used, how those materials are processed and if the company has any certain certifications are all influencers for price. Higher-quality materials are often more durable as well.
Warmth: Though the main goal of a comforter is to add comfort to your sleep, not all of them will be the best at keeping you from overheating. Though I should point out, all the comforters on this list have ways to prevent sleepers from overheating. Lightweight and all-season models are the way to go if you're a hot sleeper. The only trade off here is that these models are much thinner and won't be as fluffy. But if you're someone who gets cold quickly while you sleep, you'll want to go with the standard comforter model, and avoid words like lightweight or all-season.
| | |
| --- | --- |
| Pros of Down Alternative Comforters | Cons of Down Alternative Comforters |
| Most can be machine-washed | Might not retain as much heat as down comforters |
| Good for people who need hypoallergenic bedding | They have a tendency to flatten easier than down comforters |
| Good for people on a budget and those looking to avoid down products | Depending on the materials used, they might break down quicker than down comforters |
Summary
Anyone who thinks a down alternative comforter is a good choice should definitely consider one of these five options. They are all affordable, hypoallergenic, and much easier to maintain than a down comforter!
The Best Down Alternative Comforters FAQs
What is the best material for a down alternative comforter?

Because down alternative is by and large the same material, I'll be talking about the outer cover. Cotton is the go-to for most comforters because it's easily accessible and just about everyone is familiar with it.
Are down alternative comforters hot?

It depends. The main goal of a comforter is to provide extra warmth. These days, however, companies will offer different warmth options or use cooling materials such as bamboo or Tencel.
Can you put down alternative comforters in the washing machine?

Yes! Though not all down alternative comforters are machine-washable, most can be put into the washing machine. Most brands will mention if a comforter is washable or not.

Be sure to check out our full how to wash a comforter guide for more detailed information.
How long do down alternative comforters last?

With good care, around three to five years. This largely depends on the materials used and how well the comforter is taken care of. Some comforters act as duvet inserts, which can help keep the comforter cleaner for longer, as well as add a layer of protection.