Today we're talking about apps, specifically all the cool and advanced sleep apps out there. It will come as no surprise that there are a lot of different apps available, offering different functions to help people fall asleep and stay asleep.
We've rounded up the absolute best sleep apps when it comes to quality, versatility, and ease of use. There should be something here for everyone, and we hope this acts as a guide to those who aren't sure where to begin!
Our Top Picks
Our top sleep apps are:
Sleep Cycle – Best Free Sleep App
Relax Melodies – Best Sleep Sounds App
SleepScore – Best Self Monitoring App
Calm – Best Sleep App for Meditation
Pillow Automatic Sleep Tracker – Best Sleep App for Apple Watch
Sleep as Android – Best Sleep App for Android
Best Free Sleep App – Sleep Cycle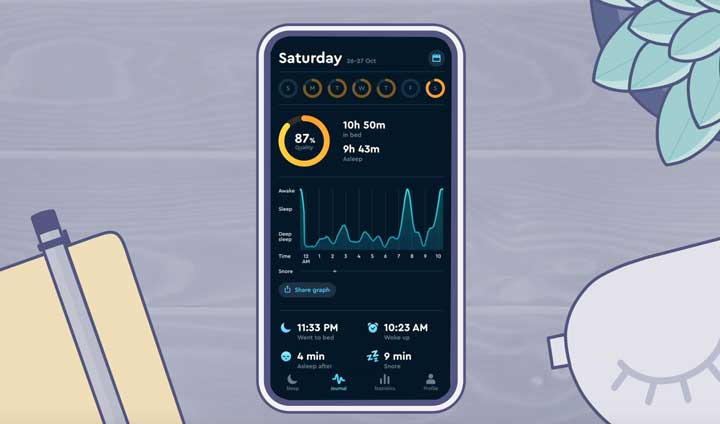 Available for iPhone or Android
I want to point out one thing, the Sleep Cycle app is free to download but it does have in-app purchases. So, while it may not be 100% free, the reason it made my list as the best free sleep app is that there are so many awesome free features in the app that can be used so that people may not even need to make an in-app purchase.
This app is all about tracking someone's sleep and then using that data to help wake a person up in the lightest stage of sleep, so that person is waking up feeling refreshed and rested and – best of all – not groggy.
Once the person is awake, they'll receive a detailed analysis of the quality of their sleep, including a breakdown of their unique sleep cycles. In addition to the personal insight, the Sleep Cycle app is also just a great resource for learning about our individual sleep cycles (but hey, so are we).
Free Features
Sleep analysis with Sleep Cycle patented sound technology or accelerometer
Detailed sleep statistics and daily sleep graphs
Fully integrated with Apple Health, exchanging sleep analysis and heart rate
Carefully selected alarm melodies
Premium features can be purchased monthly, quarterly or yearly. They just take the sleep monitoring up a notch!
Longterm sleep trends and analysis
Compare sleep data to world sleep statistics
Snore trends – view historical snore trends data
Weather – see how weather affects sleep quality
Heart rate monitor – measure a person's heart rate (RHR) every morning using the built-in camera in the device
Sleep aid – designed to help a person fall asleep easier
Sleep notes – see how events such as drinking coffee, stress, working out or eating late affect sleep quality
Even more
Best Sleep Sounds App – Relax Melodies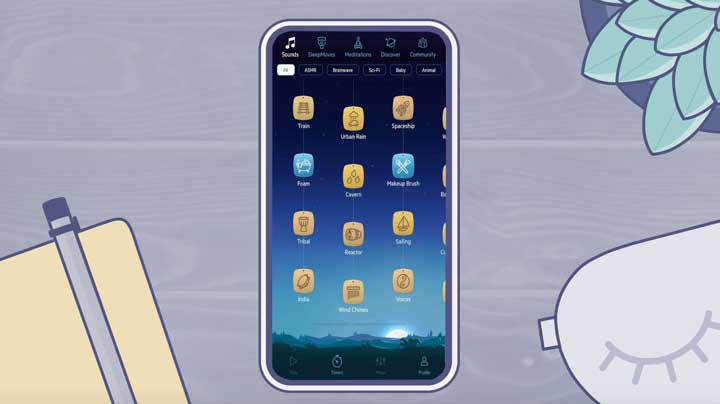 Available for iPhone, iPad, Apple Watch, Apple TV and Android
We're big fans of sleep sounds and white noise at Mattress Clarity. They can be a great way to relax and block out unwanted or disruptive external noise. Relax Melodies boasts 50 million "happy sleepers," which are a lot of users and it's a good indication that the app is doing something right.
The app offers a free trial period and then users can access the full or "Premium" version with a weekly, monthly or yearly subscription. Relax Melodies offers a huge sound library with over 100+ sounds and noises, including baby lullabies, ASMR (think wrinkling bedsheets) and nature sounds.
The app also offers over 200 guided meditations and "sleep moves" which are a series of mind/body exercises and relaxation techniques developed in collaboration with sleep professionals. This includes ones designed specifically for kids or for periods of travel.
The bottom line is this is a great app for those who are interested in learning how to relax and fall asleep more easily but aren't sure what's going to work. Based on my experience, there is something here for everyone, and it's easy to customize and personalize the deeper someone digs into the app.
Best Sleep Monitoring App- SleepScore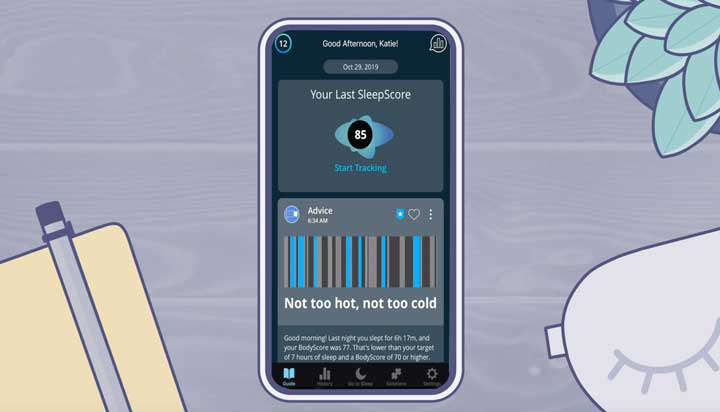 Available for iPhone or Android
SleepScore is known for its innovative high-quality sleep tech, and they do not disappoint with this sleep monitoring app.
It's powered by very reputable technology that uses the microphone within a smartphone and utilizes the speaker's capabilities to track and measure breathing rates and body movements.
Once the data is collected, SleepScore breaks down the night of sleep into 32 different parameters and then makes personalized sleep recommendations based on the analysis.
Similar to Sleep Cycle, the SleepScore app is free to download and there are a set of free features and premium features that can be purchased in auto-renewing monthly & yearly subscription options.
Free Features
Measure and optimize the bedroom's light and sound to create the perfect "sleep sanctuary" and get local outside temperature
Soothing sleep sounds and music
Tips to help someone fall back asleep during the night
A smart alarm clock designed to gently wake a person at the ideal time in his/her sleep cycle
A "sleep score" each day based on different sleep stages, calculated from 0-100
A detailed look at the 4 stages of a person's sleep each morning, including light, deep, REM sleep and awakenings
SleepScore "CheckUp" continuously monitors sleep and provides notifications if more serious sleep concerns are detected to share with a doctor
Product recommendations from our sleep experts based on unique sleep patterns
Premium Features
Actionable challenges to achieve goals, like waking up less or having more energy
Sleep comparisons to an ideal night for people that are a similar age and gender
Advanced SleepScore algorithms inform if the individual should be working on a different goal
The lifetime of a person's sleep history and sleep correlations, instead of just the last seven nights
A comprehensive sleep report to share with a doctor
Weekly highlights showing the best nights of sleep each week
Helpful trend-charts based on the person's lifestyle data and sleep patterns for making smarter daytime decisions
Best Sleep App For Meditation- Calm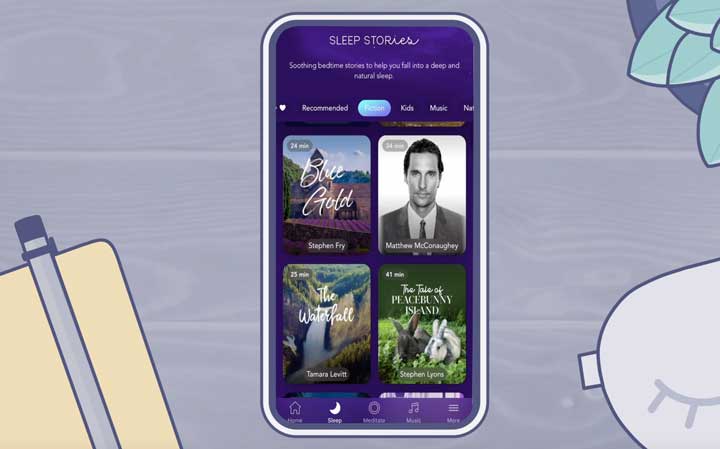 Available for iPhone or Android and for iPhone, iPad, and Apple TV 
Calm is one of my all-time favorite apps, and I'm not alone because it won Apple's Best of 2018 award as well. Calm is a "mindfulness" app but I especially love it for its meditations. There is something here for all levels and I guarantee that newbies won't be intimidated.
Calm offers meditations for beginners, intermediate and advances groups as well as sleep stories and guided "sleep moves". All of these features, plus a library of sleep sounds, are guaranteed to relax anyone into a peaceful sleep.
Calm comes with a free trial period but eventually, people will have to pay for access in auto-renewing monthly or yearly payments.
Features
It includes hundreds of programs for intermediate and advanced users
Guided meditation sessions are available in lengths of 3, 5, 10, 15, 20 or 25 minutes so people can choose the perfect length to fit with their busy schedules
Calm has 100+ exclusive Sleep Stories for adults and children alike, featuring well-known talents such as Stephen Fry, Matthew McConaughey, Leona Lewis, and Jerome Flynn. Drift off to dreamland and wake up refreshed.
There are also a library of sleep sounds including sleep music playlists and sounds of all types
An original Daily Calm every day: a 10-minute program added daily to help ease an individual into the day or unwind with before bed
Calm Masterclass: Audio classes featuring world-renowned expert
Calm Body: Mindful stretching and movement to relax the body during the day
Best Sleep App For Apple Watch – Pillow Automatic Sleep Tracker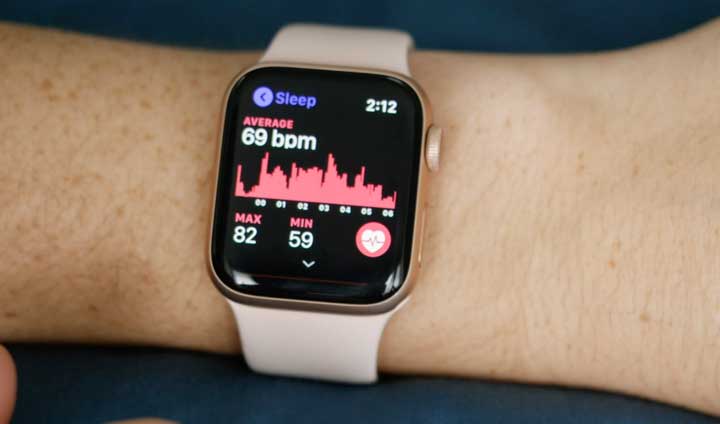 Available for iPhone, iPad, and Apple Watch
Due to popular demand, we've picked the best sleep app for Apple Watch! What I like about Pillow is that it can analyze a person's sleep cycle automatically using the accelerometer and heart rate monitor in the Apple Watch and enhance the level of accuracy (as compared to leaving the smartphone on a nightstand to track sleep).
The app, like the other sleep trackers I mentioned, is intuitive and easy to use. Here are the features:
Use Pillow's smart alarm clock to wake up at the lightest possible sleep stage and start the day refreshed and relaxed
Record important audio events such as snoring, sleep apnea and sleep talking. Explore trends about sleep and compare sleep quality with ten Apple Health metrics that affect sleep
While wearing the Apple Watch during sleep, Pillow will automatically detect and analyze an individual's sleep
View last night's report right on the Apple Watch, along with the heart rate analysis for the night
Advanced sleep analysis algorithm, based on the latest scientific findings in sleep research
Sleep stage diagram (Awake, REM, Light Sleep, Deep Sleep) and sleep session trends
Heart rate analysis requires Apple Watch
Use sounds as sleep aids or for alarm or sync anything from iTunes
Best Sleep App for Android – Sleep as Android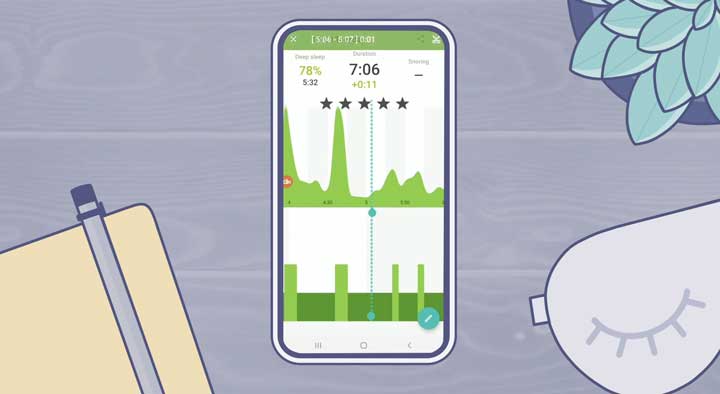 Available for Android only
Sleep As Android is my pick for the best sleep app for Android users because it's just for them! We've been using my colleague Marten's Android phone to test out this app and he's really enjoyed it. It's essentially a smart alarm clock that also comes with sleep tracking.
It helps to wake us gently in the morning in an "optimal moment for pleasant mornings" aka when we're not super out of it. Sleep As Android has a library of features, so let's break them down:
Sleep tracking using sonar so it can be placed on a nightstand and not in the bed
"Smart alarm clock" to wake a person up from his or her lightest sleep stage
A variety of sound options including lullabies and nature sounds
Gentle nature sound alarms (birds, sea, storm…) and playlists
Nature sound lullabies (whales, storm, sea, chants..)
Spotify and Play Music integration or online radio alarms or lullabies
CAPTCHA wake up verification (Math, Sheep counting, Phone shaking, Bathroom QR code or NFC tag) that the user must complete in order to turn off the alarm clock
Sleep talk recording, snoring detection and anti-snoring
Similar to the other sleep trackers mentioned in this list, Sleep As Android also provides the user with a "sleep score" each night. This sleep score is specifically the user's sleep quality analyzed by looking at duration, deficit, deep sleep percentage, snoring, efficiency, and irregularity, according to the app developers.
Sleep As Android provides a free trial and then much be purchased.
A Note About Sleep Tracking Apps
Several of the apps we've included in our list of Best Sleep Apps offer some sort of sleep tracking or monitoring capabilities. While this technology is highly advanced and may capture data to the most accurate extent it possibly can, it should not be used to replace a trip to the doctor's office for any health concerns.
Sleep disorders can often go undiagnosed and we urge those who use these sleep trackers to enjoy the features and insight they provide, but if they have any concerns or want a confirmation on a potential sleep disorder diagnosis, please go see a doctor so they can recommend a real sleep study to rule out any health issues if warranted.
RELATED: What Is Sleep Apnea?
The Bottom Line
That's our list of the Best Sleep Apps available today. There's something for Android users, iPhone users and of course, all of those out there with an Apple Watch!
Whether it's tracking sleep quality, waking up at the absolute best time in the morning or learning all about how meditation impacts sleep, these apps can truly make a difference.
Comment below with any questions and let me know which ones sound like the best fit!
FAQs
What are the best apps to help you sleep?
The best sleep app is different for everyone! Some people may want to track their sleep to get an idea of the quality of their sleep while others may be looking for natural sounds to help them drift off or want to get started with a guided meditation to help them relax and fall asleep. Fortunately, there is a great range of sleep apps out there to choose from.
Do sleep apps work when sharing beds?
Yes, as long as the individual follows the sleep tracking instructions the technology should be able to differentiate between two people in a single bed.
What noise is best for sleeping?
There is no universal "best" sound for sleeping. Some people prefer the sound of white noise to fall asleep, while others may prefer the sound of someone talking or a naturally babbling brook. One of the great things about our list is the apps that we've featured have large libraries full of different sounds to choose from.
What are the best free sleep apps?
There are plenty of apps that offer free trial periods. This is a great way to test out whether the app's contents will be a good match. Others offer basic features for free and options that can be unlocked with a payment.