When shopping for a mattress, people over 230 pounds might have trouble finding something that's both supportive and comfortable for someone of their weight. As a larger person myself, I understand the struggle! That's why I wanted to put together a list for all the larger mattress shoppers out there. Here are some of the factors I considered when choosing the best mattresses for heavy people:
Durability
Support
Thickness
Edge support
Cooling capabilities
Our Top Picks
The best mattresses for heavy people are:
Editor's Pick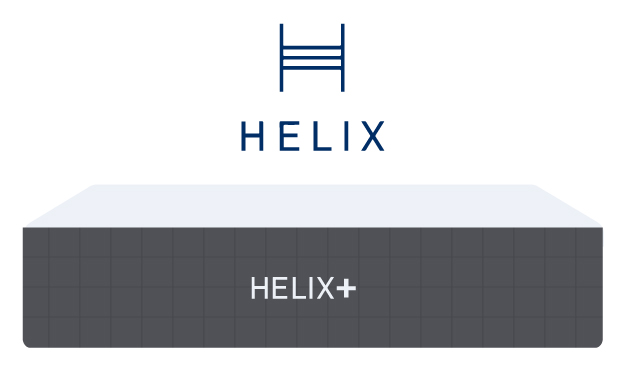 Helix Plus
Helix is a unique company known for its customization and flexibility – customers can take a sleep quiz that will guide them toward one of the brand's nine hybrid mattresses. Larger people will likely be guided toward the Helix Plus, a mattress designed specifically for heavy sleepers. There's a lot of reinforcement here, from an additional layer of high-grade polyfoam to taller coils that provide extra support.
What Makes The Helix Plus Stand Out?
The coils allow for good airflow, which means the mattress should not trap too much heat.
The Helix Plus has a memory foam feel, so larger people will feel like they're slowly sinking into the mattress while also getting plenty of support.
The bed should be a great fit for heavier side and back sleepers.
Read our full Helix Plus mattress review.
Up To $200 Off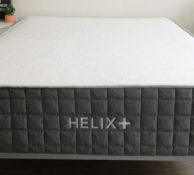 The Helix PLUS is a supportive hybrid that could be a great match for heavier sleepers. Click the button to save up to $200 and get 2 free dream pillows. 
Best Luxury Mattress For Heavy People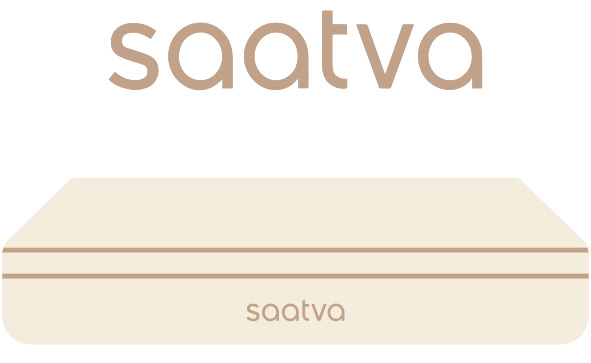 Saatva HD
Made specifically for larger people, the Saatva HD is the tallest mattress on this list at 15.5″. You can also add a supportive foundation of up to 8.75″ if you want to make it even taller. Inside the bed, there are a ton of luxurious features typically found in high-end hotel mattresses: comfort foam, high-grade steel coils, Talalay latex, memory foam, and support foam, all of which work to give heavier sleepers the support and durability they need.
What Makes The Saatva HD Stand Out?
The Saatva HD's zoning makes it ideal for all three sleeping positions. Back sleepers and stomach sleepers should feel support in the center, and side sleepers should get decent pressure relief from the plush pillow top. It's also a good mattress for combination sleepers.
The bed sleeps incredibly cool, thanks to the ventilated latex foam and coils that promote airflow.
It contains eco-friendly materials such as latex and organic cotton.
Read our full Saatva HD mattress review.
Save $200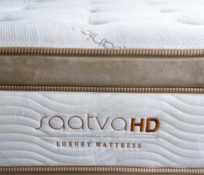 The Saatva HD is a supportive mattress made specifically for larger people. Click the link to save $200 on the Saatva HD. 
Best Cooling Mattress For Heavy People
GhostBed Flex
If you're heavier and tend to overheat at night, you'll need a bed that can support you while also cooling you down. The GhostBed Flex hybrid mattress does just that with pocketed coils and multiple layers of soft foam that should be able to handle heavier weights. It all comes topped with a cooling cover that works to regulate your temperature during the night.
What Makes GhostBed Flex Stand Out? 
Each mattress has gel infusions that draw heat away from the body.
The foam inside the bed offers a good deal of pressure relief, making the mattress a great match for back and side sleepers.
GhostBed offers a Head-to-Toe Adjustable Bundle, which includes the GhostBed Flex, adjustable base, GhostPillow, and luxury GhostSheets.
Read our full GhostBed Flex mattress review.
Click For 30% Off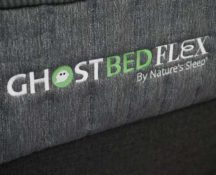 The GhostBed Flex is a hybrid mattress with a great balance of comfort and support. Back sleepers and side sleepers should find what they need on the GhostBed Flex. Get 30% off and get 2 free pillows with this coupon. 
Best Mattress For Heavy People With Back Pain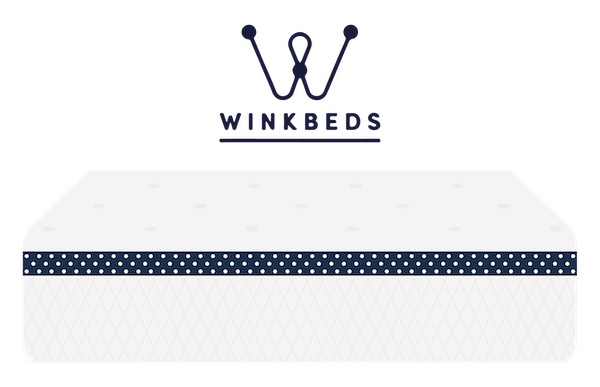 WinkBeds Plus
WinkBeds currently offers four innerspring mattress models, with the Plus made specifically for larger people. They should find plenty of support in 7.5″ of zoned, individually wrapped coils and a zoned latex layer. Both of these layers are firmer in the center, giving extra support right under the lumbar zone.
What Makes The WinkBeds Plus Stand Out?
The bed has a pillow top with high-density, sag-proof foam that, while comfortable, shouldn't sink or sag under heavier weight.
The WinkBeds Plus sleeps cool; the coils promote airflow, and the latex is naturally cooling.
The WinkBeds Plus is a wonderful option for heavier back sleepers. They should feel their hips sink in the perfect amount while the coils and zoning provide support.
Read our full WinkBeds Plus mattress review.
$300 Off + Free Sleep Bundle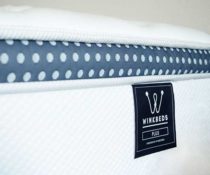 The WinkBeds is an innerspring mattress with a luxury, hotel feel. It is designed specifically for larger people. Get $300 Off + Free Sleep Bundle with our coupon. Just enter your email to save.
Best Cheap Mattress For Heavy People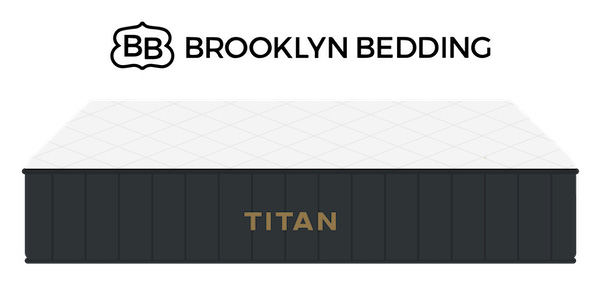 Titan Firm Hybrid
Brooklyn Bedding is a producer of some of the most budget-friendly mattresses on the bed-in-a-box market; they own their own factory, and this allows them to price their mattresses very competitively. The Titan is their bed for heavy people, and comes in two models: the Titan Luxe Hybrid and the firmer Titan Firm Hybrid.
What Makes The Titan Stand Out?
The bed's TitanFlex foam and gel memory foam are high-density and meant to prevent sagging.
Hot sleepers should feel right at home on the Titan. Its gel memory foam helps dissipate heat, the coils have good airflow, and you can add a cooling panel to the top of the mattress for an additional fee.
The bed has an 8" support layer of extra-strong TitanCaliber coils. Beneath the coils, a high-density foam base provides even more foundation for heavier sleepers. This makes the Titan Firm Hybrid an especially good match for heavy stomach sleepers.
Read our full Titan Luxe Hybrid mattress review and our full Titan Firm Hybrid mattress review.
Get 25% Off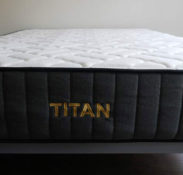 The Titan is Brooklyn Bedding's mattress for heavy people. It is a firm, supportive mattress that can support heavier weights. Click the button to save 25%.
Best Pillow Top Mattress For Heavy People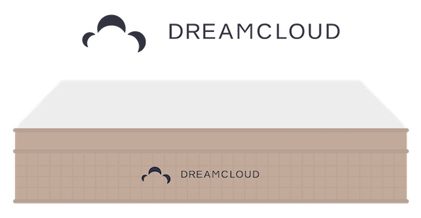 DreamCloud Premier
Many folks love a pillow top mattress for its balance of comfort and support. And if you're a heavier sleeper, the hybrid DreamCloud Premier might be appealing because of the high-grade coils in its support layer. There are also multiple layers of pressure-relieving foam right underneath the fluffy pillow top.
What Makes The DreamCloud Premier Stand Out?
The pressure relief could be a great fit for heavier side and back sleepers.
The DreamCloud Premier boasts a luxury look and feel for a value price. A Queen is currently priced under $1,500.
Like many hybrid mattresses, the DreamCloud Premier sleeps cool due to its breathable coils.
Read our full DreamCloud Premier mattress review.
$200 Off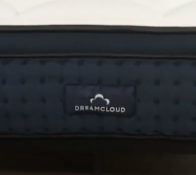 DreamCloud Premier is a high-quality, luxury mattress that a lot of people are going to like.  You can get $200 off the DreamCloud Premier mattress and receive $399 of free accessories simply by clicking the link below.
Best Mattress For Heavy Side Sleepers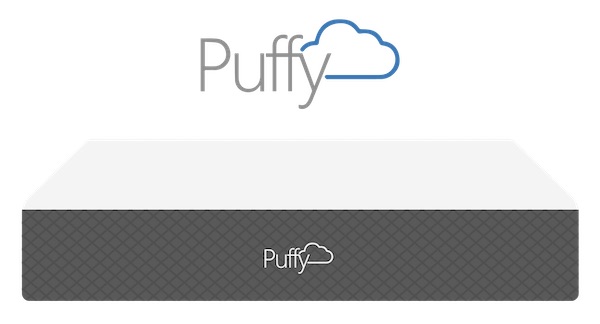 Puffy Royal Hybrid
When Puffy says their mattresses feel like you're "sleeping on a cloud," they aren't lying. The Puffy Royal Hybrid – the brand's most luxurious model – contains plush, slow-moving memory foam that's excellent for heavier side sleepers. At the bottom, you'll find a layer of high-density support foam and Puffy's Contour-Adapt coils. These materials give the bed an especially long lifespan and allow it to handle heavier weights.
What Makes The Puffy Royal Hybrid Stand Out?
The mattress is fantastic at isolating motion, making it a good option for couples.
It has cooling gel beads that keep the bed's temperature low by dissipating heat. There's also a layer of especially cool Climate Comfort foam.
The memory foam provides enough contouring and pressure relief throughout for back sleepers.
Read our full Puffy Royal Hybrid mattress review.
$300 OFF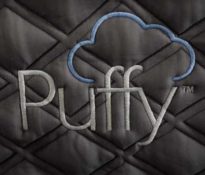 The Puffy Royal is a high-end all-foam mattress that should be a great choice for lightweight adults, children, and teenagers. Click to save $300 on the Puffy Royal and get $455 worth of free accessories. 
Best Hybrid Mattress For Heavy People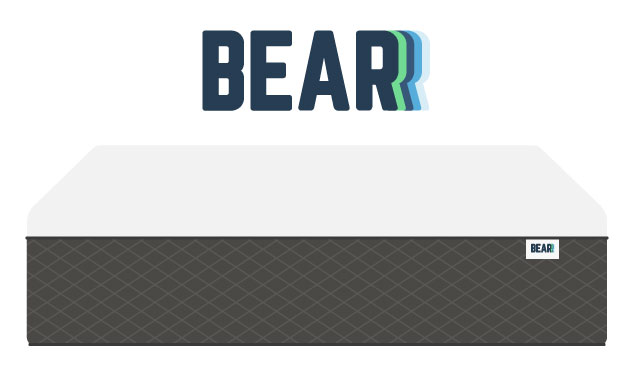 Bear Hybrid
With its high-grade coils and multiple layers of high-density foam, the Bear Hybrid has a dynamic design that caters to heavier back and side sleepers. When back-sleeping, you should feel your hips sinking in the right amount as the coils hold up your body. When side-sleeping, the top comfort layers should relieve most of the pressure on the shoulders and hips.
What Makes The Bear Hybrid Stand Out? 
This is one of the best budget mattresses for heavy people. Right now, it costs less than $1,400 for a Queen-size.
The bed has a Celliant cover that makes it a good, breathable option for hot sleepers. The coils also help with airflow.
There's enough responsiveness in the Bear Hybrid to also make it a good fit for combination sleepers.
Read our full Bear Hybrid mattress review.
25% Off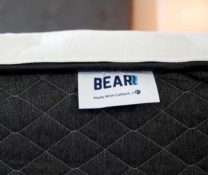 The Bear Hybrid has a great balance of comfort and support. It is a great match for back and side sleepers. Mattress customers can get 25% off the Bear Hybrid and a free gift set with the promo code 'CLARITY25'
Best Memory Foam Mattress For Heavy People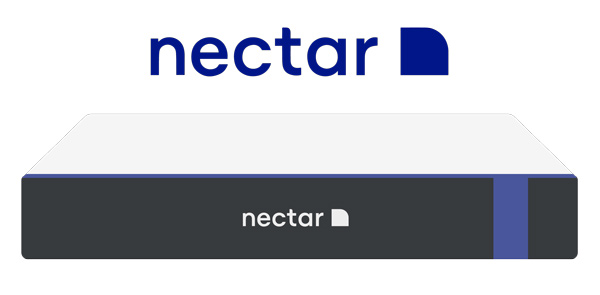 Nectar Premier
Innerspring mattresses tend to be a good match for heavier sleepers because of their support. But what if you prefer a classic memory foam feel? If so, you might want to check out the Nectar Premier,  an all-foam bed with a thick layer of memory foam right on top. As you lie down, you'll slowly sink into the mattress and feel it conform to your body, especially the shoulders and hips. But there's also enough support here to keep you from bottoming out.
What Makes The Nectar Premier Stand Out?
The fact that this is an all-foam bed is pretty astounding, as memory foam usually doesn't do a great job of supporting heavier sleepers. That being said, we should note that anyone over 300 pounds might need a firmer innerspring bed.
While memory foam tends to sleep hot, the Nectar Premier keeps cool with a Phase Change Material that works to dissipate any body heat that builds up during the night.
Nectar also offers an Adjustable Base in case you're looking for even more support from the bottom of the bed.
Read our full Nectar Premier mattress review.
FREE ACCESSORIES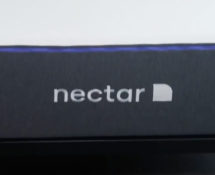 The Nectar Premier is a plush memory foam mattress with some great cooling features. Click the button to get up to $399 worth of free accessories.
Best Mattress For Heavier Stomach Sleepers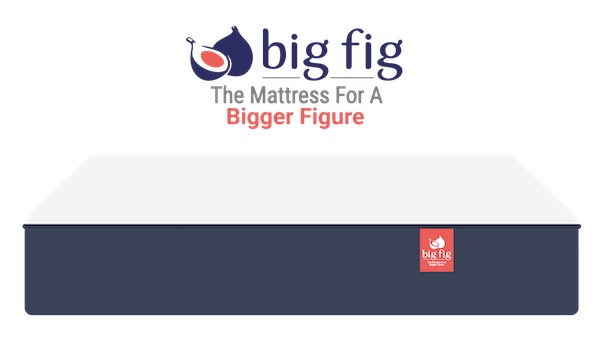 Big Fig
Folks who sleep on their stomachs usually need a stronger foundation than other sleeping positions, which can make it especially challenging for heavier stomach sleepers to find the right bed. Luckily, the Big Fig offers the support they'll need with 7″ of individually-wrapped coils, as well as five layers of high-density foams. There's even a layer of latex foam for a little bit of bounce and responsiveness.
What Makes The Big Fig Stand Out?
It's an especially supportive mattress designed to handle up to 1,000 lbs, which makes it an excellent option for heavier couples.
Heavier back sleepers should also enjoy the Big Fig. There's a bit of plusness in the bed's quilted top, creating some contouring and allowing their hips to sink in just the right amount.
The mattress contains a gel infusion and airflow-promoting coils, so the mattress shouldn't sleep too hot.
Read our full Big Fig mattress review.
$300 Off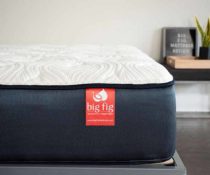 The Big Fig is a very supportive mattress. It is very durable and designed to support much larger weights. Use our coupon to save $300 on your mattress.
What Should Heavy People Consider When Looking For A Mattress?
For those larger people out there, there are a few extra factors to take into consideration when choosing a new mattress. Keep the information below in mind, and it should be quite easy to find the right mattress!
Durability
No matter what someone's size is, durability is something to consider when looking for a mattress. Everybody wants to know how long their bed will last because this helps one understand if the price tag matches the value.
For heavier people, durability is even more important, as their extra weight can strain the mattress and decrease its overall lifespan.
To ensure that a mattress lasts for a good long while, look for models that incorporate high-density foams and extra coils. These components can counteract the wear and tear heavier weights can put on a mattress.
They can also solve the problem of sagging. As we lie on a mattress over time, body indentations can form, and this happens even more quickly under heavier weights. The indentations can cause discomfort and decrease the life of a mattress so, to combat this issue, look for mattresses that have "sag-proof" foams that retain their form over time.
In addition, make sure to read the mattress warranty fine print closely. You want to know exactly what's covered if your mattress isn't quite as durable as you thought. And of course, seek out the best place to buy a mattress. This means looking online and using our exclusive coupons.
Finally, learn about how often you should replace your mattress.
Support
Mattresses designed for larger people will utilize high-density foams and taller coils to give extra support, so it's an excellent idea to choose a mattress with these features:
High-density foams will not compress as easily, meaning there's less of a chance that heavier sleepers will "bottom out" on the mattress and engage the firmer support layers.
Taller and higher-grade coils are also designed to support more weight and some mattresses, such as the Big Fig, also have a greater number of coils across the mattress.
Larger people may struggle with issues such as lower back pain and sciatica, especially if their mattress is not supportive enough. Make sure to read our top picks for the best mattress for lower back pain and sciatica.
You also want to ask yourself, "Do you need a box spring?" Make sure you check out the mattress website to make sure you're getting the right support system.
Thickness
Another important factor to consider is the overall height of the mattress. If a mattress is taller, it could offer more support, but if the mattress is thin, heavier people could press right through it to the bottom of the bed.
In addition to looking for a thicker mattress overall, it's also helpful to consider the thickness of a mattress's comfort layer. If there's a very thin comfort layer, heavier people may have the issue of "bottoming out" on the mattress as they press through the comfort layer and engage the support layers. The thicker the comfort layer, the less likely it is that sleepers experience this problem.
Edge Support
The term "edge support" refers to how well a mattress holds sleepers up when sitting or lying near its edge. Does it collapse completely or give them the necessary support? Edge support also determines how close to the edge of a mattress someone can lie comfortably before they start to feel like they're going to roll off the edge.
For larger people, this is an important feature. If someone is taller, heavier, and/or sleeps with a partner, they want to utilize as much of the mattress's surface area as possible. Also, heavier people can compress a mattress more than a lighter person might, so they want to know if they can sit and lie down comfortably near the edge of the mattress.
As a general rule, hybrids and innerspring mattresses usually have better edge support than memory foam mattresses. That being said, both hybrids and all-foam mattresses sometimes have reinforced edges and foam encasements to enhance their edge support. It's a good idea to ask the mattress retailer or manufacturer about construction specifically as it relates to edge support.
Mattress Firmness And Sleeping Position
Heavy people should pay close attention to the difference between a firm vs soft mattress. While heavier sleepers may think that a very firm mattress is the best, it's really not that simple. It is true that a firmer mattress should offer more support, but it's worth thinking about one's specific sleeping position and whether the mattress's firmness will be a good fit for one's preferences.
Mattresses for heavy people are usually firmer than average, but back sleepers won't want their mattress to be too firm. There needs to be just enough give so that their hips sink in and keep their spine in alignment.
Heavier-weight side sleepers usually want some nice pressure relief on their shoulders and hips. That means they'll need a little bit of softness, although an overly soft mattress is going to cause them to bottom out. They should consider their weight and the thickness of the comfort layer to find the proper balance.
Heavier-weight stomach sleepers should have the easiest time finding a mattress. As long as the bed is firm enough, they should get the support they need.
Heavier-weight combination sleepers want to find that right balance of comfort and support. Consider firmness, the thickness of the comfort layer, and your own weight while looking at different options.
RELATED: Best Firm Mattresses
Sleeping Partners And Their Sleeping Preferences
If someone is looking for a mattress for their partner and them, they need to factor their weight and sleeping position into the equation.
If someone's partner is close to their weight and sleeps in the same position as them, the decision could be easy. But if they're a different weight and need a softer or firmer mattress, the decision will be more difficult. Both partners may need to find a middle ground where they each compromise a bit on the comfort and support they need.
Couples should also consider their total weight, as those extra pounds could put extra pressure on the mattress and increase wear and tear. Mattresses such as the Big Fig are made to hold up to 1,000 pounds, and there are also foundations designed to add more support for a mattress. In addition, make sure the mattress is large enough for both of you. Take a look at our best king-size mattresses for some good options for heavy couples.
Mattress Cooling
When we are thinking about the temperature of a mattress, the mattress construction will play a big part. Innerspring or hybrid mattresses will most likely sleep cooler than a memory foam mattress since coils allow for airflow, while memory foam can trap heat.
That being said, many mattress-makers perforate their foam layers and make channels in the foam to promote airflow. Some of them also infuse gel into the foams or use an open-celled design to allow for good breathability. It's important to ask about the mattress's materials if you're concerned about sleeping hot.
Weight is another consideration. For instance, if the mattress contains memory foam, a heavier person may sink further into it than a lighter person, thus exposing less of their body to the cooling air.
As a result, larger sleepers who worry about sleeping hot may want to think about finding a firmer mattress. If they are able to sleep more "on" the mattress, they should stay cooler while they sleep.
Overall
Here's a recap of our top picks for heavy people:
Still looking for your next perfect mattress? Try taking our mattress quiz for personalized recommendations!
FAQs For Heavy People
What is the best mattress for a heavy person?
I have outlined my ten favorite mattresses for larger people but, if I had to choose just one, I would choose the Helix Plus.
There's a great deal of reinforcement in this bed, including an additional layer of high-grade polyfoam and taller-than-usual coils for extra support.
In general, it's one of the most supportive mattresses I've slept on and is designed to handle much heavier weights.
Do mattresses have a weight limit?
Yes, they do! While some companies don't really advertise it, all mattresses have their own weight limit. It is very important for larger people to research the weight limits of the mattresses they are considering. Many mattresses that are made specifically for larger people, such as the Big Fig, advertise their weight limits front and center.
What is the best type of mattress for a heavy person?
Innerspring and hybrid mattresses are the best types of mattresses for a heavy person. Coils offer more support than the base foams found in all-foam mattresses, and they should be able to handle more weight.
What should a heavy person think about when buying a mattress?
Larger people should be looking for a mattress that incorporates spring somewhere in the construction; this means focusing on hybrid and innerspring mattresses. The inclusion of coils should ensure that heavy people get the support they need.
Also, they should find a mattress that features more durable materials. Larger people put more strain on a mattress, so they may see some sagging, especially in the comfort layer; they should seek out a mattress with high-density memory foams and latex foams.
Finally, heavier side sleepers should select a mattress that contains a thick comfort layer; larger people don't want to bottom out when they are sleeping on their sides.
Marten Carlson
Marten is Senior Editor at Mattress Clarity. He covers the mattress industry as well as sleep science news. He is specifically interested in the connection between sleep and overall health. Marten has written for media publications like Consequence of Sound and received a master's degree in Film Studies from Emory University. He comes from Franklin, Indiana, and spends all the time he can writing, directing, and acting in films. He has directed genre short films and features. His newest film, Starlets, recently premiered at the River Town Film Festival in Clinton, NJ. He also stars in the upcoming thriller, Sour Bear. His next film, At The Hop, is a hot rod actioner with a horror twist.