Heavier people have different needs when it comes to their mattresses. A bed that is a good fit for lighter-weight people won't necessarily be the best mattress for heavy people. Heavier people need extra support, and we also need a mattress that keeps durability in mind.
In this guide, I'll outline six mattresses that deal with these issues quite well. If you are a larger person like me, one of these mattresses could be the right fit for you.
6 Best Mattresses For Heavy/Big People
Memory Foam Feel

Helix Nightfall

Helix Nightfall is a great choice for heavy sleepers who prefer a memory foam feel

Luxury Innerspring

Winkbeds Plus

Durable even for heavy people. The coil system is highly supportive as well.

Built For Heavy People

Big Fig

Materials are extra supportive and durable. They use, for example, higher-density foams and they have a coil system with a much higher coil count.

Luxury Hybrid

DreamCloud

The pillow top is plush and the cashmere top gives this supportive mattress a luxury hotel feel

Best For Side Sleepers

New Purple

The unique hyper-elastic gel polymer is firm and pressure relieving at the same time. Heavier people should feel great pressure relief on shoulders and hips.

Most Affordable

Titan

The Titan mattress is made for larger people and is sold for a very competitive price. 
Top Picks Compared
Memory Foam Feel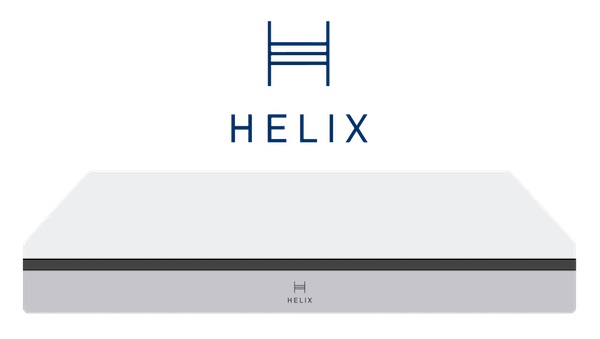 Helix Nightfall
Helix is an interesting company in that you can take a sleep quiz to help you find the mattress to fit your specific needs. There are nine options.
The Helix Nightfall is designed for heavier people. It has an extra layer of high-grade polyfoam that is designed to give extra support for heavier sleepers. It also has taller coils to give another layer of support.
Out of this group of mattresses, the Nightfall is the best pick for those who prefer a memory foam feel. It is the closest to that slow-sinking feel you get with memory foam.
In addition, this mattress shouldn't run too hot. The coils allow for good airflow, and you also have the option of purchasing an Ultra Cool Cover. You can zip it onto the top of the mattress and the phase change material will help dissipate heat.
Read our Helix Nightfall review
Get $125 Off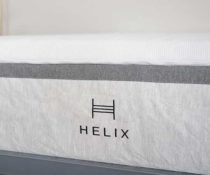 The Helix Nightfall is a supportive hybrid that could be a great match for heavier sleepers. 
Luxury Innerspring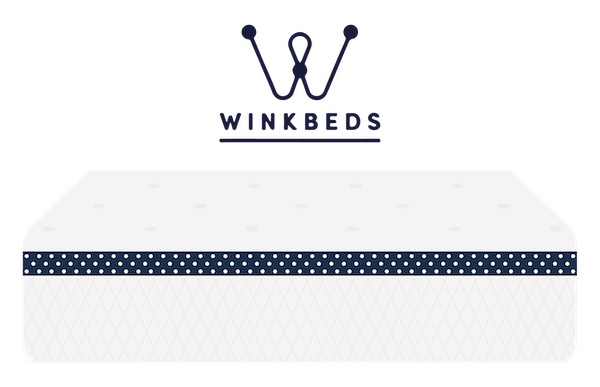 WinkBeds Plus
The WinkBeds Plus is one of WinkBeds's four models. It is made to fit the needs of heavier sleepers in a few ways. 
First, the foam that is quilted into the cover is designed to be "sag-proof," so larger people don't create unwanted body impressions. In addition, the coils in the mattress are taller and made to be supportive for heavier weights.
It is a firmer-than-average mattress, so it could be a good fit for heavier back sleepers. A zoned latex layer also adds extra support under key areas such as the hips. 
At the same time, the pillow-top adds plushness to relieve some pressure on the shoulders and hips. This might make the mattress suitable for some heavier side sleepers.
Additionally, this should be a cooler sleeping mattress. The cover and a layer of gel foam are both designed to dissipate heat, while the coils promote airflow.
Read our full WinkBeds Plus review
WinkBeds Plus Deals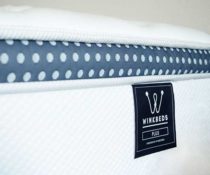 The WinkBeds is an innerspring mattress with a luxury, hotel feel. It is designed specifically for larger people. 
Built For Heavy People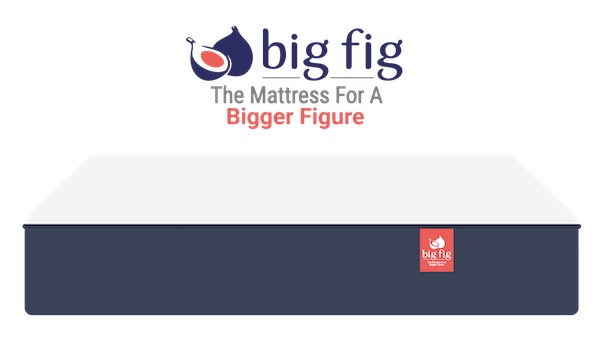 Big Fig
Out of all these mattresses, the Big Fig is constructed specifically for much heavier people. While most of these mattresses are designed with larger people in mind, the Big Fig is made for people in the 300- to 500-pound weight range. The mattress also comes with a foundation to add extra support.
People lighter than 300 pounds may find this mattress to be too firm, as they won't be heavy enough to press into the top foam layers. However, those over 300 pounds should feel some nice pressure relief from the thin pillow-top and top foam layers.
The mattress can hold up to 1,000 pounds, so large people who sleep with a partner should find this mattress to be a good fit. The foam layers in this mattress are very durable, and it has a coils system with a much higher coil count to provide extra support. This means the Big Fig should be a long-lasting mattress.
This mattress has several features that should ensure you don't overheat:
The layer of gel-infused latex foam is perforated to allow for airflow.
The cover incorporates ThermoGel, which is designed to dissipate heat.
The coils should also help promote airflow.
Read our full Big Fig review HERE.
Big Fig Deals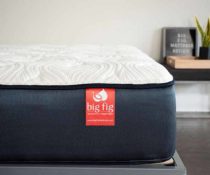 The Big Fig is a very supportive mattress. It is very durable and designed to support much larger weights. 
Luxury Hybrid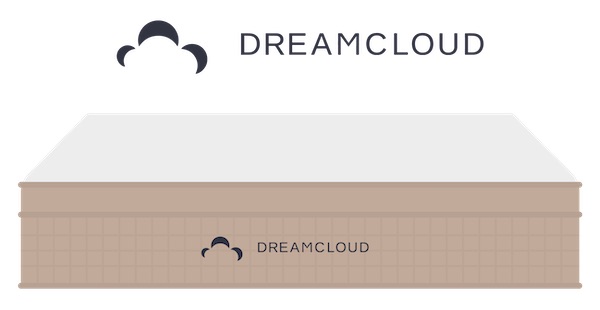 DreamCloud
The DreamCloud is not made specifically for heavier people, but it could still be a good option for heavier back and side sleepers. This is true for two reasons. It is a firmer-than-average mattress that should be supportive enough for heavier back sleepers.
The pillow-top does a good job of relieving pressure on the shoulders and hips, which can offer comfort to side sleepers.
That being said, stomach sleepers and heavier sleepers over 300 pounds may need more support.
The DreamCloud has a few other bells and whistles that make it a standout mattress overall:
It has the most luxury feel out of all these mattresses. The pillow-top is very plush, and it is woven with cashmere. It has a very soft feel that you might experience in a hotel.
It should be a cooler sleeping mattress. It has a cooling cover and gel-infused memory foam to help dissipate heat. Because it's a hybrid, it also has coils that help move air through the mattress.
Read our full review of the DreamCloud mattress
$200 Off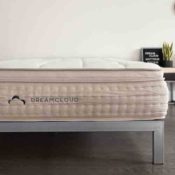 DreamCloud is a high-quality, luxury mattress that a lot of people are going to like.  You can get $200 off the DreamCloud mattress simply by clicking the link below.
Best For Side Sleepers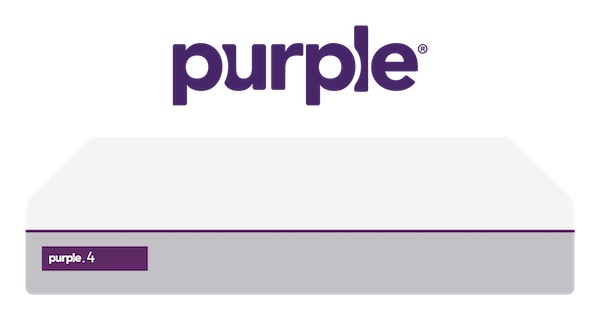 New Purple Mattresses
Following the success of the original Purple mattress, the company released the Purple 2, 3, and 4. These new models incorporate coils into their construction.
Out of these new mattresses, the Purple 4 is the best option for heavier people.
That's because the Purple 4 has four inches of a hyper-elastic gel polymer. This is a unique, proprietary gel grid that is both firm and pressure-relieving at the same time. It is designed to stay flat and supportive until a certain amount of pressure is applied.
This means heavier people should activate this layer more than lighter people. Because it is four inches thick, heavier side sleepers should press in without "bottoming out" on the mattress. I personally felt almost no pressure on my shoulders and hips while lying on my side on this mattress. Out of all these mattresses, this is the best option for heavier side sleepers.
The Purple 4 should also be one of the cooler sleeping mattresses on this list. The gel grid allows a lot of room for airflow.
Read our full New Purple mattresses review
New Purple Mattress Deals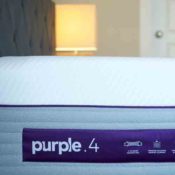 Purple 4 is a perfect choice if you are a side sleeper, are looking for a long-term investment, and are a hot sleeper. Get the best deal on your new Purple mattress, plus get a free pillow when you click the button below.
Most Affordable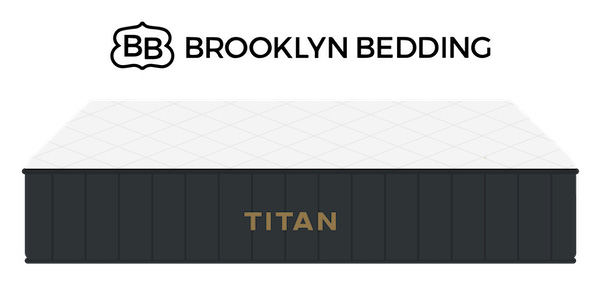 Titan
The Titan mattress comes from Brooklyn Bedding, a producer of very quality mattresses. The company is interesting in that they own their own factory. This allows them to price their mattresses very competitively. 
The Titan mattress is no exception. Out of all these mattresses, it is the most affordable. 
The mattress features TitanCaliber coils which are designed to support a large amount of weight. Above that, you have TitanFlex foam and gel memory foam. 
You heavier hot sleepers out there should like the Titan very much. The coils promote airflow, and the gel memory foam keeps the top of the mattress cool. You can also pay a bit more to include a cooling panel in the top of the mattress if you want to sleep even cooler. 
The Titan is a firmer mattress and should be a great match for heavier stomach sleepers. You should feel great support on your hips so that they don't dip into the mattress. 
Stomach sleepers, those who like a firm mattress, and hot sleepers should definitely consider the Titan mattress.  
Read the full Titan mattress review
Get 20% Off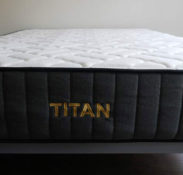 The Titan is Brooklyn's mattress for heavy people. It is a firm, supportive mattress that can support heavier weights. Click the button to save 20% on the Titan. 
What Should Heavy People Consider When Looking For A Mattress?
If you are a larger person, you should take a few extra factors into consideration when choosing a new mattress. By considering these criteria during the buying process, you should find a mattress to fit your needs.
Durability
No matter your size, durability is something to think about when looking for a mattress. Everybody wants to know how long their mattress will last, because the helps you understand if the price tag matches the value.
When you are a heavier person, durability is even more important. Your extra weight can strain your mattress and decrease its overall lifespan.
To ensure that your mattress lasts for a good long while, look for models that incorporate high-density foams and extra coils. These components can counteract the wear and tear heavier weights can put on a mattress.
These components can also solve the problem of sagging. As we lie on a mattress over time, body indentations can form. These form even more quickly under heavier weights. These indentations can cause discomfort and decrease the life of a mattress. To combat this issue, look for mattresses that have "sag-proof" foams to retain their form over time.
Support
Support is also worth considering, but it can be difficult to find the proper amount if you are a larger person. Many mattresses (both memory foam and hybrid) may not have the needed support for heavier sleepers.
Mattresses designed for larger people will utilize high-density foams and taller coils to give extra support, so it's a good idea to choose a mattress with these features. Here's why they're important:
High-density foams will not compress as easily, meaning there is less chance that you will "bottom out" on the mattress and engage the firm support layers.
Taller and higher-grade coils are also designed to support more weight. Some mattresses, such as the Big Fig, also have a greater number of coils across the mattress. This will allow the mattress to support even heavier weights.
Thickness
Another important factor to consider is the overall height of the mattress. If a mattress is taller, it could offer you more support. If the mattress is thin, heavier people could press right through the mattress.
In addition to looking for a thicker mattress overall, it's also helpful to consider the thickness of a mattress's comfort layer. If there is a very thin comfort layer, heavier people may have the issue of "bottoming out" on the mattress as you press through the comfort layer and engage the support layers. The thicker the comfort layer, the less chance you have of experiencing this problem.
Edge Support
The term "edge support" refers to how well a mattress holds you up when sitting or lying near its edge. Does it collapse completely or support you well? Edge support also determines how close to the edge of a mattress you can lie comfortably before you start to feel like you're going to roll off the edge.
For larger people, this is an important feature. If you are taller, heavier, and/or sleep with a partner, you want to utilize as much of the mattress's surface area as possible. Also, you can compress a mattress more than a lighter person, so you want to know if you can sit and lie down comfortably near the edge of your mattress.
As a general rule, hybrids and innerspring mattresses usually have better edge support than memory foam mattresses. That being said, both hybrids and all-foam mattresses sometimes have reinforced edges and foam encasements to enhance their edge support. It's a good idea to ask the mattress retailer or manufacturer about construction specifically as it relates to edge support.
Mattress Firmness And Your Sleeping Position
While heavier sleepers may think that a very firm mattress is the best, it is really not that simple. It is true that a firmer mattress should offer more support. However, it is worth thinking about your specific sleeping position and whether the mattress's firmness will be a good fit for your preferences.
Heavier-weight back sleepers want your hips to sink in just a bit. Mattresses for heavy people are usually firmer than average, but you don't want your mattress to be too firm if you sleep on your back. You want just enough give so that your hips sink in and keep your spine in alignment.
Heavier-weight side sleepers want to get nice pressure relief on their shoulders and hips. You are going to want some softness if you sleep in this position. However, if you're heavy and the mattress is too soft, you could bottom out. Larger side sleepers need to consider their weight and the comfort layer thickness to ensure they get good pressure relief without pressing too far into the mattress.
Heavier-weight stomach sleepers should have the easiest time finding a mattress. As long as the mattress is firm enough, you should get the support you need.
Heavier-weight combination sleepers want to find that right balance of comfort and support. Again, consider the firmness, comfort layer thickness, and your own weight while looking at different options.
Your Partner And Their Sleeping Preferences
If you are looking for a mattress for you and your partner, you need to factor their weight and sleeping position into the equation.
If your partner is close to your weight and sleeps in the same position as you, the decision could be easy. However, if they are a different weight and need a softer or firmer mattress, your decision will be more difficult. You may need to find a middle ground where you each compromise a bit on the comfort and support you need.
You should also consider your total weight. Those extra pounds could put extra pressure on the mattress and increase wear and tear. Mattresses such as the Big Fig are made to hold up to 1,000 pounds, and there are also foundations designed to add more support for your mattress.
Mattress Cooling
When you are thinking about the temperature of your mattress, the mattress construction will play a big part.
Innerspring or hybrid mattresses will most likely sleep cooler than a memory foam mattress. Coils allow for airflow, while memory foam can trap heat.
That being said, many mattress makers perforate their foam layers and make channels in the foam for air to flow. In addition, they can infuse gel into the foams or use an open-celled design to allow for good breathability. It's important to ask about the mattress's materials if you're concerned about sleeping hot.
If you are larger, your weight is another consideration. Especially if the mattress contains memory foam, you may sink further into the mattress than a lighter person. When this happens, you can be more enveloped by the mattress so less of your body is exposed to cooling air.
As a result, larger sleepers who worry about sleeping hot may want to think about finding a firmer mattress. If you are able to sleep more "on" the mattress, you should stay cooler while you sleep.
Overall
If you think about all these criteria, you should be well on your way to picking a great mattress to fit you. It is not as simple as choosing the firmest mattress. You want a durable mattress that won't sag but still fits your sleeping needs. Finding the proper mattress for heavier weights can be challenging, but the right mattress is out there.
Featured image: VGstockstudio/Shutterstock
FAQs for Heavy People
What type of mattress is best for heavy people?
Heavier sleepers have many types of mattresses to chose from. The four main features heavy people will want to assess when looking for a new bed are:
durability
support
thickness
edge support
That being said, innerspring and hybrid mattresses generally offer these qualities more often than all-foam mattresses.
What is the weight limit on a mattress?
While most mattresses don't have precise weight limits, there are some that do. The Big Fig mattress, for example, claims it can support 1000 pounds of weight, which is ideal for couples.
It's important to check bed springs or bed frames for their maximum weight capacity because they will support the weight of a mattress and the sleeper(s) bodyweight.
How firm should a mattress be for heavy people?
Heavy people should always consider their sleep position first to determine the firmness of their mattress.
Generally speaking, a 6.5-7 on a scale of 1-10 is considered medium-firm, offering both pressure relief and support. Back sleepers and combo sleepers should enjoy this firmness level.
Side sleepers should find that a 5-6 firmness should feel appropriately soft and pressure relieving. Stomach sleepers, a firmer mattress in the 8-9 firmness range should support your hips and prevent them from bowing in.
The following two tabs change content below.
Marten Carlson
Marten is a staff writer for Mattress Clarity News. He covers the mattress industry as well as sleep science news. He is specifically interested in the connection between sleep and overall health.Marten has written for media publications like Consequence of Sound and received a master's degree in Film Studies from Emory University.He comes from Franklin, Indiana, and spends all the time he can writing, directing, and acting in films. He has directed genre short films and features. His newest film, Starlets, recently premiered at the River Town Film Festival in Clinton, NJ. He also stars in the upcoming thriller, Sour Bear. His next film, At The Hop, is a hot rod actioner with a horror twist.
Latest posts by Marten Carlson (see all)