Trying to fall asleep while burning up at night feels impossible. Even if you've got the perfect room temperature, sometimes you just need additional help to get cool. If you've got sheets that aren't very breathable, or keep you feeling hot and sweaty, it's time to look into getting some of the best cooling sheets!
Our Top Picks for the Best Cooling Sheets
Video Review: Best Cooling Sheets of 2023
How We Chose Our Products
Our team of Certified Sleep Science Coaches tested many bed sheets currently on the market, using proprietary analysis and hands-on testing to find the best of the best for our readers. When building our roundup for the best cooling sheets, we paid special attention to durability, comfort, material, and cooling, of course.
We only featured sheets that truly impressed us in terms of cooling ability. Additionally, we focused on sheets with unmatched comfort. Lastly, we wanted to place an emphasis on sheets featuring quality materials that could withstand about three years of use — a lifespan we would expect for the best cooling sheets.
For more, we encourage you to check out our Buyer's Guide at the bottom of the page. There, we take a deeper dive into all of these attributes so you can make the most informed purchase possible.
Best Bamboo Cooling Sheets- Cozy Earth Bamboo Sheets
Who is it for?
When Oprah calls a set of bamboo sheets the softest sheets she's felt, the whole world will pay attention. Naturally, we had to try out Cozy Earth's Bamboo sheets, too. If you're looking for a luxury sheet set, look no further.
What are these sheets made of?
These sheets are made of 100% bamboo viscose. It's naturally very breathable and has some moisture-wicking properties to it. Cozy Earth's sheets are some of the best bamboo sheets we've encountered.
What makes Cozy Earth Bamboo Sheets stand out?
They're a great option for people who have sensitive allergies and need hypoallergenic bedding.
The recommended thread count for bamboo sheets falls around 300, which is what the Cozy Earth Bamboo sheets have.
Bamboo viscose is fairly durable, so these sheets should last you a long time.
Read our full Cozy Earth Bamboo Sheets review.
Best Non-Slip Cooling Sheets- Sleep Number True Temp
Who is it for?
The Sleep Number True Temp sheets are specifically designed to hug your mattress tightly. You shouldn't worry about this set slipping off you mattress if you toss and turn at night. Of course, these sheets wouldn't be on this roundup if they weren't cooling. The key feature of these sheets is the 37.5 active particle technology. These sheets will continually adapt to your body temperature as the night goes on.
What are these sheets made of?
Made of a blend of cotton, polyester, and spandex, these sheets should feel crisp. They have a bit of stretch to help you stay comfortable and let air flow through.
What makes the Sleep Number True Temp Sheets stand out?
They have that classic cotton feel to them, which is also a naturally breathable material.
These sheets feature a thread count of 300. For reference, thread count refers to the number of threads woven into a square inch of fabric. A higher

thread count

doesn't always mean a set of high quality sheets. In fact, the lower the thread count, the more air might be able to flow through.
The ExactFit design will keep these sheets secure throughout the night. No corners popping up as you change positions here.
Read our full Sleep Number True Temp sheets review.
Best Organic Cooling Sheets- American Blossom Linens
Who is it for?
Eco-conscious shoppers that also want to stay cool at night should look into the American Blossom Linens sheet set. This US based company uses 100% organic West Texas cotton in their sheets, and doesn't treat them with dyes or chemicals. It's also weaved with percale — a combination that shouldn't trap heat.
What are these sheets made of?
As mentioned, these sheets are made of organic West Texas cotton. It's suggested to wash these sheets before initial use. One thing to note is that they're designed to get softer the more you use and wash them.
The American Blossom sheets feature a custom thread count of 180, which is the lowest thread count in this whole list.
What makes the American Blossom Linens Sheets stand out?
They have that classic crisp cotton feel that cotton fans will love.
When you purchase a set of American Blossom sheets, you have two years to test them out. This is part of American Blossom's Happiness Guarantee. With such a long trial period, you have more than enough time to determine if these are the best cooling sheets for you.
They feature a strong, durable elastic band in the fitted sheet, so they shouldn't pop up during the night.
Read our full American Blossom Linens Sheets review.
Best Cotton Cooling Sheets – Parachute Percale
Who is it for?
If you love a product that feels like all-cotton, then look no further than the Parachute Percale sheets. Cotton products tend to have a crisp feel to them, and when paired with a percale weave, it leaves them looking more matte than silky.
Percale is one of two common types of weaves you'll find in sheets, the other being sateen. This weave is also called the "plain weave," and it has a looser weave to it than sateen. This makes sheets with this weave, like the Parachute Percale, feel rather breathable.
RELATED: Percale vs Sateen Sheets
What are these sheets made of?
The Parachute Percale sheets are our best cooling sheets made out of cotton because they're made of Egyptian cotton, which is rather breathable on its own. When weaved in a percale style, these sheets have tons of room for airflow. So overall, these sheets shouldn't trap heat at all!
What makes the Parachute Percale Sheets stand out?
The Egyptian cotton which is soft to the touch and incredibly cool.
These sheets have a soft, almost T-shirt-like feel to them and come in a variety of colors to fit your bed's color scheme.
They can fit beds up to 16" tall, so they shouldn't pop up during the night.
Read our full Parachute Percale Sheets review.
Best Cooling Sheets For Summer- Casper Hyperlite Sheets
Who is it for?
Summer heat waves might cause you to pull out the fan while you sleep, but you can maximize your cooling levels with a great set of sheets, too! Casper's Hyperlite sheets are thin, breathable, and moisture-wicking, making them the best cooling sheets to use in the middle of the summer.
What are these sheets made of?
The Hyperlite sheets are made of 100% tencel lyocell, which is a natural product derived from eucalyptus leaves. Tencel is very breathable, so these sheets shouldn't trap heat.
But even better is that Tencel has some moisture-wicking properties. This means the sheets will keep humidity and sweat away from you, which is the perfect solution if you live in a more humid environment.
What makes the Casper Hyperlite Sheets stand out?
They're a thin but durable set of sheets.
The Casper Hyperlite sheets have a thread count of 200, which should allow for plenty of air to flow through.
These sheets should feel cool to the touch when you're ready to climb into bed for the night.
Read our full Casper Hyperlite Sheets review.
Best Supima Cotton Cooling Sheets- GhostSheets by GhostBed
Who is it for?
What happens when you blend ultra-breathable and durable Supima cotton with moisture-wicking Tencel fabric? You get the GhostSheets from GhostBed! These sheets will send a shiver down your spine, but in one of the best ways possible. The combination of the GhostSheets features is ideal for hot sleepers because it provides a lot of airflow.
What are these sheets made of?
Cotton sheets are known to have a refreshing feel, but with the blend of Tencel here, they feel a little bit softer and more flexible than 100% cotton sheets.
What makes the GhostSheets stand out?
A blend of breathable and moisture-wicking materials means you should sleep cool without feeling sweaty during the night.
A 2" thick elastic band means you won't have to worry about corners popping up during the night.
These sheets come with a three-year warranty.
Read our full GhostBed GhostSheets Review.
Best Deep Pocket Cooling Sheets- Puffy Bamboo
Who is it for?
No one wants to have to readjust sheets or pull them back over corners while they sleep. Puffy's Bamboo sheet set has deep pockets that should stay on your bed all while keeping you cool and comfortable at night.
What are these sheets made of?
These sheets are made of breathable bamboo viscose, so you should have a secure night of sleep at a comfortable temperature.
While testing them, we thought they were really comfortable and soft to the touch. They're made with a sateen weave, which is a bit of a tighter weave than percale, but leaves these sheets feeling very silky.
What makes the Puffy Bamboo Sheets stand out?
These sheets have deep pockets to fit mattresses up to 15" tall and securely stay on your bed.
You should be able to move around easily in these sheets, and they'll stay put as you do so.
Bamboo is a cooling material, so you shouldn't sleep hot while keeping your sheets in place.
Read our Puffy Bamboo Sheets review.
Best Soft Cooling Sheets- Purple SoftStretch Sheets
Who is it for?
Purple is all about changing the game. And the company's SoftStretch sheets are a little bit different than others on the market; they'll stretch with your body and help you find maximum levels of comfort while you sleep.
What are these sheets made of?
The SoftStretch sheets contain a blend of rayon, spandex, and polyester. The spandex in these sheets give them a good amount of stretch and in turn help with comfort and the soft feel of the sheets.
What makes the Purple SoftStretch Sheets stand out?
These sheets have a 30-day sleep trial and free returns.
The rayon in these sheets will wick moisture away, so you shouldn't feel hot and sweaty.
If you're a Purple product fan, these will pair best with your Purple mattress. But even if you don't have one, these sheets can still work on any mattress.
Read our full Purple SoftStretch Sheets review.
Best Tencel Cooling Sheets- Serta Arctic Cooling Sheets
Who is it for?
As the name implies, these sheets are designed to keep you icy cool all night long. Serta's cool-to-the-touch Arctic Cooling Sheets combine the cooling power of Tencel fabric with a smooth and silky feel, making these sheets a great option for hot sleepers who love soft sheets.
What are these sheets made of?
Serta's Arctic Cooling Sheets are crafted using a triple blend of Tencel lyocell, cooling nylon, and CoolMAX polyester. These materials combine to make a set of sheets that feels both cool to the touch and luxuriously soft. A relatively low thread count of 400 also allows for easy airflow through these sheets and can keep hot sleepers continuously comfortable.
What makes the Serta Arctic Cooling Sheets stand out?
The Tencel material is both breathable and moisture-wicking, making for a truly cool combination.
The fitted sheet's deep pocket accommodates mattresses up to 18" tall and keeps the sheets secure through any nighttime tossing and turning.
Serta's in-home trial period gives you 120 nights to decide if the Serta Arctic Cooling Sheets are for you.
Read our full Serta Arctic Cooling Sheets review.
Best Sustainable Cooling Sheets- Eucalypso
Who is it for?
These sheets are great for people who want eco-friendly bedding that will last many years. The Eucalypso sheets feel soft and slick like silk, but they cost a fraction of the price. They're also much easier to care for! Unlike silk, you can machine-wash these luxurious sheets.
What are these sheets made of?
The Eucalypso sheets are made with 100% TENCEL Lyocell fibers from sustainably-sourced raw wood like eucalyptus. This makes them feel particularly soft, and they are kinder to the earth.
What makes the Eucalypso Sheets stand out?
They feel cool-to-the-touch.
They're as luxurious as silk, but they don't cost as much and are machine-washable.
Nine different color options are available.
Do Cooling Sheets Actually Work?
In a word, yes! Cooling sheets help pull moisture off the skin, preventing you from becoming sweaty and sticky. If a set of sheets has a lot of breathability, it can give the chance for heat to escape and allow for more airflow. If you're an extra-hot sleeper or frequently experience hot flashes, you may not get all of the relief you're searching for, but you may find an overall improved experience.
As someone who tends to sleep hot most nights, I've never had a hot night of sleep using any of the sheets mentioned above. The Puffy Bamboo sheets are what I use every single night, and not once have I felt hot and sweaty underneath them.
How to Shop For Cooling Sheets
Not all sheets are created equal. When shopping for the best cooling sheets, there are a number factors to consider based on your needs and preferences.
Thread Count
Thread count, or the number of threads within a square inch of a material, plays such an important role here. The higher the thread count is, the more threads that were used to construct those sheets. Sometimes it can be used as an indicator of quality, but don't be fooled. It doesn't necessarily mean that the sheets are better; often, it just means the sheets present a different feel.
Sheets with lower thread counts tend to have more room between threads, which promotes much better airflow. Materials also have recommended thread counts, but most of the time, the lower the thread count, the more likely it is the sheets will sleep cool.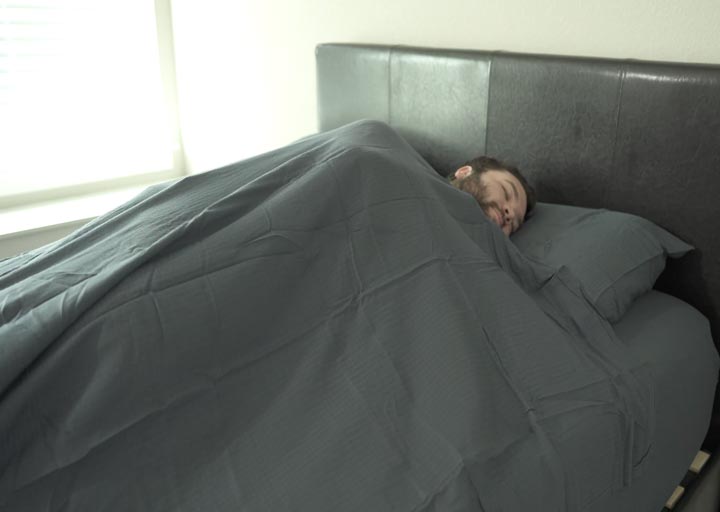 Materials
Some materials, like cotton and bamboo, have a natural tendency to stay cool at night, while others like linen, flannel, and silk might trap heat. Cotton is a more traditional material to make into fabric, so if you're a cotton lover, this is great news.
All of the sheets on our list were only made of one of two materials: cotton and bamboo. If you're on the market for some cooling sheets, I recommend looking at sheets made of these materials.
Cotton tends to be naturally breathable. Even if a set of sheets doesn't have anything specific in terms of cooling features, cotton sheets will likely sleep cooler than linen or flannel.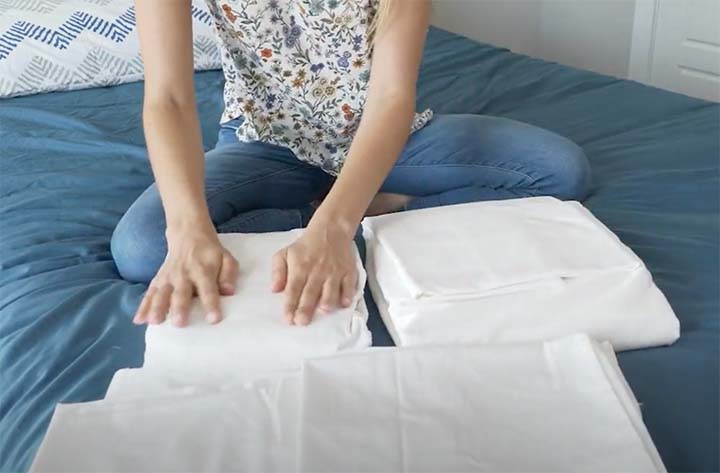 Bamboo tends to be moisture-wicking. Sheets made out of this material will keep you from feeling too hot and sweaty during the night.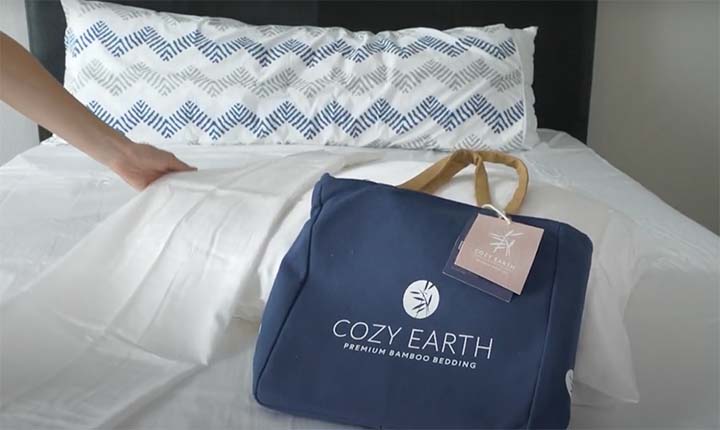 RELATED: Bamboo Vs Cotton
Additionally, Tencel is a breathable and moisture-wicking material, so this could also be a good pick to go with, too.
Pricing
When it comes to purchasing sheets, the overall cost is going to be different from brand to brand. However, it's also reliant on the type of materials and the quality of materials. Depending on the fabrics and technology used, you should expect a good set of sheets to last you about three years and cost between $100 and $200 for Queen-size. Overall, cotton sheets seem to be the best of both worlds; they're often breathable and affordable.
We also recommend you keep an eye on coupons or bedding accessory sales. In general, we've found holiday sales to be some of the best times of the year to purchase extras for your bed. If you're looking to make a purchase in between holidays, check out our coupon code page for exclusive discounts and deals.
Caring for Your Sheets
Above all else, we recommend referring to the manufacturer's guidelines on how to properly care for your sheets. After all, even the sheets on this list differ widely in materials, and certain materials require particular treatment and care. However, we do want to make a care consideration and provide a little bit of a general guide to go off of when in doubt.
In general, delicate fabrics like satin should be washed in cold water. Warm water is normally best for sheets needing a more thorough wash or stain removal. Whenever possible, we recommend washing sheets once a week, leaving heavier fabrics out of the cycle, using a mild detergent, and drying on a clothesline or a low tumble.
If you're looking for cooling sheets that are easy to care for, we recommend cotton. It's pretty easy; you can use your detergent of choice, wash with warm water, and dry over medium heat.
Other Ways to Stay Cool at Night
Sure, the right sheets can help hot sleepers quite a bit, but what if you want to want to take additional measures? Here are some other ways to stay cool.
Additional Cooling Products
If cooling sheets aren't enough for you and you're still overheating, there are a number of other cooling bedding items for purchase. Other accessories such as cooling mattress toppers and cooling pillows exist, and we have reviews and roundups for many of these products on Mattress Clarity. Still sleeping hot? Although a large purchase, investing in one of the best cooling mattress is known to help hot sleepers significantly.
Room Setup
If you have small fans, we recommend placing them so they face windows and blow any hot air outside. For ceiling fans, we recommend turning them counterclockwise to create a cooler breeze.
Additionally, leave curtains and windows open at night if you can. You can also create a cross-ventilation system in which you open two windows across from each other. That way, hot air can escape through the larger window while cooler air is let it by the smaller opening.
Switch Up Your Routine
That's right, your lifestyle can have an impact on your body temperature before bed. If you're an especially hot sleeper, we recommend staying away from warm or spicy foods before bed. Additionally, physical activity later in the day can prevent your body from cooling down enough, so it's best to exercise earlier whenever possible. Keeping curtains shut during the day or buying a separate bed for your pet to sleep in are a couple of other ways to reduce the temperature in the room and promote a good night's sleep.
For more information, check out our article on how to stay cool at night while sleeping.
FAQs
Still have questions about some of the best cooling sheets? I'll answer some of the most frequently asked questions for you.
Are bamboo sheets cooling?
Most of the sheets on our list were made of bamboo viscose, which was made from bamboo. Ideally, you won't sleep too hot underneath bamboo sheets.

They're softer than cotton, and — most of the time — have moisture-wicking properties that cotton doesn't. This means you shouldn't feel too sweaty while using bamboo sheets.
Do cooling sheets work for night sweats?
If sweating during the night is a common problem for you, check out some of our best bamboo sheets for a cool night of sleep. They shouldn't make you feel sweaty.

But also look at your thread count. Thread count refers to the number of threads woven into a square inch of fabric, and the higher the thread count, the more threads used. This can make for a tight construction that doesn't let a lot of air flow through.

Sheets with higher thread counts may trap heat and cause you to sweat. The Casper Hyperlite sheets are a great option because they feature a low thread count, and can even wick away moisture while you sleep.
How can you stay cool at night?
There are a lot of sleep environment factors to consider here. Some include the temperature of your room, what kind of bed you're sleeping on, and even the sheets you're using.

If you've got the perfect temperature, and the perfect bed to sleep on, then look at your sheets. All of the sheets on our list are designed in such a way to give you a cool night of sleep.
What is the best material for cooling sheets?
The best material truly depends on your needs and preferences as a sleeper. Overall, we do love cotton sheets because they're an affordable, breathable option that doesn't require super special care.
What is the best thread count for cooling sheets?
For great cooling sheets, a thread count between 200 and 400 is best, since it will likely make for a good balance between cooling and durable sheets. Extra-cool sheets will have a lower thread count.
Tony Klespis
Tony is a staff writer at Mattress Clarity where he analyzes sleep products and appears in review videos. He earned a B.A in English from Sam Houston State University and a M.A in Mass Communication from Texas State University. When he isn't writing about sleep products, Tony loves to unwind with a good book or can be found playing Pokemon Go outside with his friends, or cuddling with his cat, Penguin. He's always down to try a new, local restaurant and try new foods.