Buying a new mattress can get costly, which is why so many people purchase mattress toppers. They're much less expensive than mattresses, able to extend the life of your current bed (and soften it) without making a huge dent in your bank account. To alleviate the stress of online shopping, we compiled a list of the five best cheap mattress toppers in 2022. But don't be fooled! Just because these products have low price points doesn't mean they suffer in quality.
Our Top Picks
The best cheap mattress toppers of 2022 are:
Best Rated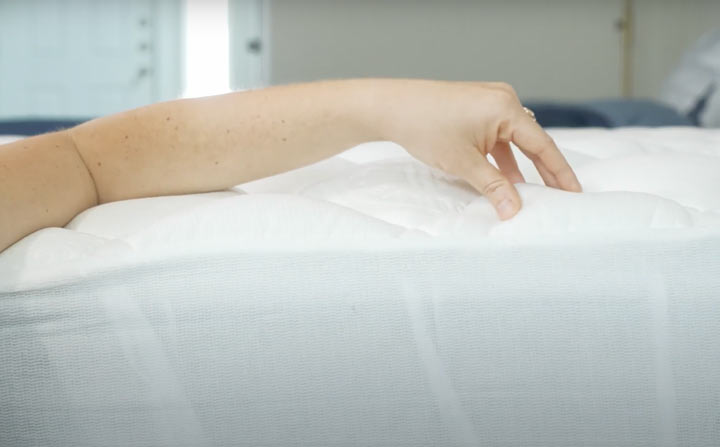 Helix Plush
To create its soft and luxurious pillow-top, the Helix Plush topper has 1.5″ pockets of fiberfill. It's worth noting that this affects the feel of the bed, rather than the overall firmness level. Baffle box stitching helps the topper hold its shape, allowing it to last for many years. 
Topper Details
It has a soft bamboo cover that helps sleepers stay cool. 
For added breathability, there's a cover made out of soft bamboo material. 
Since the Helix Plush only softens the mattress by about half a point, it could be a good fit for stomach sleepers. 
Read our full Helix Plush mattress topper review. 
Helix Topper Deals
Helix Plush Mattress Topper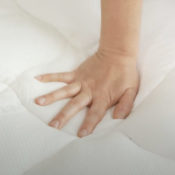 Helix Plush Mattress Topper
The Helix mattress topper adds a touch of plushness and a luxurious pillow top feel. It's made with hypoallergenic and durable materials. Click the link below for the best deal!
Best Cheap Gel Mattress Topper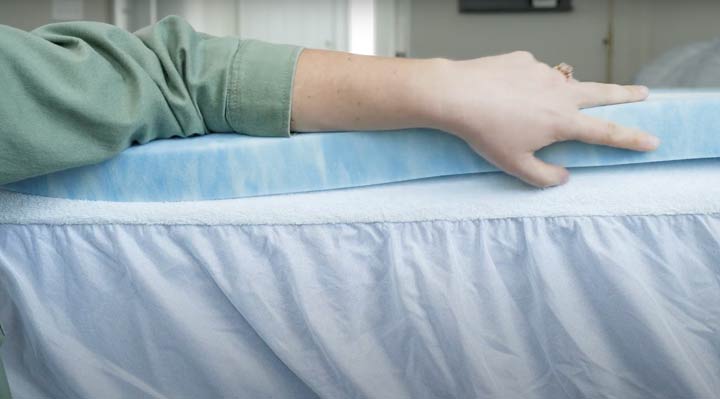 Dreamfoam Gel Swirl
Thanks to its infusion of cooling gel, the Dreamfoam Gel Swirl mattress topper pulls heat away from the body, all while still retaining that classic memory foam feel. This makes it great for people who need additional pressure relief.  
Topper Details
It will soften a mattress by two points.
When lying on your back, you'll feel some great body-contouring around your hips.
While side-sleeping, you should feel your shoulders gently sink into the soft foam. 
Read our full Dreamfoam mattress topper review.
Dreamfoam Mattress Topper Deals
Dreamfoam Gel Swirl Mattress Topper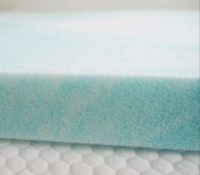 Dreamfoam Gel Swirl Mattress Topper
The Dreamfoam Gel Swirl is a soft memory foam mattress topper. It is a great fit for back and side sleepers. Click the link for the best price on this topper!
Best For Hot Sleepers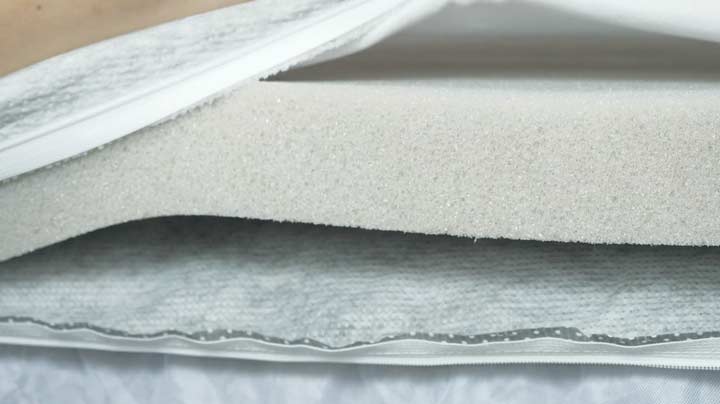 Tuft & Needle
The Tuft & Needle topper features the company's proprietary responsive foam, which doesn't trap heat easily. The foam's construction allows for plenty of airflow — something you should always look for in a cooling mattress topper. 
Topper Details
It creates plenty of pressure relief.
Back sleepers and side sleepers alike should be comfortable on the Tuft & Needle.
This topper softens the mattress by one point. 
Read our full Tuft & Needle mattress topper review.
15% Off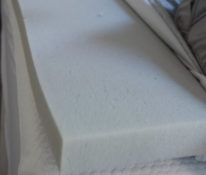 The Tuft & Needle mattress topper is a great choice for back sleepers, side sleepers, and those who like a responsive foam feel. Click the button to get  up to 15% off.
Best Cheap Pillow Top Mattress Topper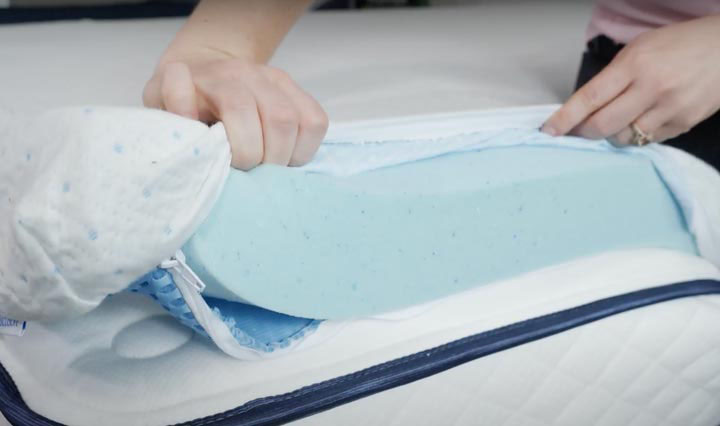 ViscoSoft
This 3″ mattress topper offers more pressure relief than many others on the market, and that's due to its thick layer of high-density memory foam that's similar to a pillow-top. It should soften a mattress by two points while also creating tons of body contouring. This should bode especially well for side sleepers and back sleepers.
Topper Details
The high-density foam makes for excellent pressure relief. 
It has a thin, breathable cover, plus a gel infusion running throughout, so sleepers shouldn't overheat at night. 
This topper has four corner straps and a zip-up cover that's removable and machine-washable. 
Read our full ViscoSoft mattress topper review.
25% OFF
ViscoSoft Mattress Topper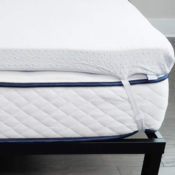 ViscoSoft Mattress Topper
The ViscoSoft mattress topper will soften a firm mattress by 2 points and provide excellent body contouring and pressure relief. Click the link below to save 25% on your purchase!
Best Memory Foam Mattress Topper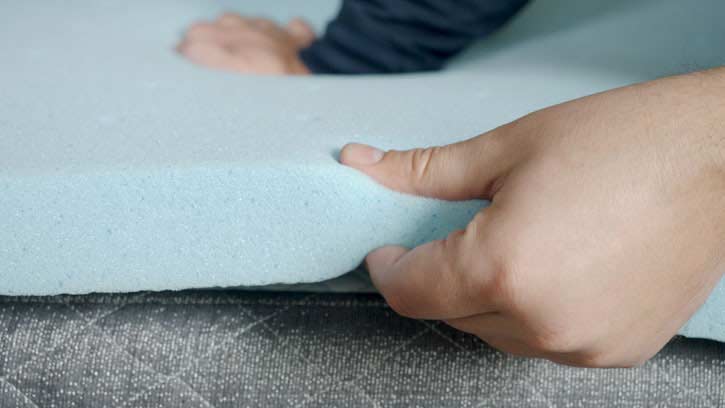 Lucid Memory Foam Mattress Topper
You don't need to spend an arm and a leg on a lovely memory foam mattress topper. Lucid's 2" topper typically costs less than $70 for a queen, and it provides plenty of plush comfort. 
This topper is especially great for side sleepers who need pressure relief, but it also works well for back sleepers. When you rest on top of it, you'll gently sink into the comfy foam and feel some nice body contouring.
What Makes The Lucid Mattress Topper Stand Out? 
It's super affordable.
The Lucid memory foam topper provides pressure relief for side sleepers. 
It has a lovely, slow-moving feel.
Read the full Lucid gel memory foam mattress topper review.
Lucid Mattress Topper Deals
Lucid Gel Memory Foam Mattress Topper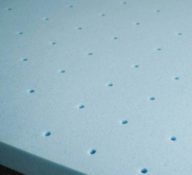 Lucid Gel Memory Foam Mattress Topper
The Lucid is a value topper that adds that soft memory foam feel to your mattress.
What Are the Benefits of Cheap Mattress Toppers?
Don't be deterred by a mattress topper's low price point. Just because it's affordable, doesn't mean it's low-quality! Many cheap toppers provide excellent pressure relief and plush comfort.
However, some toppers may not last as long as the high-end models on the market. All of the toppers featured in our roundup should last at least two years, and that's still much cheaper than buying a brand new mattress.
What you'll need from a cheap mattress topper greatly depends on your sleeping position, body type, and personal preferences. So let's dive into some specifics!
What's the Best Type of Cheap Mattress Topper?
As you may have noticed, cheap mattress toppers come in many different styles. To help you sift through all of the information, we've outlined the different types below.
Memory Foam
Memory foam toppers give mattresses a plush and slow-moving feel. This material gently contours the body and allows sleepers to "sink" inside it. This type of topper will especially benefit side and back sleepers because it helps relieve pressure on joints.
However, some memory foam toppers trap heat. If you tend to sleep hot at night, look for a memory foam topper with built-in cooling features. Gel and graphite infusions help pull heat away from the body, and open-celled foams promote airflow.
The slow-moving, quicksand-like feel of memory foam is also going to depend on each sleeper's individual preferences. Some people love it, while others find it difficult to move around in bed.
Polyfoam
Because of polyfoam's low price point, manufacturers often use it to make cheap mattress toppers. This material creates decent pressure relief and comfort, but it won't last as long as traditional memory foam. Also, it emits a slight chemical smell at first, though it won't harm you.
Pillow-Top
Pillow-top mattress toppers can make your bed look like it came straight from a high-end hotel. They provide an extra layer of plushness, but without significantly altering a bed's overall firmness level or causing sleepers to sink into the bed. This can make pillow-tops great choices for stomach sleepers who are already comfortable on a firm mattress.
Gel Foam
Gel foam mattress toppers have grown in popularity, as they provide the pressure relief memory foam is known for without overheating. Gel infusions help pull heat away from the body, which is especially great news for hot sleepers.
Down Alternative
Traditional down mattress toppers are made from goose and duck plumage, which can get expensive. Down also has a tendency to trap allergens like dust mites. For these reasons, down alternative may be a better option for some people. These toppers give beds a soft, malleable, and luxurious feel. They won't, however, adjust a mattress' firmness or create additional support.
What to Consider When Buying a Cheap Mattress Topper
When it comes to mattress toppers, what works for one person may feel uncomfortable for another. To help you pick the right cheap mattress topper, we've highlighted the most important things to consider.
Feel
When you nestle under the covers to sleep, what do you want the bed to feel like? Some people prefer to sink into thick layers of memory foam and feel the softness surround them. Other people like to rest on a responsive and bouncy surface so they can easily shift sleeping positions in the night. Knowing this key piece of information will help you narrow down your mattress topper search right away.
Firmness
When shopping for a mattress topper, it's especially important to identify the current firmness level of your bed. On our firmness scale, 6.5/10 is considered medium firm. If your bed feels more like an 8/10, you may develop pain along pressure points. By adding a soft mattress topper, you can bring the firmness level back to the industry-standard level. If you're currently resting a bed that feels too soft, look for a topper that will create additional support.
Sleeping Position
One of the most important things to consider is your sleeping position. Side sleepers will likely want a mattress topper that provides a boost of pressure relief for shoulders and hips. Back sleepers will benefit from a topper that creates both comfort and lumbar support. Stomach sleepers may want to find a topper that makes their mattress firmer, because that will promote the proper spinal alignment.
Thickness
People often wonder how thick their mattress topper should be, and this greatly depends on your personal needs. 1″ and 2″ toppers work well for lightweight back and side sleepers. Heavier people may need something that creates more pressure relief, such as a 3″ topper.
Durability
Sometimes, it's worth spending a little bit more money for a topper that will last a long time. Ultimately, this depends on what you need. If it's a short-term solution, or just for your guest bedroom, you may not need to invest in an especially durable product.
Budget
As you can see, it's easy to get a quality mattress topper that's also affordable. These cheap mattress toppers not only boost the comfort of your bed — they can save money! It's not always necessary to purchase the most luxurious product available.
Final Thoughts
Here's our recap of the best cheap mattress toppers in 2022:
FAQs
Does a mattress topper really help?
Yes! Mattress toppers are especially helpful if you want to soften your bed and create pressure relief. They can also save you money because they extend a mattress's lifespan.
What thickness mattress topper should I get?
Not all toppers suit every type of sleeper. A lightweight person may only need a 1" or 2" topper, because they won't sink deeply into it. Heavier people should look for a 3" topper, because this will create more pressure relief.
What is the most comfortable mattress topper?
There are so many great mattress toppers on the market, so it's hard to choose the best one. If you're looking for a low-cost memory foam topper that provides excellent pressure relief, we recommend the ViscoSoft High-Density Mattress Topper. If you tend to sleep hot at night, check out Tuft & Needle's mattress topper. This product is made with responsive foam, so it won't trap heat easily.
Elisa Regulski
Elisa is the Editor of Mattress Clarity, where she analyzes sleep products and appears in review videos. A certified sleep science coach, Elisa's sleep tips have appeared in Readers Digest, Homes and Gardens, and 21 Oak. She earned a M.A in Mass Communication from Texas State University and a B.F.A in acting from Oklahoma City University.