When it comes to getting excellent sleep, body pillows can play an important role.
They can provide full or partial support for areas of the body including the back, hips, knees, or stomach. They're especially helpful if someone is pregnant or recovering from an injury and must sleep on their side or keep specific parts of their body elevated or supported.
Just like traditional bed pillows, body pillows come in at all shapes, sizes, materials, and prices. There really is a body pillow out there for everyone.
A lot of research and testing went into this article to come up with a list of the top five best body pillows. This article will go over what people need to look out for if they are looking to purchase a body pillow and then go over the highlights of the top picks.
Our Top Picks for the Best Body Pillows
Editor's Pick- Pluto Puff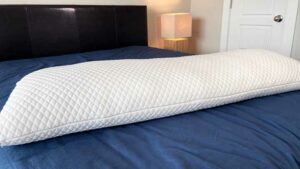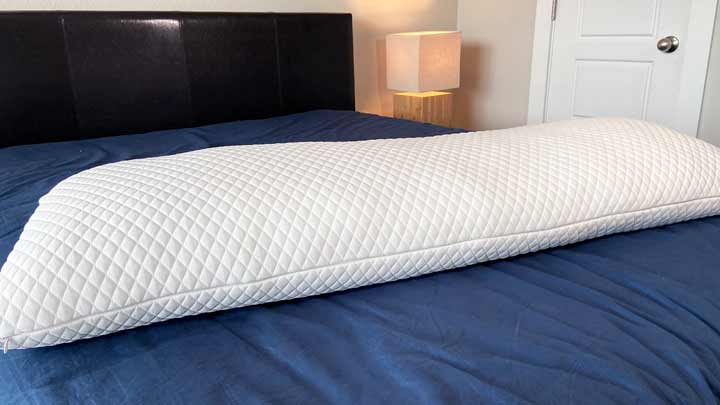 If you watch Shark Tank (2009-Present), then chances are you've heard of Pluto. But for those that haven't, Pluto makes a customizable pillow just for you. The company has also added a high-quality body pillow to accompany its specialized pillow!
This 12 lb pillow has been designed to fit anyone as short as 4'9" or as tall as 6'11", according to Pluto. This makes it a great option for just about anyone looking to cuddle with a pillow while they sleep.
This pillow is full of a specialized down alternative fiber, called Cosmofluff, that emulates the soft, fluffy feeling of traditional down. It has a soft, quilted cover on the outside that stays nice and cool to the touch, so this pillow won't trap heat!
What Makes the Pluto Puff Stand Out?
You can remove the outer cover and machine-wash to keep your pillow fresh.
It measures 21" x 54" and is designed to fit a wide range of heights.
Pluto's proprietary Cosmofluff material feels exceptionally soft and plush.
Full review to come!
Best for Back Pain-Coop Sleep Goods Body Pillow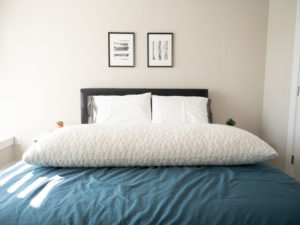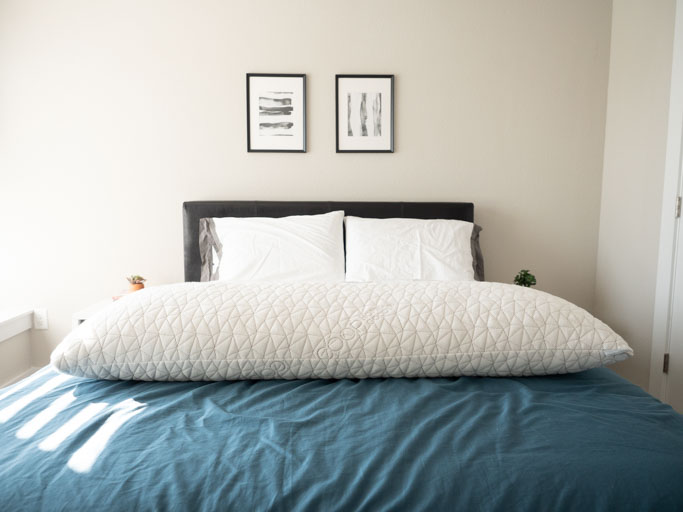 If you suffer from back pain while you sleep, a body pillow might be able to help out. Like its original adjustable pillow, Coop Sleep Goods makes a body pillow that is full of soft, slow-moving memory foam that provides great pressure relief.
This pillow measures 54" long, which can accommodate many body types and heights, but the fill can be added or removed to help you achieve the loft and softness you prefer. This pillow is also a bit wider, coming in at 20" to really help achieve pain-free sleep. Being a bit wider and longer means there's more foam in the pillow to help give you as much support and pressure relief as possible.
Many customer reviews have praised the Coop Sleep Goods body pillow to help with back and hip pain.
What Makes the Coop Sleep Goods Body Pillow Stand Out?
It's been designed to have you sleep pain and pressure free thanks to the adjustable fill.
The outer cover is removable, and can be machine-washed for easy use.
This pillow is full of eco-friendly and hypoallergenic materials.
Read our full Coop Sleep Goods body pillow review.
Best TEMPUR-Pedic- TEMPUR Body Pillow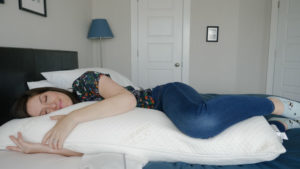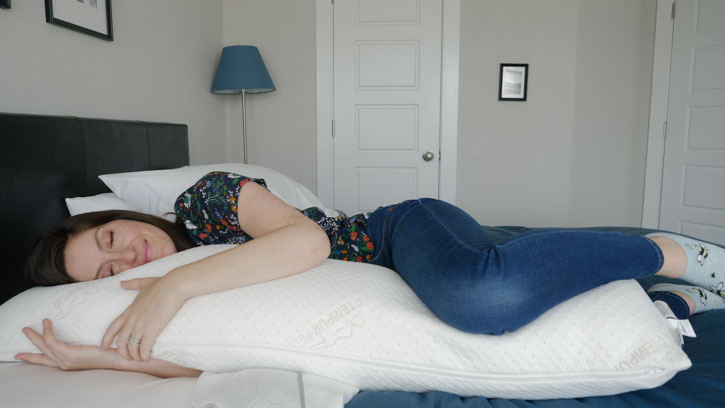 With the wide variety of sleep products TEMPUR-Pedic produces, you might think that the company sells different body pillows, too. But the best TEMPUR-Pedic body pillow is simply the TEMPUR BodyPillow.
That's right, the ever popular TEMPUR-Pedic only sells one body pillow, but it's still a great option! Like most TEMPUR products, it's made from TEMPUR material, but also has the inclusion of microcushions. This makes the pillow somewhat moldable, but it can still adapt to your body and provide great pressure relief.
This pillow is another great option for side sleepers and pregnant individuals who are looking for a full body pillow to use while they sleep.
What Makes the TEMPUR Body Pillow Stand Out?
TEMPUR-Pedic is a well known name in the sleep industry, so TEMPUR fans can rest easy knowing the company has a body pillow for you.
It features TEMPUR material, which gives it that classic, slow-moving memory foam feel.
Side sleepers and pregnant individuals should find full body support here.
Read our full TEMPUR-Pedic body pillow review.
Best for Side Sleepers- Medcline Shoulder Relief System Body Pillow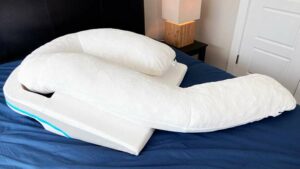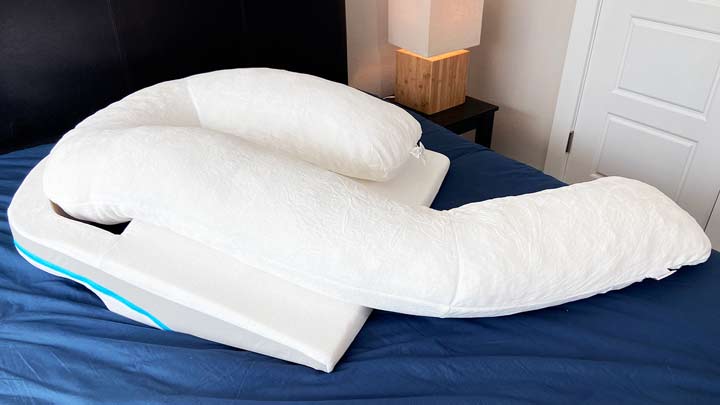 When it comes to sleeping position, side sleepers are the most common sleeper type! And because of this, many sleep products are geared towards side sleepers to help them rest comfortably and provide pressure relief in their shoulders. Enter the Medcline Shoulder Relief pillow.
This comes to you in three pieces: a long memory foam pillow with a U shape at the top to wrap around your shoulder, and a tall wedge made of dense foam that has an "arm pocket" for you to put your arm through, and an insert pillow to help fill in that pocket.
Whether you prefer to sleep on your left or right side, this pillow is long enough and wide enough to accommodate you completely! Because you'll be sleeping slightly elevated, and not directly on your shoulder, you'll be able to eliminate shoulder pain, too!
What Makes the Medcline Pillow Stand Out?
It's a body pillow designed specifically for side sleepers.
The unique wedge that comes with the pillow keeps you elevated and off of your shoulder.
The foam used in the body pillow has a gel infusion meaning this pillow won't trap heat!
Read our full MedCline Body pillow review.
Best for Pregnancy- Leachco Snoogle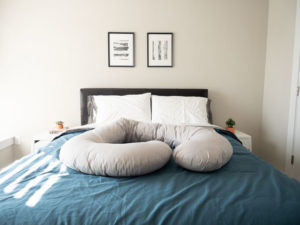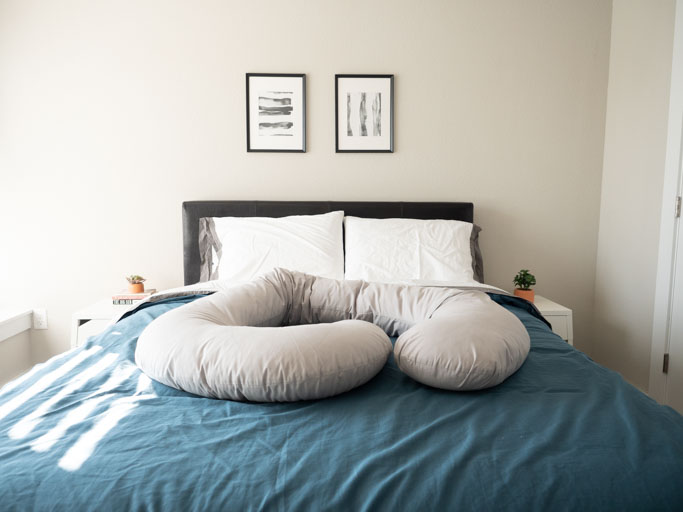 The Snoogle by Leachco is a pregnancy pillow that falls under the grand umbrella of body pillows because it really does support the entire body and can be used for those who are pregnant or not!
The genius of this pillow is in its C-shape design and it's 60″ length. It's long enough to replace a traditional body pillow and support the entire head, neck, back/bump and rest between the knees to keep the hips open and aligned.
The Snoogle is such a versatile body pillow, it's incredibly popular and beloved by pregnant women and others because it can be used easily in 6+ different ways. There are multiple covers and fabric options to choose from, but all contain a soft polyester fiber filling. Depending on what retailer it's purchased from, expect to pay around $60, which is an excellent value for full-body support.
What Makes the LeachCo Snoogle Pillow Stand Out?
It was designed by a nurse specifically for pregnant individuals.
The unique "C" shape to this pillow provides support all around your body, and can be rearranged into different positions.
It's a relatively affordable body pillow!
Read our full Leachco Snoogle pillow review.
What To Consider Before Buying A Body Pillow
Price
There is a body pillow for all budgets and all types of people. There are some available on the market as inexpensive as $20 and as expensive as over $200. Consumers don't have to break the bank to add some full-body support and get a good night's rest.
Sleep Position
How tall or firm a body pillow is should be determined in large part by one's primary sleeping position. In general, stomach sleepers and back sleepers will need something softer and with a lower loft than side sleepers.
RELATED: Best Pillows for Back Sleepers
Filling And Support
Polyester fiber filling is a great subtle option for some additional support (but not a significant amount).
Meanwhile, solid foam and a mix of fillings that include foam will be significantly more supportive and have a higher loft. Don't forget microbeads for a different version of support without the classic feel that foam provides!
How to Wash a Body Pillow
Many pillows on this list feature removable covers, which is good news for those looking to clean their pillows. And many of the removable covers are machine-washable as well. Be sure to check what the manufacturer provides, but knowing something is machine-washable is important information!
Unfortunately, many of the pillows on this list are not fully machine-washable for a few different reasons: The filling used for these pillows can likely be damaged in the washing and drying process, and many body pillows are simply too big to fit in a washing machine. Or if they can fit, they might not be able to move around as easily or be able to be thoroughly cleaned.
Final Thoughts
A body pillow can become an asset and take the quality of one's sleep from good to excellent each night. Body pillows are intended to help provide enhanced support to areas of the body traditional bed pillows can't typically support. Are they crucial? No, but adding one to the bedroom certainly can't hurt, especially if injuries are involved or pregnant mothers are starting to feel the aches and pains of a growing bump.
This list has something for everyone – make sure to comment on the YouTube video on which one stands out and ask for a personal recommendation if needed!
FAQs
What is the best body pillow to buy?
The best body pillow for a person is going to depend on a myriad of factors from body shape and size to personal preference and the area of the body that needs the most support. Body pillows are there to offer a person full-body support if desired, but they can also focus on areas like the back, hips (by placing between the knees) or as a way to feel comforted by wrapping the pillow around the body for a soothing hug-like feel. As we've seen from this list, not all body pillows are created equal. It's best to assess what an individual wants to get out of the body pillow and then search for the design, fill and materials that are going to help meet that goal.
Are body pillows good for you?
Yes, body pillows are inherently good for us because they help take the pressure off of areas that are causing us pain for discomfort. They're especially helpful during injury recovery, pregnancy or postpartum because of the versatile ways they can be shaped and used.
Do body pillows help you sleep better?
Indirectly, body pillows do help us to sleep better. Those waking up from back pain, hip pain or other tender areas may find a body pillow helps them to sleep more comfortably - and therefore better - at night.
How long is a body pillow?
Body pillows can range in length, at a minimum a body pillow will be at least 48" long, with many options on this list reaching 54" in length.
Are body pillows good for pregnancy?
Pregnant individuals may find themselves moving to their side while they sleep. Body pillows can help provide support to the abdominal area and keep the belly supported. But pillows like the Leachco Snoogle can fully encompass your body, providing additional support and pressure relief along your back, shoulder, and hip!
Tony Klespis
Tony is a staff writer at Mattress Clarity where he analyzes sleep products and appears in review videos. He earned a B.A in English from Sam Houston State University and a M.A in Mass Communication from Texas State University. When he isn't writing about sleep products, Tony loves to unwind with a good book or can be found playing Pokemon Go outside with his friends, or cuddling with his cat, Penguin. He's always down to try a new, local restaurant and try new foods.