When it comes to getting excellent sleep, body pillows can play an important role.
They can provide full or partial support for areas of the body including the back, hips, knees, or stomach. They're especially helpful if someone is pregnant or recovering from an injury and must sleep on their side or keep specific parts of their body elevated or supported.
Just like traditional bed pillows, body pillows come in at all shapes, sizes, materials, and prices. There really is a body pillow out there for everyone.
A lot of research and testing went into this article to come up with a list of the top five best body pillows. This article will go over what people need to look out for if they are looking to purchase a body pillow and then go over the highlights of the top picks.
Space Saver

Malouf L-Shape

The Malouf L-Shape body pillow is shaped like an L and made of a single solid piece of the brand's own Gel Dough memory foam for full-body support, and it features a cooling gel material. Follow the CHECK PRICE button to find the best prices!

Great For All Sleep Positions

Coop Home Goods

The Coop Home Goods body pillow features a super soft knit cover made with bamboo and an adjustable filling of uniform shredded memory foam and polyester fibers. For the best deal on a Coop Home Goods pillow, click the button to the right!

Great for Heavier Sleepers

TEMPUR-Pedic

The key feature of the TEMPUR-Pedic body pillow is its core, a solid piece of dense TEMPUR material (proprietary memory foam), and it is significantly firmer and contouring than other options. Click for the best price on the TEMPUR-Pedic body pillow!

Best for Pregnancy

Leachco Snoogle

Leachco's Snoogle is a simple but brilliantly designed full body pillow that is particularly well suited for pregnant women craving full-body support. Get the best price on a Snoogle through the CHECK PRICE link!

Great for Travel

Squishy Deluxe Microbead

The Squishy Deluxe Microbead body pillow from MicrobeadPillows.com is a non-traditional take on a body pillow with its microbead core and size that makes it easy for travel. Get the best deal on the Squishy Delux by clicking the link to the right.
Below, there will be even more details on each of the Top 5 Favorite Body Pillows! There will also be some tips for what to think about before buying a body pillow.
Space Saver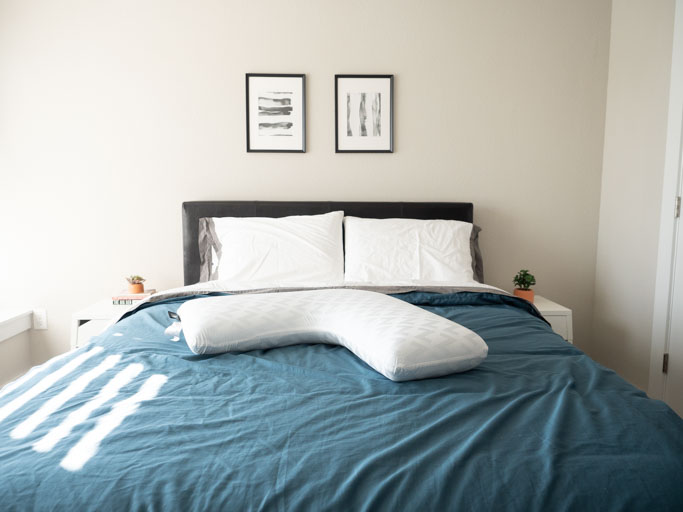 Malouf L-Shape
The unique L-shape design in this pillow sets it apart from more traditional memory foam body pillows. This pillow – in particular – is ideal for side sleepers who are limited on space and want head, neck, and back support all in one pillow. The pillow is contouring, pressure-relieving but also firm enough to provide the higher loft a side sleeper needs to get a good night's rest. 
The Malouf L-shape provides significant support because it's filled with a solid piece of Gel Dough memory foam that incorporates cooling gel material. Meanwhile, the outer cover is removable and made with Tencel, a synthetic material known for its breathable but soft nature. 
People also have the option to place the pillow between their knees to help keep their hips open; pregnant women may like it for added bump support as well.
The Malouf pillow is available at a variety of retailers and is priced at around $115 at full price. 
Pillow Details:
An L-shaped, foam body pillow that's designed for side sleepers and provides neck and back support
Width: 26″, length: 26″, height: 5″ and about 2.5 lb in weight
Cover: 100% Tencel (a synthetic fiber)
Fill: 100% polyurethane gel foam

The Gel Dough® filling is a gel memory foam that's infused with advanced gel material for a cooler feel

Care: wash the zippered cover in warm water using a non-chlorine bleach detergent on a gentle cycle with a cold water rinse
Full price on Malouf site: $115 (but about half the price on Amazon and available at other retailers as well)
One color option
Those curious to learn more, check out our full L-shape body pillow review!
Great For All Sleep Positions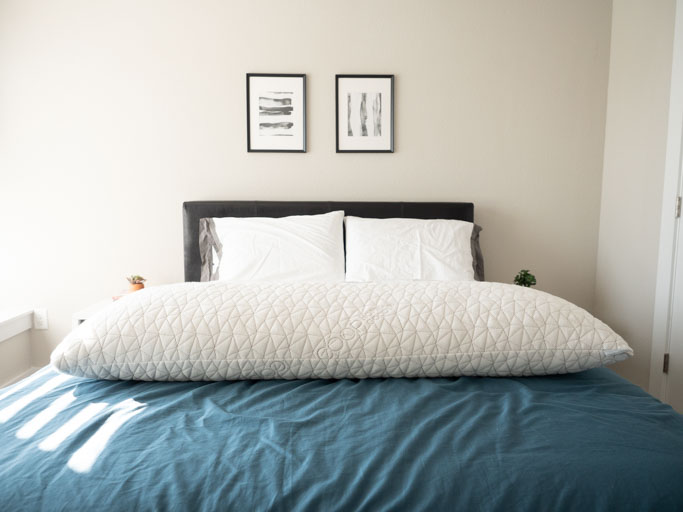 Coop Home Goods
The Coop Home Goods body pillow is a beautiful body pillow from the inside out. One of the highlights is the soft knit cover made with rayon derived from bamboo, while the filling is a combination of cross-cut, shredded memory foam and polyester fibers.
The real key to the success of this particular body pillow is the fact that it's adjustable. This means people can access the foam and fiber pieces and add or remove the amount of filling required to stay comfortable. The fibers smooth out the potential chunkiness of the foam, but it remains supportive.
The adjustable nature makes this body pillow a delightful option for all sleep positions, as sleepers can control the loft, firmness, and overall feel of the pillow and customize it to suit their specific needs.
Pillow Details:
Dimensions: 20″ x 54″
Lulltra® fabric cover is 60% polyester, 40% bamboo-derived rayon
Cross-cut memory foam (80%) and microfiber filling (20%)
An adjustable body pillow allows sleepers to access the filling and add or remove as much as desired.
Zippered cover allows sleepers to access filling and add/remove to meet desired support level
Hypoallergenic
Made in the USA
Comes with a 5-year limited warranty
100-night sleep trial
$69 at full price
Care: won't fit standard washers and dryers, so it's a good idea to use a pillow protector and/or spot-clean the pillow using a mild detergent
For more information, read the full Coop Home Goods body pillow review.
Great for Heavier Sleepers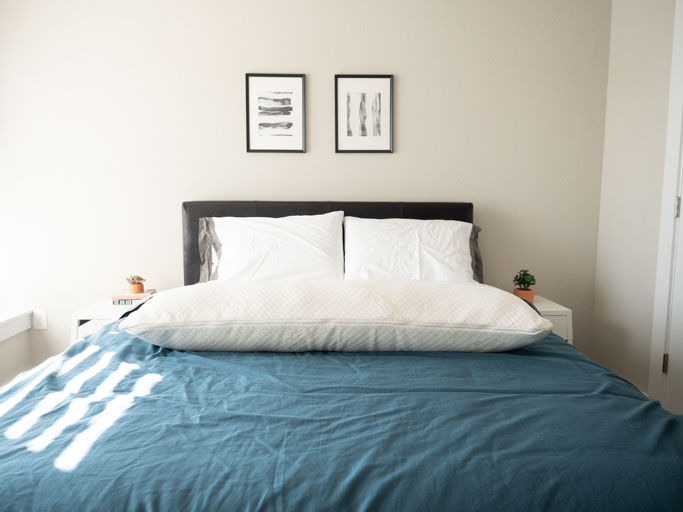 TEMPUR-Pedic
The real highlight of this full body pillow from TEMPUR-Pedic is its substantial sleeve of pressure-relieving TEMPUR-Material – the brand's proprietary memory foam filling. It weighs more than 7 lbs and takes decent pressure to get the foam to sink in – it's quite firm.
The polyester blend cover is a soft knit and removable, so it can easily be cleaned (machine wash but air dry only). 
With these factors in mind, the contouring foam and 5.5″ height profile make it a great fit for side sleepers or those with heavier body types who are looking for a significant pillow to support their full body overnight.
TEMPUR-Pedic has a no-return policy on pillows, so the $199 will be an investment without a doubt, but it is surely able to please those looking for serious full-length body support.
Pillow Details:
Dimensions: 14" x 48" by 5.5" (in height)
Weighs just over 7.5 lb
Designed to support side sleepers and expectant mothers
The core is filled with a medium-firm sleeve of TEMPUR® material (pressure-relieving memory foam) with shapeable micro-cushions
The cover is made of 60% polyester knit and a 40% nylon blend
The cover is also removable and washable (line dry only)
$199 at full price
5-year limited warranty and no returns
There's also a complete TEMPUR-Pedic body pillow written review and video review of this body pillow, so check it out!
Best for Pregnancy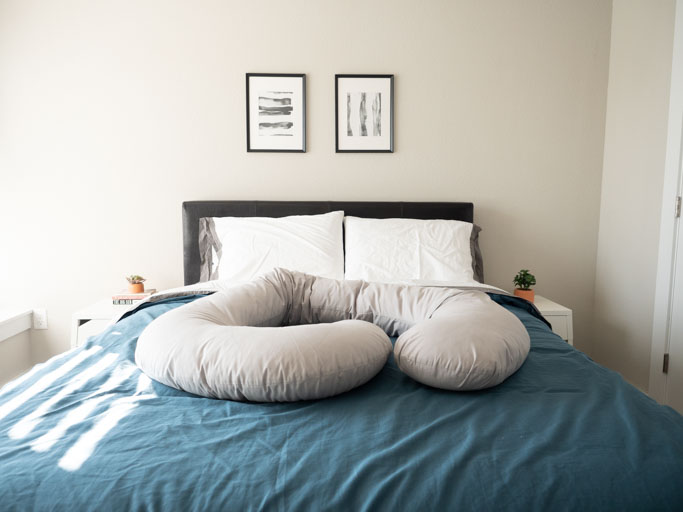 Leachco Snoogle
The Snoogle by Leachco is a pregnancy pillow that falls under the grand umbrella of body pillows because it really does support the entire body and can be used for those who are pregnant or not!
The genius of this pillow is in its C-shape design and it's 60″ length. It's long enough to replace a traditional body pillow and support the entire head, neck, back/bump and rest between the knees to keep the hips open and aligned. 
The Snoogle is such a versatile body pillow, it's incredibly popular and beloved by pregnant women and others because it can be used easily in 6+ different ways. There are multiple covers and fabric options to choose from, but all contain a soft polyester fiber filling. Depending on what retailer it's purchased from, expect to pay around $60, which is an excellent value for full-body support.
Pillows:
Dimensions: 60″ x 7″ x 25″
Filling: polyester fibers (like a firmly packed down alternative)
Weight: 14.4 oz
A single, uniquely C-shaped pillow that supports and aligns hips, back, neck, and tummy
Comes in a variety of fabric options with removable and zippered covers (see below for more details)
The actual pillow is spot-clean only, but removable covers can be machine washed and dried
The patented design was developed by a Registered Nurse and Mom
Learn even more in our comprehensive review of the Leachco Snoogle pregnancy pillow. 
Great for Travel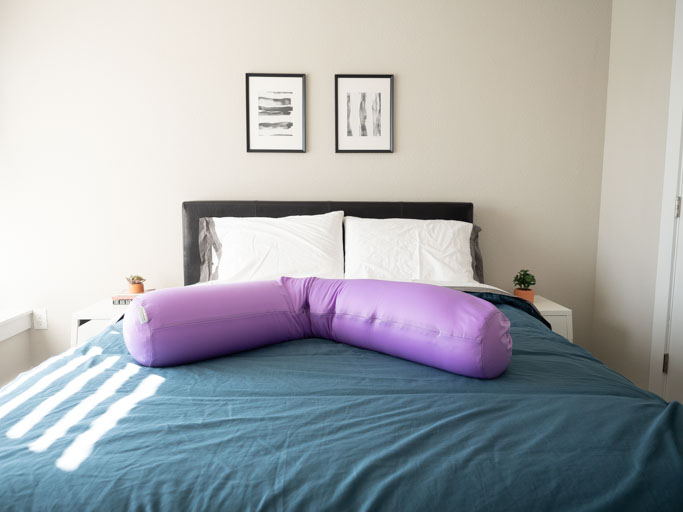 Squishy Deluxe Microbead
I love this squishy body pillow! The microbeads are a lovely option for those who love that bean bag-like feel that's unlike down alternative or foam, completely. The dimensions of this particular pillow are smaller than the typical body pillow – which comes in around 50″ x 24″ – and land at 47″ x 7″ with a cylindrical shape. 
The cover is reminiscent of a gymnastic outfit – 90% nylon with 10% spandex for just enough stretch. The cover is removable and can be easily washed in case of spills. 
Those worried about microbeads spilling everywhere need not be too concerned as the lining is double stitched and won't easily leak tiny food-grade beads everywhere. There is also a wonderful travel bag it comes with, which makes it the perfect body pillow to take on vacations or business travel, wherever one might need a little extra support.
The pillow is priced at around $60 and can be found online at retailers like Amazon.
Pillow Details:
Dimensions:47" x 7" in diameter
The cover is 90% nylon and 10% spandex; can be easily removed and washed
A core is filled with food-grade microbeads produced in the US; all the seams are double reinforced to prevent any leaks
Hypoallergenic and completely odor-free, antibacterial and dust mite-resistant
Comes in a variety of colors
Can be purchased at many retailers; cost around $60
Marten's Take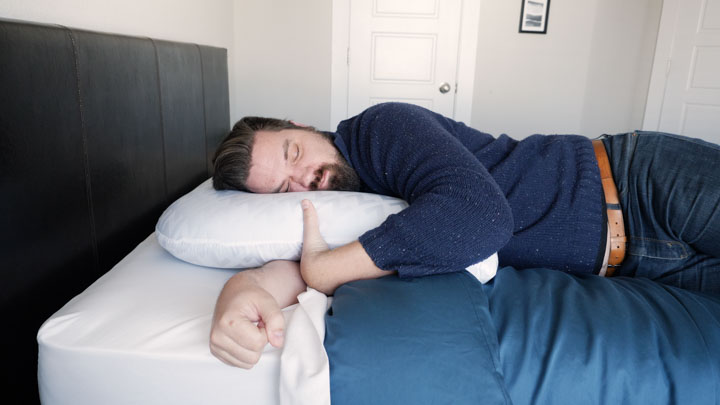 At Mattress Clarity, we believe it's crucial to provide as many perspectives as possible when sharing our reviews and lists of our favorite pillows – including body pillows! One important way to narrow down which body pillow is going to be best is to take a look at one's body type, including height and weight. I'm 5'7″ and about average body type (and pregnant!) – so I wanted my colleague Marten to come in and share his perspective as well.
Marten is 6′ 7″ and weighs about 250 lbs, and he's going to share his experience with the body pillows on my list and give his recommendation on which ones will be the best for heavier sleepers or those with larger body types.
Hi guys, Marten here. As Katie mentioned, I'm about a foot taller than Katie and weigh about 250 lbs right now so I wanted to give my take on the best body pillows on the list for heavier sleepers. Here are the two pillows I thought were a good match for a heavier person like me.
Malouf L-Shape: I like the nice gel memory foam feel of this pillow. I enjoyed placing it between my knees to give my hips some room and also using it as I was side sleeping. I put it under my head and wrapped my arms around it but I also enjoyed it when I was sleeping on my back.
TEMPUR-Pedic: Katie found this pillow to be a little firm but as a larger person, but I really liked the level of support the pillow provided. When I slept on my side, I was able to place the pillow between my legs and found that to be very comfortable. I also liked placing it behind me when I slept on my back and felt that extra support and barrier to rolling over.
What To Consider Before Buying A Body Pillow
Price
There is a body pillow for all budgets and all types of people. There are some available on the market as inexpensive as $20 and as expensive as over $200. Consumers don't have to break the bank to add some full-body support and get a good night's rest.
Sleep Position
How tall or firm a body pillow is should be determined in large part by one's primary sleeping position. In general, stomach sleepers and back sleepers will need something softer and with a lower loft than side sleepers.
RELATED: Best Pillows for Back Sleepers
Filling And Support
Polyester fiber filling is a great subtle option for some additional support (but not a significant amount).
Meanwhile, solid foam and a mix of fillings that include foam will be significantly more supportive and have a higher loft. Don't forget microbeads for a different version of support without the classic feel that foam provides!
Final Thoughts
A body pillow can become an asset and take the quality of one's sleep from good to excellent each night. Body pillows are intended to help provide enhanced support to areas of the body traditional bed pillows can't typically support. Are they crucial? No, but adding one to the bedroom certainly can't hurt, especially if injuries are involved or pregnant mothers are starting to feel the aches and pains of a growing bump.
This list has something for everyone – make sure to comment on the YouTube video on which one stands out and ask for a personal recommendation if needed!
FAQs
What is the best body pillow to buy?
The best body pillow for a person is going to depend on a myriad of factors from body shape and size to personal preference and the area of the body that needs the most support. Body pillows are there to offer a person full-body support if desired, but they can also focus on areas like the back, hips (by placing between the knees) or as a way to feel comforted by wrapping the pillow around the body for a soothing hug-like feel. As we've seen from this list, not all body pillows are created equal. It's best to assess what an individual wants to get out of the body pillow and then search for the design, fill and materials that are going to help meet that goal.
Are body pillows good for you?
Yes, body pillows are inherently good for us because they help take the pressure off of areas that are causing us pain for discomfort. They're especially helpful during injury recovery, pregnancy or postpartum because of the versatile ways they can be shaped and used.
Do body pillows help you sleep better?
Indirectly, body pillows do help us to sleep better. Those waking up from back pain, hip pain or other tender areas may find a body pillow helps them to sleep more comfortably - and therefore better - at night.
Katie Golde
Katie manages the day to day operations of the Mattress Clarity news site and reviews sleep products in addition to writing and editing sleep news. She hails from Austin, where she lives with her growing family. She is a Certified Sleep Science Coach and has a master's degree in Journalism from Northwestern University and has a background in health and science content. Her work can be found in print and online publications like Discover Magazine, USA Today and The Huffington Post.