Picture this: you're wanting that calming sensation of a hug, so you bundle up under your weighted blanket. But then after a while, you begin to sweat, and feel stuffy. So, you end up tossing the blanket off, and lose that calm sensation.
Luckily for you, cooling weighted blankets have come into the fray and are here to prevent you from feeling hot and sweaty, and keep you feeling calm. That's why I've compiled a list of the best cooling weighted blankets for the year.
Keep reading to see my picks!
Our Top Picks for the Best Cooling Weighted Blankets
Best Cooling Weighted Blanket – Our Video Roundup
Editor's Pick – Sleep Number True Temp
Who's It For?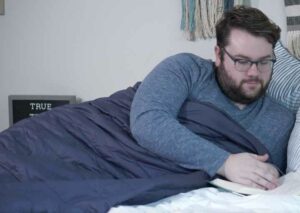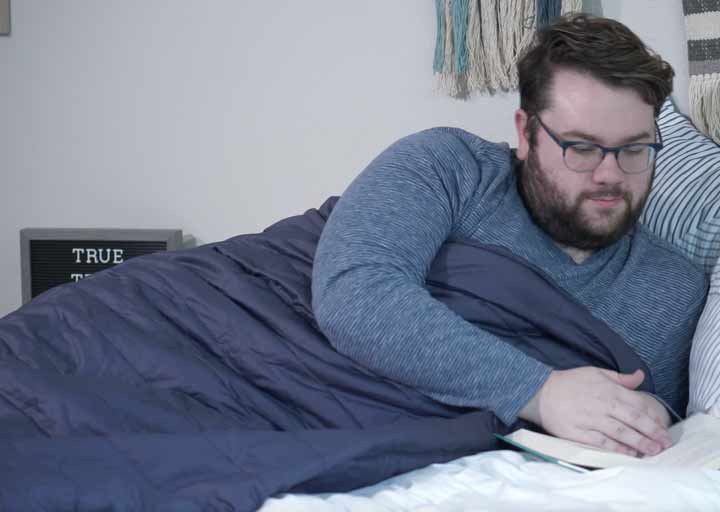 When it comes to picking the best cooling weighted blankets, it doesn't get better than a blanket that actively works to keep you cool and temperature-neutral. Sleep Number's True Temp weighted blanket achieves this through something called 37.5 active particle technology.
This unique material will actively adapt to your body temperature, even if you're a hot sleeper. So, when you start to overheat, the outer shell will dissipate heat away from your body. And it works the other way, too! If you start to feel a little chilly, pull it over and you'll start to warm up.
This outer shell is made of a cotton and polyester blend, and the addition of cotton helps keep this blanket fairly breathable. So, with all that, it just had to be one of our best cooling weighted blankets.
What Makes the Sleep Number True Temp Blanket Stand Out?
We found this blanket to have excellent weight distribution. There's the same comforting heaviness around the entire body.
It comes in 12 and 20 lb options, making it a great match for most average-weight adults.
The outer cover is machine-washable for easy care.
Read our full Sleep Number True Temp weighted blanket review.
Best Airflow – Bearaby Tree Napper
Who's It For?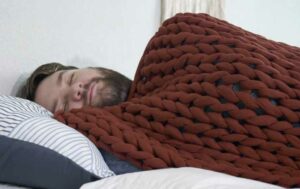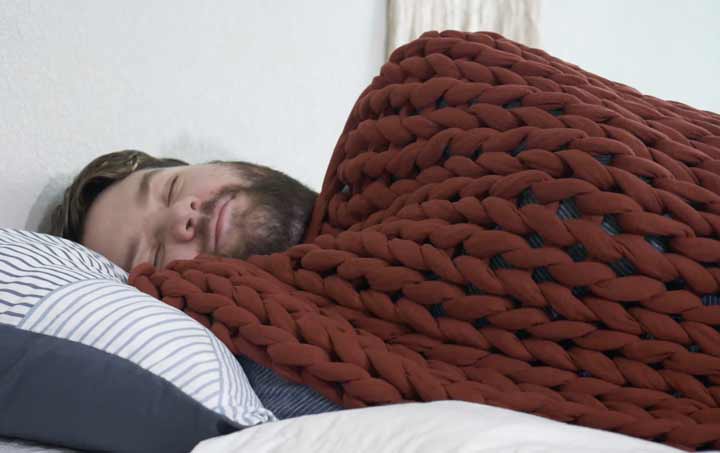 It's a simple fact: some weighted blankets just aren't very breathable. So if you're looking to maximize airflow while still experiencing that hugging sensation, check out the Bearaby Tree Napper.
Bearaby makes a number of weighted blankets, all with chunky, loose-knit designs. So the blanket will literally open up and let air flow through very easily. The knit design also means that the blanket only gets its weight from the doubled-up fabric.
Though you could pick any Bearaby blanket to keep you cool, the Tree Napper stands out as the best cooling blanket from the brand, thanks to its Tencel fabric. Tencel is a fantastic material for hot sleepers because it's cool to the touch and will wick away moisture.
What Makes the Bearaby Tree Napper Stand Out?
Tencel is an environmentally friendly fabric derived from eucalyptus fibers, which should appeal to eco-conscious shoppers.
You can make returns on this weighted blanket for up to 30 days.
Bearaby sells a variety of weighted blankets and has a wide range of weight options. There's something for everyone.
Read our full Bearaby weighted blanket review.
Best King-Size – Gravity Cooling
Who's It For?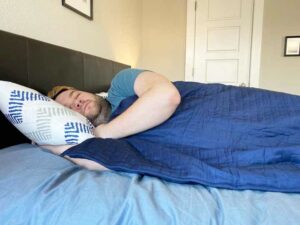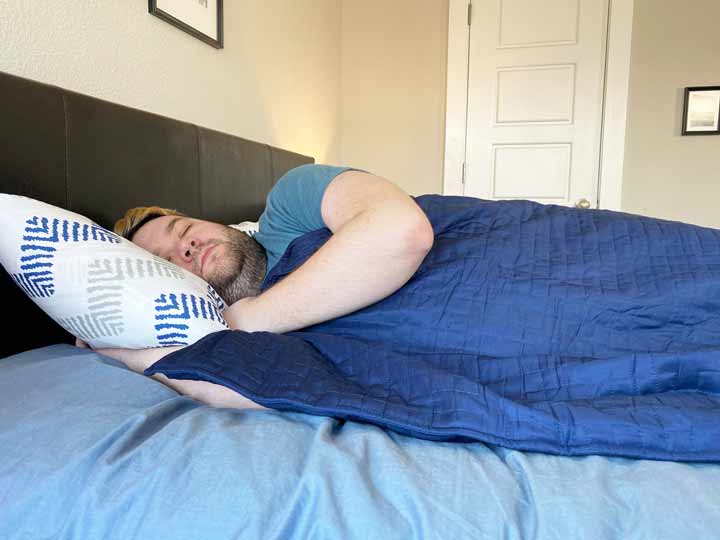 As a brand, Gravity has become almost synonymous with weighted blankets. But even they recognized that the company's original blanket isn't the most hot sleeper-friendly. That's why they set out to create the Gravity Cooling weighted blanket.
This blanket has an outer cover that has been designed specifically for hot sleepers. It's super-breathable and won't make you feel hot and sweaty. Of course, sometimes it's nice to share a weighted blanket with a partner. Or maybe you just want something big enough to wrap yourself in a weighted blanket burrito. Gravity makes all its weighted blankets in king-size options for this very reason!
This outer cover is machine-washable for easy care. And you can also find this blanket on Amazon for easy access.
What Makes the Gravity Cooling Weighted Blanket Stand Out?
The outer cover is actually a duvet cover, meaning it feels thicker and cozier than many other weighted blankets.
The cover has three colors to choose from.
The king-size blanket weighs a hefty 35 lb, but you do have the option to buy lower weight blankets.
Read our full Gravity Cooling weighted blanket review.
Best Reversible – Nectar Serenity
Who's It For?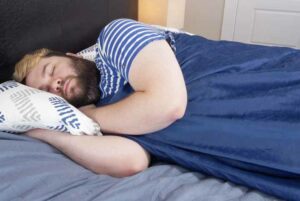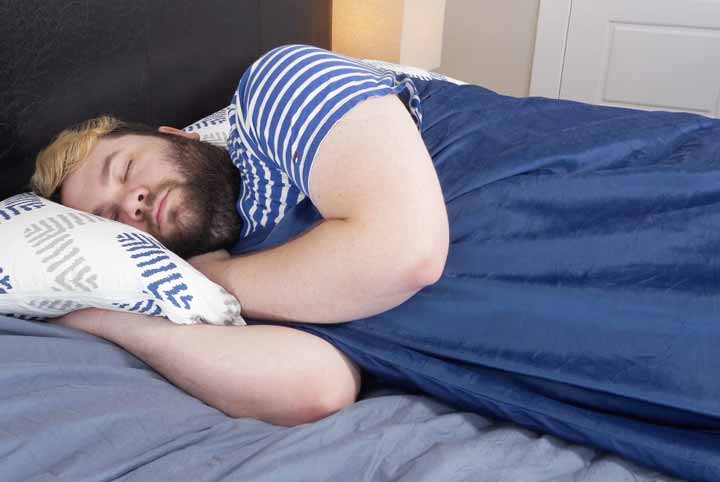 If you're the type of person who wants to buy one weighted blanket to use year-round, the Nectar Serenity Sleep weighted blanket is the perfect option: it's reversible!
The two sides of the Nectar blanket are as follows: a soft, fuzzy side and a smooth, cool-to-the-touch side. The fuzzy side has a minky feel and is made from polyester, while the smooth, cooling side is made from bamboo rayon.
If you're a hot sleeper, keep the rayon side on you. Because it comes from bamboo, rayon is naturally cooling and helps hot sleepers keep a low temperature.
This means you can get the benefits of a weighted blanket while staying cool. And when it starts to get cool outside, you can use the minky side to keep you warm.
What Makes Serenity Sleep Blanket Stand Out?
Rayon also has the added benefit of being moisture-wicking.
The blanket comes in 12 and 20 lb options.
The outer cover comes in three colors and is machine-washable.
Full review to come!
Best Cooling Bamboo – Luxome
Who's It For?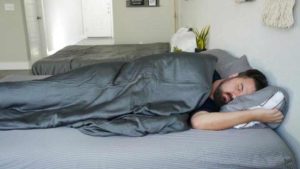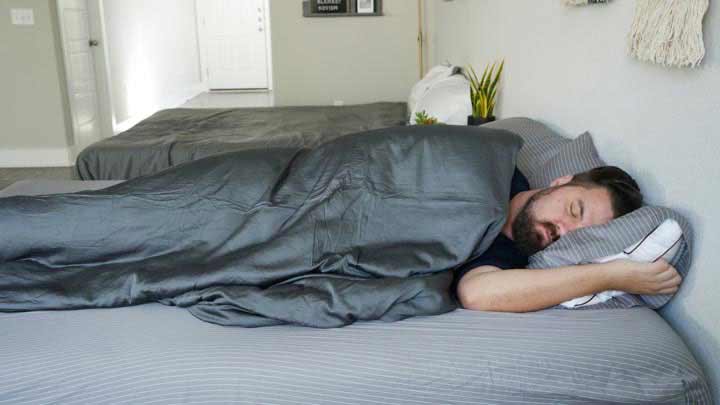 If you're a hot sleeper, you might want to consider switching to bamboo weighted blankets for some cooling, moisture-wicking relief. Luxome makes two versions of a bamboo weighted blanket. One that comes as is with an integrated bamboo cover, or one that has a removable bamboo cover.
Whichever you decide to go with, Luxome's bamboo weighted blankets have something for everyone. Each one comes in multiple sizes and each size has different weight options.
The Luxome blankets really exude luxury, as bamboo can feel quite soft and lush. If you have sensitive skin or allergies, bamboo should be a material to look into because it's 100% hypoallergenic, too!
What Makes the Luxome Blanket Stand Out?
The removable cover is machine-washable.
You can also wash the blanket with the integrated cover, although you should do so on a delicate cycle.
Each model of weighted blanket comes in a variety of neutral colors, including gray, white, and beige.
Read our full Luxome weighted blanket review.
What to Consider When Shopping For the Best Cooling Weighted Blankets
If you're new to weighted blankets as a whole, we have a more detailed buyer's guide in our best weighted blanket list. But if you're here because your current weighted blanket is too hot, here are two big considerations to look out for when shopping for a cooling weighted blanket.
How Do Cooling Weighted Blankets Work?
When it comes to the best cooling weighted blankets, the overall goal is to keep you from overheating. Weighted blankets are, after all, still blankets. So, naturally, they will still provide some warmth. If you're dealing with a stuffy, sweaty weighted blanket, you should pay specific attention to the materials that make up the blanket.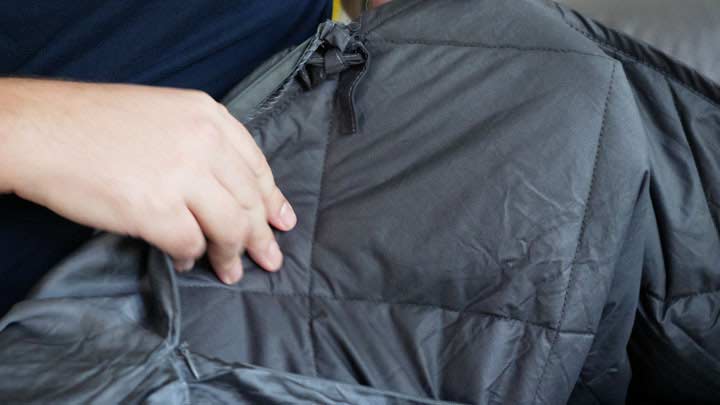 Generally, those soft, cozy, minky blankets are made with microfiber or polyester fibers designed to feel super soft. But they aren't always the best at staying cool or being moisture-wicking.
Look for breathable and moisture-wicking fabrics such as Tencel or bamboo in the outer cover of the blanket. These two materials have that winning combo of being breathable, soft to the touch, and moisture-wicking.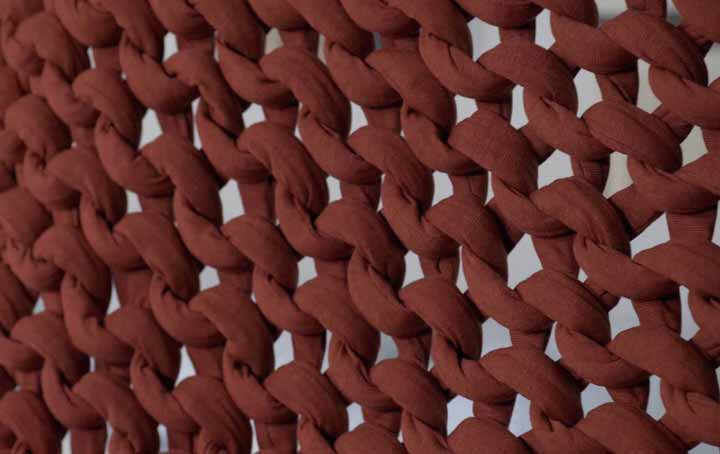 In the case of the Sleep Number Blanket, you won't see bamboo or Tencel, but rather a blend of cotton and polyester. Cotton is a good choice for hot sleepers because it is breathable as well. But the polyester has been infused with 37.5 particle technology. This is something found frequently in Sleep Number accessories to keep you from overheating because the blanket will dissipate heat when you start to get too hot.
RELATED: Eucalyptus vs Bamboo
How Do You Wash a Weighted Blanket?
Keeping your blanket clean can help extend its lifespan. But when you've got a multiple pound blanket to wash, it's important to check the care instructions that the manufacturer provides.
Some of the most common recommendations I've seen are removing the blanket's outer cover, if it has one, and machine washing the cover. Often, the washing and drying instructions will be very similar to the way you normally wash blankets and clothing.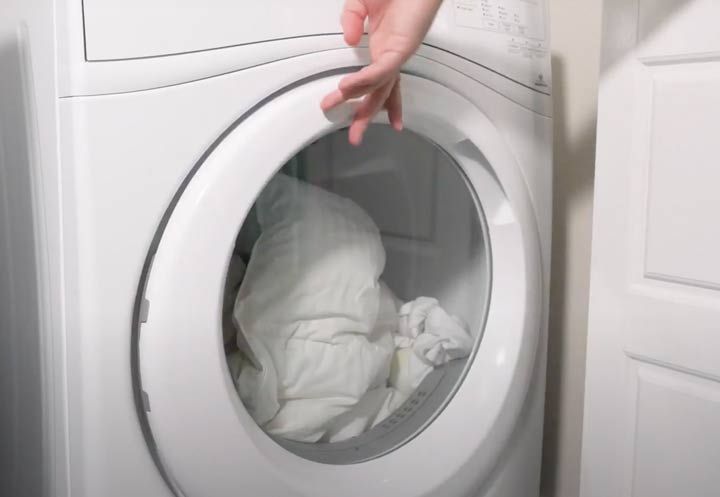 There are some blankets that can be fully machine-washed, however! The Bearaby Tree Napper can be completely machine-washed, and it comes with very simple instructions as well. For safety, I would recommend washing the blanket by itself, with nothing else in the machine.
If your weighted blanket can't be machine-washed, then companies will recommend spot or dry cleaning.
FAQs
Let's answer some of the most frequently asked questions about the best cooling weighted blankets.
How heavy should my weighted blanket be?
A general rule of thumb for picking the best weight for your weighted blanket is to take 10% of your weight, or divide your weight by 10. That number will give you the ideal weight for your blanket. You can use our Mattress Clarity weighted blanket calculator to help take out the guesswork and also get some recommendations as well!
Are weighted blankets hot?
The short answer is yes. Weighted blankets are great for providing some extra comfort, but the materials that give the blanket its weight aren't super breathable. However, that's the reason we curated this list! Not all weighted blankets are going to keep you hot and stuffy while you use them.
Be on the lookout for either cooling inclusions, materials, or in the case of Bearaby, how the blanket is constructed. That should give you a good idea of how warm or cool a blanket will feel while you use it.
Are weighted blankets warmer than regular blankets?
Generally, yes they are. If you tend to overheat, even a cooling weighted blanket may not be the best course of action for you. Stick with a regular blanket or save your weighted blanket for the wintertime.
What are some of the negatives of weighted blankets?
As wonderful as weighted blankets are, the heavier feel probably isn't going to be for everyone. You have to really be in need of that kind of deep compression while sleeping. They also tend to be significantly more expensive than regular blankets.