"I'm feeling hot, hot, hot." The lyrics to that famous dance floor jingle pop into the head way too often. The tune rings in my ears when I step outside on an August day in Texas. The song also comes to mind anytime I am trying to sleep under a weighted blanket.
It's true that weighted blankets can sleep extremely hot. They are mostly designed to provide relaxing, deep tissue pressure, not cooling. Their extra heavy fill, usually comprised of glass beads, is not the best in terms of breathability, so it is normal to heat up under most weighted blankets.
This is why the Luxome Cooling Weighted Blanket is particularly interesting. This review features the cooling model that contains a bamboo cover. This material is known for its cooling and heat-dissipating properties.
Did the Luxome give me the weight I need without making my overheat? Read further for the full Luxome Cooling Weighted Blanket review and details!
Luxome Cooling Weighted Blanket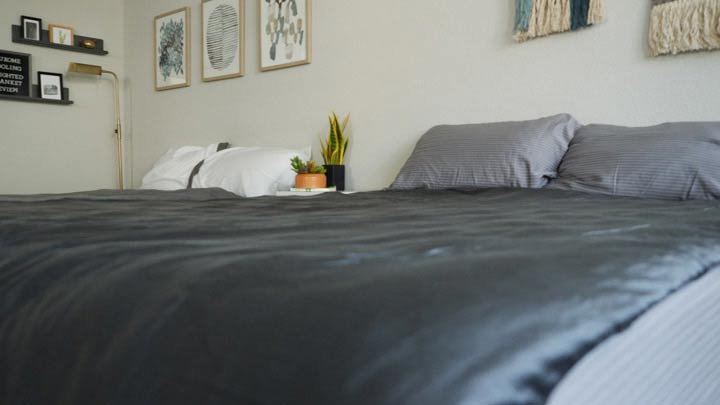 Weighted blankets can provide extra warmth, but if you want to sleep cool with one, the LUXOME Cooling blanket is for you. It has breathable, moisture-wicking bamboo so say good bye to night sweats.
Mattress Clarity Score
4.80 / 5
Read Full Review
Luxome Cooling Weighted Blanket Video Review
This weighted blanket from Luxome really does cool – watch as I talk through the materials, design, and my personal experience.
The Luxome Might Be a Good Fit For…
Hot sleepers. The Luxome weighted blanket with the bamboo cover is one of the coolest I have come across. Those who want to get the benefits of a weighted blanket but don't want to burn up at night should seriously consider the Luxome. I personally slept very coolly under the Luxome, and I believe most people will have a similar experience.
Those who want a duvet cover with their weighted blanket. There are many duvet cover options available from Luxome. What is great about their duvet/blanket combinations is the number of duvet tabs and ties. They let customers tie the blanket into the duvet cover, ensuring it does not shift around at night. The zippers on their duvet covers are also flush with the rest of the material, making for a unified look and style.
Those who are looking for a high-end, luxury weighted blanket. Just considering the materials and quality construction, the Luxome is a very high-end weighted blanket. Lyocell bamboo is a premium, effective material that is also responsibly sourced. Shoppers who desire a more luxury, cool weighted blanket are going to like what they find with the Luxome.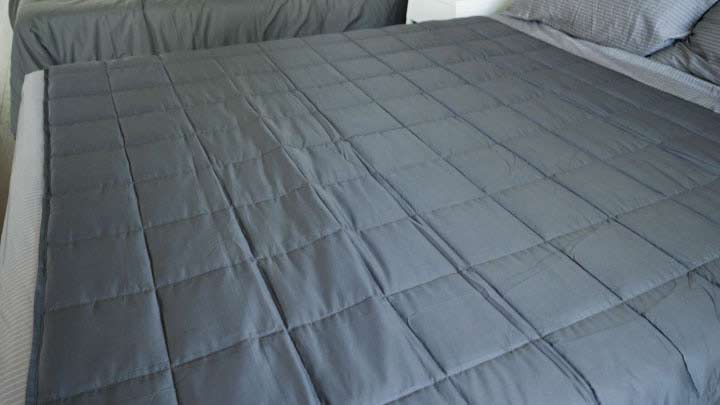 The Luxome Might Not Be a Good Fit For…
Those who want a more affordable weighted blanket. The Luxome is by no means the most expensive weighted blanket I have reviewed. That being said, at $210 for their largest, heaviest blanket with the bamboo cover, it may be too pricey for some. Again, this is a more luxury weighted blanket, and the quality components will raise the price somewhat. The price will be lower for the blanket with the integrated cover or a Minky cover.
Those who want a cozy weighted blanket. The Luxome with the bamboo cover is designed primarily to promote cooling, so it is not very cozy or warm. Those who want a soft, weighted blanket to snuggle under should consider one of the Luxome models with Minky, a fuzzy, warmer material.
People who want more weight and size options. Shopping for a Luxome weighted blanket, customers only have a few options. While it is true that there are a number of cover options to choose from, shoppers really only have three choices in terms of size and weight. Other weighted blanket companies sometimes offer multiple sizes and weight options, allowing sleepers to find their exact desired weight.
RELATED: Best Weighted Blanket for Anxiety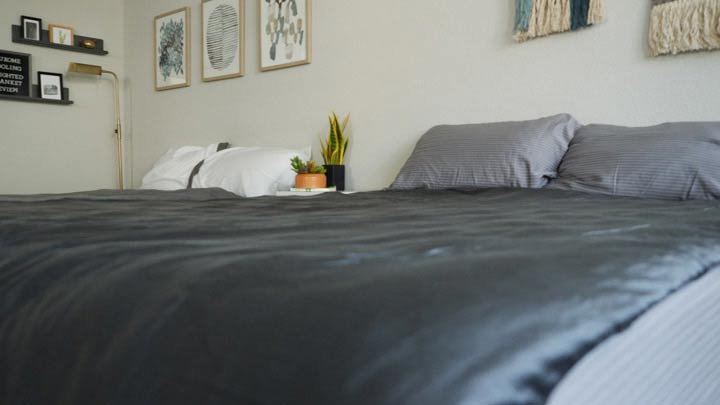 Construction and Options
We're talking about weighted blankets, so the weight is especially important. The Luxome comes in three available weights: 8 lbs, 15 lbs, and 18 lbs.
Most companies recommend using the following formula to find the right weighted blanket. Take one's body weight and divide it by 10 and then add or subtract one or two pounds. So, I weigh 230 lbs, and that weight divided by 10 is 23 lbs. I prefer a blanket with a bit more weight, so I usually go with 25 lbs.
According to Luxome's website, choosing a blanket based on body weight is not the right way to go. They performed their own research and found what they say is the perfect weight concentration. This means that the 8 lb, 15 lb, and 18 lb weighted blankets all have the same amount of weight per square foot.
This means that the 8 lb weighted blanket is the smallest in terms of size (42″ x 56″), the 15 lb has the dimensions of a Full-size bed (54″ x 72″), and the 18 lb is Queen-size (60″ x 80″). Luxome says the 8 lb is really designed for children, the 15 is designed for smaller adults and adolescents, and the 18 lb is made for all other adults. Whatever size they choose, the weight concentration will still be just what they need.
While Luxome doesn't offer a wide array of weights and sizes, they do have quite a few duvet covers to choose from. They have covers made from bamboo, Minky, and some feature both bamboo and Minky. As I stated above, Minky is a material, usually made from polyester, that has the feel of a child's blanket. It is both soft and cozy. Customers can also choose from a number of blankets with integrated covers, made of either bamboo or Minky. They also offer a variety of color options.
I opted for the weighted blanket with the removable bamboo duvet cover. It is made from 300 thread count lyocell bamboo. Lyocell bamboo is processed in an eco-friendly fashion, while other bamboo types, such as viscose, are not.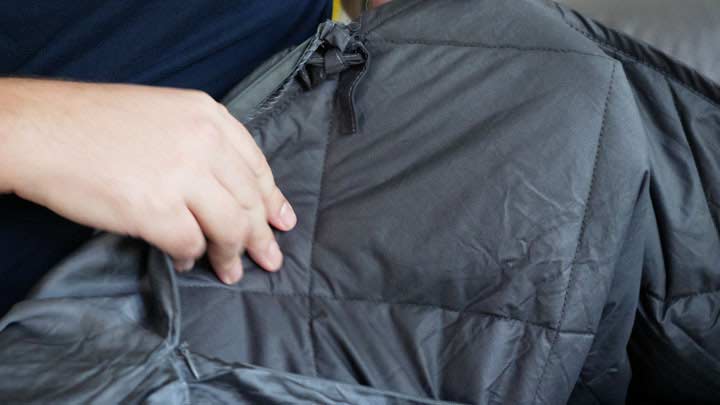 The duvet cover contains quite a few duvet ties that run along its inside. These ties have a shoelace design and thread through the duvet loops found on the actual blanket. What's more, the Luxome features twice as many duvet ties and loops than we find on many other weighted blankets.
On the side of the duvet cover, a very thin zipper is almost invisible. I'll be honest: I spent 30 minutes trying to find the zipper. Just look at the side edge of the duvet cover, and there should be no issues.
This is a lot of information about options, sizes, and covers. What about the blanket itself? Well, the Luxome inside the bamboo duvet cover has a somewhat standard design. The outer shell is made of 100% cotton and is also smooth to the touch.
The blanket features a gridded design similar to many other weighted blankets. Stitching creatures squares across the blanket and, in each square, we find 1 mm hypoallergenic glass beads.
Caring for the Luxome weighted blanket is easy. One of the things I love about duvet covers is that they are easy to remove and wash at home. The Luxome duvet covers are no exception, and they can be washed on a delicate cycle. The blanket itself is also machine-washable, but Luxome again recommends a delicate wash and dry cycle.
Luxome Cooling Weighted Blanket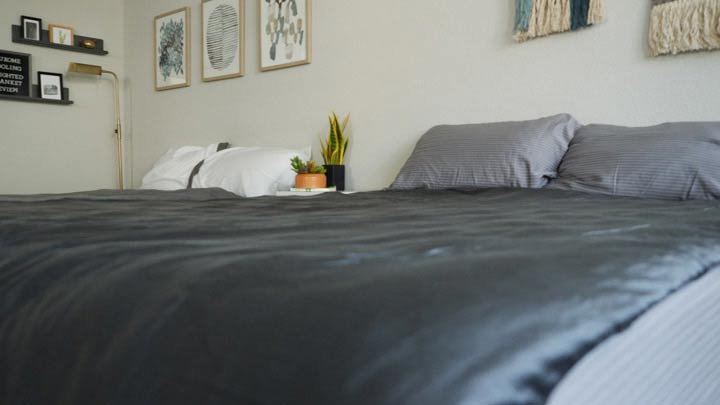 Weighted blankets can provide extra warmth, but if you want to sleep cool with one, the LUXOME Cooling blanket is for you. It has breathable, moisture-wicking bamboo so say good bye to night sweats.
Mattress Clarity Score
4.80 / 5
Read Full Review
My Experience
Okay, there is a lot to process with this weighted blanket. Luxome has different theories about choosing a blanket's weight, and they offer some really high-quality materials. Putting that aside, how does the Luxome work for me?
RELATED: Weighted Blanket Calculator
First off, I need to talk about weight. I am really interested in the work that Luxome did to find that perfect weight concentration. It is pretty awesome that they took out all the guesswork for their customers.
That being said, I am just used to heavier blankets. As I said above, I usually sleep under blankets that are closer to 25 lbs. Also, some of these 25 lb weighted blankets are much narrower than the Queen-size 18 lb blanket I reviewed. That means I am used to even more weight concentration.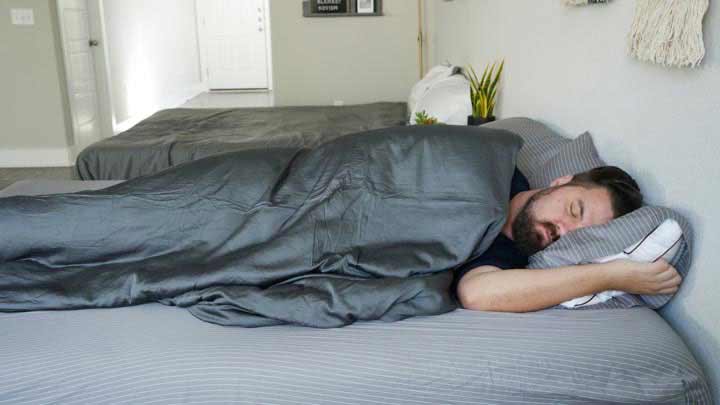 Lying under the Luxome, it just feels a little light at first. I am getting some great, even weight distribution across my entire body, but I just wish it were a little heavier. This, of course, might just be a personal preference, so keep that in mind.
This model of the Luxome really stands out because of its bamboo duvet cover. Wow, this duvet cover is extremely effective. I am a hot sleeper, and weighted blankets usually make me heat up significantly.
RELATED: Gravity Weighted Blanket Review
I am not, however, having that problem with the Luxome. Bamboo is a material that is both moisture-wicking and temperature-regulating. The bamboo isn't just cool, but cold, so I am not sleeping hot at all!
Even though I wish the Luxome offered more weight, it is still an effective weighted blanket. Lying underneath it, it does apply deep tissue pressure across my body and lulls me to sleep. Waking up after using the Luxome, I feel clear-headed and ready to start my day.
Overall
I'll be honest; the Luxome kind of blew me away. I did want some more weight, but the blanket had me sleeping cool and still gave me enough deep tissue pressure to help me sleep well. I like that they have simplified the buying process, but I'm sure some people will want to make their own decisions regarding weight.
RELATED: Best Weighted Blankets
Please leave any questions about the Luxome in the comment section below!