For anyone who has been looking for a new weighted blanket, they've probably come across the Gravity Blanket. It is one of the most popular weighted blankets on the market for good reason.
Having tried many other weighted blankets, I was very excited to see how the Gravity Blanket compared. This Gravity Weighted Blanket review will go over all the important details of the weighted blanket and highlight the main takeaways consumers need to know about.
Gravity Blanket Deals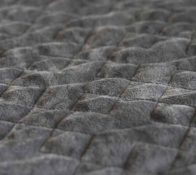 The Gravity Blanket is a high-quality, throw-sized weighted blanket that features a very comfortable duvet cover. 
Gravity Weighted Blanket Overview
Gravity got their start in 2017 as a kickstarter campaign and haven't looked back since. They now have other weighted blankets to help customers get better sleep and even their own mattress, the Gravity Ice Hybrid.
In this review, we're discussing the Original Gravity Blanket to help you figure out whether or not this is the blanket for you. So, who will enjoy this weighted blanket? Let's break it down:
Who Might Like the Gravity Weighted Blanket?
Fans of a duvet cover with their weighted blanket
Anyone looking for one of the best weighted blankets for anxiety
Anyone looking for a blanket with great weight distribution
Who Might Not like Gravity Weighted Blanket?
Hot sleepers (However, Gravity does sell a cooling weighted blanket)
Blanket shoppers on a budget
Fans of weighted blankets without a cover
RELATED: Best Weighted Blankets
Gravity Weighted Blanket Video Review
Stay grounded here on earth with our Gravity Weighted Blanket video review!
Sleeping with Gravity Weighted Blanket
For this review, I received the 35lb king size blanket. This is an update to the original Gravity blanket, as the blanket used to only come in 15, 20, and 25lb weight options and measured 48" by 72".
I loved how soft the outer cover felt. It felt minky, soft, and comforting, and I really felt the weight of the blanket all around me. This mimics something called deep pressure touch, which is that hugging sensation weighted blankets are known for. This sensation helps you release serotonin to feel calm.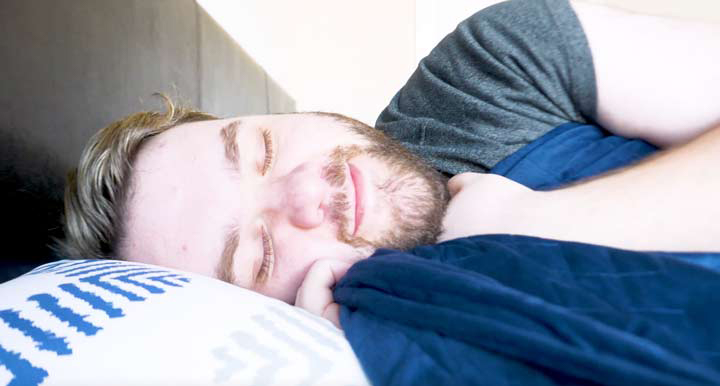 I think this combination of really even weight distribution and a soft cover definitely makes you feel safe and calm while using this blanket.
Because this is not their cooling model, I had concerns with overheating. This blanket definitely kept me warm, but if you're concerned with overheating, opt for their cooling model.
How Much Does the Gravity Weighted Blanket Weigh?
As mentioned, this blanket comes in four different weight options, and two size options. The 15-25lb blankets are 48" x 72", which is roughly the average size for a throw blanket. The 35lb weight option is called the king size option, and measures 90" x 90".
Not sure what weight option is the best for you? The general rule of thumb for picking a weighted blanket is to take 10% of your body weight (in other words, divide your body weight by 10) and add or subtract a pound or two. That should be the weight option for you.
So, for example, if you weigh around 200lbs, then a 20lb weighted blanket is the option for you.
Gravity Weighted Blanket Feeling
Gravity weighted blankets are known for that deep pressure stimulation, and are able to achieve this with good weight distribution and a soft outer cover. Whatever weight option you choose to buy, this blanket should feel like a hug!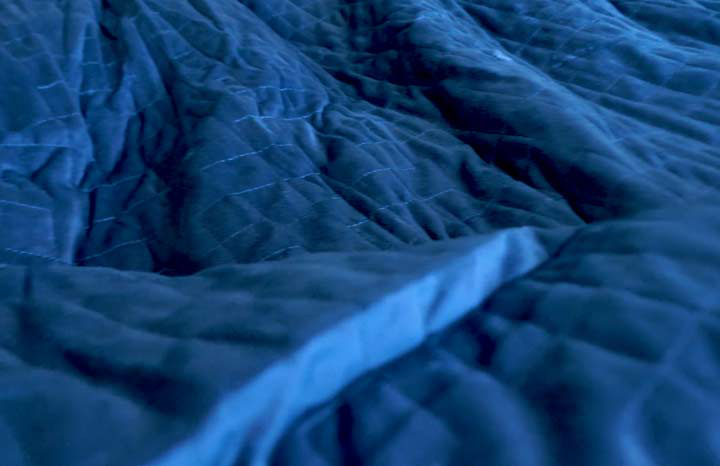 Gravity Weighted Blanket Size Options & Prices
Remember, when picking the best weight option for you, use the 10% rule.
| | | |
| --- | --- | --- |
| Size | Weight | Price |
| 72″ x 48″ | 15lbs | $215 |
| 72″ x 48″ | 20lbs | $215 |
| 72″ x 48″ | 25lbs | $220 |
| 90″ x 90″ | 35lbs | $275 |
Gravity Weighted Blanket Performance
So, how did the Gravity blanket perform? Let's talk about it.
Sleeping Hot or Cold
The original Gravity Weighted Blanket doesn't really feature much by way of cooling. It doesn't have any moisture-wicking properties either. Because of this, hot sleepers might want to opt for their cooling blanket instead.
However, if you're the type of person who gets cold rather quickly, or likes to bundle up with a blanket at any given opportunity, then you'll find what you're looking for in this blanket.
In my experience, I didn't feel too hot underneath this blanket. However, as a hot sleeper, I found myself needing to remove the blanket for periods of time while I slept.
Care Instructions
Because the Gravity Weighted blanket comes with a removable cover, care instructions become a little bit easier for this blanket.
The removable cover is completely machine washable. Whenever the cover gets dirty, you'll place it in the washer with cold water, and then tumble dry on low.
If the inner blanket does get dirty while the cover is off, Gravity recommends that this is hand wash only, and then you'll air dry it.
Allergies/Allergens?
The Gravity weighted blanket is not listed as hypoallergenic, however, we do not expect this blanket to trigger allergies.
Gravity Weighted Blanket Construction
The Gravity weighted blanket comes in two pieces: a removable outer cover, and the inner blanket. The outer cover is made of a microfiber that feels soft and minky.
The inner blanket uses fine-grade glass beads as its fill, and has a gridded stitching pattern to keep them in place. These are high-quality materials that makes this blanket quite durable.
Company Policies
When you decide to purchase a Gravity weighted blanket, here's what Gravity offers you.
Trial period
If you decide to purchase a weighted blanket from Gravity, you'll be able to test the blanket out for 30 days.
Return Policy
If, during the trial period, you decide that the Gravity blanket is not for you, then you can return the blanket for a full refund. You will need to pay shipping, however.
How does Gravity Weighted Blanket Compare to Other Blankets?
Weighted blankets can be an investment, so it's good to take a look at other options. Here's how the Gravity Weighted Blanket compares to other blankets in the market.
Gravity vs Bearaby
When comparing the Gravity to another popular weighted blanket, the Bearaby Tree Napper, the differences between these two blankets are fairly obvious.
To start, the Bearaby has a totally unique structure: it's knitted! This blanket gets its weight from doubled up fabric, and does not have a fill with microbeads or plastic pellets. Even without a fill, the Bearaby Tree Napper is still quite a heavy blanket.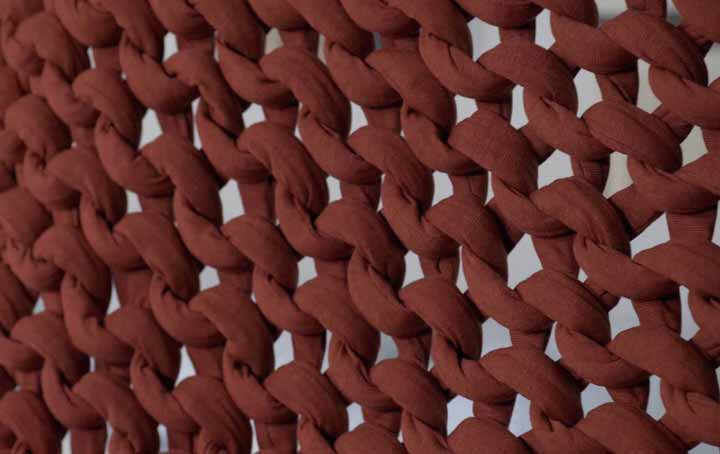 Both Gravity and Bearaby have the same weight options available, but Gravity does have one extra weight option in the 35lb blanket.
But, because of its construction, the Bearaby is going to be a better option for hot sleepers. It features tencel fabric, which is quite cooling on its own, but the open knit loops are going to let air flow through the blanket.
In terms of care, the Gravity does have a washable removable cover. However, you can machine-wash the whole Bearaby weighted blanket when it gets dirty.
In terms of price, both blankets are an investment, however, Gravity offers a slightly more affordable option.
Who Should Get the Gravity Weighted Blanket?
People who get cold quickly
Anyone looking for an oversized weighted blanket.
Who Should Get the Bearaby Tree Napper?
Hot sleepers
Weighted blanket shoppers who want easy care
Read our Bearaby Tree Napper Weighted Blanket review.
Gravity vs Sleep Number True Temp
Sleep Number is another popular brand name out there, and their weighted blanket has a few more features than the Gravity weighted blanket.
In terms of construction, both blankets have an outer cover and an inner blanket. However, with the Sleep Number, the cover only features ties to keep the inner blanket in place. The Gravity blanket has both ties and a zipper, which prevents the inner blanket from shifting and keeps the weight evenly distributed.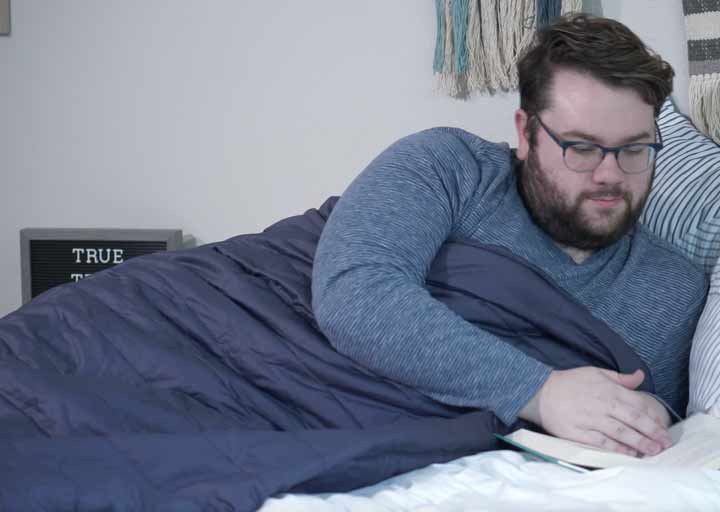 However, the Sleep Number cover is designed to be temperature regulating and cooling. It features the company's proprietary 37.5 active particle technology. This means the SleepNumber's cover will adapt to your body temperature and help dissipate heat when you get too hot. But you'll still feel nice and warm if you're feeling cold.
If you are looking for a Gravity weighted blanket that is designed for cooling, Gravity does have one on their website. However, their flagship model doesn't provide any cooling features.
Weight options are important when picking a blanket, and the Gravity has four, whereas the SleepNumber only features two. If you're more of an average weight person, the SleepNumber's 12 and 20lb options will work for you. However, if you need something heavier than 20lbs, then the Gravity blankets will be for you.
Who Should Get the Gravity?
Shoppers looking for more options
Weighted blanket fans looking to keep their inner blanket completely secure
Who Should Get Sleep Number True Temp?
Hot sleepers
More average weight adults
Read our Sleep Number True Temp weighted blanket review.
Our Gravity Weighted Blanket Ratings
So, how did the Gravity weighted blanket stack up after all our tests? Here's our rating.
Gravity Weighted Blanket Review
FAQs
Still have questions after reading this Gravity weighted blanket review? Let's answer some frequently asked questions.
How heavy should my Gravity blanket be?
When shopping for a weighted blanket, you may not know what weight option you need. The general rule of thumb is to take 10% of your body weight, add or subtract a pound or two, and that will be your ideal weight option. With Gravity, the weight options range from 15-25lbs, so anyone weighing around 130 to 270 pounds might find a weight option with Gravity.
Are Gravity blankets any good?
Gravity is one of the most popular brands for a weighted blanket, and we have to agree. The outer cover is very soft, and the combination of ties and zippers keep the inner blanket securely in place. This helps make us feel calm and safe. It's definitely one of our best weighted blankets for anxiety!
How do I clean a Gravity weighted blanket?
When you notice your blanket starting to get dirty, you'll remove the outer cover and machine wash it with like colors in cold water. Avoid non-chlorine bleach. When finished washing, you'll tumble dry it on low, and as an added measure, you can cool iron it if needed.
Tony Klespis
Tony is a staff writer at Mattress Clarity where he analyzes sleep products and appears in review videos. He earned a B.A in English from Sam Houston State University and a M.A in Mass Communication from Texas State University.
When he isn't writing about sleep products, Tony loves to unwind with a good book or can be found playing Pokemon Go outside with his friends, or cuddling with his cat, Penguin. He's always down to try a new, local restaurant and try new foods.