If you have been looking for a new weighted blanket, you've probably come across the Gravity Blanket. It is one of the most popular weighted blankets on the market.
Having tried many other weighted blankets, I was very excited to see how the Gravity Blanket compared. Is this the weighted blanket for you? Read on for my full review.
Gravity Blanket Deals
The Gravity Blanket is a high-quality, throw-sized weighted blanket that features a very comfortable duvet cover. 
You Might Like The Gravity Blanket If …
You want a warm and insulating weighted blanket. If you are looking for something to provide good weight and also keep you warm at night, the Gravity Blanket should be a good option. The microfiber cover adds another layer of insulation. I used the weighted blanket by itself and did not need a comforter or extra blankets.
You want to use a duvet cover with your weighted blanket. A duvet cover can add a lot to your weighted blanket. It can increase the warmth and also make it easier to keep your weighted blanket clean. The Gravity Blanket comes with a free duvet cover that is both soft and warm. This makes the Gravity Blanket a good value.
You are worried about your weighted blanket falling off the bed. The Gravity Blanket is less wide than many weighted blankets. If you thrash a lot in your sleep, it is possible you could push a blanket toward the edge of your bed, and with its extra weight, it could then fall off. But with the narrower Gravity Blanket, you should have fewer issues with this.
RELATED: Best Weighted Blankets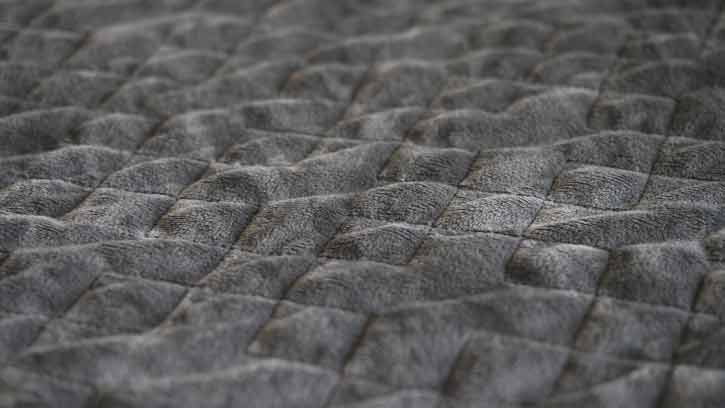 You Might Not Like The Gravity Blanket If …
You are a hot sleeper. If you are prone to overheating while you sleep, the Gravity Blanket might not be the best pick for you. You could take the cover off, but it still might be too warm for you. If you are looking for a more breathable weighted blanket, consider Gravity Blanket's cooling option.
You prefer a wider weighted blanket. While some people might like the narrower size of the Gravity Blanket, it might not be to everyone's liking. If you prefer a weighted blanket that covers more of your mattress or you are a much larger person, you might need to look elsewhere.
You need more size options. If you are under 130 lb or over 260 lb, it might be difficult to find the right weight for you. With only three weight options, your Gravity Blanket could be too light or too heavy. Some companies offer blankets with smaller intervals, such as 18 lb and 22 lb. If you have a very specific weight in mind, you might not find it with a Gravity Blanket.
Gravity Blanket Deals
The Gravity Blanket is a high-quality, throw-sized weighted blanket that features a very comfortable duvet cover. 
Construction And Buying Options
The Gravity Blanket's outer shell is made from cotton. The blanket is then sewn with gridded stitching, creating medium-sized squares to hold the fill. The fill consists of hypoallergenic glass beads. In each pocket-sized square, there are a small number of beads as well as some polyester padding.
The dimensions of the Gravity Blanket are 72″ x 48″. This is not very wide for a weighted blanket, and it is made more to fit the size of your body instead of the size of your bed.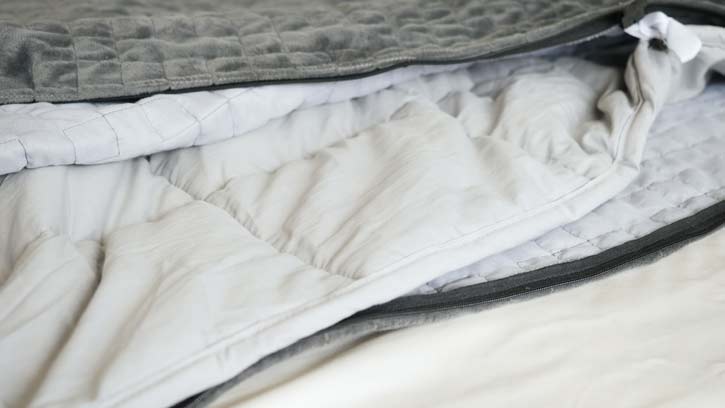 What sets the Gravity Blanket apart is its cover. It is made with microfiber and has a very soft feel, similar to minky. It also has a smooth, velvety feel.
The blanket is secured to the cover with small tabs and ties, and the cover is machine washable.
There are three weight options currently available: 15 lb, 20 lb, and 25 lb. People under 130 lb and over 250 or 260 lb might need to look elsewhere.
In terms of colors, you can choose between Space Grey and Galaxy Blue.
My Experience
While there are only three weight options to choose from, I did not have an issue finding the proper weight for me. When choosing the right weighted blanket for you, you typically want to shoot for 10 percent of your body weight. Being that I weigh 230 lb, the 25 lb Gravity Blanket was just right.
In terms of weight distribution, the Gravity Blanket is decent. The sewn-through squares are wider than those I have seen on other weighted blankets, which means there's more room for the fill to move around. That being said, I did feel a fairly even amount of weight across my body.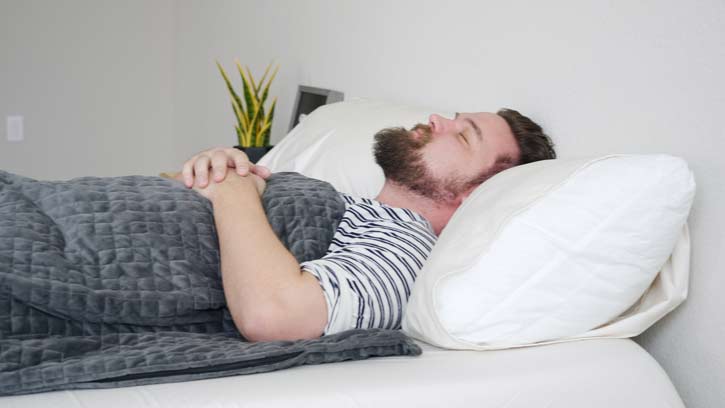 I was a big fan of the Gravity Blanket's width. It is only 48″ wide, which is slimmer than many weighted blankets. I liked how it fit my body, and it was easy to cocoon myself in the weighted blanket. Also, I have had issues with wider weighted blankets falling off the bed. They can get close to the edge of the bed and then get pulled off by their own weight. I did not have this issue with the Gravity Blanket.
The Gravity Blanket's soft, microfiber duvet cover is one of my favorite aspects. It is very soft and velvety and feels very nice on my skin. It adds a level of comfort to the weighted blanket and makes the blanket very warm and insulating. I was able to use the weighted blanket by itself on colder nights. Also, the Gravity Blanket is a value when you consider that you don't need to buy a duvet cover.
In the end, the true test of a weighted blanket is whether it helped me sleep better or not. After sleeping under the Gravity Blanket for a few nights, I can say that I slept deeply and comfortably with no real issues.
Overall
If you want something all-inclusive to keep you warm at night, the Gravity Blanket should be a great choice. However, if you sleep hot or want more options, I would look elsewhere.
The company also offers more duvet covers, a cooling blanket, and a weighted mask. Financing is also available.
The following two tabs change content below.
Marten Carlson
Marten is a staff writer for Mattress Clarity News. He covers the mattress industry as well as sleep science news. He is specifically interested in the connection between sleep and overall health.Marten has written for media publications like Consequence of Sound and received a master's degree in Film Studies from Emory University.He comes from Franklin, Indiana, and spends all the time he can writing, directing, and acting in films. He has directed genre short films and features. His newest film, Starlets, recently premiered at the River Town Film Festival in Clinton, NJ. He also stars in the upcoming thriller, Sour Bear. His next film, At The Hop, is a hot rod actioner with a horror twist.
Latest posts by Marten Carlson (see all)