The term linen can refer to any kind of bedding you use for your bed, but they're also a specific type of sheet! In fact, linens are the oldest style of sheet out there, which is why the term has become so universal.
If you've been curious about linens and want to know some of the best out there, you're in luck. I've gathered a small but mighty list of the best linens on the market right now. I'll share all the details you need to know about these sheets, including feel, price, color options, and more.
Our Top Picks for the Best Linen Sheets
Video Review: Best Linen Sheets
Brooklinen's tagline is "the Internet's favorite sheets" and with so many options, it's easy to see why.
The Brooklinen Linen Core set makes our editor's pick and best overall for a few different reasons. They're made from 100% European flax, and are handmade and hand-dyed.
The sheets have been stonewashed, meaning Brooklinen washes its linen set before the sheets are shipped out to account for possible shrinkage. Plus, who doesn't want a pre-washed set of sheets right out of the box?
Linens have a bit of texture to them, and these sheets are no different, but they still feel luxuriously soft. They're also a very breathable set of sheets making them a great option for hot sleepers to use year round.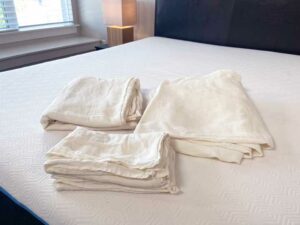 What Makes the Brooklinen Linen Sheets Stand Out?
These are some of the best linen sheets because they are breathable, durable, and feel ultra comfortable on a bed.
The fitted sheet features long and short labels to take the guesswork out of dressing your bed.
Brooklinen offers a handful of natural colors, but will have limited edition colors and designs to choose from. Each sheet set is hand-dyed, which is highly impressive.
Read our full Brooklinen Linen Core Sheet Set review.
Sometimes, it's worth spending a little extra for something luxurious, especially when it comes to sheets.
The Cozy Earth Linen Sheet Set is our favorite luxury option. It's made of both linen and bamboo viscose, and its design is created with high-quality materials and great care.
The bamboo in these sheets not only makes them softer, but also more cooling. Hot sleepers should love the breathability of these linen sheets.
The best part? Cozy Earth ensures their products are ethically produced.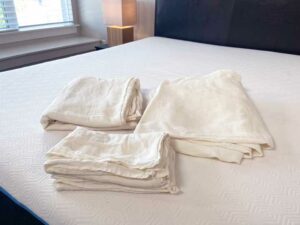 What Makes the Cozy Earth Sheets Stand Out?
They come in three classic neutral colors, as well as an elegant olive and a sophisticated navy.
It provides sheets for most bed sizes: twin, twin XL, full, queen, king, Cali king, and split king.
Cozy Earth provides a 10-year warranty, a 100-night trial, and free shipping.
Our full review is coming soon!
Linens are known for their texture, but that doesn't mean they can't feel ultra-soft, too. Saatva's linen set is the softest linens I've encountered.
This set is pre-washed before shipping to maximize their softness and give the sheets a relaxed look when they're dressed on the bed. Saatva also says that these sheets will get softer with each wash!
So, don't be deterred by the texture linens can have. High-quality linens won't feel itchy or scratchy, and these are anything but!
Saatva only sells this set in three natural shades, due to dyes not always being eco-friendly. Speaking of, these sheets carry an OEKO-Tex certification, meaning they were produced without harmful toxins or chemicals.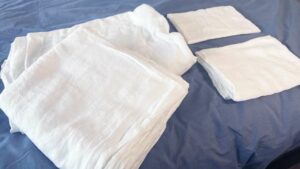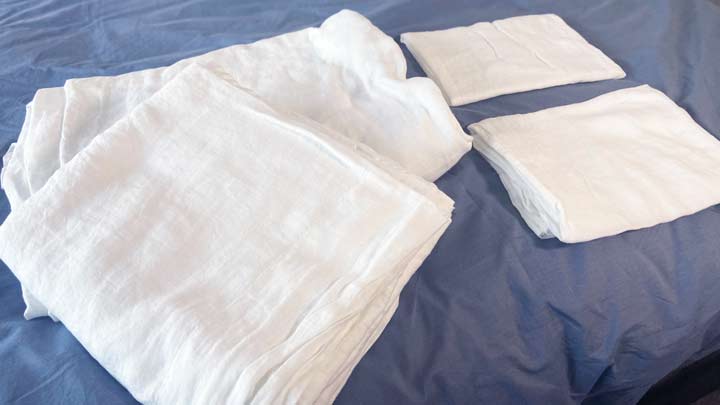 What Makes the Saatva Organic Linens Stand out?
Saatva will ship these sheets out prewashed to feel ultra-soft right out of the package. Better yet, they'll get softer with each wash.
They are an eco-friendly set of sheets, and carry an OEKO-Tex certification.
They're super breathable making them a great option for hot sleepers.
Read our full Saatva Linen Sheets review!
Of course, it helps to know when a company goes above and beyond to be kind to the earth and get products certified organic.
Avocado is known for eco-friendly mattresses, and the sheets are just as kind to the earth as the beds are. The company's linen set has a Global Organic Textile Standard (GOTS) certification. This certification means that the flax is grown in an environmentally safe, sustainable, and socially responsible way.
Like most organic products, the Avocado linens only come in white and natural colors, to avoid adding in any potentially harmful dyes or chemicals into the production.
These linens will feel textured, but are very breathable! If you're an eco-conscious shopper who loves linens, these sheets are for you.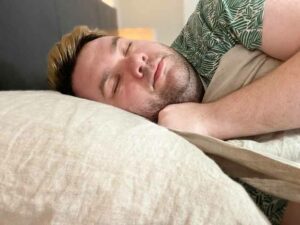 What Makes the Avocado Linens Stand Out?
Avocado went through the process of getting its sheets certified organic.
Linens are breathable and moisture-wicking to keep you cool while you use them.
Avocado has also made efforts to be eco-friendly by becoming Climate Neutral Certified to produce carbon negative products.
Read our full Avocado Organic Linens Sheets review.
While all linens are made from flax, Parachute uses some high-quality flax to make its linen sheets.
Parachute sources its high-quality European flax from a family owned factory in Portugal. The flax is also OEKO-Tex certified, meaning the linens are free from harmful chemicals and toxins. And, unlike some other companies, Parachute avoids artificial softeners to make its sheets.
If you are looking for linens with color options, Parachute has a variety of neutral and natural shades to choose from! They can fit mattresses up to 16" tall, so the fitted sheet should stay secure on most beds. For reference, the average mattress height ranges from 8" to 14."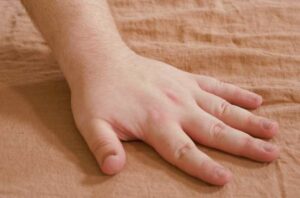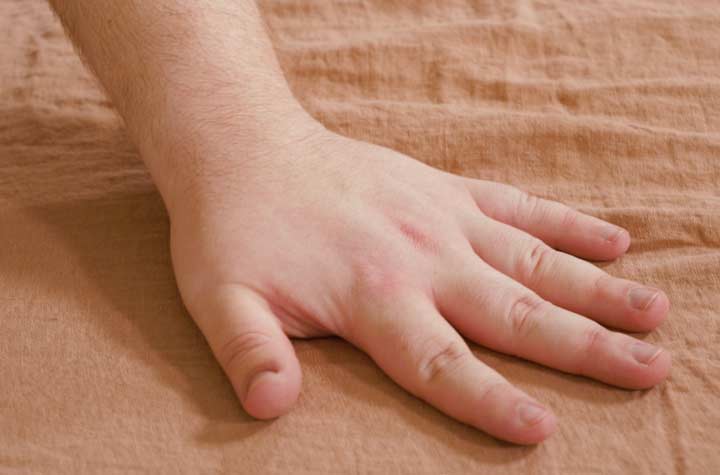 What Makes the Parachute Linens Stand Out?
Parachute sources some of the highest quality European flax to make its sheets.
They're made with safe production, free from harmful chemicals.
For color lovers, you've got a variety of shades to choose from!
Read our full Parachute Linens sheets review.
What Are Linens?
Linens are the oldest style of sheet. So old, in fact, linen is used as a blanket term for many bedding products. Linens are also used to make other products, such as towels, napkins, and tablecloths amongst, of course, pillowcases and bed sheets.
These sheets are made from flax stalk fibers that are spun into yarn. A common characteristic of linens is that they will feel textured. This can be pleasant to some, or coarse and scratchy to others. It's all personal preference, but I should note that high-quality linens won't feel scratchy or uncomfortable.
If you're a hot sleeper, linens are a great option, too. The flax has some moisture-wicking properties and their construction leaves them very breathable as well.
If you'd like to learn more about the differences between linen and cotton, another common material in sheets, we have a full article for you to read!
What to Consider When Looking for the Best Linen Sheets
If linen sheets sound like something for you, then here are a few key considerations to keep in mind.
Feel
As I've mentioned throughout the list above, linens have a texture to them. It doesn't feel or look like pilling does, rather just a coarseness to the fabric. Even with this in mind, linens can still feel very soft to the touch!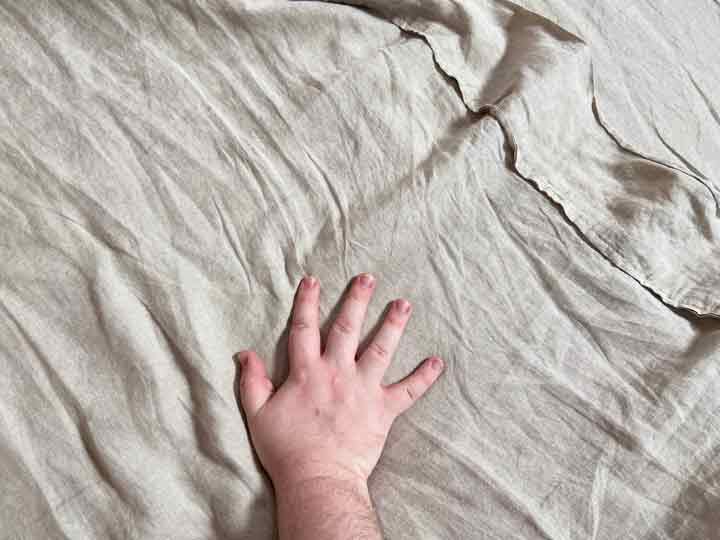 They don't feel as smooth or satin-like as bamboo or polyester do, but they also don't feel as crisp as cotton sometimes can.
Weight
When comparing linens to sheets made with other materials, one thing you'll notice is that they can be weightier than other sheets. And, more often than not, you'll see the best linen sheets measured by weight over thread count.
If linens do have a thread count, they will be on the lower end. And I mean low. I'm talking around 50 to 150. The yarn fibers that come from the flax stalks are much thicker than the fibers from cotton or bamboo. And because thread count refers to the number of threads woven vertically and horizontally into a square inch of fabric, the thread count will be lower.
Instead, linens are measured by grams per square meter, or GSM. The higher the GSM, the heavier a set of sheets. Like thread count, this can tell you how breathable a set of linens might be.
Care
Luckily, linens are fairly easy to take care of. All of the sheets on this list are machine-washable. Care instructions will vary from manufacturer to manufacturer, so it's important to thoroughly read the instructions before washing.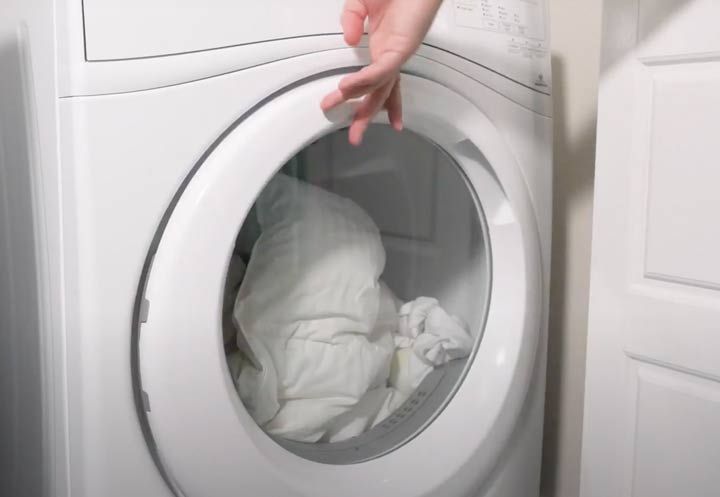 Common recommendations for linens involve washing them in cold water, and drying on low heat. This can prevent shrinkage in your sheets.
Durability
The flax used to make linens is a very durable material. Because the fibers are pulled from the flax stalk as opposed to processed bamboo fibers or the fluffy cotton boll, linens are very sturdy.
Not only that, linens are also designed to get softer with more use and washes. With good care, your linen sheets can last you anywhere from three to five years.
Breathability
When it comes to linens, you don't get something more breathable than these sheets. Flax is a naturally breathable material. And many linens are weaved with a breathable style as well.
All of the sheets on this list kept me very cool. As someone who tends to toss and turn during the night, every time I did, I felt the sheets let air flow through. They don't feel stuffy like sateen sheets can sometimes feel like.
Overall, linens are great for hot sleepers looking to stay cool at night.
Best Linen Sheets Pros & Cons
Here's a quick chart to simply explain the pros and cons of linen sheets
| | |
| --- | --- |
| Pros | Cons |
| They're a great option for hot sleepers. | They don't feel very smooth. |
| They can last you a good while with good care. | They can be fairly pricey. |
| Linens will get softer with use and more washes. | They can wrinkle more than cotton. |
FAQs
Let's go over some of the most frequently asked questions about linen sheets!
How do you soften linen sheets?
The answer is simple: you use them and you wash them! Because linens can have a coarse feel to them, you might be inclined to get rid of that. However, this is a common characteristic of linen sheets, and all the sheets on this list are designed to get softer with more use and washes.

RELATED: How to Soften Bed Sheets
Are linen sheets cool?
Linens are a great option for keeping you cool at night. They are very breathable and can wick away moisture. This means that with air flowing easily through the sheets, and you staying dry, you won't feel hot and sweaty while you sleep.
How do you wash linen sheets?
Linens have simple and easy care: machine wash! All the options on our list are machine-washable. Instructions can vary, so be sure to fully read over the care instructions provided before washing.
How long do linen sheets last?
Linens are made from flax, which is a very durable material. Though linens are prone to wrinkling, with good care, these sheets should last you anywhere from three to five years.