Purple has been one of the most successful online retailers of bed-in-a-box mattresses since its founding in 2015.
While they now offer four mattresses as well as pillows and other accessories, it all began with the Original Mattress. This mattress really feels like nothing else and is designed to give a balance of comfort and support.
After reviewing this mattress for the second time, I can say that it has both incredible comfort and support.

Purple
is a perfect choice if you are a combination sleeper, a hot sleeper, and are looking for a durable mattress.
Get the best deal on your
Purple
, plus
claim your free sheets
when you click the button below.
You Might Want To Pick The Purple If:
You are a combination sleeper. The gel is designed to collapse under pressure, while still keeping you supported. On your back or stomach, it gives you the necessary amount of support. When you are on your side, the gel gives way to relieve pressure on your shoulders.
You are a hot sleeper. The gel grid allows for a lot of airflow. Overall, it has a neutral temperature so, if you are worried about overheating, this mattress could work for you.
You are looking for a durable mattress. The gel layer, along with the other layers are designed to be long-lasting. If you are looking for a mattress that can serve you for some time, this might be a good choice for you.
See How Purple Compares To Other Brands, here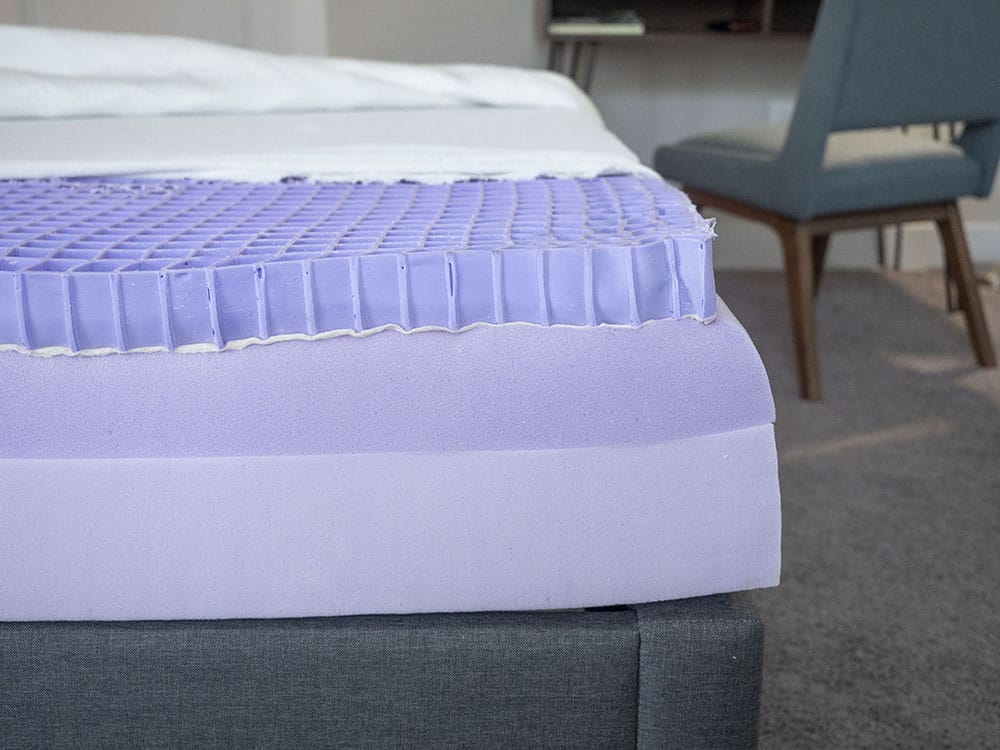 You Might Not Want To Purple If:
You are a lightweight side sleeper. To really get the proper pressure relief on this mattress, you need to apply enough pressure to make the gel layer collapse. If you are a lighter person, you may not activate this layer. It may feel firmer to you and not give you the best pressure relief on your shoulders.
You don't want a unique-feeling mattress. The gel found in the Purple mattress is unlike any comfort layer you may find in another mattress. It is squishy and may take some getting used to. While I personally liked this feel, it may take you some time to get used to.
Get A Free Pillow With Purple mattress by clicking here.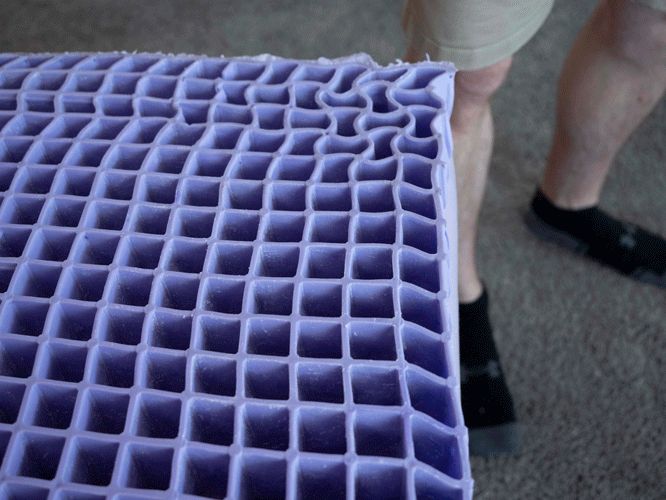 Construction Overview
The mattress is 9.5" tall.
First, there is a thin, soft cover. It has a cool texture and allows you to engage the layers beneath very easily.
Then, there are 2" of a Purple Smart Comfort Grid. This is a hyper-elastic polymer with a gel-like feeling.
Next, there are 3.5" of a Plush Comfort Foam. It transitions you from the comfort layer to the support layer.
Finally, the base layer is a 4" layer of polyfoam.
The materials in this mattress are CertiPUR-US certified. This means they are eco-friendly.
The Purple is made in the USA.
Related: Best Mattress Reviews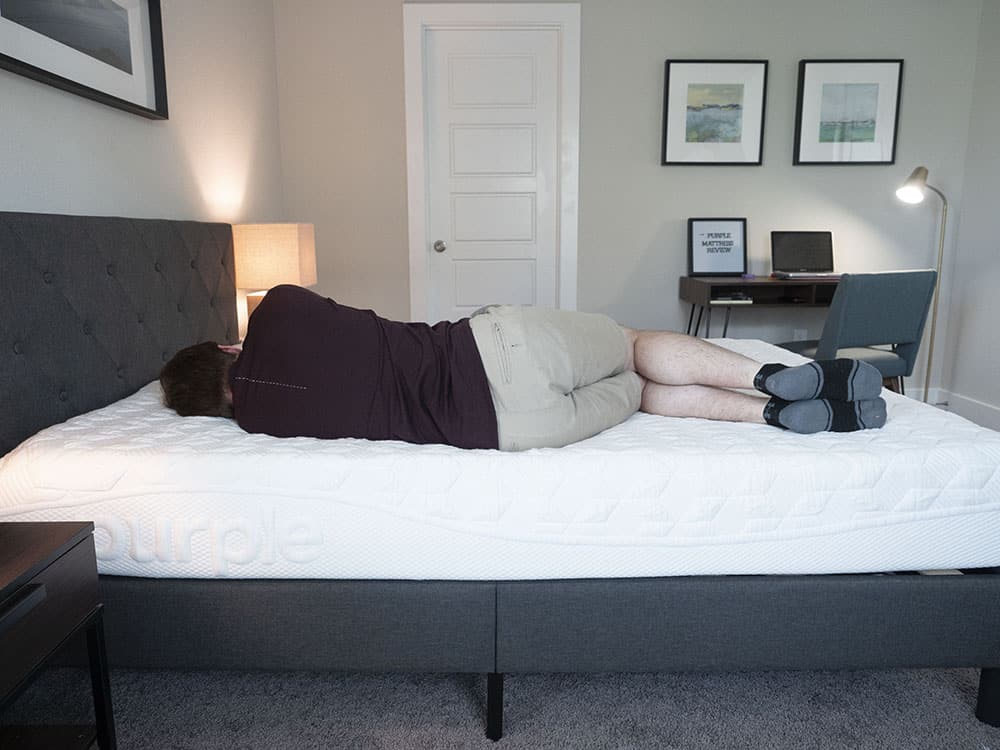 Construction Takeaways
This mattress is available in Twin XL, Full, Queen, King, and California King.
There is no gradual compression to the gel layer. The design of the gel layer is meant to collapse for pressure relief under your shoulders and hips while staying flat and supportive in other areas.
The gel is also fast to respond. This makes it quite easy to move around on the mattress without you feeling "stuck."
The gel layer is designed like a grid. This allows for air to flow through it easily making this mattress temperature neutral. You shouldn't be sleeping hot on this mattress.
Purple also offers the Purple 2, 3, and 4 mattresses which incorporate coils as well as thicker layers of the gel grid technology on the 3 and 4.
Review my review of the new Purple mattresses, here.
How This Mattress Compares To The Casper Mattress
Casper has been a major competitor of the Purple Mattress for many years now. How do these two successful mattresses compare?
First, their constructions are quite different. The Casper has a classic foam construction, and the Purple features a unique gel grid.
That being said, both mattresses could be a good fit for combination sleepers. The Casper accomplishes this with its zoned support technology that gives extra support on the hips while leaving the rest of the mattress soft for good pressure relief. The Purple utilizes it gel technology, which gives good pressure relief while still cradling and supporting you.
However, if you are a lighter side sleeper, the Casper may be a better choice for you. It is a softer mattress overall and the Purple's comfort layers may not give you the best pressure relief if you are too light.
In the end, the prices of these two mattresses are comparable, so it really comes down to what feel you prefer. If you want a balanced foam feel, look at the Casper. If you want the unique collapsing feel of a gel grid, I would consider the Purple.
Related: Best Mattresses For Back Pain
How This Mattress Compares To The Purple 2, 3, And 4
Years after the release of the Original Purple, the company added the Purple 2, 3, and 4 to its line of mattresses. What is the difference?
First, the Purple 2, 3, and 4 all incorporate coils in their construction while the Original does not. This means they should offer more support, contouring, and edge support than the Original Purple. This may also mean the Purple 2, 3, and 4 are more durable and will last longer.
Also, the Purple 3 and 4 also feature thicker layers of the gel grid technology. Because of this, they are softer and may be a better fit if you are a larger person or sleep primarily on your side.
However, each extra inch of the gel grid means a sizable price increase. This is something to consider as you choose between these mattresses.
Firmness/Feel
The Original Purple really is one of the most unique mattresses out there. Because of this, it is difficult to describe the firmness of this mattress.
Still, I would say that the firmness was close to a 7/10, a bit firmer than average. The gel grid technology collapses on a certain amount of pressure, so you get relief on the parts of your body that usually press into a mattress.
On my back, I felt my hips sink in, but the rest of the mattress remained supportive. I could feel the mattress flat against my lumbar area. Similarly, on my stomach, I felt great overall support. People of many sizes should feel the same support.
On my side, my shoulders and hips pressed into the mattress, but I felt nearly no pressure on them. If you are lighter, however, you may not have the same experience on the Purple. If you aren't heavy enough t0 collapse the gel layer, it may feel firmer and less comfortable when you are on your side.
In terms of feel, the mattress is, as I said before, unique. It has a squishy, somewhat bouncy feeling. At the same time, it is responsive. This makes it easy for you to move around on the mattress without feeling "stuck."
I personally liked the overall feel, but some people may need time to get used to it.
The Purple Raw Egg Test
Part of Purple's marketing includes a raw egg test. In many of their commercials, eggs are placed on the mattress and a pane of glass is dropped. The eggs don't break, and this is meant to show how great the pressure relief is on all the mattress.
I wanted to do my own raw egg test to see if the mattress could really stop these eggs from breaking under pressure. We didn't use a pane of glass, but we did a few other tests.
I rolled over the egg several times and it did not break. I also pressed down on it with a book and it stayed intact. I had Marten, who is much larger than me, roll on the egg. Even with his extra weight, the egg was left unbroken.
I was impressed by the results of my test, and I would say the Purple mattress should indeed give good pressure relief.
Motion Isolation
During my tests, I did see some motion transfer on the Purple. I disturbed the area around a glass of water and it did move a fair bit.
I also had Marten move on the other side of the mattress as I laid down. I felt the motion transfer as he got up, sat down, and rolled around.
If you sleep with a partner, you may feel their movements on your side of the bed.
Edge Support
The Purple is actually designed to collapse under pressure, so I wasn't surprised by the lack of edge support.
While I didn't feel like I was going to fall off the mattress when I sat near the edge, some may have trouble staying upright.
Lying down near the edge of the mattress, I didn't feel like I was going to fall off. However, overall, I wouldn't say that edge support is a highlight of the Original Purple mattress. If you need more edge support for some reason, I would look at the Purple 2, 3, or 4.
You can see the edge support in the photo below.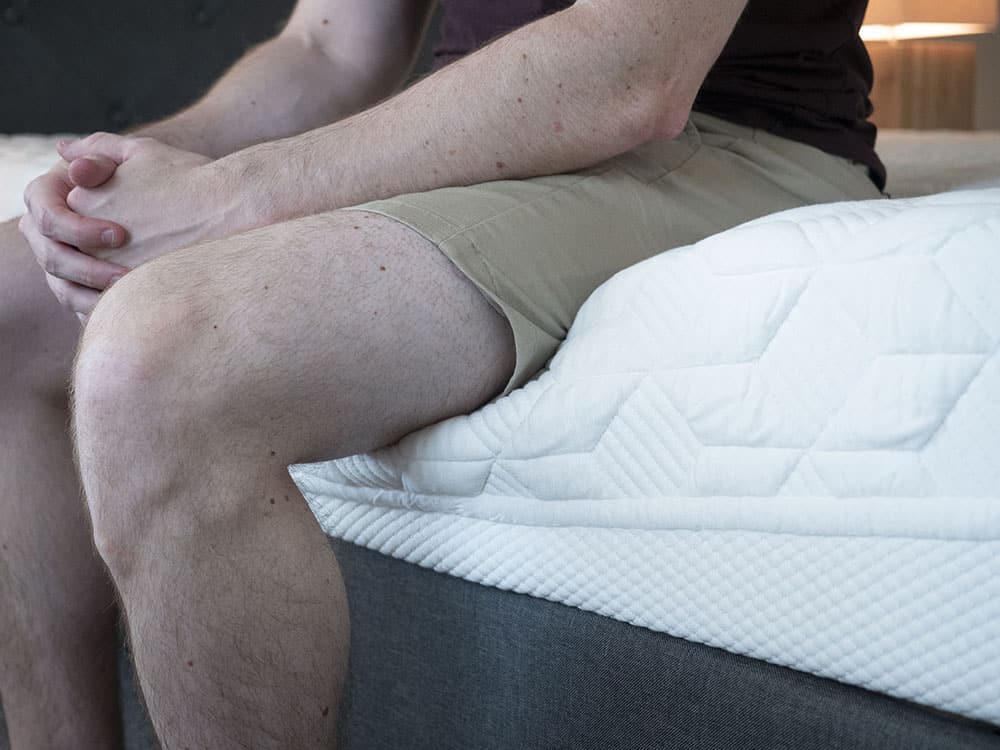 Marten's Take
Marten is a staff writer for us. He has a much different body type than me: He is 6'7″ and weighs about 230 lb; I am 5'9″ and 160 lb. Here is what he thought about the mattress:
Joe said it was a 7/10 in terms of firmness. I thought it was more like a 6.5/10. Usually, when Joe and I disagree he feels like mattresses are softer than I do. So, this is interesting.
On my side, I lay down and activated that upper gel layer. It collapsed for me more than it did for Joe. Because of this, it relieves pressure but also keeps me properly supported. I feel almost no pressure on my shoulders and hips. On my stomach and my back, I also get nice overall support.
So, if you're my size or a bit bigger and you are a back, stomach, side, or combination sleeper, this could be a good choice for you.
I was not surprised by Marten's experience. I thought this mattress would be a good match for combination sleepers of many sizes and, even though he is heavier than me, he found it comfortable in numerous positions. Again, if you are a lighter person, you may not be heavy enough to get the right pressure relief out of the gel grid layer.
What Makes This Mattress Stand Out
It has a unique design that gives the proper amount of pressure relief and support in the right areas.
This mattress is a great fit for multiple sleeping positions. It is supportive on your back and stomach and pressure relieving on your side.
It gives good pressure relief without you feeling "stuck." The gel layer and foam layer beneath it are fast to respond, making it easy for you to move around on the mattress.
It is a great mattress for sleeping cool. The gel layer allows for good airflow and helps to dissipate heat. You shouldn't be sleeping hot on this mattress.
The materials are quite durable. If you are looking for more of a long-term investment, this could be a good choice for you.
Purple mattress
Summary
Purple is a very unique mattress! It's difficult to compare it to any other type of mattress, but I definitely enjoyed the sleeping experience. The best features are the pressure relief and sleeping cool.
Return Policy/Warranty
4.8
Overall Sleep Experience
4.4
Unboxing This Mattress
The Original Purple is a bed-in-a-box mattress, which means it will come compressed and be shipped straight to you. You will want to begin by removing the rolled up Purple mattress from its box. Then, preferably with another person's assistance, position the roll on your bed.
Carefully cut away the first layers of plastic until the still-compact mattress can be laid down flat. Then, pierce through the final layer of plastic and the Purple will expand. Simply clear away the excess plastic and allow your mattress to breathe and fully expand.
Overall
Reviewing the Original Purple mattress again, I was still impressed by its design and overall comfort and support.
It is a very good fit for combination sleepers of many sizes. However, if you are a lighter side sleeper, you may need a softer mattress. Also, if you want a little more edge support and motion isolation, I would take a look at the Purple 2, 3, or 4.
The mattress comes with a Free Shipping, a 100 Night Sleep Trial, and a 10 Year Warranty. Financing is also available.
The following two tabs change content below.
Joe Auer
Joe Auer is the editor of Mattress Clarity. He mainly focuses on mattress reviews and oversees the content across the site. He likes things simple and take a straightforward, objective approach to his reviews. Joe has personally tested nearly 100 mattresses and always recommends people do their research before buying a new bed. He has been testing mattresses for over 4 years now, so he knows a thing or two when it comes to mattress selection. He has been cited as an authority in the industry by a number of large publications. When he isn't testing sleep products, he enjoys working out, reading both fiction and non-fiction, and playing classical piano. He enjoys traveling as well, and not just to test out hotel mattresses! Joe has an undergraduate degree from Wake Forest University and an MBA from Columbia University.