A good mattress is a long-term investment, often requiring a good amount of research and budgeting. Not only do mattresses cost hundreds to thousands of dollars, but you spend about a third of your life on them. What mattress you choose is worth a great deal of consideration.
One element to keep in mind when shopping for a new bed is its average expected lifespan and how to help it last longer. So, let's answer the question! How long does a mattress last? Read on to find out!
How Long Does a Mattress Last?
If I were to give a rather broad answer, you can expect a mattress's average lifespan to be anywhere from seven to 10 years. Many companies offer, at a minimum, a 10-year warranty for mattresses to reflect this. But that range is just an average and not a one-size-fits-all type of answer. Let's break down each type of mattress and talk about how durable they are.
Innerspring: Innerspring mattresses are the most traditional type of mattress. Often these types of mattresses consist of just a coil or spring system that's encased in a thin layer (no more than about 2") of fabric or foam, or it will have a pillow top, which is a tufted layer quilted over the mattress. Coils are fairly durable, being made of steel, but you might find if the fabric or foam is too thin, the coils may poke through and rip holes.
If an innerspring bed is made with high-quality materials, you can expect it to last around 10 years. Though it's not uncommon for innersprings to sag or feel uncomfortable after about five years. Really, it comes down to the quality of the materials — keep an eye for mentions of organic cotton and wool, which are naturally long-lasting fibers.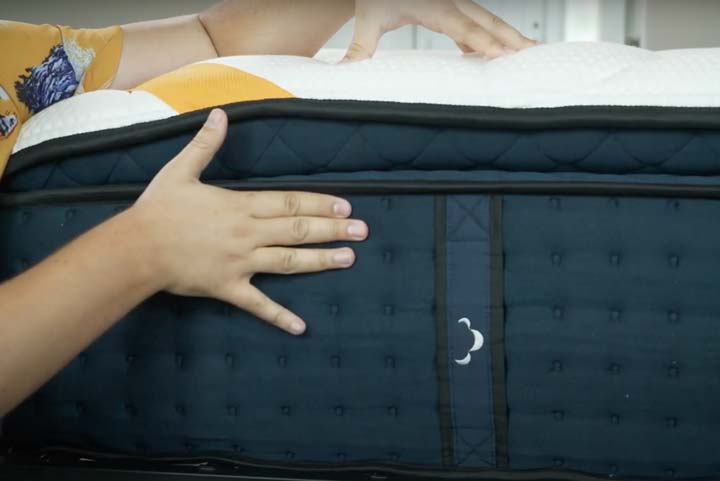 Foam: Memory foam mattresses have exploded in popularity ever since TEMPUR-Pedic introduced this style of bed back in the 90s. But memory foam has been around since the 60s and was originally used by NASA.
Foam offers great pressure relief for many people and contours to your body so you'll sink into these types of beds. Foam mattresses' lifespans fit into that sweet spot of about seven to 10 years. High density foam is very durable, and is often used for the lower support layers. But lower density foam towards the top may begin to sag or lump after a few years.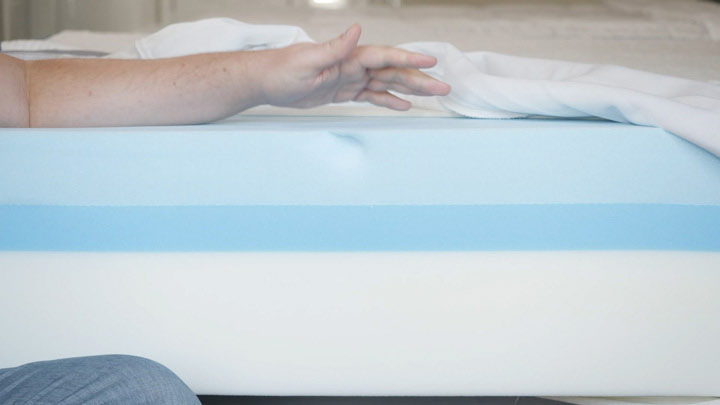 Latex: Eco-friendly latex is another popular type of foam used in mattresses. But unlike memory foam, it feels much more responsive and performs more similarly to an innerspring or hybrid mattress.
It's been said high-quality, 100% organic latex mattresses can last up to 20 years. I say 100% organic or natural latex because some companies will blend latex with polyurethane or make a synthetic latex, which isn't as durable as organic latex.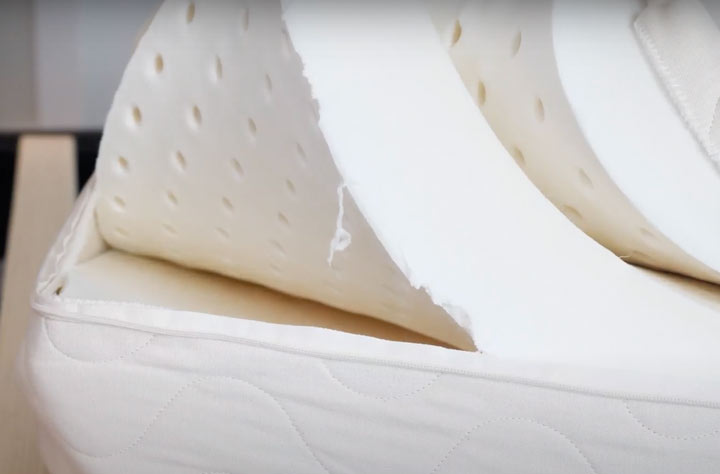 Hybrid: Hybrid mattresses combine a sturdy, supportive coil system at the base of the mattress topped with a thick (at least 3" tall) foam comfort layer on top. Hybrid mattresses are a popular choice for many reasons, including their durability, and combination of comfort and support.
When you take soft, pressure relieving foam and lay it on top of sturdy, bouncy coils you get the best of both worlds. But the type of foam in the comfort layer will play a role in the bed's durability. As I made clear above, latex foam will last much longer than traditional memory foam. But a hybrid mattress should last, at a minimum, 10 years if not 15.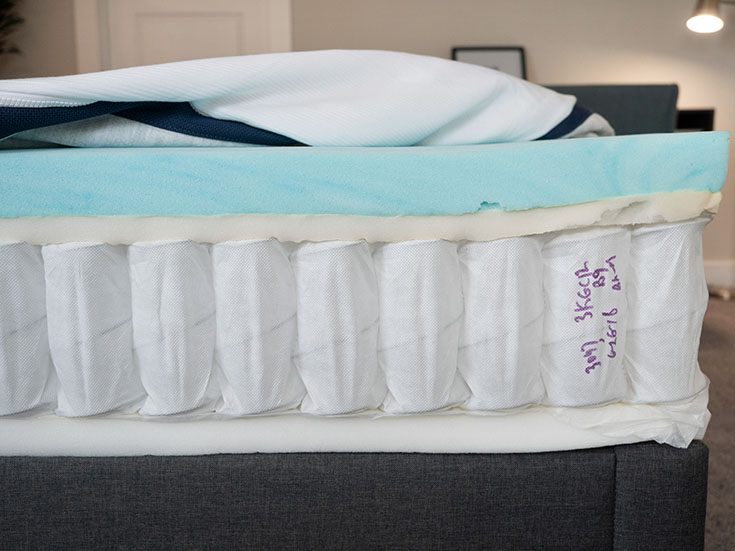 Here's a handy chart to help visualize this information, and give you a good idea of when you might start to see signs of wear and tear.
| | | | | |
| --- | --- | --- | --- | --- |
| Parameters | Innerspring | Foam | Latex | Hybrid |
| Lifespan | 5.5 – 7 yrs | 6.5 – 7.5 yrs | 8 – 10 yrs | 7 – 8.5 yrs |
| Durability | Fair | Good | Very Good | Good |
| Sagging Resistance | Fair | Poor to Fair | Good | Fair to Good |
| Softening Resistance | Good | Fair to Good | Good | Good |
| Ability to Resist Impressions | Good | Poor to Fair | Good | Good |
| Overall Durability | Fair | Good | Very Good | Good |
Factors Influencing Mattress Lifespan
There are a number of factors that can reduce your mattress's lifespan. Let's discuss what can impact, and therefore diminish, how long your mattress lasts.
Sleeping Position
Even though we've got the best mattresses for all types of sleeping positions, sleeping position plays a role in a mattress's lifespan. Regardless of your preferred sleeping position, your body is still pressing into the top layers of the mattress, which can lead to your mattress forming impressions or sagging.
Out of all the sleeping positions, side sleepers are going to compress a smaller, but more intense area in the mattress. Latex and innerspring mattresses do a better job at resisting body impressions over all foam beds or hybrid beds with memory foam comfort layers. This is because you're resting all your body weight on your shoulders and hips, which means you'll compress those top layers much more than stomach and back sleepers.
RELATED: Best Mattresses for Side Sleepers
Back sleepers, depending on weight, might cause body impressions over time. You're spreading your body weight over a wider area than just your shoulders and hips, but you may experience some impressions or sagging in the middle of the bed over time. Stomach sleepers need firm mattresses to keep their hips elevated. Firm beds tend to fight sagging and impressions better than softer beds.
Body Type/Weight
Not all mattresses are designed with body diversity in mind. Some work best for light to average weight sleepers, while others are better for heavy people. Heavyweight sleepers of all sleeping positions are prone to making those body indentations in a mattress more easily than people who don't weigh as much. But companies have seen this issue and started creating beds made to support heavier weights.
That's why brands like Big Fig exist. Big Fig is actually short for "big figure" because the brand makes mattresses with large bodied individuals and couples. These mattresses can withstand up to 1,100 lb of pressure!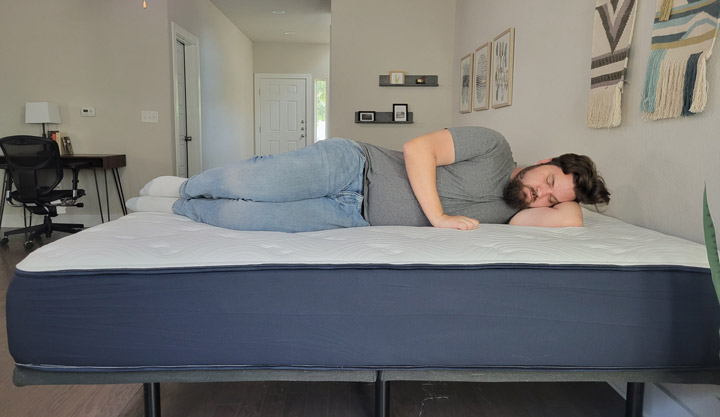 Couples also need to consider their combined weight when shopping for a mattress. Even if the two people combined can fit on a full or queen mattress, getting a bigger mattress will give more space. However, for couples on a budget who need a smaller bed, consider one with exceptional edge support. Edge support lets couples spread out a little more, which keeps them from huddling in the middle, where a mattress is most prone to dipping and sinking.
Usage
Most of us use a mattress every single night. That's a given, and beds that aren't used often – like guest room beds, for example – won't need to be replaced as often. But it does need to be pointed out that repeated use will wear out your mattress.
How you situate your mattress also matters, too. Many companies recommend keeping your mattress elevated on a frame or foundation. Keeping your bed elevated does a few things. Your mattress won't be in direct contact with the floor, meaning you can add a layer of protection from allergens, dust mites, dirt, and moisture. Being on the floor increases the chance of your bed trapping allergens and may allow mildew and mold to grow on it.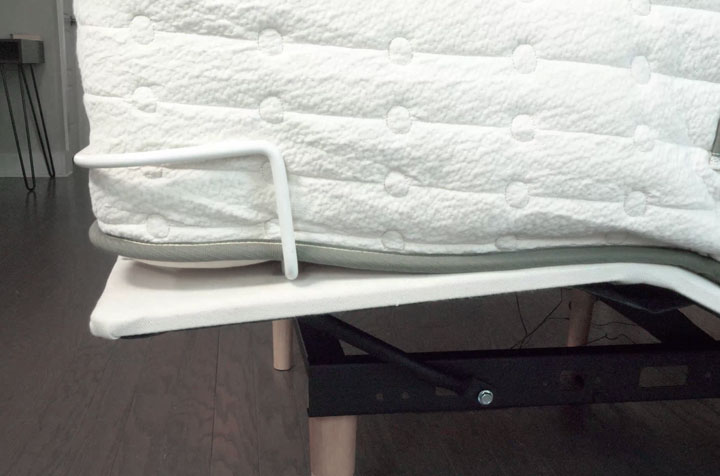 Resting your mattress on the floor opens up more opportunities for you to accidentally void your warranty. Some mattresses aren't designed to be used without a frame or foundation, and being on the floor can cause damage.
RELATED: Best Adjustable Bed Bases & Frames
How to Make Your Mattress Last Longer
By now you may be thinking "well, how can I preserve my mattress?" And it's a valid question! All of us need to sleep on a mattress every night, and they aren't exactly something you can constantly replace. Here are some tips on how to make your mattress last longer.
Regular Cleaning and Care
Believe it or not, it is possible to clean your mattress. Some brands will offer removable covers that you can take off and throw into the washing machine! For anyone who wants to keep dirt, dust mites, and allergens away, a washing machine is one of the best ways to help.
Of course, not all mattresses have removable tops so when accidents happen, addressing them right away is important. For more detailed information be sure to read our article on how to clean your mattress!
Bed Bug Prevention
Bed bugs are an incredibly frustrating, and unwanted visitor in your bedroom. They ruin your mattress by burrowing into its nooks and crannies. Some ways to prevent bed bugs from making their home in your mattress include:
A mattress encasement
Bed bug interceptors (though these are more for treatment)
Inspecting clothing after traveling
Bed bugs can come from just about anywhere. Be on the lookout for the early signs of bed bugs if you begin to suspect an infestation.
Use a Mattress Protector
Mattress protectors, as the name suggests, protect your mattress from the elements. They can either fully encase your mattress or can be attached similarly as a fitted sheet. Regardless of which type you get, mattress protectors help keep liquid from reaching your mattress, and can even prevent the build up of dust and allergens on your mattress.
They come in a variety of materials, though one of the best protectors I've encountered is the Saatva mattress protector. It's made of a blend of cotton and silicone and will make considerably less noise over a plastic protector.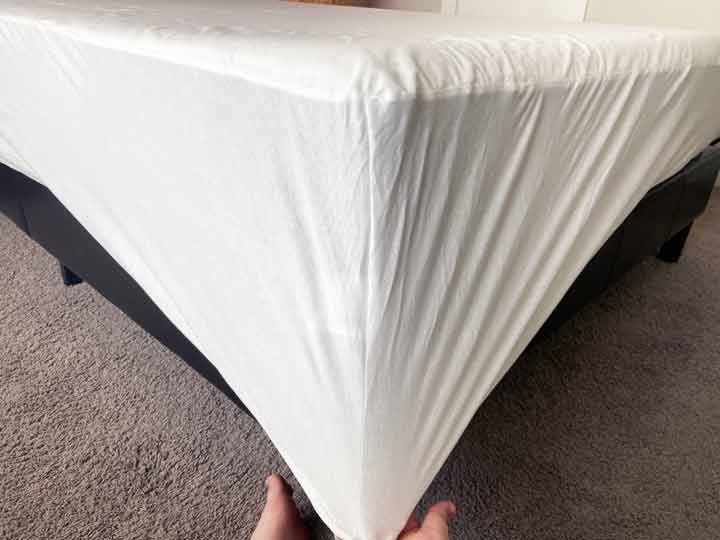 Flipping or Rotating Your Mattress
Flipping or rotating your mattress can make an old mattress feel new again. Rotating or flipping a mattress helps by evening out the wear and tear. Now, not all beds are flippable, which is why rotating your mattress 180 degrees is the best course of action.
Doing this helps bring areas of the mattress that haven't been in use as much, and therefore not as worn as other areas, to the forefront. This is probably the simplest way to help improve your mattress's life expectancy.
When To Get a New Mattress
Now that we've answered "how long should a mattress last" and gone over factors that can influence your bed's life span, it's time to talk about when your bed reaches the point of no return. If you notice any of the following in your mattress, it's time to get a new one.
Your Mattress is Stained or Moldy
One of the telltale signs of needing a new mattress is when your bed has pesky, stubborn stains that are old and won't go away. While these can be hidden with sheets, some of them, depending on what caused the stain, could potentially develop into mold. Or, the stains could be the result of mold. Regardless, neither are wanted in your mattress and mold could lead to health concerns as well.
Your Mattress is Infested with Bed Bugs
While you can be on the lookout for early signs of bed bugs and do your best to prevent them, the second you confirm an infestation, you need to contact a professional. While some infestations can be resolved with a mattress encasement for a few months, if the infestation is going to be near impossible to remove, it's best to get rid of your mattress altogether.
Your Mattress is Lumpy or Sagging
When your mattress starts to sag or lump in areas, you can wake up with back pain and feel like you didn't get a good night's sleep. Sometimes you can throw a mattress topper to give just a little more life to your mattress. But the simple fact is mattresses sag over time. If it's at the point where you don't feel comfortable even with a topper, it's time to toss and get a different mattress.
You Sleep Better on Other Mattresses
You'll know it's time to toss your existing mattress when you sleep better on a hotel bed, someone's guest room bed, or even an air mattress. It seems obvious to say, but your sleep quality is directly related to the type of mattress you sleep on. So when the mattress at home isn't giving you quality sleep, and you wake up achy or like you haven't slept at all, it's time to replace.
Your Mattress is 7-10 Years Old (or Older)
Even if you've been taking good care of your mattress and don't see too many signs of wear, it's a simple fact that beds aren't meant to last forever. Sure, some come with lifetime warranties, but it's common practice to change out your mattress every seven to 10 years. Mattresses can get weighed down with sweat, dirt, and other things in your sleep environment and just won't be as effective as time goes on.
FAQs
Let's answer some frequently asked questions that go along with how long does a mattress last.
How long does a mattress topper last?
Mattress toppers, not to be confused with mattress pads or mattress protectors, are a great, budget-friendly solution to giving your mattress just a little extra life. They can also be used to make a firm mattress softer, and can make sleeping on your side easier by providing relief to your pressure points.

Not all mattress toppers are made the same. Some come to you as just a slab of foam to put on under a fitted sheet, while others have covers and straps to attach to your mattress. Toppers range in a variety of materials, but overall, they should last you anywhere from one to three years depending on the quality.
How long does a box spring last?
Box springs are a great addition to help extend the life of your mattress, especially when used with a proper bed frame or foundation. Because most box springs really just consist of wood or metal frames covered in fabric, they can last up to about 10 years, which is generally the same time as a high-quality mattress.
How long does a mattress protector last?
Mattress protectors are great for keeping your bed in almost perfect condition by keeping moisture from seeping too far into it and keeping dust and allergens at bay. In doing so, this can extend the lifespan of your mattress! But how long does a mattress protector last? Depending on the material, it would be wise to replace a protector once every one to two years.