As someone who struggles with anxiety, a weighted blanket has been immensely helpful. Science has shown that weighted blankets provide "deep tissue pressure" which raises serotonin and dopamine levels while cutting down on cortisol levels. I have personally felt better after sleeping under a weighted blanket, and studies have found that many with anxiety have felt the same.
If anxiety is a primary reason people are considering a weighted blanket, I have picked five blankets that I think perform especially well. I have reviewed numerous weighted blankets, and I personally felt less anxiety under all five of these.
Read further to learn which weighted blanket may assist with anxiety reduction the best.
Best Weighted Blankets for Anxiety: Our Top Picks
Here are our best weighted blankets for anxiety:
Best Overall – Gravity
Who It's For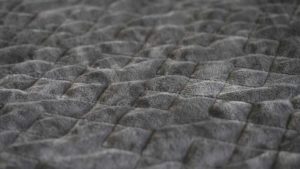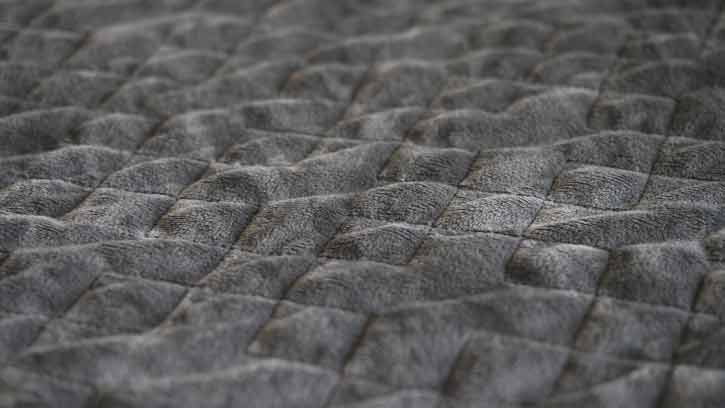 The Gravity Blanket is an extremely popular weighted blanket and it is also one of my favorites. It is very high-quality and comes with an awesome Minky cover. Minky is a polyester material that is fuzzy and cozy.
The Gravity Blanket comes in three weight options: 15, 20, and 25 lbs. Most companies recommend buying a weighted blanket that is roughly 10% percent of your body weight. You can also add or subtract a few pounds depending on your weight preferences. If we do the math, the Gravity Blanket could be a good fit for people between 130 and 280 lbs.
No matter what weight you choose, the Gravity Blanket comes in a throw-size (72″ x 48″). This means the Gravity Blanket is designed to fit a single sleeper's body and create a cocoon effect with more concentrated weight.
The Gravity Blanket should add nice soothing weight and could help you wake up with fewer feelings of anxiety.
What Makes The Gravity Blanket Stand Out?
It comes with a free Minky duvet cover.
The blanket is made of high-quality materials and should be quite durable.
The Gravity Blanket comes in three weights: 15, 20, and 25 lbs.
There is a cooling version available as well.
Read the full Gravity Blanket review
Best Cooling Weighted Blanket – Bearaby Tree Napper
Who It's For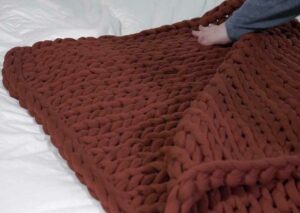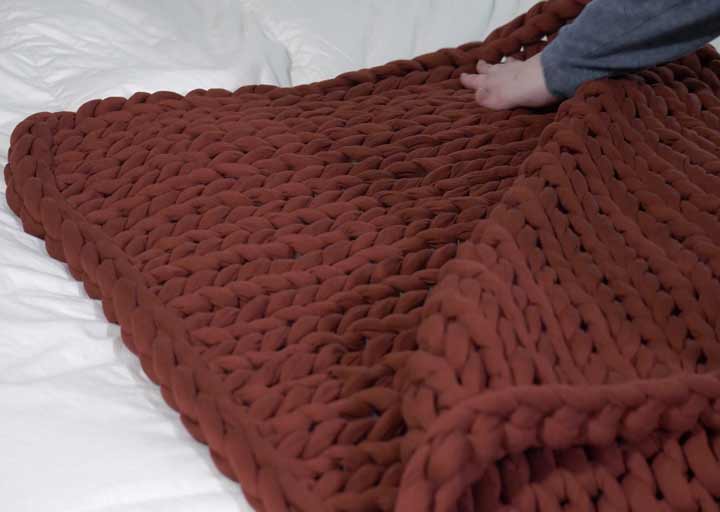 One drawback of weighted blankets is that they can make you sleep hot at night. However, this should not be an issue with the Bearaby Tree Napper weighted blanket. The Bearaby Tree Napper features a knit design, similar to what you would find with an afghan blanket. This allows for a great amount of airflow, keeping you from sleeping hot.
It is also made with Tencel, a fabric made with eucalyptus. This material is designed to draw heat away from your body and it is also naturally moisture-wicking.
And, even with its unique design, the Bearaby Tree Napper is an effective weighted blanket. While it doesn't feature beads, its thick fabric offers that heavy weight you are looking for. Sleeping hot with less anxiety with the Bearaby Tree Napper.
What Makes The Bearaby Tree Napper Stand Out?
The Bearaby Tree Napper is stretchy and hugs the body while you use it.
Without beads, you don't have to worry about them leaking out.
It features eco-friendly materials, making it a great pick for eco-conscious shoppers.
It is one of the best cooling weighted blankets.
Read the full Bearaby Tree Napper review
Quility – Best Duvet Cover
Who It's For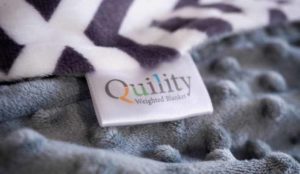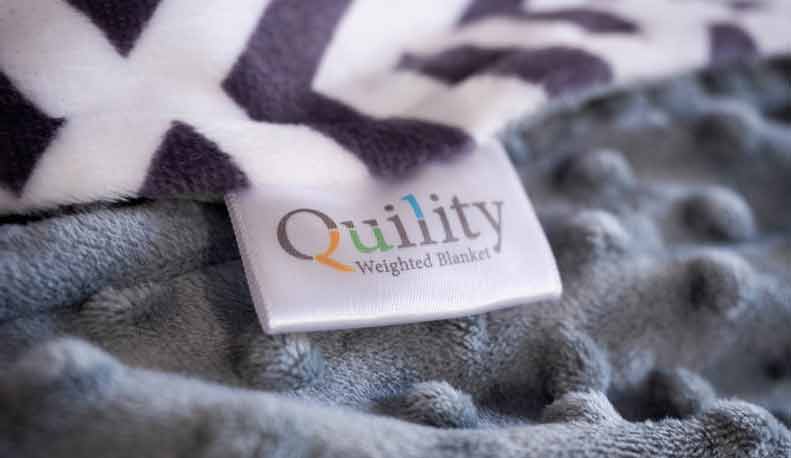 A cozy duvet cover can make a good weighted blanket great. That's what the Quility has to offer. The weighted blanket comes with a free Minky duvet cover that is extremely soft and comfortable. On one side, it is soft and smooth. On the other side, it is bumpy which helps to give it a massaging effect.
Also, the duvet cover makes this one of the warmer weighted blankets I have tried. The Quility is probably not a good choice for hot sleepers, but those who want a weighted blanket to actually keep them warm will love it. On colder nights, you should get all the weight and warmth that you require.
The Quility actually comes with the duvet cover included. So, if you think a cozy cover is what you want, you could also save some money on your purchase.
The Quility should provide deep pressure as well as comforting warmth for those who struggle with anxiety.
What Makes The Quility Stand Out?
It includes a free warm, comfortable duvet cover.
The weighted blanket comes in many weights.
The Quility "New Sewing Technology" keeps the heavy fill in place.
The blanket itself is made of breathable, 100% organic cotton.
Full review coming soon! 
YnM – Best Weighted Blanket Options
Who It's For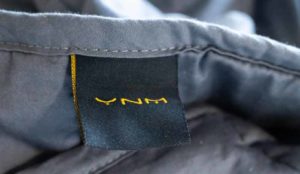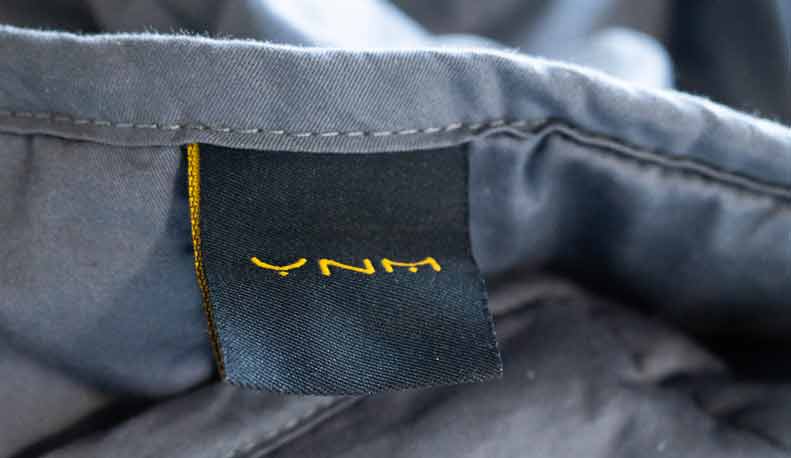 Finding the right weight and size is so important when you are buying a weighted blanket. While some companies offer only three weight options, the YnM offers very many. You can choose from 5, 7, 10, 12, 15, 17, 20, 22, 25, and 30 lbs. That means the YnM could work for children all the way up to people over 300 lbs.
Also, with some of the weights, there are three size options. For instance, you can get a 15 lb YnM weighted blanket in Twin, Queen, or King-size. So, whether you prefer a narrower or wider weighted blanket, you should find a good fit with a YnM.
No matter what size or weight you need to deal with your anxiety, the YnM should have what you need.
What Makes The YnM Stand Out?
Available in many weights: 5, 7, 10, 12, 15, 17, 20, 22, 25, and 30 lbs.
Some weights are available in Twin, Queen, and King-size.
YnM also offers a number of duvet covers and cozier choices for children.
The blankets feature high-quality materials and are very durable.
Full review coming soon! 
Nectar Serenity – Best Reversible Weighted Blanket
Who It's For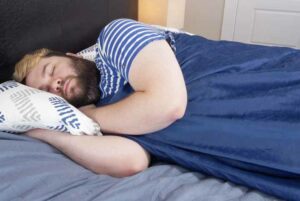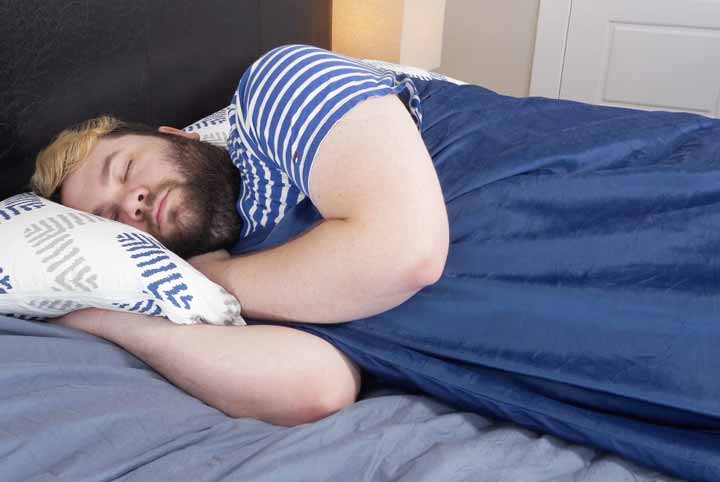 Do you want the best of both worlds, a weighted blanket for both the warmer and cooler months? You've got to check out the Nectar Serenity Weighted Blanket. This reversible weighted blanket has one side to keep you warm during the winter and one side to keep you cool during the summer.
The warm side of the Nectar Serenity is made from polyester and boasts a fuzzy, Minky design. It offers a cozy feel for those colder nights. The cool side is made from bamboo rayon which is cool to the touch and helps draw heat away from the body.
So, there is no need to switch out your weighted blanket when the season change. The Resident Serenity will give you soothe anxiety all year!
What Makes The Nectar Serenity Stand Out?
It is available in 15 lb, 20 lb, and 25 lb.
You have three colors options to choose from.
The Nectar Serenity gives you some good bang for your buck.
Full review coming soon!
What Should People Consider When Buying A Weighted Blanket?
The weight. Well, this is kind of an obvious point, but people really can't just buy any weighted blanket and expect it to be a good fit. Most companies recommend that people choose a weighted blanket that is around 10% of their body weight. People can go a bit lighter or heavier, but this is the basic idea. So, I am 230 lbs. 23 is 10% of my weight. I like my weighted blankets heavier, so I usually opt for a 25 lb weight blanket.
Weight distribution. Finding the right weight is essential, but how well is it being dispersed across the body and does it feel lumpy? Are there areas that lack weight? These are signs that the blanket has poor weight distribution. To get the most restful sleep, people should want a weighted blanket with even weight distribution.
Temperature. When people are buying any kind of bedding, the temperature is always an important consideration. Most weighted blankets are going to make people sleep a bit hotter. They contain heavy fill, and that doesn't leave the most room for airflow. That being said, some weighted blankets feature cooling panels or more breathable materials such as organic cotton. These features can ensure people aren't sweating and heating up at night.
Durability. Most weighted blankets are filled with fine fill such as glass beads or poly pellets. While these can help give the blanket its weight, they can also be a real pain if the blanket tears. When this happens, the fill can spill out all over the bed an floor. It will look and feel like people have sand all over the bedroom. So, people should want a weighted blanket that will prevent this issue. Look for a weighted blanket with thick fabric and durable construction.
RELATED: Pros & Cons of Weighted Blankets
How a Weighted Blanket Can Help with Anxiety
As mentioned above, weighted blankets work through something called "deep tissue pressure," which is also described as a "deep hug." So, when people lie under a weighted blanket, they could feel a sense of calm. Like when people get a big hug, their serotonin and dopamine levels increase. This can increase feelings of wellbeing, and cortisol levels, which are associated with stress, can also potentially drop.
One study found that people who struggled with anxiety felt better after using a weighted blanket. They used a 30 lb weighted blanket for only five minutes. In the study, 63% of participants reported feeling lower anxiety after using the weighted blanket after only five minutes!
I personally use a weighted blanket for anxiety and place one over my legs while I am at work. I also sleep under a weighted blanket at night and can say it has been very great at dealing with my anxiety.
Overall
For people who struggle with anxiety, one of these weighted blankets should work well. However, I will say that I am not a doctor. I recommend checking with a therapist or medical professional before adding a weighted blanket to the treatment.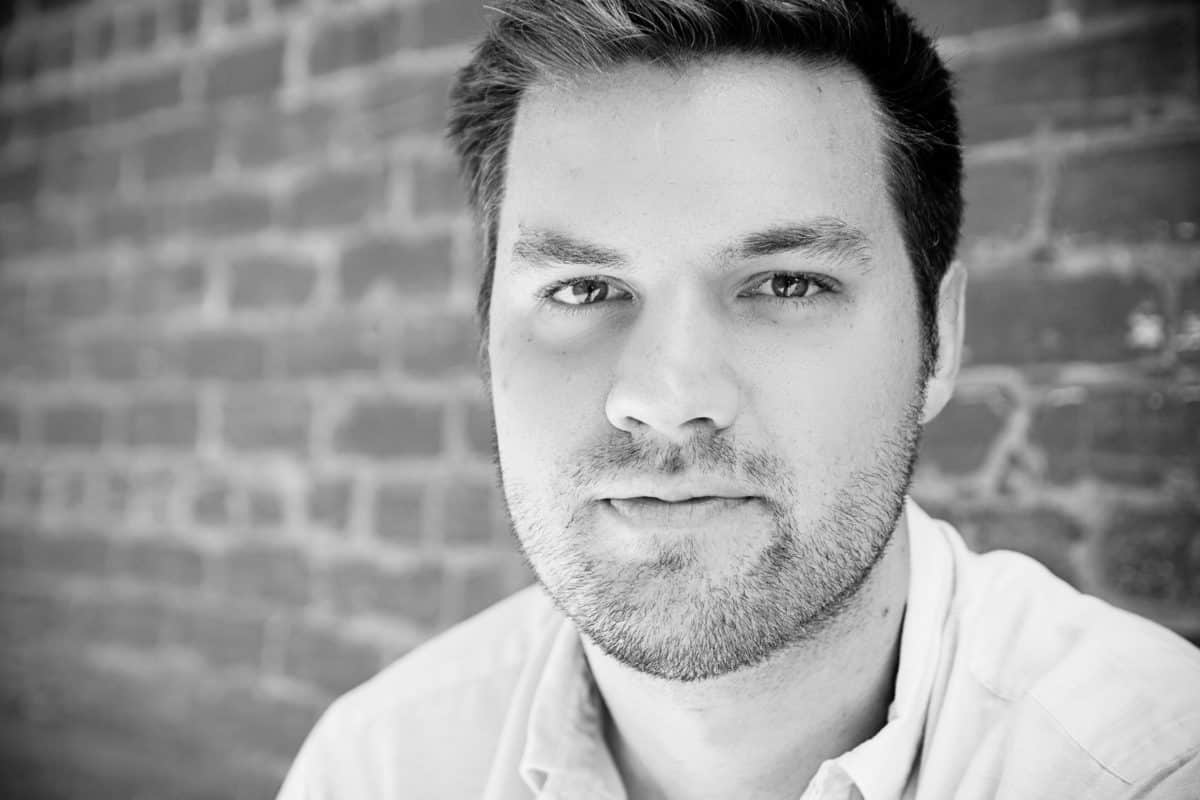 Marten Carlson
Marten is the Lead Reviewer at Mattress Clarity. He is a Certified Sleep Science Coach and covers the mattress industry as well as sleep science news. He is specifically interested in the connection between sleep and overall health. Marten has written for media publications like Consequence of Sound and received a master's degree in Film Studies from Emory University. He comes from Franklin, Indiana, and spends all the time he can writing, directing, and acting in films.