The recent popularity of weighted blankets has led many companies to specialize in this style of blanket, like YnM. Whether you run too cold, too hot or are looking for a weighted blanket for your kiddo, YnM is sure to have something.
In my unbiased YnM weighted blanket review, I'll go through everything you need to know about the options provided, go through my testing process and more.
Editor's Note: I'm reviewing the 100% bamboo YnM weighted blanket. I opted for the 25 lb queen-size option.
YnM Weighted Blanket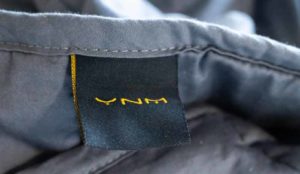 The YnM is a very nice weighted blanket that comes in a number of weight and size options.
Mattress Clarity Score
4.60 / 5
YnM Weighted Blanket Overview
YnM is a weighted blanket company with options upon options for shoppers. If you've heard of this brand before in your weighted blanket shopping journey, but aren't sure which of the brand's blankets is right for you, I'm here to help in one way or another.
For my review, I tested the bamboo version of this weighted blanket. Check out my overview below to help you decide if this version of the blanket is the one you need, or if you might need to consider another option:
| | |
| --- | --- |
| Who Might Like the YnM Bamboo Weighted Blanket? | Who Might Not Like the YnM Bamboo Weighted Blanket? |
| Six weight options means this blanket has something for everyone | People who prefer chunky knit weighted blankets (YnM does offer knit versions) |
| Hot sleepers (opt for the bamboo cover) | Fans of a minky blanket (opt for the version with the velvet cover) |
| People who want color options | |
30-60 Min Nap With the YnM Weighted Blanket
For me, I love it when companies like YnM offer a variety of blanket designs. When it comes to weighted blankets, I know I want something that has a good weight to it and comes in a bamboo option. So I was happy to see the YnM blanket came in a 25 lb option with a 100% bamboo viscose cover.
As a heavier guy and a hot sleeper, this weight option and fabric combination is a winner. I love bamboo blankets because of their soft, silky feel and the fact that they don't trap heat. Weighted blankets usually aren't going to be a year-round use for me because of how warm they can be, but the YnM blanket really didn't add too much warmth when I pulled it on for my testing.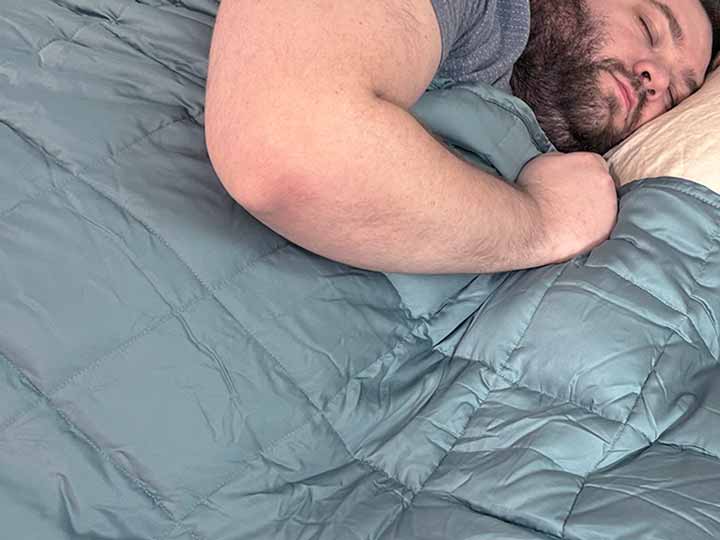 I like that the 25 lb blanket was also a queen-size because even though that's more area for that weight to be distributed across, I still felt the weight around me. I tend to toss and turn when I sleep, but I've found that weighted blankets help me stay in place. So I always recommend weighted blankets to those who toss and turn too much and want to find a solution.
I will say, YnM has a lot of options, and the brand doesn't really offer much by way of helping you to find the right choice for you. All these options might be overwhelming, but if you know what you like, YnM is sure to have it.
RELATED: Best Weighted Blankets
How Much Does the YnM Weighted Blanket Weigh?
YnM is all about weighted blankets.The brand offers six weight options ranging from 7 lb to 30 lb, and in a range of sizes as well. I should note that certain weights are only available in certain sizes. For example, the 7 lb blanket is only for children and comes in a child-size throw blanket. The 30 lb blanket is only available as a California king.
For this review, I received a 25 lb queen-size blanket. When it comes to picking the right weight option for you, the general rule of thumb is to take 10% of your body weight (or divide your weight by 10) and that will give you an ideal weight, give or take a couple pounds.
For reference, I weigh about 280 lb, so the 25 lb blanket is an ideal weight option for me to use. Truthfully, you can pick any weight option you want, but if you're new to weighted blankets, the 10% rule is the safest way to find out which weight is best for you.
How Does the YnM Weighted Blanket Feel?
Weighted blankets have two different types of feels: how they feel while you're using them and the feel of the material used to construct the blanket.
The YnM weighted blanket I tested had an entirely bamboo viscose fabric shell. Bamboo viscose is soft, smooth and silky to the touch. So if you opt for this version of the blanket, that's the fabric feel you can expect.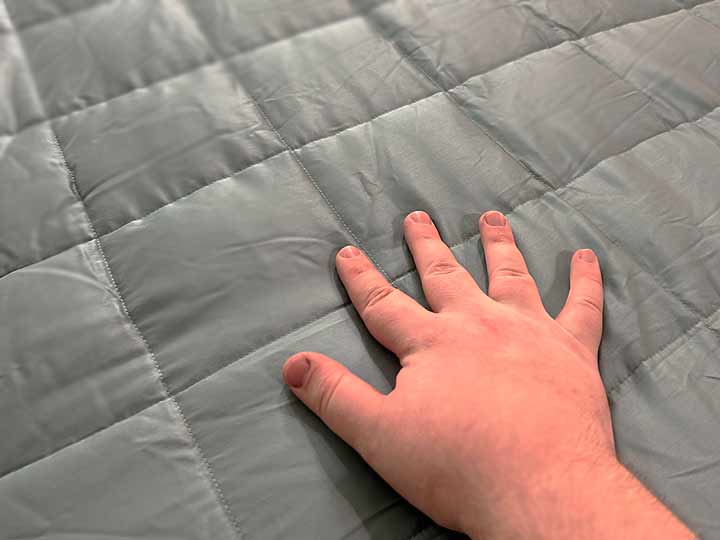 As for how the blanket felt while I used it, weighted blankets are said to feel like a hug. They stimulate something called deep pressure touch, which is a hugging sensation that helps people feel much calmer while they use weighted blankets. Because my weighted blanket was 25 lb, I really felt the weight all around me more than some lighter blankets that I've tested in the past.
YnM Weighted Blanket Size Options & Prices
Take a look at our chart below for up-to-date pricing information on the YnM, weighted blanket.
Editor's Note: The YnM weighted blanket is available through YnM's main website and on Amazon. The chart below reflects the prices for Amazon, which is how we acquired our testing sample. The version of the blanket I tested only has three available weight and size options, which are what are listed below. 
| | |
| --- | --- |
| Size & Weight | Price |
| 48″ x 72″ 12 lb | $79 |
| 80″ x 60″ 20 lb | $79 |
| 80″ x 60″ 25 lb | $79 |
YnM Weighted Blanket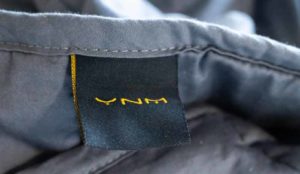 The YnM is a very nice weighted blanket that comes in a number of weight and size options.
Mattress Clarity Score
4.60 / 5
YnM Weighted Blanket Performance
Here are some other considerations to keep in mind before clicking "check out" on the YnM weighted blanket.
Sleeping Hot or Cold
I used the 100% bamboo version of the YnM blanket. While weighted blankets are generally going to add some additional warmth , after about an hour of use with the bamboo blanket, I didn't really notice a lot of heat building up.
Even though I run pretty hot, especially with thick blankets, I felt really comfortable underneath the YnM blanket. Bamboo is also moisture-wicking so I didn't feel sweaty either.
If you're someone who wants a warmer, cozier blanket, you're in luck. YnM has many versions of this blanket that do have minky feels to them so they can add more warmth than the bamboo version.
Care Instructions
YnM mentions that its blankets are machine-washable. It's best, however, to wash the blanket by itself, as it's already fairly bulky because of its weight.
Frequent washing of the blanket can wear out both the blanket and your machine, so YnM also recommends spot cleaning if the blanket isn't super dirty. Some of YnM's blankets are also compatible with duvet covers, so to help them stay cleaner for longer, it might be better to use a cover that can be washed.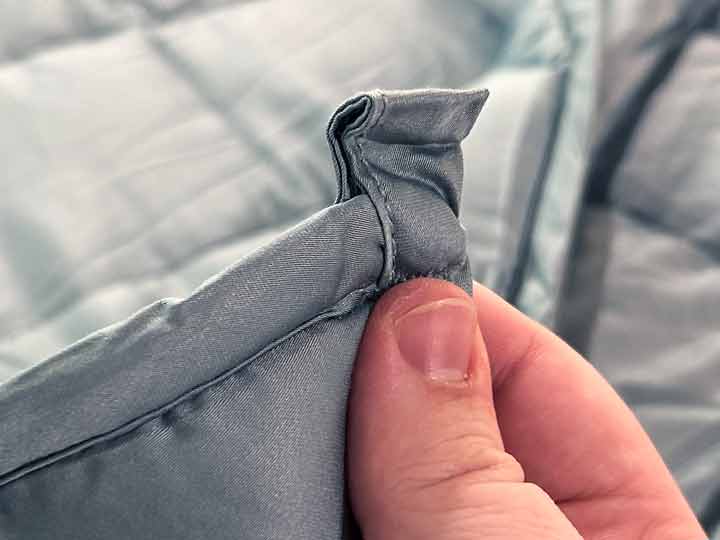 Allergies/Allergens?
Bamboo fabric is known to be hypoallergenic, so my version of the blanket shouldn't be too much of an issue for those with sensitive allergies or skin. Other versions that include the velvet should still be ok, but most YnM blankets are machine-washable, which should eliminate allergens that land on the blanket.
YnM Weighted Blanket Construction
I've touched on some of the materials used for my YnM blanket, but let's take some time to break down what all goes into the blanket. I'll also give a brief mention of some of the other options YnM offers.
As I've mentioned, my blanket uses bamboo fabric on the outside. This bamboo shell is soft, smooth, breathable and has moisture-wicking properties to it. The shell is also sewn through into about 2" x 2" squares which keeps the weighted fill evenly distributed throughout the blanket. In the corners and along the side, you'll find loops which can be used to attach a duvet cover.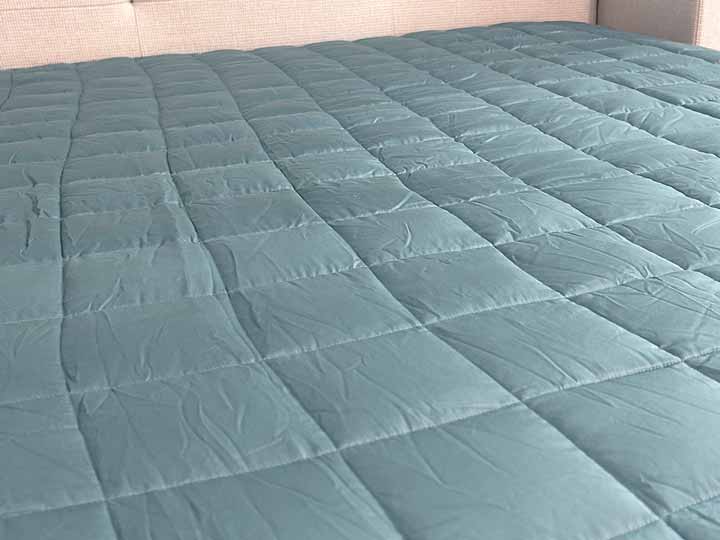 YnM uses glass microbeads in each of those squares to give the blanket its weight. This will be consistent with every version of YnM's available blankets. Other versions of YnM's weighted blanket include:
100% cotton
Cotton-linen
Cotton-polyester
Bamboo & velvet
And there are some chunky-knit versions as well. YnM has a lot of options for all types of preferences.
Company Policies
Here's what you can expect from YnM when you purchase one of its weighted blankets. Note that these policies should still be in effect whether you purchase the blanket through Amazon or YnM's website.
Warranty
YnM offers a one-year warranty on all its blankets.
Trial Period
From the day your YnM blanket arrives, you'll have a 30-day window to make any return or exchange decisions.
Return Policy
If, during the 30-day trial period, you decide that your YnM weighted blanket isn't for you, you can issue a return or an exchange. Returns will be refunded in full.
Shipping is free when you place an order, but you will be expected to pay the shipping fee on returns and exchanges. If you order through Amazon, however, the returns will be free.
How does YnM Weighted Blanket Compare To Other Blankets
YnM certainly covers its bases with a wide range of weighted blanket models. But let's compare the model I received to two different blankets from Brooklyn Bedding and Baloo.
YnM vs Brooklyn Bedding
One popular design for weighted blankets is a chunky knit design, which is what Brooklyn Bedding decided to use for its weighted blanket. So, visually, there's already a big difference between it and the YnM blanket.
Both blankets should be fairly good options for hot sleepers because of the bamboo fabric in the YnM blanket, and the open knit design in the Brooklyn Bedding blanket. However, they will feel different.The Brooklyn Bedding blanket is made out of a soft polyester material, while the YnM blanket will feel smooth and silky because of the bamboo.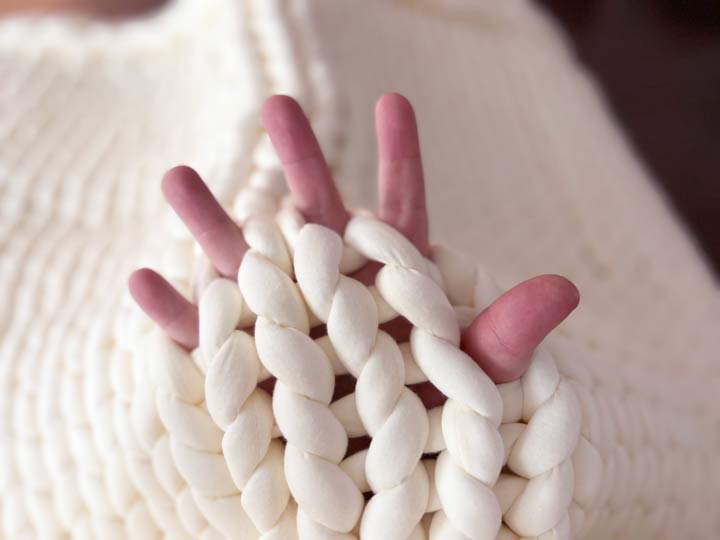 If you're looking for something small and just want a throw blanket that has some heft to it, the Brooklyn Bedding blanket is for you. It also only has two weight options, 10 and 15 lb. But if you're looking for bigger sizes and heavier weights, YnM offers six different weight options and you can get blankets in throw, queen and king-size options.
| | |
| --- | --- |
| Who Should Get the YnM Bamboo Weighted Blanket? | Who Should Get the Brooklyn Bedding Weighted Blanket? |
| Fans of silky bamboo blankets | People who prefer a knit blanket |
| People who need weight options | Those who just want a blanket for lounging with |
Read our full Brooklyn Bedding weighted blanket review.
YnM vs Baloo
YnM and Baloo are both companies that focus on making weighted blankets. The standard Baloo blanket uses a cotton shell which will feel smooth like the YnM blanket, but it'll have a bit of a crisp feel to it. The bamboo viscose cover of the YnM blanket is more like satin or silk.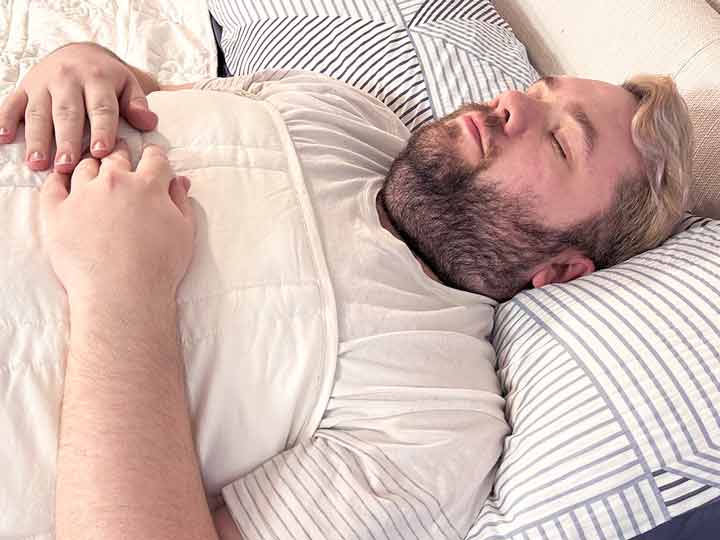 Both come in a variety of weight options, though YnM offers just a couple more options, 7 lb and 30 lb, for a kid size and California king-size blanket, respectively. Both blankets are fairly high-quality and will last a while. But when it comes to price, YnM is more affordable when compared to Baloo, especially considering you can purchase YnM blankets through Amazon.
| | |
| --- | --- |
| Who Should Get the YnM Bamboo weighted Blanket? | Who Should Get the Baloo Weighted Blanket? |
| Fans of bamboo blankets | Fans of cotton blankets |
| Shoppers on a budget | Eco-conscious shoppers |
Read our full Baloo weighted blanket review.
Our YnM Weighted Blanket Review Ratings
Take a look at our Mattress Clarity score for the YnM weighted blanket.
YnM Weighted Blanket Review
YnM Weighted Blanket FAQs
What if I don't like my YnM weighted blanket?

You have 30-days from the day your blanket arrives to make returns or exchanges. Shipping costs for returns or exchanges will vary depending on where you originally purchased the blanket.
How long will the YnM weighted blanket last?

Several years. Each version of the YnM weighted blanket is made with high-quality materials that are very durable. You can also machine-wash to keep them clean, though YnM does mention if you wash them too frequently, you run the risk of ruining the blanket.

Alternatively, the blankets act as duvet inserts, so you can help them last longer by using a duvet cover.
What's the best position to sleep with a weighted blanket?

Honestly, whatever way makes you feel comfortable. Personally, I'm a side sleeper who changes sides frequently, but I've found using weighted blankets helps me stay in one spot during the night. But you can use weighted blankets no matter what sleeping position you prefer.
Tony Klespis
Tony is a staff writer at Mattress Clarity where he analyzes sleep products and appears in review videos. He earned a B.A in English from Sam Houston State University and a M.A in Mass Communication from Texas State University. When he isn't writing about sleep products, Tony loves to unwind with a good book or can be found playing Pokemon Go outside with his friends, or cuddling with his cat, Penguin. He's always down to try a new, local restaurant and try new foods.