There are plenty of reasons why people sleep hot; it could be that their heater is on blast or their bedding is too heavy. Another common culprit? Heat-trapping mattresses!
Some types of mattresses, such as those that feature memory foam, have a tendency to sleep hot and direct it back at sleepers; this can cause people to wake up in the middle of the night, covered in sweat.
That being said, there are a number of mattresses that are a particularly good match for hot sleepers. Out of the numerous mattresses I have reviewed, I found ten that should make for a cooler night of sleep! Read on for my list of the best cooling mattresses!
Our Top Picks
The best cooling mattresses for hot sleepers are:
The following ten mattresses should all be good options for hot sleepers. However, there is no one right mattress for all hot sleepers; keep reading to see our list broken down by mattress construction and cooling materials. Pay attention to the superlatives we've assigned to each mattress to figure out which mattress is best for your specific needs and preferences.
Don't see what you're looking for? Try taking our mattress quiz. After answering a few short questions, you'll receive personalized recommendations.
Editor's Pick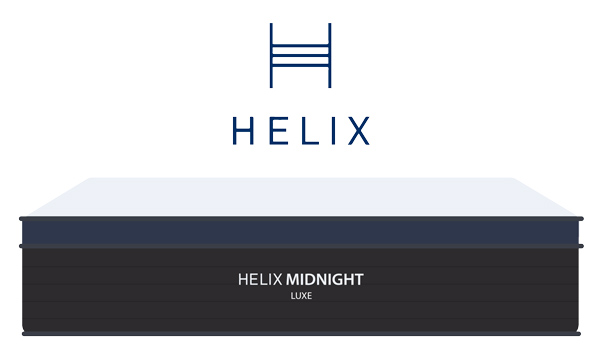 Helix Midnight Luxe
Mattress shopping can be an extremely daunting affair; for those customers who just can't decide on what they want or need, Helix is there to help. Logging onto their website, customers have two options – they can participate in a sleep quiz or select from one of Helix's many hybrid mattress models.
Their most popular mattress is the Helix Midnight Luxe. It features a breathable cover that keeps the top of the mattress from trapping too much heat. Deep down in the mattress, coils also promote airflow through the mattress. Together, these two components should keep sleepers cool at night. 
The mattress also boasts good comfort and support. This makes the mattress a great pick for both back sleepers and side sleepers. 
What Makes Helix Midnight Stand Out?
Helix is all about flexibility and customization; customers have numerous mattresses to choose from or can take a sleep quiz, and the company will send the best mattress.
Hot sleepers should find the Helix Midnight mattress to be a great fit as it is so breathable.
The Helix Midnight Luxe upgrade includes a Tencel cover which will add another level of cooling.
Read the full Helix Midnight mattress review 
Up To $200 Off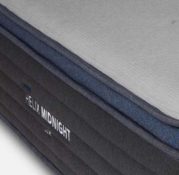 The Helix Midnight Luxe is a luxurious hybrid mattress with plush comfort and great support. Click the button to save up to $200 and get 2 free pillows. 
Best Cooling Innerspring Mattress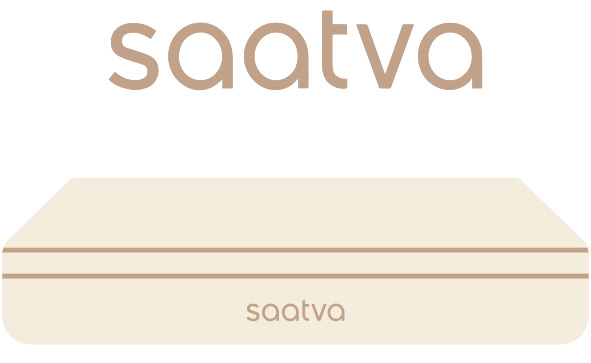 Saatva
Many of the mattresses already mentioned have more of that soft foam feel; what about those who prefer something like a traditional innerspring mattress? Well, that's why I wanted to add the Saatva mattress to this list; it is a coil mattress with two sets of coils and a soft, Euro-style pillow top.
Coils are something that hot sleepers should consider in a mattress because they allow room for airflow; with its dual layer of coils, the Saatva promotes a fantastic amount of airflow. This will help keep the Saatva from holding onto so much heat and directing it back at sleepers.
Lying on the Saatva, it feels more like one is sleeping on top of the mattress, not inside it – sinking into a soft memory foam mattress, less of one's body is exposed to cooling air – on the Saatva, more air is allowed to flow over the body.
Also, with its coils and pillow top, the Saatva features an excellent balance of comfort and support; this makes the mattress ideal for combination sleepers. Back sleepers and stomach sleepers will receive the requisite amount of support from the coils; side sleepers will get enough pressure relief from the pillow top.
Hot sleepers who like the feel of an innerspring mattress should look no further than the Saatva.
What Makes Saatva Stand Out?
The mattress features two sets of steel coils that promote airflow throughout the mattress.
The Saatva should be an excellent option for combination sleepers.
It is one of the best innerspring mattresses with a pillow top and has a very traditional look and feel.
Read the full Saatva mattress review
$200 Off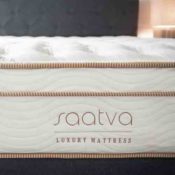 Saatva is a great value that happens to be both comfortable and supportive at the same time.  You can save $200 on a Saatva mattress simply by clicking the link below.
Best Cooling Mattress for Side Sleepers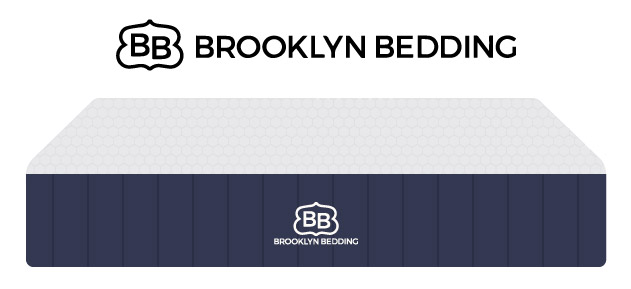 Brooklyn Bedding Aurora
The Aurora mattress comes from Brooklyn Bedding, producer of high-quality, value mattresses; the company owns its own factory, allowing Brooklyn Bedding to sell their mattresses at a very affordable price. The Brooklyn Bedding Aurora is a hybrid mattress that is near the higher end of the company's set of mattresses.
There is a lot to love about the Aurora, but its cooling features really stand out. First, it features TitanCool in the cover; this is a phase change material that is cool to the touch and actually changes its physical state to help people sleep cooler! The top layer of CopperFlex foam is, as the name suggests, infused with copper; this material is a conductor and will help draw heat away from the body. Add in the airflow-promoting coils, and that is one cool-sleeping mattress!
At 13.5″ tall, the Aurora is a substantial mattress; much of the mattress consists of comfort material, so it should be a good option for side sleepers of many sizes. Also, with its supportive coils, the mattress should work for the majority of back sleepers.
Hot sleepers who are looking for a very comfortable mattress that is a good fit for people of many sizes should love the Brooklyn Bedding Aurora.
What Makes Aurora Stand Out?
The mattress contains a number of cooling materials that should keep sleepers from overheating.
The Aurora comes from Brooklyn Bedding, so it is a quality mattress sold for a value price.
The mattress features a thick comfort layer that should offer pressure relief even to heavier side sleepers.
Back sleepers should also find enough support on the Brooklyn Bedding Aurora mattress.
Read the full Brooklyn Bedding Aurora mattress review
Get 25% Off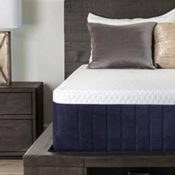 The Brooklyn Bedding Aurora is a luxury mattress that a lot of people will like. Click the button and use code INDEPENDENCE25 to save 25% on your purchase.
Best Cooling Firm Mattress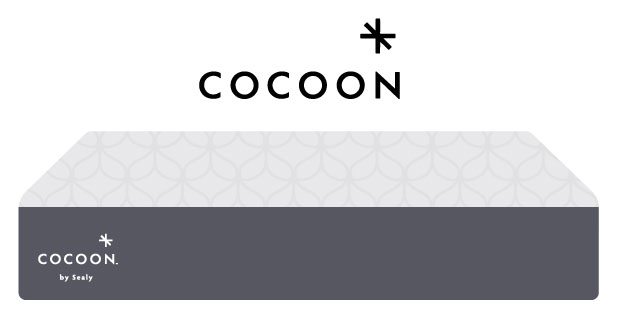 Cocoon By Sealy Chill
Those who are looking for a cooling mattress that is also firm and supportive should consider the Cocoon by Sealy. This is a memory foam mattress that really provides the support and firmness some sleepers are looking for. Customers have two firmness options: Medium Soft and Extra Firm. We reviewed the Medium Soft model, and even that was firmer-than-average!
Given that it is a firmer mattress, the Cocoon by Sealy should be ideal for both back sleepers and stomach sleepers. Its high-density foams should be able to offer the proper amount of support when people are in either position. 
Of course, we can't forget that the Cocoon by Sealy is also one of the coolest memory foam mattresses we have reviewed. This is mostly due to a layer of Phase Change Material that is cool to the touch and will pull heat away from the body. Memory foam mattresses are known to trap heat, but this shouldn't be an issue with the Cocoon! 
RELATED: Best Firm Mattress
What Makes Cocoon By Sealy Chill Stand Out?
Shoppers have two firmness options, Medium Soft and Extra Firm – both are firmer-than-average!
Those who need extra support can also look at the Cocoon Chill Hybrid mattress. 
The Cocoon by Sealy features Phase Change Material that should keep the top of the mattress very cool at night. 
The mattress is more supportive and a good fit for both back sleepers and stomach sleepers. 
Read the full Cocoon mattress review
Up To $660 Off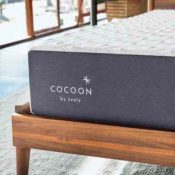 The Cocoon by Sealy is a comfortable mattress that is also a great value.  You can save up to $660 on the Cocoon by Sealy Chill Memory Foam mattress by using our coupon.
Best Cooling Hybrid Mattress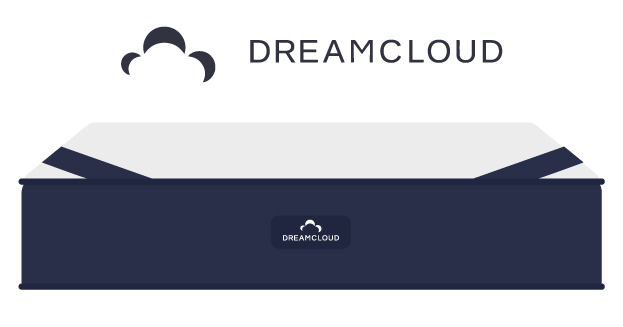 DreamCloud
Many people who are searching for a cooling mattress will end up looking at hybrid mattresses because their coil construction allows for more airflow than most all-foam mattresses. There are many hybrid mattresses you can choose from, but the DreamCloud is one of our favorites. 
The DreamCloud offers a luxurious feel at a great value price. Topped with a cashmere-blend cover, the mattress is designed to offer a breathable, cooling sleep experience from top to bottom. Inside the mattress you'll find a soft memory foam comfort layer infused with gel to help dissipate body heat and a base layer of individually-wrapped coils adding support and durability.
This hybrid mattress is a wonderful fit for people who enjoy a bouncy, responsive feel to their mattress. This isn't a mattress that you're going to sink into and get stuck with all your body heat in the night. Instead, you'll rest comfortably on the surface getting the right balance of comfort and support.
What Makes The DreamCloud Mattress Stand Out?
The DreamCloud is a medium-firm hybrid mattress that many will find comfortable. 
With a cashmere-blend cover, gel-infused memory foam, and individually-wrapped coils, this is a mattress made with high-quality materials at an affordable price point. 
The DreamCloud has many features that will help give you a cool night's sleep.
Read our full DreamCloud mattress review
$200 Off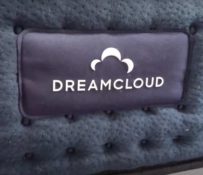 The DreamCloud is a high-quality hybrid mattress that is sold for a value price - click the button to save $200 on the DreamCloud mattress and get $399 of free accessories. 
Best Cooling Memory Foam Mattress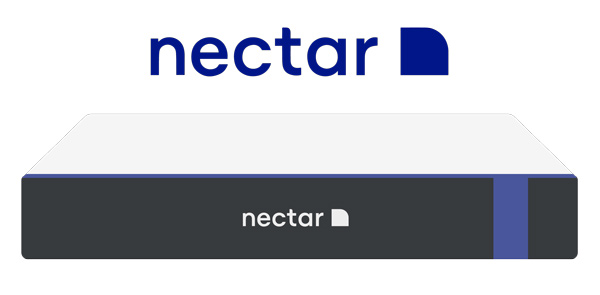 Nectar
Memory foam is a material that is known for trapping heat. Because of this, many hot sleepers shy away from memory foam mattresses. That being said, they shouldn't have an issue with the Nectar mattress. 
While the Nectar is a memory foam mattress, it does contain cooling materials that should keep it from trapping heat at night. The top memory foam layer contains a gel infusion that will help with heat dissipation. The cover features Tencel material that is extremely breathable and also helps with cooling. 
The Nectar is also simply a comfortable mattress. Its multiple layers of memory foam should provide comfort for side sleepers and those who simply like a softer mattress. 
What Makes Nectar Stand Out?
The memory foam mattress features gel and a cooling cover to keep it from sleeping hot. 
The Nectar offers the soft comfort and pressure relief many people associate with memory foam. 
The Nectar mattress is a high-quality memory foam mattress that is sold for a value price. 
Read the full Nectar mattress review 
Free Accessories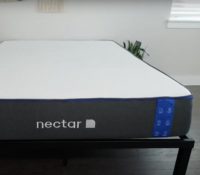 Nectar is a very comfortable memory foam mattress that happens to also be an amazing value, and customers can get the best deal on the Nectar plus $399 of free accessories by using our coupon.
Best Value Cooling Mattress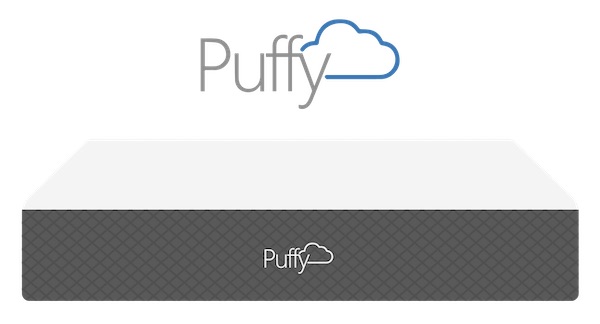 Puffy
Don't want to break the bank? If so, the Puffy mattress may be for you. But don't let the budget-friendly price dissuade you — this bed is high-quality and durable. 
Despite its all-foam construction, the Puffy mattress dissipates heat very well. The top layer contains Puffy's Cooling Cloud technology. It has a classic slow-moving feel, and it's infused with gel for added cooling. Beneath this, you'll find Puffy's Climate Control Layer. in addition to providing extra support, this material helps regulate the mattress's temperature. 
The Puffy mattress feels slightly firmer than average, making it a great pick for average weight back and side sleepers. It also isolates motion quite well, which is why we named it one of the best mattresses for couples. 
What Makes The Puffy Stand Out?
It's a great choice for most back sleepers. 
This mattress has impressive cooling features, so you shouldn't trap body heat at night. 
It has a lifetime warranty and 101-night sleep trial period. 
Read our full Puffy mattress review. 
$300 Off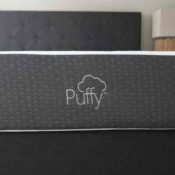 Puffy is a comfortable memory foam mattress that is especially great for light-  ande medium-weight side sleepers.  You can get $300 off the Puffy and get a $455 worth of free accessories by clicking the link below. 
Best Organic Mattress For Hot Sleepers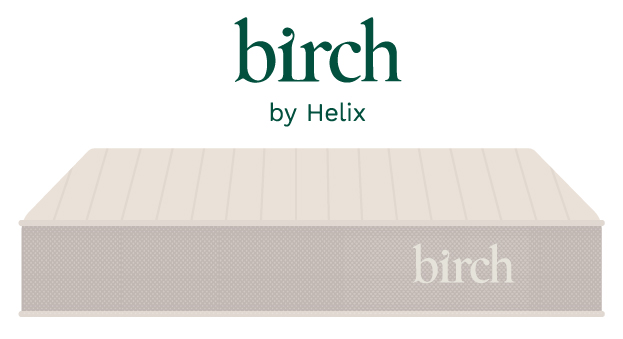 Birch By Helix
One of the ways to sleep cooler is to find a mattress that doesn't let sleepers sink in too much. A firmer latex mattress like the Birch by Helix lets sleepers sleep "on top" of the mattress so that more air can flow over their bodies. 
The organic materials found in the Birch by Helix should also help with cooling in their own right. The Talalay latex on top of the mattress is a breathable material that should not trap heat. The coils in the support layer should also allow for a fantastic amount of airflow. 
Talalay latex is also an extremely durable material, so the Birch should not sag too quickly. It is also much better for the environment than other mattress materials. Those who need a cooling organic mattress that eco-friendly and sound investment should consider the Birch by Helix. 
What Makes The Birch By Helix Stand Out?
The Birch by Helix is a firmer latex mattress that should provide enough support for larger people. 
The Birch by Helix contains organic, eco-friendly materials. 
The Birch's firmness and cooling materials should keep sleepers from overheating at night. 
The Birch by Helix is an extremely durable mattress that should be a longer-lasting investment. 
Read the full Birch by Helix mattress review 
$400 Off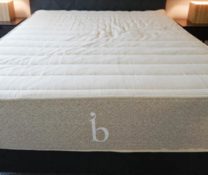 The Birch is a comfortable and supportive latex mattress. Save $400 on the Birch and get 2 free pillows by clicking the button below. 
Best Mattress for Back Pain and Cooling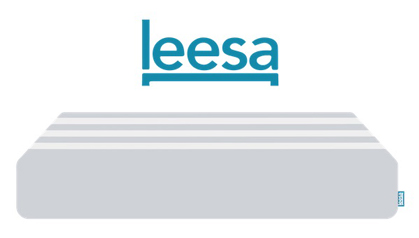 Leesa
Foam mattresses can be extremely comfortable, but they often have one major drawback: they sleep hot. Foam mattresses, especially those that feature memory foam can trap heat and direct it back at sleepers, making for a very uncomfortable night of sleep.
Those who want a foam mattress but worry about overheating at night should consider the Leesa because it contains a very interesting proprietary foam called LSA200. It is designed to be more breathable than standard memory foam, so it should not be sleeping too hot. What's more, the LSA200 is more responsive than memory foam, so sleepers should not be getting stuck in the mattress.
Back sleepers, especially those who struggle with back pain, should also enjoy the Leesa because of its balance of comfort and support. Back sleepers will feel great support under their body while the foam contours to their curves. They should also feel extra lumbar support, which can help prevent back pain. 
What Makes The Leesa Stand Out?
The Leesa mattress features a proprietary LSA200 foam that is more breathable and cooling than standard memory foam.
The LSA200 makes the Leesa more responsive than memory foam, so people should not be getting stuck in the mattress.
The Leesa mattress is a great match for those who struggle with back pain. 
Read the full Leesa mattress review
Up To $200 Off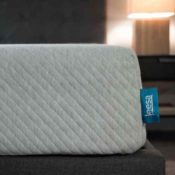 Leesa is a very comfortable mattress that I think a lot of people are going to really like.  You can get up to $200 off the Leesa mattress and get 2 free pillows simply by clicking the link below.
Best Mattress For Back Sleepers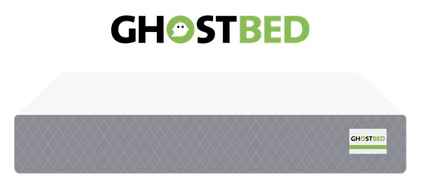 GhostBed
The GhostBed is so cool it's scary! This latex foam mattress is a great option for sleepers looking for a cooling night's sleep. 
The GhostBed mattress is built with many different materials to keep you cool. First, the mattress is topped with a polyester cover that is super thin and breathable. Inside the mattress, you'll find a layer of aerated latex foam that's designed to keep you cool and comfortable. Deeper within the mattress, you'll find a layer of gel memory foam (a great feature for hot sleepers), and a base support layer of high-density foam for durability. 
Not only is this mattress super cool and comfortable, it's also extremely supportive. The GhostBed has a firmness rating of 8/10, making it a great fit for sleepers who need more support including back sleepers, stomach sleepers, and even heavier people. If you're looking for a firm feel, the GhostBed could be a great choice for you.
What Makes The GhostBed Stand Out?
The GhostBed is a high-quality latex foam mattress that comes at a very reasonable price. 
It's hard to find an all-foam mattress that can keep you cool and comfortable, but the GhostBed does just that! 
It's one of the best firm mattresses we've reviewed!
Read the full GhostBed mattress review.
30% Off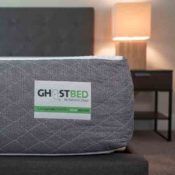 Ghostbed is a very supportive mattress that is ideal for back and stomach sleepers, and it is also a great value - right now, customers can get 30% off the GhostBed and 2 free pillows. 
Cooling Mattress Accessories And Bedding For Hot Sleepers
Beyond finding that perfect cooling mattress, there are a few other bedding and mattress products that hot sleepers should be looking for.
Consider The BedJet For Extra Cooling

The BedJet is a device that offers climate control for the bed by blowing air directly into the bed; sleepers can control the temperature of this air. That means if people are cold, they can blow hot air into the bed, and if they are warm, they can blow cold air into the bed.
A premium alternative to the BedJet is the WinkBeds coolControl.
Consider A Cooling Mattress Protector, Mattress Pad, or Topper
If people are worried about sleeping hot, then they might want to consider a mattress protector; most people get them to protect against dust mites, bacteria, and allergens, and they also will keep the mattress clean and protect against spills and stains. At the same time, they can help with cooling!
The Bear mattress protector has a special fabric that can pull heat away from the body and keep people cool at night; even if people sleep on a hot memory foam mattress, this protector can help regulate the temperature.
Other options exist in the form of thin, electric cooling pads that lay across the surface of the mattress; products such as the ChiliPad plug into the wall socket and allow people to choose the exact desired mattress temperature.
A cooling mattress topper can also be a good investment. A mattress topper that includes latex or at least some type of cooling material such as gel or graphite can add some serious cooling to the top of the mattress.
Think About Cooling Sheets.
If people are trying to stay cool at night, they might also want to think about their sheets, which can really affect their sleep temperature.
While thread count usually speaks to the quality of the sheets, higher thread count sheets are usually less breathable than lower thread count sheets. This is because the high thread count sheets are denser and allow less air to pass through.
Consumers should also think about the fabrics used in their sheets because, although synthetic materials are cheaper and thought to be lower quality, they may actually be more breathable. Microfibers leave more room in their weave, which allows for more air to pass through, so people will likely trap less heat when sleeping under synthetic sheets.
That being said, there are natural fibers with cooling properties, such as bamboo sheets, which are durable but also quite breathable.
Does Mattress Firmness Affect Body Temperature?
We have discussed how different mattress designs deal with overheating, but what about mattress firmness? Which is better for hot sleepers: a firmer or softer mattress?
Here are a few general ground rules to keep in mind:

A softer mattress can mean good pressure relief, but it may also mean trapping more heat; especially with most memory foam mattresses, the more people sink into their mattress, the hotter it can get. It may feel nice to be enveloped by the mattress, but people are also getting more contact with the heat-trapping memory foam – this is not to say that a softer mattress cannot sleep cool, but it is just another factor to consider during the buying process.
On a firmer mattress, people are going to sleep more "on" the surface rather than "in" it. Because of this, they will most likely be sleeping cooler on a firmer mattress – they are less surrounded by the mattress, and there is more room for air to flow on their skin.
When thinking about mattress temperature, people should also think about their body weight; if they are a heavier person, they will sink into a mattress more than someone who is lighter.
What Kind Of Mattress Cover Should People Get?
When it comes to covers, people may want to consider how they could affect their sleeping temperature. Non-quilted and quilted covers are generally quite different when it comes to their cooling properties. Here are some general ground rules:
Non-quilted covers are usually going to be thinner and more breathable because they allow people to interact with the layers of the mattress and shouldn't interfere with heat dissipation or airflow.
Quilted covers consist of cover fabric that is quilted together with another material, most likely foam; while this usually adds extra pressure relief, it can also heat up the sleeping surface even more. It can cut down on breathability and stop cooling foams from doing their job, so if people sleep hot, it may be best to stay away from quilted covers.
What Fabrics Can Help Keep People Cool?
Along with the overall style of the cover, people may also want to consider what fabrics are used in its construction.
Many mattresses, mattress protectors, and pillows incorporate different fabrics that are designed to keep people cool. Here are some of the cooling fabrics people may come across:
Celliant. This fabric is designed to transform the body heat into infrared energy, and instead of trapping heat, it redirects the energy back toward the body. This may increase muscle recovery and blood flow, and the increased blood flow can help the body regulate temperature better while people sleep. Celliant fabric can be helpful in so many ways.
Tencel: Also known as Lyocell, this fabric is made from the wood fibers found in eucalyptus trees. It is designed to be very breathable, which helps prevent the mattress from trapping heat.
Lycra: Also known as Spandex, this material is breathable, wicks moisture away from the body, and can be found in some mattress protectors.
How About Phase Change Materials?
In some mattress protectors and pads, people may find something called phase change materials. T
That is how phase change   materials work in bedding, mattress protectors, and mattresses. They change from one state to another as the body temperature changes. They actually pull heat away from the body and store it if people are sleeping hot and, if they get too cold, these materials release the stored heat to warm up the body.
What About Pillows?
If people find that they are waking up in a pool of sweat in the middle of the night, their mattress may very well be the reason. However, people might also want to consider what type of pillow they are sleeping with; their pillow could easily be one of the reasons why they are overheating.
There a few different ways pillow manufacturers can address this issue. From our experience, if people are looking to get a pillow that will keep them cool, they should check out the Bear pillow. It is very cool to the touch, and it is also a very comfortable pillow overall.
How Do Different Mattress Types Perform?
In general, some mattress types are better at regulating temperature than others. Just looking at the basic construction of these types of mattresses, we can see how they either trap or dissipate heat:
Innerspring. Innerspring mattresses generally do pretty well with sleeping cool; that's because the mattresses have space for air to flow between and through the coils. One possible exception to this rule: If there is a lot of foam sitting on top of the coils (such as in a hybrid mattress), this may inhibit airflow and make the mattress sleep less cool.
Latex. Latex generally doesn't have heat issues because of its chemical composition and because it usually has air holes punched in it. Some synthetic latex mattresses can potentially be the exception – mattresses that combine latex with memory or poly-foam might have issues with sleeping hot as well.
Memory foam and polyfoam. Foam mattresses are the type that receives the most complaints about sleeping hot. With these types of mattresses, people will want to make sure the company has done something to address this issue, such as creating a more open-celled structure in the foams, having a certain type of fabric in the cover, infusing gel into the foams, or using plant-based foams.
Gel memory foam. What is gel memory foam? Well, memory foam is known to trap heat, so many mattress companies have begun incorporating gel in their memory foam. Gel is meant to dissipate heat, but its effectiveness is not always clear; gel can take on the heat of the foam, and while it may warm more slowly than traditional foam, it may not actively cool people while they sleep.
Note: These are general statements regarding whether or not a mattress will sleep cool. Sleep temperature depends on a lot of different factors, so take these as general guidelines instead of hard-and-fast rules. Also, make sure to read up on the mattress warranty to make sure you are covered if the cooling materials don't work correctly.
Why Do We Sleep Hot In The First Place?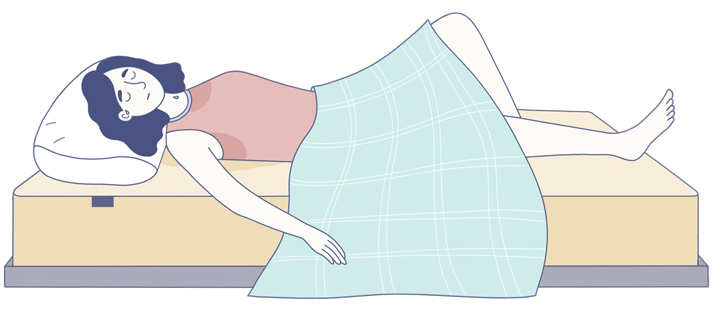 One of the main reasons we sleep hot has to do with how our body acts during REM sleep. When we are in this deep stage of sleep, the temperature-regulating system in our brains is asleep as well; because of this, our bodies usually match the temperature of our bedroom.
When we sleep, we release heat and our mattress, bedding, and pillows trap it. Materials such as memory foam are especially known to trap this heat, and certain types of bedding can prevent airflow. Since our body isn't regulating our temperature while we are asleep, these materials can cause us to overheat.
In addition to this general explanation for sleeping hot, there are a few specific conditions that might also exacerbate feeling hot while trying to sleep. These include:
Anxiety. People who suffer from anxiety can experience fluctuations in their body heat; during anxious moments, they can experience something akin to hot flashes. If these hot flashes occur at night, they can cause people to wake up or have trouble going back to sleep.
Hyperthyroidism. The thyroid gland produces the thyroid hormone, which, among other things, helps to regulate body temperature. With hyperthyroidism, the gland produces too much of the hormone, and this can cause people with the condition to feel overheated.
Menopause. Women who are just beginning their menopausal transition can sometimes experience hot flashes. These occur as estrogen levels change and a feeling of intense heat comes on; these hot flashes can cause night sweats.
Medications. Some prescription drugs have also been shown to cause night sweats; antidepressants and other psychiatric drugs can lower norepinephrine levels, and this can lead to excessive sweating during the day and night.
Other Conditions. There are several other health conditions that may affect body temperature, thereby causing people to sleep hot. For example, Graves' Disease, Multiple Sclerosis (MS), and some forms of cancer are accompanied by fluctuations in body temperature.
Sleep Tips For Hot Sleepers
Opt for 100 percent cotton sheets. Synthetic fabrics can trap heat and cause the body to feel even warmer. Instead, go for sheets made of natural fabrics like cotton or bamboo, or look for bedding with cooling or sweat-wicking technology.
Get a box fan or AC unit going. Obviously, an air conditioning unit will dramatically chill the air in your room, helping most people stay comfortable. But even a simple box fan can help with airflow, providing a cooling effect. Plus, fans and AC units generate "white noise" that blocks out other noises, helping hot sleepers fall asleep and stay asleep.
Sleep downstairs. Because heat rises, rooms on the first floor or in a basement are generally the coolest. People who have a bedroom on a higher floor and are able to relocate to a spot on a lower level should attempt to switch it up.
Stick your pillowcase in the freezer. Place a pillowcase (or even sheets!) in a ziplock and stick it in the freezer for a couple of hours before bed, then make the bed the chilled bedding right before bedtime. The crisp, cool surface will help cool the body's temperature as people fall asleep.
Take a cool shower before bed. The same idea applies here: Lowering the body temperature a tiny bit can make people feel more comfortable and less likely to overheat. If possible, make sure to shower right before getting into bed for the night. That way, the body doesn't have time to warm up again.
Summary
Here's a recap of our top picks for the best mattresses for hot sleepers:
Hot sleepers shouldn't have to suffer! If they look at one of these ten mattresses, they should have no trouble finding a mattress to keep them cool at night. Also, make sure to read the individual reviews for more information on these mattresses.
FAQs
Why are you sleeping hot at night?
There are a number of reasons someone might be sleeping hot at night. It could be due to a medical condition such as anxiety or hyperthyroidism.
However, it could also have to do with one's sleep environment. The temperature of the room and lack of breathability in one's bedding and mattress can also cause one to overheat.
Does cooling gel really make mattresses sleep cooler?
While gel can keep mattresses from overheating quite so much, they probably don't work as well as many companies advertise.
Gel memory foam, for instance, might still trap a good deal of heat.
How do you stay cool while sleeping?
There are a few ways someone can keep their bed cool at night. First, they can invest in a cooler sleeping mattress with coils and other heat-dissipating material. Second, they could opt for cooling, breathable sheets or a mattress protector. Lastly, they could spring for the BedJet, a device that blows air into the mattress.
Does latex sleep cool?
Latex generally sleeps pretty cool due to its chemical composition, and latex mattresses are typically aerated with air holes punched in the top. However, keep an eye out for mattresses that combine latex with memory or poly-foam as these are more likely to trap heat.
Marten Carlson
Marten is Senior Editor at Mattress Clarity. He covers the mattress industry as well as sleep science news. He is specifically interested in the connection between sleep and overall health. Marten has written for media publications like Consequence of Sound and received a master's degree in Film Studies from Emory University. He comes from Franklin, Indiana, and spends all the time he can writing, directing, and acting in films. He has directed genre short films and features. His newest film, Starlets, recently premiered at the River Town Film Festival in Clinton, NJ. He also stars in the upcoming thriller, Sour Bear. His next film, At The Hop, is a hot rod actioner with a horror twist.