Waking up throughout the night from overheating can be frustrating for any sleeper. You shouldn't have to sacrifice your rest because of night sweats. If you're not ready for a cooling mattress, a mattress pad can be an ideal alternative to help you sleep cool.
So, if you're tired of sleeping hot, but don't know where to start, we've got you covered. Check out our list of the best cooling mattress pads!. From gel-infused memory foam, to an all organic pad, there's something for everyone.
Keep reading.
Our Top Picks for the Best Cooling Mattress Pads
Best Luxury Cooling Mattress Pad – Saatva Organic Mattress Pad
Who's it For?
Saatva's organic cotton mattress pad is ideal for those who are looking to make their mattress more plush and feel like they're sleeping in luxury. The cotton is breathable and moisture-wicking, which means you shouldn't feel hot and sweaty on this mattress pad.
The materials are chemical-free, 100% organic, and Fair Trade Certified™ for folks who are environmentally conscious. And for an extra secure fit, this mattress pad has silicone-elastic bands so you don't have to worry about any sliding or slipping off of the bed at night.
What Makes the Saatva Mattress Pad Stand Out?
It feels very luxurious and offers plush, soft comfort with 300 thread count organic cotton cover
Saatva uses Global Organic Textile Standard (GOTS) certified organic cotton which is processed in Fair Trade Certified™ factories
It is machine-washable for easy maintenance
Best Organic Cooling Mattress Pad – Birch Organic Mattress Pad
Who's it For?
The Birch Organic mattress pad is an ideal choice for those who want bedding made of certified organic and natural materials. Birch uses100% organic cotton that is crafted into a sateen weave, giving it a satin-like feel.
This mattress pad is breathable and moisture-wicking, which is ideal for people looking to stay cool and dry during the night. Birch includes no-slip bands to secure the pad onto your mattress so you can move without shifting the bedding.
What Makes the Birch Organic Mattress Pad Stand Out?
There are three layers to this mattress pad for comfort and protection against spills
It is GOTS and Fair Trade certified for environmentally and sustainability conscious shoppers
Birch offers a 100-night sleep trial so you can try before you buy
Best Cooling Gel Memory Foam – Plushbeds Cooling Gel Mattress Pad
Who's It For?
The Plushbeds Cooling Gel mattress pad is a great option for sleepers who want additional pressure relief and support without purchasing an entirely new mattress or a super thick topper. The memory foam contours to your body while the cooling gel removes any heat to combat night sweats. This mattress pad can be for a variety of sleepers with the six different sizes and two thickness options: either 2" or 3". If you're looking for something closer to a mattress topper, opt for the 3"!
What Makes the Plushbeds Cooling Gel Mattress Pad Stand Out?
The memory foam has been CertiPUR-US® and GreenGuard Gold certified for those who want hypoallergenic bedding free of harmful chemicals
It comes in 2" and 3" heights to accommodate body weight
It has an open cell foam structure and a cooling gel infusion so it won't trap heat
Best Cooling Mattress Pad for Side Sleepers – Puffy Mattress Pad
Who's It For?
The Puffy mattress pad provides the right amount of support and comfort for side sleepers. Within the bamboo cover, you'll find plush foam. This is going to help provide some pressure relief for side sleepers.
The bamboo cover is hypoallergenic, soft, and breathable for hot sleepers with sensitive skin, and has a quilted design for extra comfort. Puffy uses high-quality materials and practices so this mattress pad is very durable. This mattress pad is machine-washable for folks who want bedding with easy maintenance.
What Makes the Puffy Mattress Pad Stand Out?
This mattress pad features a jacquard knitted finish for a luxurious feel
The foam is evenly distributed and stays very fluffy, perfect for side sleepers looking for pressure relief
Puffy offers a lifetime warranty and 101-night sleep trial
Best Smart Cooling Mattress Pad – Eight Sleep Pod 3 Cover
Who's It For?
What if you had a mattress pad that could become cold at the touch of a button? That's exactly what Eight Sleep's Pod 3 Cover can do! This is a great option for solo sleepers or couples, because you can set the cover to the perfect temperature for each side of the bed.
If you don't want to set the temperature every night, this smart technology will automatically get your mattress ready around your bedtime. The Pod 3 Cover will learn your ideal body temperature for the best sleep so you don't have to worry about overheating.
What Makes the Eight Sleep Pod 3 Cover Stand Out?
It sits like a fitted sheet on your mattress for easy installation
The Temperature Autopilot technology learns which temperature gives you the best rest so you don't have to
It's perfect for one sleeper or a couple with customized sides of the cover
Types of Cooling Mattress Pads
When it comes to cooling mattress pads, breathable materials or cooling infusions need to be used to fight any trapped heat while you sleep. Let's get into the common types of cooling mattress pads so you can pick which is best for you.
Cotton
Cotton is commonly used for cooling mattress pads because it's naturally breathable. Some cotton is also hypoallergenic and organic, depending on the manufacturer. The feel of cotton is soft and plush.
Gel-Infused Memory Foam
Gel-infused memory foam is a popular choice for cooling mattress pads because it's a cooler version of traditional, body contouring memory foam. Traditional memory foam can often trap heat but cooling gel draws out heat to keep sleepers comfortable throughout the night.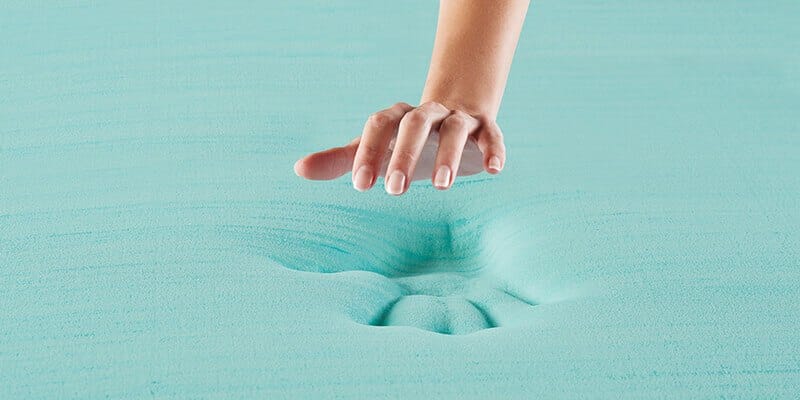 Bamboo
Cotton and bamboo are often compared because they share similarities in breathability and airflow. But bamboo is naturally moisture-wicking, temperature regulating and hypoallergenic. All this to say, you won't feel hot or sweaty with bamboo products. The softness of bamboo can feel quite silky and luxurious, too.
Who Should Buy a Cooling Mattress Pad?
A cooling mattress pad is a great option for those who want to adjust their mattress firmness slightly without purchasing a brand new bed or investing in super thick toppers. Those who tend to overheat and sweat at night will sleep soundly with a cooling mattress pad because they draw away heat and wick moisture throughout their rest. Folks who enjoy the body contouring of memory foam or the responsiveness of latex mattresses will sleep with ease on a cooling mattress pad.
How to Choose a Cooling Mattress Pad
Choosing the best cooling mattress pad for you comes down to a few factors:
Start by setting a price range that you're comfortable with
Research which material will suit your personal preferences of firmness and feel
Consider key descriptors in your search like your sleeping position, weight, allergies or sensitivities, and if you share your bed with a partner
Read the fine print before purchasing, like the warranty, return policy, and if the brand offers a sleep trial
At Mattress Clarity, we're here to help shoppers make the best decision to improve their sleep health. When you're searching for a new mattress pad, remember to come to our site to find our top picks and full reviews from our certified sleep experts!
How to Wash a Cooling Mattress Pad
Much like your mattress or bedding, you'll want to clean your mattress pad for durability and general good hygiene. Depending on the cooling mattress pad you choose, there are different ways to wash it.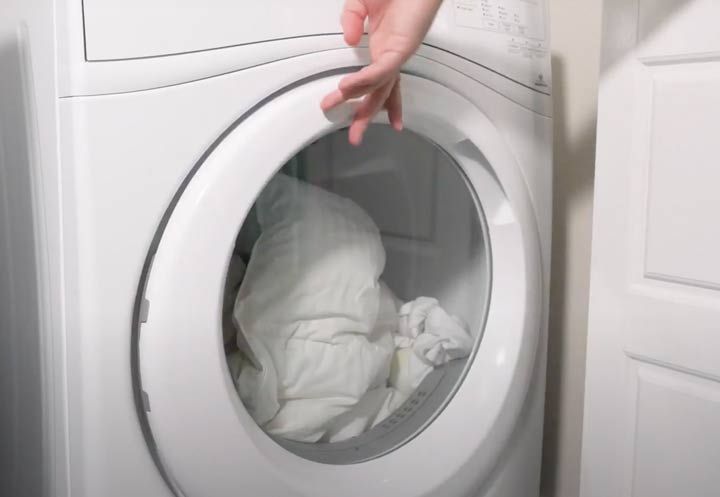 If your mattress pad doesn't have a cover, you should spot treat spills or stains. If your mattress pad does come with a cover, you should remove and wash that. When it comes to both spot treating and washing a mattress pad cover, we suggest reading the manufacturer care instructions to avoid any damage from cleaning solutions.
How to Create a Cooling Sleep Space
Sleeping hot can be frustrating! You shouldn't have to sacrifice a full nights' sleep because you're overheating or dealing with night sweats. Follow these tips to create the coolest sleep haven:
Summary
Here's a quick rundown of our favorite cooling mattress pads below!
FAQs
Do cooling mattress pads work?
Yes, cooling mattress pads are made with materials that pull away heat from sleepers, regulate temperature, improve airflow, and wick moisture away while you sleep.
Can you put a sheet over a cooling mattress pad?
Yes, cooling mattress pads should have fitted sheets over them. This is especially important if the mattress pad doesn't have straps to hold it down to the base mattress. A fitted sheet over the mattress pad will help the pad to stay in place while you rest.
What's the difference between a mattress pad and topper?
Will a cooling mattress pad help with night sweats?
Yes, a cooling mattress pad can help with night sweats because they have properties that are specifically designed to battle heat and moisture throughout your sleep. If your sleep is constantly disturbed, read our tips to tackle night sweats.