It can be very difficult to sleep as we get older – when we reach retirement age, many of us will struggle with sleep issues such as insomnia and physical health conditions like fibromyalgia and arthritis.
No matter the sleep disrupter an elderly person encounters, a proper mattress can make it much more likely that you get proper, healthy sleep. There are so many mattresses out there, so which is the absolute best mattress option for the elderly?
Well, we're here to make it easy on all those elderly mattress shoppers out there – we've got our top five mattresses that could offer all the comfort and support they are looking for!
The Best Mattresses for Seniors
Let's break down each mattress one by one, so our readers can decide which is the best fit for them. There really is no one best mattress for all elderly sleepers, but one of these should be an excellent match!
Editor's Pick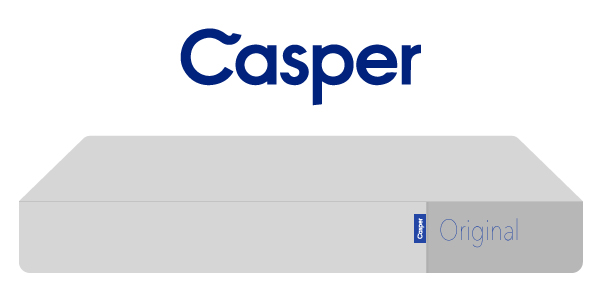 Casper
The Casper is a very innovative mattress that features a proprietary Zoned Support system – basically, the mattress is firmer toward the center and then softer toward the head and foot. This makes the mattress feel firmer or softer depending on one's sleeping position.
Due to its proprietary construction, the Casper is a fantastic option for elderly people who sleep in all three positions. When they are back sleeping, they should feel great lumbar support while their hips sink in the right amount, and when they are side sleeping, they should feel more relief on those trouble areas such as the shoulders and hips. While stomach sleeping, they should get all the support they need across their entire body.
The Casper is also a responsive mattress that should make it particularly easy to move around – elderly sleepers who suffer from mobility issues want to find a mattress that won't make them feel stuck, and the Casper definitely fits the bill. It is also quite breathable for an all-foam mattress, so it shouldn't be sleeping especially hot.
What Makes The Casper Stand Out?
The Casper mattress boasts a unique zoned construction that makes it an excellent fit for combination sleepers.
The mattress is more responsive than many foam mattresses, so it should work well for elderly sleepers with mobility issues.
The Casper is a more breathable option, making it a fantastic option for those elderly sleepers who overheat at night.
Read the full Casper mattress review 
15% Off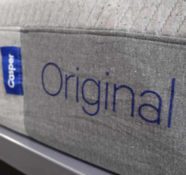 Casper is a great value that is also a great fit for all three sleeping positions.  You can save 15% on a Casper mattress by clicking the link below and using code MEMDAY. 
Best Customizable Mattress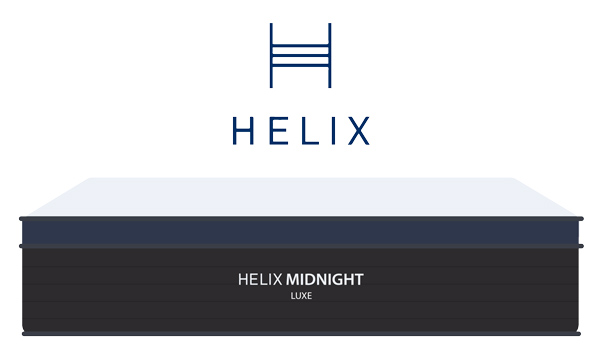 Helix Midnight
Helix is an excellent option for those elderly shoppers who have no idea what they want or need in a mattress. Customers have two options when they are selecting a Helix mattress – they can choose from one of their many mattress models or they can take Helix's sleep quiz and, based on their answers, Helix will recommend the correct mattress.
What's more, Helix will make a split mattress that will work for couples who have different sleep preferences. Basically, each partner can take his or her own sleep quiz and each side will be made to fit their specific comfort, support, and feel needs. 
In addition, those who want a more luxury, high-end look and feel can opt for one of Helix's Luxe upgrades – these add more of a pillow top to the mattress as well as some more cooling components. In the end, Helix really makes it easy to find the perfect fit for every type of sleeper no matter what the person is looking for. 
What Makes Helix Stand Out?
Helix is all about customization and flexibility, making it easy for customers to find the right fit for them. 
The Helix is one of the best mattresses for couples who are elderly. 
The Helix mattresses are breathable and allow for some good airflow, so they should not be sleeping particularly hot. 
Shoppers can add a Luxe upgrade to their mattress for some more comfort, cooling, and luxury touches.
Read the full Helix mattress review 
Save Up To $200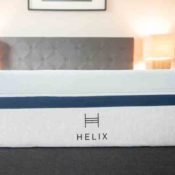 Helix provides customizable mattresses that can be a great fit for any type of sleeper; click the link below to save up to $200 on a Helix mattress and get 2 Free Dream Pillows.
Best Mattress for Seniors with Back Pain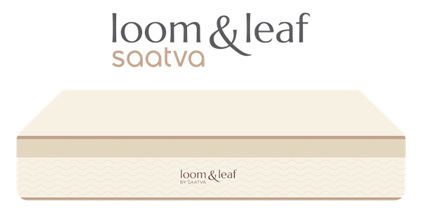 Loom and Leaf
Many elderly shoppers are looking for a mattress that will help relieve pressure on their joints and other areas and when it comes to pressure relief, memory foam mattresses are the absolute best type out there. These beds can really cushion the shoulders and hips and prevent a build-up of pressure that will exacerbate pain in those areas.
The Loom and Leaf mattress comes in two firmnesses, Relaxed Firm and Firm but, no matter which version a person chooses, it shouldn't make the individual feel stuck. Memory foam is known for being a less than bouncy material that can make it very difficult to move around and change positions at night, but the memory foam found in the Loom and Leaf is very high-density and it doesn't allow sleepers to sink in too far.
This high-density memory foam adds some real durability to the mattress and, while it isn't the most affordable mattress option, elderly sleepers can be sure it will last for a good amount of time without sagging prematurely.
What Makes The Loom and Leaf Stand Out?
The Loom and Leaf features thick, comfortable memory foam that should relieve pressure on trouble areas such as the hips and shoulders.
The mattress does not let sleepers sink in too far, so it will still be easy for elderly people to move around on the Loom and Leaf. 
The Loom and Leaf is a particularly durable mattress that should be a solid, long-term investment.
For a memory foam mattress, the Loom and Leaf sleeps quite cool and should not cause sleepers to overheat at night.
Read the full Loom and Leaf mattress review
$200 Off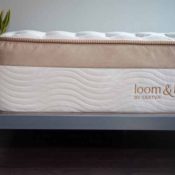 Loom And Leaf is a perfect choice for those looking for a luxury memory foam feel but don't want to sleep hot.  Save $200 on Loom And Leaf simply by clicking the button below.
Best Innerspring Mattress for Seniors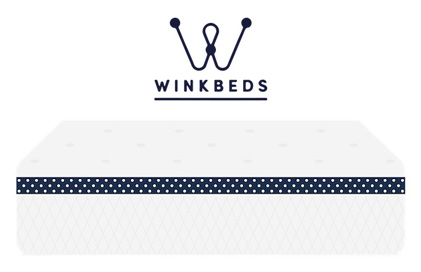 WinkBeds
Many elderly sleepers might have spent a significant portion of their lives sleeping on a more traditional mattress, so the WinkBed mattress might be right up their alley; it is an innerspring mattress that features two sets of steel coils as well as a plush pillow top right on top of the mattress.
Customers can choose from four firmness options: Softer, Luxury Firm, Firmer, and Plus – the WinkBed Plus is their firmest, most supportive option that is made specifically for larger sleepers. Those elderly sleepers who are on the heavier end might want to consider the Plus option where they will get all the support that they need. 
All of the WinkBed mattresses have a luxury look and feel, similar to what one would find at a nice hotel. Also, they contain multiple layers of durable materials that will help the mattress last for a good amount of time.
What Makes The WinkBed Stand Out?
The WinkBed mattress comes in four firmnesses, making it a good option for many types of sleepers with different comfort and support needs. 
Elderly sleepers who want one of the best innerspring mattresses are going to love the WinkBed with its more classic design. 
The WinkBed boasts a luxury design that will really add a high-end look and feel to any bedroom. 
The mattress is extremely breathable, so it should keep elderly sleepers from overheating during the night. 
Read the full WinkBed mattress review
$300 OFF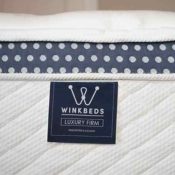 Winkbeds has a mattress that is an excellent balance of comfort and support.  You can get $300 off the Winkbeds mattress by clicking the link below.
Best For Back Sleepers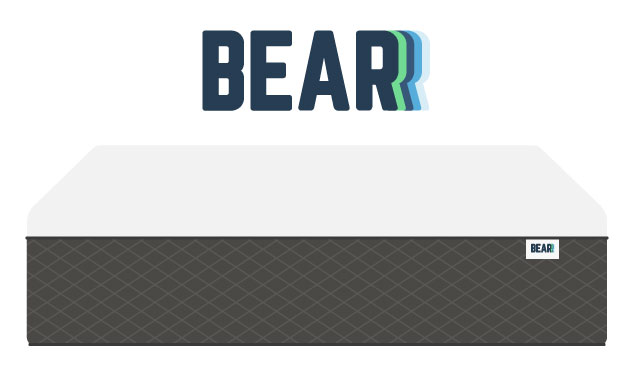 Bear Hybrid
Hybrid mattresses are fantastic because they offer a balance of comfort and support – one of our favorite hybrid mattresses, and a great option for seniors is the Bear Hybrid. This mattress features premium comfort foam right on top and then some very supportive coils beneath that. 
This construction makes the Bear Hybrid an ideal choice for elderly back sleepers – they should feel their hips sink into the comfort foam while it also conforms to the curves of their body. This will help reduce pain and cushion any trouble areas, and the coils beneath will then give them all the support they require.
The mattress is also an exceptional pick for hot sleepers because the coils promote airflow through the mattress and keep it from trapping too much heat. The cover also contains Celliant, a material that will help will cooling and could also improve blood flow.
What Makes The Bear Hybrid Stand Out?
The Bear Hybrid features a great balance of comfort and support because of its soft comfort layers and firmer coils beneath.
The mattress should be a particularly good fit for elderly back sleepers who require good support and contouring. 
The Bear Hybrid is quite breathable and should work for seniors who sleep hot at night.
Read the full Bear Hybrid mattress review
25% Off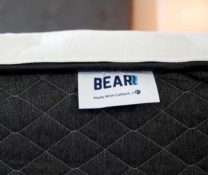 The Bear Hybrid has a great balance of comfort and support. It is a great match for back and side sleepers. Mattress customers can get 25% off the Bear Hybrid and 2 free Cloud pillows. Use code CLARITY25 to save.
How To Find The Best Mattress For The Elderly
What exactly should an elderly person be looking for when shopping for a mattress? Whether they decide to go with one of our recommended mattresses or decide to keep looking, these are some things they should definitely consider.
Make sure the mattress is responsive. When people reach an older age, they may struggle with serious mobility issues, and this makes it more difficult to get in and out of bed and change positions. They want to ensure that their mattress doesn't make things worse and cause them to feel trapped, so it is an especially good idea to find a mattress that is more responsive and contains coils, bouncier foams, or even latex.
Find a mattress that relieves pressure. Many elderly sleepers might have a condition such as arthritis or fibromyalgia or they could just be dealing with joint pain. Whatever they are personally struggling with, a softer mattress that contains pressure-relieving memory foam could be an excellent idea because it will cushion those trouble areas and prevent and relieve built-up pressure. Make sure to take a look at our list of the best mattresses for hip pain.
Look for a medium firm mattress. Ultimately, the best mattress firmness for seniors varies depending on each individual sleeper's comfort. That said, many seniors find that a medium firm mattress is the way to go. This firmness typically lends a balance of comfort and support, which is important for cushioning joints and supporting spinal alignment, respectively. Additionally, medium firm mattresses are often ideal for elderly folks who might suffer from back pain.
Choose a mattress that does not sleep too hot. As our bodies age, they are not as effective as regulating our temperature, and overheating is a common complaint of seniors, especially when they are sleeping. That is why it is a good idea to choose a mattress that will not make one sleep hot; try to find a mattress with coils that allow for good airflow and features other layers of cooling material.
Find a more durable mattress that will not sag prematurely. Elderly shoppers want to select a mattress that will last for a number of years and won't break down or sag very quickly. They should choose something that contains coils and, if it has foam in it, they should make sure it is of a higher density that won't form indentations after only a few years.
Decide whether the mattress will need to work with an adjustable base. Many elderly sleepers employ an adjustable base to keep them propped up and to reduce pain and discomfort caused by a myriad of conditions; if they are going to use an adjustable base, they should find out if the mattress will work on such a bed with no real problems.
RELATED: Everything You Need To Know About How Sleep Changes When You Age
Choosing An Accessible Mattress For The Elderly
As we age, it's common for mobility and flexibility to decline. That means it's important to think about accessibility while shopping for a mattress for elderly folks. Here are some important factors to consider when it comes to a mattress's accessibility.
Decide whether the mattress will need to work with an adjustable base. Many elderly sleepers employ an adjustable base to keep them propped up and to reduce pain and discomfort caused by myriad health conditions. Anyone planning to use an adjustable base should research whether the mattress in question will work on such a base with no real problems.
Look for a shorter mattress. Tall mattresses can look elegant, but they might not be the most practical choice for seniors. A thick mattress could make it more challenging to get in and out of bed, which can be a challenge for anyone who's managing mobility issues. As a general rule, many elderly folks will prefer a shorter mattress that makes it easier to climb in and out of bed.
Prioritize edge support. Edge support refers to how comfortable a sleeper feels while sitting or lying down near the edge of a mattress. The edge support is strong when a person feels secure in these positions; it's poor if the person feels like they're going to tip off or out of the bed. Seniors will want to prioritize edge support, because they may be more likely to use the edge of the bed to support themselves while climbing in and out.
What Type Of Mattress Is Best For Seniors?
These days, there are more types of mattresses than ever before, from classic innerspring models to beds made from memory foam, latex, and more. The best mattress type for seniors won't be the same for everyone, but everyone will find that a particular type of mattress suits them best. Here's an overview of some of the mattress types that might appeal to senior sleepers.
Innerspring
As the name suggests, innerspring mattresses include springs (otherwise known as coils) in their construction. There's a lot of variety under the innerspring umbrella; some innerspring beds are made with pocketed or individually wrapped coils, others layer multiple layers of coils on top of each other, and so on.
Pros of innerspring mattresses for seniors:
They tend to be supportive, which can help maintain spinal alignment and reduce back pain
They often have strong edge support, which can make it easier to climb in and out of bed (especially for folks with mobility issues)
They usually work well for hot sleepers, because the spaces between the coils allow for plenty of air flow through the mattress
They often suit back and stomach sleepers, who need plenty of support in order to keep their hips aligned with the spine (which helps prevent back pain)
Cons of innerspring mattresses for seniors:
Some innerspring beds might feel too firm and won't offer enough cushion for achy joints
Because they're sometimes on the firmer side, they might not be well suited to side sleepers, who need plenty of pressure relief around the shoulder and hip
A coil construction can sometimes add height to a bed, which might make it harder to climb in and out
Some innerspring mattresses don't do a great job of minimizing motion transfer, which can mean that elderly couples are more likely to wake each other up if they shift around during the night
Memory Foam
Memory foam mattresses are made from (that's right!) memory foam, a material that's known for being soft and pressure-relieving. Memory foam also tends to contour the body and have a slow response to pressure.
Pros of memory foam mattresses for seniors:
They tend to be pressure-relieving and can help cushion achy joints
Because they contour the body, they can be a great choice for side sleepers looking to find comfort around the shoulder and hip
It's pretty easy to find thinner memory foam mattresses, which can be useful for folks who have a hard time climbing into a tall bed
Memory foam tends to be silent and does a great job of absorbing motion. This is great for senior couples who don't want to disturb each other during the night
Cons of memory foam mattresses for seniors:
Memory foam mattresses that are on the soft side might not provide enough spinal support
Some memory foam mattresses have poor edge support, which can make it harder to climb in and out of bed
Because of their slow response to pressure, it can sometimes be hard to move around on top of memory foam beds
As a general rule, memory foam mattresses are known to trap heat and might not be a great choice for hot sleepers
Latex
Latex mattresses can be made from natural latex (which is derived from rubber trees), synthetic latex (which is made through chemical processes), or a blend of the two. No matter how it's derived, latex can be processed in one of two ways, which can affect the feel of the mattress: Dunlop latex has a firmer feel, while Talalay latex has a softer feel. Both natural and synthetic latex mattresses are known for their durability and bounce, and they tend to sleep cool.
Pros of latex mattresses for seniors:
Latex tends to be very responsive, which makes it easier to move around on top of the bed and to climb in and out
Latex generally sleeps cool, which can make latex mattresses a good choice for hot sleepers
Because latex is known for its durability, a latex mattress is less likely to sag than foam mattresses. This means the mattress is more likely to support spinal alignment over the long term, which can help combat back pain
Cons of latex mattresses for seniors:
Latex is a heavy material, so it can be challenging to move these mattresses around (especially for folks who might deal with reduced muscle mass or mobility or coordination issues)
Latex mattresses tend to be expensive, so they won't suit every senior's budget
Because latex is fairly bouncy, it doesn't do a great job of minimizing motion transfer. This can be an issue for elderly folks who share a bed with a partner (especially if one or both partners is prone to getting in and out of bed during the night)
Hybrid
Hybrid mattresses feature a combination of coils and foam, thereby offering the best of both worlds (or, er, both mattresses). Typically, hybrid mattresses layer a foam comfort layer over coils. The foam layer could be made from memory foam or another type of foam, and the coils may or may not be individually wrapped.
Pros of hybrid mattresses for seniors:
They generally offer a nice combination of comfort and support, which can help combat back pain while cushioning joints
The innerspring coils enable air to flow through the mattress, which helps people sleep cooler than they might on an all-foam bed
The foam layer usually offers more pressure relief than might exist on a standard innerspring mattress, which can be helpful for anyone with joint pain
They tend to suit multiple sleep positions, so senior couples with different preferred sleep styles might be able to compromise with a hybrid
Cons of hybrid mattresses for seniors:
Because they feature multiple layers and coils, hybrid mattresses sometimes weigh a lot. This could make it challenging to move the mattress
Hybrid mattresses are sometimes on the pricier side, and they might not suit all budgets
Airbeds
Not to be confused with air mattresses, airbeds are luxurious mattresses that are made from adjustable air chambers. Because the chambers are adjustable, sleepers can customize the firmness of the mattress to their preferences on a nightly basis. Some airbeds allow couples to separately customize their respective sides of the bed.
Pros of airbed mattresses for seniors:
Thanks to their adjustable nature, airbeds can be tailored to each sleeper's unique preferences
Seniors who deal with fluctuating levels of back pain, joint achiness, or mobility can customize the mattress to their needs on a nightly basis
Senior couples who have different sleep preferences might be able to customize each side of the mattress to their respective preferences
Airbeds are pretty much immune to sagging, which means they should support healthy spinal alignment for the full life of the mattress
Cons of airbed mattresses for seniors:
Airbeds tend to be quite pricey, and they won't be a match for every senior's budget
Adjusting the airbed might involve some noise from the pump, which could disturb a partner
Airbeds might not offer enough cushion for folks who enjoy the feeling of sinking into their bed
Why Seniors Need A Good Mattress
Sleep is important for everyone at every stage of their life — and that very much includes seniors. According to the Centers for Disease Control and Prevention (CDC), adults between the ages of 61 and 64 should aim for 7 to 9 hours of sleep each night, while adults over the age of 65 should slumber for approximately 7 to 8 hours every night.
Even though sleep remains critical as we age, many seniors struggle to obtain quality sleep on a regular basis. This could be due to one or several common challenges. Many seniors deal with pain-related issues such as arthritis, fibromyalgia, and/or back pain. As anyone who struggles with these conditions is aware, pain can make it harder to fall and stay asleep. Additionally, certain pain medications can act as stimulants that make it harder to get enough shut-eye.
Even seniors who don't deal with pain might struggle to obtain quality sleep, because sleep itself changes as we age. A long-term study of 9,000 people over the age of 65 found that, compared to younger adults, elderly adults have more fragmented sleep and spend significantly less time in deeper sleep stages. There's also some evidence that circadian rhythms might shift as we age, prompting our bodies to wake up earlier and shortchanging sleep.
So how does all of this relate to a mattress? Well, mattresses play a huge role in determining whether we feel comfortable (or not) when we lie down to sleep. An uncomfortable or unsupportive mattress can exacerbate pain and make it harder to fall asleep and sleep soundly through the night, while a high-quality mattress that feels good and helps mitigate pain can facilitate restful sleep.
Sleep Tips For Seniors
As we've noted, quality sleep is essential for seniors, but it's sometimes hard to come by. Here are some tips that will increase the odds of seniors enjoying sound sleep.
Identify any underlying health issues. As noted above, sometimes sleep challenges are the result of underlying conditions such as arthritis or fibromyalgia. Any senior who's coping with chronic pain (or other symptoms) should consult a doctor about managing those symptoms so they don't interfere with sleep.
Create a bedroom environment that's conducive to sleep. Good sleep hygiene involves keeping the bedroom cool, quiet, and dark and eliminating electronic devices from the bedroom. A restful environment also requires a quality mattress that promotes comfortable sleep. Make sure to limit the activities on that mattress to sleep and sex so the brain doesn't associate the bed with more stimulating activities.
Stay active. Engaging in physical exercise during the day makes it more likely that someone will feel sleepy at night. This partially explains why studies link regular exercise to better sleep quality.
Practice soothing bedtime rituals. Make a habit of winding down before bed with a comforting ritual(s) such as taking a bath, reading a good book, or listening to calming music. Avoid screens in the hour or two before bed, because the blue light they emit can interfere with the body's circadian rhythms.
Sustain a consistent sleep schedule. Going to bed and waking up at the same time every day helps train the body to start winding down at a consistent time each night. This can make falling asleep at a reasonable hour more likely.
Final Thoughts
In the end, one of the five mattresses should work for elderly people who want to ensure they are getting the best sleep possible, but anyone who wants to keep looking should just consider our shopping tips, and it should be easy to find the perfect fit! Also, if someone is worried about what they need for their specific situation, they should speak with a doctor or medical professional.
FAQs
Do you need a softer mattress as you get older?
This does depend on a person's specific situation, but a soft mattress can work for elderly sleepers who are dealing with issues such as fibromyalgia, arthritis, or joint pain. However, a firmer mattress might work better for elderly sleepers who are in need of more support.
What is the best mattress for seniors with arthritis?
Seniors who deal with arthritis should choose a mattress that is on the softer side because they want something that will relieve pressure in any trouble areas.
What type of mattress is best for the elderly?
This depends on many things including pain issues and sleeping position. A person who has arthritis or fibromyalgia might want to choose a softer mattress with something like memory foam in the construction, but those who need more support might want to seek out a firmer mattress that contains coils or some other more supportive material.
Is memory foam good for the elderly?
Memory foam can be good for the elderly in a number of ways – it can relieve pressure for those with joint pain issues and provide some excellent overall comfort.
However, memory foam can make it more difficult to move around on a mattress, which isn't ideal for those with mobility issues. Also, memory foam is known to sleep hot and could cause some seniors to overheat at night.
Marten Carlson
Marten is Senior Editor at Mattress Clarity. He covers the mattress industry as well as sleep science news. He is specifically interested in the connection between sleep and overall health. Marten has written for media publications like Consequence of Sound and received a master's degree in Film Studies from Emory University. He comes from Franklin, Indiana, and spends all the time he can writing, directing, and acting in films. He has directed genre short films and features. His newest film, Starlets, recently premiered at the River Town Film Festival in Clinton, NJ. He also stars in the upcoming thriller, Sour Bear. His next film, At The Hop, is a hot rod actioner with a horror twist.