Sleep Number has been a popular mattress brand for decades. The company is best known for its adjustable air beds, which allow sleepers to customize their mattress's firmness on any given night. The brand produces several lines that feature different materials and are tailored to different types of sleepers. While Sleep Number beds' customizable features offer a lot of benefits, they also come at a cost. These mattresses may simply be too pricey for many people's budgets.
If you're interested in the benefits of a Sleep Number bed but not the cost, have no fear! There are many sound alternatives on the mattress market these days. It's possible to find a bed that offers many of the same features as a Sleep Number mattress for a budget-friendlier price. That's exactly what you'll find in our roundup of the best Sleep Number alternatives, so read on!
The Best Sleep Number Mattress Alternatives
These four beds are our top picks for Sleep Number alternatives. Read on to learn how each of these mattresses compares to a particular Sleep Number line.
Saatva Solaire Vs. Sleep Number C Series
The Saatva Solaire mattress is an air bed with adjustable firmness. Sleepers use a remote control to inflate or deflate the mattress, which allows them to tailor the bed's firmness and comfort levels—for a total of 50 different firmness options. The bed comes in two versions: Standard and Upper-Flex. The Upper-Flex uses an adjustable base so sleepers can raise and lower the head and/or foot. This makes the mattress exceptionally customizable.
The Solaire is made by the Saatva brand, an online mattress retailer with a reputation for making very high-quality mattresses. The Solaire is no exception. It's the Saatva brand's most luxurious mattress, and it's made with high-quality and durable materials. This high-end bed is a great match for people who want a mattress with adjustable firmness, lightweight and medium-weight sleepers, people who want a mattress that works on an adjustable base, and those who want an adjustable mattress for couples.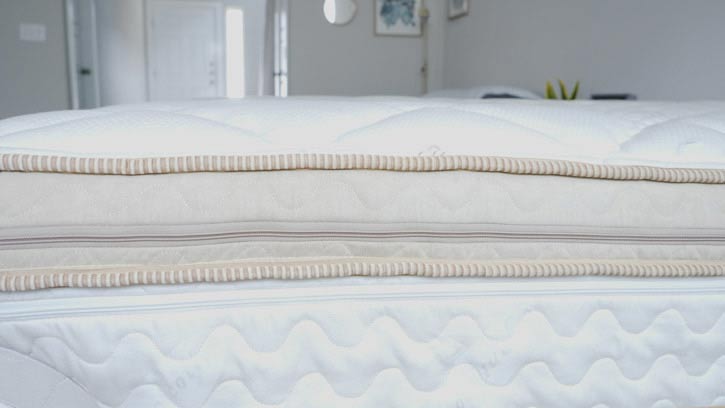 Why is the Saatva Solaire a sound alternative to the Sleep Number C Series? Like the Saatva Solaire, the beds in the Sleep Number C (or "Classic") Series use adjustable air chambers that allow sleepers to customize the firmness of their sleep surface. They have thin comfort layers between the air chambers and the top of the mattress, so they don't offer a tremendous amount of pressure relief and they're fairly responsive. The same is true for the Solaire mattress: It's a responsive bed that should prevent sleepers from feeling stuck.
What Makes The Saatva Solaire Stand Out?
This is a high-end, luxury mattress model that should stand the test of time.
Sleepers can opt for the Upper-Flex model, which will work with an adjustable base. (Note that this model comes at an added cost.)
The Solaire incorporates several design features to help it sleep cool, including gel-infused memory foam and ventilated Talalay latex.
Read our Saatva Solaire mattress review.
$200 Off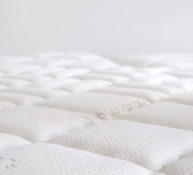 The Saatva Solaire is a very comfortable mattress with adjustable firmness. It is a great fit for light- and medium-weight people of any sleeping position. Click the link to save $200 on the Solaire. 
The Pod By Eight Sleep Vs. Sleep Number I Series
The Eight Sleep Pod Pro is a high-tech bed that's all about temperature regulation. When we say "high-tech," we mean it! This bed incorporates an actual computer and a water pump. Together with the Active Grid cover, these components maintain an ideal mattress temperature by either cooling or warming the bed. In our experience, the Pod Pro is one of the best cooling mattresses around.
While the technical specs of this mattress are very noteworthy, it's also important to consider its fundamentals. The Eight Sleep Pod Pro is an all-foam, bed-in-a-box mattress. It offers a medium-firm sleep surface that combines some pressure relief with support. Even though it's an all-foam mattress, it's fairly responsive, so it's easy to move around on this bed. The Active Grid creates a slightly gel-like feel that's distinct from more conventional mattress topper materials such as foam or tufted cotton.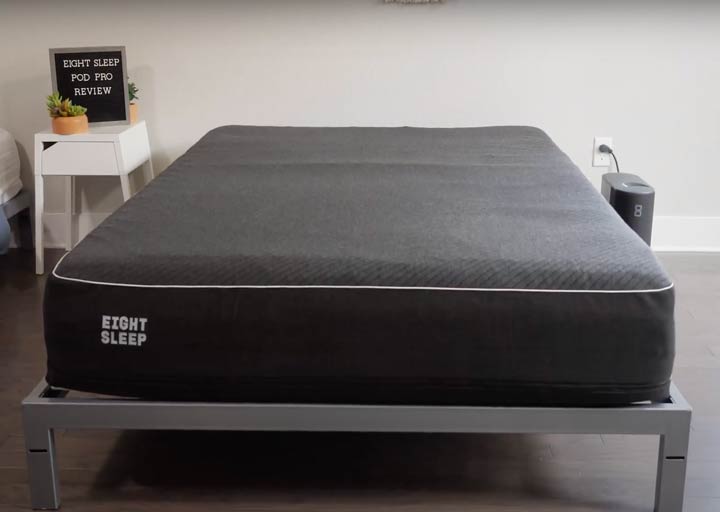 Why did we pit the Eight Sleep Pod Pro against the Sleep Number I Series? Much like the Pod Pro, the beds in the Sleep Number I (or "Innovation") Series are designed with temperature regulation in mind. They incorporate materials that are meant to absorb excess heat (so the sleeper doesn't overheat) and then release some of that heat back to the sleeper if the mattress gets too cold. The Innovation Series is Sleep Numbers' most luxurious line. In addition to temperature regulation, the beds also feature adjustable air chambers and enhanced pressure relief.
What Makes Eight Sleep Stand Out?
The built-in computer and water pump make this bed exceptionally well equipped to regulate mattress temperature.
Partners can control the temperature on their respective side of the bed, so the mattress's temperature can be tailored to each person.
The mattress comes with a built-in sleep tracker so sleepers can learn about and improve their sleep habits.
Read our Eight Sleep mattress review.
$100 Off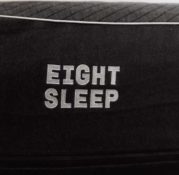 The Eight Sleep Pod Pro is a high-tech mattress that is designed to keep sleepers at the right temperature during the night. Click the button to save $100 on the Eight Sleep Pod Pro.
Leesa With Adjustable Base Vs. Sleep Number M Line
The Leesa is a comfortable and very popular all-foam mattress. It offers an excellent balance of comfort and support, which makes it a versatile mattress that could suit several types of sleepers. Even though the Leesa is all-foam, it does a good job of sleeping cool. We found this mattress to be ideal for back sleepers, side sleepers, and hot sleepers who want an all-foam mattress that won't make them overheat. It's also worth noting that the Leesa can be used with an adjustable base, which makes this a fairly customizable mattress.
How does the Leesa achieve its versatile feel? For starters, it uses a proprietary LSA200 foam in its top comfort layer. This material is simultaneously soft, bouncy, breathable, and responsive. Beneath the LSA200 foam, there's a layer of slower-moving memory foam that offers more body contouring. These comfort layers help create a balanced foam feel that is both soft and responsive, so sleepers enjoy pressure relief without feeling stuck in the mattress. For this reason, we've ranked the Leesa as one of the best soft mattresses.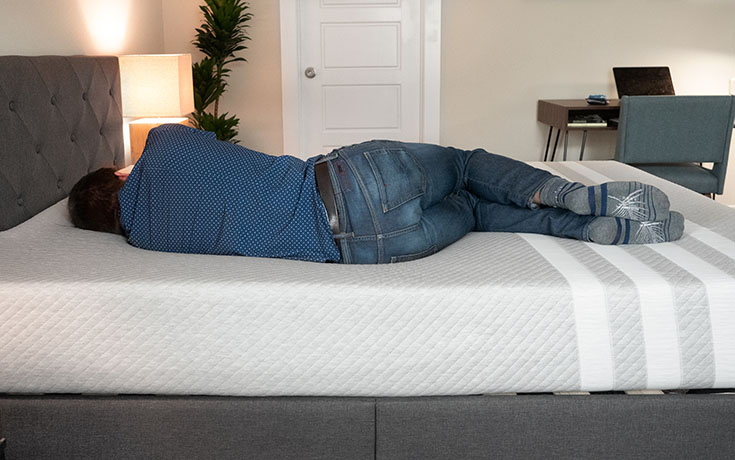 We've suggested the Leesa as an alternative to the Sleep Number M line because of the similarities between these two beds. The "M" in this Sleep Number line stands for "Memory Foam." Not surprisingly, the beds in this line are all made with memory foam layers that offer body contouring and pressure relief—much like the Leesa. The beds in this lineup are also equipped with cooling design features so the foam doesn't cause sleepers to overheat. Again, this also holds true for the Leesa. And when you pair the Leesa with an adjustable base, it offers some of the same customization options as the M line.
What Makes Leesa Stand Out?
It has a balanced foam feel that is simultaneously soft and responsive.
It can be paired with an adjustable base, which allows sleepers to customize the position of the mattress.
It should appeal to a variety of sleepers including side sleepers, back sleepers, and hot sleepers who want an all-foam bed that won't overheat.
Read our Leesa mattress review.
Up To $500 Off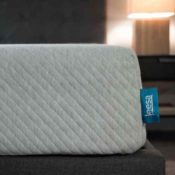 Leesa is a very comfortable mattress that I think a lot of people are going to really like.  You can get up to $500 plus 2 free pillows with the purchase of a Leesa Original mattress simply by clicking the link below.
Nectar With Adjustable Base Vs. Sleep Number P Series
The Nectar is one of the most popular memory foam mattresses around. True to form, it has the classic feel of memory foam: It slowly conforms to a sleeper's body, relieving pressure and gradually allowing the sleeper to sink into the mattress. This creates a comfortable sleep surface for several types of sleepers, including light- and medium-weight side sleepers and light- and medium-weight back sleepers. Not surprisingly, the Nectar mattress is also a great match for anyone who enjoys the feel of memory foam.
Even though the Nectar offers quite a bit of pressure relief, it's actually not the softest mattress around. We ranked this bed right around medium-firm. The balance of comfort and support on the Nectar makes it a good match for folks who are looking to relieve pain (particularly hip pain). In fact, we've ranked it as one of the best mattresses for arthritis.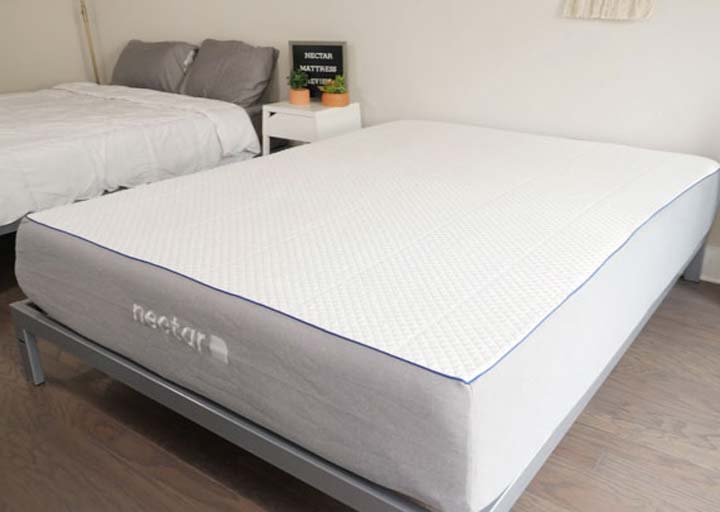 Because of its attention to comfort, the Nectar is a fitting alternative to the Sleep Number P Series, which is designed to offer loads of pressure relief. The mattresses in this line come with Sleep Number's standard adjustable firmness settings. But they differ from some other Sleep Number beds thanks to a contouring sleep surface and extra comfort layers to create enhanced pressure relief—much like the Nectar.
What Makes Nectar Stand Out?
The Nectar offers great value for its price and is one of the best mattresses for the money.
The Nectar helps relieve hip pain and other aches and pains, which makes it a great option for people with arthritis or other painful conditions.
The Nectar is well suited to a variety of sleepers, including light- and medium-weight back and/or side sleepers.
Read our Nectar mattress review.
Free Accessories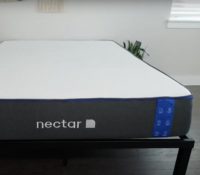 Nectar is a very comfortable memory foam mattress that happens to also be an amazing value, and customers can save $100 on the Nectar plus get $399 worth of free accessories by using our coupon.
What Is A Smart Bed?
A smart bed is not unlike a smartwatch or a smartphone: It's a useful product that is technologically equipped to gather and share data (often through the use of sensors) and to enhance the user's experience in a variety of ways. Smart bed functionalities range from tracking your sleep patterns to customizing the bed's firmness, changing the position of the mattress, adjusting the bed's temperature, offering a built-in alarm or TV, or syncing with a smartphone app or smart home devices.
Smart beds can be useful to a variety of sleepers. For instance, people who are struggling to obtain quality sleep might benefit from using a smart bed to track their sleep habits so they can adjust those patterns for the better. People with mobility issues might appreciate a smart bed that easily changes positions. People who are managing pain might want a smart bed that allows them to customize its firmness depending on how they're feeling each night. And some people just like smart beds because they're fun and innovative!
Things To Consider When Buying A Smart Bed
Before purchasing any smart bed, it's important to consider several factors.
Firmness
Many smart beds allow you to customize their firmness so you can tailor the bed's firmness to your chosen sleep position and other preferences on a nightly basis. If customization is important to you, be sure to look for a smart bed that enables you to adjust its firmness level.
Sleep Tracking
Do you want a bed that will monitor your sleep habits so you can track the quantity and quality of your sleep on a nightly basis? This can be useful if you tend to struggle with getting high-quality sleep, as you'll be able to identify patterns and troubleshoot accordingly. On the other hand, some people find the idea of a bed that monitors their sleep to be stressful or invasive. There's no right choice here; it comes down to what best suits your needs and feelings.
RELATED: Complete Guide to Sleep Trackers & Apps
Cooling
Overheating at night is a quick way to ruin your chances at quality sleep. For this reason, it's a good idea to consider whether the smart bed in question offers cooling components. Common cooling design features include gel or graphite infusions in foam layers, ventilated foams, and cooling cover materials such as Tencel, Celliant, and/or Phase Change Material.
Connecting To Devices
Some smart beds connect to a range of smart devices, including smartphones, smart alarms, smart TVs, and/or smart lighting systems. If you want a bed to connect to an app on your phone or integrate with your smart home devices, make sure the smart bed you're considering is compatible with your existing tech.
Budget
No matter what kind of mattress you're shopping for, it's always important to consider your budget. Define your budget before you start shopping so you don't have to go through the heartbreak of falling in love with a bed only to discover that it's far too expensive. Establishing budgetary constraints will also enable you to narrow down your options so you don't feel overwhelmed.
Trial Periods
Purchasing a bed online can feel daunting, because you never know for certain whether a bed will suit your needs until you've had a chance to test it out in person. That's where trial periods come in! Trial periods, or "sleep trials," allow you to test a mattress in the comfort of your own home for a certain period of time. In most cases, brands will offer free refunds if you decide to return the mattress before the end of the trial period. Of course, every brand is different, so it's important to research trial period policies before you buy.
Adjustable Bases Vs. Smart Beds
As we noted above, smart beds appeal to many people because they offer customizations and extra functions beyond a standard mattress. But buying a smart bed isn't the only way to make your sleep setup more customizable. You might also consider an adjustable base, which lets you lift the head and/or foot of the mattress to elevate certain parts of your body and tailor the support to your activities and preferences. Here's a closer look at the pros and cons of adjustable bases.
Pros Of Adjustable Bases
They're budget-friendly. Adjustable bases generally cost less than high-tech smart mattresses. So you can obtain some of the functionality of a smart bed without having to pay full price.
They offer unique features. Many adjustable bases come with thoughtful design features such as extra outlets for your phone or even massage capabilities. These touches can make spending time in bed much more pleasant.
They're useful for many health conditions. For instance, elevating your head can help minimize snoring and acid reflux, while minimizing your legs might be useful after an injury.
Cons Of Adjustable Bases
They're more technologically limited. Many smart beds have built-in features that allow you to do so much more than adjust their position. These extra features could include the ability to adjust the bed's temperature, firmness level, and feel. An adjustable base won't necessarily allow for this level of customization.
Some people don't like the aesthetic. Many people do not like the way adjustable bases look from a design perspective, and they prefer the look of a more traditional bed frame.
Their set-up can be cumbersome. Setting up an adjustable base often takes a good deal of time and effort, which is a turn-off for some folks. It's also worth keeping this in mind if you have mobility issues.
Final Thoughts
All right, that was a lot of info! So let's recap the main takeaway from this post: the best Sleep Number alternatives. Here they are again:
FAQs
Still have questions about Sleep Number beds? We've put together answers to some of the most frequently asked questions about these mattresses!
What is comparable to a Sleep Number bed?
Sleep Number offers several mattress lines, and they're each designed a bit differently. So the best alternatives to Sleep Number vary depending on the line in question. For instance, the Saatva Solaire is a good alternative to the Sleep Number C Series, the Eight Sleep Pod Pro is comparable to the Sleep Number I Series, the Leesa with an adjustable base is similar to the Sleep Number M Line, and the Nectar mattress with an adjustable base is comparable to the Sleep Number P Series.
Is Sleep Number really worth it?
Sleep Number has been a popular mattress brand for longer than many brands have been in existence. The company offers quality mattresses with a wide range of materials and customizable features. Whether these beds are worth the price really comes down to personal preference. In general, these beds will really appeal to couples who want to personalize both sides of the bed, people with health conditions that require them to sit up or adjust the bed's firmness on a regular basis, and people who are looking for a long-term investment.
What are the problems with Sleep Number beds?
No mattress is perfect. As with any mattress brand, Sleep Number receives its share of complaints. For instance, some people simply don't feel comfortable on Sleep Number mattresses. Another common complaint is that there might be some slight sagging between the air chambers, which could mean the mattress doesn't offer even support and could also make it harder for couples to cuddle near the center of the bed. Finally, some people aren't satisfied with the terms of Sleep Number's warranty. It's definitely worth familiarizing yourself with that warranty before making a purchase.
Marten Carlson
Marten is Senior Editor at Mattress Clarity. He covers the mattress industry as well as sleep science news. He is specifically interested in the connection between sleep and overall health. Marten has written for media publications like Consequence of Sound and received a master's degree in Film Studies from Emory University. He comes from Franklin, Indiana, and spends all the time he can writing, directing, and acting in films. He has directed genre short films and features. His newest film, Starlets, recently premiered at the River Town Film Festival in Clinton, NJ. He also stars in the upcoming thriller, Sour Bear. His next film, At The Hop, is a hot rod actioner with a horror twist.