The online mattress industry is booming. Buying a mattress online is more popular now than ever before, but it's still a new process for many people.
Because you only need a new mattress every 7-10 years, it's pretty likely that you've never had the opportunity to buy a mattress online before. Now, there are hundreds of options available that you can order with the click of a button and have it show up at your doorstep.
So how do you buy a mattress online without actually trying it out in person? Don't worry — it's easier than it sounds. We'll explain everything you should know about buying a mattress online and help you decide if buying an online mattress is a good option for you.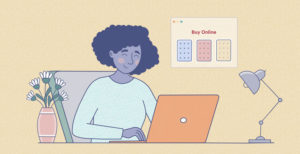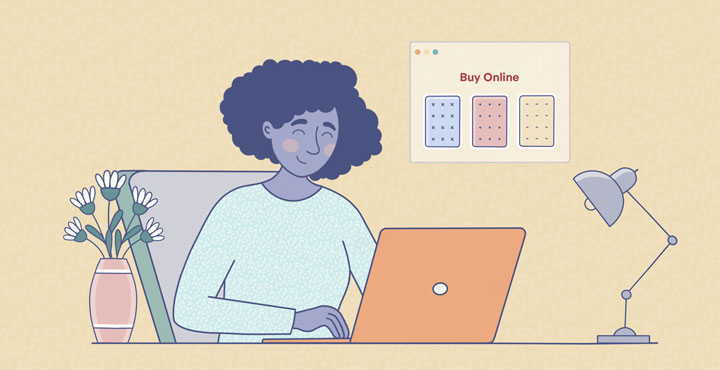 Should You Buy A Mattress Online?
Buying a mattress online can be intimidating, especially for the first time. Although it may seem like too big of a purchase to make online, there are actually a ton of great benefits when you purchase a mattress on the internet.
Pros
Save money. When you shop online vs in-stores, you cut out the cost of the middleman. You'll be able to get a high-quality mattress for a fraction of the price by purchasing from a direct-to-consumer, online mattress company.
Shop conveniently online. No need to carve out time to drive across town and hit up your local mattress or furniture store. Instead, you can shop from the convenience of your home. Plus, you don't have to deal with a pushy salesperson trying to push products at you to make a commission.
Browse an unlimited selection. There are hundreds of online mattress companies to browse online. You can truly do unlimited comparison shopping, unlike the experience you'd have in a store.
Cons
You don't "try before you buy." You won't get the experience of actually feeling and laying down on a mattress before you charge your credit card, which makes some people nervous. Luckily, many online mattress companies offer generous sleep trial periods with free returns (more on that later).
Browsing on your own may be overwhelming. Sure, you don't have to deal with a pushy salesperson, but you may actually want someone to talk you through the options. Some online mattress companies have great customer service and chat functions to fill those gaps, but some may offer a lackluster customer experience.
RELATED: What's the Best Place to Buy a Mattress?
Steps To Buying A Mattress Online
If you decide buying an online mattress is right for you, here's the steps you can take.
1. Start By Researching
If you're like most people, you probably don't know much about mattresses. Or maybe you think there's not much to know. It's just a mattress, right? Aren't they just a one-size-fits-all product?
Surprisingly, there are a lot of distinguishing factors between mattresses, and depending on your sleep type, body type, and other conditions/preferences, some mattresses will be much better for you than others.
Some of the main factors to look into include:
Which type of mattress (i.e. memory foam, innerspring, latex, hybrid) will be best for you based on your sleeping position?
Which type of mattress will be best for your body type?
Do you need a mattress with certain cooling factors?
Do you need a mattress with certain qualities that are good for pain relief (i.e. pressure relief, spine alignment)
You can learn all this and more by checking out our full mattress buying guide.
2. Start Browsing Online Mattress Brands
Once you've done your basic research, you're ready to start checking out some top options. You can use our mattress guides to help you discover the top brands for each mattress type:
Now you can start learning about some of the top online mattress companies like Casper, Purple, Tuft & Needle, Nectar, Saatva, GhostBed, Brooklyn Bedding, and more.
3. Read Online Mattress Reviews
Now that you're familiar with some of the best brands, you can start narrowing down your options. When you're ready to start learning about specific mattresses (sometimes brands offer upwards of 10 different mattresses!) you can read online mattress reviews.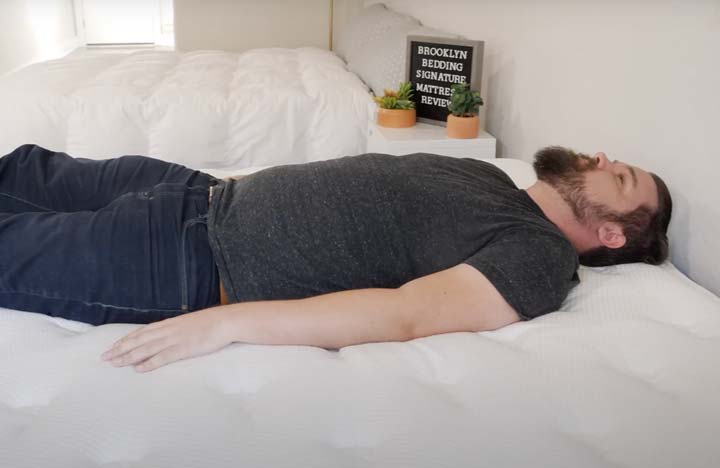 Here at Mattress Clarity, we personally test each mattress we write a review on, so you see a personal account of what each mattress is like. We test out the mattress in different sleeping positions and evaluate its comfort and support levels based off of our extensive industry research.
You can also check out our video reviews to see Marten or Joe testing these mattresses out in real-time!
4. Compare Your Top Picks
At this point, you've probably got a couple top picks in mind. Comparison shopping is easier than ever when you're doing it online!
Take a look at our mattress comparisons to see how different mattresses stack up side-by-side. This will help you figure out where each mattress shines and you can learn which one will be best suited for you.
5. Check For Savings To Get A Good Deal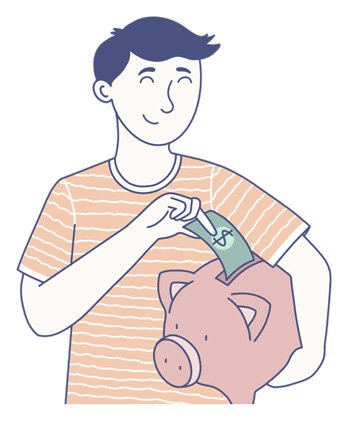 One of the benefits with purchasing a mattress online is that you get the mattress for a better price by cutting out the middleman. You also have a unique advantage when shopping online to scour the internet for the best deals and coupons.
Before buying a mattress, you may want to check out our mattress coupons page that is regularly updated with the best deals on mattresses. If you have some patience, you can also learn about the best time to buy a mattress (hint: mattress companies offer big discounts during holiday periods like Presidents' Day, the 4th of July, and Black Friday).
Important Tips For Buying A Mattress Online
Before you buy a mattress online, there are a few important tips to keep in mind:
Check the sleep trial/return policy. When you're buying a mattress online that you haven't had the chance to try out in person yet, it's especially important that you know what the sleep trial/return policy looks like. Most brands offer at least a 100-night risk-free sleep trial period, during which you can return the mattress for a full refund if you're unsatisfied.
Know that it may take up to 30 days to adjust to the new mattress feel. It's totally normal for it to take some time for your body to adjust to a new mattress and break it in. If this is your first time sleeping on a new bed-in-a-box mattress, it may feel especially strange at first.
Be sure to check the warranty. Warranties aren't the most stimulating reading material, but it's important that you know what voids your mattress warranty. If you void the warranty by something as simple as using an improper foundation, you'll wish that you read the warranty before bringing the bed into your home.
Read customer reviews. Customer reviews are a great place to look for an honest review of the mattress from someone who has completed the purchasing journey. You can search to see some of the benefits other customers experienced (i.e. back pain relief) to see if the mattress will give you what you're looking for. Just remember to take some of the negative reviews with a grain of salt.
If you follow this basic advice, you should be setting yourself up for success.  The decision to buy a mattress online can be a great one, as there are now a whole lot of great options out there.
Check out the best online mattresses guide we've put together, and good luck with your search.