Bamboo is a magical plant that can be transformed for use in a crazy amount of products- from flooring to bedding. Trust us when we say it makes for some super comfortable bed sheets.
I've tested a number of bamboo sheets, and now you can find them all in one place! Take a look at our best bamboo sheets for the year!
Our Top Picks
Best Durable – Luxome Luxury Sheets
Luxome Luxury Sheet Set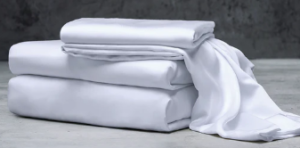 The LUXOME Luxury Sheet Set offers 400 thread count bamboo for sleepers who want soft, cool bedding.
Mattress Clarity Score
4.90 / 5
Who is it for?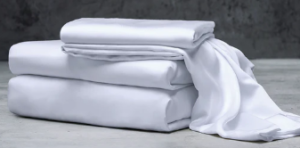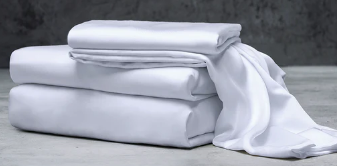 The Luxome Luxury Sheets are a high-quality, long-lasting option that many sleepers are sure to love. Made from 100% viscose (derived from bamboo), these sheets provide a silky feel that pave the way for a great night's sleep.
The quality of these sheets that Luxome emphasizes the most is durability. Luxome markets their sheet set as having the highest thread count for bamboo sheets: 400. Often, thread count is an indicator of softness and durability.
As a luxury option, Luxome uses quality materials. In fact, this sheet set was STANDARD 100 OEKO-TEX certified. So, it passes tests for safe materials.
Of course, with bamboo in the construction, these Luxome sheets are fantastic for hot sleepers.
With 17" deep pockets, these sheets should fit most mattresses, even with the inclusion of a mattress topper.
What Makes the Luxome Luxury Sheets Stand Out?
These sheets are offered in a number of size options: twin, twin XL, full, queen, king, California king, and split king.

Luxome offers free shipping within the contiguous US and a 30-night sleep trial. 

Shoppers can choose between eight elegant color options. 
Read our full Luxome Luxury sheet set review.
Best Luxury – Cozy Earth Bamboo Sheets
Who is it for?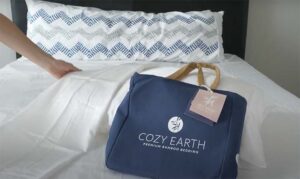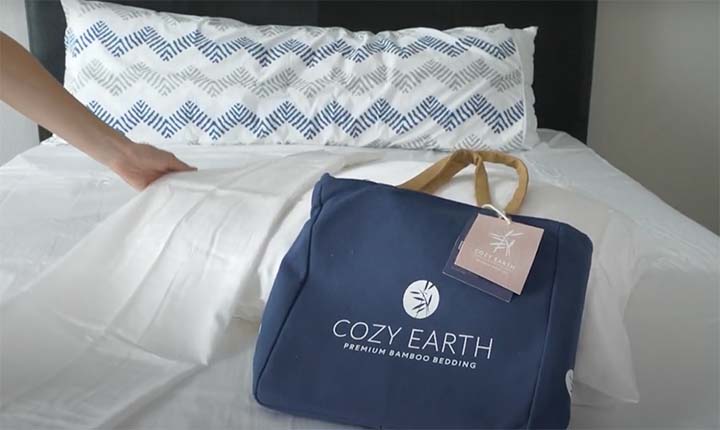 When I think of luxury, I think of celebrities. So when Cozy Earth's bamboo sheet set got endorsed by Oprah as the softest sheets she'd encountered, I paid attention.
True to Oprah's endorsement, the Cozy Earth bamboo sheets feel soft to the touch. This is a common characteristic of bamboo sheets, and could also be because of the company's secret weave style.
Cozy Earth has a direct supply chain with all steps of production to ensure responsible production on its sheets.
While you might have to pay extra for these luxury sheets, they'll be worth the investment. Bamboo is durable, and you'll have 100 nights to test these sheets out to see if they're right for you. If you keep them, you get a 10-year warranty!
Better yet, Cozy Earth recently introduced a few neutral shade options for those looking for more than just white.
What Makes the Cozy Earth Sheets Stand Out?
They're incredibly soft to the touch and will make you feel like you're sleeping in luxury.
They're a durable set of sheets for the price.
The Cozy Earth sheets will be a fantastic choice for hot sleepers to look into.
Read our full Cozy Earth Bamboo Sheets review.
Best Bamboo/Cotton Blend – Brooklyn Bedding Deep Pocket Bamboo Cotton Sheets
Who is it for?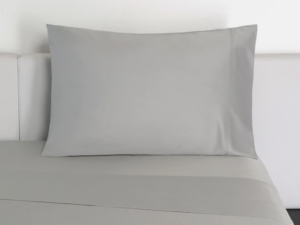 If you're more familiar with cotton sheets, and want to try bamboo sheets, a bamboo/cotton blend is a great way to test the waters. Brooklyn Bedding makes a set of bamboo/cotton sheets that are a happy medium for cotton lovers.
These sheets have the best qualities of both materials. There's a crispness to these sheets, which is common in cotton sheets. But they feel soft and satin-like, which is what bamboo is known for. If you're a hot sleeper, bamboo and cotton are great materials for their breathability and moisture-wicking properties.
Brooklyn Bedding only sells this in limited bed sizes, but out of all the picks on this list, they're the most affordable after discounts.
What Makes the Brooklyn Bedding Deep Pocket Bamboo Cotton Sheets Stand Out?
They're a great option for cotton lovers who want to try bamboo sheets.
Hot sleepers will love these sheets because they're lightweight, breathable, and moisture-wicking.
They're fairly affordable as well.
Read our full Brooklyn Bedding Bamboo Cotton Sheets review.
Best Cooling – Layla Premium Bamboo
Who is it for?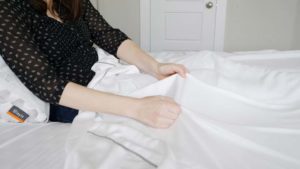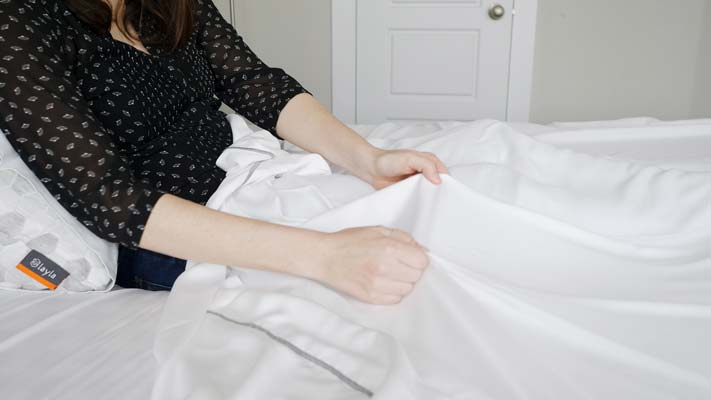 Many bamboo sheet sets are going to be great for hot sleepers. But one set stood out to me as the best cooling because they actually felt cool to the touch: the Layla Premium Bamboo sheets.
In addition to being breathable and moisture-wicking, the Layla sheets felt ice cold even out of the packaging. And using them all night, they stayed nice and cool.
Layla offers a 120-night trial period to let you really see if these are the sheets for you. If you keep them, you get a five-year warranty. They only come in gray or white, but they should still match color schemes really well.
Layla offers great deals year round. So if you're constantly on the lookout, you'll get a cool night of sleep for a great price, too.
What Makes the Layla Premium Bamboo Sheets Stand Out?
Whether you pull them out of the package or are climbing into bed, these sheets will feel very cool to the touch.
They're a durable set with simple care instructions, so with good care, they should last you at least five years.
They're some of the best bamboo sheets for the money because you can find great deals year round.
Read our full Layla Bamboo Sheets review.
Best Organic – Sweet Zzz
Sweet Zzz Organic Bamboo Sheets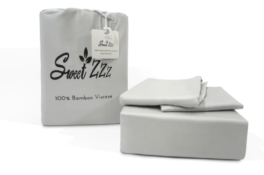 If you want luxuriously soft organic bamboo sheets, look no further than Sweet Zzz's sheets. The bamboo is grown in organic bamboo forests and has an OEKO-TEX certification for added safety.
Who is it for?
When you think of bamboo sheets, you may assume that means that they're automatically organic, but Sweet ZZZ takes the extra step with these sheets, as they're 100% Viscose from organically grown bamboo and OEKO-TEX Class 1 certified.
Thanks to its quality materials, the Sweet ZZZ sheets should feel soft to the touch. They're so soft, that they're listed on the company's site as certified as safe for babies and people who have sensitive skin.
On top of being super soft, the Sweet ZZZ sheets are also cooling. They offer temperature regulation, which is essential for hot sleepers.
The Sweet ZZZ sheets come in a wide range of sizes and colors, have 15" deep pockets, and offers a 50-night sleep trial. The best part? If you love your sheets, Sweet ZZZ offers a lifetime warranty on these sheets!
Note: Our testing for this product is still in progress, but we can guarantee that our experts have firsthand knowledge of the best products in the industry, and we wouldn't recommend anything that we wouldn't use ourselves!
What Makes the Sweet ZZZ Sheets Stand Out?
They're certified organic and safe for all members of the family, including children and babies.
Shoppers have six color options to choose from.
A wide selection of sizes are available: twin, twin XL, full, queen, king and Cal king
Our full Sweet ZZZ Organic Bamboo Sheets review is coming soon!
Best Soft – Plushbeds Bamboo Sheets
Plushbeds Bamboo Sheet Set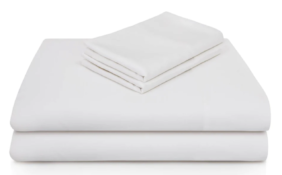 The Plushbeds Bamboo Sheet Set is a smooth, lightweight product that's made to regulate your body temperature in both warm and cold months.
Who is it for?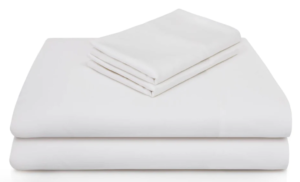 Those searching for an unbelievably soft sheet set should certainly test out the Plushbeds Bamboo Sheet Set. Even with multiple runs through the washer and dryer, Plushbeds claims these sheets should maintain the same silky softness sleepers fall in love with the first night of use. They are also marketed for sleepers with sensitive skin.
As bamboo sheets, this product excels at cooling. The thermoregulating properties should help keep sleepers warm in the colder months and cool in the warmer ones.
These sheets are made out of 100% rayon from bamboo. With a twill weave and durable construction, this set should last sleepers a while.
One of the most outstanding qualities of this sheet set is how deep the pockets are. This sheet set should fit mattresses up to 22 inches in height.
You can find this set in a number of different sizes: twin, twin XL, full, queen, king, California king, and split king.
What Makes the Plushbeds Bamboo Sheets Stand Out?
Those with allergies should love how this sheet set is anti-microbial and hypoallergenic.

There's an impressive five-year warranty for these sheets.

Plushbeds offers these sheets in a variety of colors: white, citron, rain, ivory, ash, and driftwood.
Our full review is coming soon.
Best Deep Pocketed Bamboo Sheets – Puffy Bamboo
Who is it for?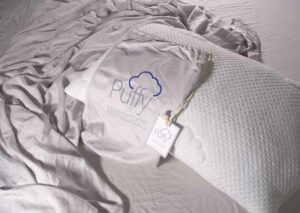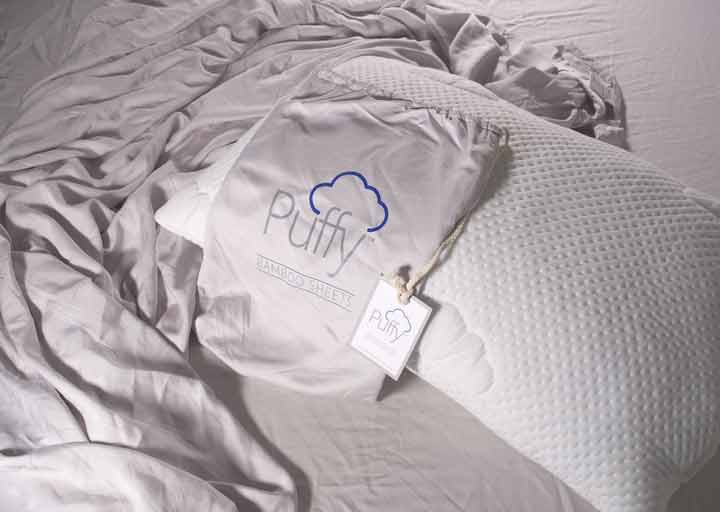 Puffy's Bamboo sheets are our favorite deep pocketed bamboo sheets. They work excellently for beds up to 15″ deep, so they should suit most models.
I'm a hot sleeper, and I have not once slept hot and sweaty under these sheets. This is because bamboo does a great job at keeping people cool. It's great at wicking moisture away and has exceptional breathability.
These sheets are fairly lightweight and feel very soft to the touch. This is a common characteristic of both bamboo and the sateen weave used to construct these sheets.
RELATED: Percale vs Sateen Sheets
They have deep pockets to fit mattresses up to 15" tall, and they have an extra band in the corners to keep the fitted sheet on your bed.
Bamboo is very durable, too. Puffy lets you test these sheets out for 101 nights, and if you keep them, you get a lifetime warranty. What's not to love?
What Makes the Puffy Bamboo Sheets Stand Out?
They're lightweight and will keep hot sleepers cool at night.
They feel much softer and more similar to satin over the crisp feel you'll find in cotton sheets.
Even though I toss and turn frequently during the night, the fitted sheet stays put.
Read our full Puffy Bamboo Sheets review.
What to Consider Before Buying Bamboo Sheets
Fabric
Labels on bamboo sheets can be confusing. While many say the sheets are made from 100% bamboo, sometimes they also say that the sheets are made from rayon from bamboo or rayon viscose from bamboo.
Sheets can only be labeled as bamboo sheets if they are made directly from bamboo fiber, according to the FTC. Textiles made from rayon (or viscose) that are created using the bamboo plant are labeled as rayon or viscose from bamboo.
That is why you will often see labels like "100% Viscose – Made from Bamboo" on your bamboo sheets.
Care
Bamboo sheets need to be treated with care to ensure their longevity. Instructions accompanying these sheets and sometimes be lengthy and detailed. If you follow them you'll enjoy your sheets for an extended period of time.
In general, when washing your bamboo sheets, use cold water and a delicate cycle to wash your sheets and a low tumble dry. Avoid any bleach or fabric softeners.
Bamboo sheets are also prone to wrinkles. To help reduce wrinkles, remove your sheets from the dryer as soon as you can and immediately place them on your bed. In some instances, you may need to iron your sheets.
Environmental Considerations
Thanks in part to its quick growing and sustainable nature, bamboo is a very environmentally friendly plant. Bamboo fiber is hypoallergenic, moisture wicking and strong, making it great to weave into sleep products like sheets.
You will see many of the health benefits of natural bamboo listed on bamboo bed sheet packaging.
Bamboo bed sheets have received some criticism over the use of toxic chemicals in the bamboo fiber manufacturing process. In addition, the FTC warns consumers that natural bamboo qualities, like antibacterial characteristics, are lost when bamboo plants are turned into fiber.
If purchasing bamboo bed sheets are important to you for environmental reasons, it is worth looking into the manufacturing process of each brand. Some are transparent about the chemicals and processes used in their production.
Want to know more? Read our article on bamboo manufacturing.
Price
Bamboo sheet sets range in price but more often than not fall on the pricier side (compared to their cotton counterparts).
While cotton sheets may be viewed in terms of thread count (though there is no black and white rule on this), bamboo sheets are often considered softer than cotton and may have a lower thread count number or no number attributed to them at all.
FAQs
If you've never used bamboo sheets before, don't stress! I've gathered and answered some of the most frequently asked questions about this type of sheets!
What's the difference between Tencel and bamboo sheets?
One of the biggest differences between bamboo and Tencel sheets is just the material used to make them. Bamboo is made from, you guessed it, bamboo! Tencel sheets are made from eucalyptus wood pulp.

Both have moisture-wicking properties and both are very breathable, making them great for hot sleepers. But Tencel sheets tend to feel more cool to the touch over bamboo.

If you'd like to read more about the differences between these two types of sheets, read our eucalyptus vs bamboo article!
Are bamboo sheets good?
Even as someone who might be biased towards bamboo–this is my favorite type of sheet after all–yes! Bamboo sheets have some objectively good qualities to them.

If you're not a big fan of crisp cotton sheets, bamboo sheets will often feel more soft and satin-like over that pressed shirt feel that cotton sheets can have.

They're very breathable and moisture-wicking, as mentioned, so hot sleepers often enjoy using bamboo sheets to stay cool.
How do you wash bamboo sheets?
If you've never used bamboo sheets before, this could be a big question you have. Luckily, the answer is simple: they can be machine washed!

Of course, it's best to follow whatever instructions the manufacturer provides you.

In my experience, you'll often see recommendations of washing with cold water and on a gentle wash cycle. And to dry, most companies and manufacturers will recommend tumble drying on low heat.
Do bamboo sheets pill?
While bamboo sheets have a tendency to wrinkle more than others, the good news is that bamboo sheets are very durable. Because of this, you won't have to worry about your bamboo sheets pilling after multiple washes.