Feeling calm and getting quality sleep is a top priority for many families. And many brands have realized that weighted blankets aren't just for adults; kids can use them, too! There are now plenty of lighter weighted blankets made just for kids.
If you're a parent who wants your child to sleep better throughout the night, or could use something to help them feel calm, I've got a list of the best weighted blankets for kids to help out.
Our Top Picks for the Best Weighted Blankets for Kids
Editor's Pick – Bearaby Nappling
Who's it for?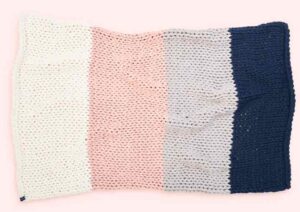 When it comes to high-quality weighted blankets, no one does it quite like Bearaby. That's because this brand makes nothing but weighted blankets! Naturally, Bearaby hasn't forgotten about the kiddos. The Bearaby Nappling gets all of its weight – either 6 or 8 lb – from doubled up cotton fabric. No glass bands or sand here!
The Nappling works best for kids because it has been hand-knit with tight loops and in a size that fits best for small bodies. With such low weight options, most young children should be able to enjoy the calming effects of the Nappling.
And let's face it, kids will be kids, and this blanket is bound to get dirty. One of the best things about all Bearaby blankets is that they are machine-washable. Just be sure it's the only thing you're washing at the time, and the Nappling will be good as new.
What Makes the Bearaby Nappling Stand Out?
Bearaby is all about weighted blankets, and the Nappling is the brand's kid-specific weighted blanket.
It comes in three solid color options, with one multi-color option for a bit of variety.
It can help your kiddos sleep soundly all night long.
Best Cooling – Sleep Number True Temp Weighted Blanket
Who's it for?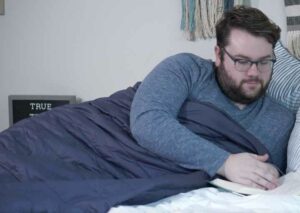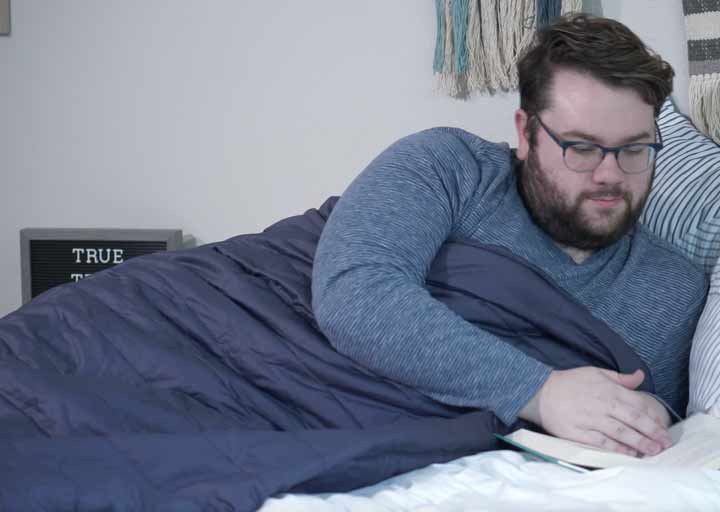 Sleeping hot is an enemy of good, quality sleep. And if your children run hot throughout the night, but want the calming effects of a weighted blanket, look at the Sleep Number True Temp weighted blanket. It's been optimized for temperature regulation.
This weighted blanket will work better for older children, or heavier children who are at least 100 lb, as the lowest weight option for this blanket is 12 lb. But it also comes in a 20 lb option for adults who are hot sleepers as well.
What makes this a good option for hot sleepers is in the outer shell of this blanket. Sleep Number infused something called 37.5 active particle technology into the polyester cotton blend cover. This technology will adapt to your body temperature in real time by dissipating body heat when you start to overheat.
What Makes the Sleep Number True Temp Weighted Blanket Stand Out?
It's better for older kids who can handle a 12 lb blanket.
It features 37.5 active particle technology which works by dissipating heat away from your body, so your young ones will stay cool.
There's also a 20 lb option for adults who want to use a cooling weighted blanket.
Read our full Sleep Number True Temp weighted blanket review.
Best for Anxiety – Brooklyn Bedding Chunky Knit Weighted Blanket
Who's it for?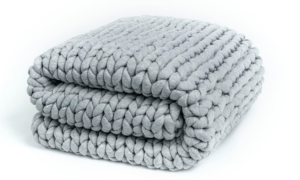 It's pretty common knowledge by now that weighted blankets are designed to help you stay calm, and feel safe. They do that by stimulating something called deep pressure touch (DPT). This is a hugging sensation, which has been proven to help reduce cortisol levels and increase melatonin production.
And as your children grow older, stressors from extracurricular activities and school increase. If you want your growing child to stay calm, a weighted blanket like the Brooklyn Bedding Chunky Knit weighted blanket is a good choice!
It comes in 10 and 15 lb options, with the 10 lb option being better for kids anywhere from 80-120 lb. Its jersey fabric is full of soft polyester and has been hand-knitted to give a custom and unique feel. Reduced cortisol levels and increased melatonin production mean your child will feel less anxious and get better sleep!
What Makes the Brooklyn Bedding Chunky Knit Weighted Blanket Stand Out?
The jersey fabric feels buttery soft and smooth, giving a pleasant feel.
Weighted blankets are designed to help stimulate Deep Pressure Touch, which is that hugging and calming sensation that weighted blankets are known for.
The lower option is 10 lb, which can help with kids as they start getting older and help them sleep better.
Best Affordable – Luxeome Cooling Weighted Blanket
Who's it for?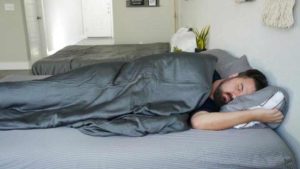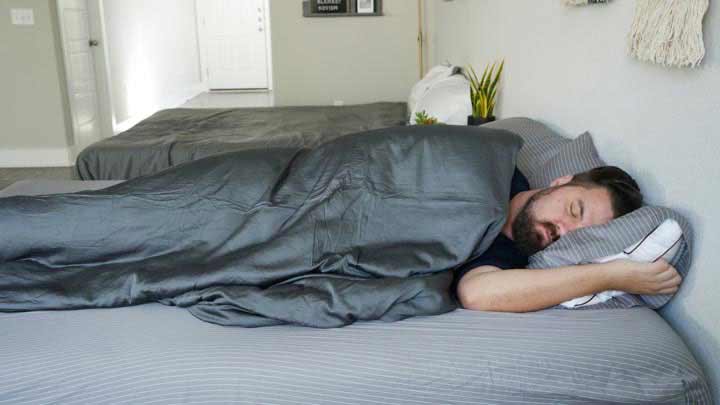 Weighted blankets are made from considerably more materials than your standard blanket. Because of this, they can be quite an investment. It's not uncommon to see weighted blankets cost anywhere from $50-$100+.
LUXOME is a brand known for its luxury products, but if you're on the hunt for a weighted blanket for your kid, the LUXOME Cooling weighted blanket is a great option – especially when the holiday season rolls around. The 8 lb option is intended for children, and it regularly costs around $100. However, when discounted, this weight option dips a good amount below a triple digit number.
With "cooling" in the name, this blanket can also keep your young one cool while they use it. LUXOME uses a lyocell based from bamboo, which makes this blanket both very breathable and moisture-wicking. It'll provide warmth, as a blanket should, but you won't feel hot and sweaty underneath it.
What Makes the Luxeome Cooling Weighted Blanket Stand Out?
In comparison to other blankets out there, this is an affordable option – especially when the holiday discounts roll around.
It won't trap heat thanks to bamboo lyocell which is moisture-wicking and breathable.
With a range from 8 to 30 lb, this is a weighted blanket that works for just about anyone.
Read our full LUXOME Cooling weighted blanket review.
What to Consider When Looking for the Best Weighted Blankets for Kids
Weighted blankets are a very popular choice for many sleepers, not just kids, because of how they make us feel. But there are a few things to consider before clicking "check out."
Are Weighted Blankets Safe for Kids?
In a word, yes, weighted blankets are safe for children to use. With the exception of babies and toddlers, children can use weighted blankets just like adults can. However, what is considered safe for children depends on how much your child weighs.
What Size Weighted Blankets are Best for Kids?
Just like purchasing a weighted blanket for adults, you should keep something called the "10% rule" in mind when shopping for a weighted blanket for your child. This rule is simple: just take 10% of your child's body weight (or divide it by 10), add or subtract a pound or two, and that will give you a good starting point for your weighted blanket shopping.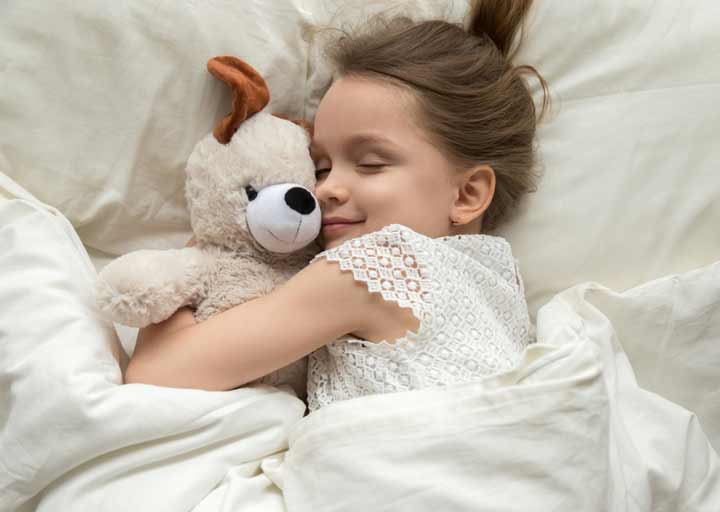 To put this into practice, if your child weighs roughly 80 lb, 10% of that is 8 lb. So your child could use a 6, 8, or 10 lb weighted blanket. Ideally you'd stick with 8, but if the lower or higher weight is your only option, you should be ok to go with that.
With this in mind, the lowest weight I've seen for a weighted blanket is around 5 lb. Children starting at around 50 lb is what I would consider the safest weight for them to start using weighted blankets.
Be sure to check out our weighted blanket calculator to help you find a weighted blanket for everyone in your family!
FAQs
Do weighted blankets work for kids?
Because weighted blankets stimulate deep pressure touch, they work on just about anyone. These are a good option to consider if your child is having trouble sleeping through the night, as deep pressure touch can help with an increase of melatonin production. This also helps reduce cortisol, which can help your kiddo feel safe while they sleep.
Do weighted blankets help with kids who kick?
Weighted blankets can be quite heavy. Kids might have trouble kicking these blankets, or could tire more quickly because of how heavy they are. This can help kids who kick stop doing so. Just make sure the weight is safe for their size.
How does a weighted blanket calm autistic kids?
Though I'm not a trained professional for handling autism, weighted blankets can be a route for helping autistic children. For the same reason that many people use them, children with autism can experience lower cortisol levels while using a weighted blanket. If your child has sensory issues, the blanket could potentially help bring them back to a calm state.

Of course, please consult a qualified professional who understands your child's autism to fully help.

RELATED: Weighted Blankets for Autism
Tony Klespis
Tony is a staff writer at Mattress Clarity where he analyzes sleep products and appears in review videos. He earned a B.A in English from Sam Houston State University and a M.A in Mass Communication from Texas State University. When he isn't writing about sleep products, Tony loves to unwind with a good book or can be found playing Pokemon Go outside with his friends, or cuddling with his cat, Penguin. He's always down to try a new, local restaurant and try new foods.