Do you live in a dry area, or are just dealing with dry air while you sleep? Suffering from some persistent congestion? Humidifiers are the answer! There are many types of humidifiers out there, from cool mist, to warm mist, to ones designed specifically for children.
To help make the decision making process easier, I've rounded up a list of the best humidifiers. There's something for everyone, so keep reading to see my top picks.
Our Top Picks for the Best Humidifiers
Best Overall – Levoit Smart Humidifier
Who's it For?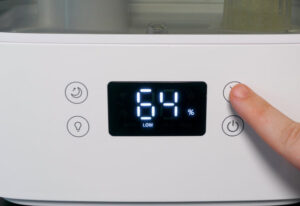 The Levoit Smart humidifier is a truly smart humidifier for your room; you can set it and forget it! There are four main mist settings: low, medium, and high, with the final one being an "auto mode." This setting will turn the humidifier on when your room dips below an optimal humidity level (usually around 40-60%), and will shut off once you've reached it.
It's a cool mist humidifier, and is rather quiet to use. And because you can opt for a "sleep mode" which will turn off the LED light screen, you can use this while you sleep and not be woken up by it.
What Makes the Levoit Humidifier Stand Out?
It has a built-in sensor that acts as an automatic shut off when your room reaches a desired humidity level.
You can use your smartphone as a remote control by downloading an optional app.
It has a "sleep mode" that will turn the lights off for those that are sensitive to light while they sleep.
Best Cool Mist – Honeywell
Who's it For?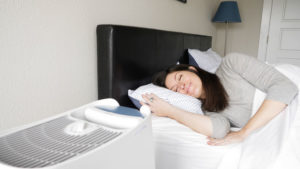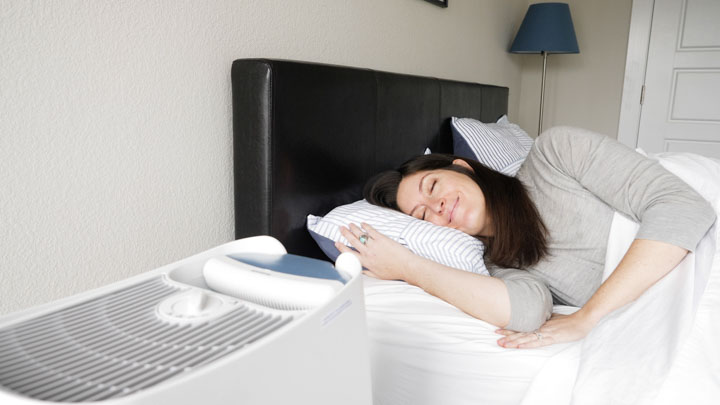 Cool mist humidifiers utilize something called a "nebulizer" to turn water into mist instead of a heating element. One of our favorite cool mist humidifiers here at Mattress Clarity is the Honeywell Germ Free Cool Mist humidifier.
True to its name, the Honeywell humidifier will produce clean, germ and bacteria-free mist. It's able to do this with a built-in UV light that will eliminate germs and bacteria before the mist leaves the machine. It also has a water filter for an extra level of purification.
What Makes the Honeywell Humidifier Stand Out?
It has a UV light built in that will destroy bacteria before the mist is released.
It's best for average sized rooms, reaching up to 400 sqft.
Depending on the setting, it can run a full 24 hours before needing to be refilled.
Read our full Honeywell Germ-Free Cool Moisture humidifier review.
Best Cheap – AquaOasis Cool Mist
Who's it For?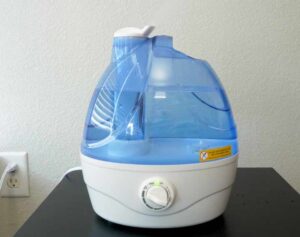 Many people turn to humidifiers to help with dry skin or to help hydrate their sinuses. Some humidifiers can cost a pretty penny, but the AquaOasis Cool Mist Humidifier is a great option for those that are on a budget; you can find it discounted on Amazon for under $40.
The AquaOasis has two size options on Amazon, with the smaller being better for budget-minded shoppers. It comes in three main components: a base, the water tank, and a directional nozzle. It won't take up a lot of space, the setup is simple, and it's very easy to use.
What Makes the Aqua Oasis Cool Mist Humidifier Stand Out?
You won't have to break the bank to get the benefits of a humidifier – this will cost you under $40 on Amazon.
It is relatively small and compact, making it easy to store when you don't need it.
It has a simple set up and is very easy to use.
Best Warm Mist – Vicks Warm Mist
Who's it For?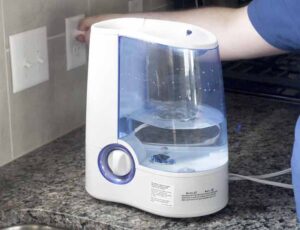 Warm mist humidifiers work by heating up the water to produce mist. The Vicks Warm Mist Humidifier is a stand out for warm mist humidifiers. This humidifier has a piece called the "cooling tower," which is where the mist comes out. You can place an additional piece called the medicine cup right on top.
This is designed to hold a liquid inhalant to help out those who are especially stuffed up during the night. Sleeping while congested can be hard on your sinuses by drying them out. This humidifier will work to keep your airways hydrated all while fighting congestion.
What Makes the Vicks Warm Mist Humidifier Stand Out?
You have the option to add a liquid inhalant into a medicine cup, which will mix with the mist to help you fight congestion.
It has a 24 hour run time before needing to be refilled, depending on the setting.
It should stay relatively quiet throughout the night.
Best on Amazon – Vicks Filter Free Cool Mist
Who's it For?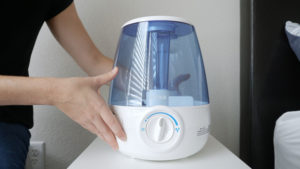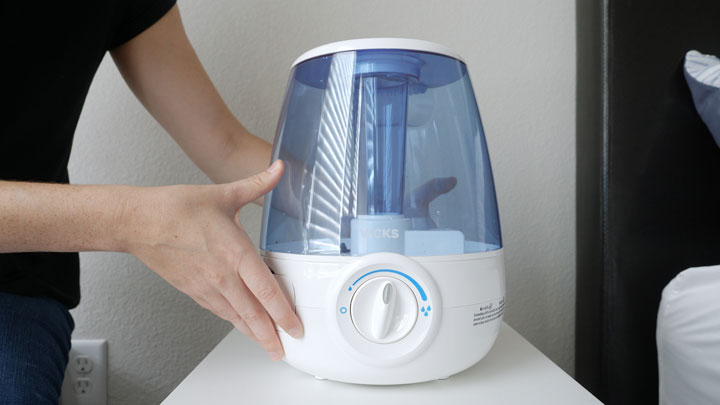 While filters can help add an extra layer of cleanliness to your humidifier, they can be a bit tricky to clean. For those who want a simple to clean humidifier and the lightning fast shipping from Amazon, check out the Vicks Filter Free Cool Mist Humidifier.
This humidifier is great for most average-sized rooms and can last about 30 hours with its 1.2 gallon water tank. It has a simple turn dial within the base, which makes it easy to use, and it can work in rooms for adults and children alike.
What Makes the Vicks Filter Free Cool Mist Humidifier Stand Out?
You can order it through Amazon, making shipping a breeze.
It doesn't have a water filter, which makes cleaning it very easy.
It's simple enough for kids to use.
Read our full Vicks Filter Free Cool Mist humidifier review.
Best Ultrasonic – Crane Ultrasonic Cool Mist
Who's it For?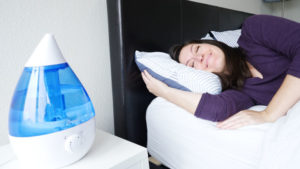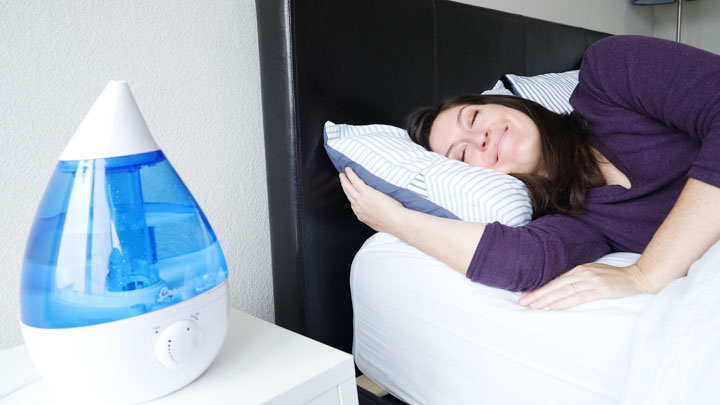 Cool mist humidifiers will often be called "ultrasonic" humidifiers. This is because the water is vibrated at extremely high frequencies to turn into mist. One of our favorite ultrasonic humidifiers is the Crane Ultrasonic Cool Mist humidifier.
Some ultrasonic humidifiers can be loud because of this process, but the Crane has a relatively quiet operation. Crane makes this humidifier with a nozzle at the top to direct the mist where you need it to go. And it's made with "clean control" material which fights the buildup of mildew and bacteria.
What Makes the Crane Ultrasonic Cool Mist Humidifier Stand Out?
It can cover an area up to 500 square feet.
Crane uses something called "clean control material" which fights the growth of bacteria, keeping the water and machine very clean.
It comes in 11 different colors for those who want variety.
Read our full Crane Ultrasonic Cool Mist humidifier review.
Best for Babies & Kids – Vicks Starry Night Cool Mist
Who's it For?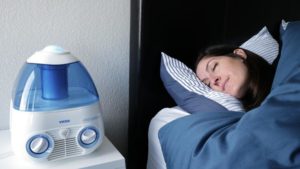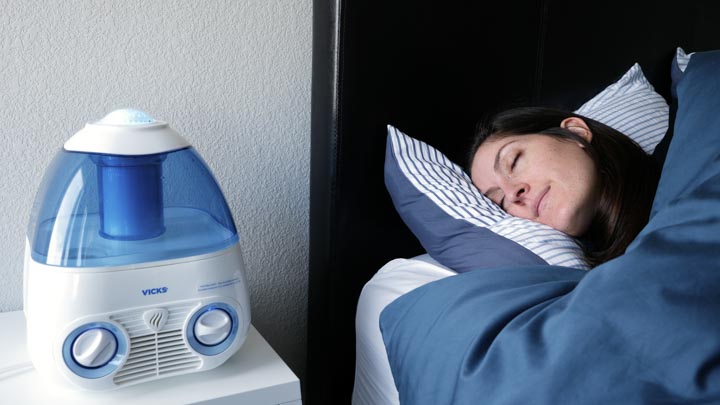 If your kiddo is needing a humidifier, but still needs a night light, the Vicks Starry Night Cool Mist humidifier is the perfect choice. This humidifier will project a starry night on the ceiling from a lens on the top of the humidifier. This provides a gentle light for the little ones that aren't ready for total darkness while they sleep.
And if your child is especially stuffed up, you have the option to add a Vicks Vaporub pad in an aroma pad compartment in the base. It's been designed for small spaces, so it works perfectly well for smaller rooms and nurseries.
What Makes the Vicks Starry Night Humidifier Stand Out?
It has a night light that projects stars onto the ceiling, perfect for babies and young children.
You have the option to add a Vicks vapor pad if your kiddo is especially stuffed up.
It works best for small sized rooms or nurseries.
Read our full Vicks Starry Night Cool Mist humidifier review.
What Does a Humidifier Do?
Humidifiers have one major goal in mind: hydration. They work by creating a mist, through a heating element or a nebulizer with ultrasonic frequencies, to put moisture back into the air. They're especially helpful for those who live in dry climates.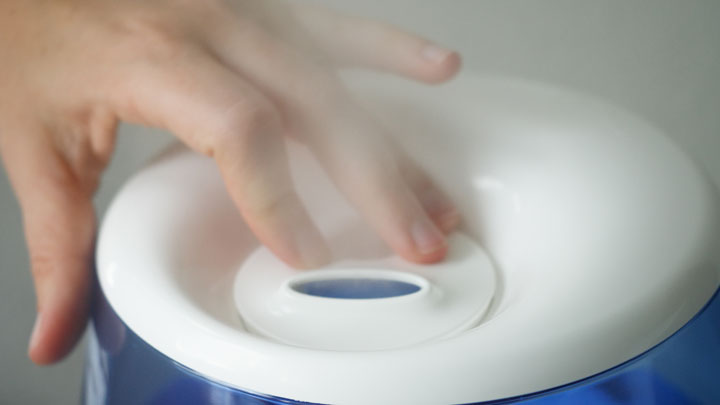 The hydration that humidifiers provide can be helpful in a few different ways. Most people use them while they sleep to help with congestion. When your airways are hydrated, your body can more efficiently clear congestion, helping you breathe much easier while you sleep.
You'll also benefit from more moisture in the air if you deal with dry skin or dry hair. Humidifiers can work for small rooms, like bedrooms, or large rooms like general living areas. Be sure to pay attention to the square footage range the manufacturer specifies.
Vaporizer vs Humidifier
Vaporizers are a form of humidifier. Vaporizer is another word for a warm mist humidifier, because vaporizers work by boiling the water to produce water vapor.
There's no distinct benefit from using a vaporizer or warm mist humidifier over a cool mist humidifier. By the time you breathe in the mist, it'll be room temperature anyway.
However, if your child needs a humidifier, I'd recommend using a cool mist humidifier. The water in a vaporizer has to be boiled, so if the humidifier is knocked over while in use, it could harm your child.
Diffuser vs Humidifier
You may think that because some diffusers work by producing steam, they do the same thing as a humidifier. This isn't necessarily the case. Diffusers work mostly by releasing an essential oil into the air. These are predominantly used for aromatherapy.
Most humidifiers only produce a mist, and work to add moisture into the air. However, there are some humidifiers on the market that are intended to work as both a diffuser and a humidifier.
Benefits of Using a Humidifier
As mentioned throughout this list, the major benefit of using a humidifier is having an optimal humidity level in your living environment. Experts agree that you should have a humidity level of 40-60%.
When you have an optimal humidity level, your body is more likely to efficiently clear congestion. You'll also see benefits like less dry skin or dry hair.
When to Use a Humidifier
Most people turn to humidifiers in the winter months, when indoor heating can make homes quite dry. Winter is also when cold and flu season rolls around, and humidifiers can provide much-needed soothing to sore throats and stuffy noses. But really, humidifiers are great to use year-round.
If you live in a dry climate, having that optimal humidity level within your living spaces is great for your overall health. But if you live in a more humid environment, you might not need it all year, and will only need to use it when you're congested.
How to Use a Humidifier
Humidifiers are generally easy to use. Most come with preset mist levels or have a simple dial that you set to either a low, medium, or high setting. Humidifiers come in all shapes and sizes. Some have top-fill water tanks, while others need to be flipped over to be filled.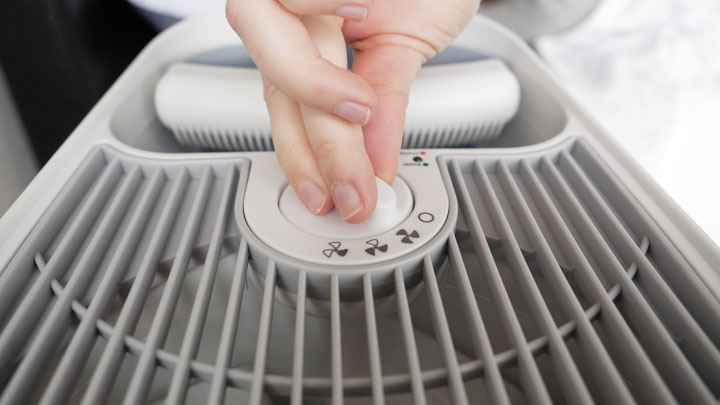 Some humidifiers come with auto shut-off features when the room has met an optimal humidity level, or if the water tank is empty. Most humidifiers, however, need to be manually turned off when you don't need them on anymore.
Best Place to Put a Humidifier
Many people use humidifiers in their room while they sleep. You can place them on a bedside table or on a dresser. Others use them for larger spaces like living rooms (if the humidifier has the capacity to fill up a space that large).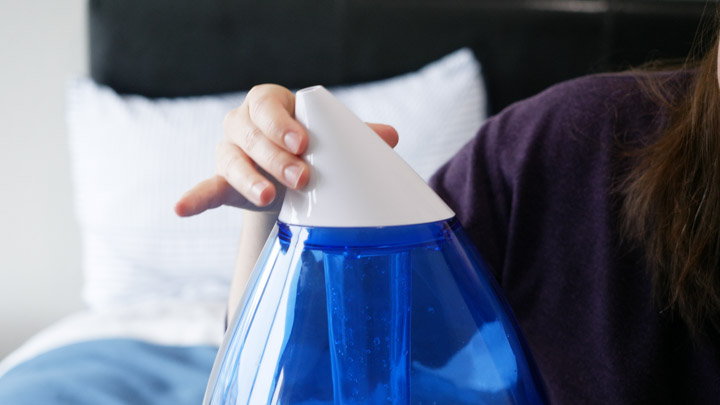 Regardless of where you place it, it's recommended to keep the humidifier, at a minimum, 6" away from the nearest wall. And if it has a directional nozzle, keep it pointed away from a wall.
Because it is water vapor, it will become condensation if it's that close to the wall, which could cause water damage to your home.
How to Clean a Humidifier
Most humidifier manufacturers will have an instruction booklet that tells you how to clean its specific humidifier. It all depends on what your humidifier comes with and how many pieces there are.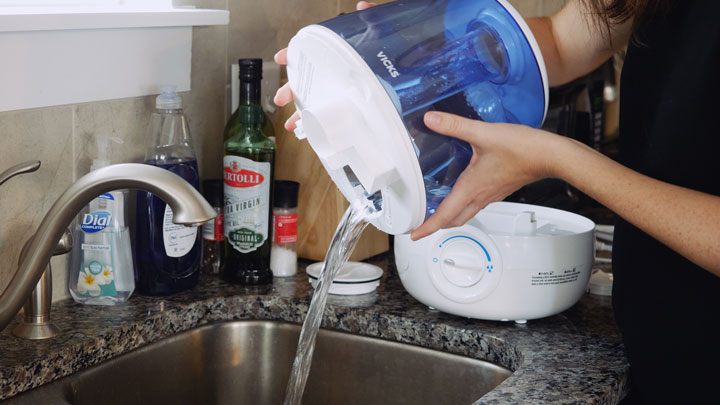 Generally, you'll want to keep the water tank relatively dry when not in use, so do your best to rinse and dry the water tank when you're done with it. If you're using tap water, you'll likely need to descale your humidifier's water tank, too.
This process removes any residual minerals that were in the water. Some common descaling techniques include mixing equal parts water and distilled vinegar when you clean.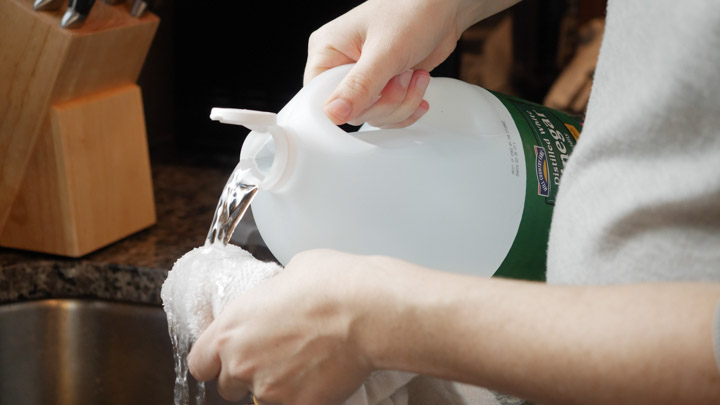 One way to avoid scale built up, or minimize the amount of scale left behind, is to use distilled water. Some brands will even mention that you should only use distilled water for a specific humidifier.
There are even some humidifiers that are dishwasher-safe, but this isn't the case for every humidifier. Again, thoroughly read through the instruction booklet the manufacturer provides.
If your humidifier comes with a filter, be sure to keep regular maintenance on that as well. If it has a disposable filter, you'll need to change them about once a month.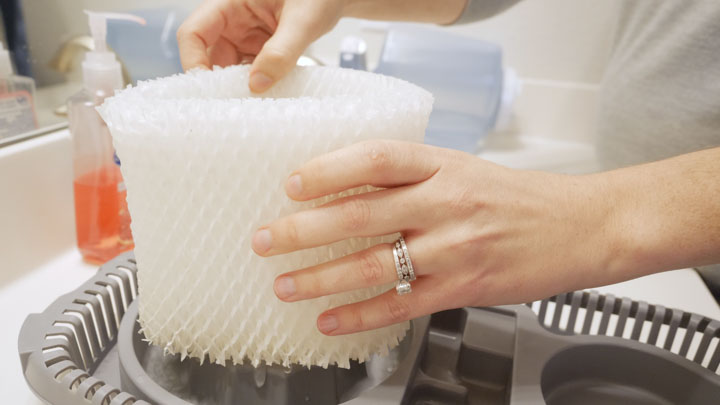 FAQs
Are humidifiers good for you?
In a word, yes. They work by adding humidity to indoor air, which can help hydrate your airways, hair, and skin.
Do humidifiers help with allergies?
They can! Some humidifiers are built with materials that will prevent the build up of mildew and bacteria within the water tank. Other humidifiers have built in UV lights that can destroy bacteria before the mist is released from the humidifier.
Can you use essential oils in humidifiers?
Yes, but be sure to make sure you're purchasing a humidifier that has the capacity to double as an essential oil diffuser. Not all humidifiers are designed to work with essential oils, and could be damaged if they aren't equipped to do so.
Can you use tap water in humidifiers?
You can! In my experience, many manufacturers will recommend users to use distilled, purified water in a humidifier. But some humidifiers can work with tap water, especially if they have a built-in water filter.

Just note, if you are using unfiltered tap water, you'll likely have to clean your humidifier more frequently due to potential scale build up.