Today we're talking about my review of the Honeywell Germ-Free Cool Moisture humidifier! It's easily one of the most popular humidifiers out there, and I'm breaking down every single component – sharing how the humidifier works, where to put it in a room, how to use it and how to keep it clean!
The "germ-free" feature on this humidifier is a UV light that helps destroy bacteria, germs, and mold that may end up in the water that turns into the cool moisture in one's room. This is excellent for peace of mind and is just one addition to an already awesome humidifier.
What else do I love about it and what else is there to consider before purchasing? There's a lot – so watch my full video review or keep reading and scrolling for my write-up!
Honeywell Germ-Free Cool Moisture Humidifier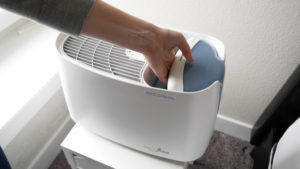 The Honeywell Germ Free Cool Mist Humidifier is a great addition to any medium-sized bedroom and can run for up to 24 hours on its slowest fan speed.
Mattress Clarity Score
4.40 / 5
Read Full Review
Key Features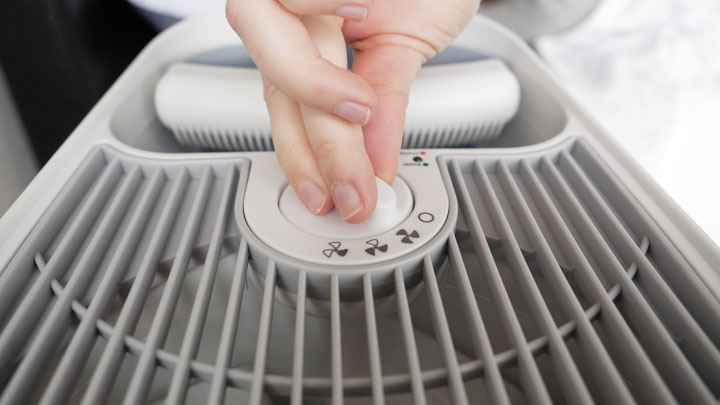 Dimensions (LxWxH): 17.48″ x 9.37″ x 11.85″
Weight: 8.36 lbs
The humidifier utilizes a self-regulating evaporative system to add invisible cool moisture to the air
Uses a UV light as part of the brand's patented germ-killing process and continuously kills up to 99.9% of water-bred germs, bacteria, mold, and spores in the water
3-speed settings to adjust moisture output and sound level
Room size: Medium (about 400 sq feet or 19 ft x 19 ft room)
Moisture type: invisible cool moisture
Tank capacity: 1.1 gallon
Run time per filling: up to 24 hours (on low speed)
Price: around $60, depending on the retailer
3-year limited warranty
How the Honeywell Humidifier Works
Once the filled water tank is in place, water is delivered to the UV and wicking systems. When the unit is on, the water moves very slowly past the UV system. This is ample time to destroy germs, fungus, and mold that may be present in the water. The water is then delivered to the filter/wick. This saturated wick not only filters the air but also provides moisture to the humidifier fan, which in turn, delivers germ-free moisture to the room.
How to Use the Humidifier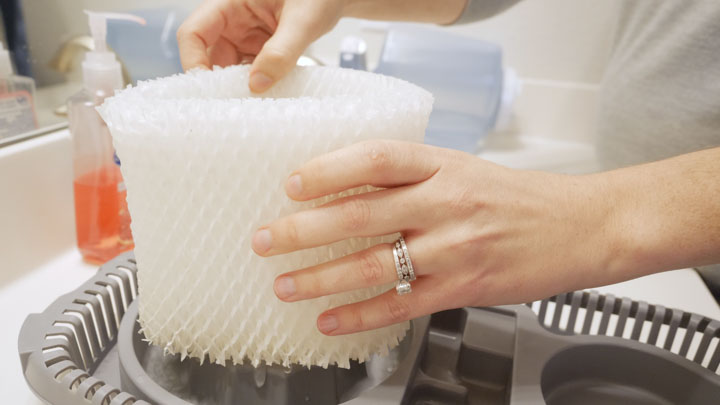 Here are the use instructions according to Honeywell:
Select a firm, level location at least 6" (15 cm) from any walls and furniture for proper airflow. Place the humidifier on a water-resistant surface, as water can damage furniture and some flooring.
Remove the water tank and fill with water
Lift off the upper enclosure/housing unit
Remove the wicking filter and soak in cool water
Replace the wet filter in the base of the unit and reassemble
Place the upper enclosure back on the base
Fill the tank with water and replace the filled tank in unit
Make sure the unit is off
Plug the unit into a 120v outlet
Set fan speed
Pros
Easy to use and easy to clean, especially compared to other humidifiers
The UV light that kills bacteria is a nice touch and provides good peace of mind
No annoying lights
Quiet sound, not disruptive
Humidifies decent sized rooms; should work well in kid's rooms
Reasonably priced and available at multiple retailers
Cons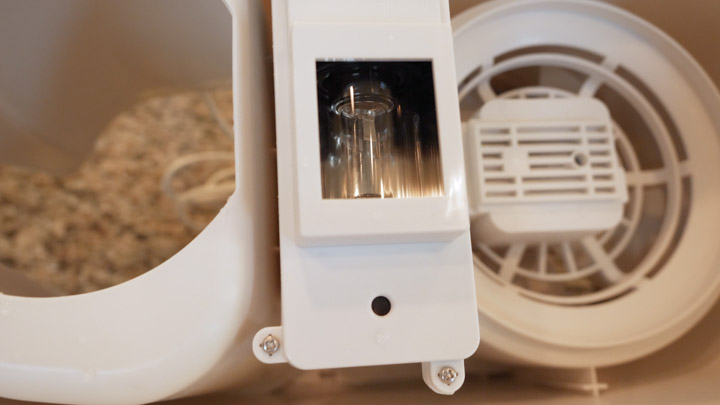 Needs frequent maintenance
Wick needs to be kept damp and changed every 1-2 months at an added cost
The wicking filter has been personally difficult to locate in order to purchase; not easily available in-store or online, so I'd stock up
The UV light will need to be replaced at some point so keep the number from the booklet since users will need to call them and remove the bulb in a specific way
My Experience
I love the simple nature of this Honeywell humidifier and I think the germ-free feature is an added bonus to what is an already solid machine. It is basically four parts, two of which are easy to clean and can be thrown in the dishwasher and only one that needs consistent attention (the wicking filter).
What the machine takes up in size – compared to other models – it makes up for in functionality. I love the quiet noise, the lack of bright distracting light, the multiple fan speeds, and the self-regulating humidity evaporative system. The water tank is extremely easy to use and to re-fill and lasts on a low setting for at least 24 hours, which means I don't have to deal with it every day!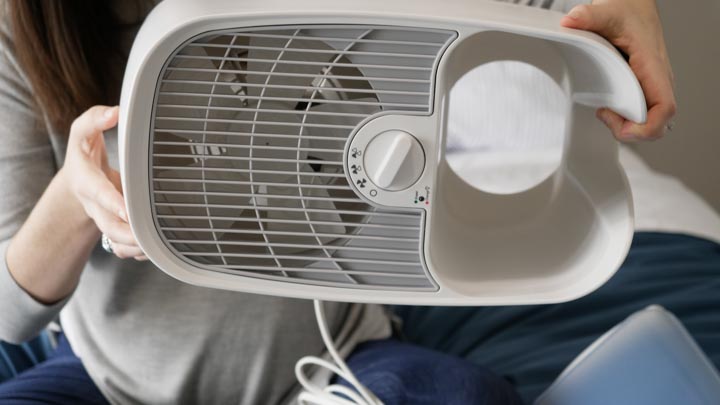 In my house, we have three humidifiers going during the winter, which means I'm cleaning humidifiers in bulk at the end of every week to ensure that everything is staying sanitized and operating properly. The Honeywell Germ-Free humidifier is the easiest machine to clean; I simply place the water tank (without cap) and the base in an empty dishwasher and follow the setting directions to clean that. The housing unit that features the actual electrical motor just needs to be wiped down occasionally.
The only real component I have to deal with is the wicking filter. I was initially frustrated with the filter because I could not find it at my local CVS, Walgreens, Target or Home Depot (where they are sold) and it was back-ordered on Amazon, a testament to how popular this machine is. Therefore, I had to order them off the Honeywell website, so I made sure to order several so I could have them available when I needed to replace them. At around $10-$13 a pop, it adds up, but I think there is still a lot of value in the machine. I use distilled water to help reduce the mineral build-up, which lessens the frequency with which I have to replace the filter.
I would recommend this humidifier for adult rooms or kids' rooms, as long as they're not much larger than 400 sq feet. I agree with the masses, there's a reason why this humidifier is so popular!
Keeping the Humidifier Clean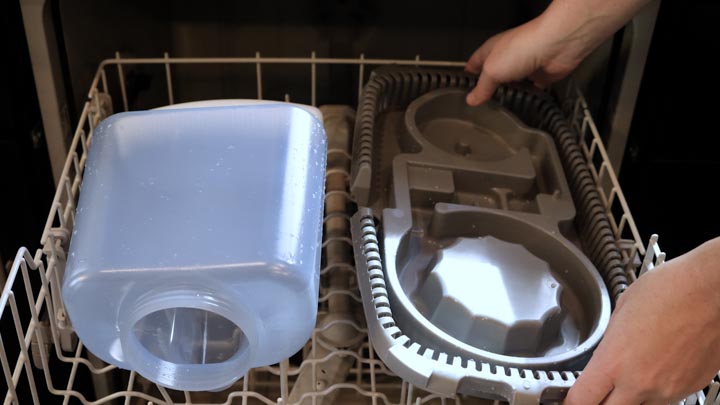 If the humidifier is being used daily, the entire humidifier should be cleaned weekly, and the wick should be changed out every 1-2 months. Some parts can be thrown into the dishwasher to clean:
Per Honeywell's instructions, place the two pieces on the top rack of an empty dishwasher, don't use detergent and keep the temperature to below 158 °F on a regular or light cycle.
Scale Removal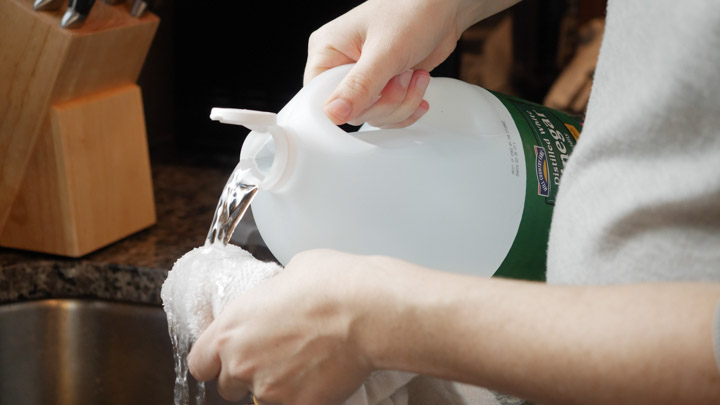 If no dishwasher is available, the machine will need to be de-scaled by hand. Scaling occurs when hard water is used and minerals build up within the machine – it's crucial that this step is completed. Follow the brand's instructions that can be found on their website or in the documentation that comes with the humidifier.
Turn off and unplug the unit
Remove and empty water tank
Lift off upper enclosure
Remove filter
Wipe the base, tank cap and tank with distilled white vinegar/undiluted vinegar
Rinse thoroughly
Disinfecting with Bleach
The humidifier will need to be disinfected with bleach in addition to having the scale removed from mineral build-up.
Turn off and unplug the unit
Remove and empty the water tank
Lift off upper enclosure
Remove the filter
Fill the water tank with 1 tsp of bleach and 1 gallon of cool water
Wipe the base with the same solution
Rinse everything until the smell of bleach is gone
Caring for the Filter
The filter is called a HAC-504 series replacement Filter A and needs to be replaced every 1-2 months or if it starts to smell, looks extremely discolored or starts to feel crusty. While customers should be able to purchase the filter at a variety of retailers, the only place I had luck locating one was on the Honeywell website, where shipping takes a decent amount of time. I recommend purchasing multiple filters in advance so it's easy to replace it when needed.
Sleep Benefits of Humidifiers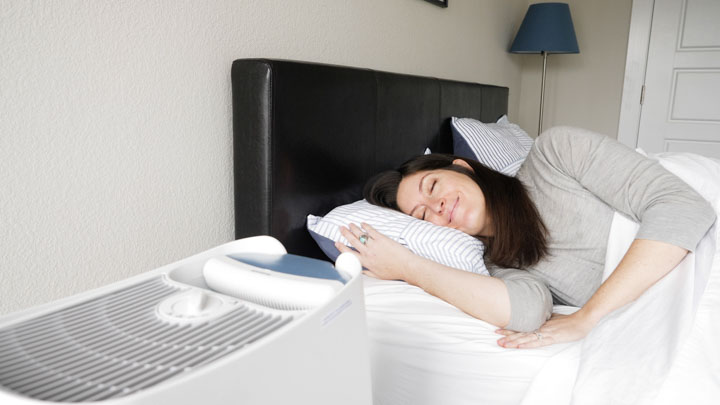 When it comes to sleep, the main job of a humidifier is to add moisture to the air, which prevents irritation and congestion that results from increased dryness. Dry air can be a natural part of a home thanks to the region of the country it's in or it may come from turning the heat on in the house for the first time. People, especially young children, may benefit from moisture in the air to help combat allergies or sensitivities.
For adults and kids, this can mean better sleep simply because they're not waking up with a dry or scratchy throat, and their nasal passages will stay moist and help filter out bacteria and allergens. Plus it'll help prevent nosebleeds, which can be a huge sleep disruptor at night.
Honeywell Germ-Free Cool Moisture Humidifier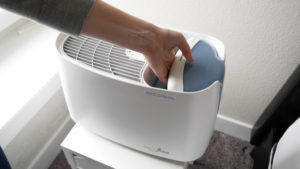 The Honeywell Germ Free Cool Mist Humidifier is a great addition to any medium-sized bedroom and can run for up to 24 hours on its slowest fan speed.
Mattress Clarity Score
4.40 / 5
Read Full Review
Final Thoughts
Those are the full ins and the outs of this awesome humidifier! This is a great, affordable and easy-to-clean option for anyone who is ready to dive into the world of cool mist humidifiers. If there are any questions, shoot them in the comments of the YouTube video and I'll look as soon as I can!
FAQs
Is a Honeywell humidifier good?
Honeywell has an excellent reputation for producing high-quality humidifiers. Their Germ-Free Cool Moisture humidifier is one of their most popular, if not their most popular model with extremely high reviews across multiple retail platforms.
How often should I clean my humidifier?
If using consistently, clean the whole thing - scale and disinfecting weekly. How often to change the filter: It is recommended that people change their filter every 1-2 months, depending on water quality and usage. Any of the following conditions indicate that it is time to replace the Wicking Filter:
It is hard and crusty
It develops an odor
Moisture output is decreased
Where should I put my humidifier?
Select a firm, level location at least 6" (15 cm) from any walls and furniture for proper airflow. Place the humidifier on a water-resistant surface, as water can damage furniture and some flooring.
Can I use the Honeywell humidifier without a filter?
No, this specific humidifier requires a wicking filter and uses the HAC-504 series replacement Filter A model.
Katie Golde
Katie previously managed the day to day operations of the Mattress Clarity news site and reviews sleep products in addition to writing and editing sleep news. She hails from Austin, where she lives with her growing family. She is a Certified Sleep Science Coach and has a master's degree in Journalism from Northwestern University and has a background in health and science content. Her work can be found in print and online publications like Discover Magazine, USA Today and The Huffington Post.