Originally developed in the Welsh highlands to withstand frigid northern winters, flannel is a popular textile material known for its unique fuzzy texture and warming capabilities. The loosely woven fabric is usually made from cotton or wool and is often recognizable by a plaid or tartan pattern.
These days, flannel is a common fabric used for shirts, outdoor apparel, and — you guessed it — sheets! The best flannel sheets are cozy yet breathable, equally suited for cooler seasons and chronically cold sleepers.
Looking to pick up some flannel sheets of your own? We've found the internet's favorite flannel sheets and gathered them into one handy list. While we haven't tested all of these sheets in person, we have assessed each set's materials and quality based on our expertise. Full reviews of the individual sheets will be coming soon.
So which flannel sheet set is best for you? Let's jump in!
Our Top Picks for the Best Flannel Sheets
Editor's Pick – Brooklinen Brushed Flannel
Who's It For?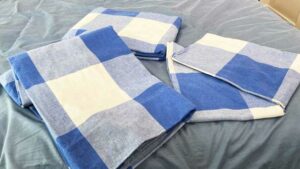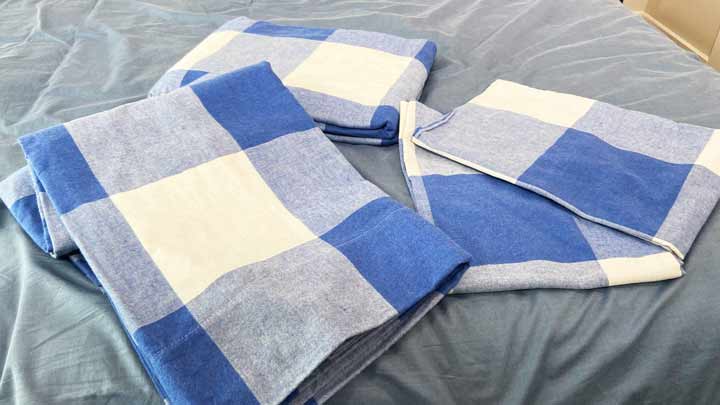 The Brooklinen Brushed Flannel Core Sheet Set unites everything we love about flannel sheets in one ultra-cozy bedding set. Made from 100% cotton, these sheets are brushed for extra softness and breathability. You'll get that classic flannel fuzziness without overheating.
Flannel sheets don't usually list a thread count. Instead, flannel is measured by weight in grams per square meter (GSM). At 140 GSM, Brooklinen's sheets are a lightweight flannel option that could be suited for year-round use in cooler climates. Additionally, all of Brooklinen's sheets are OEKO-Tex certified for chemical safety. You can be sure these flannel sheets are safe for you and your home.
Not sure if flannel sheets are for you? Brooklinen offers a 365-day return period for all its core sheet products. With six menswear-inspired plaid patterns to choose from, Brooklinen's flannel sheets deliver on all the qualities that have made flannel a popular textile material for centuries.
What makes the Brooklinen Brushed Flannel Sheets stand out?
The brushed flannel is breathable, snuggly soft, and perfect for cold sleepers or cooler seasons.
The 100% cotton is resistant to piling and shrinking and will stand up to machine washing and drying.
A 365-day return period and additional 1-year warranty gives you plenty of time to enjoy these sheets.
Check out our full Brooklinen Flannel Sheets review!
Softest Feel – Boll & Branch
Who's It For?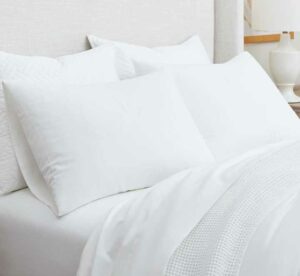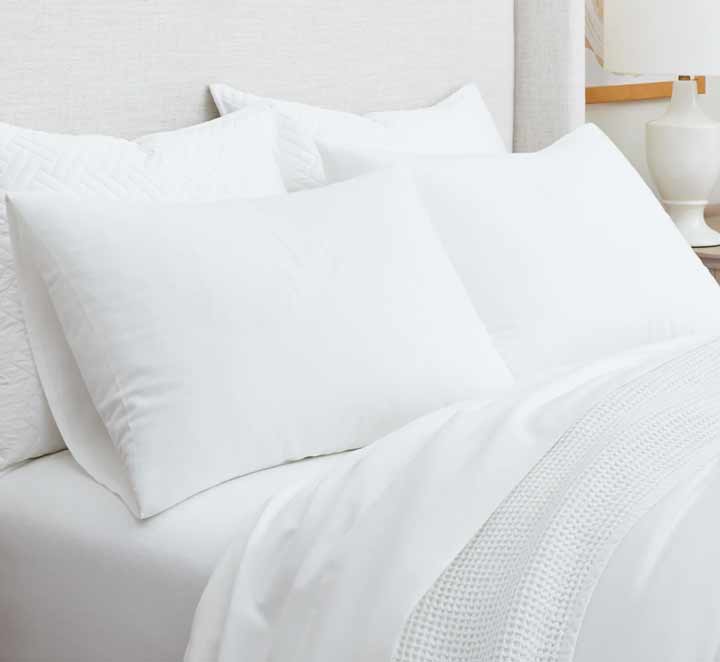 Known for high-quality bed and bath products, Boll & Branch offers an especially soft and luxurious set of flannel sheets. These sheets are brushed and sheared during production, which softens the sheets and makes them very durable.
The 100% organic cotton flannel has an almost velvety feel that is smoother and softer than unsheared flannel sheets. These sheets are extra soft and cozy!
In addition to their ultra-soft feel, the Boll & Branch flannel sheets are GOTS certified–the international gold standard for organic cotton textiles. An additional OEKO-Tex certification means these sheets are guaranteed to be free of harmful substances. You can sleep soundly knowing these luxuriously soft sheets are good for you and the planet.
What makes the Boll and Branch Sheets stand out?
These sheets are sheared after being brushed, which yields an especially soft and velvety texture. These are very high quality and luxurious sheets!
Boll & Branch includes several hard-to-find sizes among its eight size options. These flannel sheets will fit most mattresses.
Made from 100% GOTS-certified organic cotton, these sheets are eco-friendly and produced under socially responsible conditions.
Best Flannel Sheets on Amazon – Mellanni
Who's It For?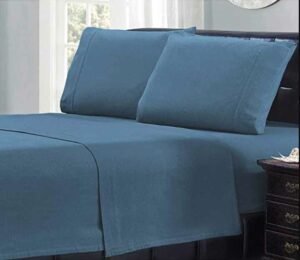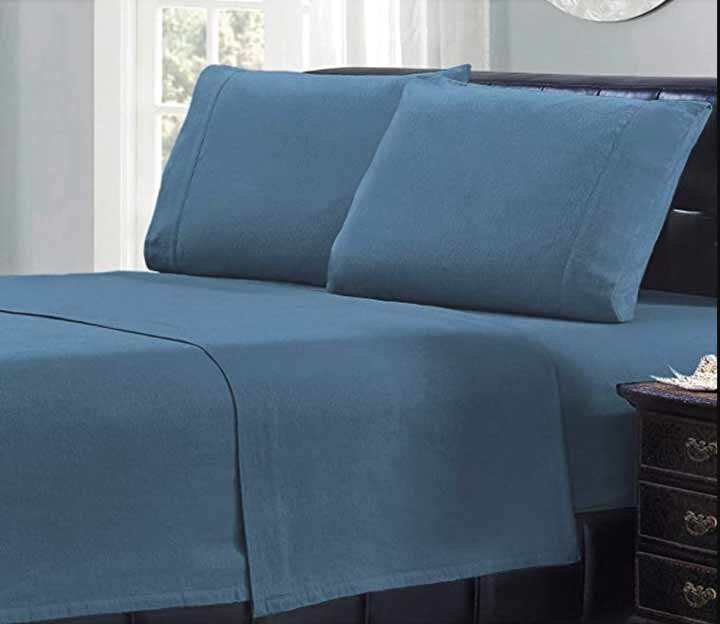 Flannel sheets can get expensive. Fortunately, Amazon offers several budget-friendly flannel sheet sets to satisfy fans of flannel without breaking the bank. The Mellanni 100% Cotton Flannel sheet set delivers the warmth and coziness of flannel at a great value.
Mellanni's 4-piece flannel set has a lot to offer, including eleven colors and patterns to choose from. The fitted sheet's deep pocket will accommodate taller mattresses, while the sheets themselves are designed to be resistant to fading and wrinkling.
The double-napped finish will ensure these sheets feel soft and cozy no matter how you make the bed. If you're unsure if you'll love flannel sheets, this is a great set to start with!
What makes the Mellanni Flannel Sheets stand out?
Available on Amazon, these sheets are affordable and accessible.
The fitted sheet's deep pocket accommodates mattresses up to 16" tall and should stay secure through nighttime tossing and turning.
In addition to many classic plaid patterns, Mellanni offers several solid color options. You're sure to find something that suits your style!
Best Cotton Flannel Sheets – L.L. Bean
Who's It For?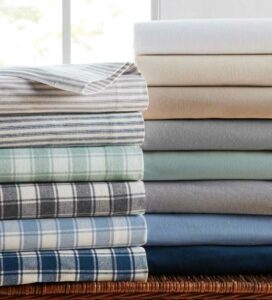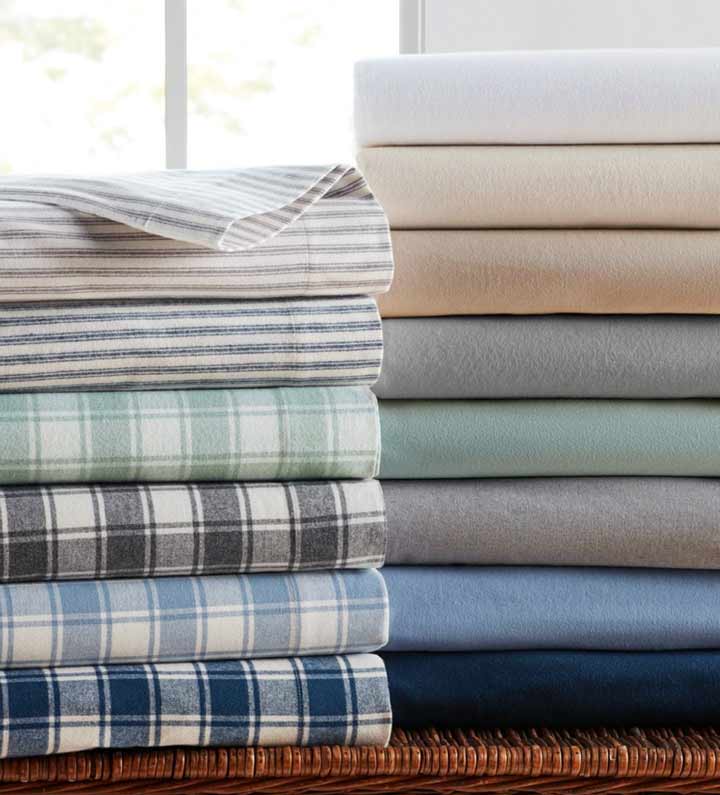 L.L. Bean's Ultrasoft Comfort Set is a cozy and comfortable set of flannel sheets that delivers the softness and durability of luxury flannel at a more affordable price. The cotton naturally pulls moisture away from the body, meaning theses sheets will sleep cooler than other, less breathable flannel sheet sets. L.L. Bean even suggests these sheets could be suited to year-round use.
The ultra-soft 100% cotton material resists wrinkling, pilling, and shrinking and may even become softer through washing. Thousands of 5-star reviews on the L.L. Bean website affirm that these sheets stand up to frequent care, making them a good choice for fans of flannel who want their sheets to last. These sheets are also OEKO-Tex certified–no harmful chemicals here!
If you decide to purchase L.L. Bean's Ultrasoft Comfort flannel sheets, you'll have a 1-year return window to try them out.
What makes the L.L. Bean Ultrasoft Comfort Flannel Sheet Set stand out?
These versatile flannel sheets come in five sizes and eight color options.
Designed to be pill resistant, the Ultrasoft Comfort flannel sheets are machine-washable and should get softer with every wash.
L.L. Bean's generous 1-year return policy gives you ample time to decide if flannel sheets are right for you.
Best Organic Flannel Sheets – Peacock Alley
Who's It For?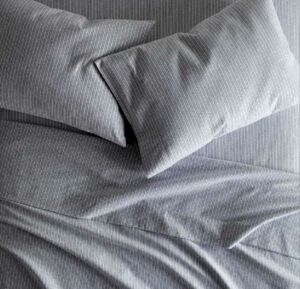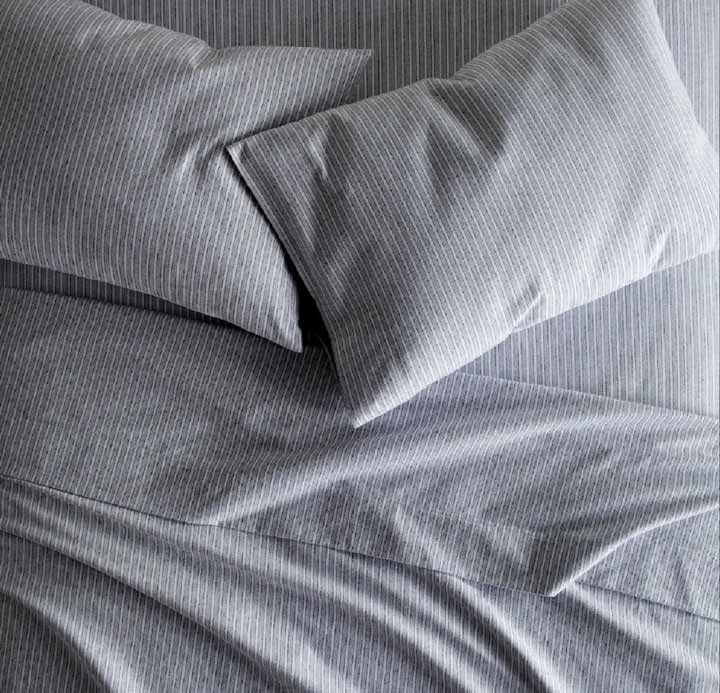 Most common among flannel sheet materials is cotton. Peacock Alley's flannel sheet set stands out from other cotton flannel sheets by using 100% organic Egyptian cotton. This high-quality, long-staple cotton is softer and more durable that traditional cotton and comes lightly brushed to give it that fluffy flannel texture.
These sheets are GOTS-certified, the international gold standard for organic textiles. This certification ensures the fabric was produced using eco-friendly and socially responsible methods. Environmentally conscious shoppers can sleep soundly knowing these sheets were made with you and the planet in mind!
At 200 GSM, Peacock Alley's flannel sheets are thick and luxurious. As the weather gets cooler, these organic, high-quality sheets are a great way to stay warm and cozy.
What makes the Peacock Alley Flannel Sheets stand out?
These sheets are exceptionally high-quality. They were made in Portugal, which is the world leader of cotton flannel production.
The 100% long-staple Egyptian cotton makes these sheets extremely durable as well as warm and soft.
GOTS and OEKO-Tex certifications mean these sheets are as environmentally friendly as they are luxurious.
What To Consider When Buying Flannel Sheets
Like most types of sheets, there's a lot of variety when it comes to flannel sheets. If you're looking to get some flannel sheets of your own, here are some important categories to consider:
Material and Feel
The term "flannel" refers to a type of fabric construction. To produce flannel, fibers are loosely woven in either a plain or twill pattern, resulting in a fabric that is both warm and breathable. Flannel was originally made from sheep wool, but these days flannel sheets are most commonly made from cotton or fiber blends. The type of material used in the sheets will affect the feel, but generally flannel sheets feel warm, fuzzy, and soft.
To give it that signature fuzzy texture, most flannel products are brushed with a fine wire comb to bring the fiber ends to the surface of the material. This process, called napping, softens the sheets for use, increases durability, and creates that fluffy flannel texture. Napping also creates tiny air pockets in the fabric that help retain heat.
High-quality flannel sheets are napped on both sides of the fabric to increase their softness. If you see "brushed" or "napped" on a description of flannel sheets, expect a slightly raised, fluffy texture from your sheets. Especially luxurious flannel sheets may also be sheared after napping, which creates an even softer, velvety feeling in the fabric.
Weight
Unlike other cotton sheets, flannel sheets do not typically list a thread count. Instead, flannel is measured by weight, either by grams per square meter (GSM) or by ounces per square yard. Just like thread count, higher weight does not necessarily indicate higher quality in flannel sheets. Instead, it determines how loosely the fibers of the fabric are woven together, which affects breathability and feel.
Lighter cotton flannel sheets will usually weigh around 5 ounces per square yard (or around 165 GSM), while especially dense or high-quality flannel sheets will often exceed 6 ounces per square yard (or 200 GSM). Flannel sheets weighing around 5 oz per square yard will be more breathable and suitable for year-round use, while sheets above 6 ounces per square yard will feel extra warm and heavy.
The lower the weight, the looser the fibers in the fabric have been woven together. While a lower weight may increase breathability, it may also increase the likelihood of shrinkage during washing.
Care Instructions
Flannel sheets tend to be easy to clean. Most flannel sheet sets are machine-washable and dryer friendly. Depending on the material, flannel sheets may even get softer the more you wash them!
While flannel sheets are generally easy to care for, we recommend always following the manufacturer's care instructions to get the most out of your sheets. Those new to flannel sheets should also note that flannel sheets tend to generate a lot of lint during the first few washes.
Cooling Capabilities
Most people enjoy flannel sheets for their extra warmth and comfort. Sleeping in flannel sheets, however, doesn't necessarily mean sleeping hot. Because of its construction, flannel is naturally breathable and has moisture-wicking properties. The absorbent fabric will collect the body's natural moisture and keep sleepers from feeling sweaty under their sheets.
Color/Print
Most people associate flannel with a classic plaid pattern. While many flannel sheet sets come in plaid or tartan, plenty of sheet sets also boast solid colors or alternative patterns. Of our top flannel sheet picks, the L.L. Bean Ultrasoft Comfort flannel sheets and the Mellanni flannel sheets have the largest variety of color and print options.
Price
Flannel sheets can get expensive. Most cotton flannel sheets start around $50, while truly luxurious flannel sheets can cost upwards of $200. Because flannel sheets may not be used year-round, this can be quite an investment. Fortunately, most companies offer a sleep trial or return period so you can try out flannel sheets worry free.
Flannel Sheets Pros and Cons
| | |
| --- | --- |
| Pros | Cons |
| Flannel is a naturally warming material, meaning it is great for cool months or cold sleepers. | Flannel is not the best option for hot sleepers or warmer climates.  |
| The fuzzy texture is ultra-soft and breathable. | Depending on the material, flannel sheets can be expensive. |
| Flannel is durable, wrinkle-resistant, and easy to care for. Sheets made with flannel should last for years with good care. | Although most flannel is machine-washable, it tends to generate a lot of lint in the dryer. It can also be prone to shrinking and pilling. |
FAQs
Are flannel sheets hot?
In short, yes–flannel sheets do sleep warm. Tiny pockets of air in the material trap body heat and create a warm, cozy feeling that's best for cool climates or cold sleepers.

Just because these sheets retain warmth, however, doesn't mean you'll sleep hot and sweaty under them. Flannel is a naturally breathable fabric, and certain flannel materials like cotton wick moisture away from the body. Particularly hot sleepers may want to steer clear of flannel sheets, but most other sleepers should find flannel sheets sleep comfortably warm.
Can you use fabric softener on flannel sheets?
Avoid using fabric softener on flannel sheets. Liquid fabric softener will leave a chemical residue that may stiffen the fabric over time. Mild detergent and brief fluffing in the dryer should be enough to soften your flannel sheets.
Are flannel sheets cotton?
Cotton is the most common material used in flannel sheets, but other materials like polyester, microfiber, or fiber blends can also be used. If you're looking specifically for cotton sheets, check out our top picks for the best cotton sheets!
Are flannel sheets good for summer?
Flannel sheets are designed to keep sleepers warm. This means they are especially well suited for cold months. Cooler, more breathable sheets such as percale cotton sheets may be better for the summer heat. However, flannel is a naturally breathable material, so lighter flannel sheets, like the Brooklinen flannel sheets, could work year round.
Are microfiber sheets the same as flannel?
Not necessarily. Flannel refers to a type of fabric construction characterized by loosely woven fibers and a brushed texture. While some flannel sheets can be made from microfiber, microfiber is common in other sheet styles as well.
Do all flannel sheets pill?
Yes, flannel sheets can pill. Frequent or vigorous washing will cause flannel to pill. However, high-quality flannel should be resistant to pilling and other types of damage. We recommend following the manufacturer's care instructions to reduce pilling and keep your flannel sheets feeling soft and cozy for as long as possible.
Anna Lawrence
Anna is an editorial intern with Mattress Clarity. She earned a B.A. in English from Wake Forest University. A life-long stomach sleeper, she always sleeps with earplugs and an eye mask. Outside work, she likes reading speculative fiction, attending concerts, and playing board games.