A white noise machine or sound machine can be an effective way to mask disruptive noise and get a good night's sleep. White noise—or other natural sounds like an ocean, crickets or even a babbling brook—help drown out noises that might wake people up during the night. Say goodbye to annoying car horns, neighbors who play terrible music at 2 am or that dripping faucet that's not getting fixed till tomorrow.
As simple as the concept of a white noise machine is, there are many different ones to choose from. This article will go over our picks for the six best white noise sound machines available on the market and describe who each is a great fit for.
The Best White Noise Machines
How We Chose Our Top Picks
Here at Mattress Clarity, we personally test the products that we choose to feature. For the best white noise machines, we considered around a dozen of the most popular white noise machines that people are talking about to test and see if they're worth the investment. Between myself and my colleagues, we have all personally handled the white noise machines on this list.
Best Fan-Based – T&N + SNOOZ White Noise Machine
Our Expert's Take
There are a number of white noise machines that can produce sounds from preloaded programming. And sometimes, those computer sounds might not sound clean, so people turn to fan-based white noise machines. Tuft & Needle, a bedding company, teamed up with SNOOZ, a sleep technology company, to create the T&N white noise machine to create the perfect white noise machine for sleepers who prefer non-tech based sounds.
The T&N machine is a simple machine that only needs to be plugged into an outlet to use. Once you plug it in, you press the power button on the top of the machine and the fan inside will start. There are two buttons on the side of the power button that let you adjust the intensity of the fan. And while not required to operate, you can download a mobile app for more remote control of the machine.
The app could be quite useful for those who don't want the white noise machine going all night, as this is the only way to set a timer. Without the app, the machine will run until you manually turn it off. Regardless, the SNOOZ is a great choice for those who want a fan-based sound going while they sleep because of the real fan within the machine.
What We Love About the T&N + SNOOZ Machine
The T&N machine is a great choice for those who just want a machine that offers a droning fan noise. You don't have to cycle through various noises to find one that works for you.
It has a very simple set up; just unbox the machine and plug it into the wall and it's good to go.
It has a minimalist design, allowing it to blend in with any color scheme or bedroom aesthetic.
What to Keep in Mind About the T&N + SNOOZ Machine
Though this machine is made with high-quality materials, there are considerably more affordable white noise machines.
Because this machine only consists of a fan, that is the only sound it produces.
Best for Kids & Babies – Hatch Rest
Our Expert's Take
If your kiddo is a light sleeper who needs to drown out things that go bump in the night, the Hatch Rest is a multipurpose tool just for you. Not only does it function as a white noise machine, but the Hatch Rest is an alarm clock and a night light. And all of this can be controlled from an app on your phone.
The sounds the Hatch Rest offers vary from general white noise, to other natural sounds like the waves of an ocean, the pitter patter of rain, a soft heartbeat and more. And if you opt into a Hatch Sleep Membership, the Hatch Rest can even read bedtime stories to help your kiddo drift off into sleep.
And for those who are a bit older, you can set a "Time To Rise" setting, which effectively acts like an alarm clock, or a sunrise clock, signaling your child to get up for the day. All of this can be manually set, but you can also set it all from the mobile app.
What We Love About the Hatch Rest
It's a great multipurpose white noise machine. It can operate as a clock and a nightlight (with customizable light colors) in addition to noise.
It can be operated from an app on your phone. This means that you don't have to go into your child's room to adjust settings and risk waking your child up.
The sounds available range from basic white noise to lullabies, nature sounds and even bedtime stories.
What to Keep in Mind About the Hatch Rest
Though it offers a wide range of uses, some of the features will be behind the Hatch Sleep Membership. This is an additional paid subscription in order to access features like the bedtime stories.
Best with Multiple Sounds – Housbay
Our Expert's Take
Not everyone wants to listen to a general static or fan sound while they sleep with their white noise machine on. These days, white noise machines offer a variety of sounds, including different versions of general white noise to sounds pulled from nature. If this sounds like your jam, check out the Housbay white noise machine.
Readily available on Amazon, and very affordable, too, the Housbay machine has 18 different sounds programmed into it. The breakdown is three fan sounds, five white noise sounds and 10 different nature sounds. The natural sounds can vary from a crackling campfire, a soft rumbling thunderstorm, a flowing, babbling brook and the twitter of birds chirping from outside.
At the bottom, the Housbay machine also has a soft LED light that surrounds the edge of the machine. This can change in color and acts like a soft night light for those that need one.
What We Love About the Housbay White Noise Machine
It's very affordable and readily available on Amazon.
It can produce 18 unique sounds, including white noise, nature sounds and fan noises.
It has timer increments of one, two and three hours, as you shouldn't use a white noise machine all night. If you were to use a white noise machine for the average recommended amount of sleep (eight hours) continuously, it could potentially cause hearing problems, which is why timers are so important.
What to Keep in Mind About the Hausbay White Noise Machine
The noises are all computer generated so some of the nature sounds won't sound the most natural. And you'll have to cycle through them with just forward or back buttons.
Best Portable – YogaSleep Hushh
Our Expert's Take
There are some out there that cannot sleep without white noise, even when they're in a hotel or an AirBnb. Some white noise machines are designed to be plugged into your wall and stay on a bedside table, but the YogaSleep Hushh is designed specifically for travel.
Though it's intended for children, this machine is lightweight and compact. One of my favorite features is that it can be entirely operated using one hand. Parents juggling an infant, toddler or a boatload of luggage will love this feature. And it also comes with a hook so you can attach it to luggage, freeing up more space inside your bag.
Because this is a simpler white noise machine, it only offers three different sounds: white noise, deep white noise and gentle surf. But it will still get the job done for those on the go.
What We Love About the YogaSleep Hushh
It can be operated out of one hand, making usage very easy, especially if you need it while traveling and have your hands full.
You can attach it to your luggage or backpack thanks to a handle and a loop attachment, freeing up space inside those items for more important things.
It works for all ages.
What to Keep in Mind About the YogaSleep Hushh
There are only three sound options: white noise, deep white noise and something called gentle surf. If you need something with more variety, this might not be the best white noise machine for you.
Best Non-Looping – Magicteam
Our Expert's Take
While you shouldn't use a white noise all night long, some people need it for a couple hours at the least. With this need to go for hours on end, the sounds that are programmed into the white noise machine cannot have an obvious break when a track ends or restarts. When a sound has a seamless transition as it starts over or can truly have hours of sound, we call this "non-looping."
One of my favorite non-looping white noise machines is the Magicteam white noise machine. This white noise machine offers 20 unique sounds and all of them are non-looping, allowing you to sleep the whole night without an abrupt break in the sound.
It is a small, black cube that can easily fit in the palm of your hand. Though it's not a travel white noise machine, if you wanted to take it with you for travel, you certainly could and it would not take up too much storage space.
What We Love About the Magicteam White Noise Machine
No matter how long you use the Magicteam machine, you won't notice a break in the sound. It has seamless, non-looping transitions in your sound selection.
It has a sleek black design and is quite compact.
Out of all the white noise machines on this list, it's the most affordable. It costs around $20 and you can get it on Amazon.
What to Keep in Mind About the Magicteam White Noise Machine
Some people may look to white noise machines to be multipurpose, like as a clock or a night light. The Magicteam white noise machine only serves as a white noise machine. There is no LED light for a night light or clock function for this machine.
Best for Snoring – LectroFan
Our Expert's Take
The LectroFan white noise machine is great for white noise lovers because it offers 10 variations of white, pink and brown noises, plus 10 fan sounds. These sounds are meant to mask noises in your sleep environment, making this a good option for someone who has a partner who snores.
The sound quality is truly excellent and there is no looping in the sounds, meaning there is no small snippet of white noise that gets played on repeat. This should help drown out the noise of a snoring partner.
It's simple to use and looks nice on a nightstand and there's no bothersome LED light that can seem too bright in the dark. People can charge it via a wall outlet or USB. And in my opinion, it's absolutely worth the price.
What We Love About the LectroFan
The LectroFan is designed to mask sounds in your sleep environment. This means it should help drown out the noise of someone snoring.
It has 20 different sounds, with 10 being different types of white noise, the other 10 being fan sounds. All of these are non-looping and shouldn't have a break in the sound.
It has a clean, compact and minimalist design making it blend in with most bed room aesthetics.
What to Keep in Mind About the LectroFan
This machine only offers white noise or fan sounds. So, it might not be ideal if you're looking for a machine that offers some more natural sounds.
What to Consider When Buying a White Noise Machine
There are so many white noise machines out on the market. I'm talking thousands, easily. With so many options, it can be very overwhelming to choose a good white noise machine. I'll go over some more specific considerations to look for when shopping around.
Sound Options
White noise machines are used for a variety of reasons, but not everyone wants to listen to the same staticy, droning white noise every night. Personally, I love the sound of a soft thunderstorm when it's actually happening outside. But on nights where it's bone dry outside, I love using a white noise machine to give me that gentle rumble of thunder with the pitter patter of rain.
If this also sounds like you, then finding a white noise machine with a variety of sound options is key. Most of the white noise machines on this list have several sounds for you to cycle through.
Volume
Many of the white noise machines on this list have multiple volume levels. However, it's important to use the machine at an appropriate volume. That's because blasting white noise too close to the ears overnight may result in hearing damage.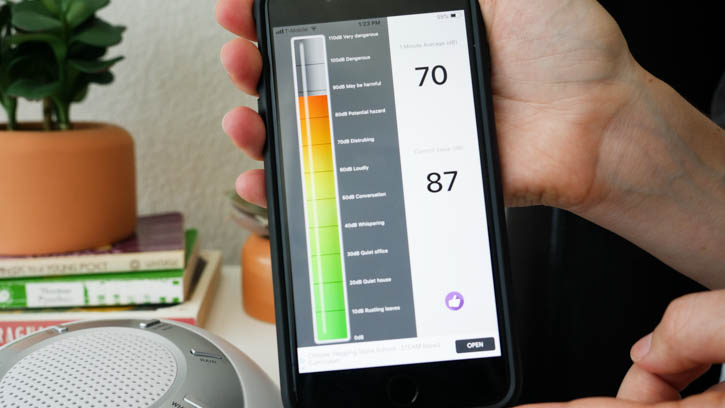 The World Health Organization recommends that anyone planning to use a sound machine for more than eight hours should do so at a volume of fewer than 85 decibels. Louder than that and people may be putting their hearing at risk. Parents who put a sound machine in their children's rooms should speak with a pediatrician about an appropriate volume level. Generally for children, this is around 50 decibels.
Cost
Truthfully, cost isn't much of a hurdle for white noise machines. While there can be some quite pricey ones on the market (especially those that use high-quality and durable materials like the T&N + SNOOZ machine) there are some as inexpensive as just $20 on Amazon, like the Magicteam white noise machine.
Smart Features
Many white noise machines can be operated out of a mobile app on your smartphone. The set up instructions will look different depending on what model and brand you have. But generally it should be as simple as downloading the recommended or paired app and connecting the machine to your phone through bluetooth.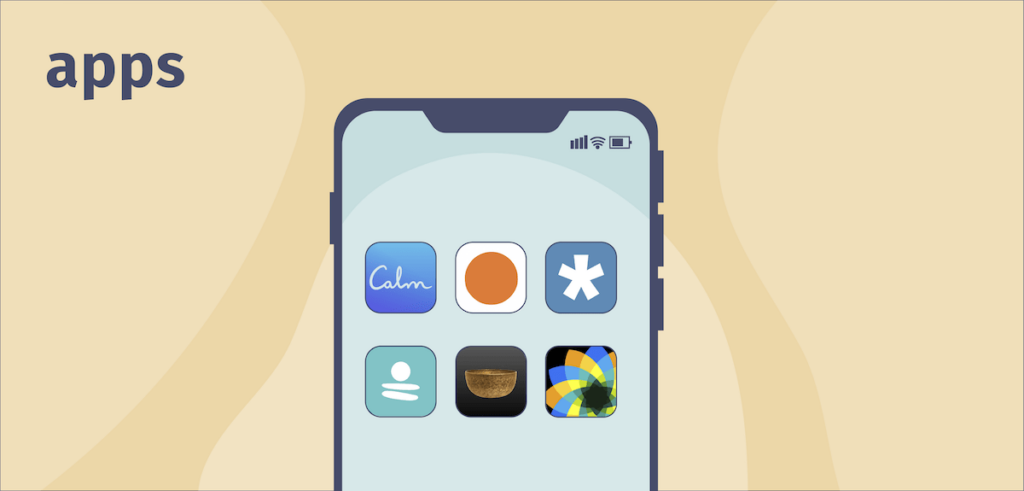 For most, the app should be optional, and not required to operate the white noise machine, but knowing the option is there is a nice feature. White noise machines on this list that can be remote controlled from a smart device include the Hatch Rest and the T&N + SNOOZ machines.
Display
With most white noise machines, you won't have to worry about an LED screen staying on all night. Most of them don't have displays, and are operated by some buttons on the front or top of the machine. Some of them may light up when you press a button, but the light either doesn't stay on for much longer after the fact, or you'll have the ability to turn that light off.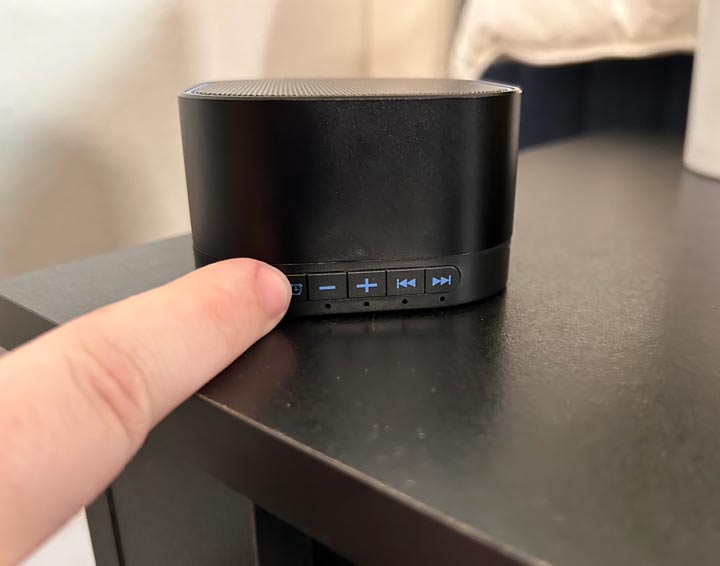 Aesthetic
For some, having a cohesive bedroom look is incredibly important. And a bulky white noise machine can stand out like a sore thumb. These days, many white noise machines come in a few different color options. The most common that I've seen are white, black or wood grain.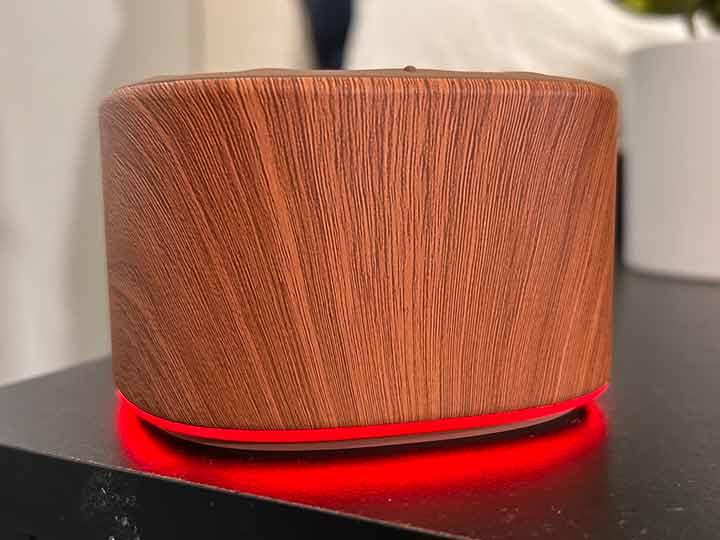 Many white noise machines aren't super bulky or clunky either, and are designed with aesthetic in mind. Whether it's a small, sleek cube design or looking like an alarm clock, white noise machines should blend in with your room's aesthetic easily.
Timers
If you're the type of person that only needs a white noise machine to help you drift off, setting a timer is an important feature to look for. While the time settings vary, all white noise machines have built in shut-off timers. I've seen the time options range from as short as 30 minutes, to up to three hours.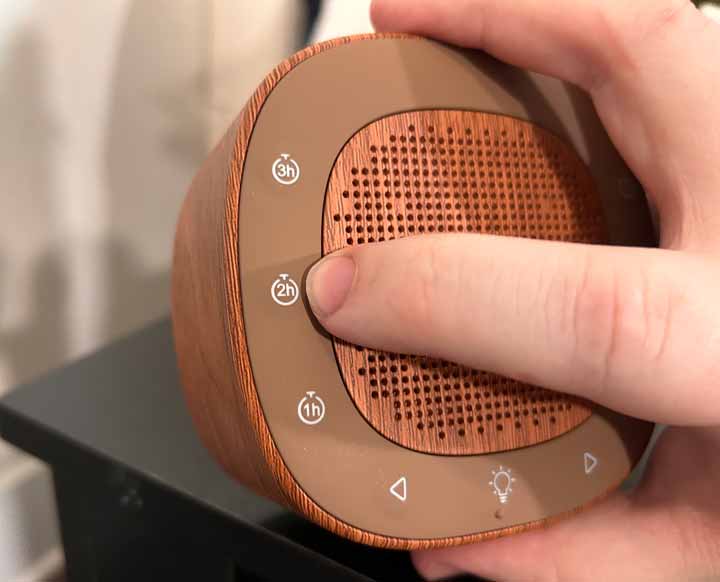 Other Factors to Consider:
With the main purchasing considerations out of the way, let's cover two more important factors when getting a white noise machine.
Where Will You Be Putting the Noise Machine
Considering the volume points from earlier in this article, you're not going to want a white noise machine directly next to your head. You may think that a bedside table is the best choice, but you'll want it a few feet away from where you're sleeping.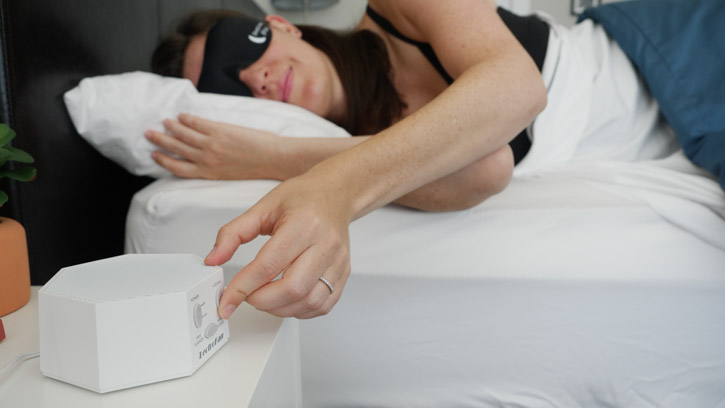 If you have a table at the foot of your bed, or across from the foot of your bed, or a dresser off to the side of your room, these would be better places for your white noise machine. Keep in mind that some white noise machines aren't battery operated, and will need an outlet to be functional as well.
Who Will Be Using the Noise Machine
White noise machines can be used by anyone, but who is using one is just as important as everything else. Babies and children will need to keep a white noise machine about seven feet away from their bed and keep the volume at 50 decibels, or generally just loud enough to fill the room.
White, Pink & Brown Noises Explained
Some of the white noise machines on the list offer more than just white noise—people will see settings for pink or brown noise as well. White noise has equal power across all frequencies audible to the human ear. Pink noise is white noise, but with reduced higher frequencies and is considered to be more soothing than white noise. Brown noise lowers the higher frequencies even more. It's a bit "rougher" than pink noise and resembles the roar of a river or a strong wind.
Best White Noise Machines FAQs
How far away should white noise machine be?

For children, it should be seven feet away from your child's bed or crib. For adults, white noise machines could stay the same distance or be a bit closer. If you move the white noise machine closer, you should adjust the volume to be quieter.
Should white noise machine be on all night?

It's not recommended to have white noise machines on all night. Especially if you're someone who suffers from frequent tinnitus or ringing in the ears, as it can make these conditions worse.
How loud should white noise be to be effective?

Generally, you want white noise to stay at about 50 decibels. For reference, a person whispering is about 30 decibels, while a regular conversation can go up to about 60. Anything louder than 50, or something just a bit over the quietest setting on your white noise machine, could be harmful to your hearing or prevent others from falling asleep.