The 'LectroFan Classic white noise machine is often at the top of the list of best white noise machines – and for good reason. It's compact, easy to use and offers 20 distinct – but crystal clear – white, pink, and brown noise and fan noise options to choose from.
Who is going to like this white noise machine and what else do you need to know about it? Check out my video review below as well as my full written review with more photos.
LectroFan Classic White Noise Machine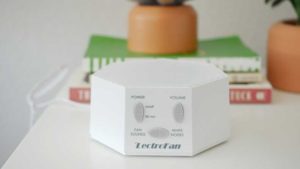 The 'LectroFan Classic White Noise Machine offers 20 different white, pink and brown noises and fan sounds. The machine is compact and easy to use and has no distracting LED light on it.
Mattress Clarity Score
4.70 / 5
Read Full Review
Key Features
The 'Lectro Fan Classic dimensions are 4.4″ x 4.4″ x 2.2″ and 1.2-lbs in weight
Includes 10 pure variations of white, pink and brown noises, plus 10 fan sounds
All sounds digitally synthesized and non-looping
Volume control – goes up 1db or down 1db up to 10 times
Can be charged via USB or AC adapter
Sleep timer that shuts off at 60 minutes, 120 minutes, or 180 minutes
Comes in black or white
Full price around $55; available at several retailers
1-year warranty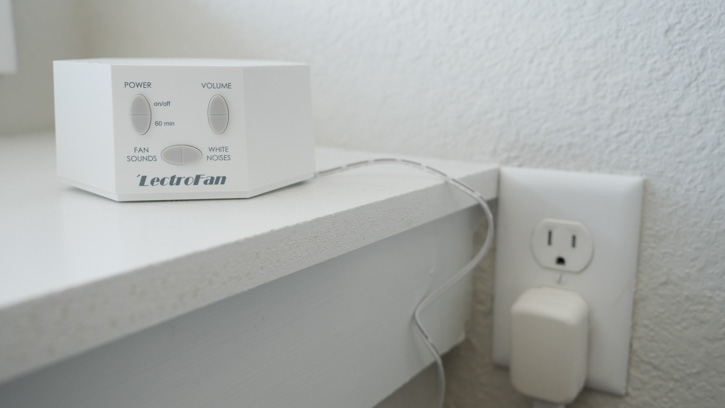 White, Pink & Brown Noises Explained
White noise has equal power across all frequencies audible to the human ear. Pink noise is white noise, but with reduced higher frequencies and is considered to be more soothing than white noise. Brown noise lowers the higher frequencies even more and is a bit "rougher" than pink noise and resembles the roar of a river or a strong wind.
Who Makes It?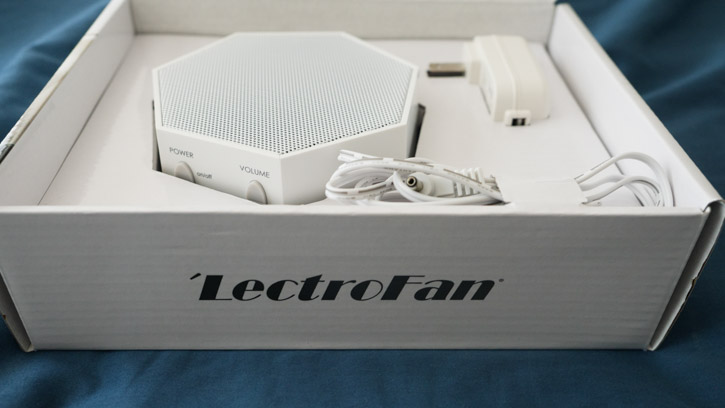 The 'LectroFan Classic white noise machine is made by a company called Adaptive Sound Technologies, Inc., which was founded in 2008. In addition to the 'LectroFan series of sound machines, they also make a Sleep+Sound collection of sound machines that offer more than white noise or fan sounds.
Pros
The sound quality is superb and no looping is excellent
No LED lights to potentially disrupt sleeping
Buttons are large and easy to use
Compact and simple to travel with
The design is aesthetically pleasing to look at
USB charging is available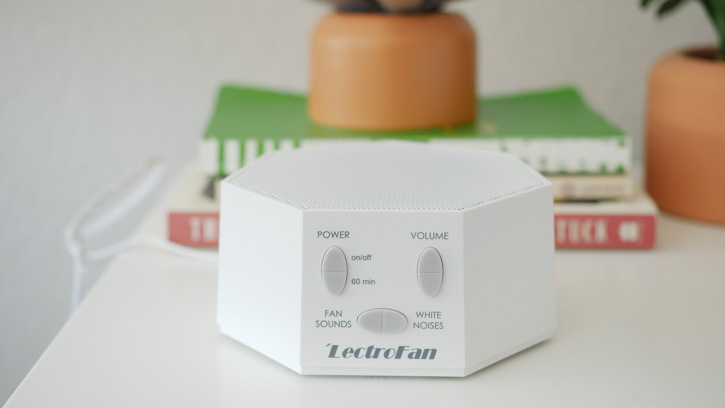 Cons
The 'LectroFan is not battery powered
Only sounds available are white/pink/brown noise and fan sounds
There are more affordable options available
My Experience
I personally need complete silence to sleep at night – which is why I often sleep with earplugs. Since I also happen to live in a house with young (loud) children and pets, I also often use a white noise machine or sound machine to help mask any additional noise so I can sleep uninterrupted for as long as possible.
One thing that immediately stood out with the 'LectroFan is how clear and crisp the white, pink and brown noise is. The sounds, white noise and fan sounds, are digitally-synthesized (computer-generated) but they're non-looping. This means there's no small track of sound that is played over and over again. With some white noise machines, you can detect when the sound is looping over again, and that can be distracting when you're trying to fall asleep.
You get a total of 20 sounds: 10 white, pink and brown noises, and 10 fan sounds – to choose from. The interface is very simple with this machine. You simply click the "Fan Sounds" or "White Noises" button as it cycles through the various options.
Since it's just one button, you don't know exactly what white/pink/brown noise you are getting but the first click starts with brown noise and moves through pink and ends with white noise. You will also hear a small beep that lets you know you've cycled through all the options.
The volume button is also simple and lets you turn the volume up or down 1 dB with each click (up to 10 times).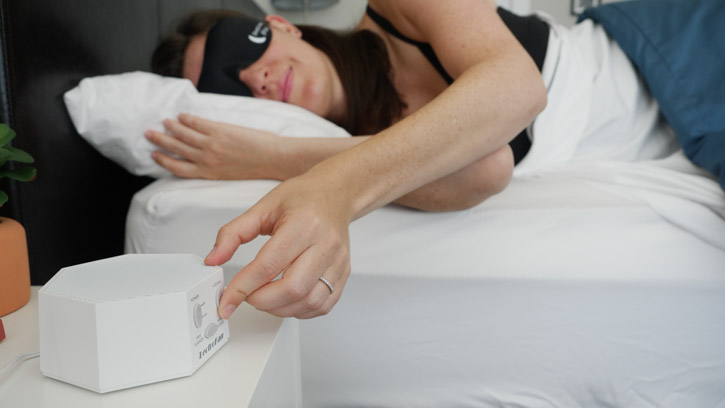 One thing that I did really like about the 'LectroFan Classic, outside of the great sound quality, is the fact that there is no blue or green LED light that comes on when the machine is powered on. This can be especially distracting at night when the rest of the room is completely dark. The buttons are large and easy to press, so even if you need to make changes to your sound in the dark, it shouldn't be difficult to do.
While the machine is compact and you can use it for travel, it won't take batteries. You can either charge it with a USB or an AC adapter (wall outlet).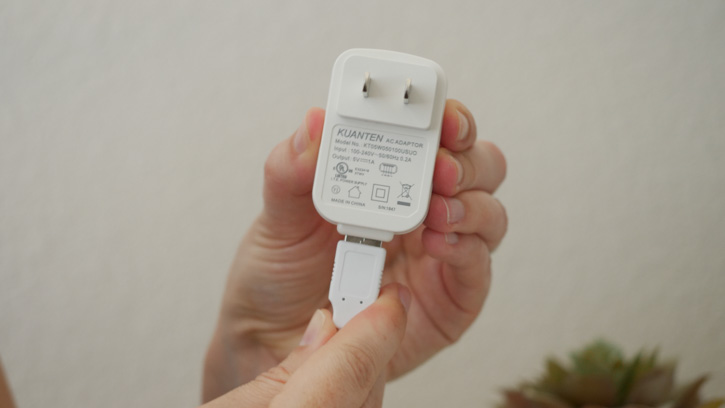 There are a few retailers who sell the 'LectroFan Classic and they each come with their own return policies, but you should expect to pay around $55-$60 for the machine. Because of the high quality, I personally think it's an excellent value and should last you a long time.
A Note On Volume
If people are planning to use the 'LectroFan white noise machine, or any other type of sound machine overnight in your room or a family member's room, they should be generally aware of the volume level.
The World Health Organization recommends that anyone planning to use a sound machine for more than 8 hours should do so at a volume of fewer than 85 decibels; louder than that and you may be putting your hearing at risk. Parents who put a sound machine in their children's rooms should speak with a pediatrician about an appropriate volume level to ensure there aren't any unintended effects.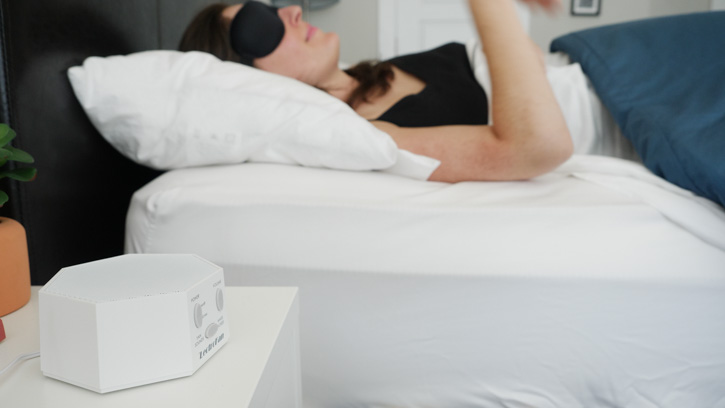 The 'LectroFan Classic does not have a decibel meter on the machine, but you can easily use a free app on your smartphone to find the decibel level – there are many free options to choose from.
LectroFan Classic White Noise Machine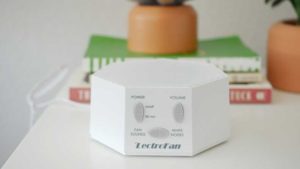 The 'LectroFan Classic White Noise Machine offers 20 different white, pink and brown noises and fan sounds. The machine is compact and easy to use and has no distracting LED light on it.
Mattress Clarity Score
4.70 / 5
Read Full Review
Final Thoughts
The 'LectroFan Classic is one of my all-time favorite white noise machines. The biggest thing it has going for it is the great sound quality and the ability to choose between brown, pink or white noise and 10 different white noise fans. If people prefer to sleep with white noise or fall asleep to the sound of a fan in your room, this white noise machine generally cannot be beat. It's simple, it's effective and for what people getting, I think the price is spot on and is an excellent value overall.