The Purple Mattress is hard to miss if you spend much time online. Purple's amusing marketing and unique design make them a very hip, talked-about mattress.
I had enjoyed my sleep on the original Purple Mattress, and I was interested in what my experience would be with the new Purple Mattresses.
I reviewed the Purple 4, and and with its extra layers of gel and individually wrapped coils, I can safely say this was one of the most comfortable sleeps I have had. Will you find the same comfort with the Purple 4? Read on for my full Purple 4 review.
Purple 4
is a perfect choice if you are a side sleeper, are looking for a long-term investment, and are a hot sleeper.
Get the best deal on your
Purple 4
, plus
get a free pillow
when you click the button below.
Note: This written review focuses on the Purple 4 but gives you good insight into the 2 and 3 as well.
You Might Like the Purple 4 If …
You're a side sleeper. If you're looking for overall comfort as a side sleeper, this might be a good choice for you. The 4" of patented gel material offers a weightless feeling. Even our staff writer Marten, who is much larger than me, had a similar experience sleeping on his side.
You're looking for a long-term investment. The pocketed coils plus the gel layer make for a very durable, long-lasting mattress. Though the price point is high, the Purple 4 should give you many years of use.
You are a hot sleeper. Because of the grid-like design of the gel layers and pocketed coil system, this mattress has great airflow and promotes temperature neutrality. You won't be sleeping hot with the Purple 4.
Click HERE to get a free pillow with a Purple Mattress purchase.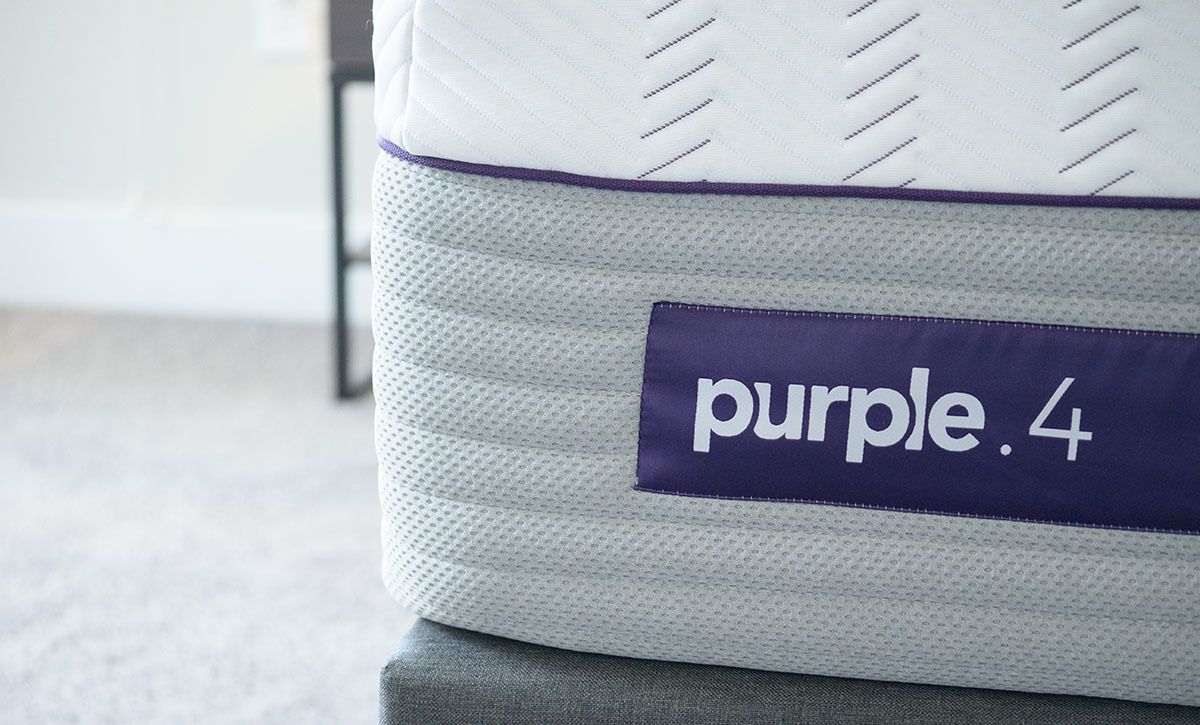 You Might Not Like The Purple 4 If …
You're not looking for a large investment. There is a sizable price jump for each extra inch of gel that you get (i.e. the jump from the Purple 2 to 3 or 3 to 4). The Queen size Purple 4 is quite expensive with a current cost of $2,800.
You don't want a unique feel. The Purple 4 is truly unlike any mattress you've ever tried. (More on the feel HERE). While I found it to be comfortable, it could take some time to get adjusted to the gel grid.
You're a back or stomach sleeper. The 4 may be too soft for back or stomach sleepers. You may not get proper support, so your hips may sink in these positions and throw your spine out of alignment. I would suggest the Purple 3 or 2 if you are looking for more support in those areas.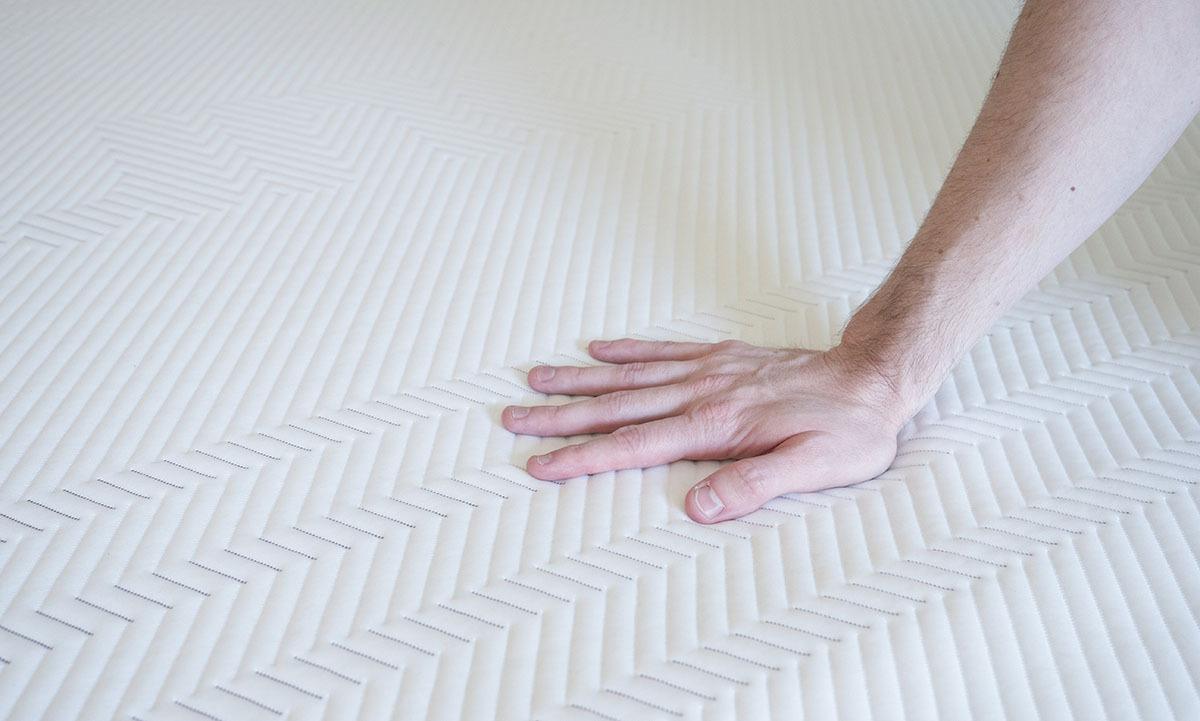 Which Purple Should You Pick?
Choose the original Purple if you are under 225 pounds and on a budget.
Choose the Purple 2 if you are a back or stomach sleeper and you want the extra support from the pocketed coils.
Choose the Purple 3 if you are a combination sleeper who needs extra support.
Choose the Purple 4 if you just sleep on your side and/or are a bit heavier.
Construction Overview
This mattress is 13″ tall.
The mattress features 4"of Purple Smart Comfort Grid. This hyper-elastic polymer is supportive until you put enough pressure onto it.
A thin, 0.5″ quick transition foam separates the gel grid from the coil system beneath.
The coil system is comprised of 7.5″ of individually wrapped coils. This is a a very durable material, giving a layer of support.
A polyfoam outer shell reinforces the edge for edge support.
The very bottom is 1″ of foundational foam.
RELATED: Top Mattress Picks Overall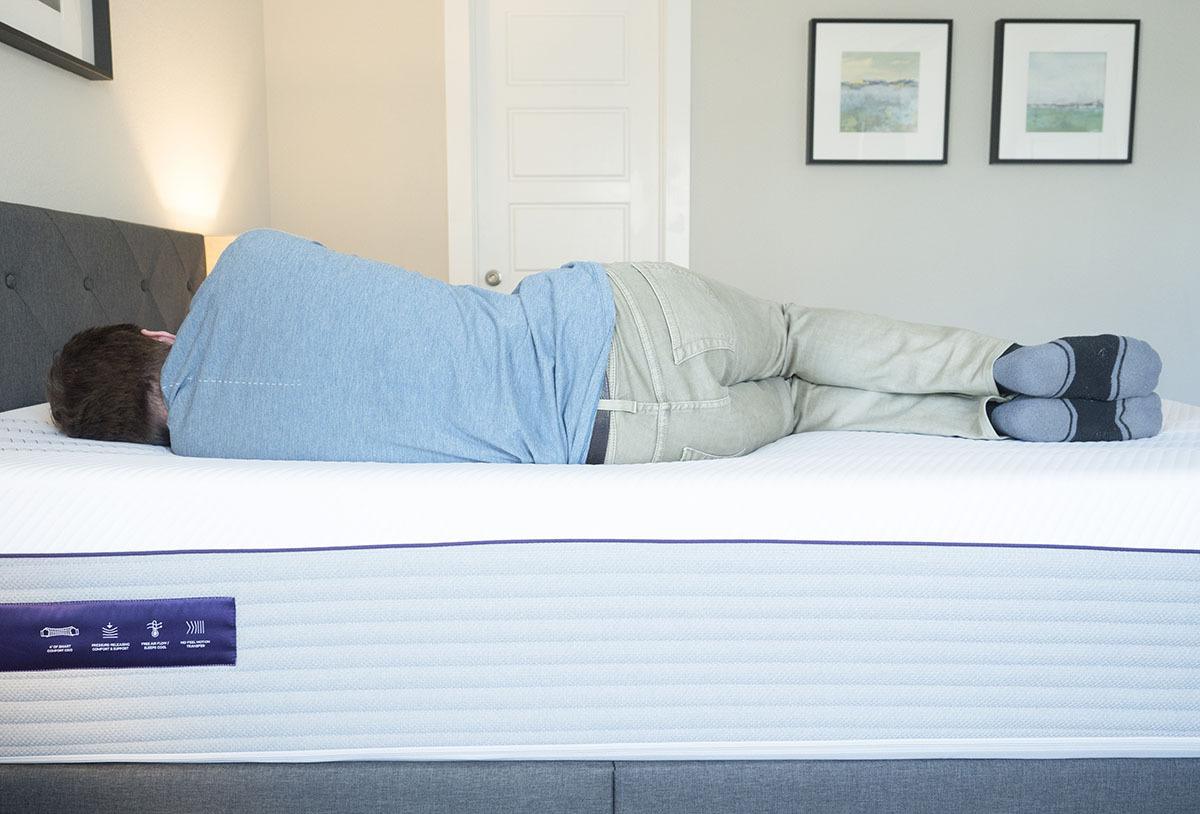 Construction Takeaways
The coil system and the gel grid network allow for good airflow, making this a great choice for hot sleepers. You will not sleep hot with this mattress.
The gel grid network is designed to be supportive until enough pressure is applied. It is pressure-relieving while still being supportive. It is a unique feel in that regard.
Because of the 4" of gel, you're going to have a weightless feeling while sleeping. This is ideal for side sleepers and/or heavier-weight people who might otherwise push down to the lower layers.
The gel is also very durable and does not sag the way foam does over time. This gives the Purple 4 a longer life than most foam mattresses, making it a good long-term investment.
The difference between the Purple 4, 3, and 2 is how much gel you get (in inches).
RELATED: Most Comfortable Mattresses
Firmness/Feel
The gel grid relieves pressure while still being supportive. It gives way under pressure but is still immediately responsive.
Sleeping on my side, I felt weightless without feeling stuck. I felt little to no pressure on my shoulders, hips, and knees.
Overall, I would say the mattress is a softer than average, around a 5.5 out of 10 on a firmness scale. This makes it a good choice for side sleepers.
Motion Isolation
The individually wrapped coils together with the gel grid really cut down on motion transfer on the Purple 4. If you look at the video below, there was a little bit of side-to-side motion transfer, but overall the isolation is a little bit above average. This is definitely a good option for couples.
Edge Support
The Purple 4 incorporates a polyfoam outer shell to reinforce the edge. This is a solid choice if you sleep with a partner or want to utilize the entire surface area of the mattress. Overall, the edge support was above average.
You can see the good edge support in the photo below.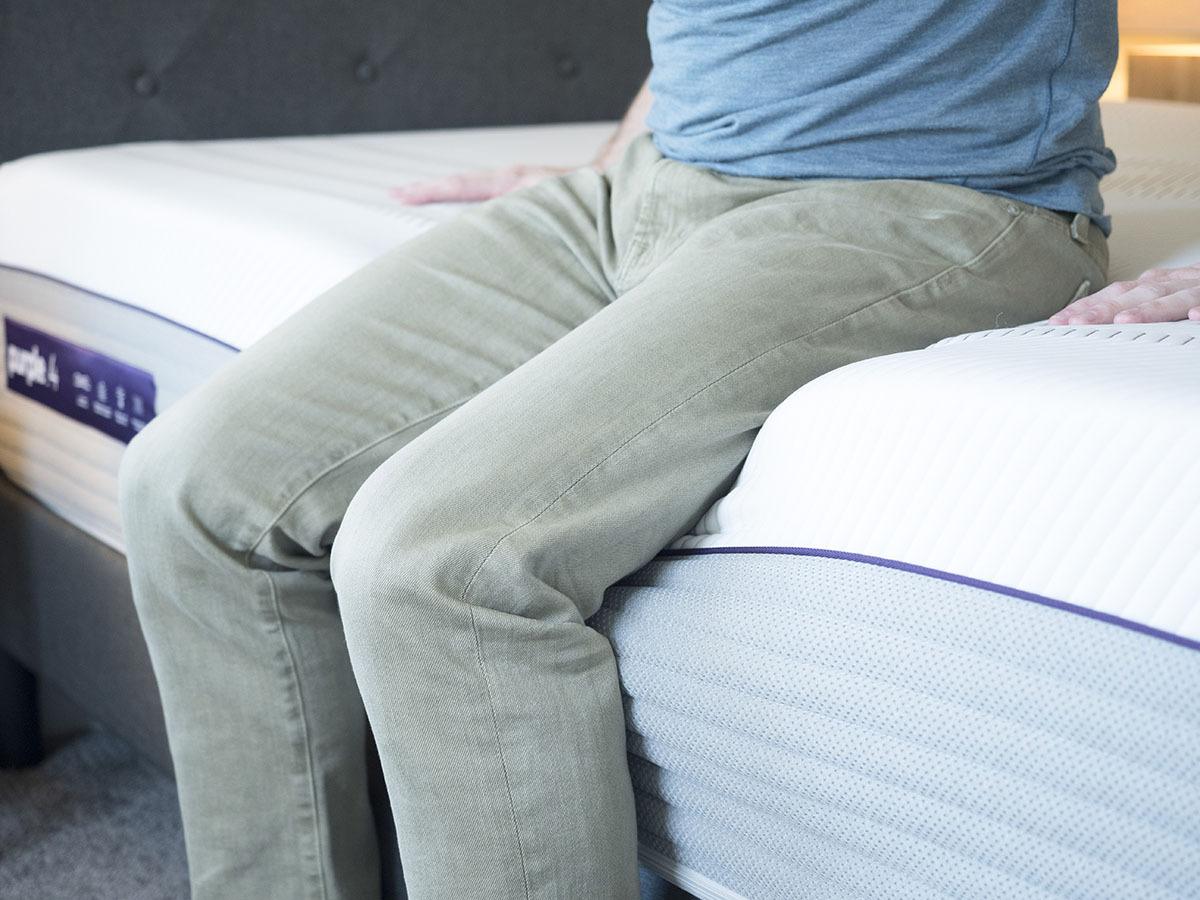 Marten's Take
Marten is a staff writer for us. He has a much different body type from me: He is 6'7″ and weighs about 230 lb; I am 5'9″ and 160 lb.  Here is what he thought about the mattress:
"I am taller and heavier than Joe, but I also found the Purple 4 to be extremely comfortable. I too am a side sleeper and I felt well cushioned by the gel grid.
I sometimes have trouble pushing through the upper layers of mattresses and down to the spring layers. I didn't have that experience with the Purple 4. I felt weightless with little to no pressure on my shoulders, hips, and knees. I would say the Purple 4 was softer than average, at 5/10."
Even a larger side sleeper like Marten found the Purple 4 to be comfortable. This confirms that this mattress could be a good match for side sleepers of many body types (and especially heavier-weight sleepers).
What Makes This Mattress Stand Out?
It has 4" of the patented gel grid, making you feel weightless while you sleep. It's definitely one of the most comfortable mattresses out there.
The pocketed coils together with the gel grid layer give incredible support, while also relieving pressure on shoulders, hips, and knees.
The coils and gel grid allow for great airflow, so you won't be sleeping hot.
This is a very durable mattress and a great choice for those seeking a long-term investment. The combined materials are about as durable as anything else you can find in the market.
Purple 2-3-4 Review
Return Policy/Warranty
4.5
Overall Sleep Experience
4.6
Overall
The Purple 4 is unlike any mattress I have slept on. The gel technology truly makes for a weightless, unique sleeping experience.
Sleeping on my side, I felt almost no pressure on my shoulders, hips, and knees. Back or side sleepers may find the 4 to be too soft and could look at the Purple 2 or 3. Overall, this is one of the most comfortable mattresses I have slept on.
This mattress is made in the USA and features a 100-night, no-pressure guarantee as well as a 10-year warranty.
The following two tabs change content below.
Joe Auer
Joe Auer is the editor of Mattress Clarity. He mainly focuses on mattress reviews and oversees the content across the site. He likes things simple and take a straightforward, objective approach to his reviews. Joe has personally tested nearly 100 mattresses and always recommends people do their research before buying a new bed. He has been testing mattresses for over 4 years now, so he knows a thing or two when it comes to mattress selection. He has been cited as an authority in the industry by a number of large publications. When he isn't testing sleep products, he enjoys working out, reading both fiction and non-fiction, and playing classical piano. He enjoys traveling as well, and not just to test out hotel mattresses! Joe has an undergraduate degree from Wake Forest University and an MBA from Columbia University.