I understand that most of us aren't made of money and, when searching for a mattress online, we'll see that some of the prices are particularly steep; for some of the higher-end bed-in-a-box mattresses, customers could be spending upwards of $3,000.
The good news is that shoppers don't have to break the bank to get a high-quality mattress: I have slept on hundreds of mattresses, from the least to most expensive and, out of these mattresses, I found six that are affordable but also comfortable and supportive. While these mattresses do range in price, they are all under $700 for a Queen-size.
To find a great mattress that won't cost an arm and a leg, read on for my full best cheap mattress guide.
The Best Cheap Mattresses for Your Budget
While I have narrowed down the search to six mattresses, our readers still have a little work to do: these six mattresses are a good fit for different types of sleepers; some are better for back sleepers, and others are better for side sleepers. So, pay close attention to the details in our post, and it should be easy to find the right cheap mattress on Amazon or elsewhere online.
Best Budget Hybrid Mattress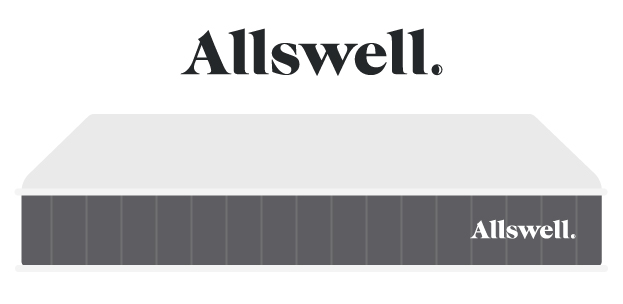 Allswell Original Mattress
People who have been especially strapped for cash may have stepped into a Wal-Mart hoping to save some money on household essentials or a Chuck Norris box set; now, Wal-Mart is also there to help customers save a significant amount of money on a bed-in-a-box mattress with its Allswell mattresses.
There are three mattresses in the Allswell line: the original Allswell, the Allswell Luxe, and the Allswell Supreme. The original Allswell is their most affordable mattress and a Queen-size retails for around $375; the company is able to price the Allswell particularly low because of its smaller profit margins.
Because of this, customers are still getting a higher quality hybrid mattress as the Allswell contains pocketed coils and premium memory foam above that; the comfort layer is noticeably thin, so this is a firmer and more supportive mattress, making the Allswell an especially great match for both back sleepers and stomach sleepers.
Those who need a firmer mattress and are looking for a great value mattress should definitely check out the Allswell. 
What Makes The Allswell Stand Out?
At under $400 for a Queen-size, the Allswell Original is a particularly nice, budget-friendly option.
It provides a significant balance of comfort and support for back sleepers of many sizes. 
The Allswell should be supportive enough for the majority of stomach sleepers.
Read the full Allswell mattress review 
20% Off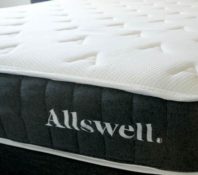 The Allswell is a supportive mattress that should be a great fit for back and stomach sleepers, and it is also a very good value. Click the button and use code GOBBLE20 to save 20%. 
Best Cheap Memory Foam Mattress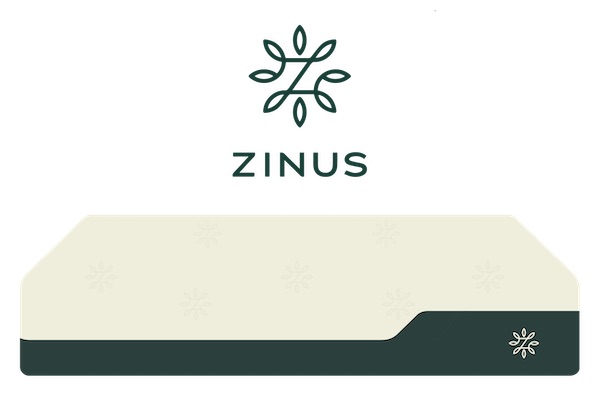 Zinus Memory Foam Mattress
Hopping onto Amazon, customers will find a wide number of Zinus products; they make everything from tables and couches to, yes, mattresses. There are a significant number of Zinus mattresses currently available, and I am a particular fan of the Zinus Cooling Gel Memory Foam Mattress.
What's great about this mattress (and Zinus in general) is the options: based on their sleeping position, customers can decide on whether they want an 8″, 10″, 12″, or 14″ mode and, since I spend a good amount of time sleeping on my side, I opted for the 12″, one of their softest models.
Lying on the 12″ model, I feel myself sink into that soft memory foam, and the comfort layer is so thick, I feel very little pressure on my shoulders and hips. However, larger people can go with the 14″ model which has a thicker comfort layer or, if someone needs more support, they can choose the 8″ or 10″ model.
Again, Zinus is all about letting customers choose what's best for them, so those who want a value memory foam mattress with just the right amount of comfort and support should particularly like the Zinus mattresses.
What Makes The Zinus Stand Out?
The Zinus comes in a wide variety of firmness options from very soft to a bit firmer and more supportive.
The Zinus 12″ model is a particularly great match for light- and medium-weight side sleepers.
The Zinus features cooling gel and air channels, making this a very good fit for hot sleepers.
Read the full Zinus review
Zinus Deals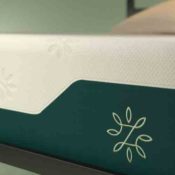 Zinus has a wide selection of mattresses that are really great values: customers can get the best current deal on Zinus mattresses simply by clicking the link below.
Best For Side Sleepers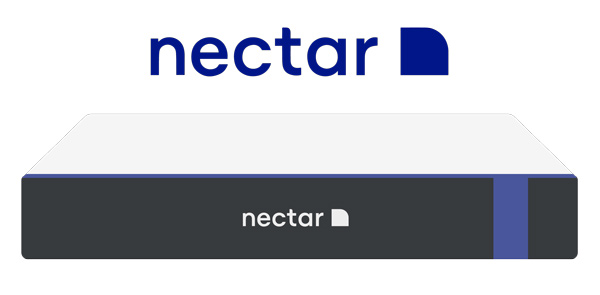 Nectar Mattress
Every mattress on our list is very affordable, however, if someone wants something exceptionally comfortable and has just a bit more money to spend, they should check out the Nectar mattress.
The Nectar is the most expensive mattress on this list, but it is still less than $700 for a Queen-size and, with the higher price comes a more complex construction: the Nectar features Tencel fabric, quilted memory foam, and gel memory foam.
This memory foam is extremely comfortable and makes the Nectar a fantastic match for side sleepers; personally, I feel no noticeable pressure on my shoulders and hips.
In addition, the Nectar should be supportive and comfortable enough for most back sleepers; they should feel their hips sink in just a bit while the memory foam conforms to the shape of their body.
Those who want an especially comfortable mattress and don't mind spending a few hundred more should consider the Nectar.
What Makes The Nectar Stand Out?
The Nectar is soft and should offer especially great pressure relief to side sleepers.
The mattress should have no trouble supporting back sleepers of many different sizes. 
The mattress features numerous cooling features and should not sleep particularly hot.
Read the full Nectar mattress review
Free Accessories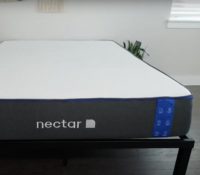 Nectar is a very comfortable memory foam mattress that happens to also be an amazing value, and customers can get the best deal on the Nectar plus $399 of free accessories by using our coupon.
Best for Lightweight Sleepers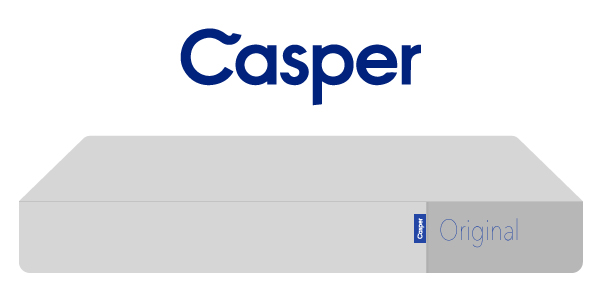 Casper Original Mattress
Casper sells a variety of different mattresses, but if you're on a budget, you can't do much better than the Original. 
Made with Casper's Zoned Support System, this bed offers both comfort and support. Its foam layers create excellent body contouring, but it shouldn't trap heat like many memory foam mattresses do. That's thanks to Casper's proprietary AirScape foam. This material has tiny holes throughout, which allows for plenty of airflow. 
Lightweight sleepers will especially appreciate the mattress's balanced foam feel, but it may work well for larger folks as well. And because it's made with high-quality materials, this mattress should last a long time. 
Best of all, with Mattress Clarity coupons, you can get a Queen mattress for under $1,000! 
What Makes Casper Stand Out?
The Casper Original mattress is very affordable with Mattress Clarity deals. 
It works well for lightweight sleepers. 
The mattress has a zoned support system, so it feels comfortable in many different sleeping positions. 
Thanks to its AirScape foam, the mattress won't trap heat. 
Read the full Casper mattress review. 
Save $100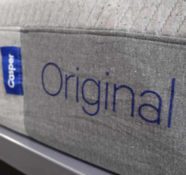 Casper is a great value that is also a great fit for all three sleeping positions. Use the code "MATTRESSCLARITY" to save $100 on your order!
Best Affordable Queen Mattress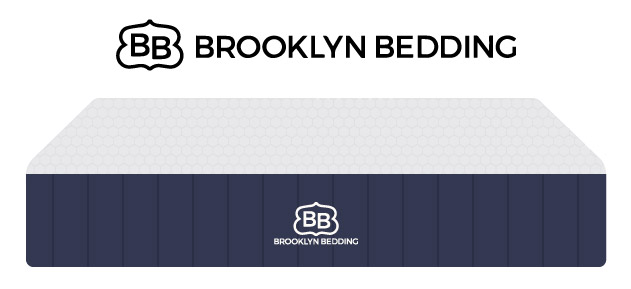 Brooklyn Bedding Bowery Mattress
If someone is looking for an especially good value, Brooklyn Bedding is always a good start because the company actually owns their own factory. They sell their mattresses direct-to-consumer and are able to price their mattresses particularly low and, out of their ever-growing line of mattresses, the Bowery is their most affordable; with discounts, a Queen-size Bowery costs close to $550.
Like the Casper Essential, the Bowery is a streamlined mattress: it contains Energex foam, a transition foam layer, and base foam. The Energex foam is especially soft but also responsive so sleepers will sink into the mattress but shouldn't have too much trouble moving around at night.
The Bowery is also a good fit for back sleeping and side sleeping; again, I weigh 160 lbs, and the Bowery gives me all the support and comfort I need, but I will note that heavier sleepers might have a different experience on the mattress.
The Bowery also has that balanced foam feel so if someone wants a bit of the memory foam feel and often worries about getting stuck, this mattress is a good option.
What Makes The Bowery Stand Out?
It comes from Brooklyn Bedding, a producer of value mattresses, but the Bowery is a simple, yet high-quality mattress.
It is a particularly good fit for lighter back and side sleepers.
The Bowery contains breathable foams, so it shouldn't trap an extreme amount of heat.
Read the full Bowery mattress review 
Get 25% Off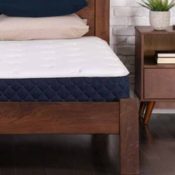 The Brooklyn Bedding Bowery is an affordable mattress that a lot of people will like. Click the button to save 25% on your purchase.
Best Budget Cooling Mattress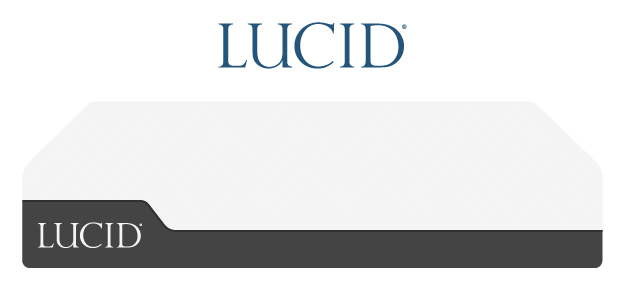 Lucid Hybrid Mattress
Memory foam is great, but it does have its drawbacks, specifically, it can trap sleepers and make them sleep particularly hot. However, this is not an issue with the Lucid Memory Foam Hybrid Mattress.
The Lucid is 10″ tall and contains bamboo charcoal-infused memory foam, two transition layers, and individually-wrapped coils. First off, the bamboo charcoal is going to help with heat dissipation while the coils will promote a significant amount of airflow through the mattress and, second, while the memory foam is very soft, the transition layers ensure that sleepers don't sink in extremely far and feel stuck.
The mattress is right in the middle in terms of firmness; for me, it was a 6.5/10 on a firmness scale, so the Lucid has a balance of comfort and support that is ideal for back sleeping and, for someone of my size, the mattress relieved pressure on my shoulders particularly well.
So, those who want a mattress with the benefits of memory foam but few of the drawbacks, the Lucid could be a good choice.
What Makes The Lucid Stand Out?
The mattress is soft and pressure-relieving, but sleepers shouldn't get stuck in the Lucid.
It features memory foam but shouldn't trap too much heat, making it a good option for hot sleepers.
The Lucid is a medium-firm mattress that should work for back and side sleepers.
Read the full Lucid mattress review
Lucid Hybrid Mattress Deals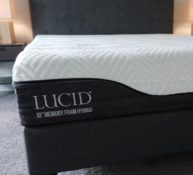 The Lucid Hybrid mattress is a great value and features a balance of comfort and support, so click the button for the best deal on a Lucid. 
Marten's Take
My opinion on these mattresses is, of course, based on my own personal experience and, since I am 5'9″ and 160 lbs, I thought it was a good idea to ask Marten, a larger member of our team, to try out these mattresses for himself. Here is what he thought:
So, Joe made this list of the best cheap mattresses, but larger people like me often have to spend more money to find a mattress that is both comfortable and supportive enough for heavier weights. However, these really are some quality mattresses, and a few of them are a good fit for someone of my size.
First off, the Allswell is a particularly good match for heavier people because it features coils in its construction and, for those larger people out there, it is usually a very good idea to find a mattress with coils in it. This is a very supportive mattress and it felt like an 8/10, firmer-than-average.
Back sleeping, I am getting enough support, my hips are sinking in the right amount, and I am also feeling good lumbar support. The mattress is too firm for side sleeping, but it is especially supportive for stomach sleeping.
Then, we have the Lucid, and like the Allswell, it contains coils. Back sleeping, the mattress is a great match because it is both supportive and comfortable. While the Lucid doesn't really work for back or stomach sleepers, it is a good match for heavier back sleepers.
For those who don't want coils in their mattress, the Nectar should be a good option. This memory foam mattress feels great while back sleeping; my hips sink in the right amount, I get good lumbar support, and I am also getting some contouring from the slow-moving memory foam. Side sleeping, I sink into the mattress and feel some awesome pressure relief on the shoulders and hips, but the Nectar is too soft for stomach sleeping.
So, heavier sleepers looking to save some money on your mattress purchase should take a look at the Allswell, Lucid, or Nectar.
It is great to get Marten's perspective on these six mattresses. Mattress shoppers should always think about their size and weight when they are shopping for a mattress, so larger people should keep Marten's comments in mind.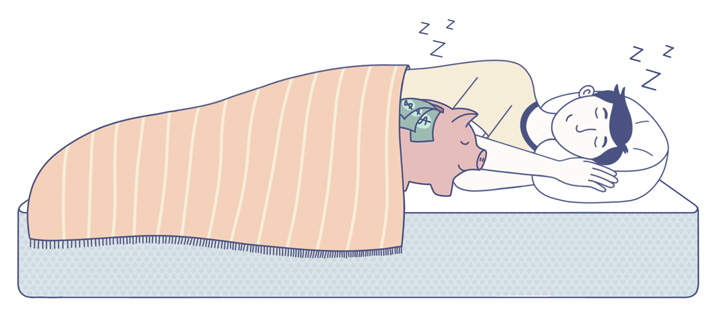 How Much Does a Good Mattress Really Cost? 
Mattresses can cost anywhere from a couple hundred dollars to a few thousand dollars.
You may be wondering how much you really need to pay for a mattress and what point you're just paying for extra bells and whistles that you don't really need. Mattress costs vary according to a number of factors, but the largest influence driving the price of a mattress is the materials that are used in its construction.
Use my chart below as a general guideline for what you can expect to pay for different types of mattresses.
| | |
| --- | --- |
| Mattress Type | Average Price Range |
| Memory Foam | $300-$1,000 |
| Innerspring | $900-$1,200 |
| Latex | $1,500-$2,000 |
| Hybrid | $1,500-$2,000 |
| Airbeds | $2,000-$3,000+ |
Memory foam and foam blend mattresses are usually the cheapest type of mattress you can buy. Traditional innerspring mattresses are also on the lower price range. Latex and hybrid mattresses both can get pretty pricey exceeding the $2,000 price mark, though the ones on the lower range of the price spectrum around $1,000-$1,500 are typically good mattresses. There are even more affordable hybrids like the SweetNight mattress.
Airbeds are the most luxurious mattress type and easily can cost over $3,000.
RELATED: Best Mattress Under $2,000
Other factors that influence the price of your mattress include the size of your mattress and where you purchase your mattress. Smaller mattresses obviously use less materials and therefore are cheaper, so if you need to save some money, consider how large of a mattress you really need.
The retailer, brand, and location that you shop from also causes variation in the price of a mattress. I can give you some insider tips I've learned from my years in the mattress industry to help you save money on a mattress.
How to Save Money on a Mattress
Consider what type of mattress you want
Get a smaller mattress size if you can
Shop online instead of in stores
The first two bullet points I've already covered in the previous section. To save money on a new mattress, it's important to consider what type and size of mattress you really need. Shoppers on a budget should shy away from luxury mattresses like airbeds or any smart mattresses with advanced technology. Also keep in mind that twins, twin XLs, and full size mattresses will be cheaper than larger sizes like queens, kings, California kings, and split king mattresses.
RELATED: Best Mattress Under $500
One of the best ways to save money on a mattress is to shop online vs. in stores. Mattress prices online are considerably cheaper than those in stores because bed-in-a-box mattress companies that ship directly to the consumer (DTC) cut the cost of the middleman.
Shopping online also comes with several benefits like being able to easily compare prices of many different mattress models, brands, and retailers all from the comfort of your couch. You can also scour the web for coupons and promo codes or take advantage of sales periods during big holidays to save a few hundred dollars on a mattress.
Around President's Day, the Fourth of July, Amazon Prime Day, Labor Day, Veteran's Day, Black Friday, Cyber Monday, and Christmas there are a ton of great deals to watch out for.
Are there Risks to Buying a Budget Mattress?
As with anything you spend your money on, there are always risks involved. But particularly when you're shopping for a cheaper mattress, there are a few concerns.
To protect your purchase, look out for the following factors before buying a cheap mattress:
Check for a reasonable return policy (at least 30+ day window) with refunds
Check for a reasonable mattress warranty (10+ years) and make sure it covers manufacturer defects
Check for real customer reviews to see what other buyers have to say
It's very reasonable to find a good mattress under $1,000 online, but it's always wise to approach the cheapest mattresses with a bit of skepticism.
Overall
In the end, "cheap" is a subjective term. One can get a mattress on Amazon for $150, but that doesn't necessarily mean it is going to be comfortable or supportive. However, I can attest that these six mattresses are not only a good deal, but they are also well-made quality mattresses.
Still searching for your perfect mattress? Take our mattress finder quiz to receive tailored recommendations!
Featured image: Tekkol/Shutterstock
Joe Auer
Joe Auer is the editor of Mattress Clarity. He mainly focuses on mattress reviews and oversees the content across the site.
He likes things simple and take a straightforward, objective approach to his reviews. Joe has personally tested nearly 250 mattresses and always recommends people do their research before buying a new bed. He has been testing mattresses for over 5 years now, so he knows a thing or two when it comes to mattress selection. He has been cited as an authority in the industry by a number of large publications.
Joe has an undergraduate degree from Wake Forest University and an MBA from Columbia University.