During cold months, some reach for a heating pad, while others reach for space heaters. But these just don't offer the cozy comfort that a blanket can offer. That's why many turn to heated blankets to warm them up instead of reaching for the thermostat.
If you're on the hunt for the best heated blankets, I've compiled a list of five of my favorites and the highest-rated out there. So bundle up and keep reading to see my top picks!
Our Top Picks for the Best Heated Blankets
Best Rated – Sunbeam Royal Ultra Heated Blanket
Who's It For?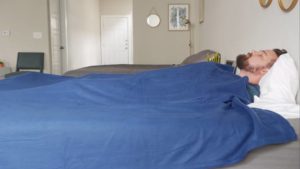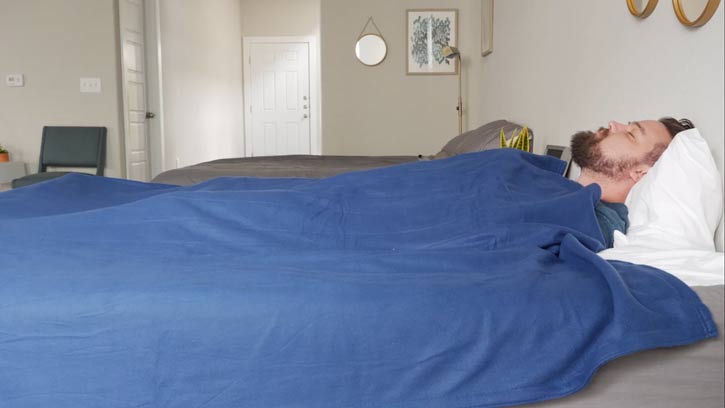 When it comes to a popular, highly rated heated blanket, Sunbeam comes up a lot. The Sunbeam Royal Ultra heated blanket has thousands of 4 and 5 star reviews on Amazon, and naturally we had to check it out, too.
This heated blanket features many different heat settings, comes in a variety of colors, and can be machine washed! This particular model doesn't get too hot, but there aren't going to be cold spots while you use it. This makes it a good option for people who might need a heated blanket year-round.
The outer fabric feels ultra-soft and this blanket can come in a queen or king-size for those looking to share the warmth.
What Makes the Sunbeam Royal Ultra Heated Blanket Stand Out?
The Sunbeam Ultra comes in various sizes to match your mattress's size.
It's a very affordable heated blanket, often running less than $100 on Amazon.
Sunbeam is a very highly rated and popular brand on Amazon, with thousands of satisfied customers.
Read our full Sunbeam Royal Ultra heated blanket review.
Best on Amazon – Brookstone Heated Throw
Who's It For?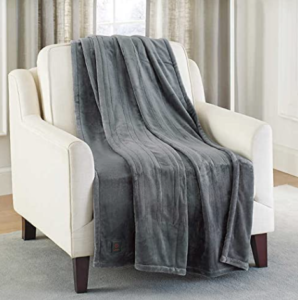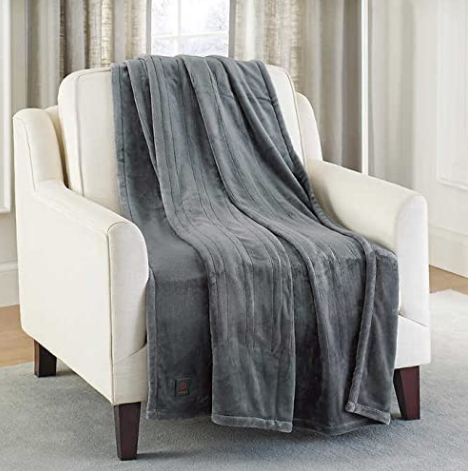 You've seen the store in the airport and the mall, but Brookstone is also on Amazon for those who prefer to do their shopping online. And with an average 4.3 star rating out of over 500 reviews on Amazon, the Brookstone heated throw blanket is a good choice for the Amazon lovers out there.
Because this is a throw blanket, it's better for people who live in warmer areas And because of its low heat option, it doesn't use up too much electricity when in use.
For easy care, you can machine wash this blanket, and it comes in a few different color options for those looking for variety.
What Makes the Brookstone Heated Throw Blanket Stand Out?
Brookstone is a very popular brand.
This blanket has an automatic shut off after four hours.
It won't use too much electricity as it pulls about 100 watts while on.
Best with a Timer – Beautyrest Electric Blanket
Who's It For?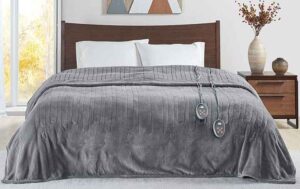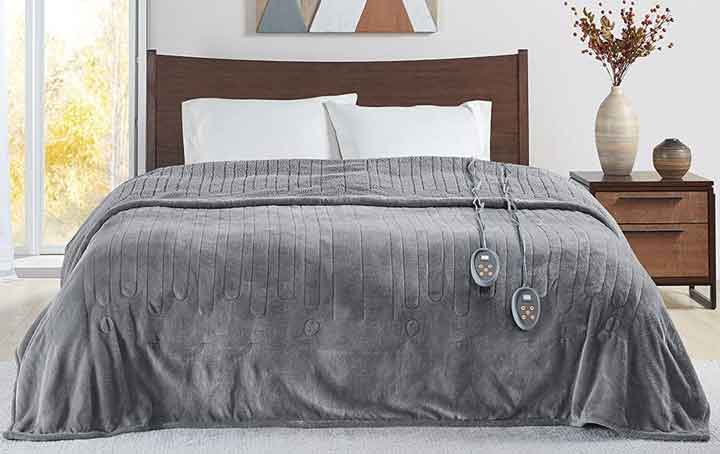 Not everyone needs the constant heat of a heated blanket. Some just need to rest under one for a few minutes to warm up to a comfortable temperature. Many blankets have timers built into them and will automatically shut off after the time is up. Beautyrest's Electric blanket has a range of timing options from just an hour all the way up to 10 hours.
You can set the timer from the single remote, or dual controllers on the larger sizes, and when time is up, the blanket will turn off. The blanket is made of reversible fabric, with one side made of a soft and minky microlight plush material and the other of textured sherpa fabric.
What Makes the Beautyrest Electric Blanket Stand Out?
It features 20 heat levels, and you can even preheat the blanket.
Though it has an auto shutoff after 10 hours, you can set a timer for one hour all the way up to the 10 hour shutoff.
It uses thick sherpa and mink fabric to help you feel extra cozy.
Best Queen-Size – SoftHeat Luxury Fleece Heated Blanket
Who's It For?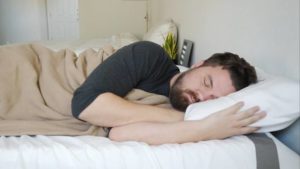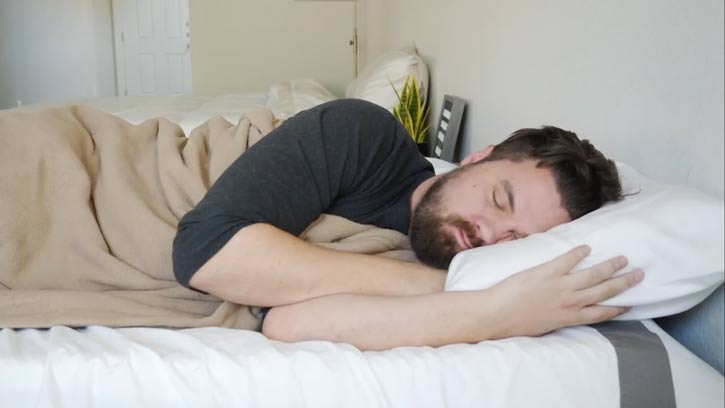 Whether you share your bed with a partner, or just want a big heated blanket, the queen-size option is the default for many people. And luckily, heated blankets come in all bed sizes. If you're on the hunt for a queen-size heated blanket, look at the SoftHeat Luxury Fleece heated blanket.
This is another electric heated blanket that provides a gentle heat, ideal for those that just want to remain at a comfortable, warm temperature. But for those looking to conserve energy, this is a good choice, as it's a low voltage blanket.
This blanket is especially great for couples who share a queen bed because it has dual controllers. Each controller connects to a different side of the blanket, so two people can set different temperatures while they use it.
What Makes the SoftHeat Fleece Electric Blanket Stand Out?
It's a low voltage blanket that won't run up the energy bill.
It comes in all bed sizes and can work well for couples who share queen or king-size beds.
It comes with a 5-year warranty.
Read our full SoftHeat Fleece electric blanket review.
Best with Foot Pocket – Vremi Electric Blanket
Who's It For?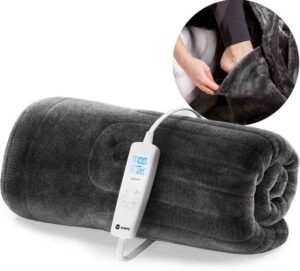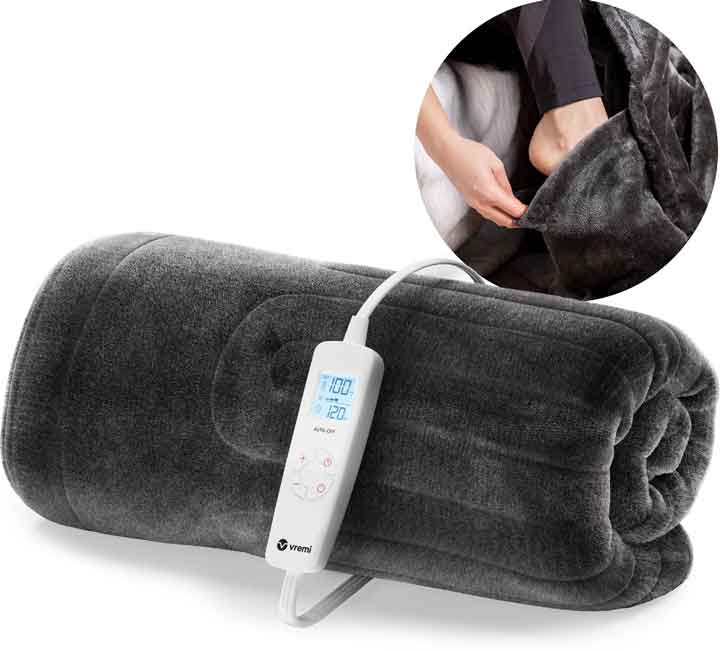 One of the inconvenient things about using blankets is when it doesn't quite cover you, and your feet are left out in the cold (literally). Luckily with the Vremi Electric blanket, there are not one, but two pockets for you to snuggle your feet into.
Whether you need this blanket to keep you at a warm temperature, or if you need it hot, the Vremi blanket has six heat settings. For those looking to just warm up, the blanket's lowest setting is 85 degrees. But if you want it hot hot, the blanket goes up to 110 degrees.
Regardless of how warm you need it, this is a popular blanket that has left many customers satisfied, all while keeping those feet covered and warm!
What Makes the Vremi Electric Blanket Stand Out?
The main draw are the foot pockets, meaning you can put your feet inside the blanket to stay nice and toasty.
The blanket features six heat settings, ranging from 85 to 110 degrees.
It's got an affordable price point.
What to Consider When Looking for the Best Heated Blankets
Yes, standard throw blankets can keep us warm. But these types of blankets only provide so much heat. Heated or electric blankets are a solution that many reach for because they provide more warmth than your standard throw blanket.
But what do you need to look out for? Let's discuss some key considerations when looking for the best heated blankets on the market.
How to Wash a Heated or Electric Blanket?
Though it might seem contradictory, heated and electric blankets can be machine-washed! Many of the blankets on this list have the ability to be washed in the washing machine. These blankets come with specific manufacturer's instructions on what temperature settings to use and how they should be dried.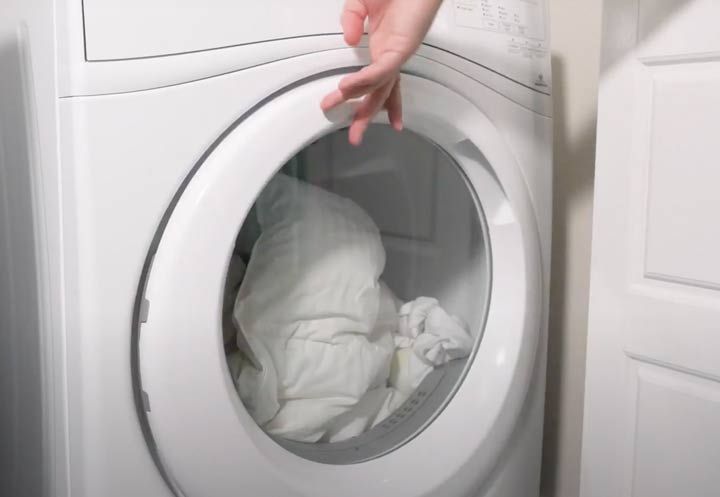 However, spot cleaning is always a good idea with electronic products. But overall, these blankets are safe to be washed.
How Do Heated Blankets Work?
Heated blankets have a relative ease of use about them. You control the blanket from external controllers, and they can either be cordless or need to be plugged in. But how do they generate that extra heat?
Within the blankets themselves, there are wires that run throughout. When plugged in or turned on, these wires are what will generate heat and warm you up. These could be a better option than having to turn the heater on, especially if you're concerned about running the heating bill up during the winter months.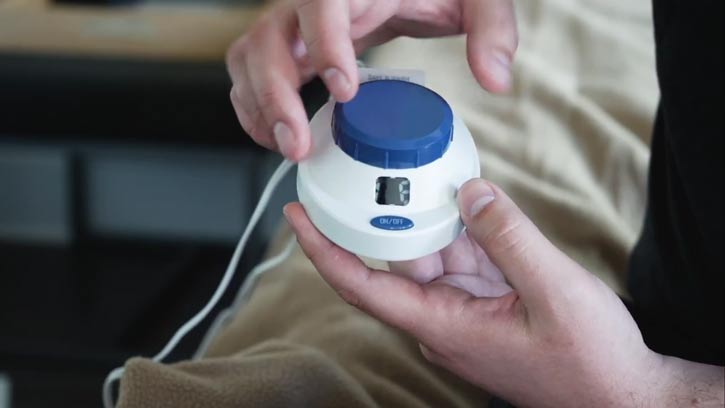 Some heated blankets might not provide a ton of heat, due to them being low wattage. While this can save you some money on your energy bill, if you're looking for something to keep you extremely warm, be sure to look at the heat settings and temperature ranges the blankets can provide.
Is it Safe to Sleep with a Heated Blanket?
It is! As a safety measure, heated blankets come with an automatic shut-off feature. Though this time will range anywhere from four to 12 hours, this auto shut-off feature will prevent you from overheating during the night, and should be safe to use. When the blanket is not in use, keep it unplugged from the outlet and stored away.
FAQs
Do heated blankets use a lot of electricity?
Many weighted blankets come with power cords that need to be plugged into the walls. Some are low wattage or voltage heated blankets that won't pull much electricity to operate. Even if the heated blanket you have isn't the lowest wattage or voltage, many of them have an auto shut-off safety feature to keep you from overheating, which in turn keeps it from using too much electricity.
How much are heated blankets?
Heated blankets come in a variety of price points, with many being as low as $50. Some high-quality blankets can run you a couple hundred dollars. The good news is there's going to be a blanket for any budget, and this list features three that cost less than $100.

Durability isn't always tied to the price you pay, but be sure to look at whether or not a blanket comes with a warranty. And it's never a bad idea to look at other customer reviews on how long-lasting some more pricey blankets could be before clicking "check out."