Those in the market for an electric blanket might find themselves with far too many options. There are so many electric blankets to choose from, and it can be intimidating to find the right one.
Speaking purely in terms of popularity, the Sunbeam brand has been at the top for quite some time and, out of its catalog, the Sunbeam Quilted Fleece Heated Blanket is one of the best sellers. It is also one of the more affordable heated blankets out there.
I was very excited to try out the Sunbeam for myself. To find out if this is a warm heated blanket that won't break the bank, read on for my full Sunbeam Quilted Fleece Heated Blanket review.
Sunbeam Heated Blanket Deals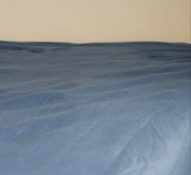 The Sunbeam is a value electric blanket. Click the button for the best deal on Sunbeam. 
Sunbeam Electric Blanket Video Review
This heated blanket was fun to put to the test. See how it performs in my experience, and how it may improve your sleeping experience.
The Sunbeam Might Work For…
Those who are looking for an affordable option. For those who want an electric blanket that won't cost you too much upfront, the Sunbeam is a great option. At full price, it is $39 for a Twin size, and it also goes on sale quite often. This is a very good value for an electric blanket.
Those who want something to pair with a comforter or blanket. The Sunbeam is not the hottest electric blanket I have tried, but I think it does offer soothing heat and could be a great electric blanket to put under a comforter or heavier blanket. Again, it wasn't the hottest, but it did feel very relaxing.
Couples. If one buys a Queen or King size, the Sunbeam comes with two controllers, and each controller manages one side of the electric blanket, allowing each partner to can set their side to their desired heat. For those who sleep with a partner, this is a great feature.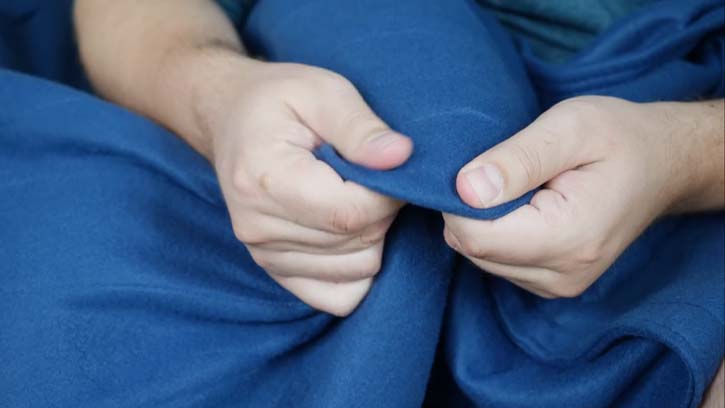 The Sunbeam Might Not Work For …
Those who prefer a cozy electric blanket with more body. Those who like a fluffy blanket with a good amount of body might not love the Sunbeam. It is on the thinner side, and I can definitely feel the thick wires through the outer shell. Those who want something cozier should perhaps consider a heated throw.
People who want an electric blanket that gets very hot. Even at its highest setting, the Sunbeam did not get very hot, so those who want an electric blanket that will make them hot without the addition of a comforter or additional blanket might want to look elsewhere.
Those who are looking for a long-term investment. While the Sunbeam does not cost too much up front, it may not be the most durable option. The blanket does not contain very high-end components, and it might not last for a very long time, so those who want an electric blanket that will last for a good amount of time might need to pay more.
RELATED: Best Weighted Blankets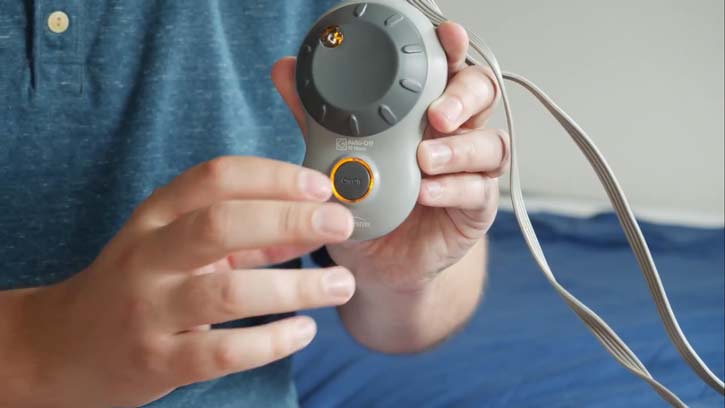 Construction
The outer shell is made of 100% polyester and has a somewhat soft, fleece design.
The Sunbeam features a channeled construction – the sewn channels hold the wires in place so they do not move around too much (though they can still move around a bit).
The electric blanket features a proprietary Thermofine technology that monitors body heat as well as the temperature of the room. If the sleeper or room heat up, it will automatically adjust so that the sleeper will stay at their desired temperature.
The Sunbeam comes with an EasyPro controller which has a simple design with 10 heat settings.
The Queen and King size Sunbeams come with two controllers, one for each side, making it a good match for couples.
The electric blanket has a 10-hour automatic shut-off so, if one leaves the blanket on for 10 hours, it should turn off by itself.
The Sunbeam is available in Twin, Full, Queen, and King sizes.
In terms of color, shoppers can choose from Acorn, Garnet, Ivy, Mushroom, Newport Blue, Seashell, and Walnut.
The electric blanket is machine washable and dryable.
Sunbeam Heated Blanket Deals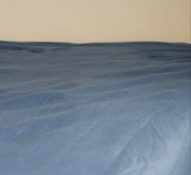 The Sunbeam is a value electric blanket. Click the button for the best deal on Sunbeam. 
My Experience
Setting up the Sunbeam was very easy as it comes with one plug to go into the wall socket and one that clicks into the end of the blanket. There are two clips on the blanket plug to keep it from coming loose.
However, while reviewing the Queen size, I was a bit confused. The blanket comes with two controllers, but only one power cord, so it was unclear which controller was connected to which side.
Since I was reviewing it by myself, I set the blanket on high for both sides and gave the blanket about 20 minutes to ensure that it reached its top heat.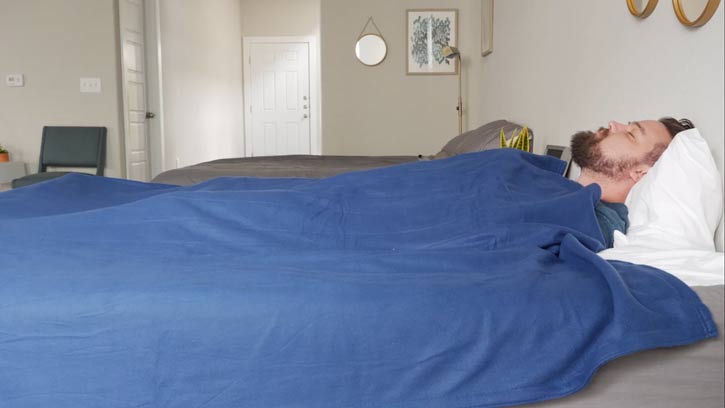 After climbing underneath this electric blanket, I felt that the Sunbeam was not very warm, and I have tried much hotter electric blankets. In terms of heat distribution, I felt a few colds spots because the wires are not very close together and they are able to move around a bit in their channels, which can lead to some colder areas.
In terms of feel, the Sunbeam is not the softest because it is 100% polyester and a bit rough to the touch. The blanket is also thin, so it is very easy to feel the bulky wires.
Overall
In the end, the Sunbeam should be an affordable option for those who want a lower-heat electric blanket to pair with other bedding, but those who something very hot or cozy might want to look elsewhere.
The Sunbeam comes with a 5-year limited warranty.
RELATED: Best Mattress
Marten Carlson
Marten is the Lead Reviewer at Mattress Clarity. He is a Certified Sleep Science Coach and covers the mattress industry as well as sleep science news. He is specifically interested in the connection between sleep and overall health. Marten has written for media publications like Consequence of Sound and received a master's degree in Film Studies from Emory University. He comes from Franklin, Indiana, and spends all the time he can writing, directing, and acting in films.