Whether you're lounging or napping, robes have a way of making you feel comfy and cozy. Of course, like other sleep accessories, there are so many different options to choose from.
Need help finding the one for you? We've tested tons of products, and these are our picks of the best robes for women.
The Best Robes for Women: Our Top 6 Picks
Casper – Editor's Pick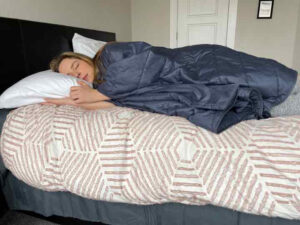 Don't want to leave the cozy cocoon of your covers? With the Casper blanket robe, you don't have to. This lovely robe won't absorb water after a long bubble bath, but it will make you feel like you're relaxing inside a luxurious blanket fort.
Made of puffy duvet-like material, this robe is perfect for cold and lazy days. The outer shell is made of 100% cotton, and it's filled with fluffy stuffing. This makes it much heavier than traditional robes. It's not quite a weighted blanket, but it still creates a calming effect when I wear it. Best of all, the Casper robe has two oversized pockets – perfect for stashing chocolate and salty snacks.
The Casper robe may not be one of the most affordable robes for women, but we think it's worth the money.
What Makes Casper Stand Out?
It's made out of fluffy duvet material, so it's great for napping.
This robe is very warm.
Because it's a bit heavier than most robes, it has a subtle calming effect
Cozy Earth – Best Kimono Robe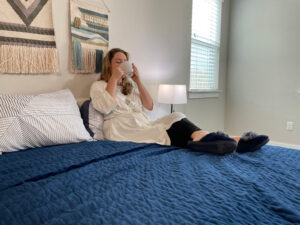 Wrap up in luxurious comfort with the Cozy Earth bamboo kimono robe. This lightweight robe has an oversized fit that's perfect for relaxing. It has two deep pockets, and like all Cozy Earth loungewear, it feels incredibly soft.
This robe is great for morning coffee breaks and leisurely lounging. Thanks to its breathable material, this robe works well during the warmer months.
What Makes Cozy Earth Stand Out?
It's made with high-quality bamboo material that feels soft and breathable
It has an oversized and comfy fit.
It's stylish and classy.
Eberjey – Best Lightweight Robe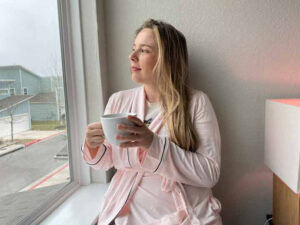 Eberjey's Gisele tuxedo robe isn't just soft and luxurious – it's stylish, too. It's available in three colors: black, navy, and sorbet pink. A delicate trim surrounds the sleeves and collar, and it has interior ties to keep the robe in place.
Because it's made out of soft and thin Tencel material, you may not want to wear this robe straight out of the shower. The breathable material will help you stay cool on warm days, but it's not a great choice for the winter months. It's exceptionally cute, though, making it perfect for morning cups of coffee on the porch.
What Makes Eberjey Stand Out?
The Tencel fabric makes this robe feel especially breathable and cool.
It has a flattering design with interior ties and detailing around the sleeves.
The robe is stretchy and soft.
UGG – Most Luxurious Robe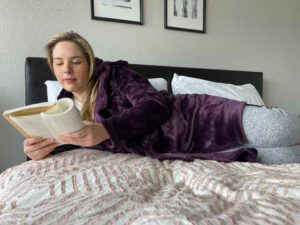 UGG is famous for their fur-lined boots, but that's not the only cozy product they make. The UGG Miranda fleece robe feels incredibly soft, and it's perfect for a self care day.
Even though it doesn't have interior ties, this robe has a flattering fit. Part of that is due to its unique hooded collar. The extra fabric drapes over the front, giving it a pretty silhouette. Plus, the hood comes in handy when you need to dry your hair after a shower.
The pockets have plenty of room to store phones and wallets, and the curved design gives this robe a dash of flair. This robe may not work for every person's budget, but if you're looking for something extra luxurious, you can't go wrong here.
What Makes UGG Stand Out?
It's the most luxurious robe for women.
There are many colors to choose from, ranging from indigo to taffy pink.
It has a hooded shawl collar.
Brooklinen – Best Bathrobe for Women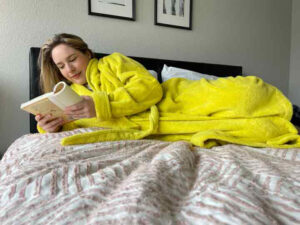 The Brooklinen Super-Plush Robe is the perfect way to dry off after a shower. Made with Turkish cotton, this robe feels like you're wrapping up in a thick towel. It's similar to the kind of robes you'll find in a high-end spa.
This robe has an oversized fit. If you're a petite person like me, you can easily roll up the sleeves so they aren't too long. But if you prefer your bathrobes to feel more snug, we recommend ordering a size down.
What Makes Brooklinen Stand Out?
It's especially absorbent, so it's great after a shower or bubble bath.
It has a comfy, oversized fit.
The robe is plush and thick.
Barefoot Dreams – Best Plush Robe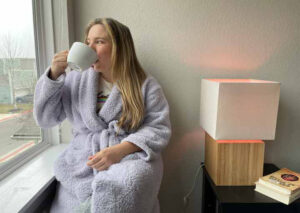 Made of stretchy polyester microfiber, the Barefoot Dreams Cloud Cotton Robe feels extra comfortable. It's great for a midafternoon coffee nap or after a rejuvenating shower. And, with eight different colors available, it's a stylish option for just about everyone.
Even though the robe feels plush, it's still lightweight. This makes it a great choice for all seasons. In our opinion, it's definitely worth the splurge.
What Makes Barefoot Dreams Robe Stand Out?
It's the best plush robe on the market.
This robe is available in eight different colors.
It's lightweight and cozy at the same time.
Parachute – Best Cotton Robe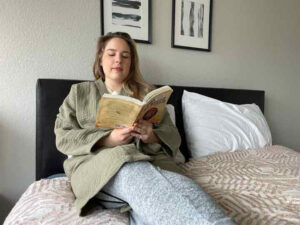 Here at Mattress Clarity, we're big fans of Parachute's down comforters and pillows. So it should come as no surprise that Parachute's Cloud Cotton Robe also impressed us.
This robe has a quilted texture and is made out of long-staple Turkish cotton. Though not the most absorbent robe we've reviewed, it's definitely one of the best for lounging. The material feels thin, but durable. There's no doubting the quality of this robe. And, with eight sizes and 10 colors to choose from, this robe will work for just about anybody.
What Makes Parachute Stand Out?
It's made out of Turkish cotton and has a lovely texture.
Sizes range from extra small to 3x.
It comes in 10 different colors.
What to Consider When Shopping for the Best Robes for Women
Because there are so many different types of robes, it's important to recognize what you want before making a purchase. Below, we've outlined some key things to consider when shopping for the best robes for women.
Temperature
How do you want your robe to feel? Some robes are soft and warm, while others are thin and breathable. A few of them, like the Barefoot Dreams Cloud Cotton Robe, work well during all seasons.
Think About How You're Using the Robe
Do you need something to help you dry off after a shower, or are you looking for a robe that will help you stay cozy while you nap? Not all robes work in both situations, so it's smart to think about what your robe will be used for.
RELATED: Cozy Earth Pajamas Review
Care Instructions
Many people wear their robes daily, so it's important that they can be washed easily. Make sure to thoroughly read the care instructions before throwing a robe into the washing machine or dryer.
Design
Are aesthetics important to you? If so, you'll also want to think about the robe's design. Some come in vibrant colors and have intricate detailing. Others, like the Casper blanket robe, may not look especially stylish but feel extra cozy.
Fit
When it comes to fit, there are many things to consider. If you want your robe to stay secure, look for one with interior ties. You'll also want to think about what length you want. Bathrobes typically come in long lengths, but some lounge robes are much shorter.
Size
When making your purchasing decision, make sure to read the size chart on the manufacturer's website. It's also important to note whether brands sell plus size options.
Price
Last but not least – pricing! The robes in our roundup range from $90 to $170, which is typical for high-quality products. You can find robes that cost less than these, but they may not last as long or feel as soft. Robes that cost around $200 are definitely on the pricier side and may not fit within many people's budgets.
Types of Robes for Women
With so many different types of robes on the market, it can be confusing to differentiate between them. Here's a quick rundown on the different types of robes for women.
Flannel
Flannel feels super soft, so it's great for cold nights. Flannel won't absorb water well, however, so it's not a great pick for a bathrobe. However, if you want to wrap up in some cozy material, this would work well. Another perk: Flannel robes don't usually cost too much.
Linen
Linen feels crisp at first, but it softens over time. It's heavier than cotton and much stronger. If you're in the market for a durable robe, linen is a great way to go.
People also love linen robes because they feel cool and breathable. You may not get a lot of cozy warmth from linen robes, but they're great options for lounging in the summertime. Linen robes soak up some moisture, but they're not quite absorbent enough to be used as a bathrobe.
Cotton
Cotton remains one of the most popular materials for robes, and there are many different kinds available. Most often, however, robes are made from either Egyptian or Turkish cotton.
Egyptian cotton feels especially thick and fluffy, but it doesn't release moisture easily. If you have a bathrobe made out of this material, you'll need to hang or tumble dry regularly.
Turkish cotton dries out faster than Egyptian cotton, but it doesn't absorb water as well. For many people, the pros outweigh the cons. Turkish cotton is less likely to grow bacteria and develop a smell. Also, Turkish cotton feels strong and smooth.
RELATED: Cotton vs. Polyester Sheets
Silk
Silk robes feel slick and smooth, and people love the stylish look. However, silk robes aren't the most practical – especially if you're wrapping up after a shower. Silk doesn't absorb water well, and it must be carefully washed and dried. It doesn't provide any warmth, either.
Fleece
Fleece robes are ideal for wintertime. This fluffy and soft material feels like a warm hug, and it's a great material for a robe. This material doesn't soak up water well, but it also doesn't absorb odors or break down easily. It's possible you could use a fleece robe after a shower, but it's best suited for cold, lazy days lounging on the couch.
Microplush
Microplush robes have a velvety feel and trap a lot of heat. This makes them great for relaxing, but not ideal for soaking up water. Oftentimes, microplush robes have raised patterns and unique textures.
Best Robes for Women Summary
Again, here are our top picks for the best robes for women!
FAQs
Still curious about the best robes for women? No worries – we've answered some of the most common questions below.
What is the best women's robe?
Because robes can be so subjective, it's difficult to pinpoint the best one. However, if you're looking for a cozy robe to nap in, we recommend the Casper Blanket Robe. If you need a soft and absorbent bathrobe, check out the Brooklinen Super-Plush. If it's a soft and cuddly fleece robe you're after, UGG's Miranda robe fits the bill.
What is the most comfortable material for a robe?
Fleece is a great material if you're looking for a soft and comfortable robe. This material feels fuzzy and warm.
What is the difference between a robe and a bathrobe?
Bathrobes are made from absorbent materials and are meant to be used after a bath or shower. Other robes may not soak up water well and are better suited for lounging and napping.
Where can I buy a robe?
There are many places to buy a robe! You'll find great options in many big box stores, but you can also purchase directly from the manufacturer online.
What size robe should I get?
Most robes come in generic sizes – small, medium, and large. If you like your robes to feel roomy, you may want to order a size up. Of course, exact sizing details differ between brands. For the most accurate information, visit the manufacturer's website and look for their sizing chart.
Elisa Regulski
Elisa is the Editor of Mattress Clarity, where she analyzes sleep products and appears in review videos. A certified sleep science coach, Elisa's sleep tips have appeared in Readers Digest, Homes and Gardens, and 21 Oak. She earned a M.A in Mass Communication from Texas State University and a B.F.A in acting from Oklahoma City University.