If you struggle with lower back pain, the last thing you want is an uncomfortable mattress. Some mattresses can even make your health situation worse and exacerbate the issue.
The good news is there are a number of mattresses that can help alleviate and even prevent lower back pain. A durable, medium-firm option with the right balance of comfort and support could be just the mattress you are looking for.
In this article, I will share my top picks for mattresses to help with back pain. I will also address some of the causes of lower back pain and explain what you should look for when buying a mattress.
[Editor's Note: The information provided should not be considered a substitute for professional advice. Please consult a medical professional or another medical expert if you have questions related to your own health.]
5 Picks For Best Back Pain Mattress
While there are quite a few comfortable options out there, these five seem to fit all the criteria you should look for when choosing a mattress for back pain. (We'll detail those criteria below.) They are durable, supportive in the right areas, and just the right firmness to keep your spine in proper alignment.
Overall

Saatva

Saatva's construction was smartly designed to help relieve back pain.

Made Specifically To Relieve Back Pain

Level Sleep

Level Sleep was designed to relieve back pain and credible studies show that they have been effective in doing so.

Good For All Three Sleeping Positions

Purple

Purple's gel material makes it great for back pain for people sleeping in any position.

Memory Foam

Loom & Leaf

Loom & Leaf uses high-density memory foams, which help promote optimal spinal alignment.

Best For Larger People

Helix

The Helix Nightfall was built specifically for larger people and is a better choice for bigger people with back pain.
Top Picks Compared
Saatva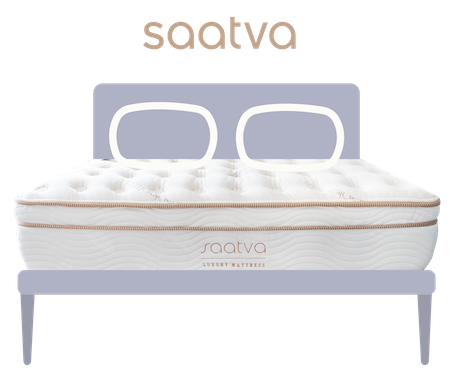 The Saatva is an innerspring mattress with a pillow-top. Fans of traditional innerspring mattresses should find what they are looking for on this mattress.
It has the great support of coils and the soft pressure relief of a pillow-top. This helps give the mattress a medium firmness, which is what you should be looking for in a mattress for back pain.
This mattress incorporates two layers of coils. There is one layer of high-grade coils with a layer of micro-coils. The micro-coils do a very nice job of contouring to the shape of your body. There is a layer of memory foam in the middle third of the mattress that also assists with contouring. Both these features help keep your spine in neutral alignment.
Finally, the Saatva is, for the price, one of the more durable mattresses out there. This is another consideration when buying a mattress for back pain. As a general rule, pillow-tops are known to sag over time, which can lead to uneven support. However, this should not be an issue on the Saatva.
What Makes The Saatva Stand Out?
It could be a great choice for hot sleepers. The two layers of coils allow for some great airflow, so you shouldn't be overheating.
The Saatva should be a good fit for numerous sleeping positions. The dual coil system helps make this a supportive mattress. Most stomach sleepers should feel proper support, and back sleepers should feel their hips sinking into the pillow-top just the right amount. Side sleepers should feel the mattress conform to the curves of their body. In all three positions, the spine should stay in alignment.
Those looking for a great value should like the Saatva. It features high-quality materials, so this should be a good long-term investment.
Check out our full Saatva mattress review.
Purple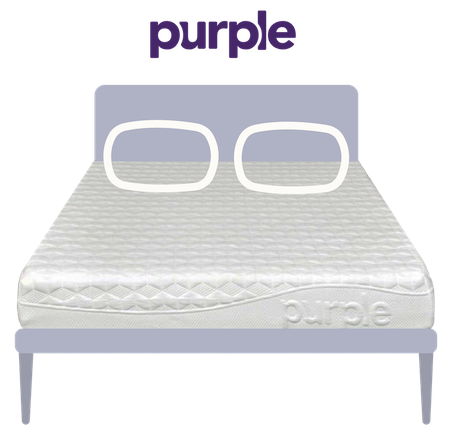 The Purple is one of the most unique mattresses out there. It features a proprietary, hyper-elastic gel polymer grid. This grid is designed to stay flat and supportive until you apply enough pressure. Once that happens, just that part of the mattress collapses, while the rest of the mattress stays flat and supportive.
This makes the Purple a great fit for all three sleeping positions. When you are on your back, the gel collapses under your hips and butt, but you are held up everywhere else. When you are side sleeping, the gel grid will collapse under your hips and shoulder. You should also feel great support when you are on your stomach. In all three positions, the Purple should keep your spine in proper neutral alignment.
The Purple is both firm and pressure-relieving at the same time, so this makes it difficult to describe the mattress's firmness. That being said, overall, it feels like a 7/10, that medium-firm sweet spot you want to find if you struggle with back pain. In addition, the fact that the comfort layer is only 2″ ensures you don't sink too far into the mattress.
Finally, this is going to be one of the longer-lasting mattresses on this list. The hyper-elastic gel polymer is a very durable material and shouldn't sag over time. This means it should stay properly supportive even after years of use.
What Makes The Purple Stand Out?
The hyper-elastic gel polymer grid makes it a great fit for a number of sleeping positions. The mattress has a great balance of comfort and support.
It does a great job of dealing with the issue of sleeping hot. The gel grid promotes amazing airflow, creating a truly temperature-neutral sleeping surface.
The comfort layer is only 2″ thick, which is ideal for those who struggle with back pain.
The Purple is a very durable mattress, so you shouldn't have to worry about sagging.
Check out our full Purple mattress review.
Level Sleep TriSupport Mattress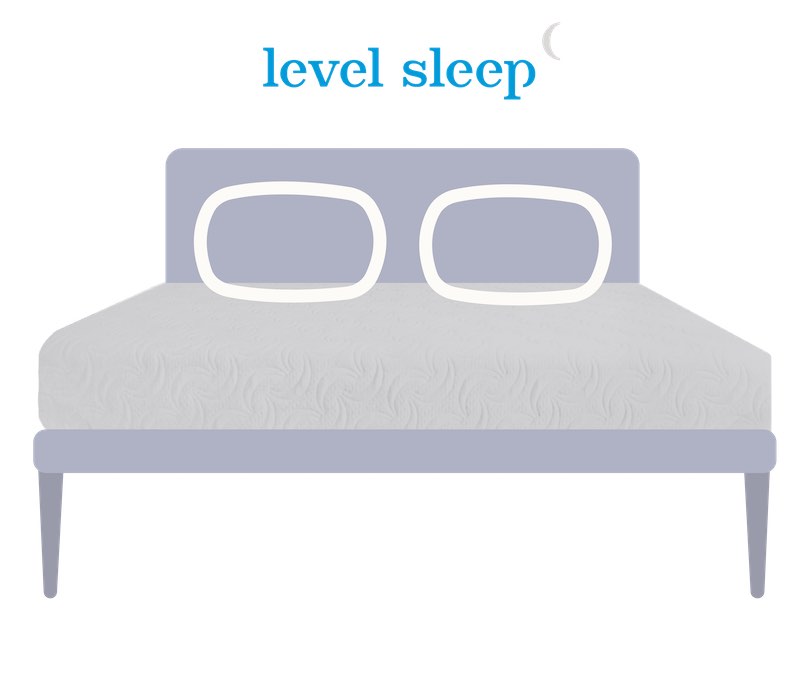 The Level Sleep mattress is designed specifically to deal with back pain issues. "Tri-Support" refers to a zoned construction. The mattress has three zones with different firmnesses.
The first zone is in the hip area down to the foot of the mattress. This zone feels like a 7/10, or medium-firm. The lumbar zone is the firmest part of the mattress and feels like an 8/10. Finally, the shoulder zone feels like a 5/10, which is softer than average.
These zones ensure that your spine stays neutrally aligned. Your shoulder sinks further into the mattress, so you feel little pressure. The lumbar zone gives extra support to the lower back, and the bottom zone allows your hips to sink in just the right amount.
If you struggle with severe back pain, this could be just the mattress you've been looking for.
What Makes The Level Sleep Stand Out?
It features a zoned construction, designed to offer the right balance of comfort and support. It should be a good match for all three sleeping positions.
The lumbar zone supports the lower back and could alleviate back pain.
The mattress was created using 10 years of research and clinical trials. The company provides research on how the Level Sleep prevents and lessens back pain.
Check out our full Level Sleep mattress review.
Loom And Leaf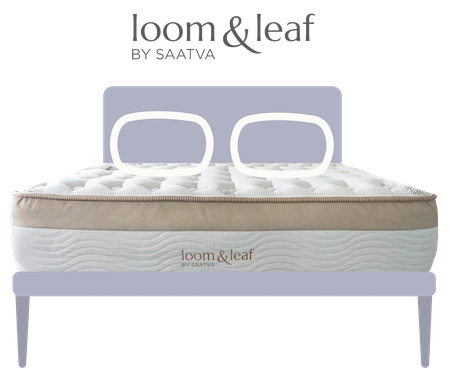 The Loom and Leaf is a memory foam mattress that incorporates two layers of high-density foams. These foams do a nice job of conforming to the shape of your body. This makes the mattress a great match for those who deal with back pain, because the foams fill in the gaps of your body and keep your spine properly aligned.
These foams give the mattress a firmness of about 6.5/10. This medium-firmness means the mattress should be a good match for combination sleepers. The Loom & Leaf should be supportive for back and stomach sleepers and comfortable for side sleepers.
In general, one of the main issues with pure memory foam mattresses is that they sag over time. This shouldn't be a problem with the Loom & Leaf. Again, the foams are high-density, so they are quite durable. The foams should retain their shape and continue to conform to your body for many years.
What Makes The Loom And Leaf Stand Out?
The foams do a great job of contouring. They conform to the curves of your body and assist in keeping your spine supported and aligned.
This should be a durable mattress that lasts for a good while. The high-density foams shouldn't sag, so the mattress should remain comfortable and supportive.
The Loom and Leaf should be a good mattress for combination sleepers. It offers a good balance of comfort and support, so no matter what position you are in, you should feel proper spinal alignment.
Check out our Loom and Leaf mattress review.
Helix Nightfall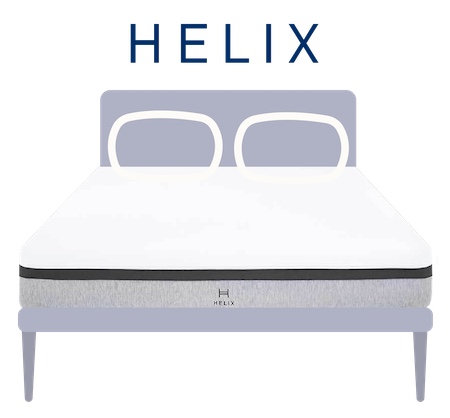 Helix made the Nightfall specifically for heavier-weight sleepers. It incorporates high-density foams and tall, high-grade coils to provide the right amount of support for larger people.
The comfort layer on this mattress is only 2″ thick, and there is a transition layer right beneath this. After this, you get down to the 8″ of individually wrapped coils.
When Marten (the largest person on our team) tried out the Nightfall, he felt the top foam layers pressing into his lumbar area, keeping him extra supported there. He also felt like the mattress was a 7/10 in terms of firmness, right in that medium-firmness range.
The mattress is designed to be durable and to fight sagging over time. Even larger people should feel confident that this mattress will support them for some time.
What Makes The Helix Nightfall Stand Out?
It is made with heavier-weight sleepers in mind. It has taller coils and high-density foams to ensure larger people don't bottom out.
It should be a great match for heavier-weight sleepers with back pain issues. The foam should support your lumbar area while still allowing your hips to sink in the right amount.
The Helix Nightfall should be a longer-lasting mattress. The high-density foams and high-grade coils stop wear and tear. The foams shouldn't sag or allow body indentation.
Check out our full Helix Nightfall review.
Marten's Take
Marten is a staff writer for us. He has a much different body type than me: He is 6'7″ and weighs about 230 lb; I am 5'9″ and 160 lb. Here is what he thought about these mattresses:
The Helix Nightfall is made specifically for larger people like myself. It has taller coils and higher density foams. A big problem that I have with other heavier people mattresses is that they are too firm, especially when I am on my back. You want to be able to sink in just the right amount. As Joe was saying, you want to find something in the medium-firm range. The Helix Nightfall is a medium-firm mattress and definitely a good match for a heavier person, especially if you have back pain.
Looking at the other mattresses, I want to talk about the Loom and Leaf first. When I am on this mattress, I need a little more support when I am on my back. I'm falling into the mattress a little bit. When I'm on my side, I'm sinking into the mattress and feeling good pressure relief on my shoulders and hips. When I'm on my stomach, I need more overall support. Overall, this is probably not the best match for a heavier person.
The Purple feels good in all positions. When I'm on my back, I feel good support. My hips are sinking in just the right amount. On my side, I feel good pressure relief. On my stomach, I feel good overall support.
I also feel good support on the Saatva. When I'm on my back, my hips sink into that pillow-top layer just the right amount. When I'm on my side, I feel pretty good pressure relief, and on my stomach, I feel well supported.
On the Level Sleep, you have a zoned construction. The lumbar area is actually too firm for me. I'm sinking into the mattress more than Joe does, so it feels firmer to me. The shoulder area does not support me enough, and I feel myself falling into the mattress.
It is always worth considering your weight when you a buy a mattress. This can be even more important if you deal with back pain. Larger people might want to consider the Purple, Saatva, or Helix Nightfall if back pain is a major issue.
What Is Back Pain?
Most of us know when our back is hurting, but what is really happening here?
According to the National Institute of Arthritis And Musculoskeletal And Skin Diseases, back pain is "one of the most common medical problems in the U.S. It can range from a dull, constant ache to a sudden, sharp pain that makes it hard to move."
Surveys from the National Institute of Neurological Disorders and Stroke found that about 80 percent of Americans will struggle with back pain at some point in their lifetimes. This helps explain why back pain is the fifth most common reason people go to the doctor. At the same time, many who struggle with back pain do not see a doctor.
The Mayo Clinic describes back pain symptoms as:
Muscle ache
Shooting or stabbing pain
Pain that radiates down your leg
Pain that worsens with bending, lifting, standing, or walking
Pain that improves with reclining
The Mayo Clinic also defines two types of back pain: acute and chronic. Acute back pain occurs when symptoms last between a few days and a few weeks. If the symptoms last for over 12 weeks, this is considered chronic back pain.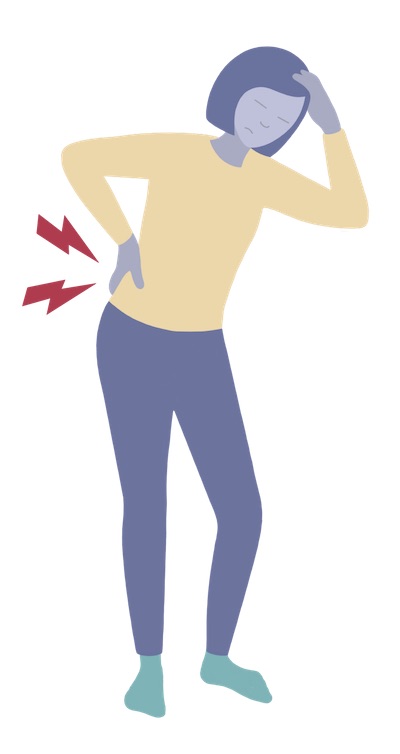 chingyunsong/Shutterstock
What Causes Back Pain?
Just as the symptoms of back pain can vary, there are numerous reasons you could be feeling back pain. Here are some of the most common explanations for back pain:
Strain. If you work a job that requires you to lift heavy objects, the repetition of this action can lead to muscle and ligament strain. Also, simply lifting a heavy object without using your legs can cause immediate strain in your lower back. If you are in poor physical shape, you increase your chances of pulling a muscle in your lower back.
Ruptured or herniated discs. This is one of the major causes of lower back pain. The Academy of Orthopedic Surgeons says, "A disk begins to herniate when its jelly-like nucleus pushes against its outer ring due to wear and tear or a sudden injury. This pressure against the outer ring may cause lower back pain. If the pressure continues, the jelly-like nucleus may push all the way through disk's outer ring or cause the ring to bulge. This puts pressure on the spinal cord and nearby nerve roots. In addition, the disk material releases chemical irritants that contribute to nerve inflammation."
Arthritis or scoliosis. If you have arthritis, this can have a direct impact on your lower back. Arthritis can lead to spinal stenosis, wherein the spaces in your spine narrow and begin to put pressure on your nerves. Scoliosis, on the other hand, is an unnatural curvature of the spine. This can affect your posture, stretching muscles and pinching nerves, and thereby cause back pain.
Serious injury. Car accidents, sports-related injuries, and workplace falls can all lead to pulled muscles, pinched nerves, and herniated discs. These are all associated with back pain.
Sciatica. The sciatic nerve goes through the buttocks and down the back of your leg. If this nerve is compressed, you could experience back pain or numbness in your leg.
Frontpage/Shutterstock
What Increases Your Chances Of Experiencing Back Pain?
There are also a number of factors that could make it more likely that you develop back pain.
Age. As we grow older, we have a much higher chance of dealing with back pain. Aging can cause degeneration of spinal discs so they aren't as effective at absorbing shock. It's also possible to develop Spondylolisthesis, where one vertebra moves into another vertebra.
Lack of exercise. If we don't exercise, our bodies can become susceptible to back pain. Also, if our back muscles are weak, the back pain can be more severe. Many studies have shown that exercise can help alleviate back pain. In fact, one 2012 study from Informed Health Online found that exercise can prevent a recurrence of acute back pain in 1 out of 3 people (1).
High bodyweight. If you are overweight, back pain is more likely. A higher weight could also exacerbate the pain. One 2016 study, which was published in the journal Medicine, found that "higher BMI and waist-hip ratio were associated with high-intensity low back pain and/or high disability" (2).
Depression and/or anxiety. According to the Anxiety and Depression Association of America, people with these disorders are more likely to struggle with back pain than people who don't experience anxiety and/or depression.
Smoking. The Mayo Clinic states that smoking cigarettes cuts down on blood flow to your lower back and reduces the nutrients that are delivered to your spine. Also, if you have acute back pain, nicotine can slow the healing process.
Africa Studio/Shutterstock
What Should You Look For In A Mattress?
So, we know what back pain is and what causes it. How can a mattress deal with the issue? And if you're looking for a mattress to alleviate and prevent back pain, what should you consider?
Lumbar support. If you deal with back pain, it's important that your lower back is properly supported. One 2005 study, which was published in The Journal of the Canadian Chiropractic Foundation, found that good lumbar support "limit[s] unfavorable compressive and shearing forces acting on the lumbar spine" (3). Mattresses such as the Level Sleep have a special system to ensure the lumbar area has extra support. Other mattresses, such as the Casper, also feature a zoned construction so the middle part of the mattress is firmer than the rest.
Comfort layer thickness. Along with lumbar support, you want to think about just how thick the mattress's comfort layer is. While a thick comfort layer can feel great at first, it might not give you the support you need. You might sink too far into the mattress and not get the proper support. The Harvard Medical School says, "You might also sink in so deeply that your joints twist and become painful during the night." That said, it's important to consider your sleeping position when taking comfort layer thickness into account. If you sleep mainly on your side, a thicker comfort layer could be a better match.
Firmness. The overall firmness of your mattress comes into play when you are thinking about back pain. Doctors once recommended that patients with back pain opt for a firm mattress. However, that has now changed, and doctors recommend a medium-firm mattress. A 2015 study from the journal Sleep Health found that "a mattress that is subjectively identified as a medium-firm mattress and is custom inflated (self-adjusted) is optimal for promoting sleep comfort, quality, and spinal alignment" (4). When you are on your back, you want your hips to be able to sink in, but not too far. If the mattress is too soft, you could fall into the mattress. If you sleep on your side, the mattress should be soft enough for your shoulder to compress the mattress. If it is too firm, your shoulder will be pushed up, and you will also get out of alignment.
Your weight. If you are a larger person, you should take this into account when choosing a mattress for back pain. Your weight can affect how firm a mattress feels to you as well as much support it can offer you. You might need to choose a mattress that would feel firm to a lighter person. Also, you run the risk of "bottoming out" on a mattress, so a thick comfort layer might not be ideal.
Durability.If you find that perfect medium-firm mattress with just the right amount of comfort, you still want to know that the mattress will handle back pain for a good amount of time. You want to pay attention to the density of foams and the quality of other materials such as coils and pillow-tops. If the mattress begins to sag, this could make your back pain even worse.
Armed with this information, you should have all the knowledge you need to choose the right mattress for preventing and alleviating back pain.
[Editor's Note: The information provided should not be considered a substitute for professional advice. Please consult a medical professional or another medical expert if you have questions related to your own health.]
Featured image: SOPRADIT/Shutterstock
References
Informed Health Online [Internet]. Cologne, Germany: Institute for Quality and Efficiency in Health Care (IQWiG); 2006-. Exercise and physiotherapy for chronic low back pain. 2012 Feb 9 [Updated 2015 Dec 2]. Available from: https://www.ncbi.nlm.nih.gov/books/NBK284944/
Chou, Louisa, et al. "The Association Between Obesity and Low Back Pain and Disability Is Affected by Mood Disorders." Medicine, vol. 95, no. 15, Apr. 2016, doi:10.1097/md.0000000000003367
Normand, Martin C et al. "Biomechanical effects of a lumbar support in a mattress" Journal of the Canadian Chiropractic Association vol. 49,2 (2005): 96-101.
Radwan, Ahmed, et al. "Effect of Different Mattress Designs on Promoting Sleep Quality, Pain Reduction, and Spinal Alignment in Adults with or without Back Pain; Systematic Review of Controlled Trials." Sleep Health, vol. 1, no. 4, Dec. 2015, pp. 257–267., doi:10.1016/j.sleh.2015.08.001.
The following two tabs change content below.
Joe Auer
Joe Auer is the editor of Mattress Clarity. He mainly focuses on mattress reviews and oversees the content across the site.He likes things simple and take a straightforward, objective approach to his reviews. Joe has personally tested nearly 100 mattresses and always recommends people do their research before buying a new bed. He has been testing mattresses for over 4 years now, so he knows a thing or two when it comes to mattress selection. He has been cited as an authority in the industry by a number of large publications.When he isn't testing sleep products, he enjoys working out, reading both fiction and non-fiction, and playing classical piano. He enjoys traveling as well, and not just to test out hotel mattresses!Joe has an undergraduate degree from Wake Forest University and an MBA from Columbia University.