If you're looking to improve your sleep, buying a mattress or new sleep product can be a daunting process. You want something that's going to be comfortable, affordable, and work for your unique needs. But where to start? That's where we come in.
At Mattress Clarity, we aim to make the buying experience a breeze. Our reviews give you the need-to-know information that will help you find the right product for you. We test each product we recommend in our dedicated testing studio, spending 30 to 60 minutes doing a "nap test" (testers don't fall asleep every time) on mattresses and bedding. We then use our proprietary analysis to determine factors like feel, quality, cooling, and a whole lot more.
Take a look below for detailed information on our review process for mattresses, pillows, sheets, blankets, and sleep tech!
How We Review Mattresses
Below you'll find the factors we consider in each mattress review.
Materials
We test many types of mattresses here at Mattress Clarity – innerspring, hybrid, latex, memory foam, and much more. Each type of mattress has its benefits and drawbacks, and we keep this in mind when testing each bed.
In general, memory foam mattresses are great with pressure relief but not so great with cooling. Latex mattresses are durable and cooling, but sometimes they are lacking when it comes to pressure relief. And, while innerspring mattresses offer great support, their contouring can leave something to be desired.
We keep all of this in mind when assessing who each mattress will be the best fit for.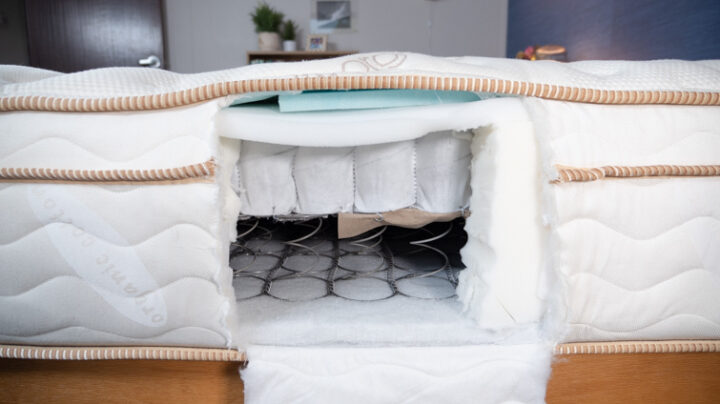 Firmness
We test every mattress in our studio, and try it out in multiple sleeping positions. Based on our experience, we rate mattresses on a scale of 1-10, with 1 being extremely soft and plush and 10 being extremely firm. Our team consists of reviewers with different body types, and we also take into account how your size and weight can affect the firmness of your mattress.
In addition, we break out how a bed's firmness will affect its fit for different sleeping positions. Back sleeping, is the mattress a perfect medium-firm that offers a balance of comfort and support? Side sleeping, is the mattress soft enough to relieve pressure on our shoulders and hips? Stomach sleeping, is it a firm mattress that holds up our hips?
Feel
When we talk about "feel", we're mostly talking about "responsiveness." We test each mattress by rolling around on it and changing positions. If it is a slow-moving memory foam mattress, we may feel great pressure relief but will have trouble moving around. If it is a bouncy latex mattress, it will be easier to move around on, but we won't feel as much contouring or pressure relief.
Motion Isolation
We rate a mattress's motion isolation using a few tests. First, we place a glass of water on one side of the bed and then attempt to make a disturbance on the other side. If there is no disturbance in the water, the mattress is isolating motion very well. If there is a good bit of disturbance in the water, motion is transferring across the mattress.
Second, one of our reviewers lies down on one side of the mattress while another reviewer rolls around on the other side, changes positions, and gets in and out of bed. This is meant to mimic what a sleeping partner might do during the night. If the first reviewer is undisturbed on their side of the mattress, the mattress is isolating motion well.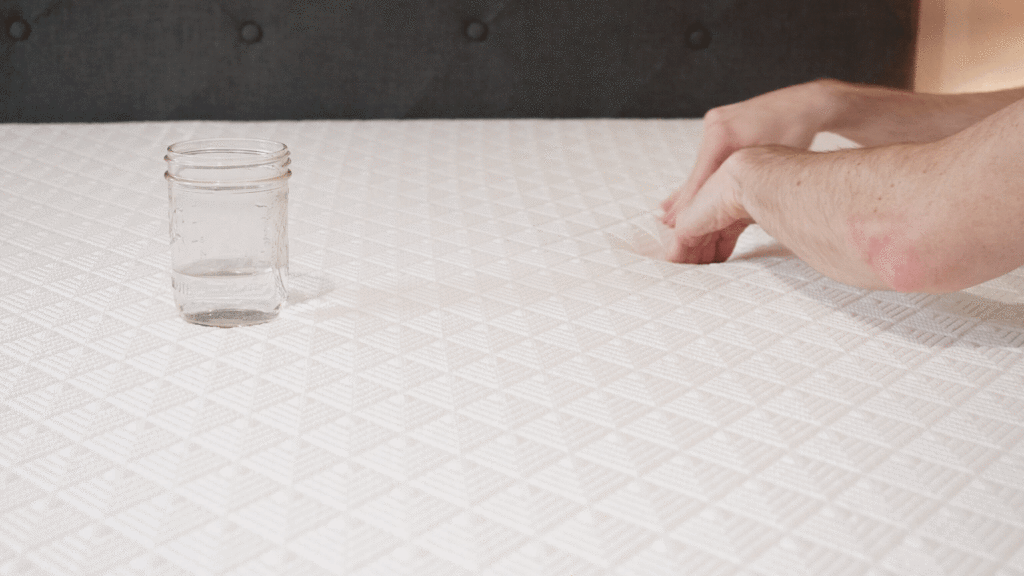 Edge Support
Edge support is another factor that sleeping partners should keep in mind. A mattress with solid edge support lets sleepers utilize every inch of the mattress. This means partners can sleep all the way toward the edge without rolling or falling off.
We test each mattress's edge support by sitting and lying down near its edge. If it collapses under our weight, the mattress doesn't have excellent edge support. If it holds us up while we sit and lie down, we know this will be a good mattress for couples.
Cooling
Many mattresses feature cooling features to prevent sleepers from overheating during the night. We assess each mattress's materials for just how breathable and cooling it will really be. If the mattress features latex or coils, we know it's going to be a cooling mattress, as these materials naturally promote airflow. While memory foam mattresses are known for trapping heat, some brands infuse foam with gel, graphite, or copper. These can help with heat dissipation and make a mattress feel cool to the touch.
And, of course, we try out the mattress for ourselves. Napping for sixty minutes or sleeping on the mattress, are these materials truly cool to the touch? When we wake up, are we hot and sweaty, or are we feeling nice and cool?
Pressure Relief
We test each mattress to see just how pressure-relieving it is. Lying down in all three sleeping positions, do we feel a build-up of pressure around our joints, or is the mattress easing this pressure?
Pressure relief is especially important for side sleepers. When you sleep on your side, your weight is concentrated on your shoulders and hips. If a mattress doesn't relieve pressure, you will feel some discomfort in those areas. We mostly focus on this position during our pressure relief tests.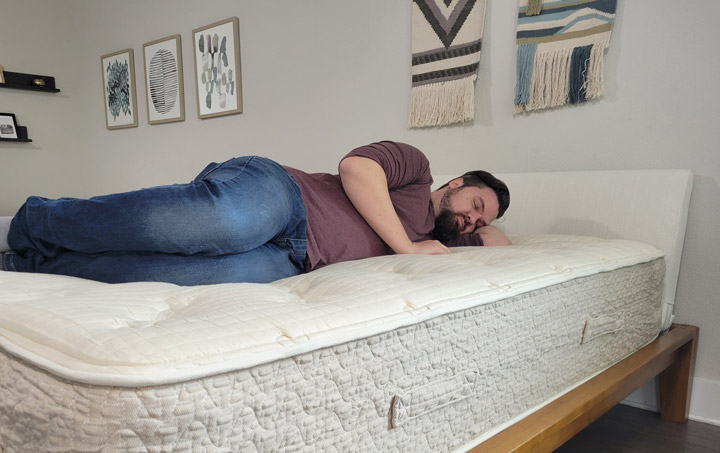 How We Review Sleep Accessories
Just like mattresses, we give all of our sleep accessories a test drive. Most of the sleep accessories reviewed at Mattress Clarity include pillows, sheets, weighted blankets, mattress toppers, and miscellaneous sleep technology.
We evaluate these sleep accessories on different factors. In our testing process for pillows, sheets, blankets, and mattress toppers, we make sure to give them a 30 to 60 minute nap test after getting a general feel for the products.
Pillows
Fill Materials
Here at Mattress Clarity we cover four main types of pillows: down, down alternative, memory foam, and latex foam pillows. Down, down alternative, and latex pillows are ready to use right out of the box, so our testing processes start the second we get them. Memory foam pillows might be compressed, so they'll need to expand and off-gas.
Memory foam and latex foam pillows can be shredded or single pieces. This doesn't change the feel of them too much, but we'll discuss how this plays a role below. There are more than just these four types of pillows, and we've discussed a list of 15 different types!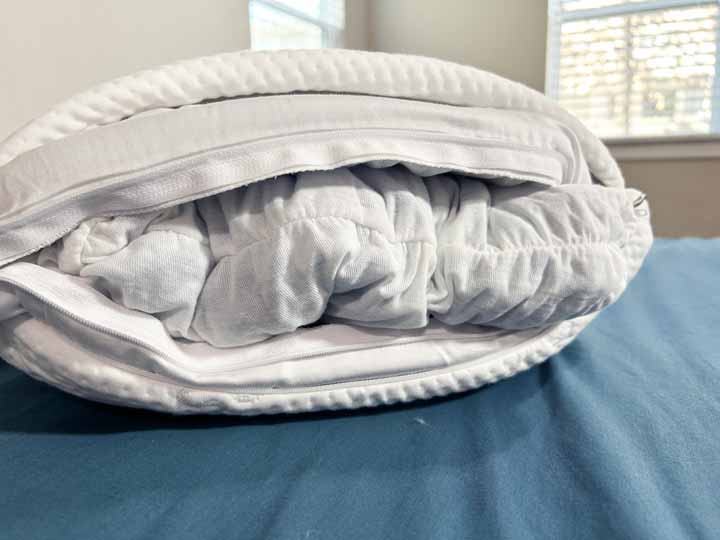 Cooling
Some pillows can be made out of materials that prevent them from trapping heat, like a cooling gel-infusion in memory foam pillows. Latex is a rather breathable material on its own, but we also look for perforations in the foam which can allow for airflow. The shredded versions of these pillows are also more breathable than their single piece counterparts.
When it comes to down and down alternative pillows, these fill materials are rather breathable, but we also keep an eye out for the outer cover. Pillows with these fills tend to have cotton covers, which is very breathable, and prevents the pillow from trapping heat.
Firmness & Support
When it comes to testing the firmness of a pillow, we start with getting an overall feel. This usually looks like us squeezing the pillow, seeing how much pressure it can take to get it as flat as possible. The more effort we put into squeezing the pillow, the firmer the pillow usually is. Then we move on to the sleeping positions.
We test pillows in back, side, and stomach sleeping positions to ensure how much support a pillow can provide for that sleeping position. Some pillows have the option to work for all sleeping positions because the inner fill can be adjusted. If that's the case, we make sure to test the pillows by removing or configuring the pillow to work best for each position.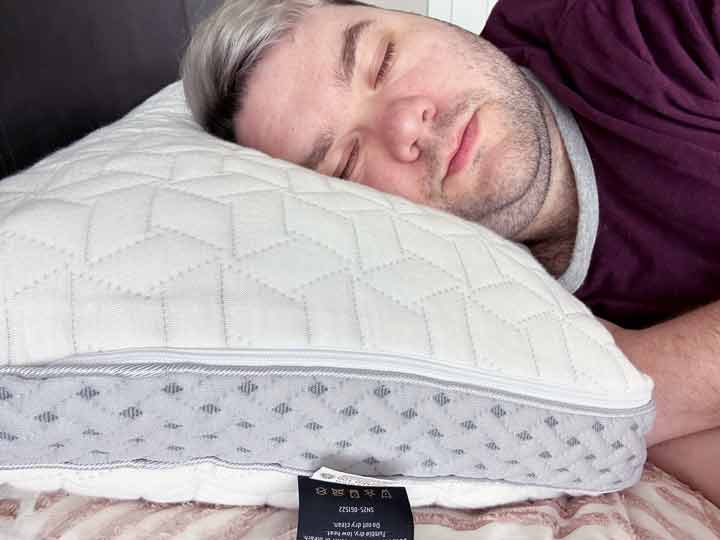 Sheets
Materials
Feel is an important part of the sheet buying process. And the way sheets feel comes down to the materials used and how they're woven. There are a variety of sheet materials, but the most common types we test at Mattress Clarity are:
Cotton

Bamboo

Tencel lyocell

Polyester

Linens

The feel is also influenced by the weave style used. The two weave styles are percale and sateen. Cotton can be woven with both styles, while we typically see sateen for bamboo and Tencel.
Percale sheets will feel crisp, while sateen sheets feel soft and satin-like. These two feels can help inform readers on the feel of the materials if they haven't felt these sheets before.
Cooling
Testing sheets for their cooling ability usually happens with the nap test. Depending on the material, thickness, and weave style, some sheets are better at promoting airflow than others. Bamboo, cotton, Tencel, and linens are very breathable and sometimes moisture-wicking materials that are good for keeping people cool.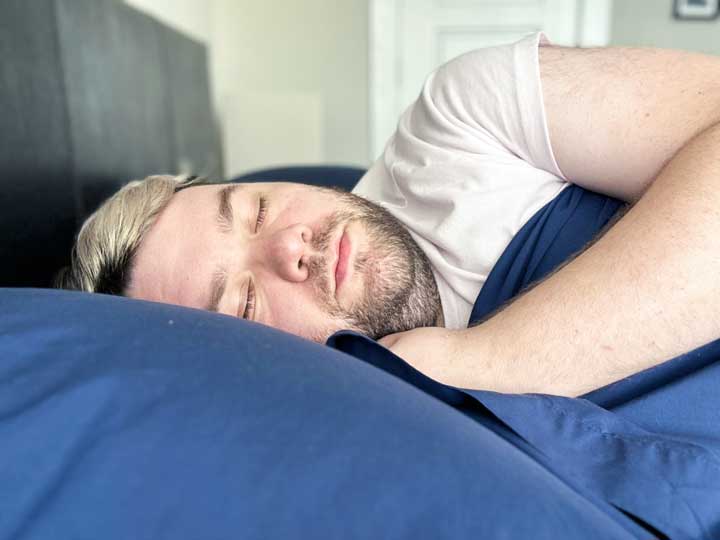 Fit
Fitted sheets have a variety of depths in their pockets. Deep pocket sheets can range anywhere from 13" to 17", and most sheets we test fall within this range. However, the testing process does involve us getting in and out of bed and changing positions. Some mattresses are taller than others, so testing out the fitted sheet to see if it won't shift too much, or if the pockets won't pop up is crucial.
Blankets
Weight
Most of the blankets we test at Mattress Clarity are weighted blankets. Weighted blankets come in a variety of sizes, and while what you should get is up to personal preference, shoppers need to know the options available. This is particularly important for those that haven't bought a weighted blanket before.
We tend to test blankets that are intended for an average weight person (we consider this weight range anywhere from 130 to 230 lb), and the blankets usually weigh around 15 lb. An ideal weighted blanket will weigh about 10% of a sleeper's body weight. Many of the blankets we test are available in multiple weights, so sleepers can find one that works for their unique size.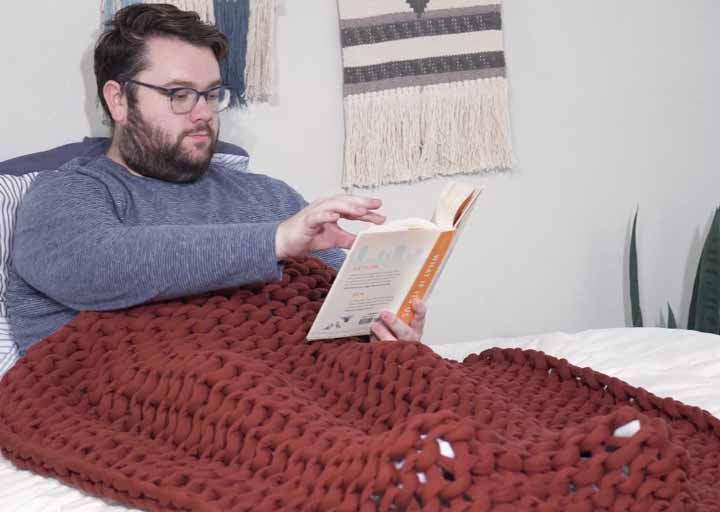 Temperature Regulation
Some weighted blankets have ways to regulate temperature. Considering they can be quite warm and cozy, shoppers may be keen for a way to prevent overheating. We look at the breathability of materials, and keep an eye out for cotton or bamboo, which are naturally cooling. Some weighted blankets have constructions that allow for airflow, such as an open knit structure.
Mattress Toppers
Firmness Adjustment
The goal of a mattress topper is to change the firmness and feel of your mattress. Generally, people want toppers to soften their mattress, but a smaller group of sleepers are looking to firm up or add bounce. We test each topper on top of a mattress to see how it changes its firmness. We assess the firmness of the mattress on our 1-to-10 firmness scale, then place the topper on top and reassess. Most toppers will soften mattresses by 1-2 points.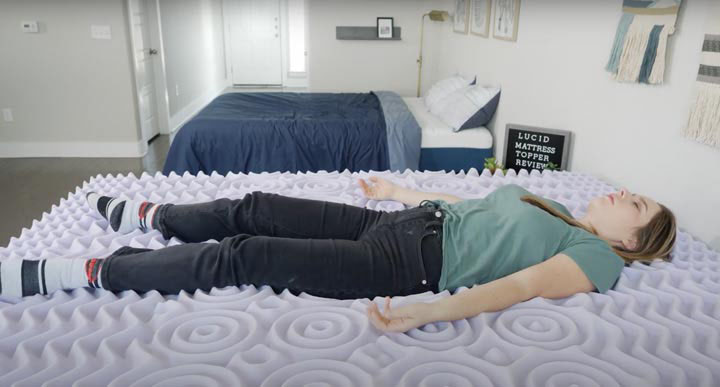 Fit
Some toppers have covers, others don't. Most toppers are true to the mattress size, but some might not stay in place, even under a fitted sheet. We test the fit by moving around on the topper to see how much, if at all, the topper shifts.
Toppers can stay firmly on your bed with outer covers that have silicone grips or with straps that can go under the corners.
Cooling
Just like a mattress, some toppers utilize cooling innovations to prevent you from overheating. This can be additions such as gel-infusion in foam toppers, perforations that allow for airflow, or cooling outer covers that can pull body heat away from you.
Sleep Tech
From sleep trackers to sunrise alarm clocks, the Mattress Clarity team has reviewed a wide variety of sleep tech. This testing methodology differs from our mattress and bedding review process. Keep reading for a peek inside our testing studio:
Testing Period
Because each product is different, the testing period can range from one to 30 days. Many sleep trackers, such as ShutEye and RISE, require at least one week of data to fully understand how the product works. Other products, like the Loftie alarm clock, only need to be used for a night or two for us to fully evaluate its quality and usefulness. When we tested the Calm and Headspace apps, we spent a month with each program in order to understand how the meditation sessions impacted our sleep.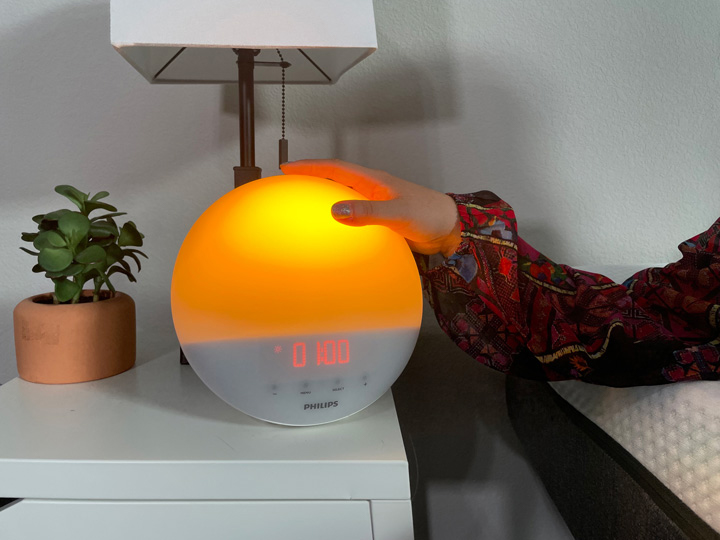 Construction
When testing products like air purifiers, humidifiers, and alarm clocks, we thoroughly investigate the construction and materials. Many budget-friendly alarm clocks work well, but because they're made out of thin plastic, they won't have a long lifespan. We make sure to relay the most thorough information to consumers so they can find the product that works best for their lifestyle. 
Usability
Sleep tech products always come with thorough directions, but are they easy to follow? Does it take a long time to understand how the product works? How easy is it to assemble? When we test sleep tech, we always assess its ease of use and assembly.
Price
After thoroughly inspecting the product, we have one more question to answer: "Is it worth the price?" Many products have high price points, but because they're made with durable materials, they might be worth splurging on. Other products may have budget-friendly price tags, but won't last as long.