Experts agree that back-sleeping is one of the best sleep positions for most people, as compared to side- and stomach-sleeping. The benefits center on the ability for the head, neck, and spine to find a neutral alignment and achieve sufficient pressure relief. This becomes much easier if you have the right pillow. That's why we're sharing our list of the best pillows for back sleepers. You can say goodbye to experiencing stress, stiffness, or pain when waking up in the morning.
The 9 Best Pillows for Back Sleepers
Video Review: Best Pillows for Back Sleepers
How We Chose Our Products
Our team of Certified Sleep Science Coaches tested many pillows currently on the market, using proprietary analysis and hands-on testing to find the best of the best for our readers. When building our roundup for the best pillows for back sleepers, we paid special attention to support, durability, loft, and quality of materials.
Pillows made for back-sleeping require different attributes than pillows made for other positions like stomach-sleeping, so we made sure to keep this in mind when it came to selecting pillows with a proper loft. Additionally, we featured pillows that should maintain their support and durability through the night to keep your spine properly aligned. Lastly, we wanted to place an emphasis on pillows featuring quality materials.
For more, we encourage you to check out our Buyer's Guide at the bottom of the page. There we take a deeper dive into all of these attributes so you can make the most informed purchase possible.
If you're a back sleeper who has neck pain in the morning, chances are your pillow isn't the right height and isn't doing a good job relieving pressure. Luckily the Saatva latex pillow will do the job.
This pillow combines soft down alternative that surrounds a shredded latex foam core. You'll get great plush comfort from the down alternative while getting exceptional support from the latex foam. This balanced support may help relieve neck pain over time.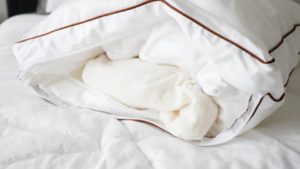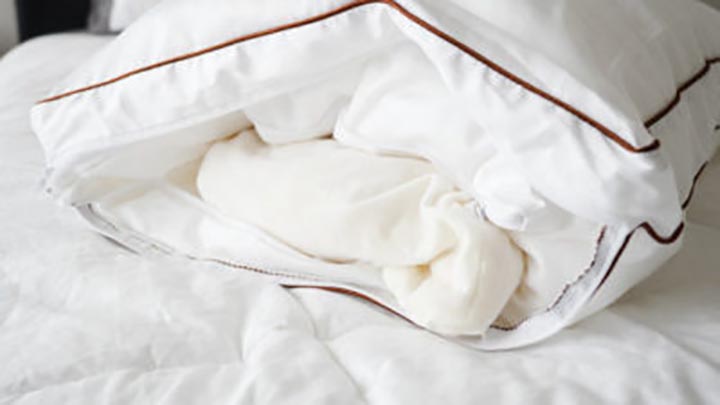 What Makes Saatva Latex Pillow Stand Out?
It's a fully organic pillow that's also hypoallergenic
It's made of breathable materials that will keep you cool
The combination of plush down alternative with supportive latex will keep you sleeping in a neutral position to relieve neck pain
Read our full Saatva Latex pillow review.
Some would argue that there's nothing worse than waking up hot and stuffy. The Brooklyn Bedding Talalay Latex Pillow is a great product for hot back sleepers everywhere! Not only is latex a naturally cooling material, but Brooklyn Bedding also incorporates a breathable cotton cover.
The brand's Talalay latex pillow is soft but supportive at the same time. You won't sink too far into this pillow, but you'll get plush comfort and support.
This pillow won't sleep hot thanks to the perforated latex foam. It's also a versatile pillow with two loft options: low and high.

What Makes Brooklyn Bedding Talalay Latex Pillow Stand Out?
Average weight back sleepers should really enjoy the plush feel and latex material of this pillow.
This pillow comes with a removable cover made from organic cotton, which is a nice touch.
Two loft options makes it versatile for back sleepers of all sizes.
Read our full Brooklyn Bedding Talalay Latex pillow review.
Pillows that can contour to your head are great for things like pressure relief and keeping your head and neck in a neutral position. TEMPUR-Pedic changed the game with TEMPUR material in its beds, and its pillows followed suit.
The TEMPUR-Cloud pillow is made from a single slab of TEMPUR material that will adapt and contour to your head. It has that classic, slow-moving feel to memory foam, and can be easily compressed for travel, too!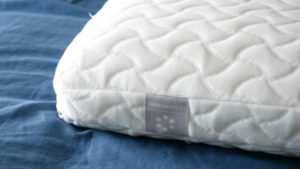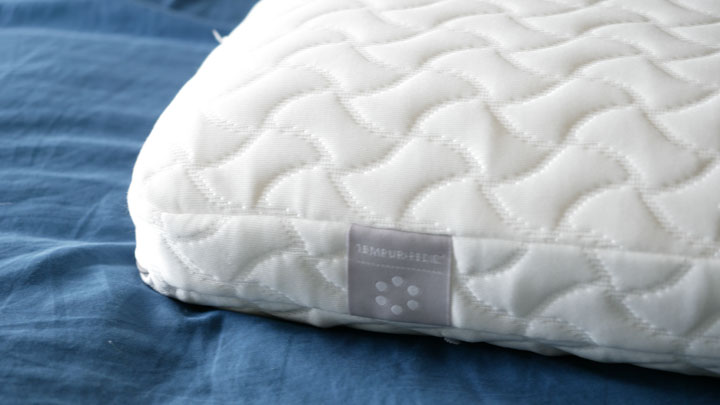 What Makes the TEMPUR-Cloud Pillow Stand Out?
If you love very soft, very slow-moving memory foam, you'll love this pillow.
It has an outer, removable cover that is hypoallergenic, too.
TEMPUR-Pedic has many pillows available, and this is an ideal pick for back sleeping.
Read our full TEMPUR-Cloud pillow review.
If you're a back sleeper who values eco-friendly products, then we've got the pillow for you: the Lagoon Lemur.
The Lagoon Lemur is a medium-soft pillow. So, it should work for many different types of sleepers, but especially back sleepers, who require a balanced feel. It's also adjustable, allowing folks to add or remove the filling to their liking, helping with comfort and proper spinal alignment.
Speaking of filling, the Lagoon Lemur has eco-friendly bamboo and recycled down alternative microfibers inside. Because the Lagoon Lemur doesn't use real down, it's hypoallergenic, and prevents the buildup of contaminants. The cover and liner also include bamboo.
What Makes the Lagoon Lemur Pillow Stand Out?
This pillow has an impressive five-year warranty so it should last fairly long.
The cover of this pillow is machine-washable.
The bamboo in the cover should provide a comfortable, silk-like feel.
Read our Lagoon Pillows review.
Let's face it, not all of us stay in one position while we sleep. Side and back combination sleepers need a pillow that's tall enough for both positions and easy to move around on.
The Purple Harmony comes in three loft options, and the mid and high loft will work for most back and side combo sleepers out there.
This pillow combines Purple's proprietary gel grid that has been incorporated into the outer cover. And this surrounds a springy, responsive latex core. The mid loft option will work better for back sleepers and side sleepers with narrower frames, while the high loft will work best for those with bigger frames.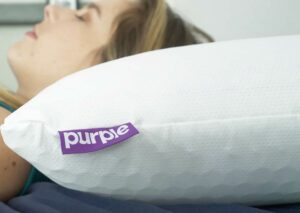 What Makes the Purple Harmony Stand Out?
This pillow is springy and responsive and easy to move around on.
The Purple Harmony comes with a nylon and spandex cover that is moisture-wicking – a great added feature!
The grid and the latex foam have open constructions meaning the pillow won't trap heat.
Read our full Purple Harmony pillow review.
Memory foam can come to you either in a single slab, or shredded. For back sleepers, shredded memory foam pillows can often be adjusted to get a loft that's right for you. And one of the best memory foam pillows is the Coop Sleep Goods Original Pillow.
This pillow is full of a proprietary blend of foam and microfibers that give it a perfect medium-firm feel. Back sleepers who love memory foam most likely will enjoy this pillow because it'll conform to your head and neck and keep you in a comfortable, neutral alignment. Stomach sleepers might also benefit from this pillow, as it is also rated one of the best pillows for stomach sleepers.

What Makes Coop Sleep Goods Original Pillow Stand Out?
It comes to you with an extra bag of fill to adjust its height, but you can use the bag to take out fill to get a loft that's right for you.
It has that classic, slow-moving feel that memory foam fans love.
It's a great hypoallergenic pick.
Read our full Coop Sleep Goods Original pillow review.
When it comes to pillows, back sleepers take a page out of Goldilocks's story; while stomach sleepers require something softer and lower-lofted, and side sleepers need a higher and firmer pillow, back sleepers like something in between. A medium loft and a medium firmness is just right.
The Luxome LAYR Pillow accomplishes this balanced loft, but takes things a step further. Its adjustability allows sleepers to customize their perfect loft and firmness. By switching out specially designed pillow inserts, back sleepers can find a pillow design that suits their individual needs. This helps promote good spinal alignment and helps ensure a comfortable night's sleep.
To make things even more convenient, the covers for the pillow and the pillow inserts are machine-washable.
What Makes the Luxome LAYR Pillow Stand Out?
This pillow is especially cooling; it has cooling gel-infused memory foam, a naturally cooling bamboo cover, and a construction that promotes airflow.

These pillows are great for couples, since they can be bought in a two-pack and customized to each partner's needs.

Luxome offers free shipping in the contiguous US, as well as a 30-night sleep trial.
Read our full Luxome LAYR pillow review.
If you're a back sleeper who likes a firm pillow, then Avocado's molded latex pillow is great for you.
It's made from a single piece of molded Talalay latex that has been perforated, which allows air to flow through very easily. But being latex, this pillow feels very bouncy and responsive, and you're not going to sink too far into this pillow.
This pillow is a mid-loft option perfect for back sleeping and will keep you in a neutral alignment while you sleep.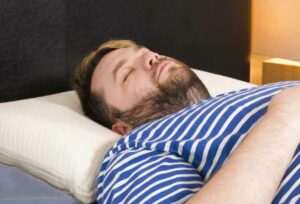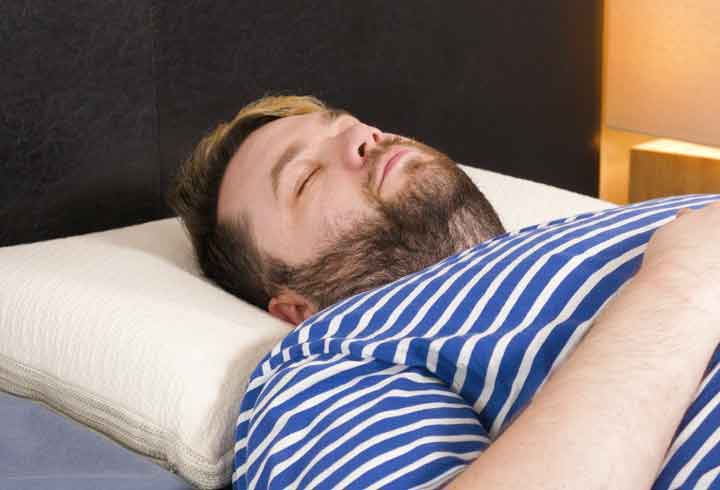 What Makes the Avocado Molded Latex Pillow Stand Out?
It's made of 100% certified organic materials for eco-conscious shoppers.
It is quite firm and responsive while still being soft and supportive.
It won't trap heat due to multiple breathable components.
Read our full Avocado Molded Latex pillow review.
Plushbeds' Goose Down pillow is a fantastic choice for back sleepers who love down pillows because it has two firmness options available. Both will be great for back sleepers depending on your body type.
Lightweight to average weight back sleepers will most likely enjoy the medium-firm option, while heavier back sleepers may want the firm option. Regardless, both will give you that plush feeling that down is known for.
This pillow comes to you in a cotton sateen shell and feels luxuriously soft. Down can be an insulator, but Plushbeds has optimized this pillow for breathability.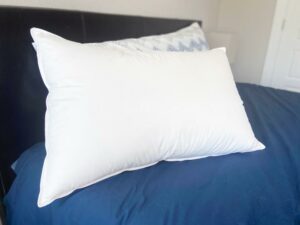 What Makes the Plushbeds Goose Down Pillow Stand Out?
This pillow is full of plush down that is also supportive enough for a neutral alignment while back sleeping.
The goose down has been responsibly sourced.
This pillow has been optimized for breathability and temperature regulation so it won't trap heat.
Read our full Plushbeds Goose Down pillow review.
What Back Sleepers Should Look For In A Pillow
As we mentioned before, people want to find a pillow that helps the head, neck, and spine stay in a neutral position. This will prevent unnecessary stress on the joints. Pay attention to these factors so you wake up feeling refreshed:
Materials
There are many great pillow options for back sleepers from a variety of material types.
Latex pillows offer great pressure relief and long-term support. Plus, latex quickly responds to your movements so you can sleep comfortably.
Memory foam pillows also have effective contouring to match the natural curvature of your neck and spine. Additionally, they're very durable and offer long-lasting support.
Down pillows are soft and cooling, though they tend to become flat more quickly and may not offer long-lasting support.
Cotton pillows are also softer and may lose support more quickly.
Gel-infused pillows can help keep you cool at night.
Loft
Your neck has a normal curvature that should be supported by the pillow. If there's too much loft, the neck will straighten out. If the pillow is too low, the curve is intensified. Either of these positions will leave a person with soreness and stiffness.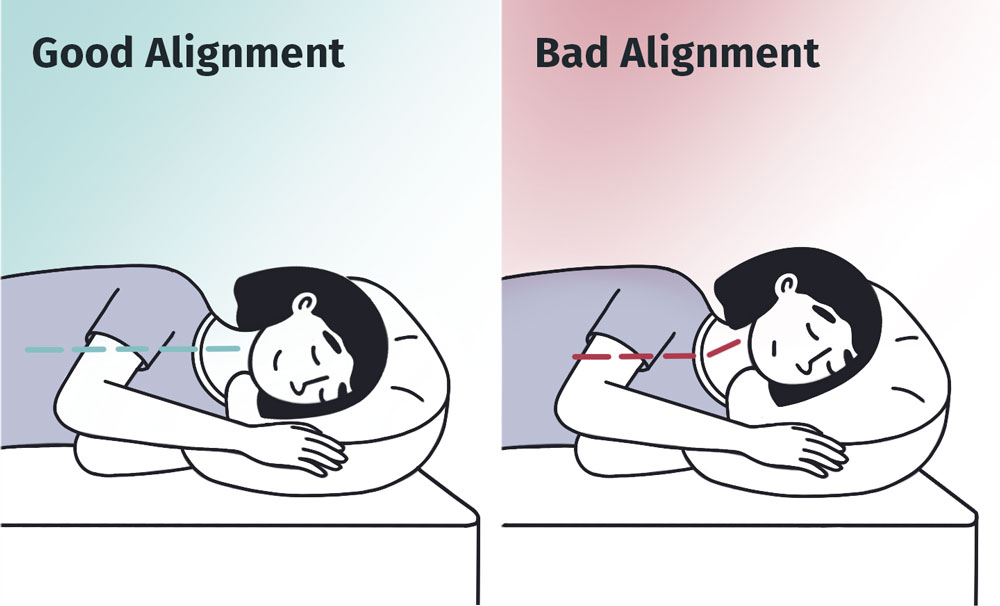 Firmness
Back sleepers should avoid extra-soft or extra-firm pillows. For proper support, back sleepers will want a medium to medium-firm pillow. This should keep the spine aligned properly.
Certain materials affect the density and firmness of the pillow. For example, latex and memory foam pillows are denser and offer a different feel than down and feather pillows.
What Else Can Back Sleepers Do?
Back sleepers should consider more than just the pillow resting under their head. Here are a few more tips for a good night's sleep.
Sleep on a supportive mattress: Back sleepers need a medium-firm mattress offering solid support, especially in the lumbar region of the spine. Check out our roundup of the best mattresses for back sleepers if you're on the market for a new mattress!
Add a mattress topper to a too-firm mattress: If your mattress is too firm and you aren't ready for a new one, try adding a memory foam or latex mattress topper for an extra layer of comfort. If your mattress is too soft, some high-density toppers may help make your sleep surface slightly more firm.
Add another pillow to the bed: Sleeping with a pillow underneath your knees can help the natural curvature of the spine. This is especially true for back sleepers who experience lower back pain.
Stretch before bed: Doing some light stretches before bed to release muscle tension can help you avoid pressure and pain in the lower back.
Looking into pillows that offer trial periods: This way, you can sleep on several pillows for a few nights and see which one leaves you feeling the best in the morning.
Benefits of Back Sleeping
Back sleeping is said to be the best sleeping position since it helps allow for the spine to properly align. Neutral spinal alignment allows you to breathe at full capacity during the night and also lessens the chances of you waking up with aches or pain.
Additionally, back sleeping helps keep your hips elevated, so it may be helpful for people who have hip pain. Also, you won't be laying directly on your hips, but evenly distributing your weight.
Back sleepers also have an advantage when it comes to pillow use. Since there is less friction between the pillow and your face, back sleeping may help reduce wrinkles.
Cons of Back Sleeping
Back sleeping isn't ideal for everyone, and there are a few cases where you may want to avoid back sleeping all together.
If you have acid reflux or GERD (gastroesophageal reflux disease), sleeping on your back may not be the best position. since this position can disturb your esophageal sphincter muscle and aggravate symptoms.
If you have obstructive sleep apnea or snoring issues, back sleeping can make breathing more complex and construct your airways. A lot of back sleepers note that side sleeping helps alleviate symptoms.
Pregnant people are recommended to sleep on their sides since side sleeping supports circulation and reduces pressure on the veins and internal organs.
Summary
FAQs
What kind of pillow is best for back sleepers?
The best pillow for back sleepers is one that will support the natural head, neck and spinal alignment of the body. Please keep in mind that this is not the same thing as an exact straight line. Our bodies have a natural curve to them - this is noticeable when sleepers place their hands behind their heads and move them down toward the shoulders - the curvature is prominent in this point. The best pillow for back sleepers is one that supports this natural curve. One that is too firm will push the head forward, generating neck strain and discomfort. Likewise, a pillow that's too soft or flat will cause the head to fall too far back, exaggerating the curve of the neck and increasing the likelihood of neck pain as well.
Are memory foam pillows good for back sleepers?
Memory foam pillows can be a great option for back sleepers; the natural contouring and pressure-relieving properties that memory foam provides can help support the neck and the head and keep it in the right alignment, all without falling flat or changing shape overnight. The key is to find the right support level and height for a person's body type - not all memory foams are created the same in terms of feel or support.
Should back sleepers even use a pillow?
Yes, in most cases back sleepers should use a pillow. How tall or supportive the pillow should be will be determined by body shape and size and also how firm or soft one's mattress is. The firmer the mattress, the more one's body will sleep on top of the bed, as opposed to sinking into the bed. This correlates to how supportive one's pillow should be - the firmer the mattress, the taller and the more supportive the pillow will need to be. Likewise, the softer the pillow the more someone will sink into the mattress and a flatter pillow will be sufficient.
Sources
Tony Klespis
Tony is a staff writer at Mattress Clarity where he analyzes sleep products and appears in review videos. He earned a B.A in English from Sam Houston State University and a M.A in Mass Communication from Texas State University. When he isn't writing about sleep products, Tony loves to unwind with a good book or can be found playing Pokemon Go outside with his friends, or cuddling with his cat, Penguin. He's always down to try a new, local restaurant and try new foods.