Saatva's pillow features an organic cotton outer cover accompanied by a core made of microfibers for a plush feel that one's head will sink right into. But once it sinks in, there lies a surprise: a supportive core made from shredded latex pieces.
What is the overall feel of this pillow like and who is it a good feel for? Read on for my full Saatva pillow review.
Saatva Pillow Deals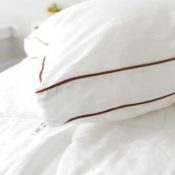 The Saatva Pillow has an organic cotton cover that is removable. Underneath is an outer pillow made up of hypoallergenic microfibers. You can unzip that pillow and reach a pouch filled with shredded Talalay latex pieces. The pillow is a good fit for back sleepers.
Key Features
Size: King and Queen
Cover: 100 percent organic cotton cover, sateen weave
The cover is removable and can be machine cleaned; gusseted sides
Filling: 100 percent cotton, micro-denier fiber outer pillow and a shredded, 100 percent American Talalay latex core
Plusher feel, but sleepers will reach that latex core and feel that support
45-day return policy
Hypoallergenic
Removable inner pillow
Machine washable outer pillow
Price for Queen: $145 and King: $165
Who Makes It?
The Saatva Pillow is made by Saatva Dreams, one of several brands in a family that includes Saatva, Loom & Leaf, and Zenhaven mattress brands.
Saatva Dreams offers many bedding sleep products, including pillows, organic sheets, and mattress toppers. Learn more about Saatva mattresses and check out our Loom & Leaf review and Zenhaven review.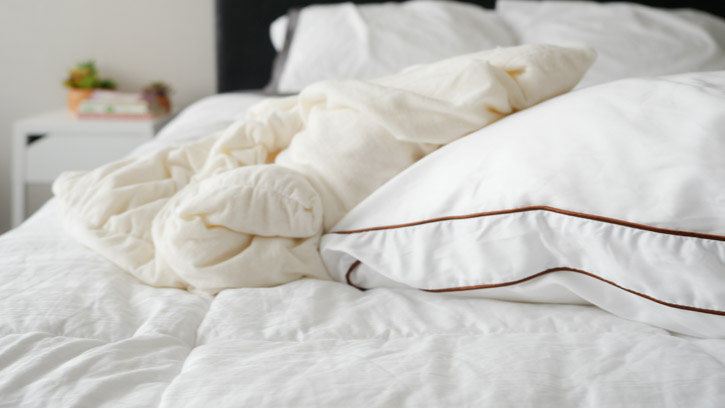 Pillow Construction
The Saatva Pillow is a traditional-shaped pillow, meaning it should work well with most pillowcases. It features a 100% organic cotton cover with a silky sateen weave and demure brown piping around the edges.
The inside of the pillow is made up of two parts; first, there is an outer pillow that is plush, fluffy and filled with 100% cotton, micro-denier fibers (microfibers). There is a zipper that allows sleepers to open up the pillow, and locate a small inner core of shredded Talalay latex pieces inside. This core is the second part of the pillow that comes in a smaller bag with room for the filling to move around.
Sleepers will basically stuff the bag of latex shreds into a small space inside the outer microfiber pillow. This makes the core of the pillow noticeably firm and provides enhanced support, but individuals will have to make sure the actual latex shreds are distributed by hand.
Pros
Hypoallergenic
Washable outer cover and outer pillow
Organic cotton cover is breathable
A sateen weave is luxurious looking
Best for back or more petite side sleepers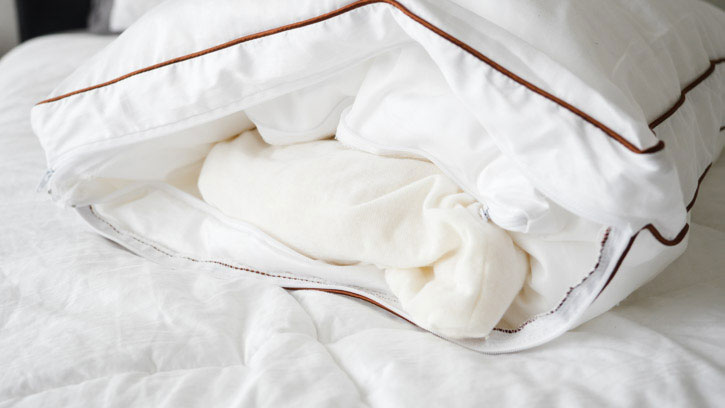 Cons
Expensive
After a few days, one's head goes through the microfibers and one can feel that shredded latex
The core may be too firm for most stomach sleepers
Primarily for back sleepers. It's doable on the side (especially for petite folks) and may work for some stomach sleepers
My Experience
I like to think of the Saatva pillow as the "Tootsie Pop" of pillows because of its surprise center. The core of this pillow is a small bag of shredded, natural Talalay latex pieces. Because the outer pillow is filled with fluffy microfibers that give the pillow a general down alternative feel, the supportive core is a big of surprise once the head sinks down far enough to reach it.
The outer cover is a very soft, 100% organic cotton with a sateen weave. There is a lot to like about the soft and breathable cover. It's removable and easy to machine wash and dry.
The next layer in the pillow is essentially a down alternative microfiber pillow (which is machine washable). This layer gives the pillow its plush feel and allows the head to sink into it. The sleeper's head does sink pretty far down after the first few nights he or she sleeps on the pillow, and the individual will definitely feel that supportive core.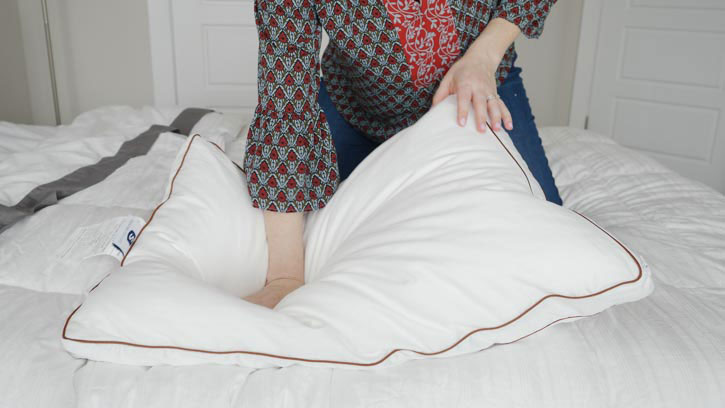 Here is where I had a little bit of trouble with the pillow. The shredded latex filling is difficult to evenly distribute (because it's shredded pieces) and can become lumpy in the middle of the pillow. There were multiple times when I had to reach my hand in and manually adjust the filling to get it even enough to feel comfortable. The support from the latex is nice, but I'd almost prefer a solid latex foam core than latex shreds.
The overall height and feel make me think this pillow is best suited for back sleepers. It's also the position in which one is less likely to feel the lumpiness from the core.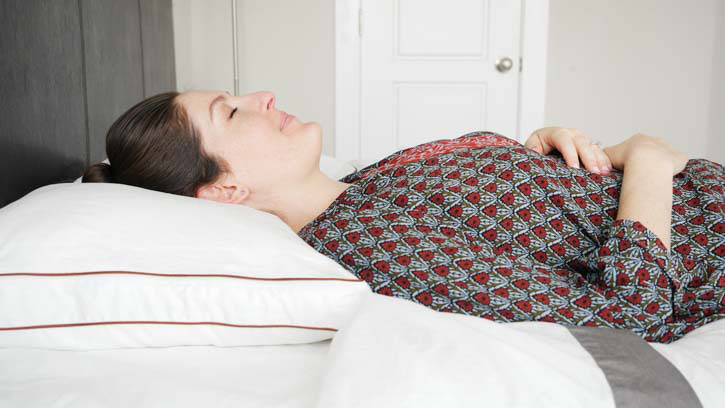 Some more petite individuals may find this pillow will also work on their side, but it's probably too plush for heavier people who sleep on their side or those with broad shoulders and larger heads that tend to sink deeply into a pillow.
I think sleepers will need to plan to fluff the outer pillow/cover at least once a week to keep the plush feel going. Towards the end of my review, my head was going straight through the microfibers and hitting the firm latex foam shreds.
Check out our list of best pillows for back sleepers. 
Saatva Pillow Deals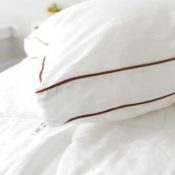 The Saatva Pillow has an organic cotton cover that is removable. Underneath is an outer pillow made up of hypoallergenic microfibers. You can unzip that pillow and reach a pouch filled with shredded Talalay latex pieces. The pillow is a good fit for back sleepers.
Marten's Take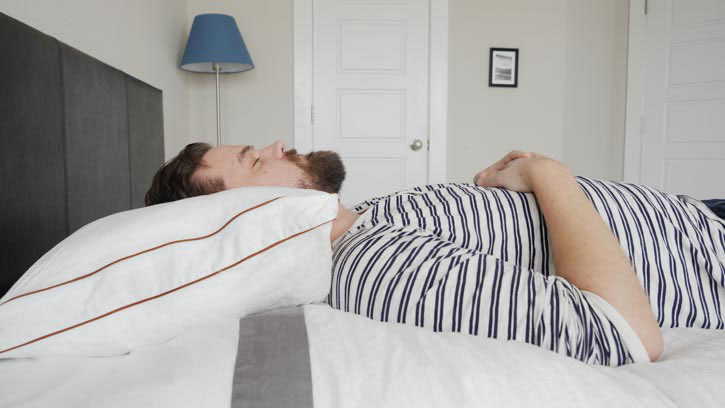 I am a larger person than Katie and also more of a side sleeper. Because of this, I had a slightly different experience on the Saatva pillow than Katie did.
She and I did agree that the pillow could be a good match for back sleepers. Even someone of my size should get the support they need on the Saatva pillow.
That being said, I did not feel comfortable when I was on my side and stomach. On my side, I could feel the lumpy inner sack of shredded latex foam. It was a strange feeling, and the pillow smothered me somewhat. On my stomach, I also felt smothered.
The Saatva pillow might work for larger back sleepers – however, this lumpy feel is worth noting.
Overall
The Saatva pillow does have a lot going for it, including a soft and breathable organic cover, downy-soft and hypoallergenic outer cover, and a supportive shredded foam center. However, I found the pillow's core too lumpy and too firm once the outer cover flattened out several nights into my review. I do appreciate that so much of the pillow is washable and that customers get 45 days to try it out. Those who are primarily back sleepers and looking for a down alternative pillow that has a foam core should give it a try.
The following two tabs change content below.
Katie Golde
Katie manages the day to day operations of the Mattress Clarity news site and reviews sleep products in addition to writing and editing sleep news.She hails from Austin, where she lives with her growing family. She is a Certified Sleep Science Coach and has a master's degree in Journalism from Northwestern University and has a background in health and science content. Her work can be found in print and online publications like Discover Magazine, USA Today and The Huffington Post.
Latest posts by Katie Golde (see all)