It's soft. It's squishy. But it still creates excellent support. Yes, we're talking about Purple's unique gel grid, and it's a huge part of their customizable pillow.
Eager to learn more about this one-of-a-kind product? In our Purple Pillow review, we'll go over its firmness, feel, and adjustable sizing.
10% Off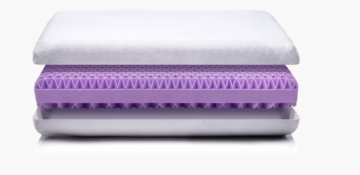 Purple's original pillow is made with their signature Smart Comfort Grid polymer material that gives the pillow a plusher feel but without losing the support. Click the link to save 10% on your purchase!
Purple Pillow Overview
Customers love Purple's squishy gel grid. It feels soft at first touch, but when you apply pressure, it feels strong and firm. You'll find this material inside all of Purple's mattresses, and it's a major component of the Original Purple Pillow.
Unlike the Purple Harmony and Purple Plush pillows, the original model comes with two boosters. With these, you can easily adjust the height and get the pillow to your desired loft. But will this pillow meet all of your sleep needs? We've outlined the pros and cons below.
Who Might Like The Purple Pillow
Back and side sleepers
Hot sleepers
People who are looking for a durable pillow
Who Might Not Like The Purple Pillow
Stomach sleepers
Those who are on a budget
People who prefer the feeling of a traditional pillow
Purple Pillow Video Review
If you want to see Purple's proprietary gel grid in action, take a look at our video review below.
Purple Pillow Firmness and Feel
Before we examine the pillow's construction, let's check out two of the most important factors: firmness and feel.
How Firm Is The Purple Pillow?
Because it features 3" of Purple's hyper-elastic polymer grid, this pillow feels quite firm. It provides a great amount of support, and it will work well for larger-framed people.
Sleeping On The Purple Pillow
When you rest your head on a new pillow, you'll want to make sure it helps you maintain a neutral alignment. If you sleep on your side, this means you'll want your ears to align with your shoulders. When you're resting on your back or stomach, make sure the pillow helps you keep your chin in line with your sternum.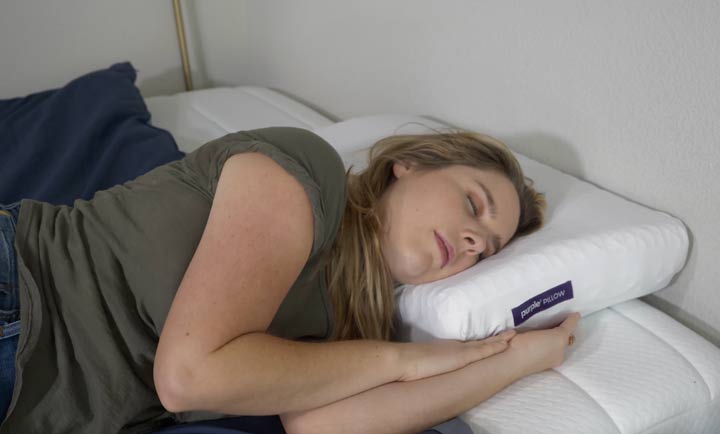 The Purple Pillow comes with two boosters. One is .5" tall and the other is 1" tall. By adding or removing boosters, you can easily adjust the pillow's height in order to reach neutral alignment.
What Does The The Purple Pillow Feel Like?
The Original Purple Pillow feels unlike any other product on the market. It consists of 3" of their squishy gel grid, which creates a firm and supportive surface for your head and neck. When you compress it, the material quickly snaps back into place.
Average Weight Sleepers – 130 lbs – 230lbs
Generally, the Purple Pillow works well for average weight people. Most people in this category won't need to add a booster at all. Back sleepers should gain the right amount of comfort and support from just the 3" layer of hyper-elastic polymer grid.
Side sleepers, too, should find they can easily maintain a neutral alignment on this pillow. Unlike down pillows, this product won't compress or sag overnight.
For average weight stomach sleepers, the pillow probably won't work well at all. Stomach sleepers need to rest on a flat surface in order to prevent neck pain and tension. The Purple pillow is just too tall to feel comfortable in this sleeping position.
Heavyweight Sleepers – Over 230lbs
Thanks to its durability, the Purple Pillow works extremely well for heavier people. Those with larger frames may need the help of the .5" booster when back sleeping. Heavier side sleepers may need both boosters in order to keep their ears in line with their shoulders.
Finding the ideal pillow height takes a bit of trial and error, but it's ultimately quite easy to feel supported and comfortable on the Purple pillow. But again, stomach sleepers won't enjoy resting on the Purple Pillow. Even for larger people, this pillow is just too tall.
Lightweight Sleepers – Under 130lbs
Lightweight sleepers likely won't need a booster. The 3" tall pillow should work well for back and side sleeping, but it's not suited for lightweight stomach sleepers. If you fall in this category, look for something that can compress easily such as the Casper Down pillow.
Purple Pillow Construction
We already know this pillow features a unique gel grid and comes with two boosters. But how does the whole thing come together? To find out, we'll need to look closely at its construction.
Cover
Around the outside, you'll find Purple's Breeze Mesh cover. This thin and stretchy material allows plenty of room for airflow, and it easily conforms to the grid underneath. Plus, it's machine washable!
Core
Beneath the cover sits 3" of Purple's hyper-elastic polymer grid. This material feels supportive when you apply pressure, but soft at first touch. It also contains dozens of open air channels, so it should stay cool all night long.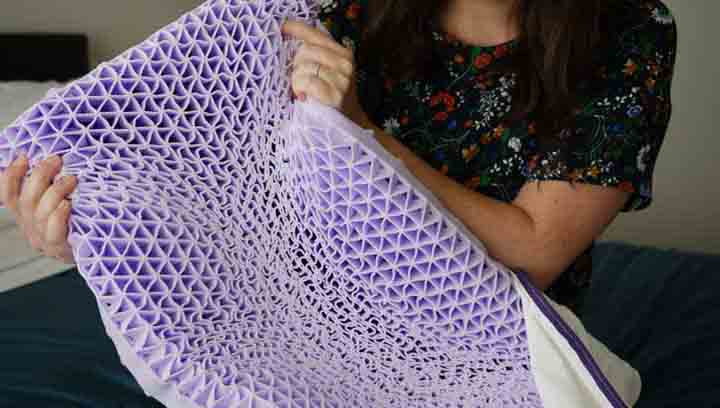 The pillow comes with two cloth boosters – one stands at .5" tall, and the other at 1".
Weight
A particularly heavy pillow, it weighs 11.7 lbs.
Height/Loft
Depending on which boosters you use, the pillow can stand between 3" and 4.5" tall.
Purple Pillow Size Options and Price
And now for two especially important aspects: sizing and price point. Take a look at our table below for more detailed information.
| | | | |
| --- | --- | --- | --- |
| Size | Dimensions | Weight | Price |
| Standard Size | 16″ x 24″ x 3″ – 4.5″ | 11.7 lbs | $109 |
10% Off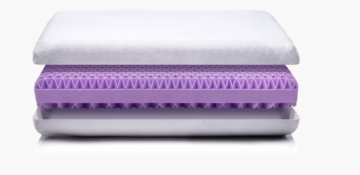 Purple's original pillow is made with their signature Smart Comfort Grid polymer material that gives the pillow a plusher feel but without losing the support. Click the link to save 10% on your purchase!
If your bed needs a refresh, check out our Purple mattress review.
Purple Pillow Performance
Is this pillow easy to care for? Will it overheat at night? Let's take a close look at its performance features to find out.
Sleeping Hot or Cold
As you may know, memory foam pillows tend to overheat at night. However, that won't become an issue when you rest on the Purple pillow. Because it has a breathable mesh cover, the exterior won't trap body heat. Plus, the gel grid allows plenty of room for airflow. All in all, this pillow will work wonderfully for hot sleepers.
Off-Gassing
When you open a bed-in-a-box mattresses, you may notice a slight chemical smell. We call this off-gassing, and it's a byproduct of expanding memory foam.
The Purple pillow, however, doesn't contain memory foam. When you open the box, you shouldn't smell any strong odors. You can rest on this pillow right away.
Care Instructions
The exterior cover is machine washable. Just wash with cold water and tumble dry on low. Hand wash the interior grid with warm water.
Allergies
Unlike many down pillows, the Purple pillow won't trap dust mites or allergens.
Company Policies
Before purchasing a new sleep product, it's always a good idea to look at the company's policies. Below, you'll find a quick overview of Purple's sleep trial period, warranty, and return policy.
Warranty Info
Purple offers a 1-year warranty on their pillows.
Sleep Trial
The Purple Pillow has a 100-night sleep trial period.
Return Policy
If you aren't satisfied with your Purple pillow during the initial trial period, you can return it for a full refund.
Common Purple Pillow Complaints
Most customers left positive reviews on Amazon, but a few people ran into some issues. In most of the 1-star reviews, customers complained about how it's uncomfortable for stomach sleepers. Like we mentioned above, this pillow is quite tall. Because of this, stomach sleepers will most likely crane their necks out of the proper alignment. If you primarily rest on your stomach, consider getting the Purple Plush pillow instead.
Other people found the pillow too firm. While this can help side sleepers maintain the proper alignment, some people aren't fans of the extra support. If you want something that feels soft and malleable, check out the Purple Harmony pillow.
How Does The Purple Pillow Compare To Other Pillows?
The Purple Pillow really is one-of-a-kind, so it's difficult to compare it to competitor's products. Instead, we'll look closely at how the original compares to Purple's other pillow models.
Original Purple Pillow Vs. Purple Plush
While the Original Purple Pillow features the company's gel grid, the Purple Plush does not. Instead, this pillow is filled with interlocking polyfiber balls. The company calls this unique material "Smart Fluff," and it feels light and malleable. On the outside, the Plush has a cover made from a Lyocell-blend material. It's naturally moisture-wicking and breathable.
The Original Purple pillow feels quite firm, making it a great choice for larger-framed people. With the Plush, customers have some customization options. This product has zippers on two of its sides. Zip it up, and the pillow feels firm. Unzip it, and you'll get some extra softness.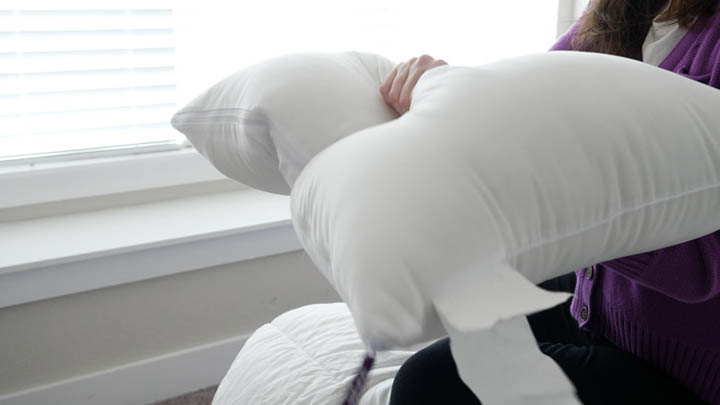 You can customize the Original Purple Pillow's height, but you can't change its overall feel. If you're a big fan of the company's unique grid material, we recommend purchasing the Original. This one does cost more than the Plush, however, so it may not work well if you're on a budget.
Who Should Get The Original Purple Pillow
Fans of firmer pillow
Those who like Purple's gel grid
People who want to adjust their pillow's height
Who Should Get The Purple Plush
Fans of a traditional fluffy pillow
Those who want to adjust their pillow's firmness level
People who want to save money
Read our full Purple Plush pillow review.
Original Purple Pillow Vs. Purple Harmony
Both pillows include the company's well-known squishy material, but in different amounts. In the Original, you'll find a thick 3" layer of this soft and supportive grid. The Purple Harmony has a thin layer sewn inside the stretchy cover.
The Purple Harmony pillow also has a core made out of ventilated Talalay latex foam. Thanks to its tiny air holes, this pillow feels extra cool and breathable.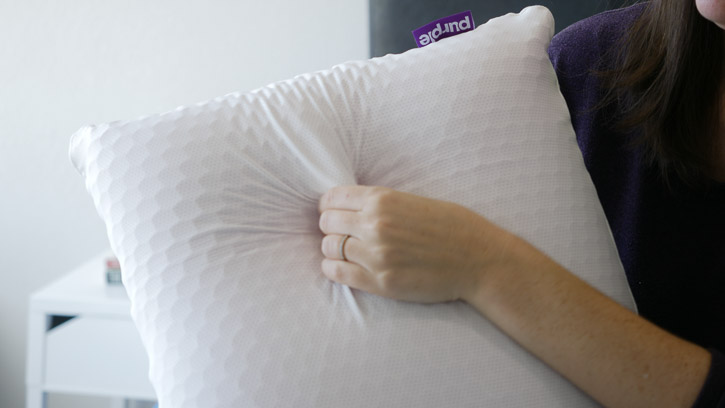 The Original Purple Pillow feels firm, making it a great choice for larger people and side sleepers. The Purple Harmony Pillow feels medium firm, so it works well for combination sleepers. Because it's more versatile, this pillow does cost a little bit more.
Who Should Get The Original Purple Pillow
Fans of firm pillow
Side sleepers
Larger-framed people
Who Should Get The Purple Harmony Pillow
Combination sleepers
People who prefer medium firm pillows
Those who prefer more of a memory foam feel.
Read our full Purple Harmony Pillow review.
Our Purple Pillow Ratings
Need a recap? Here's how the Purple Pillow scores overall:
FAQs
Is the Purple Pillow worth it?
If you're a larger person looking for significant neck support, we definitely think the Purple Pillow is worth the money. The polymer material conforms to your body and creates excellent pressure relief. But if you're a stomach sleeper, you will want to get the Purple Plush pillow.
Which Purple Pillow is best?
This answer depends greatly on your body type and sleeping position. Larger people will love the Original pillow's firm feel. This product has 3" of the famous purple grid, making it one of the best pillows for heavy people. Stomach sleepers will prefer the Purple Plush. This pillow has two side zippers. When it's zipped up, the pillow feels firm and supportive. When it's unzipped, the pillow feels soft and malleable. It's important to note, however, that this pillow does not feature the company's smart comfort grid. If you want the classic purple grid, but also like the feeling of foam pillows, the Purple Harmony is for. This versatile pillow works well for back and side sleepers, and it creates a great balance of comfort and support.
How long does a Purple pillow last?
The Original Purple pillow comes with a 1-year warranty, but it should last for at least three years.
Is Casper or Purple better?
Both brands have their merits, and ultimately, it comes down to personal preference. Casper mattresses have zoned support systems, which means the bed feels firmer in some areas and softer in others. Casper sells down pillows and memory foam pillows. Purple products have a completely different feel. They're known for their gel hex grid, and you'll find it in most of their products. Still can't decide what you want? Read our Casper vs. Purple mattress comparison.
Katie Golde
Katie manages the day to day operations of the Mattress Clarity news site and reviews sleep products in addition to writing and editing sleep news. She hails from Austin, where she lives with her growing family. She is a Certified Sleep Science Coach and has a master's degree in Journalism from Northwestern University and has a background in health and science content. Her work can be found in print and online publications like Discover Magazine, USA Today and The Huffington Post.