Purple's signature Smart Comfort Grid material has made the brand a big name in the mattress world. But how does this unique pressure-relieving material fare in a pillow? There's one thing I can guarantee, the Purple Pilow is unlike any other pillow out there at the moment.
To find out if it's going to be the right fit and worth taking home, check out my video review below or scroll down for a detailed written review. Comment below any questions pop up for me!
View Latest Offers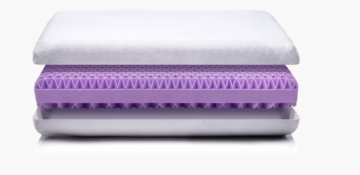 Purple's original pillow is made with their signature Smart Comfort Grid polymer material that gives the pillow a plusher feel but without losing the support.
Key Features
A soft but squishy feel that provides pressure relief to the head and neck
One size: 24″ long, 16″ wide, and 3″ tall and weighs about 10 lbs
Filling: is made out of their Smart Comfort Grid which is a Hyper-Elastic Polymer
Cover: Purple calls it Hyperstretch Mesh but I call it 88% Polyester, 3% Nylon, and 9% Spandex Mesh
Hypoallergenic
100-night trial period and 1-year warranty
$99 full price
Made in the US out of materials imported materials and non-imported materials
RELATED: Best Memory Foam Mattresses
Who Makes It?
Purple has been one of the most successful online retailers of bed-in-a-box mattresses since its founding in 2015.
The brand now offers four mattresses as well as two pillows and other accessories. Purple's Plush Pillow is filled only with polyester fibers, while Purple's original pillow features the company's classic Hyperelastic Polymer Smart Comfort Grid technology in its design.
Check out our review of the Purple Original mattress.  
Pillow Care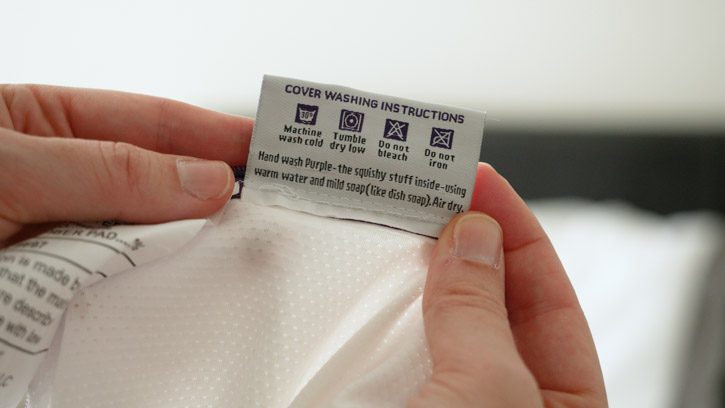 The Purple Pillow is unlike any other pillow out there and has specific care instructions that I would encourage everyone to follow in order to maintain the pillow's performance and keep it in top condition.
Here's how Purple recommends cleaning the pillow:
Cover: Machine Wash cold. Tumble dry low. Do not bleach, do not iron.
Filling: For the Smart Comfort Grid, hand wash in warm water with mild detergent (eg: dish soap), air dry.
The cover is easy to get off and wash (make sure not to shrink it by drying it on too high of a heat). The inner filling can be cleaned, but I'd only do it if absolutely necessary. It has a lot of small areas where water and soap can get trapped, and it's air dry only, so it's just a big process to get it completely cleaned and dried.
Pros
Great support and pressure relief without the slow response of memory foam or the bounciness of latex foam
Good breathability – doesn't sleep hot like some foam
Solid trial period (100 days!)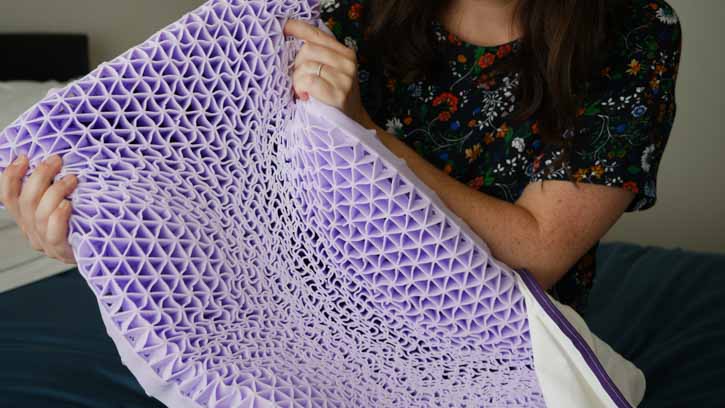 Cons
Expensive and heavy (10 lbs!)
Can't be adjusted or molded to fit anyone's specific needs
Currently one size only
The texture might be bothersome for side or stomach sleepers (against the side of the face)
Will be challenging to clean the internal grid
Best Sleeping Positions For The Purple Pillow
With a solid core and a 3″ height profile, Purple says their pillow will work for all sleep positions – but that it's especially popular for average-sized back and stomach sleepers.
Based on my experience, I'd agree that it's a better fit for back and stomach sleepers than side sleepers. I'm primarily a side sleeper, but I felt that the pillow's height and medium-firm feel made it the perfect fit when I slept on my back.
When I moved to my stomach I was pretty comfortable, except that I didn't care for the texture of the Smart Comfort Grid against my face. Aside from that, I think it's a good height for stomach sleepers.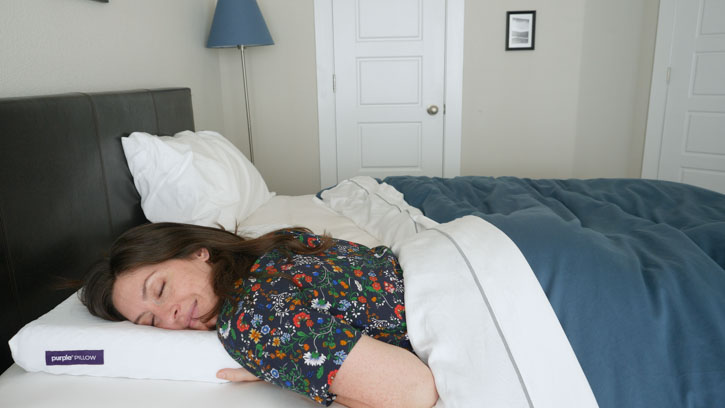 Side sleepers will need a little more height and a loftier feel – that being said – petite adults or children may find that it works well for side sleeping.
One thing that Purple suggests to help the pillow work for side sleepers is to find an additional thin pillow and place it on top of the Purple Pillow. Then place both of those pillows into the zippered Purple cover. I tried this and agree it's better, but it's a lot of extra work just to be able to use the Purple Pillow.
My Experience
I've had the chance to review a lot of pillows and I always appreciate the opportunity to try something that hasn't been done in a pillow before. Enter the Purple Pillow with its Hyper-Elastic Polymer Smart Grid Technology (say that five times, fast!).
Those who have had a chance to check out the Purple mattress will be familiar with the proprietary grid material and that it is soft but somehow still supportive. It's a very one-of-a-kind feel that allows sleepers to feel pressure relief but without the mattress feeling too firm or stiff.
How does this translate to a pillow? Well, the concept definitely works – sleepers will rest their heads gently on the pillow and feel the soft grid collapse under the weight of their heads. The head will sink in, but this grid is supportive and sleepers won't get a slow sinking feeling like they would from memory foam or a bounce-like response from latex foam.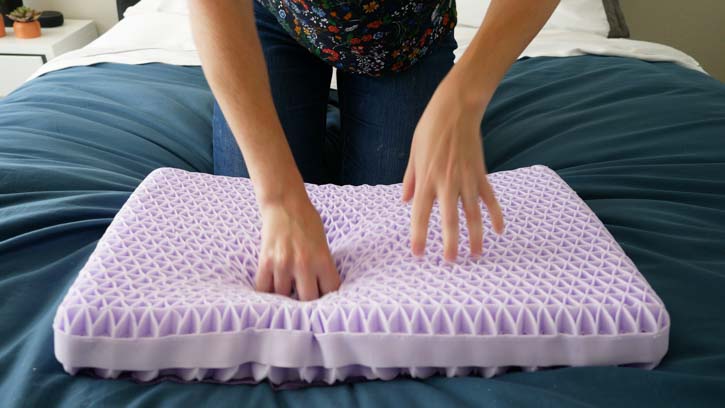 With a 3″ height profile, Purple says the pillow is a good fit for most back and stomach sleepers. This is something I do agree with and think that side sleepers or heavier or larger individuals will want to check out their Purple Plush option for more height.
The Purple pillow will surely catch the eye of those looking for pressure-relieving support and haven't been able to find it in a shredded foam or hybrid polyester/foam pillow alternative. There is a lot to like about it but my biggest hang-ups on the pillow come when one unzips and removes the cover.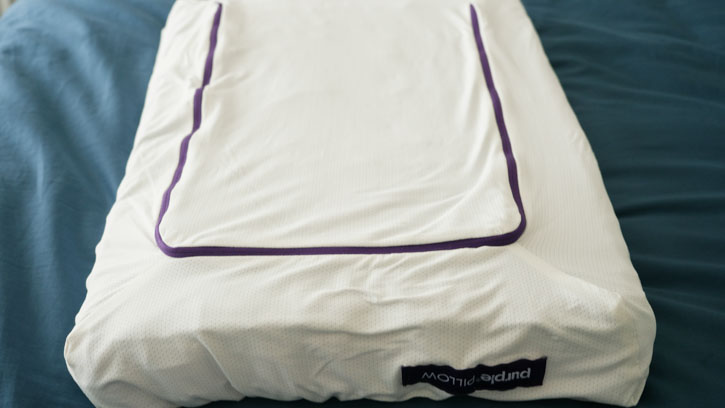 When removing the cover, one will immediately see a white powder – a non-toxic plastic powder–  that sprinkles out from within the Smart Comfort Grid. This can make a big mess quickly, so try to open the pillow outside or on an easy to clean surface. This powder is what Purple uses to keep its Smart Comfort Grid in their mattresses and pillows from sticking together, especially under pressure and heat during the packaging process.
I didn't love the mess that the powder made and I also didn't enjoy trying to clean the pillow. The grid is definitely innovative and pretty cool but is a beast to clean. The spaces between the polymer in the Smart Comfort Grid are small and they are deep. This makes cleaning all the individual sections by hand challenging – plus the pillow is 10 lbs.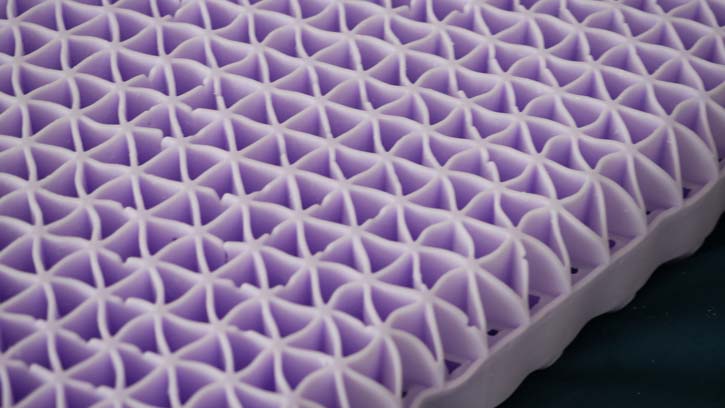 The pillow also needs to air dry. So finding a place to let this heavy pillow dry is another challenge and it will take time to dry because these deepest areas of the filling need time to completely dry.
There are many things to like about Purple's pillow and there is a reason their design elements are so popular. Be prepared to deal with the headache of cleaning the pillow if needed.
Marten's Take
Those who are in the process of looking for a new pillow, it is always a good idea to think about one's weight and sleeping position. That's why Katie asked me to try out the Purple Pillow for myself. I am 230 lbs (much larger than Katie), and I mostly sleep on my side.
As Katie mentioned, the Purple is a very unique pillow. Like the Purple mattress, the pillow contains a Hyper-Elastic Gel Polymer. I am personally a huge fan of the Purple mattress, and I like lying on it all three sleeping positions. However, while I like sleeping on the Purple mattress, that squishy gel feel is a bit strange when it is under my head.
That being said, the pillow is a great match for me when I am on my back. My head sinks in just the right amount, and I am getting some nice neck support. When I am on my side, the pillow is not thick and firm enough for me. I feel like I am dropping through the pillow. However, on my stomach, the pillow is a good fit for me.
While the Purple Pillow isn't the best choice for heavier side sleepers, it should work for heavier back and stomach sleepers.
View Latest Offers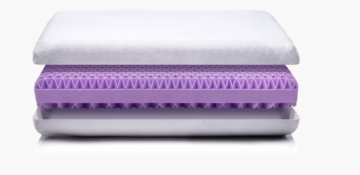 Purple's original pillow is made with their signature Smart Comfort Grid polymer material that gives the pillow a plusher feel but without losing the support.
Overall
The original Purple Pillow stands apart from other supportive options because of the unique polymer core that makes up the Smart Comfort Grid on the Purple.
I would recommend this pillow to average-size and heavier-size people who are usually back sleepers or stomach sleepers and want support but don't like the slow response of memory foam or the bounce of latex foam (if foam just isn't suiting them).
I do think this has really nice pressure-relieving qualities, but it is expensive and the texture of the smart grid wasn't a good fit for me personally.
Please let me know if any questions come up about the pillow or a personal recommendation is needed!
The following two tabs change content below.
Katie Golde
Katie manages the day to day operations of the Mattress Clarity news site and reviews sleep products in addition to writing and editing sleep news.She hails from Austin, where she lives with her growing family. She is a Certified Sleep Science Coach and has a master's degree in Journalism from Northwestern University and has a background in health and science content. Her work can be found in print and online publications like Discover Magazine, USA Today and The Huffington Post.
Latest posts by Katie Golde (see all)