Purple's signature Smart Comfort Grid material has made the brand a big name in the mattress world. But how does this unique pressure-relieving material fare in a pillow? There's one thing we can guarantee, our Purple Pillow Review will cover all the details and dive into why this pillow is unlike any other.
View Latest Offers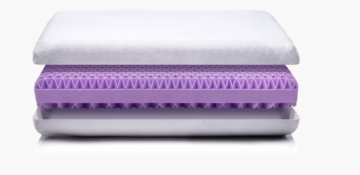 Purple's original pillow is made with their signature Smart Comfort Grid polymer material that gives the pillow a plusher feel but without losing the support.
Purple Pillow Overview
We've had the chance to review a lot of pillows and we always appreciate the opportunity to try something that hasn't been done in a pillow before, like the Purple Pillow with its Hyper-Elastic Polymer Smart Grid Technology.
Those who have had a chance to check out the Purple mattress will be familiar with the proprietary grid material and that it is soft but somehow still supportive. It's a very one-of-a-kind feel that allows sleepers to feel pressure relief but without the mattress feeling too firm or stiff.
How does this translate to a pillow? Well, the concept definitely works – sleepers will rest their heads gently on the pillow and feel the soft grid collapse under the weight of their heads. The head will sink in, but this grid is supportive, so sleepers won't get a slow "sinking in" feeling like they would from memory foam or the bounce-like response from latex foam.
Who Might Like the Purple Pillow
Sleeper looking for pressure relief who haven't found success with a foam pillow
Average size and heavier back and stomach sleepers; petite back and side sleepers
Who Might Not Like the Purple Pillow
Sleepers who prefer the feel of down or down alternative
Those that like to adjust, customize or manipulate their pillows
Shoppers with a tighter budget
Purple Pillow Video Review
There is so much going on with this Purple pillow; let's dive into this in-depth review and take a look at exactly what's underneath that pillow cover.
Purple Pillow Firmness & Feel
Thanks to its proprietary Smart Comfort Grid, the Purple Pillow looks and feels unlike any other pillow on the market.
How Firm is the Purple Pillow?
The Purple Pillow is difficult to describe in terms of being "firm" or "plush" as we would with more traditional pillows. The Smart Comfort Grid collapses under the head but it's still a polymer gel so it remains supportive. If we had to apply a firmness label this pillow, we'd most likely say it's a medium firmness, no one's head will fall through the pillow but it's not a stiff material, either.
Sleeping on the Purple Pillow (Sleeping Positions)
With a solid core and a 3″ height profile, Purple says their pillow will work for all sleep positions – but that it's especially popular for average-sized back and stomach sleepers.
Katie personally tested the pillow found it to be the most comfortable when she slept on her back; when she moved to her stomach she was also comfortable, except that she didn't care for the texture of the Smart Comfort Grid against the side of her face. Aside from that, she said she thinks it's a good height for most stomach sleepers.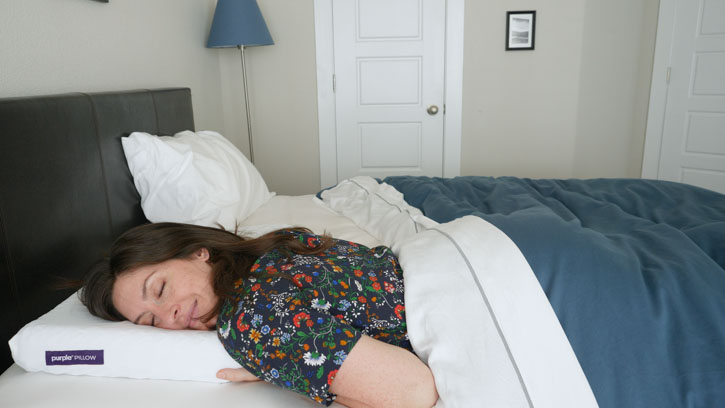 Side sleepers will need a little more height and a loftier feel – that being said – petite adults or children may find that it works well for side sleeping.
One thing that Purple suggests to help the pillow work for side sleepers is to find an additional thin pillow and place it on top of the Purple Pillow. Then place both of those pillows into the zippered Purple cover. Katie tried this and agree it's better, but it's a lot of extra work just to be able to use the Purple Pillow.
RELATED: Best Mattresses 2020 – Top Brands Reviewed
What Does the Purple Pillow Feel Like?
The best way to describe this pillow is that it feels squishy! The polymer gel that makes up the Smart Comfort Grid is unlike any type of foam or down/down alternative feel that's reminiscent of other pillows on the market. The grid promotes airflow and breathability but also means it collapses when weight is applied to it, making it a solid gel-like pillow but with a little bit of "give" to it.
Average Weight Sleepers – 130lbs to 230lbs
With a 3″ height profile, Purple says the pillow is a good fit for most back sleepers and stomach sleepers. As a person who is 5′ 7″ tall and about average body weight, Katie completely agreed with this assessment. The pillow offers nice pressure and support without the "sinking" feeling of a foam core.
Stomach sleepers will be able to feel the brand's grid through the pillowcase, which could be distracting for those who are unfamiliar with the feel of this polymer material.
Heavyweight Sleepers – Over 230lbs
We checked in with Marten, our colleague who is 6′ 7″ and over 230lbs, and here's what his experience was like with the Purple Pillow. Marten said that the Purple Pillow is a great match for him when he's on his back. His head sinks in just the right amount, and he's getting some nice neck support.
However, when he moves to his side, the pillow is not thick and firm enough. He said he feels like he's dropping through the pillow. With that said, the pillow is an excellent fit for him when he sleeps on his stomach.
Overall, heavier back and stomach sleepers may prefer the pillow and heavier side sleepers may need to find a pillow with additional height.
Lightweight Sleepers – Under 130lbs
Keeping in mind that the height profile is only 3″ tall and the grid material will collapse under the weight of a person's head, it should actually be an appropriate fit for petite back and side sleepers. In general, this group tends to need less loft and height to achieve that neural head, neck and shoulder alignment in these sleeping positions.
Purple Pillow Construction
The Purple Pillow has a unique construction that highlights the brand's special Smart Comfort Grid and pressure-relieving feel. Let's dive into the other details of this pillow.
| | |
| --- | --- |
| Dimensions | One size: 24″ x 16″ |
| Weight | 10.2 lbs |
| Cover Material | Hyperstretch Mesh |
| Core | Hyper-Elastic Polymer Purple Grid |
| Loft/Height | 3″ |
Dimensions
The Purple Pillow has a more distinct "rectangle" shape, compared to other more traditional pillows but the dimension still mimics that of a standard pillow. It comes in one size right now, generally around a Queen size and the dimensions are 24″ x 16″ x 3″. Keep in mind that Purple offers its own pillow cover/pillowcase over the Smart Comfort Grid but sleepers may want to add an additional layer for comfort.
Weight
Without a doubt, the Purple Pillow is one of the heaviest pillows on the market today. It weighs just over 10 lbs – 10.2 to be exact and ships in an 8″x 17″ box so be prepared for some extra weight when it arrives at one's doorstep. We recommend avoiding any and all pillow fights with the Purple Pillow!
Cover Material
The pillow cover feels like a smooth but stretchy knit material and Purple calls it a "Hyperstretch Mesh" fabric. The knit itself is made up of 88% Polyester, 3% Nylon, and 9% Spandex Mesh and comes only in white color with a purple zipper on one side. Sleepers will definitely feel that "stretch" in the fabric and will be pleased that it's relatively thick. That being said, stomach and side sleepers will absolutely be able to feel the grided core through the cover.
Core
The core is really the star of the show when it comes to the Purple Pillow. It features a solid piece of the brand's proprietary Purple Grid, which utilizes its Hyper-Elastic Polymer. The grid has a non-toxic polyethylene copolymer powder coating on it – it looks like a white powder – that one will notice between the sections of the polymer grid. This white powder will also easily fall out of the grid and onto clothing and furniture if the pillow cover is removed.
Check out our review of the Purple Original mattress.  

Loft/Height
When it arrives the pillow will stand at 3″ tall but the minute pressure is applied, the polymer grid will collapse slightly. For this reason, sleepers can't expect to have their heads raised exactly 3″ off of the bed and they should anticipate it to be closer to 2″ or 2.5″ (but with plenty of support!).
Purple Pillow Size Options, Price & Care
How many sizes does the Purple Pillow come in and what are the prices? We break down all the options, plus how to keep the pillow as clean as possible.
Size Options, Pricing & Trial Period
The Purple Pillow comes in two sizes, Standard and King; Purple offers a generous trial period, too.
| | | |
| --- | --- | --- |
| Size Options | Pricing | Trial Periods |
| Standard | $99 | 100-night trial |
 Care Instructions
The Purple Pillow is unlike any other pillow out there and has specific care instructions that we would encourage everyone to follow in order to maintain the pillow's performance and keep it in top condition.
Here's how Purple recommends cleaning the pillow:
Cover: Machine Wash cold. Tumble dry low. Do not bleach, do not iron.
Filling: For the Smart Comfort Grid, hand wash in warm water with mild detergent (eg: dish soap), air dry.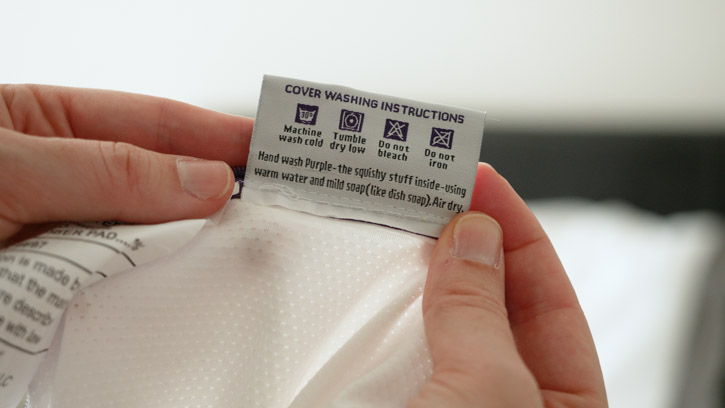 The cover is simple enough to get off and wash but make sure not to shrink it by drying it on too high of a heat. The inner filling can be cleaned, but we'd only recommend doing that if absolutely necessary. It has several small areas/grooves where water and soap can get trapped. Since it's air dry only, it's just a tedious process to get it completely cleaned and dried.
When removing the cover, one will immediately see a white powder – a non-toxic plastic powder-  that sprinkles out from within the Smart Comfort Grid. This can make a big mess quickly, so try to open the pillow outside or on an easy to clean surface. This powder is what Purple uses to keep its Smart Comfort Grid in their mattresses and pillows from sticking together, especially under pressure and heat during the packaging process.
Purple Pillow Performance
What is it like to rest one's head on the Purple Pillow and is it right for hot sleepers and those who like traditional memory foam? We've answered all those questions and more below!
Sleeping Hot or Cold
Unlike many solid foam pillows out there, the grid system and temperature neutral polymer material keeps this pillow breathable and sleeping cool.
Responsiveness
This pillow has such a unique overall feel; it offers excellent support and pressure relief but without the slow response of memory foam or the bounciness of latex foam.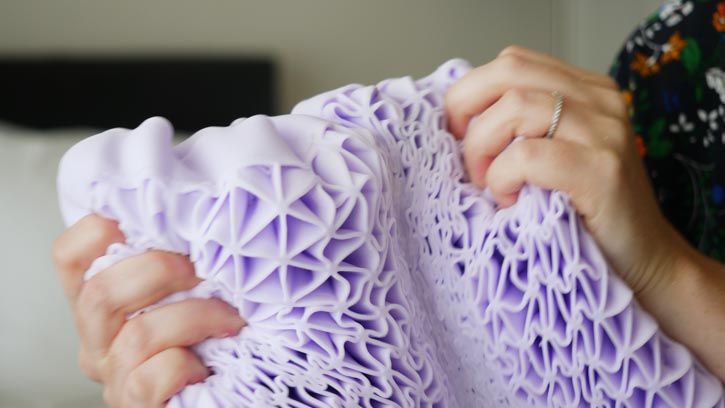 Durability
The Smart Comfort Grid core is extremely durable and should last for years; the cover is a knit blend that will hold up if cared for properly.
Off-Gassing
Because the Purple Pillow doesn't contain any polyurethane foam, it won't have the typical off-gassing that a foam pillow would. However, it may have a smell from the plastic off-gassing but should dissipate quickly with time and proper ventilation once the pillow has been unpackaged.
Additional Features
The Purple Pillow's cover is removable and can be washed separately from the core.
How Does Purple Pillow Compare to Other Pillows?
Purple makes two other pillows at this time. Let's look at how they stack up and who each is a good fit for based on primary sleep position.
Purple vs. Purple Plush vs. Purple Harmony
Purple produces three different pillows: the Purple (the original pillow), Purple Plush, and the Purple Harmony. Each pillow has something different to offer sleepers.
Each pillow is tied to another in some way. For example, the Purple Harmony – the newest option – has the grid material of the original Purple but a taller loft and softer overall feel, like the Plush Pillow – but we wouldn't say it's a true hybrid.
The Purple Harmony and the Purple Plush are designed in a similar traditional pillow shape and both come in two different size options. However, their outer cover material and feel differ greatly.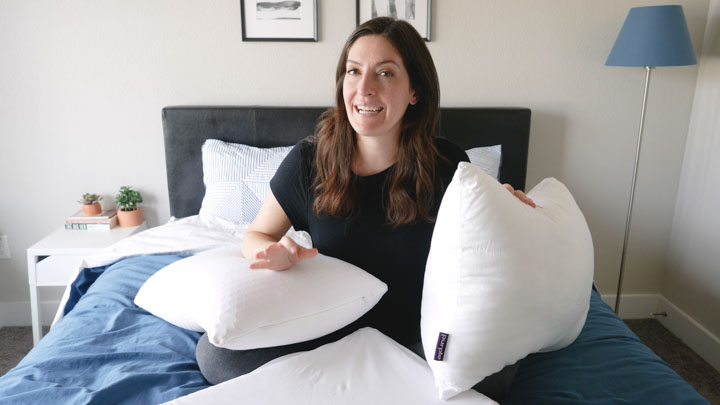 Here's my recommendation for each pillow based on primary sleep position:
Back Sleepers: The Purple Pillow, Purple Plush and Purple Harmony (Standard size) should all work for this position
Side Sleepers: Purple Pillow  Plush and Purple Harmony will work here
Stomach Sleepers: The Purple Pillow and the Purple Harmony should work for stomach sleepers
Casper vs. Purple Pillow
Casper and Purple are two of the biggest names in the mattress world and each offers very different sleep experiences within their products. It takes only a single glance to see how contrasting their signature pillows are.
There are more differences than similarities, to be sure. The cover of the Casper pillow is 100% cotton and Purple Pillow is their Hyperstretch Mesh, made up of 88% Polyester, 3% Nylon, and 9% Spandex Mesh. The Casper pillow has that crisp, clean cotton feel, while Purple's cover has more of a performance feel with a stretch to it.
The core of  Casper's pillow is coated fibers, giving the pillow a down alternative and "fluffy" feel. Meanwhile, Purple has its unique Smart Comfort Grid made with their Hyper-elastic Gel Polymer. Translation: One pillow is lightweight and plush while the other is squishy and supportive.
Their designs differ dramatically, as well. Casper is all about its "pillow-in-a-pillow" design, which means that sleepers can remove the other pillow and use each separately if desired. Purple's pillow offers no adjustable options and is a solid piece of filling.
In terms of sizing, Casper's pillow comes in Standard and King; Purple comes in just Standard. The Casper Pillow is $65 for a Standard and $85 for a King and the Purple Pillow is $99 for a Standard.
Here's our recommendation for each pillow based on primary sleep position:
Casper: Casper's pillow-in-a-pillow design gives it a level of customization and personalization and allows it to essentially work for all sleep positions.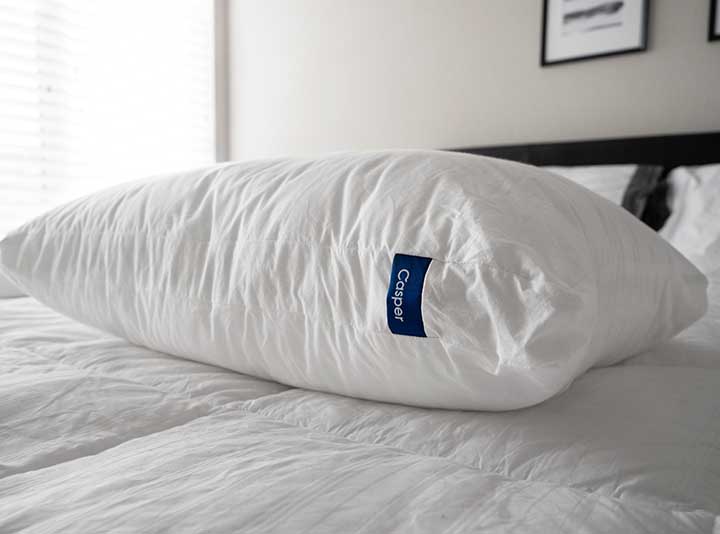 Purple:  The structure and support of the Purple Pillow – and its 3″ height profile – make this option a better fit for back and stomach sleepers over most side sleepers. Petite individuals may enjoy it when side sleeping, however!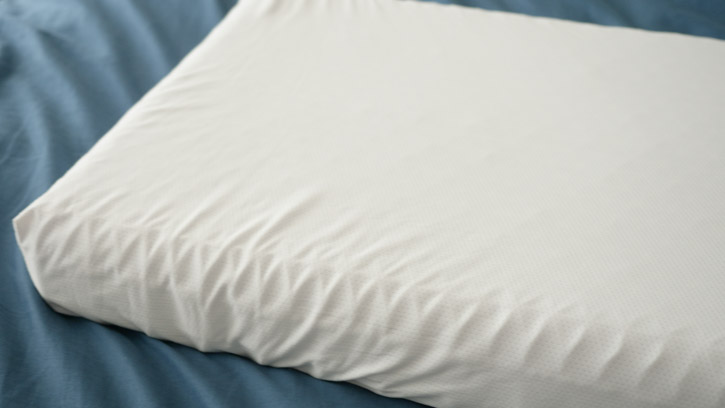 Check out the in-depth comparison for the Casper vs. Purple Pillow
The only real similarities between these two specific pillows are that they both have covers that can be removed and washed separately from their cores and they each come with a 100-night sleep trial. That being said, each popular brand offers three awesome pillows in addition to their mattresses and other sleep accessories.
Casper's Pillows
Original Casper Pillow
Casper Down
Casper Foam
Purple's Pillows
Purple Signature Pillow
Purple Plush
Purple Harmony
Purple Pillow FAQs
Let's take a look at some commonly asked questions about the Purple Pillow.
Is the Purple Pillow good?
Whether or not the Purple Pillow is "good" is a tough question to answer because it really depends on a person's individual preferences.
Those familiar with – and those who like – the Hyperelastic Polymer gel grid in Purple's sleep products will probably enjoy this pillow, as will people who can't get comfortable on foam but want the support and pressure-relief characteristics in a pillow.
How long does the Purple Pillow last?
According to the folks at Purple, the pillow comes with a 1-year warranty and – if kept in good condition – the pillow should last even longer.
How much does the Purple Pillow cost?
At full price, the pillow costs $99 but be sure to check around major holidays for discounts and sales.
Should I wash my Purple Pillow?
I recommend cleaning the cover regularly. The removable cover is easy to wash and dry following the care instructions. However, if one is read to wash the core of the pillow they need to be careful with the plastic powder incorporated into the grid and allow plenty of time and ventilation to fully air dry.
View Latest Offers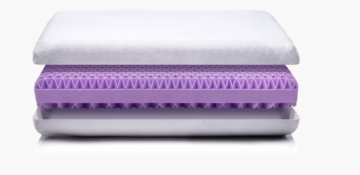 Purple's original pillow is made with their signature Smart Comfort Grid polymer material that gives the pillow a plusher feel but without losing the support.
Company Info
Purple has been one of the most successful online retailers of bed-in-a-box mattresses since its founding in 2015.
The brand now offers four mattresses as well as three pillows and other accessories. Purple's Plush Pillow is filled only with polyester fibers, the newer Purple Harmony pillow offers a latex core but incorporates the polymer grid into the cover. Meanwhile, while Purple's original pillow features the company's classic Hyperelastic Polymer Smart Comfort Grid technology in its design.
Katie Golde
Katie manages the day to day operations of the Mattress Clarity news site and reviews sleep products in addition to writing and editing sleep news. She hails from Austin, where she lives with her growing family. She is a Certified Sleep Science Coach and has a master's degree in Journalism from Northwestern University and has a background in health and science content. Her work can be found in print and online publications like Discover Magazine, USA Today and The Huffington Post.