If someone is looking for an all-natural mattress that is also very comfortable, consider checking out the Avocado mattress, a popular hybrid mattress with latex and pocketed coils that also offers an optional additional pillow top.
While naturally-sourced latex isn't the most affordable, it can make for a supportive and durable mattress that at lot of sleepers will really enjoy. To help people figure out if this mattress will be an awesome fit for them, we have put the Avocado mattress through a number of tests.
This Avocado mattress review will cover everything consumers need to know, including the construction, firmness and feel, breathability, durability, comfort, support, and so much more. Read on!
Note: We are reviewing the version with the 2-inch pillow top.
Avocado Green Mattress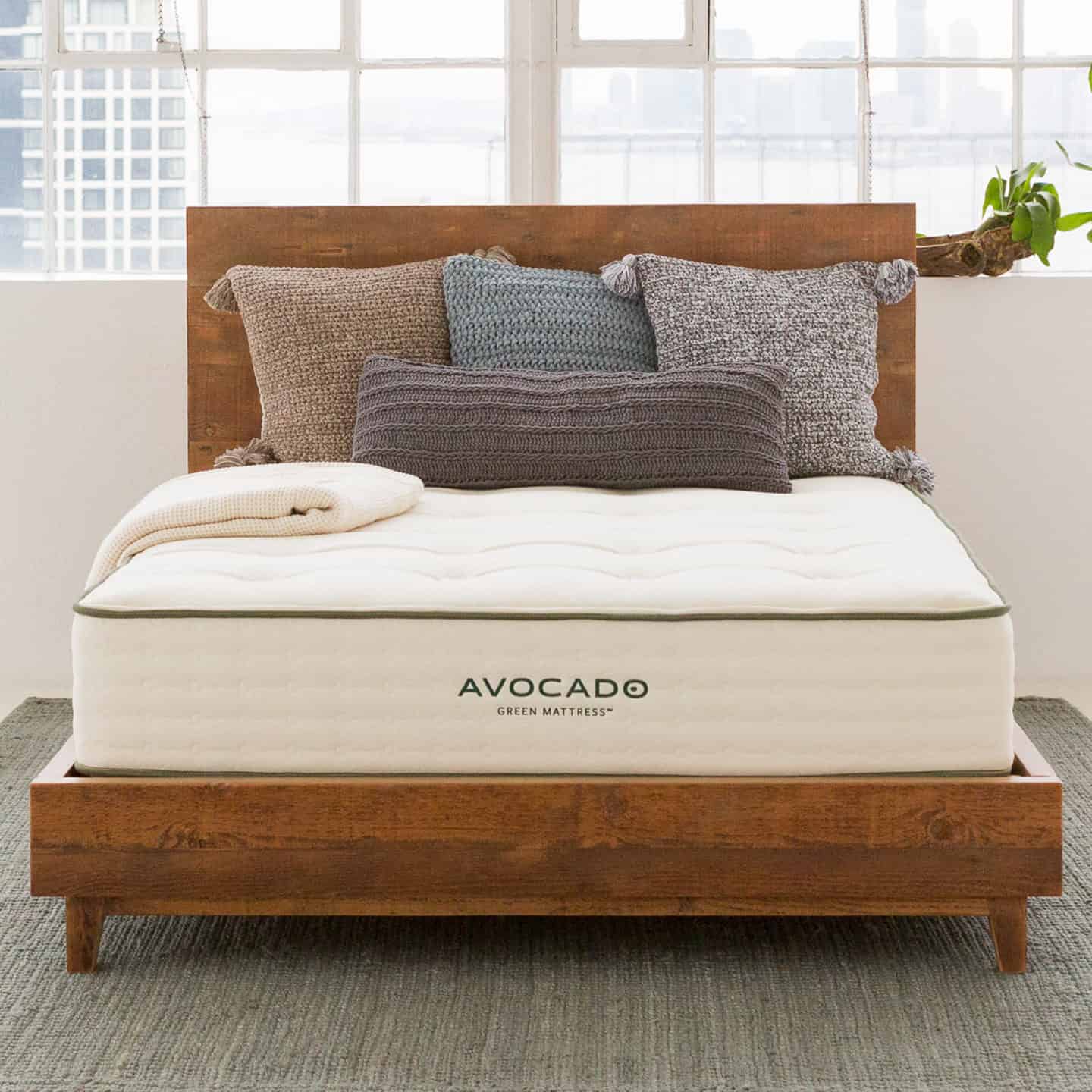 Shipping Method
Free shipping
Firmness
Medium-firm: 6.5/10
Warranty
25-year limited warranty
Price Range
$1099 - $2099
Avocado Green Mattress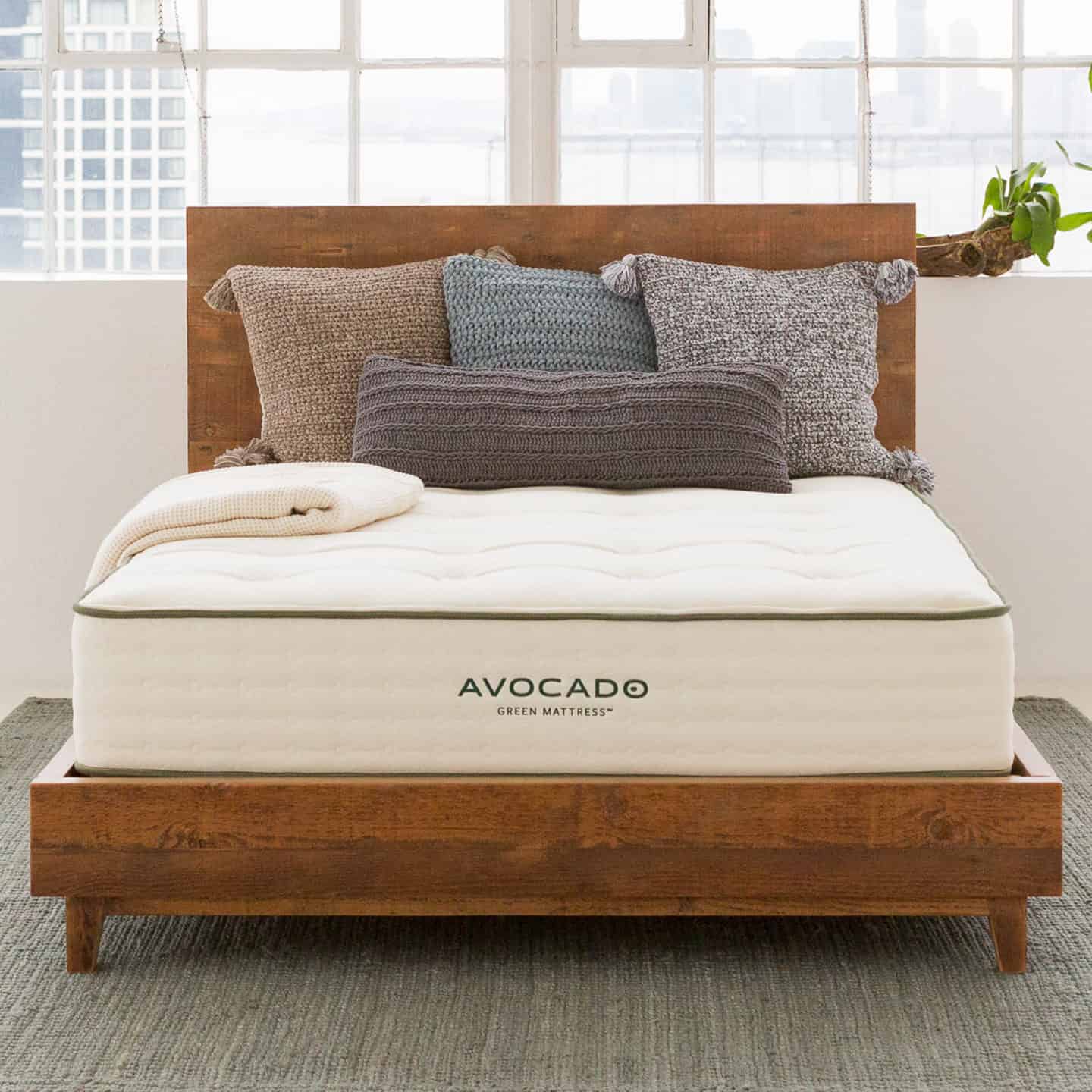 Warranty
25-year limited warranty
Firmness
Medium-firm: 6.5/10
Shipping Method
Free shipping
Price Range
$1099 - $2099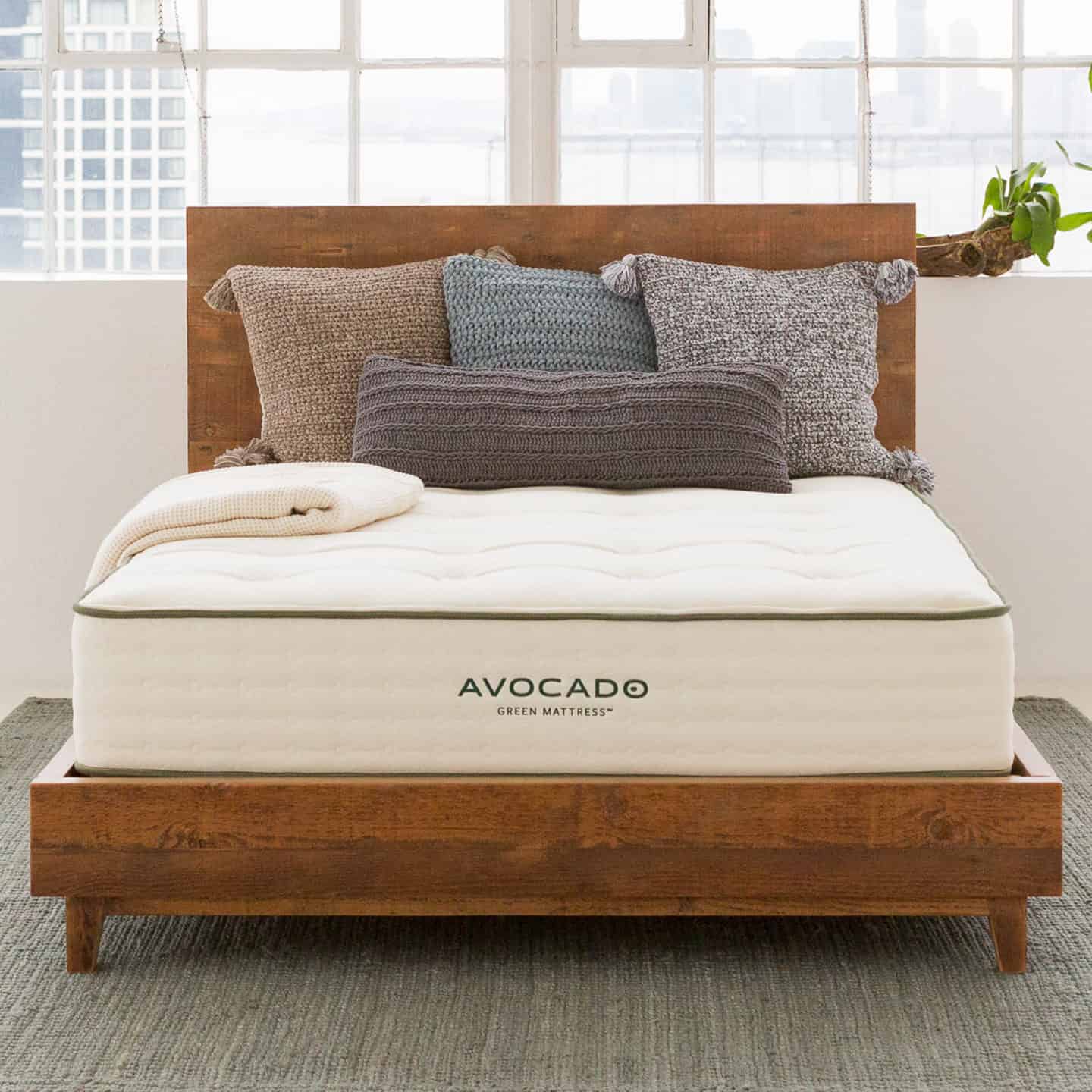 Avocado Green Mattress
Firmness
Medium-firm: 6.5/10
Warranty
25-year limited warranty
Shipping Method
Free shipping
Price Range
$1099 - $2099
Avocado Mattress Overview
Avocado mattresses are entirely organic and made without any harmful chemicals, making it an eco-friendly alternative to typical bed-in-a-box brands. Avocado makes a variety of different types of mattresses.
The Avocado Latex mattress is a good option for those who prefer a bed without springs, and the Avocado Vegan is a good option for those looking for a mattress made without animal products.
We're looking specifically at the Avocado Green mattress with the optional attached pillow top. This hybrid model contains layers made with coils and latex foam. Read on to see if the Avocado Green mattress is right for you.
Who Might Like the Avocado Mattress?
Those who need a supportive mattress
Someone who is looking for a long-term investment
People who tend to sleep hot at night
Who Might Not Like the Avocado Mattress?
Those who are looking for a more affordable mattress
People who like to sink into their mattress
Those who don't like bouncy mattresses
Avocado Mattress Video Review
Take an even closer look at the Avocado mattress by checking out our review video below.
Avocado Mattress Firmness and Feel
Now, let's check out the Avocado's firmness and feel to see if it's a good choice for your body type and sleeping preferences.
How Firm is the Avocado Mattress?
The Avocado feels like a 6.5/10, about average in terms of firmness. I will note that one's weight might determine how the Avocado feels to someone. If someone is lighter, they could just get the pillow top and find the mattress to be softer. However, if someone is larger, they could press further into the mattress and feel more firmness.
Sleeping on the Avocado Mattress
This is a very supportive mattress so it should be able to handle sleepers of many weights. If someone is larger or needs extra support, the Avocado could be a great option because of the highly supportive materials in its construction.
In my experience, the Avocado feels great when I am sleeping on my back, as my hips sink into that pillow top and I feel the next layers contouring to the shape of the body. With the pillow top, it is a good mattress for back sleepers.
I feel very nice when I move to my side, because the pillow top relieves pressure on the shoulders and hips. If someone is a light- or medium-weight side sleeper, they should feel comfortable side sleeping, while larger people could feel some pressure.
Finally, moving to my stomach, I don't feel the best support, as my hips are bowing in somewhat. If someone sleeps primarily on their stomach, they should forego the pillow top.
What Does the Avocado Mattress Feel Like?
The Avocado has a latex feel and is very bouncy, but there is also some of that soft pillow top plushness on top. The latex is also very responsive so it is very easy to move around on the mattress.
Average Weight Sleepers – 130lbs – 230lbs
Average weight sleepers should find the Avocado mattress is quite comfortable while back sleeping. The pillow top allows hips to sink in, and the comfort layers gently contour the body.
The Avocado Green mattress is also a good option for average weight side sleepers. With the addition of the plush pillow top, sleepers should feel little pain on their pressure points.
Stomach sleeping, average weight sleepers may find the Avocado Green mattress doesn't provide enough support. Stomach sleepers will want to look for a firmer mattress that will prevent their hips from getting out of alignment.
Heavyweight Sleepers – Over 230lbs
Heavyweight sleepers will find the Avocado mattress feels much firmer than other people do. This is because people weighing over 230lbs will press further into the mattress and feel more of the support layer.
While back sleeping, heavyweight sleepers should feel very nice support. Heavyweight sleepers will likely find their hips sink into the mattress, but not too far. This offers a good deal of lumbar support. People who weigh more than 300lbs, however, may find the mattress doesn't provide enough support.
Side sleeping, heavyweight sleepers should feel decent pressure relief. It's possible they will notice a bit of firmness on their shoulders and hips, which could cause pain over time.
Heavier stomach sleepers will find the mattress is a little too soft, causing the hips to bow into the mattress. Instead, they will want to look at the best mattresses for stomach sleepers.
Lightweight Sleepers – Under 130lbs
Lightweight sleepers may find the Avocado mattress feels softer. This makes it a good fit for back and side sleepers who need a bit of contouring around their body. Lightweight stomach sleepers, however, will likely find the Avocado mattress isn't supportive enough to keep their body in alignment.
Avocado Mattress Construction
Avocado Mattress is known for their eco-friendly materials, but what exactly is inside each layer? Let's take a closer look at the mattress's construction.
Cover
The cover is button-tufted and made of organic certified cotton. This creates a soft and breathable exterior that wicks away moisture.
Comfort Layer
For mattresses with the added feature, the next layer will include an attached 2" pillow top made with organic wool and latex. Standard Avocado Green mattresses won't have this feature, and instead will include just the 3" of Dunlop latex rubber foam.
Support Layer
The support layer includes another inch of Dunlop latex. Beneath that sits 8" of pocketed coils, which are highly supportive, durable, and breathable.
Mattress Height
The Avocado with the additional pillow top is 13" tall. Without the pillow top, the Avocado is 11" tall.
Avocado Mattress Size Options and Price
Let's take a look at the size and prices for the Avocado Green mattress with the additional pillow top. The attached pillow top adds anywhere between $400 – $700 to the cost of the mattress, so if you're looking to save a little money, you can opt to get an Avocado mattress without the pillow top.
| | | |
| --- | --- | --- |
| Size | Dimensions | Price |
| Twin | 38″x 75″ x 13″ | $1099.00 |
| Twin XL | 38″ x 80 x 13" | $1199.00 |
| Full | 54" x 75 x 13" | $1399.00 |
| Queen | 60" x 80" x 13" | $1599.00 |
| King | 76" x 80" x 13" | $2099.00 |
| California King | 72" x 84" x 13" | $2099.00 |
Don't want to get the attached pillow top? Take a look at our Avocado mattress topper review.
$100 Off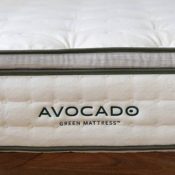 Avocado is an innovative, all-natural mattress that a lot of people are going to like.  Right now, you can get $100 off the Avocado latex mattress.
Avocado Mattress Performance
How well does the Avocado Green mattress perform? We ran a number of tests to find out!
Sleeping Hot or Cold
One of the benefits of latex is that it is naturally cooling and breathable. When someone adds that together with the moisture-wicking wool on top, the Avocado should be a cooler-sleeping mattress. People shouldn't be overheating on the Avocado even a little bit.
Motion Transfer
One of the drawbacks of latex is that it is not the best at handling motion transfer, so the motion transfer I saw on the Avocado was not surprising.
I placed a glass of water on the mattress and pressed into the surrounding area, and the water was clearly disturbed. Also, I asked Marten to move around on the other side of the mattress, and I did feel his movements on my side.
If someone sleeps with a partner, they might feel them on their side of the mattress.
Edge Support
While the motion transfer isn't great on the Avocado, this supportive latex mattress has very good edge support.
Sitting down near the edge of the mattress, I feel very secure and don't feel like I am going to pitch forward. Also, when I am lying down on the edge of the mattress, I don't feel like I am going to roll off.
The mattress does not really collapse in either position, and there is even a reinforced edge. People can see the edge support in the photo below.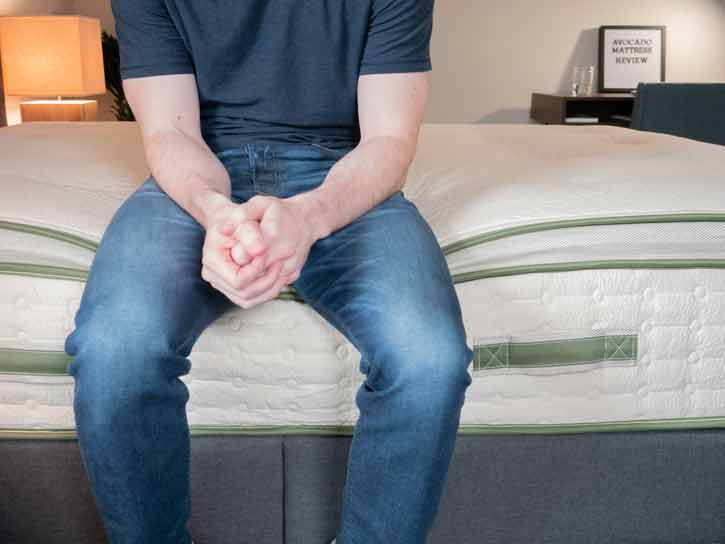 Durability
While the Avocado is somewhat pricey, it also contains very durable components that will last a long time. The 8" coils, especially, should keep the mattress in good shape for many years. Consumers might have to pay some money up front, but the mattress should last for a good while, making it a great investment.
Off-Gassing
Off-gassing is another name for the chemical smell emitted by new mattresses. Unlike most bed-in-a-box brands, the Avocado does not have an odor because it is made entirely with non-toxic materials.
Noise
When testing the Avocado Green mattress, we did not notice any noise. Sleepers should find this is a very quiet mattress.
Sex
If finding a good mattress for sex is a top priority, the Avocado Green mattress may be a great option. Its  materials are very responsive and quickly snap back into place, so it should be easy to move around on.
Overall Rating
How does the Avocado Green mattress score overall? Check out our tallies below to find out!
Company Policies
Mattress companies offer a variety of different sleep trial periods and warranties. Before purchasing a new mattress, it's important to know all about the policies in place. Let's take a look at the Avocado mattress' fine print!
Warranty Info
Avocado offers an impressive 25-year warranty. For the first ten years, the warranty offers full coverage and isn't prorated. Between years 11 and 25, the warranty offers limited coverage and is prorated.
Sleep Trial
Like the warranty, Avocado's 1-year sleep trial is longer than the industry standard.
Return Policy
It sometimes takes a few weeks to break in a new mattress. Because of this,  Avocado asks its customers to sleep on their bed for at least 30 days before returning.
If you aren't satisfied during the 1-year sleep trial period, Avocado will issue a full refund. They'll even donate the mattress to a verified charity or nonprofit.
How Does the Avocado Compare to Other Mattresses?
It's always a good idea to compare brands before buying a new mattress. Let's see how the Avocado stacks up with one its major competitors.
For even more side-by-side reviews, visit our mattress comparisons page for other Avocado comparisons like Avocado vs Amerisleep and Avocado vs Brooklyn Bedding.
Avocado Mattress vs. Purple
In terms of firmness and feel, The Avocado vs Purple mattresses are both relatively firm and bouncy. Fans of a harder and springy mattress will prefer the Avocado, as its coils allow for easier movement. The Purple mattress is slightly softer than the Avocado, making it a better fit for side sleepers.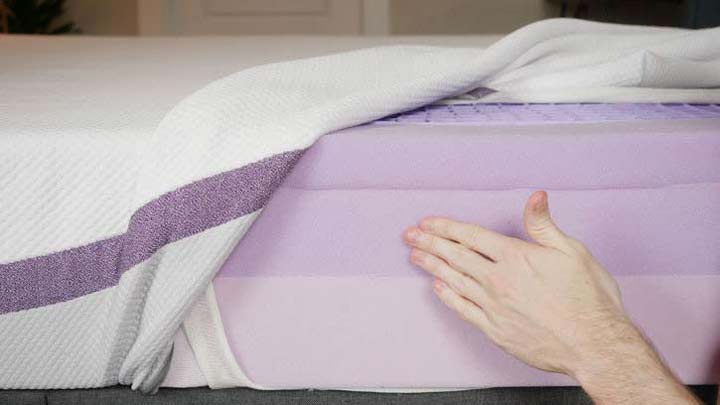 When it comes to construction, there are several notable differences between the two mattresses. The Avocado is made with organic and natural materials, while the Purple is not. Also, Purple offers several different thickness and firmness options, which is great for people who want to customize. Both brands create hybrid and all-foam mattresses.
For those on a budget, the Purple offers more affordable options. But with coupons, shoppers can save a bit of money on the Avocado.
Who Should Get the Avocado?
Those who want a mattress made with organic and non-toxic materials
Those who prefer a springy and responsive mattress
Who Should Get the Purple?
Side sleepers
Those who want different firmness options
Read our full Purple mattress review.
Avocado Mattress vs. Casper
When comparing the Avocado mattress vs. Casper, the original Casper is slightly firmer than the Avocado mattress, but they're both good options for back and side sleepers. They're both slightly bouncy with a soft comfort layer on top.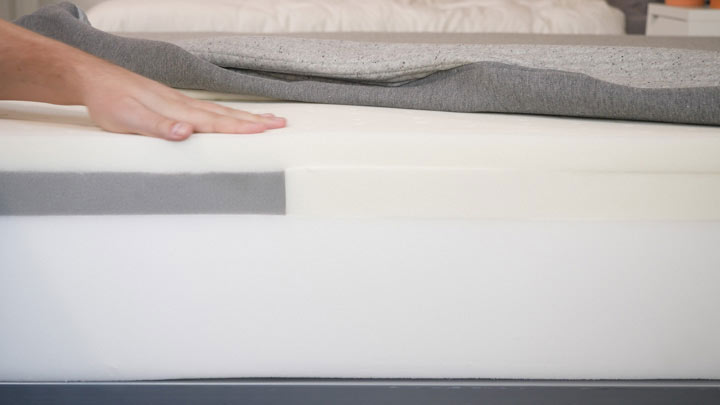 The two mattresses differ in terms of construction. The Avocado has coils and memory foam, while the original Casper is an all-foam mattress. The Casper also has zoned support, so different areas of the bed feel firmer than others. Those who want a completely organic mattress should pick the Avocado because it's made with all natural materials.
The Avocado mattress is more durable and offers better edge support than the Casper. We found the Casper is better at isolating motion than the Avocado.
The Casper mattress is more affordable than the Avocado, with a queen sized mattress coming in at $1.095. With the additional pillow top, a queen sized Avocado mattress costs $1,799.
Who Should Get the Avocado?
Those who want a mattress made with organic materials
People who want a mattress that will last a long time.
Sleepers who want a mattress with great edge support
Who Should Get the Casper?
Those who want to save money
Couples who want a bed that doesn't transfer motion easily.
People who prefer all-foam mattresses
Read our full Casper mattress review.
Some of our other popular Avocado comparisons include Avocado vs. Helix and Avocado vs Saatva. You may even want to check out our take on Avocado vs. Winkbeds.
FAQs
Let's check out some of the most frequently asked questions about the Avocado mattress.
How long will the Avocado mattress last?
The Avocado is a very durable mattress and should last more than 10 years. It's made with high quality coils and foam, which should keep the mattress supportive and comfortable for a long time.
Can you flip the Avocado mattress?
You cannot flip the Avocado mattress. For maximum support and comfort, the Avocado should be placed with the coils at the bottom and foam layers on top. It is recommended to rotate the mattress regularly during the first six months so the top layers compress evenly.
What if I don't like my Avocado mattress?
Avocado Mattress offers a generous 1-year sleep trial. If you find you don't like your new mattress during this time, you can return it for a full refund. Avocado requires people to try out their bed for at least a month before returning it, because it can take some people a few weeks to fully adjust to a new mattress.
Joe Auer
Joe Auer is the editor of Mattress Clarity. He mainly focuses on mattress reviews and oversees the content across the site.
He likes things simple and take a straightforward, objective approach to his reviews. Joe has personally tested nearly 250 mattresses and always recommends people do their research before buying a new bed. He has been testing mattresses for over 5 years now, so he knows a thing or two when it comes to mattress selection. He has been cited as an authority in the industry by a number of large publications.
Joe has an undergraduate degree from Wake Forest University and an MBA from Columbia University.