For those that are looking for a green, eco-friendly mattress topper, it's worth considering something with all-natural latex. While the material can be pricey, it can also be cooling and durable.
Out of all the latex toppers out there, the Avacado is one of the most popular. I enjoyed my experience on the original Avocado mattress, so I was interested to see what the topper would do for a firmer, non-latex mattress.
Will this latex topper be a good addition to a mattress? Read on for my full review and personal experience.
Avocado Latex Mattress Topper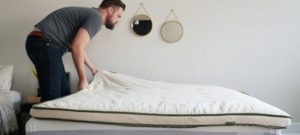 Avocado's Latex mattress topper is made from the highest quality organic materials and has a bouncy, supportive feel.
Read Full Review
Avocado Mattress Topper Video Review
Watch the Avocado Mattress Topper in action as I put it through a series of tests and analyses.
Who Might Like The Avocado …
Back sleepers. For those who sleep primarily on thier back, this mattress topper could be potentially a solid addition. The latex contours to the curves of the body and also presses up nicely into the lumbar area. Back sleepers should feel a good balance of comfort and support with the Avocado overall.
Hot sleepers. One of the drawbacks of many mattress toppers is that they sometimes add some warmth to the mattress. This is especially true of memory foam. However, thanks to its latex foam and organic wool, the Avocado should not sleep so hot. The latex is ventilated and naturally breathable, while the wool is moisture-wicking, meaning people shouldn't be overheating on the Avocado mattress topper.
Those who want a green mattress topper. The Avocado features only all-natural, organic materials, and both the latex and wool are responsibly sourced. Those that want a green, eco-friendly mattress topper will find the Avocado to be an excellent option.
Those looking for something longer-lasting. Another drawback of many mattress toppers is that they can start to break down quickly. For those who want a longer-lasting investment, the Avocado is a great choice. The Dunlop latex is very durable, so it shouldn't sag the way memory foam often does. It may cost more up front, but the Avocado should last for a good amount of time.
RELATED: Best Latex Mattresses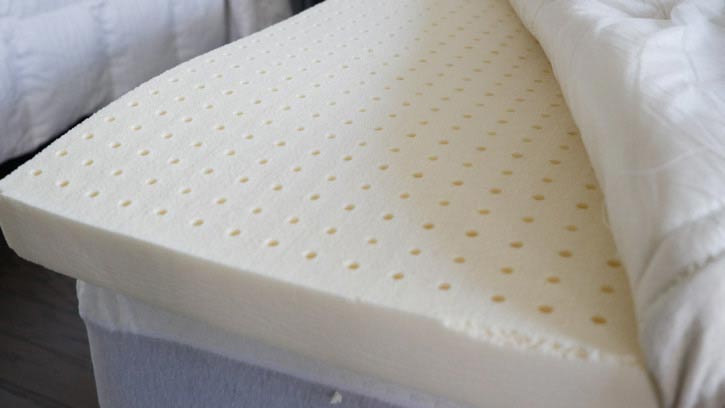 Who Might Not Like The Avocado …
Side sleepers. For those who want a mattress topper that will add some noticeable pressure relief, the Avocado might not be an ideal option. Side sleepers who are looking for extra pressure relief might want to consider a softer mattress topper, possibly with memory foam.
Those who don't like a bouncy feel. The Dunlop latex featured in the Avocado topper is a very bouncy, responsive material. While it is very easy to move around on the topper, this feel is not for everyone. Those that prefer to slowly sink into the mattress or topper should take a look at something with memory foam or another alternative.
Those who are looking for a budget-friendly mattress topper. While the Avocado has a lot to offer, it is on the pricier side. The latex and wool are sustainably sourced, and these processes can drive up the price considrably. It may be difficult to find an all-natural topper for a lower price, however.
RELATED: Best Mattress Toppers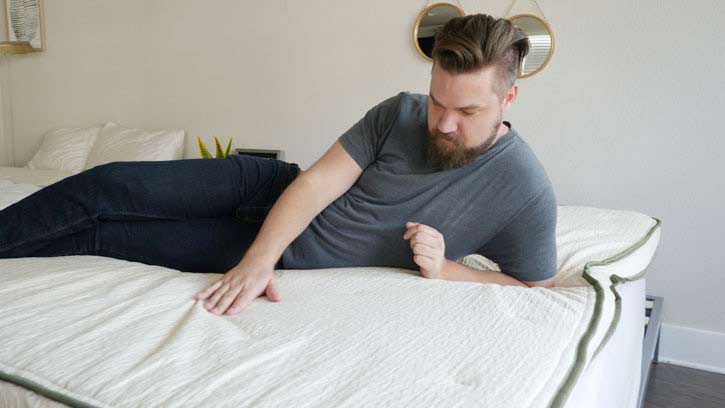 Construction And Options
The cover is made of soft, organic cotton.
Then there is a layer of organic wool, which adds some softness and is also moisture-wicking, breathable, and anti-microbial.
The center of the topper is 2″ of all-natural, Dunlop latex, which is ventilated to promote airflow and breathability.
The bottom of the Avocado topper is made of canvas, giving the topper some grip and friction so that it does not move around on the mattress.
The Avocado comes in two firmness options: Firm or Plush.
The topper is available in sizes Twin, Twin XL, Full, Queen, King, and California King.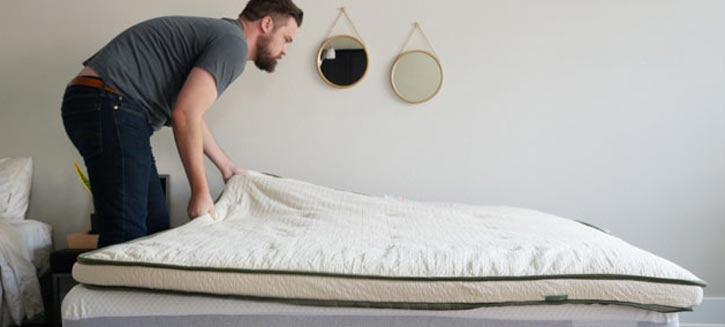 Avocado Latex Mattress Topper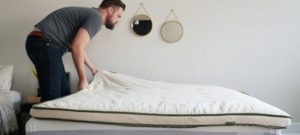 Avocado's Latex mattress topper is made from the highest quality organic materials and has a bouncy, supportive feel.
Read Full Review
My Experience
Two of the first things I check for when I open a mattress topper are smell and expansion. Is there a serious chemical smell when I open the box, and once it is on the mattress, how long does it take to expand?
Because it's an all-natural mattress topper, the Avocado did not have much of a smell when I opened the box. Also, the latex foam expanded very quickly, so I was able to use the topper by the next day.
To test out the firmness of the Avocado mattress topper, I placed it on a mattress with a firmness of 8/10. With the Avocado on top, the mattress felt closer to a 7.5 or 7/10. I will note that I am a larger person, so lighter people might find it to have a different firmness than I did.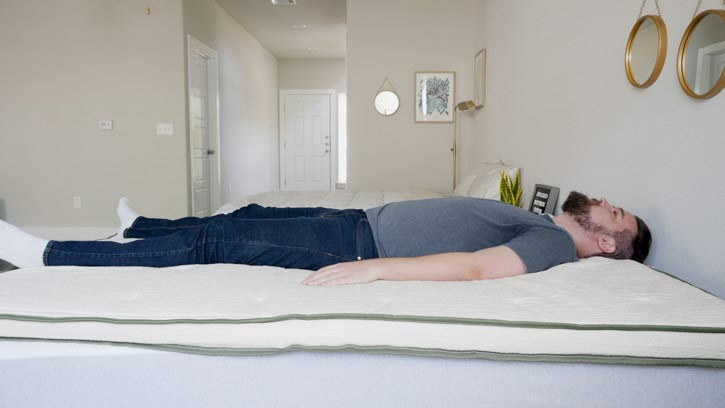 Here is how I felt while sleeping in different positions:
While back sleeping, I felt very nice on the Avocado topper. The latex foam conformed a bit to the curves of my body, and I did feel some nice lumbar support.
When I moved to my side, I pressed right through the topper. I felt only a bit more pressure relief on my shoulders and hips. Again, those who are lighter or heavier than me might have a different experience.
Moving to my stomach, I don't feel much difference. My hips aren't sinking in too far, and I do feel in good alignment.
The Avocado has that bouncy, responsive feel. After pressing into the topper, it bounces back very quickly. This makes it very easy to move around.
In regards to temperature, the Avocado is one of the cooler-sleeping toppers I have tried. The latex is ventilated and the wool helps wick away moisture. I won't say that it made me cooler, but I did not feel like the topper trapped any heat.
Overall
In the end, the Avocado is a great option for those who want an all-natural, durable mattress topper. However, side sleepers and those who want something more affordable should look elsewhere.
The Avocado comes with free shipping and returns as well as a 10-year warranty.