If you're on the hunt for the best adjustable bed to go with your new mattress, you've come to the right place. Although there are a seemingly infinite number of brands on the market, we've narrowed down the list to five recommendations that should cover a wide variety of sleepers. Keep reading to find out which adjustable bed is right for you!
Best Adjustable Beds 2022
The best adjustable beds are:
Best For Seniors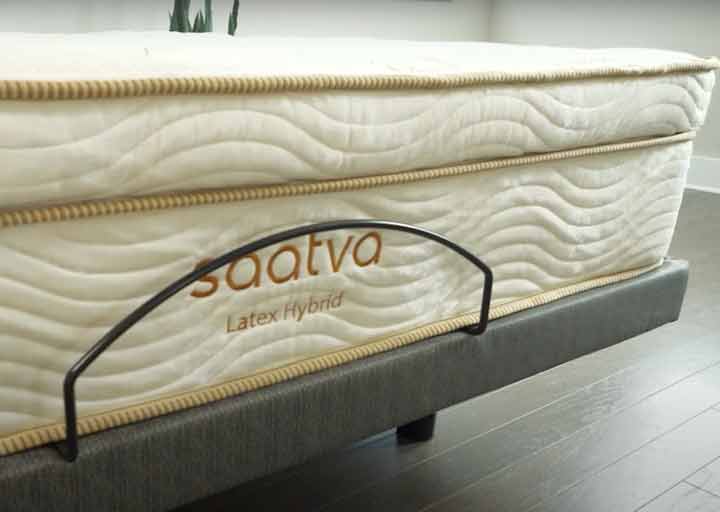 Saatva Lineal
If you're elderly, your doctor might recommend that you seek out a good adjustable base. This can help relieve pressure on your trouble areas and keep your back and legs properly elevated. Seniors who want the best adjustable bed for them should consider the Saatva Lineal — a high-end base with excellent adjustability.
The back and head section rises from flat to almost 90 degrees. The leg section brings the thighs to an almost 45-degree angle. In addition, there's a Zero Gravity function that inclines the head and feet to relieve pressure on the lower back. It will almost have you feeling weightless! As a final bonus, the Saatva Lineal is extremely easy to set up.
Adjustable Bed Details
An LED light below the base makes it easy to move around during the night.
There's an advanced massage feature and an anti-snore function that raises the head to relieve pressure on the airway.
It pairs well with Saatva mattresses.
Read our full Saatva Lineal Adjustable Base Review. 
Up To $200 Off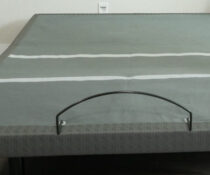 The Saatva Lineal is a high-quality adjustable base with some great advanced features. Save $100 on the base or save $200 when you pair with a mattress! 
Best for Heavy People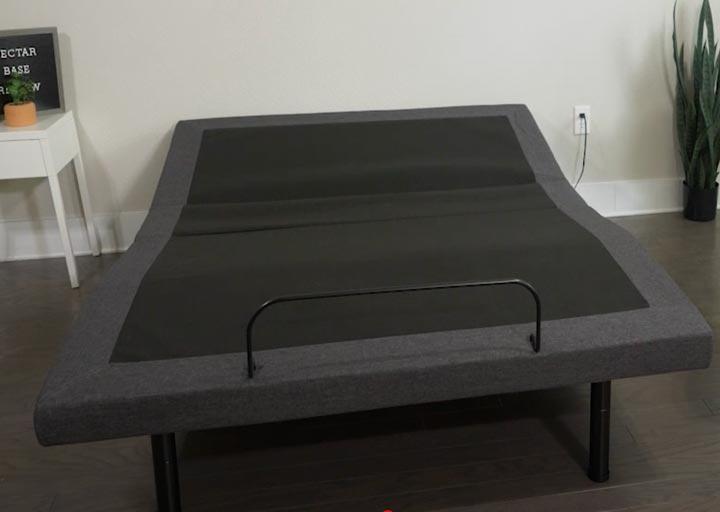 Nectar
When you're looking for an adjustable base, you want to think about your size and body type. This is especially important if you're a larger person, as you'll need more support for the added weight. If you fall into this category, we recommend the Nectar Adjustable Bed Frame, which can support up to 1,000 lb and offers a wide range of presets, plus features such as Zero Gravity, TV Function, and Anti-Snore. 
Adjustable Bed Details
A massage function boasts multiple modes and a timer.
The base pairs well with the Nectar, Nectar Premier, Nectar Premier Copper, and any mattress fit for an adjustable base.
It's a great affordable option. Without discounts, it's around $1000 for a Queen size.
Read our full Nectar Adjustable Frame review.
Save $100 + get $499 in free accessories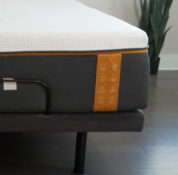 The Nectar Adjustable Base is a great value and boasts some excellent extra features. Click the button to get $399 of free accessories included.
Best For Back Pain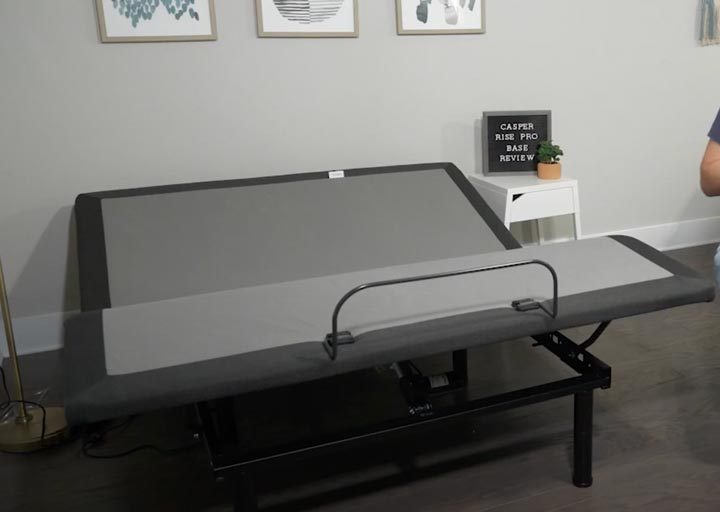 Casper Rise Pro
If you struggle with back pain, the Casper mattress is always a good place to start, as its proprietary Zoned Support fills in the lumbar region with cushioning foam. To further help out with your back pain, we recommend pairing the mattress with a Casper Adjustable Base. The brand offers three different models: Rise, Rise Pro, and Rise Max. We reviewed the Rise Pro, and it has an excellent Zero Gravity function that creates an almost weightless feeling, relieving pressure on the lower back.
Adjustable Bed Details
It has a massage function to further ease your pain.
Even through the thicker Casper Wave Hybrid mattress, you should be able to feel the soothing vibrations across your body. 
If you want even more extra functions, you can opt for the Casper Rise Max Adjustable Base.
Read our full Casper Rise Pro Adjustable Base review. 
Save 10%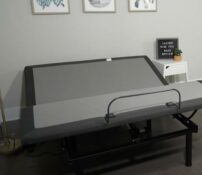 The Casper Rise Pro is part of Casper's high-end adjustable base line. It is a great budget pick and very easy-to-use. Click the button for 10% off with the code SLEEP21!
Best Affordable Base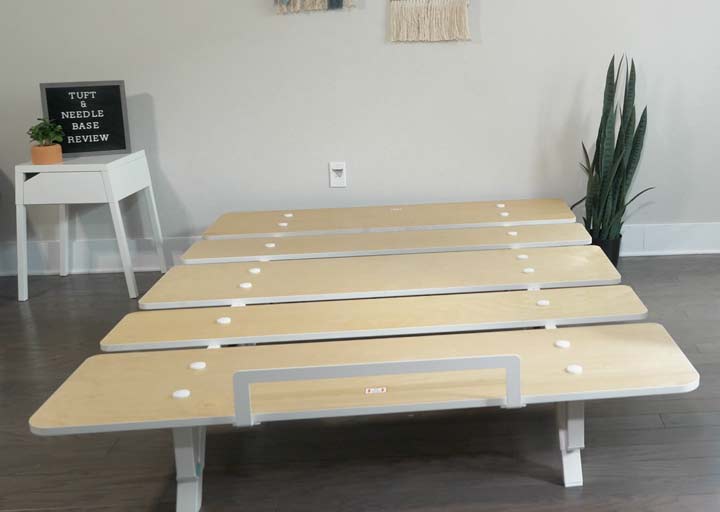 Tuft & Needle
Tuft & Needle features a sleek, modern design that stands out from the more standard foam and metal adjustable bases. Birch-veneered wood slats lie across a thick, white metal frame. And because it's a more streamlined adjustable base without bells and whistles such as a massage function, it's priced much lower than many of its competitors.
Adjustable Bed Details
When paired with a Tuft & Needle mattress, the base looks great in any modern bedroom setup.
The head section rises to a full sitting position.
There's a Zero Gravity function to give you that feeling of weightlessness.
Read our full Tuft & Needle Adjustable Frame review. 
15% Off
Tuft & Needle Adjustable Frame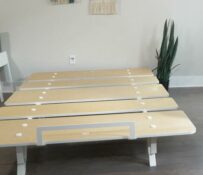 Tuft & Needle Adjustable Frame
The Tuft & Needle adjustable base is a sleek adjustable base with a simple design. Click the button for 15% off. 
Best For Snoring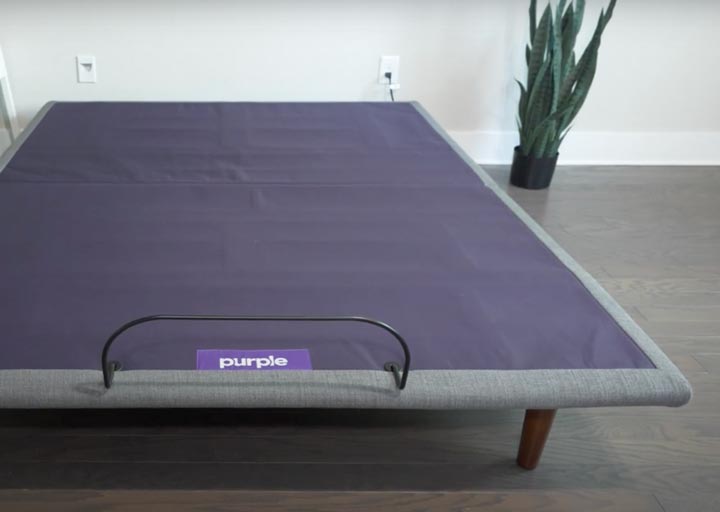 Purple Ascent
Many adjustable bases feature an Anti-snore function that's designed to curb snoring. And out of the many adjustable bases we've reviewed, the Purple Ascent handles snoring the best. Its Anti-snore function inclines the head just the right amount, easing pressure on the airway. It's also one of the most attractive adjustable bases we've seen.
Adjustable Bed Details
While many adjustable bases feature metal legs, the Purple Ascent comes with six wooden legs coated in an elegant cherry finish. 
Its luxury design looks very nice without a bed frame.
If you're looking for a base to pair with your Purple, Purple Hybrid Premier, or other mattresses, the Purple Ascent is a great choice!
Read our full Purple Ascent Adjustable Base review.
Purple Deals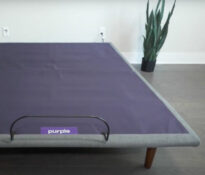 The Purple Ascent is a supportive adjustable base with a beautiful design. Click the button for the best deal.
What Is an Adjustable Bed?
Adjustable bed frames sit underneath a mattress and allow you to customize the position of your sleep surface for ultimate comfort. Typically, the adjustable frame is powered by motors, which can be controlled via a wired or wireless remote. Adjustable beds come with a wide range of features, but they all have one thing in common: They allow the sleeper(s) to raise and lower the head and foot areas of the bed.
This can be useful in many situations. For instance, some people find they sleep more comfortably when they raise the head and/or foot of their bed. You can also raise the head of the bed to support a comfortable upright position while reading or watching TV, then lower it again for sleeping. That said, note that watching TV in bed isn't ideal for sleep hygiene.
Many snorers find that slightly elevating their head at night reduces pressure on their airways, which makes it easier to breathe freely and reduces the risk of sleep apnea. It can also improve the sleep of a snorer's partner, since they're less likely to be disturbed by the noise.
RELATED: Best Adjustable Bed Positions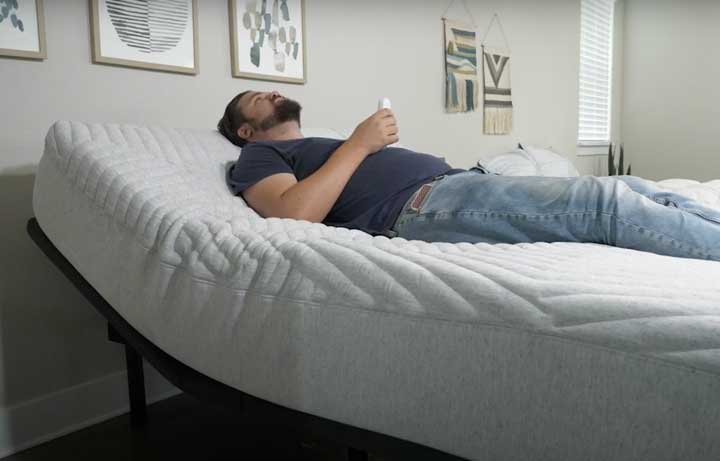 People with an injury might use an adjustable bed to keep the injured body part elevated, thereby supporting the healing process. Same goes for anyone who deals with swollen legs.
Some people who suffer from acid reflux find that elevating the head of their mattress helps reduce symptoms, which can make it easier to sleep. Be sure to read about the best sleep positions for when you're sick as well.
Also, people who deal with chronic pain, such as arthritis, might find that using an adjustable bed with a "Zero Gravity" function (which is very common among adjustable bases) could relieve pressure on painful areas, thereby allowing them to sleep more comfortably.
People with mobility issues may find that adjusting the position of the bed makes it easier to climb in and out.
Common Features of Adjustable Beds
Beyond the basic function of raising and lowering the head and foot areas, many adjustable beds also come with extra perks. These might include any or all of the following.
Zero Gravity function: This elevates a sleeper's body so they feel a bit like they're sleeping in Zero G. It can relieve pressure on the body, including areas that are prone to aches and pains (such as the lower back).
Anti-snore function: With the click of a button, the head of the bed will raise slightly to create an optimal position for breathing. In many cases, this will reduce or eliminate snoring.
Massage functions: Some adjustable bed frames come with built-in massage functions that let sleepers enjoy a stress-relieving massage from the comfort of their own bed.
Memory capabilities: Many adjustable bases will allow users to save their favorite positions, so they can easily return to them on a regular basis.
USB ports: Built-in USB ports allow you to charge a smartphone or other small electronic devices from bed.
Alarms: Some adjustable bases come with wake-up alarms that help sleepers gently transition from sleeping to awake.
Lighting: In some cases, an adjustable bed will have track lighting on the underside of the bed. Other frames have a built-in flashlight in the remote control. These features can be useful for navigating the bedroom in the dark.
Pros & Cons of Adjustable Beds
We've detailed a lot of the benefits of adjustable beds above, but these frames aren't without their pitfalls. Here's a quick review of the pros of an adjustable bed, in addition to some of the cons.
Pros
Customizing the bed's position to your preferred sleep position(s) could support better spinal alignment, which can reduce back pain, as well as arthritis and other aches and pains.
Many snorers find that using an adjustable frame to slightly elevate their head can reduce or eliminate snoring.
Adjustable bases can make it easier to climb in and out of bed, particularly for folks with limited mobility.
Many adjustable beds come with massage functions and other luxurious features.
Cons
Not all mattresses are compatible with adjustable bed frames, so using this type of frame might require buying a new mattress. Be sure to check your current bed's compatibility.
Adjustable beds tend to be much more expensive than regular bed frames and can require time-consuming setup.
While many adjustable beds are very durable, it's always possible the motors could stop working. This won't be a concern with a non-adjustable base.
Many adjustable bases are made from metal and are very heavy, so it can be difficult to maneuver them around the bedroom on your own.
How to Choose an Adjustable Bed Frame
If you've weighed the pros and cons of adjustable beds and you're interested in purchasing this type of frame, there are several things to keep in mind. Consider the following when choosing an adjustable bed.
Mattress Compatibility
First thing's first: If you already have a functional mattress, then you'll want to make sure it's compatible with an adjustable bed before you spend money on this type of frame. If you're not sure, call the mattress' manufacturer. Likewise, if you're purchasing a new mattress at the same time as an adjustable frame, make sure the two products are compatible.
Frame Sizing Options
Many adjustable beds only come in select sizes, so it's critical to make sure the adjustable frame in question can accommodate the size of your mattress. For instance, a lot of adjustable bases only come in Twin XL, Queen, Split King, and Cal King. Do your research before pulling out your credit card.
Headboard Compatibility
Some adjustable beds come with headboard brackets that allow you to mount a headboard on the back of the frame, while others don't (the brackets often come at an extra cost). If having a headboard is important to you, choose a model that will allow you to use the headboard of your choice.
Assembly
Some adjustable beds come (nearly) fully assembled, while others will require some sweat equity. If you're short on time or have limited mobility, you may want to look for a model that doesn't require too much set-up.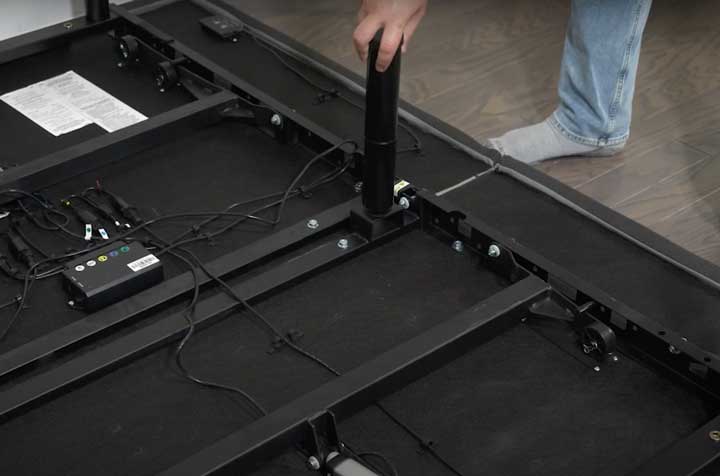 Motorized Noise
Adjustable beds are powered by motors, which means a bit of noise is pretty much inevitable. But some bases are noisier than others. If this is an important factor for you, read reviews for any base you're considering to determine whether it's on the louder or quieter side.
Remote Control
Adjustable bases generally pair with a wired or wireless remote control. If you prefer wireless to wired, this is important to keep in mind. Also consider how many preset functions you want the remote to have and whether you want memory settings. Some remotes allow you to save your preferred settings, while others won't offer as much customization.
Wall-Hugging
"Wall-hugging" refers to an adjustable bed's ability to maintain its position relative to the wall when it's raised and lowered. As you raise the head of the bed, will your mattress move away from the wall or stay flush with it? This will impact whether your body remains in the same place relative to your nightstand, table lamp, and so on.
Adjustable Bed Price
As a general rule, adjustable bed frames can cost anywhere from approximately $1,000 to more than $3,500. That's a big range! It's helpful to establish your budget up front so you can narrow your search accordingly.
Weight Limit
The motor-powered nature of adjustable beds means that many of them have a weight limit. You'll need to tally up the weight of your mattress, your body weight, and the weight of your sleep partner (if applicable) to determine whether an adjustable base can accommodate you. If you're not certain about the weight of your mattress, contact its manufacturer.
Trial Period
Some adjustable beds come with a trial period, so you can test them out in the comfort of your own home. These trial periods often range from 30 to 100 days, and you can usually return the frame for free if you initiate the return during the trial period. In other cases, the sale of an adjustable bed is final. If you're worried about committing to an adjustable bed sight unseen, look for a model that includes a trial period.
Warranty
In many cases, adjustable beds come with 10-year limited warranties. Be sure to read the fine print, since the terms can vary between the bed's various parts.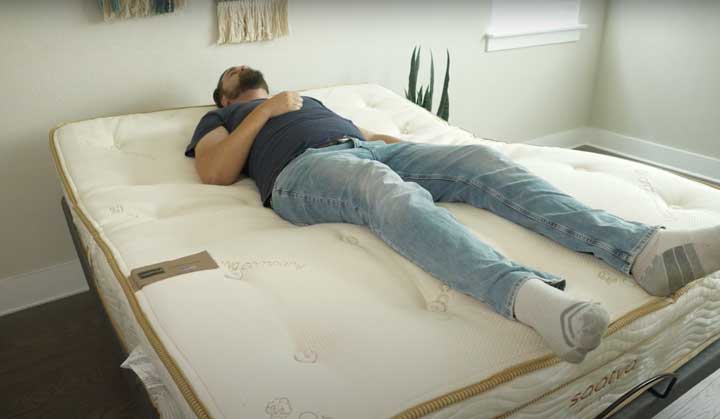 How to Get the Most Out of Your Adjustable Bed
So you've decided to purchase an adjustable bed — now what? Here are a few tips for optimizing your adjustable bed frame.
First off, get to know your model. Every adjustable bed is a bit different, so start by familiarizing yourself with what you've purchased. What functions does it offer? How does its remote control work? What are the purported benefits of the different positions and presets? Does it have any special features, such as underbed lighting or a wake-up alarm? Take time to read the user guide and research reviews about the specific model in question so you know how to optimize all of its features.
Know your needs. The main perk of an adjustable bed is that it's customizable, so make sure you're tailoring the bed to your personal needs. Are you a snorer? Make frequent use of the anti-snore function! Do you suffer from swollen legs? Elevate those limbs, baby! Is your back constantly achy? The Zero Gravity function will be your friend.
Be willing to experiment. If you're used to sleeping on a flat surface every night, then an adjustable bed will be quite the, well, adjustment! Give yourself time to get familiar with your new frame, and don't expect to enjoy perfect sleep in the first few nights. Be willing to experiment with different positions and functions until you zero in on the features that are ideal for you.
Summary
Here's a summary of our best adjustable bases:
Adjustable Bed FAQs
Still have questions about adjustable beds? Perhaps the answers to these frequently asked questions will help!
Can you use a regular mattress with an adjustable bed?
It depends! Many regular mattresses are compatible with adjustable beds — but not all of them. To determine whether your specific mattress will work with an adjustable bed, contact the manufacturer and ask them directly.
Are adjustable beds worth it?
For many people, adjustable beds are worth it. These bed frames allow the user to customize the position of their sleep surface, which can make for more comfortable and better quality sleep. Adjustable beds also tend to come with special preset functions, such as anti-snore or zero-gravity features, and some may offer massage features and other bells and whistles. Of course, all these perks come at a cost. Whether that cost is worth it is really a matter of personal preference and budget.
What is the best adjustable bed?
There is no singular adjustable bed that's better than all the others, but there's probably a best adjustable bed for you. This will depend on your needs, preferred functionality, mattress size, aesthetic preferences, and so on.
How do I choose an adjustable bed?
To choose the best adjustable bed for you, start by considering your needs. Think about how much of an angle you'll want to incline the head and/or foot section, whether you want massage functions, whether you want a remote control with memory functions, whether you need an anti-snore preset option, and so on. Also consider your budget, mattress size, and any design preferences that you may have.
How much do adjustable beds cost?
Adjustable beds can range in price from approximately $1,000 to more than $3,500. Expect adjustable frames with lots of bells and whistles to cost more, while more basic models generally cost less.
Marten Carlson
Marten is Senior Editor at Mattress Clarity. He covers the mattress industry as well as sleep science news. He is specifically interested in the connection between sleep and overall health. Marten has written for media publications like Consequence of Sound and received a master's degree in Film Studies from Emory University. He comes from Franklin, Indiana, and spends all the time he can writing, directing, and acting in films. He has directed genre short films and features. His newest film, Starlets, recently premiered at the River Town Film Festival in Clinton, NJ. He also stars in the upcoming thriller, Sour Bear. His next film, At The Hop, is a hot rod actioner with a horror twist.