We live in a voice-activated society. With Alexa and Siri, we can set timers, phone a friend or find out who any random fact. Now, you can even use your voice to control your bed.
That's exactly what the Nolah Smart adjustable base is all about. Using voice commands, you can control all the settings of the base. But, how well does it work? In my Nolah Smart Adjustable Base review, I get into the nitty-gritty of the base's design, my experience with it and who should consider buying.
Nolah Adjustable Base With Massage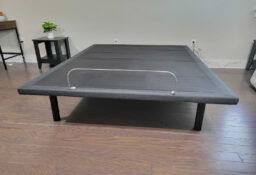 The Nolah Smart Adjustable Base lives up to its names with great adjustability and voice commands.
Mattress Clarity Score
4.90 / 5
Nolah Smart Adjustable Base Review: General Overview
Nolah is a popular bed-in-a-box brand that produces some very nice foam and hybrid mattresses. I have personally reviewed all of Nolah's models, including the Nolah Original, Nolah Signature and Nolah Evolution Hybrid. I'm a fan, and you'll see them on a number of my top 10 lists.
To pair with these online mattresses, Nolah created the Nolah Smart Adjustable Base. Like other adjustable bases, it boasts features like Zero Gravity, Anti-Snore and massage. However, while you can use a remote control to adjust the base, you can also simply use your voice.
I took the Nolah Smart adjustable base for a very vocal test drive. While I liked the voice-activated functionality, the Nolah is not going to be for everyone.
Pros of the Nolah Smart Adjustable Base
Nice wall-hugging
Great massage features
Good value
Cons of the Nolah Smart Adjustable Base
Voice command doesn't always work
Not as durable as other bases
How Does The Nolah Smart Adjustable Base Work?
First off, let's talk about the design of the base and the settings it offers.
Design
At first glance, the Nolah Smart adjustable base looks like a standard adjustable base. It features a steel frame topped with a foam and upholstered platform. Six adjustable plastic legs hold the base up. You can make the legs taller or shorter, so the Nolah should be able to fit in most bed frames.
Underneath the base, you'll find a familiar setup. Servos, hydraulic pumps and massagers connect to a power box.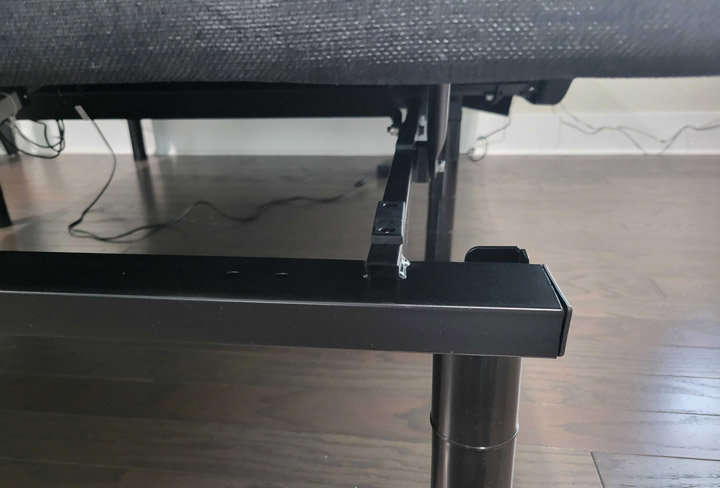 One thing that is not so familiar is the white microphone that sticks out the side of the bed. It comes up on the right side of the bed, and you can adjust it like a podium mic. You can toggle the microphone on and off below the base.
The Nolah also features USB ports so you can charge your phone or electronics. LED lights run under the base and act as a nightlight should you need to get up in the middle of the night.
Settings
Whether you use your voice or the remote control, you can adjust the base in a number of ways. You can manually raise the head and foot areas of the base or use pre-programmed settings such as Anti-Snore and Zero Gravity. I will get into how those work below.
In addition, the Nolah comes with a massage feature. There are two separate massagers, one under the head area, and one under the foot area. You can choose from three massage intensities or you can try one of the Wave function presets, which I will describe below.
Nolah Smart Adjustable Base Compatibility
An adjustable base is only as good as its mattress compatibility. While this smart base features the Nolah name, it is designed to work with any mattress. For my test, I chose the Stearns & Foster Lux Estate, a beefier hybrid mattress. It is made to work with an adjustable base, so I slapped it on the Nolah and got to work.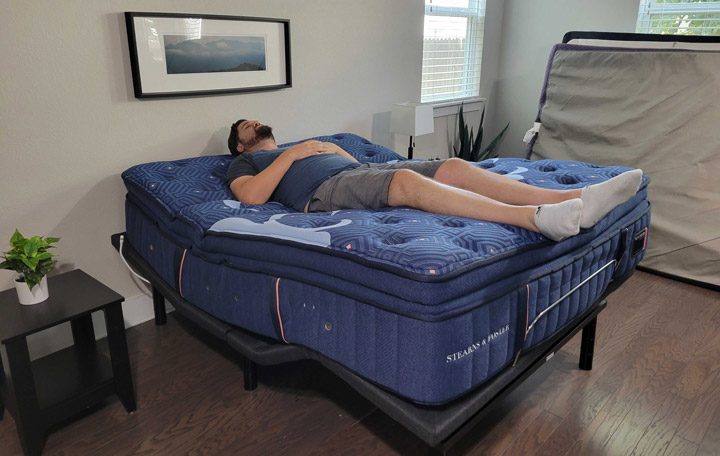 Overall, the Nolah Smart Adjustable Base was up to the challenge. Even with a heavier mattress on top, the Nolah was able to raise its head and foot areas with no visible or audible strain.
However, I did notice the hybrid mattress buckling toward the center, and it raised off the base a bit as well. This isn't necessarily the fault of the base, but it is something to keep in mind if you want to pair the Nolah with a thicker hybrid mattress. Pairing the Nolah with a thinner foam mattress, I did not see any issues.
How To Assemble The Nolah Smart Adjustable Base
Whenever I receive an adjustable base to review, I always remember what my doctor says: "Lift with your legs." Like other bases, the Nolah is heavy; extremely heavy. It's no mistake that the box says "Two person lift."
I followed Nolah and my doctor's orders. I asked a friend for help (and made sure to lift with my legs). Still, the base was cumbersome, and it took some exertion to get it out of the large cardboard box.
Once we had the base out of the box, we unfolded it and flipped it upside down. The remote, legs, and other accoutrement were zip-tied to the undercarriage, so we cut those away. Then, it was a simple matter of screwing in the legs, plugging it in and flipping it over.
One piece of advice: don't try to flip the base by yourself. A reviewer who shall remain nameless tried to do this himself, and he almost broke one of the base legs.
Nolah Smart Adjustable Base Sizes and Price
See the following chart for the most up-to-date pricing.
| | |
| --- | --- |
| Size | Price |
| Twin XL | $1,199 |
| Full | $1,299 |
| Queen | $1,399 |
| Split King | $2,299 |
| Split Cal King | $2,299 |
Company Policies
Now, let's look at the fine print for the Nolah base.
Trial Period
You get no trial period with the Nolah Smart adjustable base. It is rare that a base will come with any sort of trial period.
Warranty
While there is no trial period, you do get a 10-year warranty. This covers manufacturing defects or other design issues.
Return Policy
You get free shipping with the Nolah adjustable base, but the brand does not accept returns.
Nolah Smart Adjustable Base Performance
Whenever I review an adjustable base, I put it through the ringer. I try out all the features and settings to make sure it does what the brand says it will. Here's how the Nolah performed:
Materials
As I said above, besides the microphone, the Nolah Smart adjustable base is similar to others like the Helix adjustable base. The metal frame, upholstered platform and electronics are pretty standard fare.
Most of the materials are durable and high-quality, but I'm not so sure about the legs. The plastic legs aren't as sturdy as the wooden legs you find with other bases. The base should last for the length of its 10-year warranty, but you may want to look for a new base after that.
Adjustability
The Nolah featured some great adjustability overall. The head area rose to almost 90 degrees, so I was able to sit up and relax while I watched TV. The leg area also rose quite high.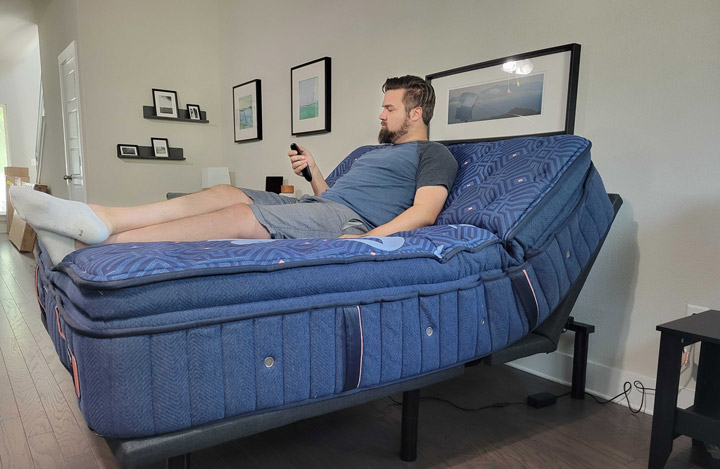 It was easier to use the remote to raise and lower the head and foot areas of the base. Using voice command, the base only adjusts for five second increments. So, to raise the head area using my voice, I had to say "Raise head" eight times.
Remote and Voice Control
The Nolah's remote was easy to use. It is not as busy as other remotes and has simple controls for adjusting the head and foot areas. In addition, the massage, Zero Gravity and light settings were also intuitive.
Overall, the voice controls were effective. Just by saying "Zero Gravity," the base moved into the Zero Gravity position. Also, there were some features, like Anti-Snore which only worked with vocal commands.
However, using the massage features, it was confusing to turn the massage off and on. And, when I said the words "Flat bed" and "Lounge," as the instructions told me to do, nothing happened.
I also tried singing ABBA into the mic, and I don't think the base liked that very much: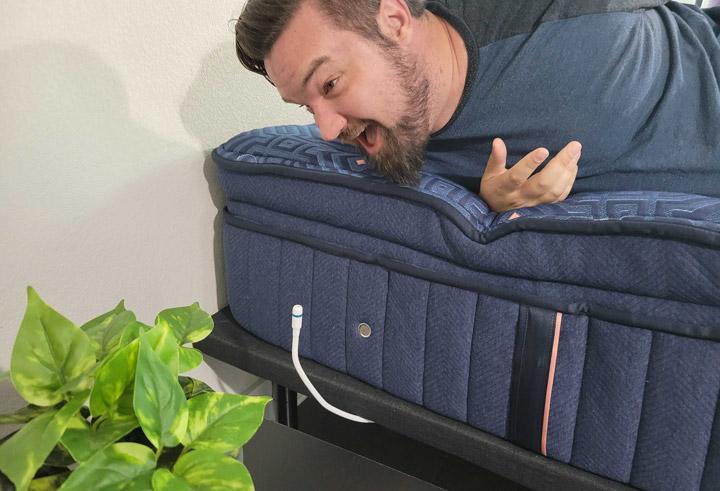 Wall-hugging
The Nolah features something called "wall-glide technology." This means the entire platform shifts when you raise the head area. This is also known as "wall-hugging," and it is meant to keep you close to your nightstand, no matter what position the base is in.
This feature was effective so that, even when the head area was completely lifted, I was able to turn off my bedside light and even grab a glass of water.
Noise
All bases are a bit noisy, but the Nolah adjustable base was not noisier than most. It whined a bit when I adjusted the base, but it wasn't too distracting or annoying.
Zero-Gravity Function
You'll find a Zero-Gravity setting with most adjustable bases. This raises the head and foot areas to give you a weightless feeling. It is also meant to help with circulation and to relieve pressure and strain in the lower back.
I've lifted with my back a few too many times, so back pain is a bit of an issue for me. I wouldn't want to sleep in the Zero-Gravity position, but for a shorter period of time, it was very comfortable and helped me relax my lower back.
Anti-Snore Function
The Anti-Snore of the Nolah raises the head area slightly. This is meant to relax your esophagus and curb snoring. I have sleep apnea, and I'm already treating my condition with a CPAP. But, I sometimes like to incline my head as well. The Nolah helped me do this without me having to add an extra pillow.
Massage
I enjoyed the massage function on the Nolah Smart adjustable base. Even on its lowest setting, I could feel the bed's vibrations through my thicker mattress. I also liked the Wave functions and found them very relaxing before a nap. The timer came in handy so that the massage turned off while I was sleeping.
Nolah Smart Adjustable Base Pros and Cons
One more time, here are the upsides and downsides of the Nolah adjustable base.
Pros
The Nolah adjustable base's wall-hugging kept me close to my nightstand.
The massage features were comforting and effective.
It is a great value adjustable base.
Cons
The voice command didn't always work as advertised.
It doesn't appear to be as durable as some higher-end bases.
Nolah Smart Adjustable Base FAQs
Can I put a Nolah mattress on an adjustable base?

Yes, every Nolah mattress is designed to work with an adjustable base. 
How long will the Nolah adjustable base last?

The Nolah adjustable base should last for at least 10 years. A warranty also covers this time period. 
How do you put together a Nolah adjustable base?

It is a very simple process. You unbox the base, unfold it and place it upside down. Then, you screw on the legs and flip it back over. Once you plug in the base, it is ready to use.