Buying a new mattress is quite an investment. And if, for whatever reason, a new bed is not within grasp, a mattress topper can step in and help. Whether your current mattress is too firm, too soft, or you have an old one that needs a little extra life, toppers are a great, affordable choice.
If you don't love sinking into slow-moving memory foam, responsive, springy latex foam is the way to go. That's why I've created a list of the best latex mattress toppers to help out.
Keep reading to see our top choices!
Our Top Picks for the Best Latex Mattress Toppers
Editor's Pick – Saatva Latex Mattress Topper
Who's It For?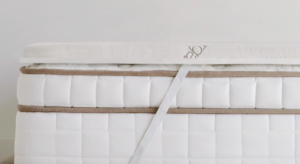 Saatva makes three toppers, and if you're not a fan of memory foam, check out the latex version. Saatva uses Talalay latex in this topper, which feels soft, springy, and responsive. This means you can soften your existing mattress without feeling stuck inside of memory foam.
It also comes inside an organic cotton cover, which is very breathable so it won't trap heat. The cover also features straps in the corners, which is a huge plus if you're worried about the topper shifting during the night. It'll stay secure and put!
Saatva sources high-quality, eco-friendly materials to construct many products, the latex topper included. And for those with sensitive skin or allergies, the Saatva latex topper is naturally hypoallergenic, too.
What Makes the Saatva Latex Topper Stand Out?
The Talalay latex feels soft and responsive, offering good cushioning to help soften your mattress.
There are elastic straps in the corners that will attach the topper to your bed, so you don't have to worry about it shifting around.
It has a breathable design–perforations in the latex and a breathable, organic cotton cover–making it a great option for hot sleepers.
Best for Back Pain – Brooklyn Bedding Latex Topper
Who's It For?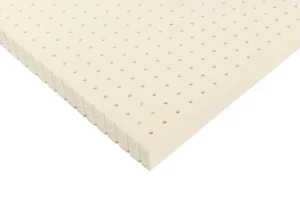 Back pain can be a result of a mattress that is too firm, too soft, or just old and sagging. Toppers are great choices for helping out. Regardless of your case, the Brooklyn Bedding Talalay Latex mattress topper has something for everyone.
This 3" thick topper comes in three different firmnesses: soft, medium-firm, and firm. The soft will work best for side sleepers needing pressure relief or softness on an extra firm bed. But back sleepers can opt for either the soft or medium option to get good support and cushioning on a firm bed or a bed that's starting to sag.
Stomach sleepers who are dealing with back pain from a too soft bed can add some firmness with the firm option, which should help elevate the hips to eliminate back pain.
What Makes the Brooklyn Bedding Latex Topper Stand Out?
It comes in three different firmness options to fit a variety of needs.
You have the option to choose an organic cotton cover or a luxury cooling cover if you sleep hot.
It's naturally hypoallergenic.
Best Soft – PlushBeds Latex Mattress Topper
Who's It For?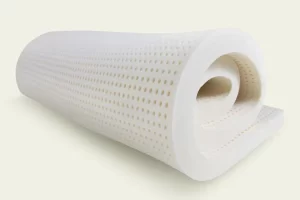 For the soft topper lovers out there, check out the PlushBeds Latex mattress topper. What's impressive about this topper is that it comes in five firmness options, but let's focus on the soft model. You have the option to pick either a 2" or 3" height, but both should be good for back and side sleepers who need a soft topper.
The Talalay latex used has been OEKO-Tex certified, meaning no harmful chemicals went into the production process of this topper. This topper also features a Greenguard Gold certification, which means that the production process is completely safe, not using chemicals that could be harmful to your health, and there are no harmful emissions.
You have the option to get the topper as is, or add an organic cotton cover to your purchase. Regardless, this is a good, long lasting option for people looking for a soft topper that they won't feel trapped in.
What Makes the PlushBeds Latex Topper Stand Out?
Though this is the best soft topper, PlushBeds offers a total of five firmness levels based on your body type and sleeping position.
It's made from perforated Talalay latex and you have the option to add an organic cotton cover for durability.
The soft Talalay latex is good for side sleepers looking to get pressure relief in their shoulders and hips.
Best Natural Latex – Avocado Organic Latex Topper
Who's It For?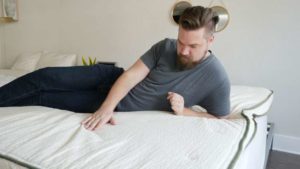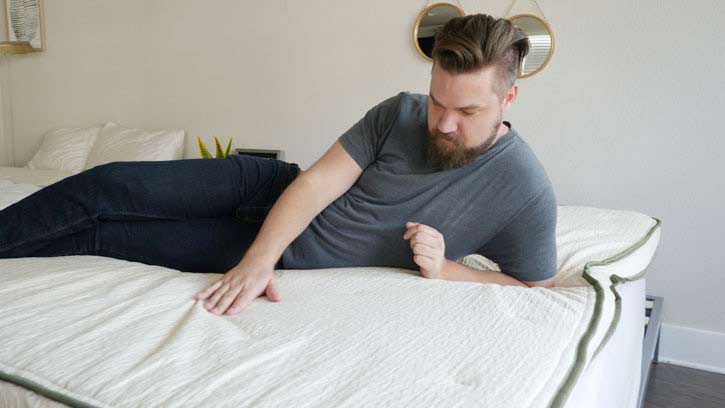 For those wanting to be much more eco-conscious with their choices, and want natural latex amongst many natural materials, Avocado has a topper for you. Not only does this topper feature natural Talalay latex, it features certified organic cotton, too.
Avocado is dedicated to eco-friendly materials, and acquires certifications to show for it. The cover uses cotton that has been Global Organic Textile Standard (GOTS), and the latex has a Global Organic Latex Standard (GOLS) certification. Both of these certifications are considered the gold standard for organic products, and show that the materials are grown in safe, sustainable, and responsible ways. These are just two of many certifications Avocado acquires for its products.
This topper comes in two firmnesses, a plush and a firm option. Back and side sleepers will enjoy good contouring and pressure relief with the plush, while stomach sleepers can get a little extra firmness added to their mattress with the firm.
What Makes the Avocado Organic Latex Topper Stand Out?
Avocado uses GOTS and GOLS certified materials to ensure an eco-friendly and organic product.
It has many temperature regulating materials to keep you cool.
The latex topper is offered in two firmness options.
Read our full Avocado Organic Latex topper review.
Best Cooling – Birch Plush Organic Mattress Topper
Who's It For?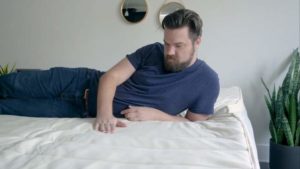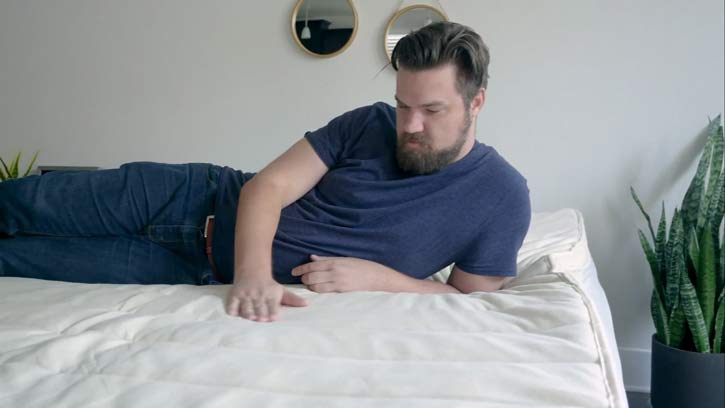 When you sleep hot, nothing beats having a product that ensures you have a cool night's sleep. Latex on its own is a great cooling material, but Birch's Natural Latex mattress topper is a great choice for hot sleepers out there.
The latex foam in the Birch topper has been perforated, which allows for tons of airflow, and it won't trap body heat either. Not only that, but the cotton cover is very breathable, and the New Zealand wool that surrounds the latex is great for temperature regulation.
And with "plush" in the name, this is a great choice for people looking for a pressure-relieving, soft mattress topper to help with achy joints. This is another GOTS certified mattress topper for those looking for an eco-friendly option.
What Makes the Birch Latex Topper Stand Out?
Latex on its own is a great option for hot sleepers. The latex foam is perforated and Birch uses breathable cotton in the outer cover.
It's another topper made with certified organic and natural materials.
It provides plush, pillow-top-like comfort to your mattress.
Read our full Birch mattress topper review.
What to Consider When Looking for the Best Latex Mattress Toppers?
If you've never used an organic latex mattress topper before, there are a few things to keep in mind! First and foremost, latex foam feels much different than traditional memory foam. It feels much more responsive and bouncy, and is much easier to move around on. If you're not a fan of that sinking, slow-moving feel that memory foam has, latex is a good choice to consider.

There are two types of latex foam: Talalay and Dunlop latex. The main difference between the two is that Talalay latex feels more plush and soft, while Dunlop can be a bit denser. For that reason, latex toppers will feature Talalay latex. Dunlop also tends to be less processed with additives or synthetic latex, making it even more natural than Talalay.
After all, most people are on the hunt for a topper to soften a firm mattress, so Talalay is the better option. You'll tend to see Dunlop latex in the comfort layer of a mattress.
RELATED: Best Latex Mattresses
How Long Do Latex Toppers Last?
Latex foam is a generally long lasting material. It can last you upwards of 20 years. All the toppers on this list should last at least that long, though generally it's a good idea to replace a mattress topper every few years.
However, these toppers do have the added benefit of an outer cover, or have the option to add an outer cover. This helps protect the latex itself from various factors such as moisture, dust mites, dirt, etc., in your sleep environment.
Companies also recognize latex's natural longevity and offer anywhere from a 1-year to 10-year warranty on these toppers.
How Thick Should a Latex Topper Be?
The thickness of your mattress topper depends on your sleeping position and body type. These toppers have a range of 2-3". Thicker toppers will work better for side sleepers or large-bodied individuals because there's more material to support your body. For side sleepers, more material will provide pressure relief in the pressure points along your shoulders and hips.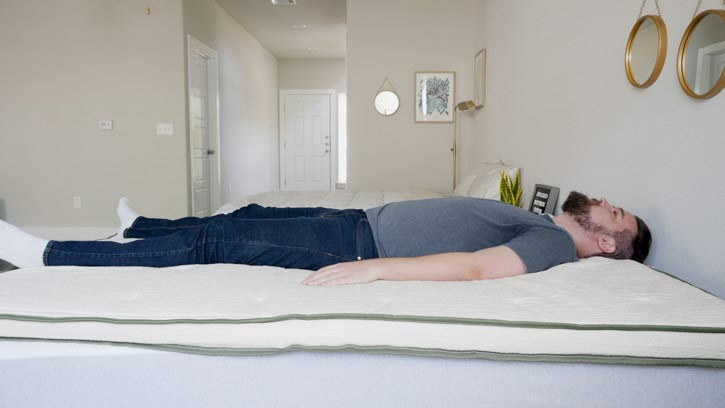 Thinner mattress toppers work better for back sleepers and lightweight individuals who don't need as much cushioning. Stomach sleepers are rarely in need of a mattress topper, though a few of the toppers on this list do come in firm options, which can help make a too soft mattress feel a bit more firm.
At the end of the day, the goal is to help you save a little money by helping your current mattress last a little longer, and provide some extra comfort. Go with a thickness that you prefer, but these are just a few considerations that serve as a good starting point.
How to Clean a Latex Topper
It's not recommended to wash an entire latex mattress topper. Many toppers come in removable, machine-washable covers these days. However, a few of the toppers on this list are recommended to be spot-clean only. So, be sure to fully read the care instructions when your new topper arrives. And if none are provided, the instructions can often be found on the company's website.
FAQs
How much is a latex topper?
Latex toppers are going to be a bit more of an investment than your standard egg crate foam or memory foam mattress toppers. While either of those two options could run you less than $100, latex toppers have a much higher price point. Latex toppers can run you a few hundred dollars, but they are still considerably cheaper than buying a brand new, high-quality mattress.

And as mentioned earlier, latex toppers are incredibly durable. They can last you up to 20 years, so you get what you pay for.
Are latex toppers safe?
Yes! Many brands work with sustainable and responsibly sourced materials. And all of the toppers on this list have been OEKO-Tex certified, meaning the production process is free of harmful chemicals.

And because many latex toppers come inside a cover, people with latex allergies don't have to worry about the toppers triggering a reaction. In fact, there haven't been many, if any at all, reported reactions to using latex sleep products.

RELATED: Understanding Latex Mattress Allergies
Do latex toppers smell?
Toppers in general, when compressed into a box, will have a slight chemical smell due to the packaging process. After unboxing and allowing the topper to fully air out, the odor should dissipate. This can take anywhere from 24 to 48 hours.