In the world of bedding, memory foam is everywhere, having made its way into just about every type of product in the sleep industry. But before we help you pick the best memory foam pillow, let's go into a little of the material's history and the reason for its popularity.
Memory foam — also called temper foam — is a unique, dense foam known for cushioning the body and relieving pressure. It was originally developed by NASA in 1966 to help absorb shock and increase protection and comfort in NASA's airplane seats. It eventually became clear that it could make everyday sleep equally as comfortable.
Despite its many positive qualities, one type of memory foam pillow does not fit all. Memory foam is used in a variety of ways to fill pillows, including solid pieces molded into specific shapes or shredded pieces with a zipper to add and remove as much filling as desired.
After hours of research and testing (okay, snoozing), we've put together our list of the best memory foam pillows!
Our Top Picks for the Best Memory Foam Pillows
Best for Neck Pain – TEMPUR-Neck Pillow
Who's It For?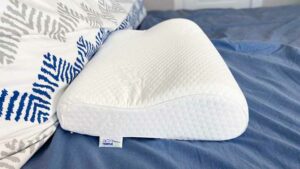 If you're sleeping with the wrong pillow, chances are you're dealing with neck pain. Luckily TEMPUR-Pedic's designed an ergonomic pillow that can help alleviate neck pain: the TEMPUR-Neck pillow.
TEMPUR designed this pillow with a shape that contours to your head, neck, and shoulder. This unique design will keep your head and neck in a proper, neutral alignment, which will keep you from developing neck pain.
This is also a solid piece of memory foam that is quite dense and firm. You'll get a good amount of comfort, but won't sink in like other foam pillows.
What Makes the TEMPUR-Neck Pillow Stand Out?
The unique, ergonomic shape of this pillow keeps you sleeping in a neutral position to help with neck pain.
It's made of solid, firm memory foam that feels both soft and firm.
It comes in three sizes to accommodate all body types.
Read our full TEMPUR-Neck Pillow review.
Best Sustainable – Lagoon Fox
Who's It For?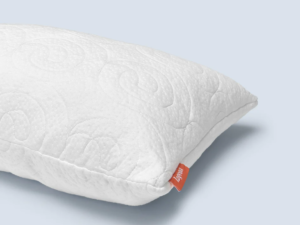 Everyone has different preferences for their pillows, and a potential non-negotiable for customers is sustainability. For pillow shoppers wanting to support sustainable products, we recommend the Lagoon Fox.
The memory foam used in this pillow's filling is CertiPUR-US certified, meaning it has low Volatile Organic Compound emissions and boasts quality materials.
Plus, it's adjustable, so even if you aren't sure what pillow loft would suit you best, you can experiment without buying a bunch of different products.
What Makes the Lagoon Fox Stand Out?
The shredded memory foam and cooling bamboo cover contribute to this pillow's cooling capabilities.
The cover is removable and machine washable.
Lagoon offers a five-year warranty and a 100-night sleep trial.
Read our Lagoon Pillows review.
Best for Back Sleepers
Who's It For?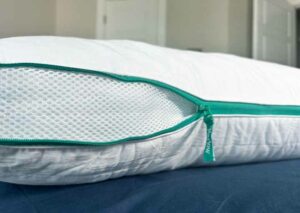 Back sleepers do best with a pillow that has a balanced feel. This helps provide the proper neck support and keep the spine in proper alignment. A medium loft is ideal, and this all can be found in the Marlow.
The Marlow Pillow is a medium-firm pillow with a fill of shredded memory foam. This fill includes poly foam, which is plenty responsive for combination sleeping as well.
Since it's an adjustable pillow, even side sleepers should be able to find a firmness that suits them.
What Makes the Marlow Pillow Stand Out?
This pillow is full of shredded foam which lets air flow through easily.
It comes in two different sizes: standard and king.
Marlow offers a one-year warranty and 365-night trial.
Read our full Marlow Pillow review.
Best Cooling – Sleep Number True Temp
Who's It For?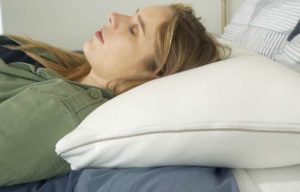 Those looking to get a cool night's sleep should try the Sleep Number True Temp pillow. This is a luxury option that has moisture-wicking and temperature-regulating abilities.
A cool-to-the-touch cover boasts special technology and greets sleepers as soon as their head hits the pillow. The memory foam inside is ventilated for airflow.
This is an incredibly durable pillow, partly because of its firm nature, and partly because of the material quality. It keeps its shape throughout the night, so it's a great pillow that won't sag.
What Makes the Sleep Number True Temp Pillow Stand Out?
It has a higher loft, making it an excellent pick for side sleepers and back sleepers wanting a high loft.
This pillow is thick and plush, making it responsive. Combination sleepers should enjoy this, since they won't feel stuck while changing sleeping positions.
The cover is machine washable for added convenience.
Read our full Sleep Number True Temp review.
Best Adjustable – Luxome LAYR Pillow
Who's It For?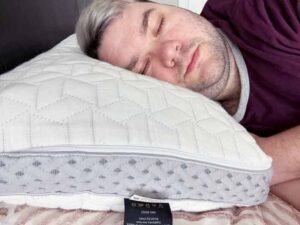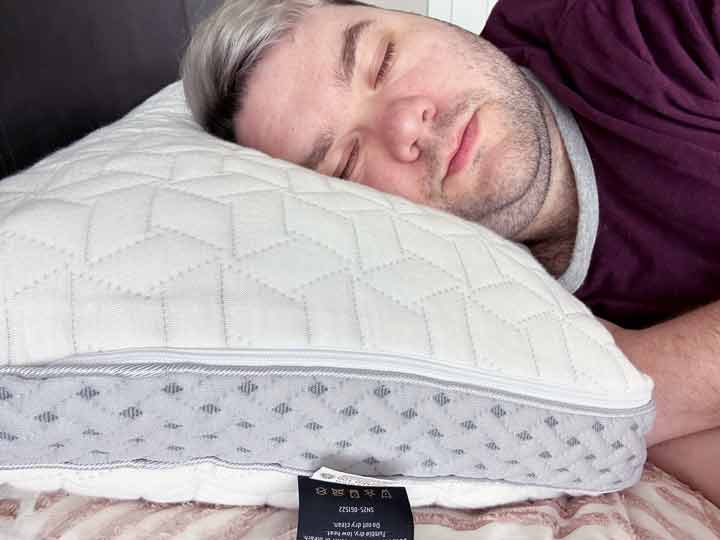 An adjustable pillow works wonders for, well, anyone. If you're a side sleeper, back sleeper, stomach sleeper, or totally unsure of your preferences, adjustable pillows make a safe option.
As far as adjustable memory foam pillows go, the Luxome LAYR Pillow has to be our favorite. Sleepers can combine the many inserts to reach the height and firmness level they desire.
These inserts include gel-infused and CertiPUR-US certified memory foam, ensuring a luxurious and safe sleeping experience.
What Makes the Luxome LAYR Pillow Stand Out?
The bamboo viscose cover and gel-infused foam keeps hot sleepers cool.
The cover and insert covers can be washed for easy care.
This pillow can be purchased in standard or king sizes, and in a single or two-pack.
Read our full Luxome LAYR pillow review.
Best for Side Sleepers – Saatva Memory Foam
Who's It For?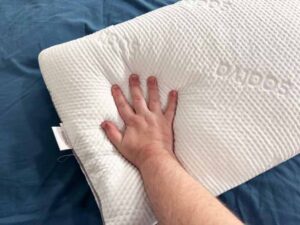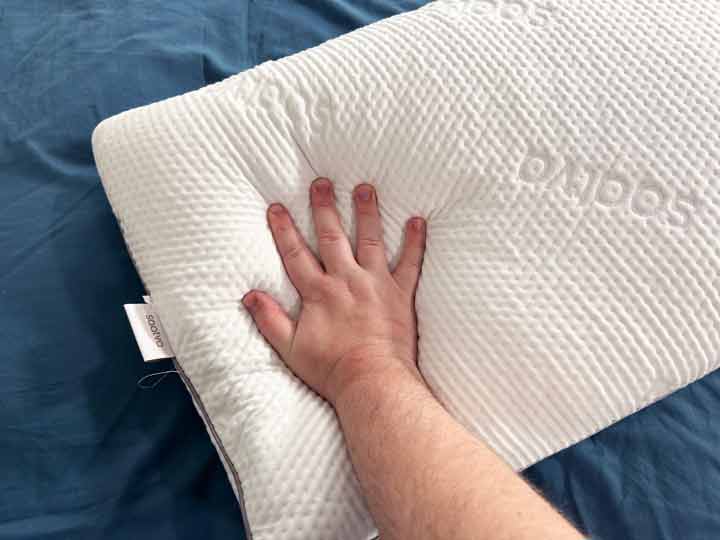 A pillow that's ideal for side sleepers will have a high loft and quality materials. The Saatva Memory Foam Pillow checks each of those boxes.
At a loft of five inches, side sleepers should feel lots of neck support and should hopefully find that any neck pain is alleviated. Two pieces of memory foam encapsulate a shredded foam core, giving this pillow a balanced feel.
Any luxury shoppers out there should enjoy this pillow as well. Saatva uses high-quality materials and a thoughtful construction to create a long-lasting, comfortable product.
What Makes the Saatva Memory Foam Pillow Stand Out?
This pillow's loft should also suit many back sleepers.
Its foam is CertiPUR-US certified, so it doesn't use any unsafe chemicals.
It's a great option for hot sleepers since it uses an organic cotton cover, graphite-infused foam, and a shredded core.
Read our full Saatva Memory Foam Pillow review.
Best Hypoallergenic – Coop Sleep Goods Eden Pillow
Who's It For?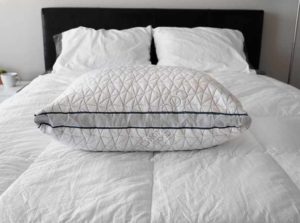 Hypoallergenic pillows are fantastic for allergy sufferers. Pillows designed to be hypoallergenic prevent dust mites, bacteria, and other allergens from accumulating.
Allergy sufferers in search of a quality memory foam pillow should turn to the Coop Sleep Goods Eden Pillow.
While it doesn't have a memory foam feel, its medium firmness is comfy and great for most back sleepers and side sleepers. All in all, it's a high-quality option boasting a down-like feel but without the risk of allergies.
What Makes the Coop Sleep Goods Eden Pillow Stand Out?
The foam used in this pillow is CertiPUR-US certified.
It's a great cooling pillow, thanks to its special blend cover and its shredded memory foam fill.
The Eden has removable filling, so sleepers can choose which loft works best for their preferences.
Read our full Coop Sleep Goods Eden Pillow Review.
What to Consider When Buying a Memory Foam Pillow
There are many different types of foam pillows on the market. Let's break down a few key considerations you should look at when shopping for a memory foam pillow!
Single Piece
As we've demonstrated above, not all foam pillows are made the same way! Many of them come in a single piece of foam that has been molded or cut. These type of foam pillows aren't going to have an adjustable loft, but they'll contour to your head, neck, and shoulder. It's been my experience that single piece foam pillows are much firmer than shredded foam pillows.
Shredded
Speaking of, foam pillows can also come to you in tiny, shredded pieces. These pillows won't trap as much heat because there is room for airflow. Shredded foam pillows typically come to you surrounded in an inner case underneath the outer cover. This makes cleaning the outer cover hassle free and keeps the foam contained. And often that inner case will have a zipper for you to take out or add in fill to adjust the loft of the pillow.
Loft
Loft refers to the height of a pillow, and it goes hand-in-hand with your sleeping position. Side sleepers need an especially tall memory foam pillow to keep their head and neck elevated and in line with their shoulder. Back sleepers can handle a more mid-height loft, while stomach sleepers need a low loft pillow. Typical heights range from 6″ to 3″.
Cooling Properties
Memory foam traps heat, plain and simple. However, there have been tons of cooling innovations made to foam to keep you cool while sleeping! Look for things such as gel infusions or perforated foam. Gel will draw heat away from your body, while perforations (typically seen in single-piece foam pillows) will allow for airflow.
Pressure Relief
One of the great things about memory foam is that it's both soft and firm. Seems counter intuitive to say, but you can sink into memory foam and still get a good amount of support, too. This is a winning combination for relieving tension on your pressure points. And getting support from dense foam can help keep your head and neck in a neutral position while you sleep.
Quality Materials
It can be tempting to see a $10 pillow at any major retailer, but those often aren't made with materials to last, meaning you'll replace it far more often. It can be worth it to invest in your pillows! Look for things such as organic cotton covers and gel infused memory foam. Both will keep you cool at night!
If you're looking for plush comfort, pillows that include both foam and fibers, like natural kapok fibers found in the Layla Kapok pillow, are a great way to go, too. They might cost more, but they'll last you longer and give you better sleep!
Why Does Memory Foam Sleep Hot?
One of the chief complaints about memory foam in both mattresses and pillows is that the material tends to retain heat and can cause people to sleep hot. This usually happens later in the night, once a person has been sleeping in the bed for a while.
Companies use a variety of different techniques to help customers stay cool while using memory foam mattresses and pillows: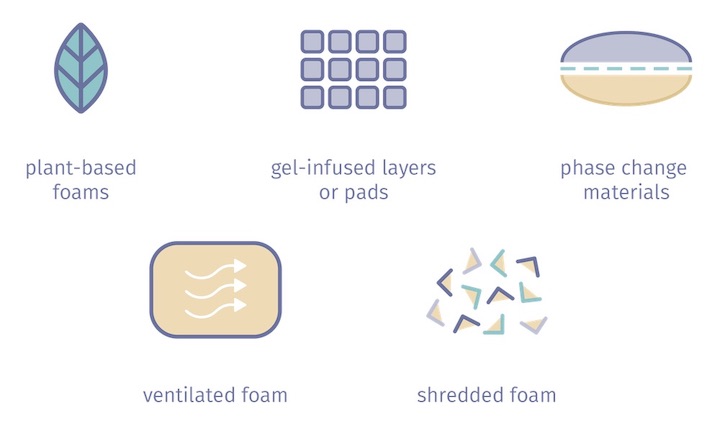 Plant-based foams: Plant-based memory foam uses a portion of plant-based ingredients (typically soy).
Gel-infused layers or pads: Adding a gel layer onto or into foam products may make them cooler, but there's still some debate as to whether gel memory foam is effective.
Phase Change Materials (PCM): Customers may see companies using Phase Change Materials alongside memory foam. PCMs are designed to absorb body heat that's released during the night.
Ventilated foam: Typically, solid pieces of molded memory foam will have small holes cut out to promote airflow.
Shredded foam: Shoppers may see many types of shredded memory foam pillows on the market. The idea is that air will move between the foam pieces and keep the pillow from getting too hot.
Memory Foam Density: Does Density Matter?

Density does matter when it comes to memory foam, but it probably makes a bigger difference when shopping for a memory foam mattress rather than a memory foam pillow.
While it can get a little complicated, we have found (and studies show) that the higher the density, the more the following facts are true.
The price goes up: More materials go into a higher density foam, so sleepers can almost always expect a correlation between density and price.
Increased durability: Generally, the higher the density, the longer the pillow (or mattress) will last.
Added support/pain relief: More density means more support. Higher-density foam does a better job of contouring to someone's body. Those who have neck pain, for example, will want a higher density foam pillow.
Should I Worry about the Smell?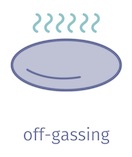 No matter the brand or how eco-friendly a product is, all memory foam is made from petrochemicals. As a result, customers may notice a slight chemical smell when unboxing the new memory foam pillow. This is known in the sleep industry as off-gassing.
Before enjoying the pillow overnight, it's best to let it breathe in a ventilated space until the off-gassing smell is gone. While there is some debate on this topic, it's generally believed that the volatile organic compounds (VOCs) released during the off-gassing should not impact a person's health.
FAQs
What's the best memory foam pillow?
There is no single "best" memory foam pillow, as not all memory foams are created equal. Some are proprietary blends (like TEMPUR-Pedic) and may offer a slightly different feel. They may also come in a solid piece, ventilated pieces, or even chunks or shreds. The truth is that what's ultimately going to be the best fit is really up to the individual.
What's the best memory foam pillow for side sleepers?
Side sleepers, in general, need the most loft (height) and overall support as compared to back and stomach sleepers. For this reason, solid and firmer memory foam pillows tend to be the best, providing enough height and support for the neck, but also not letting the head fall too far or sink too far in. Of the products on this roundup, we think the Layla Kapok embodies these traits quite wonderfully and is one of the best memory foam pillows for side sleepers.
Why are memory foam pillows so comfortable?
Memory foam pillows are really good at cushioning the body and providing a contouring feel and pressure relief. They're not everyone's preference, but those who are trying to relieve tension or stress in their muscles and joints may want to consider it.
Are memory foam pillows good for neck problems?
Memory foam pillows can be very good for neck problems, specifically because of their contouring and pressure-relieving characteristics. If positioned correctly for the person, they can take a lot of strain off of someone's neck.