Whether you're looking for better sleep or just need some new, high-quality pillows, then Lagoon Sleep is the company for you. There are plenty of options that will fit all types of sleepers.
In this Lagoon Sleep pillow review, I'll tell you all about Lagoon's different pillows and explain how to find the perfect one for your sleep needs.
Lagoon Sleep Pillows Overview
Lagoon Sleep is a pillow company that's dedicated to giving every type of sleeper the pillow they need. Gone are the days of pulling a pillow from a bin! But what really sets them apart from other retailers is its quiz.
With eight pillows, Lagoon Sleep has a lot of options to choose from. But don't stress! Lagoon's sleep quiz matches you to the perfect pillow. After I took the quiz, Lagoon suggested the Meerkat, the Otter, and the Hippo pillows. I'll give you my experience with those three pillows, and I'll explain which one I thought was best for me and others. But first, let's break down why a Lagoon pillow might be for you:
Who Might Like a Lagoon Pillow?
Combination sleepers–they have a pillow for every sleeping position!
Fans of down alternative pillows
People who want to test a variety of pillows to find the right one
Who Might Not Like a Lagoon Pillow?
People who prefer down pillows
Pillow shoppers on a budget
People who don't want to return the pillows they don't choose
Taking the Lagoon Sleep Quiz
As mentioned, with eight pillows to choose from, you might be overwhelmed with choices. Luckily, Lagoon thought ahead and created a quiz that matches you with the best pillow.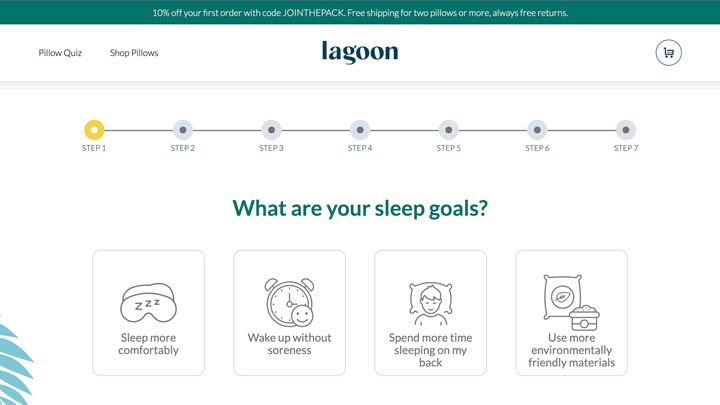 There are seven questions in total, covering subjects such as sleep goals, any issues you have while sleeping, and sleeping positions. I felt the questions were very straightforward and can help someone who is just starting their sleep improvement journey.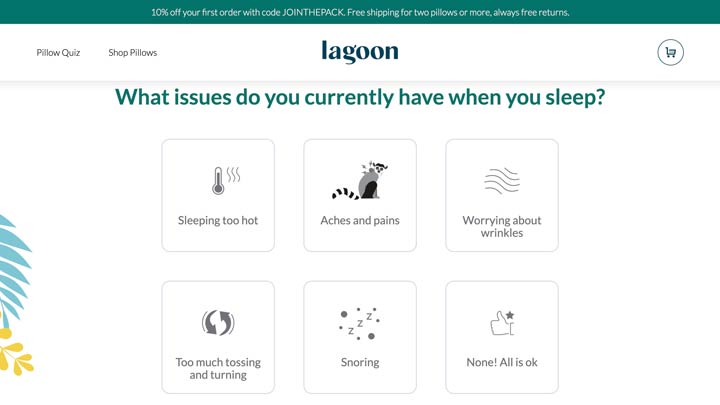 As a heavier side sleeper, and a former pillow stacker, I let Lagoon know what my sleep goals and issues were and Lagoon recommended the Meerkat as my primary suggestion. The two additional suggestions were the Hippo and the Otter. I received the queen size option of all these pillows, but the Otter and the Hippo do have king size options available. If you want the king size option, make sure to select that at check out or when building your box.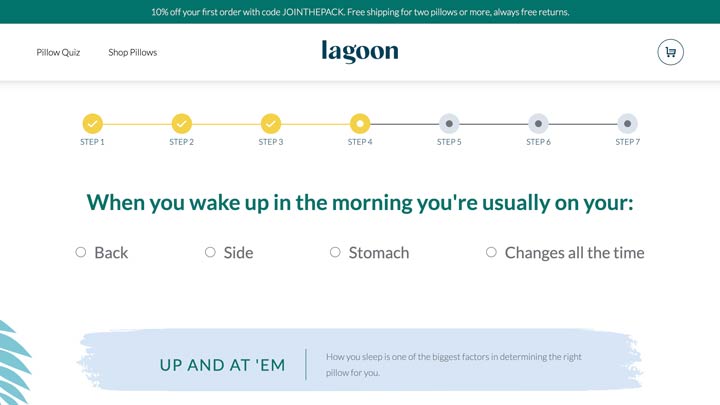 Once you get your results from the quiz, you'll be given the option to build a sample box to test all three pillows out at home!
Lagoon Pillows Firmness and Feel
Let's take a look at the firmness and the feel of each of these three pillows.
How Firm is The Meerkat?
When it comes to what I prefer, I tend to pick pillows that feel both firm and cushy. The Meerkat is one of two of Lagoon's firmest pillows, and it definitely meets my needs. It's a medium-firm pillow that doesn't have a lot of give. It'll be great for back sleepers and will keep a side sleeper's head elevated.
How Firm is The Otter?
Out of the three pillows I received, the Otter was the softest, but not the softest pillow Lagoon offers. It's full of shredded memory foam that provides some contouring, and I'd say it's about medium in firmness. As a side sleeper, I really enjoyed the Otter.
How firm is The Hippo?
The Hippo is the other firm pillow Lagoon offers. It's a single piece of memory foam, but it is quite firm. I would rate this as the firmest Lagoon pillow of the bunch.
Sleeping on the Lagoon Pillows
When you're done with the Lagoon pillow quiz, you're given three options. My primary recommendation was the Meerkat.
The Meerkat was designed to be a single pillow for pillow stackers, such as myself. It took some getting used to just one pillow, but overall, sleeping on the Meerkat was rather enjoyable.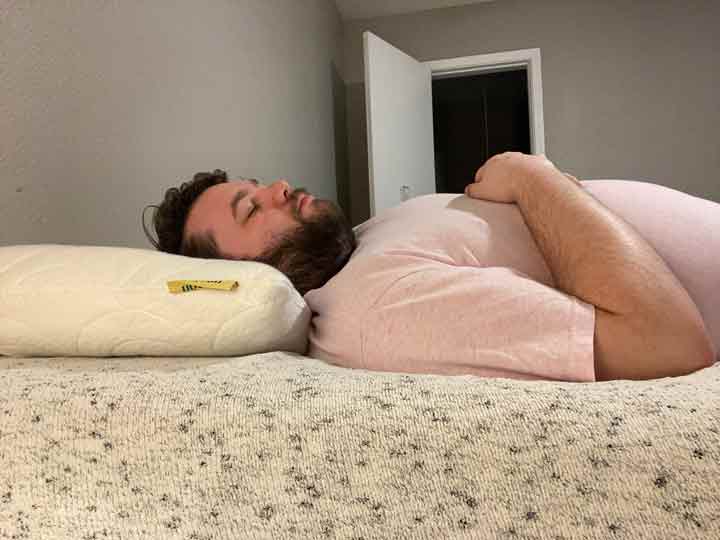 However, my preferred pillow out of these three was the Otter. I enjoy that slow-moving feel of memory foam, but because the filling is shredded, I can easily mold the pillow to accommodate my shoulder when I sleep on my side. The Otter actually helps me from tossing and turning, too!
The Hippo, being a firm, single piece of memory foam, was the pillow that took the longest to adjust to. Side sleepers need their ears to align with their shoulders, and personally, I felt that the Hippo pillow wasn't tall enough to keep my head in the proper alignment.
What do the Lagoon Pillows Feel Like?
The Meerkat has a hybrid construction, featuring two outer layers of down alternative around a foam core. This makes it feel rather responsive, and it doesn't provide the same amount of body contouring that memory foam pillows do.
The Otter and the Hippo are full of slow-moving memory foam. You can mold the Otter a little more because it has shredded memory foam. The Hippo pillow is made with a single piece of slow-moving foam.
Average Weight Sleepers – 130 lbs – 230lbs
All three pillows I received should work well for average weight sleepers. In fact, all of the pillows on Lagoon's website should be great options for this weight range.
Average weight back and side sleepers will enjoy the Meerkat and the Otter. And, with an adjustable fill, the Otter can even work well for stomach sleepers. If you're an average weight side sleeper, the Hippo is the pillow for you.
Heavyweight Sleepers – Over 230lbs
As a heavier person, my sample box was designed with that in mind. This just means the options I were given were more supportive for me. I especially enjoy the Otter because of its versatility. As a predominantly side sleeper, I found the Otter's high loft to be great for me. But if you're a heavier stomach sleeper, remove some of the filling to make the pillow flatter. That will do wonders!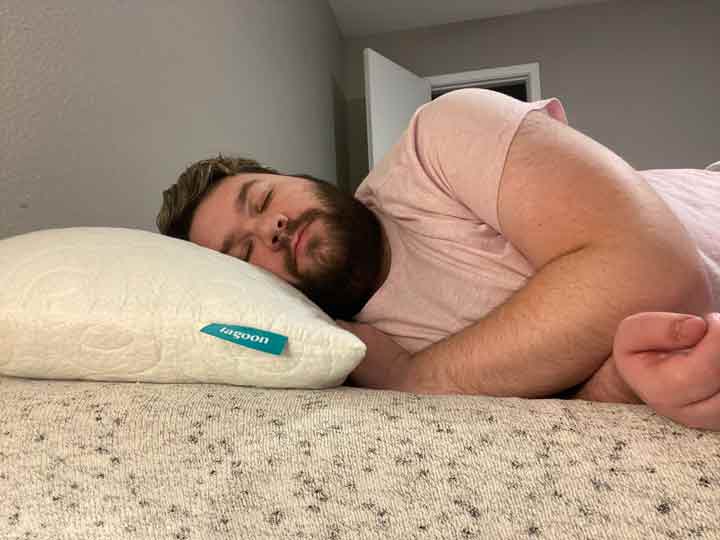 Heavier back and side combo sleepers should enjoy the Meerkat. It has a fairly high loft and feels slightly firm, so it provides great support. If you're a strict heavy side sleeper, the Hippo will provide a great balance of comfort and support.
Lightweight Sleepers – Under 130lbs
For lightweight sleepers, each of these pillows could be good options. But Lagoon has various other pillows with lower lofts that might fit your needs better. Having said that, the Otter and the Meerkat could be good options because they have adjustable lofts.
The Hippo is a pillow intended for heavier side sleepers, so I wouldn't recommend this one to lightweight side sleepers. It'll feel too firm, and your head won't compress the foam as much.
Lagoon Sleep Pillows Construction
Let's take a look at what goes into the Lagoon Pillows.
Cover
Each of the Lagoon pillow covers are made of a polyester and bamboo blend. This makes the covers very breathable and soft to the touch. Inside each cover is an inner liner made of bamboo and cotton. This should prevent the filling from shifting around.
Core
Each Lagoon pillow has different fills and cores to fit different needs.
The Meerkat is a hybrid pillow, meaning it utilizes down alternative layers and memory foam. There are two layers of the down alternative surrounding a memory foam core.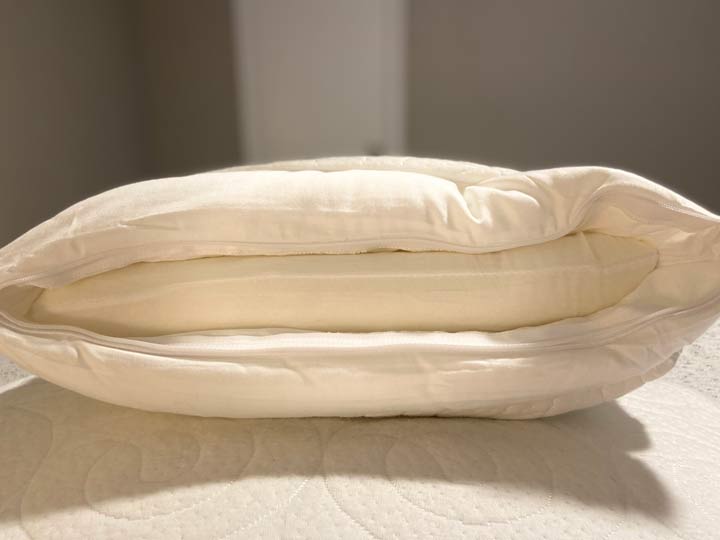 The Otter is filled with shredded gel-infused memory foam and cotton fibers. This gives it that classic slow-moving feel while still being fairly soft.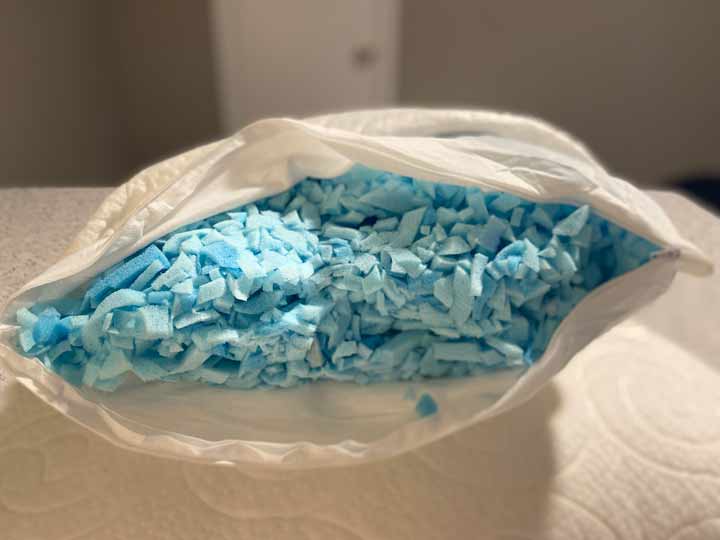 The Hippo's core is a single piece of molded memory foam. You'll sink into this pillow, but should still keep a proper alignment while you sleep.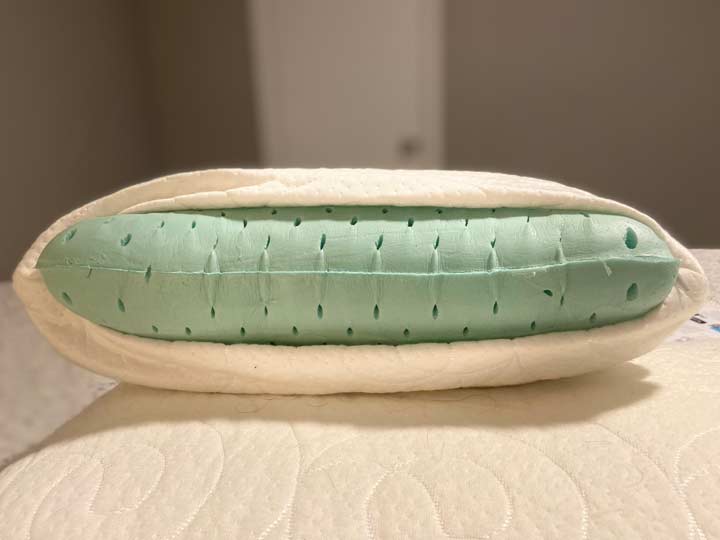 Weight
All three pillows I received are approximately 2 lb.
Height/Loft
Loft is essentially how tall a pillow can be. Stomach sleepers need something with a low loft, while back and side sleepers need something a little higher. With the exception of the Hippo, which has a mid loft, the Meerkat and the Otter have adjustable lofts.
The Otter is Lagoon's tallest pillow. Because it's made with shredded memory foam, you can open the inner liner and remove the Otter's fill to make it flatter. This adjustable loft makes it a great pick for all sleeping positions, but especially stomach sleepers who need flat pillows.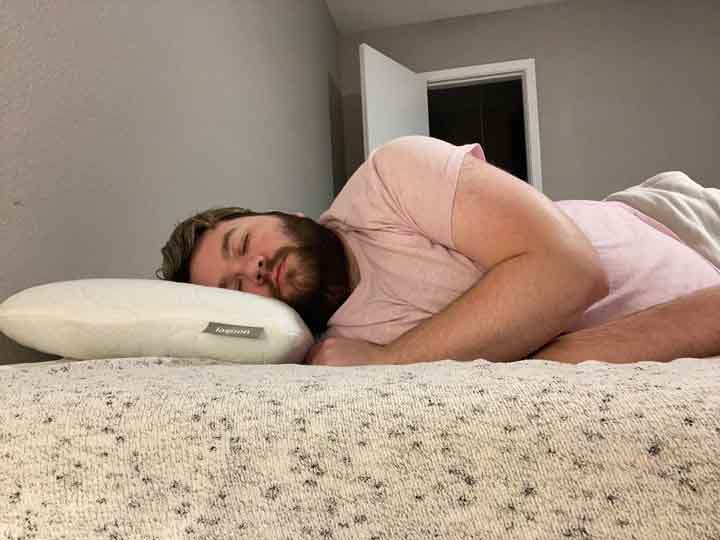 The Meerkat can be adjusted by removing the memory foam core. But side and back sleepers might want to keep the core in place to get the loft they need.
Lagoon Sleep Size Options and Price
Take a look at the chart below for up-to-date pricing information on the Meerkat, the Otter, and the Hippo!
| | | |
| --- | --- | --- |
| Model | Size | Price |
| Meerkat | Queen | $89.99 |
| Otter | Queen | $119.99 |
| Otter | King | $139.99 |
| Hippo | Queen | $89.99 |
| Hippo | King | $109.99 |
Lagoon Sleep Pillows Performance
Let's see how the Lagoon Pillows performed in a few key categories.
Sleeping Hot or Cold
I am a textbook hot sleeper. It can take several minutes for me to cool off after I climb into bed. Each of the Lagoon pillows I received slept fairly cool!
The Otter is Lagoon's cooling pillow. It's full of gel-infused memory foam that pulls body heat away from you, which helps the Otter sleep cool.
While it doesn't offer anything specific in terms of cooling, the Meerkat's breathable cover helps the pillow stay cool.
And while memory foam can trap heat, I never felt that overheating was going to be an issue with the Hippo.
Off-Gassing
All pillows will come to you compressed into plastic packaging. I found the Meerkat to be ready almost immediately, but the Otter and the Hippo needed a moment to fully expand.
You may notice a slight chemical smell to them, which is just a result of them being compressed. Rest assured these pillows are completely safe and that the smell should dissipate within 24 hours.
The foam used to make a Lagoon pillow is CertiPUR-US® certified, meaning it is toxin and chemical free.
Care Instructions
The removable pillow covers are machine washable. Because each pillow has the same cover, the instructions apply to all.
Simply remove the cover and wash with cold water on a gentle cycle. When done, transfer to the dryer and tumble dry on low.
For the pillows, regularly fluff them to maintain shape. Every six months, you can place the pillow in the dryer on low for about 10-15 minutes to maximize fluffing.
RELATED: How to Clean a Pillow
Allergies
Lagoon Pillows are completely hypoallergenic and shouldn't trigger any allergies.
Company Policies
Here's what you can expect when you purchase one of Lagoon's premium pillows.
Warranty
Each Lagoon pillow comes with a 5-year warranty.
Sleep Trial
When you receive your sample box, you will have 30 days to test out your pillows in your own bed. This will let you determine which pillow is right for you.
Return Policy
When ordering your sample box, you will be charged the full amount for all three pillows. However, if you decide that one, or all, of the pillows aren't for you, you can return them.
So long as it's within the 30 day trial period, and the pillows are in good condition, you will receive a full refund.
It's also worth noting that Lagoon offers free delivery and shipping with each order.
How Do the Lagoon Pillows Compare to Other Pillows?
While you can certainly compare the Lagoon pillows in your sample box to one another, it's a good idea to take other comparisons into consideration. Here's how each of the three Lagoon pillows I received stack up to other pillows on the market.
The Meerkat vs the Saatva Pillow
There are a variety of other hybrid pillows on the market, but let's take a look at the differences and similarities between the Meerkat and the Saatva pillow.
To start, both are great hypoallergenic options with either down alternative or microfiber outer layers surrounding a foam core. The Meerkat's foam core is a single piece of memory foam, while the Saatva's core is full of shredded latex foam.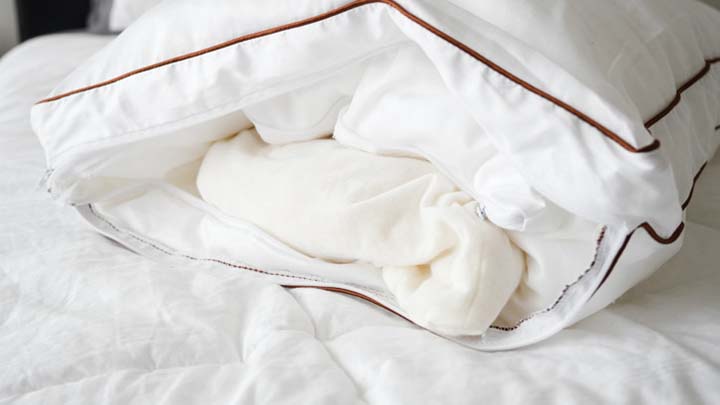 In terms of firmness, the Saatva pillow is much softer. The Meerkat is quite firm, but still comfortable. But if you're looking for a more plush pillow, opt for the Saatva. However, if a firm pillow is what you want, go with the Meerkat.
Both back and side sleepers will enjoy the Meerkat, while we recommend the Saatva latex pillow mostly for back sleepers.
Finally, in terms of price, the Meerkat is the more affordable option of the two.
Who Should Get the Meerkat?
Fans of firm pillows
Shoppers on a budget
Who Should Get the Saatva Pillow?
Fans of soft and plush pillows
Back sleepers
Read our full Saatva Review.
The Otter vs Eli & Elm Side Sleeper Pillow
Both the Otter and the Eli & Elm are great options for side sleepers, but which is going to be better for you?
To start, the Otter is a standard rectangular pillow. The Eli & Elm Side Sleeper Pillow has a unique "U" shape on one side to accommodate shoulders.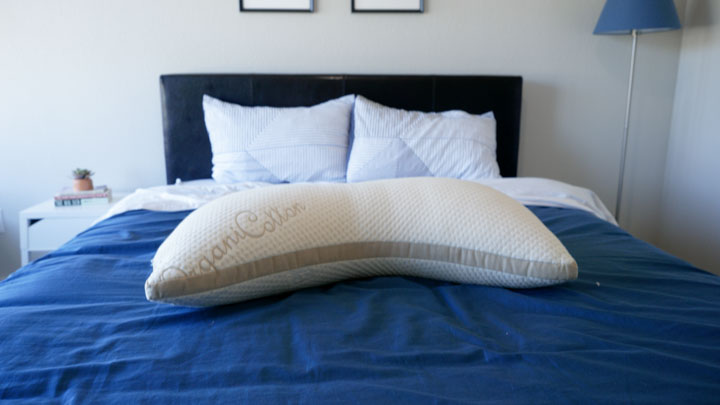 Both pillows have adjustable lofts. However, with its unique shape, the Eli & Elm really is recommended for side sleepers. The Otter's adjustable loft makes it a good option for back and stomach sleepers, and not just side sleepers.
The Otter is full of shredded memory foam, giving it that slow moving feel, while the Eli & Elm feels more responsive, having a polyester and shredded latex fill. Neither one of these pillows should sleep hot.
Finally, looking at the price, the Otter is better for folks on a budget.
Who Should Get the Otter?
Fans of that classic slow-moving memory foam feel
All three sleeping positions due to its adjustable loft
Who Should Get the Eli & Elm?
Read our full Eli & Elm Side Sleeper Pillow Review.
The Hippo vs Casper Foam Pillow
Want a pillow made of long, solid pieces of memory foam? The Hippo will do wonders, but let's compare it to the Casper Foam Pillow.
The Hippo is a single piece of molded memory foam that's perforated with holes to allow for airflow. The Casper Foam pillow has a similar construction, though it has three layers of foam. It features Casper's AirScape foam which is ventilated for airflow and designed to keep sleepers cool.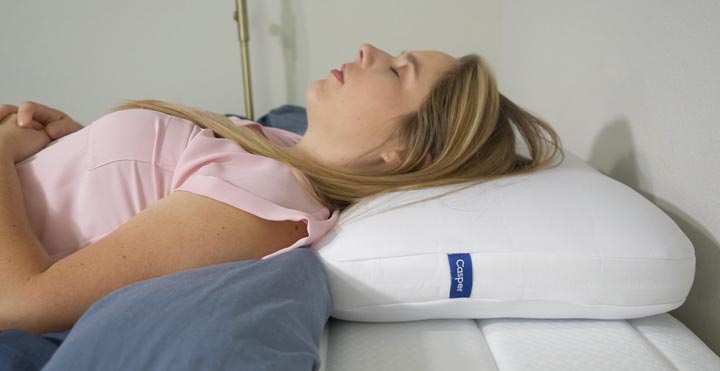 The Casper Foam pillow has two loft options, a low and a mid loft. This makes it a good pick for back sleepers and some stomach sleepers who need a low loft pillow. The Hippo has one loft level, and it is about mid loft. Ideally, side sleepers should look into getting the Hippo. Regardless of loft, however, the Hippo is quite a firm pillow, while the Casper Foam is more medium firm.
Finally, both are around the same price point, but the Hippo comes in on the lower end.
Who Should Get the Hippo?
Fans of firm pillows
Side sleepers
Who Should Get the Casper Foam Pillow?
Back and stomach sleepers
Hot sleepers
Read our full Casper Foam Pillow Review.
Our Lagoon Sleep Pillows Ratings
Take a look at our Mattress Clarity Scores for each of these pillows!

Lagoon Sleep Meerkat Pillow Review
Lagoon Sleep Otter Pillow Review
Lagoon Sleep Hippo Pillow Review
FAQs
Still have questions on any of these Lagoon Pillows? Here are some of the most frequently asked questions!
What other pillows does Lagoon make?
Lagoon sells eight different pillows, all named after animals, that offer different needs for different sleepers. They have soft pillows like the Chinchilla and the Fox. If you prefer a pillow full of wool, opt for the Koala. Other down alternative pillows are the Puffin and the Lemur.
What if I don't like my Lagoon Pillow?
Don't worry! With eight options to choose from, Lagoon has something for everyone. You can take their quiz to let them know about you and your sleep habits, and they'll make three recommendations for you to try out. If all three work for you, you can keep them. But if one or more, or even all, don't work for you, return them during the 30 day trial period for a full refund.
Where does Lagoon ship their pillows?
Currently, Lagoon only ships their pillows within the U.S.