As the first major bed-in-a-box company, Casper has made quite a name for themselves. But they don't just sell mattresses! You can also rest your head on their luxurious pillows.
In this Casper foam pillow review, we'll look closely at its plush and squishy feel. Will its loft and firmness level work for you? Keep reading to find out.
Casper Foam Pillow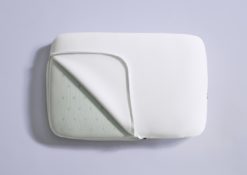 The brand's most popular offers a "pillow-in-a-pillow" design that with a crisp cotton cover and down alternative feel.
Mattress Clarity Score
4.20 / 5
Read Full Review
Casper Foam Pillow Overview
Casper knows comfort. The Casper Wave Hybrid has zoned support, so it suits a wide variety of different sleepers. Even the Casper mattress topper has three layers of cooling and pressure-relieving foams.
So it should come as no surprise that the Casper foam pillow also has a unique construction. Made with both low and high-density foams, this pillow creates comfort and support. Plus, it's available in a low and mid loft. We love this pillow so much, we named it one of this year's best pillows.
Eager to learn whether these pillows will give you a good night's sleep? We've created a quick outline of who may like the Casper foam pillow.
Who Might Like the Casper Foam Pillow
Combination sleepers
Hot sleepers
People who like pillow loft options
Who Might Not Like the Casper Foam Pillow
Those who don't want to wait for their pillow to off-gas and expand
People on a tight budget
Sleepers who prefer down pillows
Casper Foam Pillow Video Review
If you want to see the pillow in action, watch our video review below!
Casper Foam Pillow Firmness and Feel
Firmness and feel remain two of the most important aspects to consider. If you get a pillow that feels too soft or too firm, you may not get the support you need.
How Firm Is The Casper Foam Pillow?
After the pillow fully expands, it will feel medium-firm. It's supportive enough for side sleepers, but it's squishy enough to provide some body contouring.
Sleeping on the Casper Foam Pillow
How do you know if you're sleeping on the right pillow? Well, you need to make sure your body stays in a neutral alignment.
This means that your ears align with your shoulders when you're side sleeping. Your chin should line up with your sternum when you're resting on your back or stomach.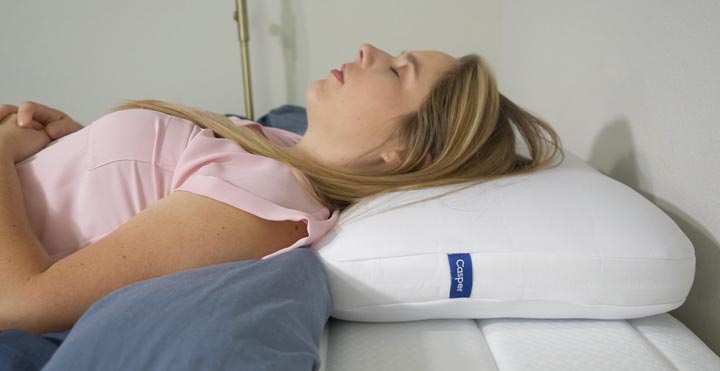 The Casper mid loft pillow will work well for most back sleepers. Side sleepers, too, will benefit from the supportive mid loft pillow. Stomach sleepers, on the other hand, need a pillow that's almost completely flat. If this is your preferred sleeping position, we recommend getting the low loft pillow.
What Does the Casper Foam Pillow Feel Like?
Not surprisingly, the Casper foam pillow has a traditional memory foam feel. When you press into it, the material slowly snaps back into place. It will gently cradle your head and create excellent pressure relief.
Average Weight Sleepers – 130 lbs – 230lbs
Back sleepers who weigh between 130 and 230lbs will prefer the mid loft Casper Foam pillow. This height creates plenty of support, and it will help back sleepers maintain the proper alignment. Side sleepers in this category will also prefer the mid loft pillow. Average weight stomach sleepers, though, should choose the low loft pillow.
Heavyweight Sleepers – Over 230lbs
Heavier back and side sleepers should get plenty of comfort and support from the mid loft Casper foam pillow. People who weigh more than 230lbs will feel their heads sink into it, but thanks to the high-density foams, they won't bottom out. Heavyweight stomach sleepers should get the low loft pillow, because this will help keep the spine in a neutral position.
Lightweight Sleepers – Under 130lbs
No matter the sleep position, lightweight people will feel the most comfortable on the low loft pillow. If a pillow is too tall, petite people may crane their necks out of alignment and develop pain.
Casper Foam Pillow Construction
To fully understand the ins and out of this pillow, we'll need to investigate its construction.
Cover
The Casper foam pillow has a cover made out of polyester and spandex. These materials make the cover feel breathable and stretchy, so it shouldn't trap heat easily.
To make things even better, the cover is completely removable and machine washable. You can also purchase one of Casper's silk pillowcases for a luxurious touch.
Core
Made with three layers of foam, the pillow's core feels supportive and comfy. Each layer has a different density, which gives the pillow a balanced feel. And because it's made with high-quality materials, the pillow should last a long time.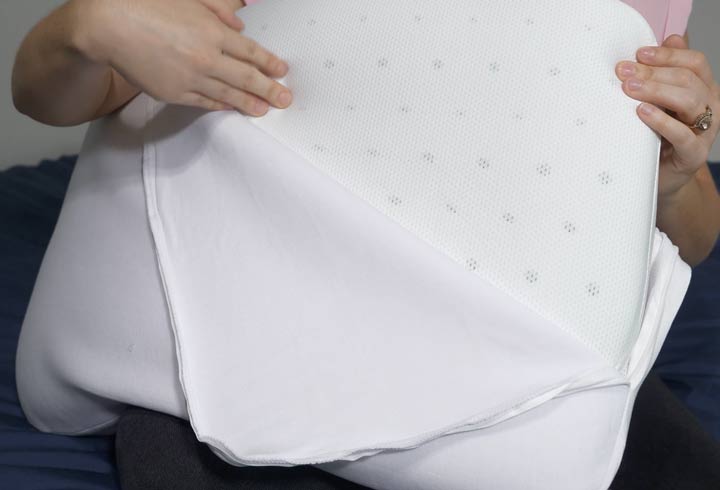 On the outside, you'll find Casper's proprietary AirScape foam. This material has tiny holes on the outside, which promotes airflow and breathability. This is especially good news if you're worried about overheating at night.
Weight
The Casper Foam pillow weighs about 4lbs.
Height and Loft
This pillow is available in a low and mid loft. The low loft has a 1.25-inch gusset, and the mid loft has a 2-inch gusset.
Casper Foam Pillow Size Options and Price
Now that we've examined the pillow's firmness, feel, and construction, let's look at two more important features: pricing and size.
| | | | |
| --- | --- | --- | --- |
| Size | Low Loft Dimensions | Mid Loft Dimensions | Price |
| Standard Size | 16″ x 24″ x 1.25″ | 16″ x 24″ x 2″ | $89 |
| King Size | 16″ x 32″ x 1.25″ | 16″ x 32″ x 2″ | $119 |
Need to spruce up your bed even more? Take a look at our Casper foam mattress review.
Casper Foam Pillow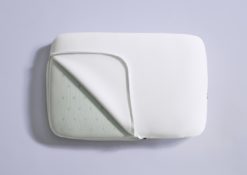 The brand's most popular offers a "pillow-in-a-pillow" design that with a crisp cotton cover and down alternative feel.
Mattress Clarity Score
4.20 / 5
Read Full Review
Casper Foam Pillow Performance
Now — the fun part! Let's look at the Casper foam pillow's performance features.
Sleeping Hot or Cold
As you may know, memory foam has a tendency to trap body heat and push it back toward the sleeper. If you already run hot at night, this could grow into a huge problem.
However, Casper has several cooling features that combat this common issue. First, it has a breathable and thin cover around the outside. Second, it features Casper's special AirScape foam. Thanks to its small air holes, this material feels breathable and cool. Take a look at our list of the best cooling pillows for more great options.
Off-Gassing
Off-gassing is the mattress industry term for the chemical smell emitted from bed-in-a-box mattresses. Of course, this smell doesn't just occur with beds. You will notice a slight odor after opening the Casper foam pillow. It will also lay completely flat.
Please note: This is completely normal. The smell will fade, and the pillow should fully expand after 48 hours.
Care Instructions
It's super easy to maintain the machine washable cover. Just wash it on the delicate cycle and lay flat to dry.
Allergies
Unlike down pillows, memory foam doesn't tend to trap allergens and dust mites. If you're especially susceptible to allergies, the Casper could be a good pillow for you.
Company Policies
Don't rush off to purchase just yet! We always recommend shoppers read the fine print before clicking 'add to cart.'
Warranty Info
The Casper foam pillow is backed by a 1-year limited warranty.
Sleep Trial
Casper offers a 30-night trial period.
Return Policy
Casper offers free returns on pillows, as long as it's during the initial sleep trial period. That means you can try it risk-free for the first 30 days.
Common Casper Foam Pillow Complaints
Although the Casper foam pillow has hundreds of glowing reviews on Amazon, we did come across some negative feedback. Some stomach sleepers didn't feel comfortable on it. Like we mentioned above, we recommend stomach sleepers choose the low loft pillow. Otherwise, they may crane their necks into an unnatural position.
Other people complained about the Casper pillow's price. Yes, it is pricier than others you'll find on the market. However, we found that the high-quality materials make it a good investment. This pillow should last for many years.
How Does the Casper Foam Pillow Compare to Other Pillows?
When buying a pillow online, it's especially important to find the right one. Before we wrap up, we'll compare Casper's foam pillow with some of their other models.
Casper Foam Pillow vs. Original Casper Pillow
Even though they're made by the same company, these two pillows have many differences. The Casper Original has a pillow-within-a-pillow design. Around the outer pillow, you'll find plush polyester filling. Then, you'll reach Casper's inner pillow, which creates nice support.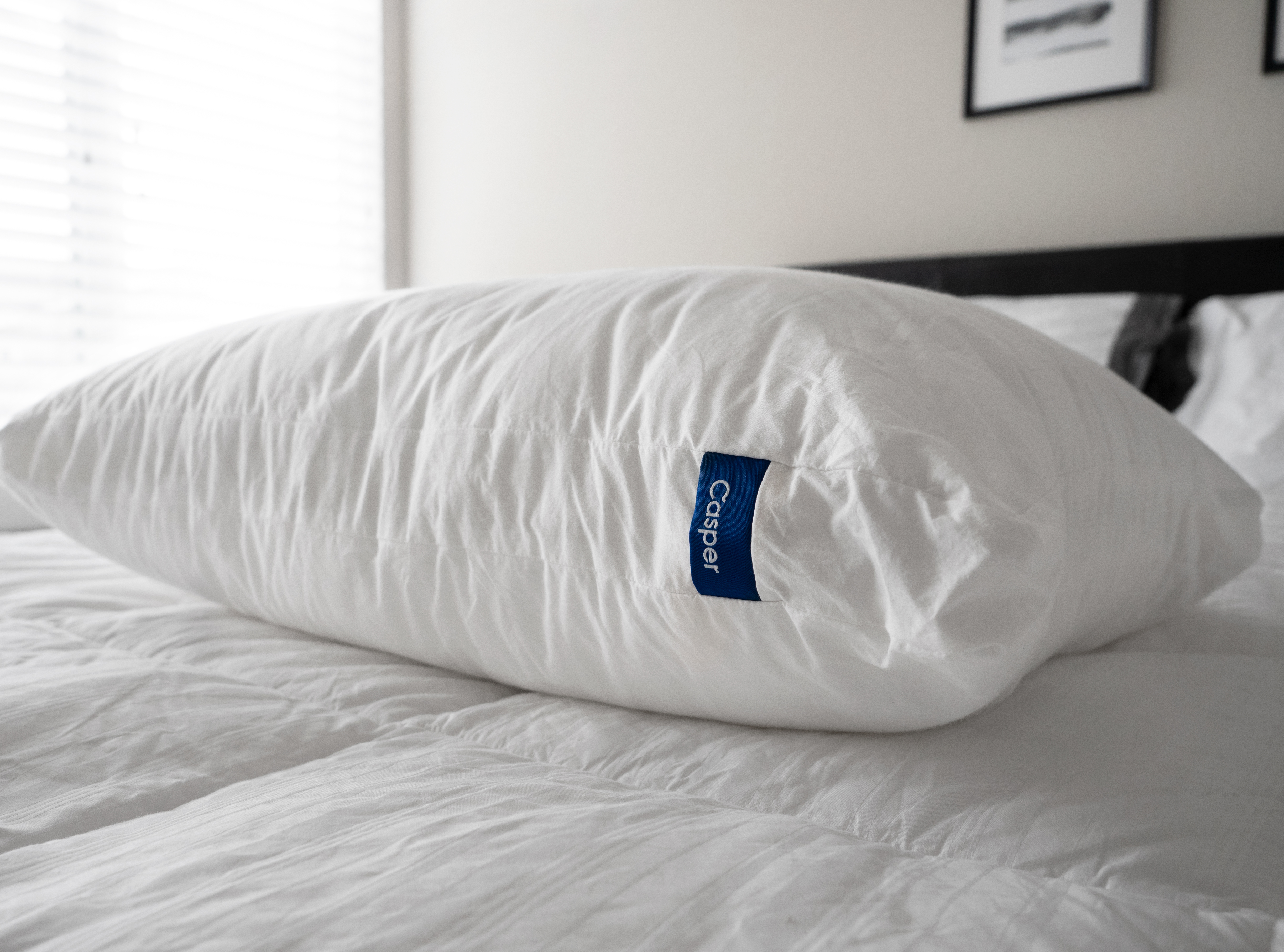 Because the Casper Foam pillow features high-density foams, it feels much firmer than the Casper Original. The two pillows also have drastically different feels. When you rest on the foam pillow, you'll slowly sink into its cushioning. The Original Casper pillow, on the other hand, feels similar to down alternative.
Both pillows are available in a mid and low loft, so they work well for different heights and body types. The Casper Foam pillow does cost a little bit more, however.
Who Should Get the Casper Foam Pillow
People who prefer a slow-moving memory foam feel
Those who want a firmer pillow
Who Should Get the Original Casper Pillow
Sleepers who prefer a down alternative pillow
People who want to save money
Read our full Casper pillow review.
Casper Foam Pillow vs. Casper Down Pillow
These two pillows also have many significant differences. Fans of memory foam pillows will prefer the slow-moving feel from the Casper Foam. Those who like something that feels more malleable and fluffy will want to choose the Casper Down.
The Casper Down pillow is stuffed with ethically sourced down feathers, and it feels light and airy. It does require consistent fluffing, however. Because you'll sink through it as the night goes on, this pillow may not work well for side sleepers.
It will, however, work great for stomach sleepers. Because of this, we named it one of the best down pillows.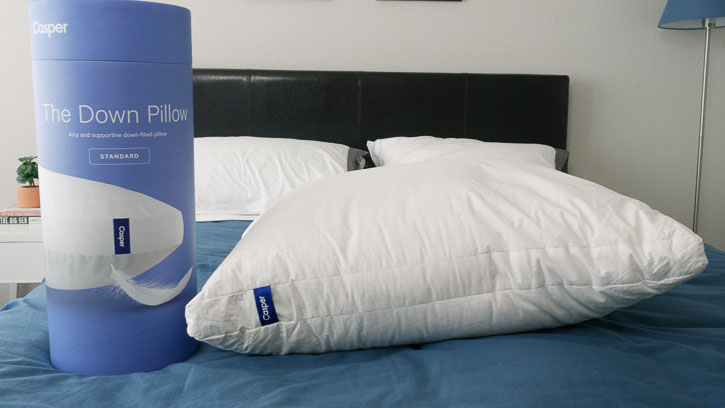 The Casper Foam pillow feels much firmer than the Casper Down, so it will work well for most back and side sleepers. If you suffer from neck pain, we recommend the foam pillow more than the down. Both pillows are available in mid and low lofts, but the Casper Foam pillow is much more affordable.
Who Should Get the Casper Foam Pillow
Back and side sleepers
People who prefer the slow-moving feeling of foam
Those who want to save money
Who Should Get the Casper Down Pillow
Stomach sleepers
People who prefer a pillow with a light and fluffy feel
Those who want something more luxurious
Read our Casper down pillow review.
Our Casper Foam Pillow Ratings
Check out our ratings to see if the Casper Foam pillow hits all of the right notes.
FAQs
For even more info, check out our FAQs section below!
Are Casper pillows any good?
Yes! Casper does a great job with mattresses and at Mattress Clarity, we're a big fan of their pillows, too. Casper has three pillows, the Original, the Down and the Foam. The Original pillow is filled with coated polyester microfibers and the others are down and solid ventilated foam. Stomach sleepers will enjoy the Down, while back and side sleepers will want to look at the Original or Foam pillow options.
What is the best foam pillow?
We love the Casper Foam pillow because it is breathable and creates excellent support. But if you're looking for another great option, we recommend the Tuft & Needle. This pillow is made with the company's special foam, so it feels much more responsive than many others. It promotes airflow, so it shouldn't trap heat, and it's great for combination sleepers.
What is the best pillow for neck pain?
If you're a side sleeper with neck pain, we recommend checking out Eli & Elm's special U-shaped pillow. It has a thin cotton cover on the outside, and it's specifically designed for people who rest on their side. Plus -- you can easily customize the loft size. This makes it especially great for those who frequently deal with neck and back tension because you can quickly reach a neutral alignment. Need more options? Check out our list of the best pillows for neck pain.