Casper is known for their innovative sleep products, and their pillow is no exception. With two plush layers, the Casper pillow feels both soft and supportive.
Still on the fence about it? Our Casper pillow review will help you determine whether it's the right purchase for you.
Casper Foam Pillow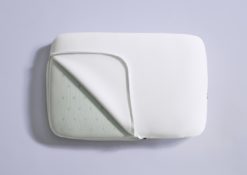 The brand's most popular offers a "pillow-in-a-pillow" design that with a crisp cotton cover and down alternative feel.
Mattress Clarity Score
4.20 / 5
Read Full Review
Casper Pillow Overview
Most people know Casper as a bed-in-a-box company, but they don't just sell mattresses. In fact, the company makes a wide variety of bedding accessories! The Casper foam pillow has a slow-moving and supportive feel, and the Casper down pillow feels soft and malleable.
If you want something that feels both fluffy and supportive, the Casper Original pillow may work best. With a unique pillow-inside-a-pillow design, this product suits a wide range of people. To make things even better, the pillow is available in a low and medium loft.
Who Might Like the Casper Pillow
Back sleepers
People who prefer a down alternative pillow
Those who are on a budget
Who Might Not Like the Casper Pillow
Larger side sleepers
Those who prefer a slow-moving memory foam pillow
People who prefer firm pillows
Casper Pillow Video Review
To really understand how this pillow works, you'll need to see it in action. Check out our video review below to learn more.
Casper Pillow Firmness and Feel
When reviewing pillows, we always focus on firmness and feel. Why? Well, these elements significantly impact how comfortable it will feel. Of course, pillows aren't one-size-fits-all. Let's see whether it will work for you.
How Firm Is The Casper Pillow?
The Casper pillow has a soft outer layer and a firm inner pillow. Combined, the pillow feels medium firm. If you're looking for something with a great balance, this product will deliver.
Sleeping On The Casper Pillow
The key to finding a comfortable pillow is ensuring that it promotes a neutral alignment. If you're a side sleeper, you'll want your ears to align with your shoulders. Back and stomach sleepers will want to keep their chins in line with their sternums.
What Does The Casper Pillow Feel Like?
The Casper pillow feels a lot like down, but it's much more supportive. When you rest your head on it, you'll gently sink through the outer layer. Thanks to its supportive inner pillow, your head won't completely bottom out. To keep it feeling soft and pliable, fluff it regularly.
Average Weight Sleepers – 130 lbs – 230lbs
Average weight back sleepers will feel the most comfortable on the mid loft pillow. In this sleep position, the head will get a good balance of comfort and support. The Casper mid loft pillow will work decently well for average weight side sleepers, but some people may feel their head sink too far into the pillow. This may crane the neck out of alignment, which could lead to pain.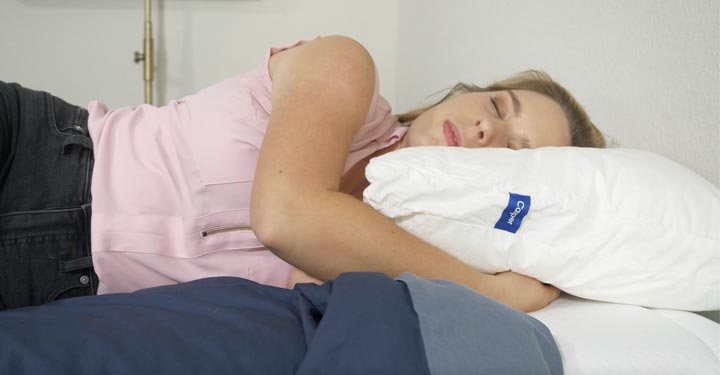 Average weight stomach sleepers will need a pillow that is almost completely flat. If this is your preferred sleep position, opt for the low loft pillow.
Heavyweight Sleepers – Over 230lbs
If you're a heavier back sleeper, you'll feel quite comfortable on the Casper mid loft pillow. However, this pillow probably won't feel as supportive while side sleeping. Larger people may sink deeper into the layers, so they'll need something that feels more supportive. If you fall in this category, consider getting the Casper foam pillow.
Heavier stomach sleepers will want to get the low loft pillow. The soft down alternative feel will help you maintain a neutral alignment.
Lightweight Sleepers – Under 130lbs
For lightweight sleepers, the low loft pillow should work well in all sleeping positions.
RELATED: Best Pillows
Casper Pillow Construction
Now, let's see how Casper's unique pillow design all comes together. Here's a close look at its construction.
Cover
The 100% cotton cover feels soft and comfy. It has a percale weave, which keeps the pillow feeling cool and breathable. The interior filling, made of polyester microfiber, makes the pillow feel like it's stuffed with feathers.
Core
When you unzip the cover, you'll find the inner pillow. This feels a bit firmer than the outer cover. Inside, you'll find more of the polyester microfiber filling. Best of all, it's clump-resistant for easy fluffing!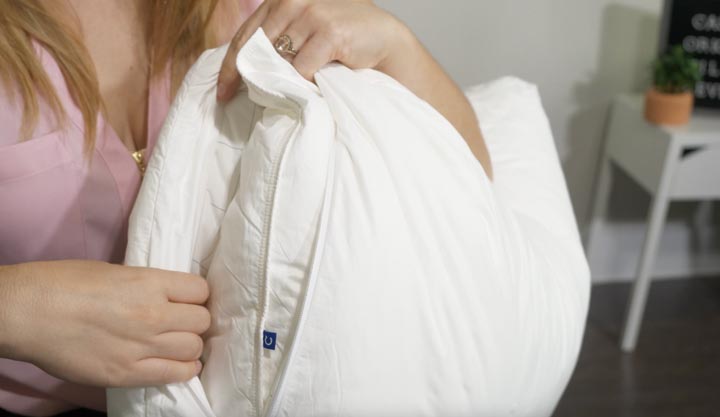 Weight
The pillow weighs 3.5lbs.
Height/Loft
The Casper pillow is available in two lofts. The low loft pillow is 1.25″ tall, and the mid loft is 2″ tall.
Casper Pillow Size Options and Price
Curious about pricing and size options? Our handy chart lays it all out for you.
| | | | |
| --- | --- | --- | --- |
| Size | Low Loft Dimensions | Mid Loft Dimensions | Price |
| Standard Size | 18″ x 26″ x 1.25″ | 18″ x 26″ x 2″ | $65 |
| King Size | 18″ x 34″ x 1.25″ | 18″ x 34″ x 2″ | $85 |
Casper Foam Pillow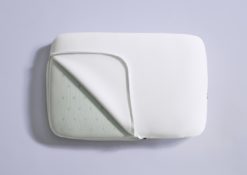 The brand's most popular offers a "pillow-in-a-pillow" design that with a crisp cotton cover and down alternative feel.
Mattress Clarity Score
4.20 / 5
Read Full Review
If you want to add an extra layer of plushness to your bed, check out our Casper mattress topper review.
Casper Pillow Performance
Now, for the tiny details. Let's investigate Casper's cooling features, off-gassing period, and care instructions.
Sleeping Hot or Cold
Memory foam pillows often trap heat, but because this pillow has microfiber fill, sleepers should feel cool all night long. To create even more airflow, Casper made their cover out of thin and breathable cotton.
Need more ideas? Check out our list of the best cooling pillows.
Off-Gassing
When you unbox a Casper mattress, you'll notice a slight chemical smell at first. We call this phenomenon "off-gassing", and it's completely natural. However, because the Casper pillow doesn't contain memory foam, off-gassing won't be an issue. You can rest on this pillow right away.
Care Instructions
To keep things easy, Casper made their pillow machine washable. Just place the inner and outer pillow in the washing machine on the gentle cycle with mild detergent and cool water. Run the rinse cycle twice, and tumble dry low with dryer balls or clean tennis balls.
Allergies
The Casper Original pillow feels a lot like down, but it won't trap dust mites and allergens like feathers often do. If you suffer from allergies, this could be a great pick.
Company Policies
It's always wise to skim the company's policies before purchasing a new pillow or mattress. We've highlighted the main points below.
Warranty Info
Casper offers a 1-year limited warranty.
Sleep Trial
The Casper Original pillow does not come with a sleep trial.
Return Policy
Casper offers a 30-day return policy on unopened pillows. If you decide you don't want the pillow, you can return it for a full refund as long as you haven't opened it.
Common Casper Pillow Complaints
Most customers love the Casper pillow, but we have come across a few negative reviews on Amazon. Some people didn't think the pillow was supportive enough. Because it resembles down, you will sink through it a bit. This makes it great for most back and stomach sleepers, but larger side sleepers may feel it's not a great fit.
How Does the Casper Pillow Compare to Other Pillows?
Now that we have a full grasp of the Original Casper pillow, let's take the time to look at some of its competitors.
Casper Original vs Casper Foam
Both pillows are available in a low and medium loft, but they have many differences. The Casper foam pillow has a slow moving feel, which creates wonderful cushioning and pressure relief. Around the outside, you'll find Casper's proprietary AirScape foam. This material has tiny holes in it, which promotes breathability and helps sleepers stay cool. For these reasons, we named it one of the best memory foam pillows.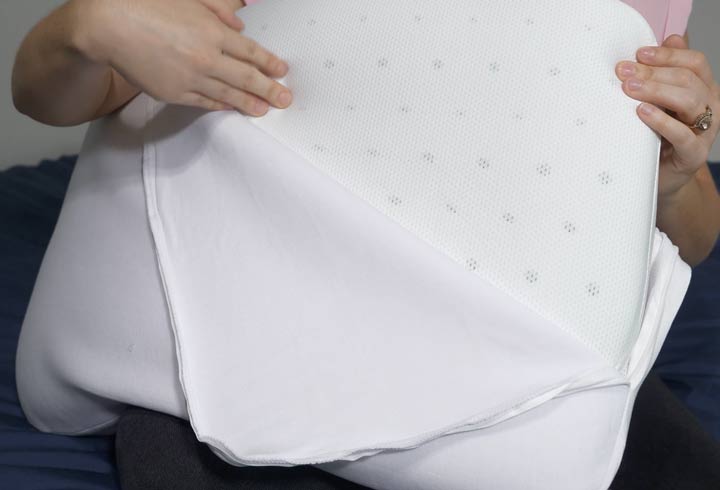 The Casper Original is a great pillow if you're looking for something made with down alternative. It feels light and airy, so it's fantastic for back and stomach sleepers. It may not offer enough neck support for side sleepers, however.
The Casper foam pillow costs a bit more than the Casper Original, but they should both last a long time.
Who Should Get the Original Casper Pillow
Those who like down alternative pillows
Back and stomach sleepers
Who Should Get the Casper Foam Pillow
People who prefer a slow-moving memory foam feel
Those who want to save some money
Read our full Casper Foam pillow review.
Casper Pillow vs Purple Harmony Pillow
Both pillows have unique constructions, but they will work better for different people. The Purple Harmony pillow features the company's squishy hex grid in the cover. Beneath that, you'll find a solid piece of Talalay latex foam. This makes the pillow feel especially breathable and supportive. Because this pillow is so dense, it will work well for heavy people.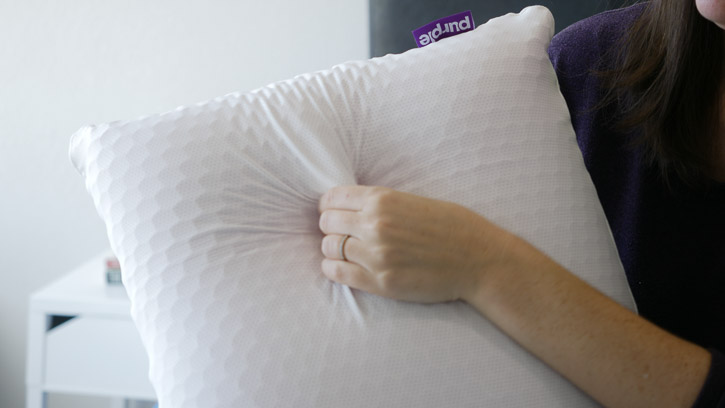 The Casper Original pillow feels cloud-like, but it requires frequent fluffing. Because it isn't as supportive as the Purple Harmony, it's a better fit for smaller back and stomach sleepers.
The Purple Harmony pillow costs a little bit more than the Casper, but the Purple should last much longer.
Who Should Get the Casper Pillow
People who like down feather pillows
Lightweight people
Who Should Get the Purple Harmony Pillow
Heavier people
Those who like a more supportive pillow
Read our full Purple Harmony pillow review.
Our Casper Pillow Ratings
It's the moment you've been waiting for! Take a look at our final tallies below.
FAQs
Before wrapping up, we'll answer some of the most frequently asked questions about the Casper pillow.
Is the Casper Pillow worth it?
Our answer: yes! With this product, you get two pillows in one. It feels soft like down feathers, but it's much more supportive than others you'll find on the market. It works especially well for lightweight back and stomach sleepers.
What is the difference between the Original Casper and Casper Down pillows?
Both pillows are made with high-quality materials and have a soft and fluffy texture. The Casper Down pillow, however, is made with ethically-sourced down feathers.
Which pillow is better: Casper or Purple?
Both pillows help people get a good night's sleep, but they're not one-size-fits-all. The Casper Original pillow is best for lightweight back and side sleepers. The Purple Harmony pillow works well for heavier people.
Katie Golde
Katie previously managed the day to day operations of the Mattress Clarity news site and reviews sleep products in addition to writing and editing sleep news. She hails from Austin, where she lives with her growing family. She is a Certified Sleep Science Coach and has a master's degree in Journalism from Northwestern University and has a background in health and science content. Her work can be found in print and online publications like Discover Magazine, USA Today and The Huffington Post.